This Crockpot Chicken Tetrazzini recipe is an easy and delicious pasta meal to make for the whole family. Chicken, mushrooms, pasta, and cheese cook up in the slow cooker to make a simple, herb-y, and flavorful dinner!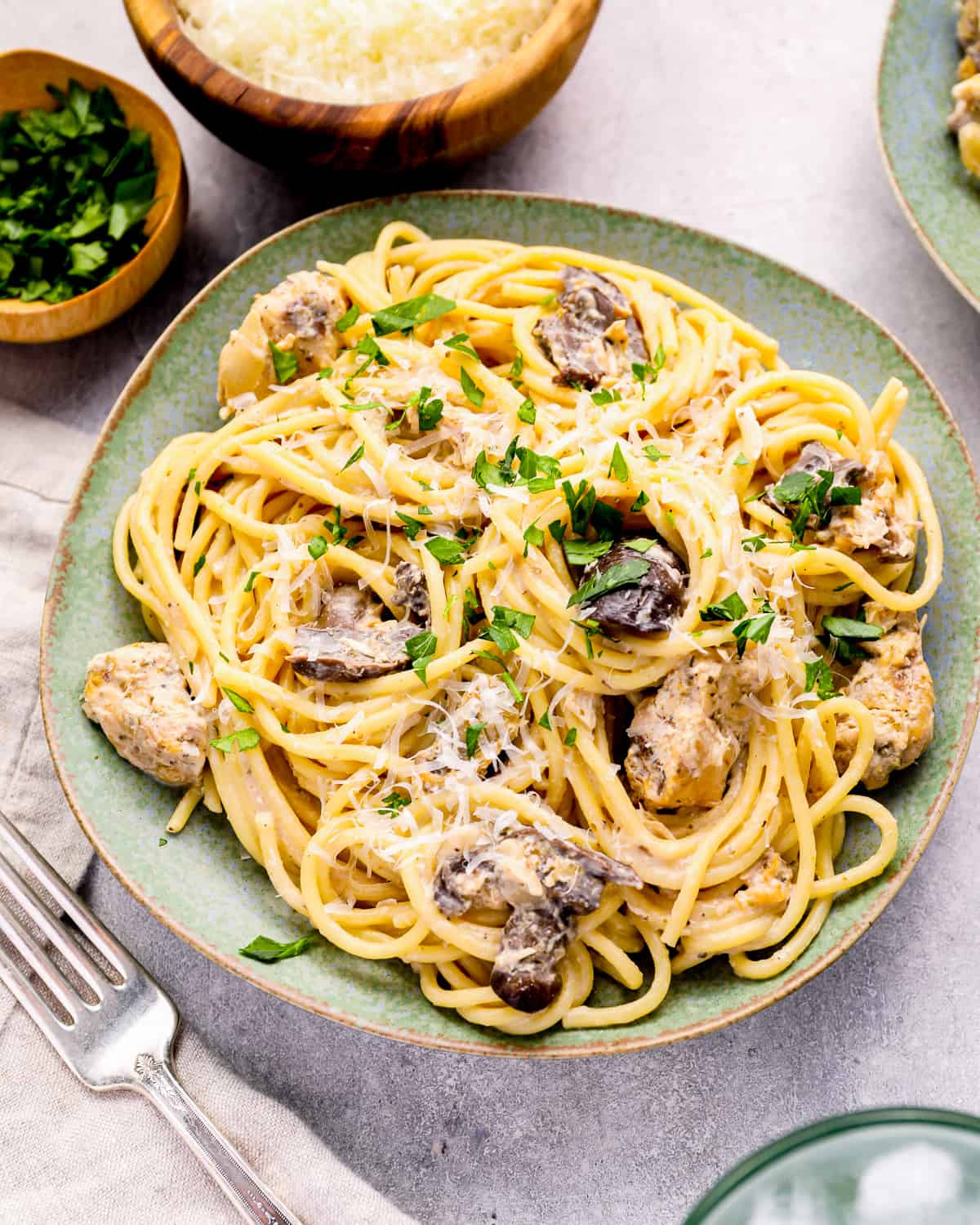 What's in Slow Cooker Chicken Tetrazzini?
This easy crockpot version of classic chicken tetrazzini is here for you when you're short on time. Creamy, cheesy pasta studded with chicken and mushrooms is the ultimate easy weeknight meal!
Chicken: I used boneless, skinless chicken breasts, but thighs or tenders will also work.
Mushrooms: I like sliced cremini mushrooms, but white button or portabello mushrooms also work.
Onion: Adds an earthy and sweet flavor.
Garlic: Adds an earthy flavor and a pungent aroma.
Italian Seasoning: A blend of herbs that adds depth to the dish.
Salt + Pepper: Enhances the natural flavors of the dish.
Chicken Broth: Creates a savory, umami base for the sauce.
Cheese: Cream cheese, mozzarella, and Parmesan make this dish ultra gooey, creamy, and cheesy.
Pasta: I like to use spaghetti, but any long pasta shape will work.
Parsley: Adds a pop of color and freshness.
Pro Tip: Try adding some caramelized onions for even more flavor!
Variations on Easy Slow Cooker Chicken Tetrazzini
There are lots of ways to change up this tetrazzini recipe. Try adding some spinach and artichoke hearts to the dish for freshness and vibrancy. Crumbled bacon and peas or broccoli also make great additions, as do sun-dried tomatoes for a Mediterranean flair.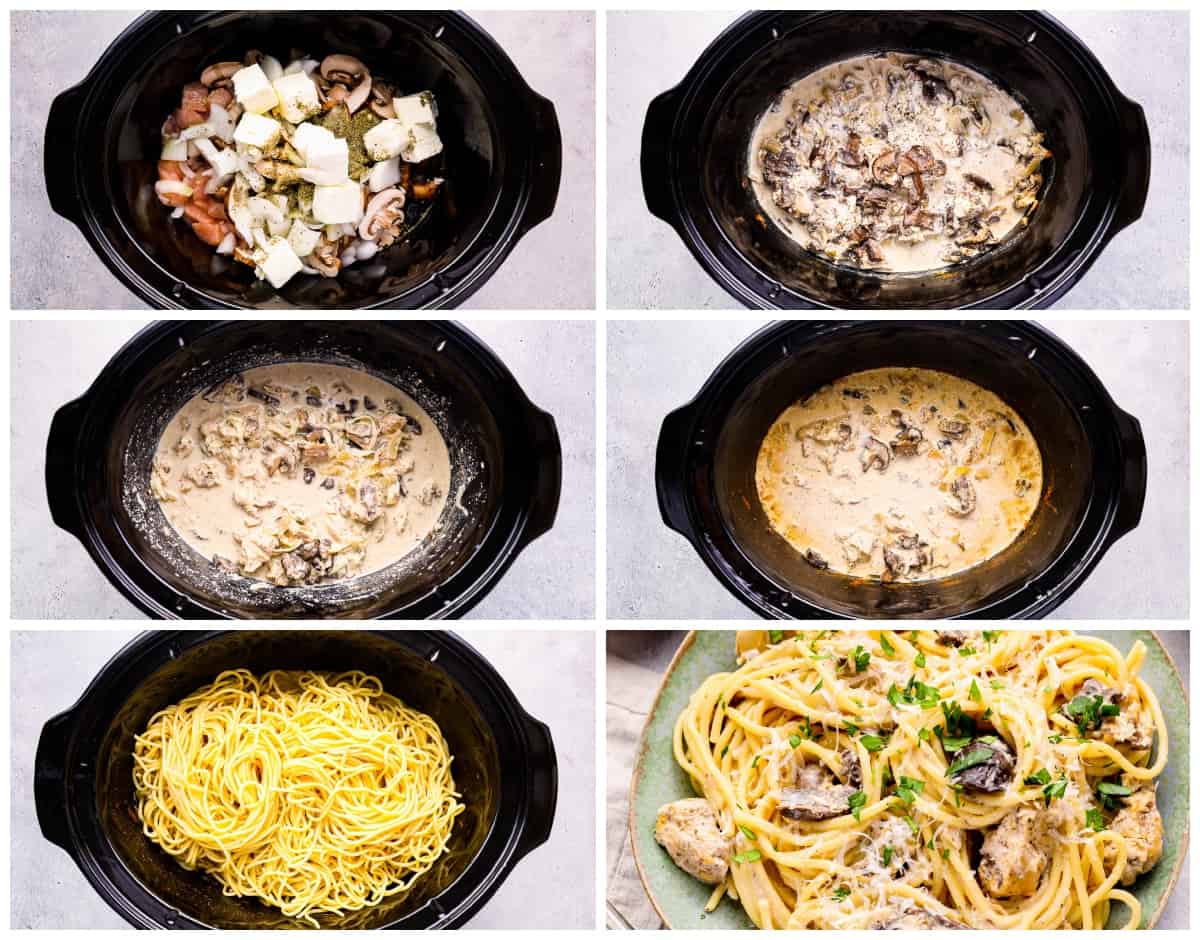 What is the difference between chicken spaghetti and Tetrazzini?
While the two dishes seem similar, they have different tastes. Chicken spaghetti has a Southwestern flair from the tomatoes and green chilies and cheddar cheese. Tetrazzini is much milder in flavor.
Why is it called tetrazzini?
This dish is named after the Italian opera star Luisa Tetrazzini and was created by the lead chef at the hotel in San Francisco where she made her American debut.
Is it better to cook chicken on high or low in the crockpot?
I prefer to cook chicken on low because there is less of a risk of overcooked, dry chicken.
How do I keep chicken from drying out in the crockpot?
I always recommend opting to cook chicken on low in the crockpot, and don't be afraid to check on it frequently. You'll get the hang of how long it takes your crockpot to cook chicken to perfection after just a few tries!
Why is my chicken tough after cooking in the crockpot?
If your chicken is tough, it was likely overcooked. Check for doneness earlier next time!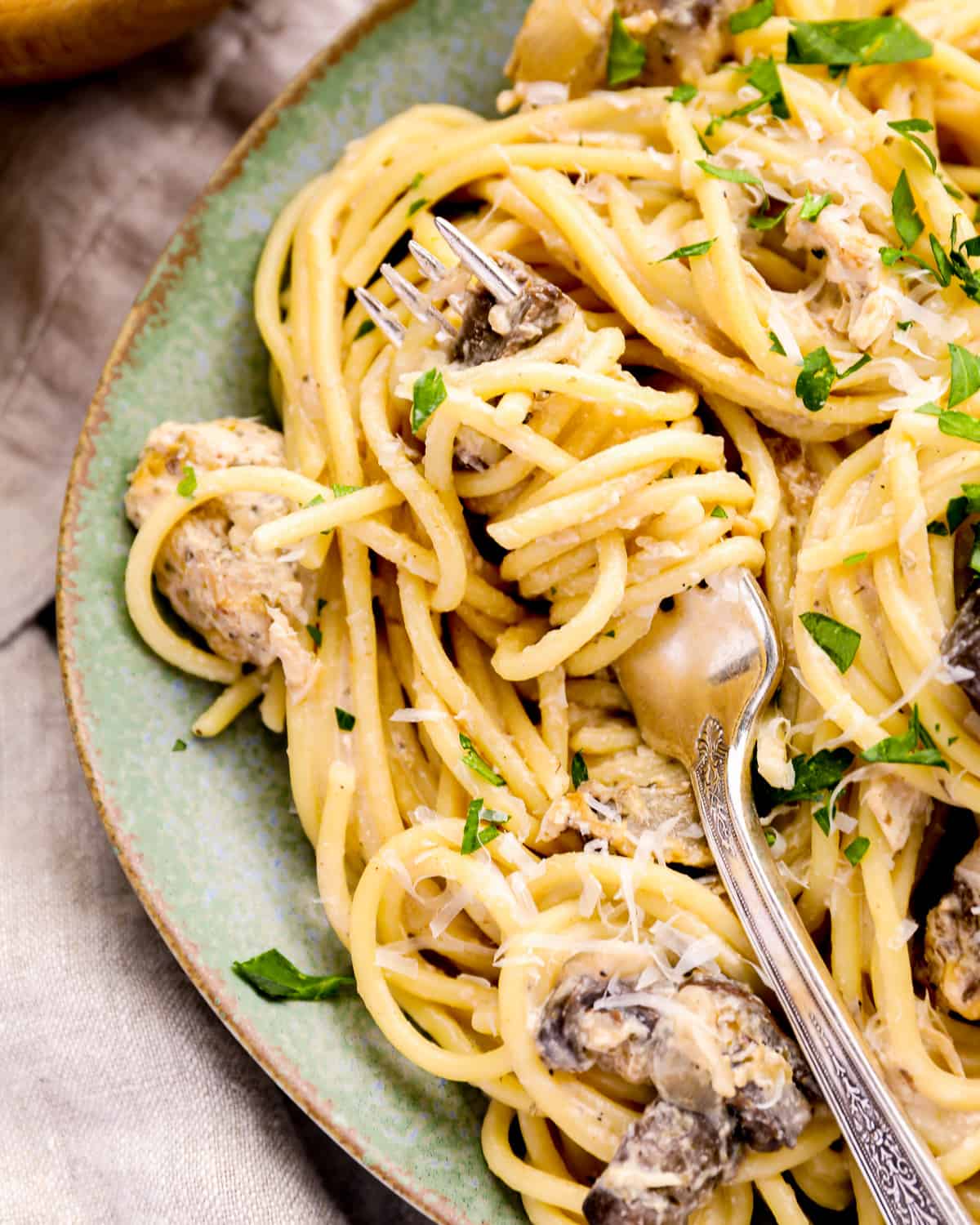 How to Store and Reheat
Store leftover crockpot chicken tetrazzini in an airtight container in the refrigerator for up to 3 days. Reheat in a saucepan set over medium-low or in the microwave in 30-second increments until warmed through.
How to Freeze
Freeze chicken tetrazzini in an airtight container for up to 3 months. Let thaw overnight in the refrigerator and stir well before reheating.
Serving Suggestions
Serve this Italian-American classic with a Caesar salad, garlic knots, and a vegetable, like creamy garlic mushrooms, garlic roasted asparagus, or lemon Parmesan roasted broccoli.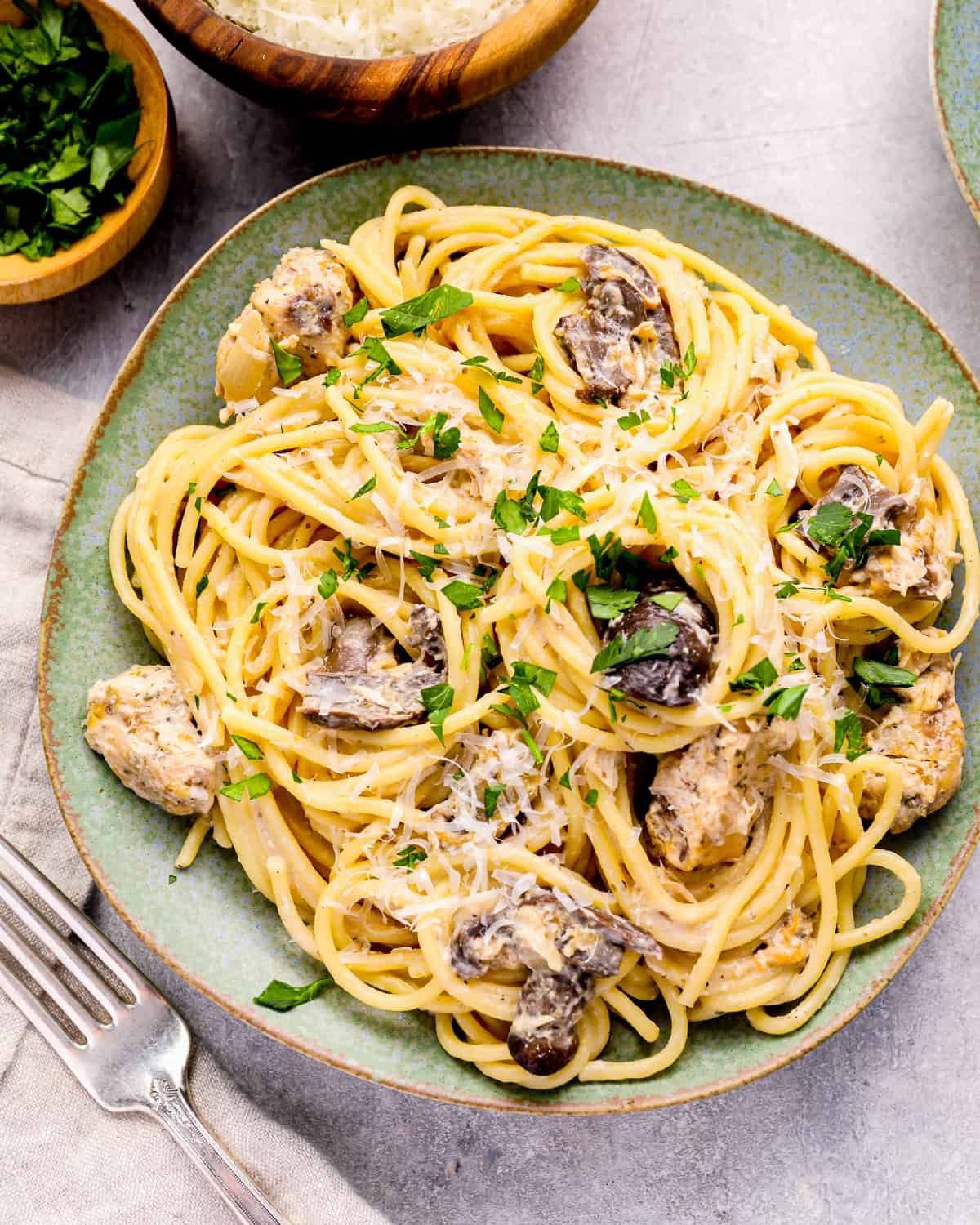 More Creamy Chicken Pasta Recipes We Love