Sizzling Chicken Fajitas are popular and for good reason! They are tasty and delicious, easily satisfying everyone's cravings for the best Tex-Mex food ever. Made with perfectly-seasoned grilled chicken breasts, bell peppers, and yellow onions, this easy-to-follow fajita recipe is one of my all-time favorites.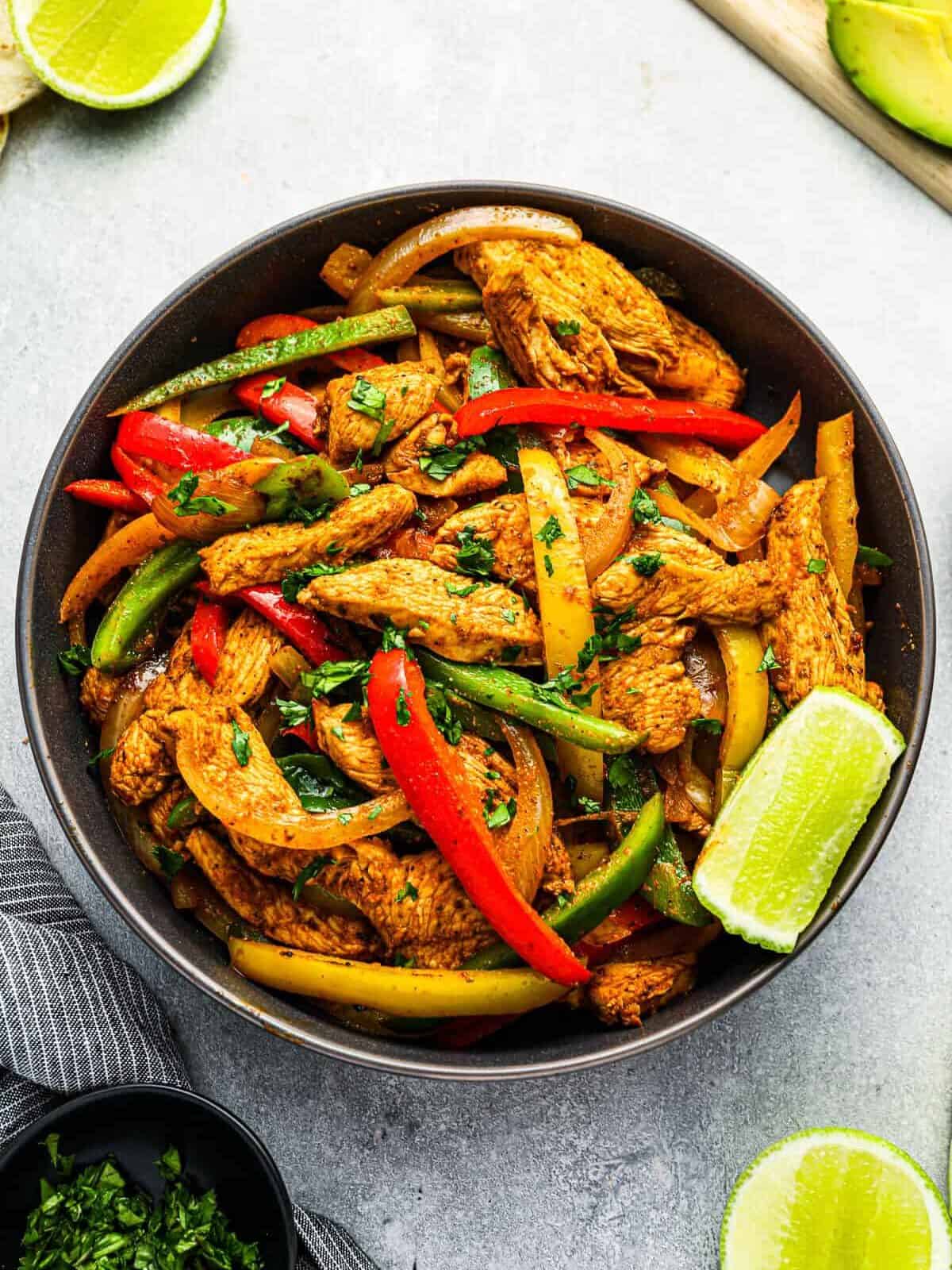 What's in this Chicken Fajita Recipe?
With its bold flavors and dazzling presentation, Chicken Fajitas make any meal more festive and memorable. This chicken dish is easy to make with these simple ingredients.
Chicken Breasts: Skinless and boneless chicken breasts are delicious and make for a healthier option.
Vegetable Oil: For the marinade, I have started using this all-purpose vegetable oil by Happy Belly.
Spices: Chili powder, cumin, garlic powder, smoked paprika, Mexican oregano, salt, and pepper give these fajitas their classic flavor.
Yellow Onion: There is nothing tastier with bell peppers than a caramelized onion!
Bell Pepper: This super nutritious summer vegetable adds lovely color, texture, and flavor to the fajita recipe.
Flour Tortillas: Soft and pliable, these tortillas pair perfectly with the seasoned grilled chicken and veggies.
Pro Tip: In place of all of the spices, you could use about 3½ tablespoons of store-bought or homemade fajita seasoning.
Variations on Fajita Chicken
There are many ways to change up this chicken to better suit your tastes. You could swap the chicken breasts for chicken thighs or even turkey. If you don't love fajita seasoning, try using taco seasoning instead.
The yellow onion can be swapped for a white, sweet, or red onion, and you can use any color or combination of colors of bell peppers! Try swapping the flour tortillas for corn or cassava flour tortillas, or skip the tortillas altogether and serve this chicken on top of pasta, salad, or rice!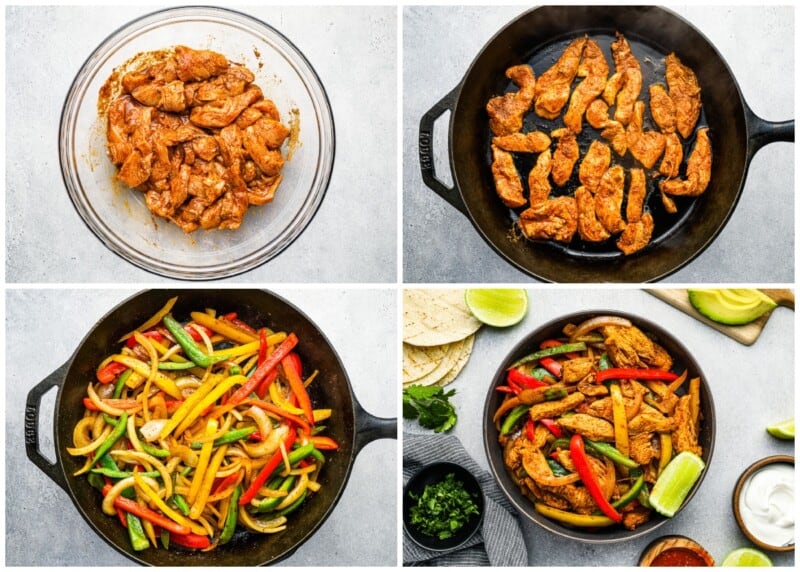 What's the best chicken for chicken fajitas?
I like to use boneless, skinless chicken breasts, but chicken thighs would also work!
Is there a difference between oregano and Mexican oregano?
Yes! Mexican oregano is actually part of the verbena family, not the oregano family, and it has a citrusy flavor. If you can't find Mexican oregano, the best substitute is marjoram, not regular oregano!
What toppings can I add to fajitas?
These fajitas go with all sorts of toppings, like sour cream, cotija cheese, cilantro, salsa, or guacamole!
Can I make these ahead of time?
Absolutely! You can marinate the chicken up to 8 hours in advance of when you plan to make these fajitas, and you can slice the peppers and onions ahead of time and store them in the refrigerator until you're ready to cook them.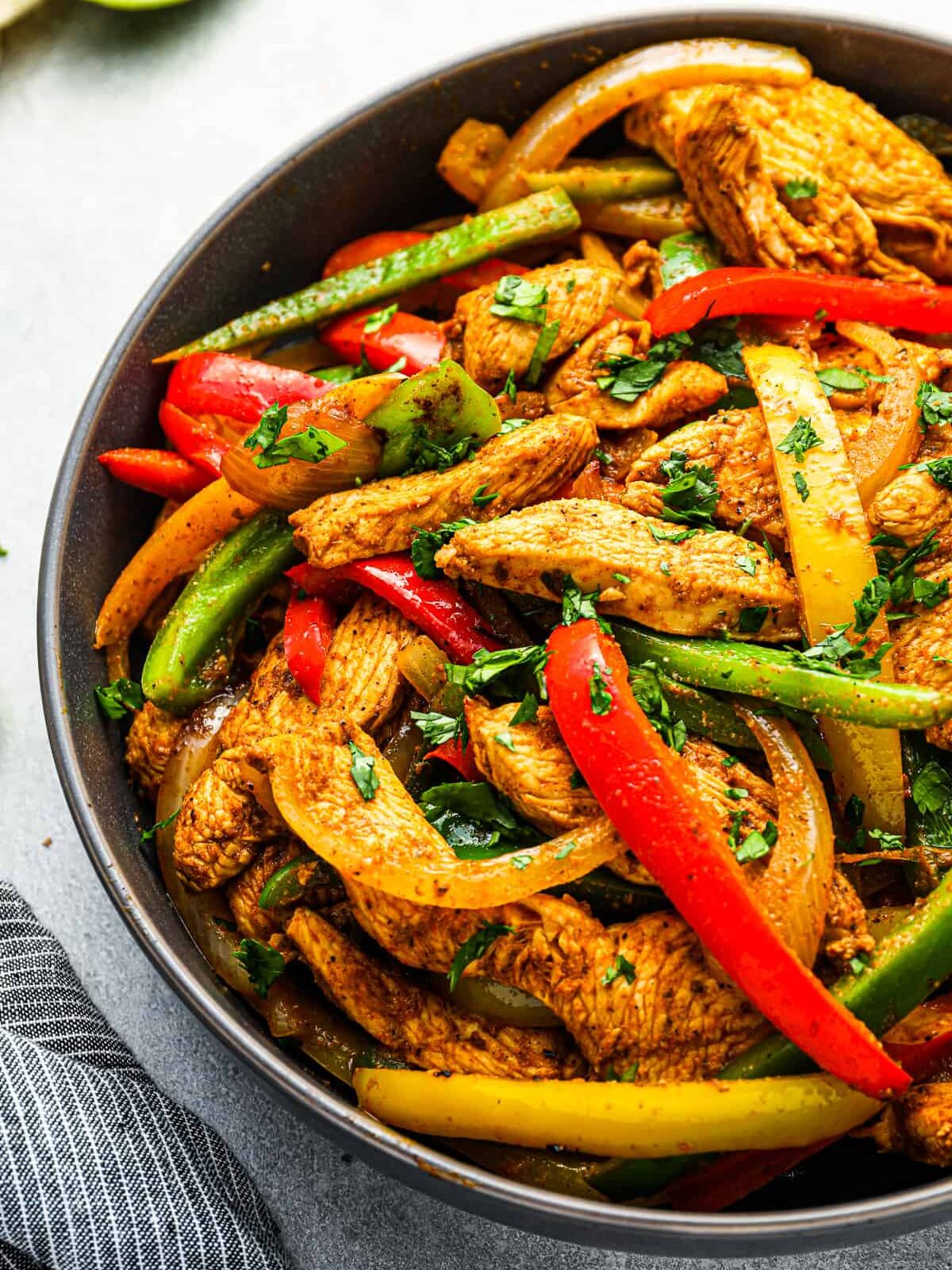 How to Store and Reheat Easy Chicken Fajitas
Store leftover chicken fajitas in an airtight container in the refrigerator for up to 3 days. Reheat in the microwave in 30-second increments or in a skillet set over medium-low heat until warmed through.
How to Freeze Healthy Chicken Fajitas
Freeze chicken fajitas in an airtight container or Ziplock bag for up to 3 months. Let thaw overnight in the refrigerator before reheating.
What to Serve with One Pan Chicken Fajitas
This fajita chicken is so versatile! You can add it to chicken fajita pasta, tacos, or a delicious salad. Add it to a quesadilla or wrap for extra protein, or make a chicken fajita burrito! You could even serve this flavorful chicken simply with a side of cilantro lime rice or Mexican rice. The possibilities are endless!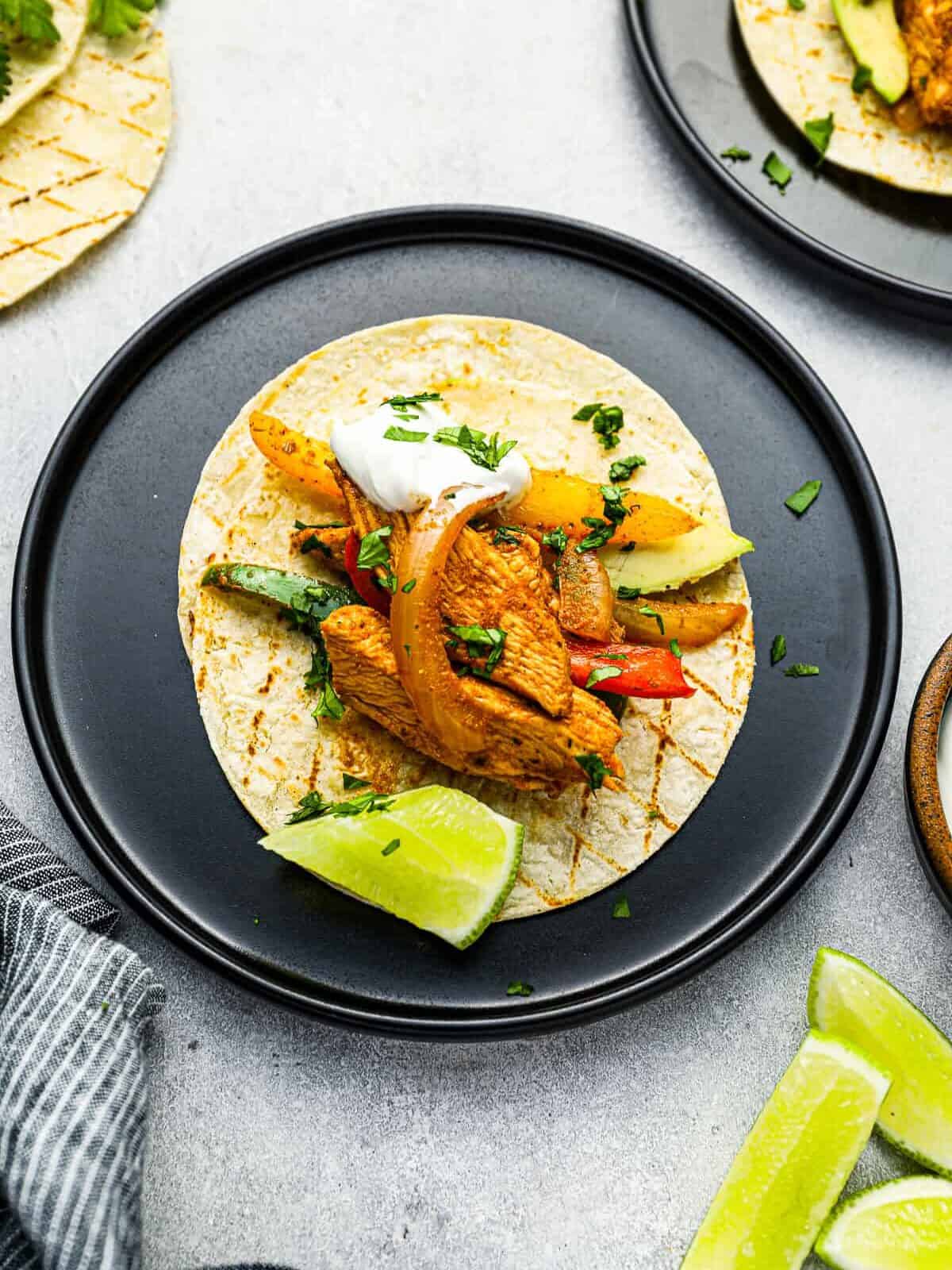 More Chicken Fajita Recipes We Love