If you're looking for an easy dinner that doesn't miss out on any flavor, you need to make Crockpot Chicken Fajitas! Spice rubbed chicken breasts are slowly cooked to perfection with peppers and onions in a flavor marinade. While these fajitas may not sizzle, they certainly do satisfy!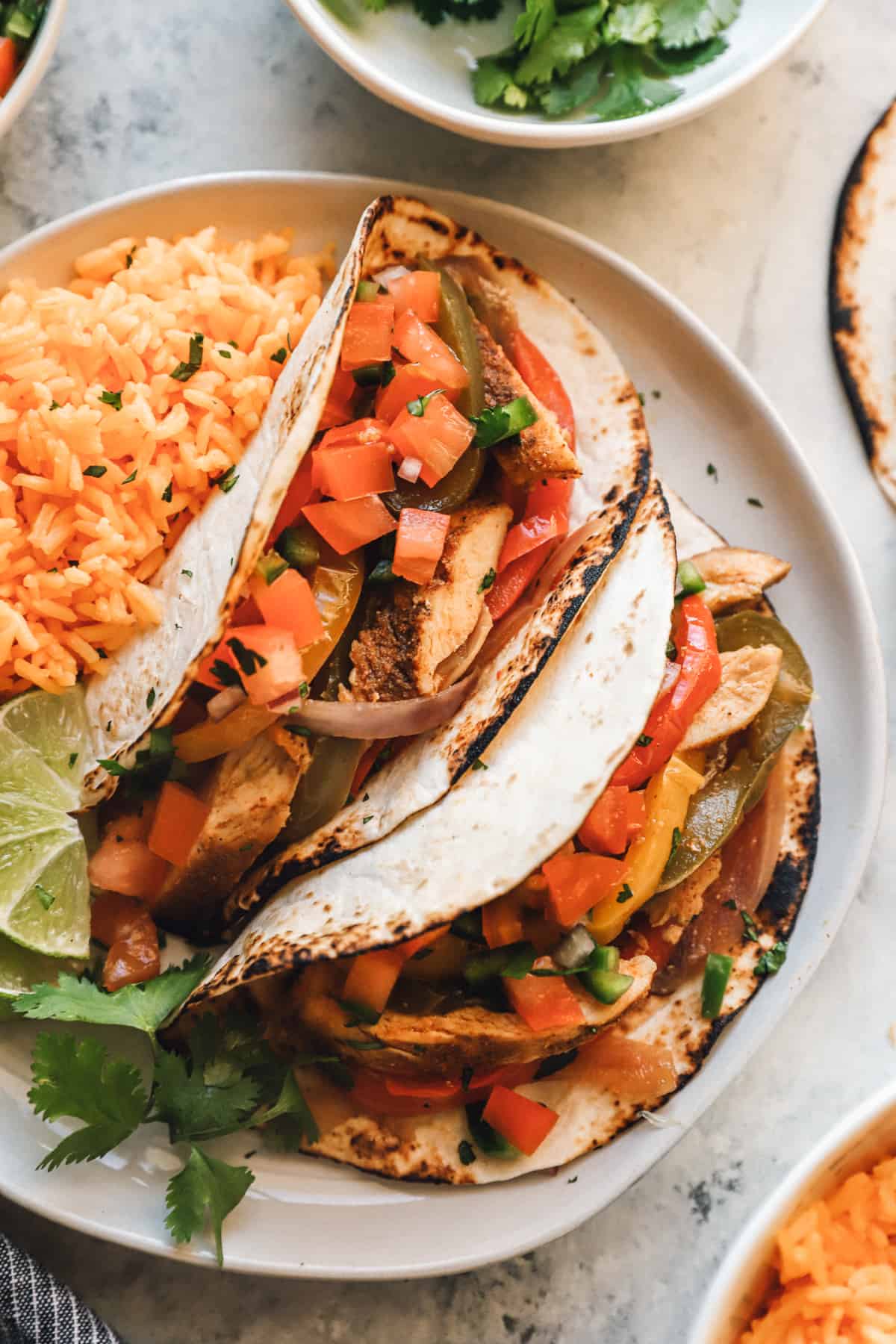 Slow Cooker Chicken Fajitas
Grab the tortillas, because it's time to dig into some homemade chicken fajitas! Everyone knows the best part about ordering fajitas from a restaurant is hearing the sizzle approach your table… But what if I told you that you could still get that flavor without having to fire up the grill?!
I know, a sizzle-less fajita night doesn't sound overly exciting. But trust me when I say that these slow cooked chicken fajitas are nothing short of mouthwatering! The chicken is first rubbed with a spice mix including chili powder, garlic powder, and more. Then, it's cooked with the peppers and onions in a marinade made with ingredients like lime juice, honey, and soy sauce.
Why You'll Love this Chicken Fajitas Recipe:
TENDER: The main reason anyone cooks chicken in the Crockpot is to make it nice and tender, and this recipe is no exception!
HEALTHY: This is a protein-packed dinner complete with veggies. It's deliciously well-rounded.
FUN: Fajita nights are always a good time! This Tuesday, make these easy fajitas instead of your usual tacos.
Nothing satisfies quite like flavor packed chicken and veggies on a soft tortilla. This is a great meal for Cinco de Mayo, Taco Tuesday, or any weeknight!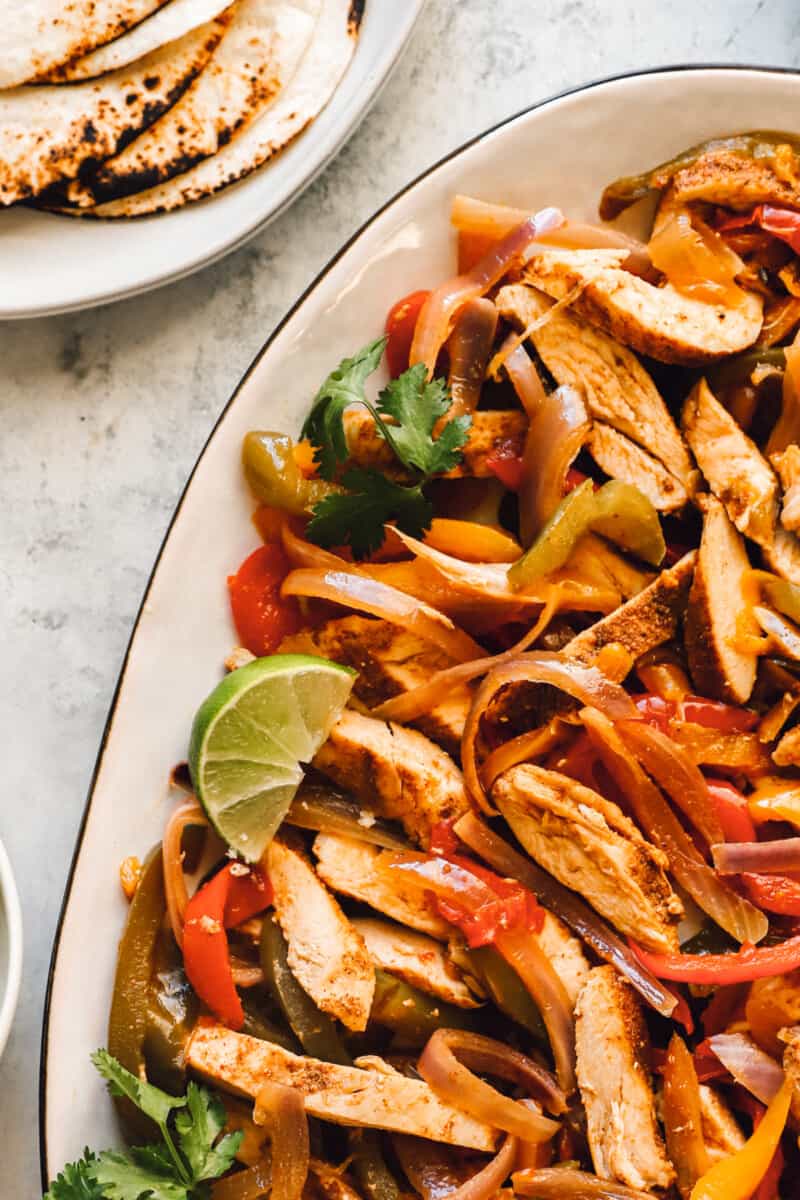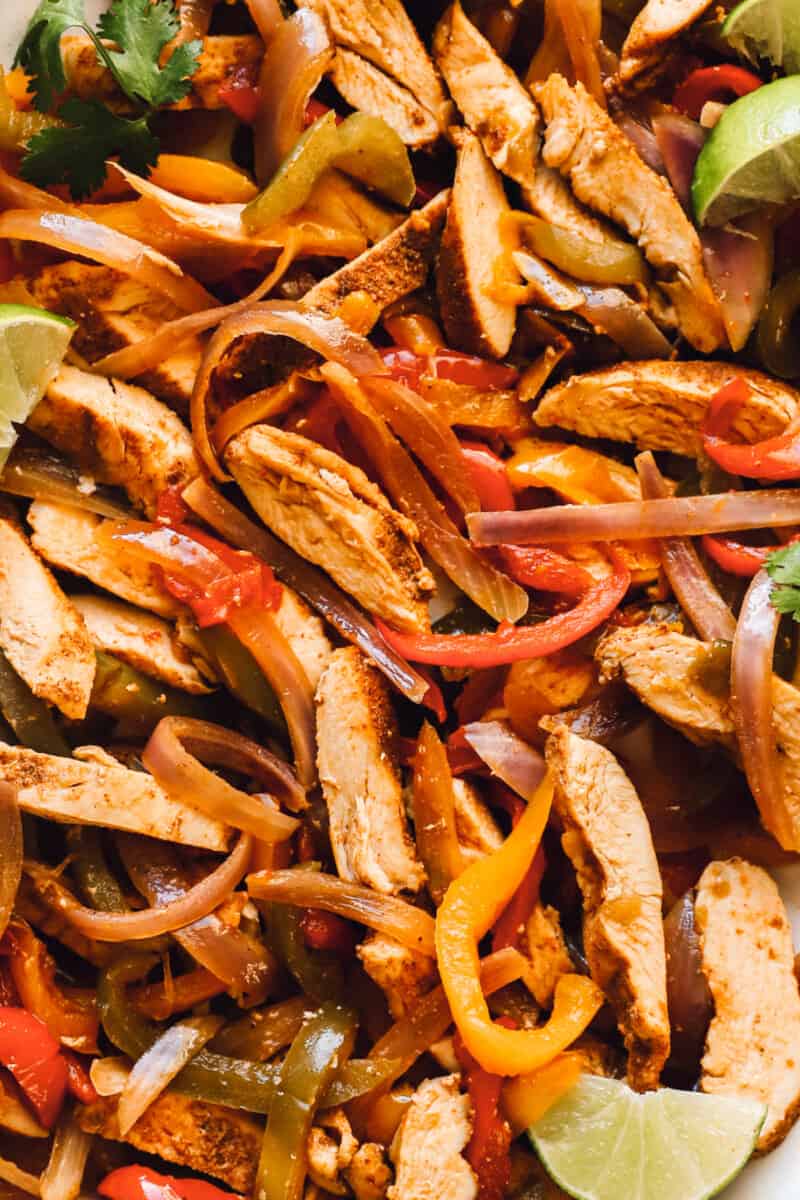 How to Make Crockpot Chicken Fajitas
You can jump to the recipe card for full ingredients & instructions!
Make the marinade.
Coat the peppers and onions in the marinade.
Create the spice rub.
Rub the chicken with the spices.
Place the chicken in the Crockpot with the veggies and onions.
Cook.
Slice the cooked chicken.
Serve the fajitas, and enjoy!
Recipe Notes
To cut back on the salt, use low sodium soy sauce, coconut aminos, or tamari instead of soy sauce.
Add some spice to these fajitas by adding cayenne powder to the dry rub.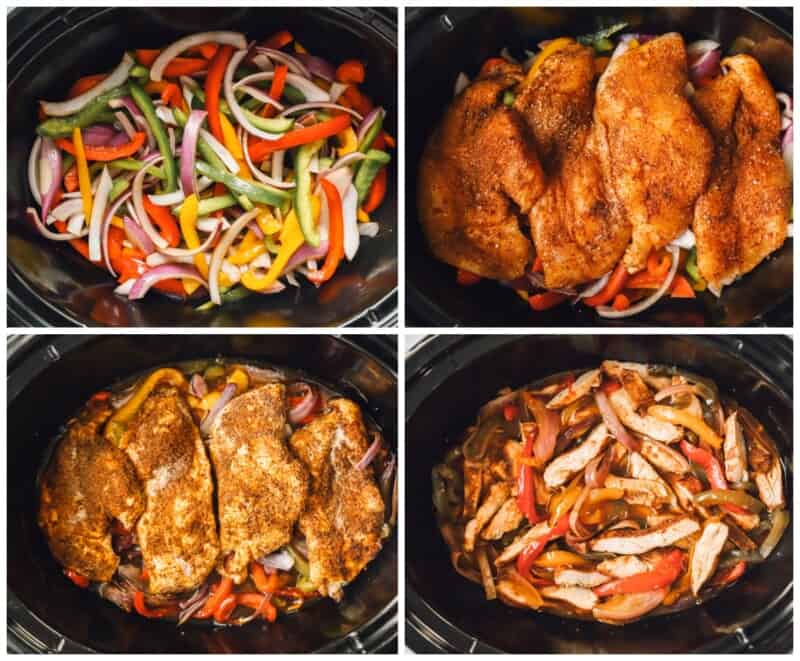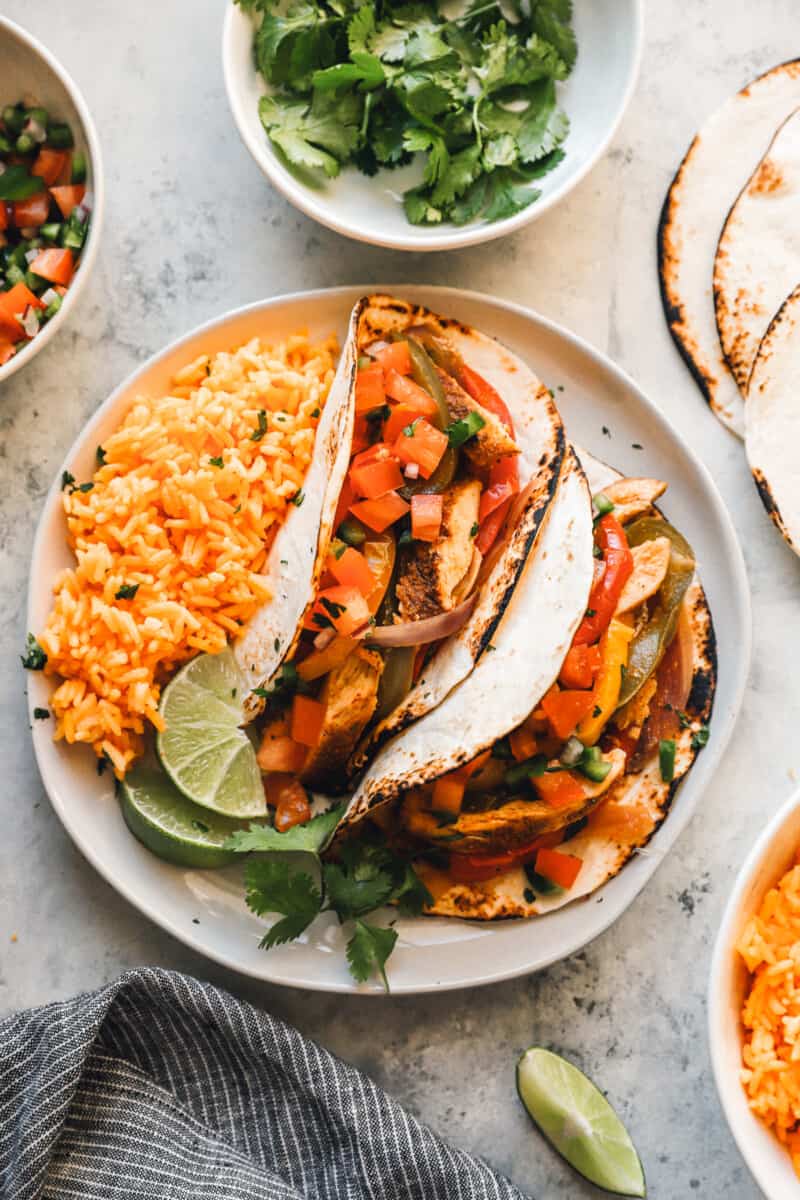 Can I use frozen chicken breasts?
Yes, but make sure the frozen breasts are fully thawed before coating with the spice rub and placing in the slow cooker. Let them defrost in the refrigerator overnight.
Can I use another cut of chicken?
Instead of chicken breasts, use the same amount of boneless, skinless chicken thighs.
Can I make slow cooker fajitas ahead of time?
This is a great recipe to prepare ahead of time! Throw everything together in the morning and cook on low for a hot dinner, or store leftovers in an airtight container in the refrigerator for up to 3 days.
How do I know the chicken is cooked through?
The chicken breasts are finished cooking when a meat thermometer inserted into the thickest part of a breast reads at least 165°F.
Serving Suggestions
Besides a tortilla, there's more you may want to place your chicken fajitas with. Here are some delicious side dish options!
Remember when you're on your second or third fajita to slow down and enjoy your side dish, too!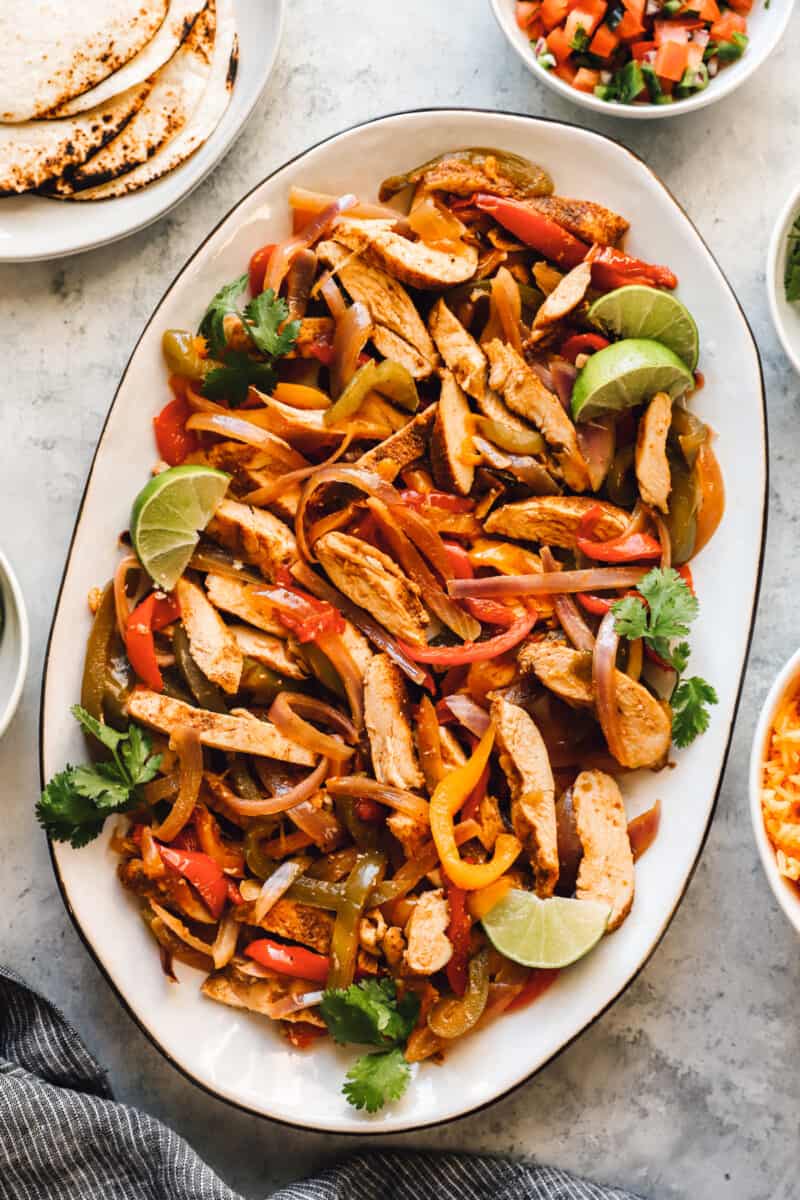 Tips!
It's always tempting to shred slow cooked chicken, but this is meant to be sliced.
Try to find some good quality tortillas to serve your fajitas with.
Use fresh lime juice, not the bottled stuff!
Feel free to customize your fajitas however you see fit!
Can I add any other veggies?
Definitely! Feel free to add sliced poblano or jalapeño peppers for additional flavor.
What toppings go well with these fajitas?
I love serving chicken fajitas with guacamole, sour cream, salsa, shredded cheese, chips, and tortillas. Any toppings that you'd typically use for tacos are great with fajitas!
Are these fajitas spicy?
They're not too spicy. There's a little kick from the chili powder, but it's still a kid friendly recipe.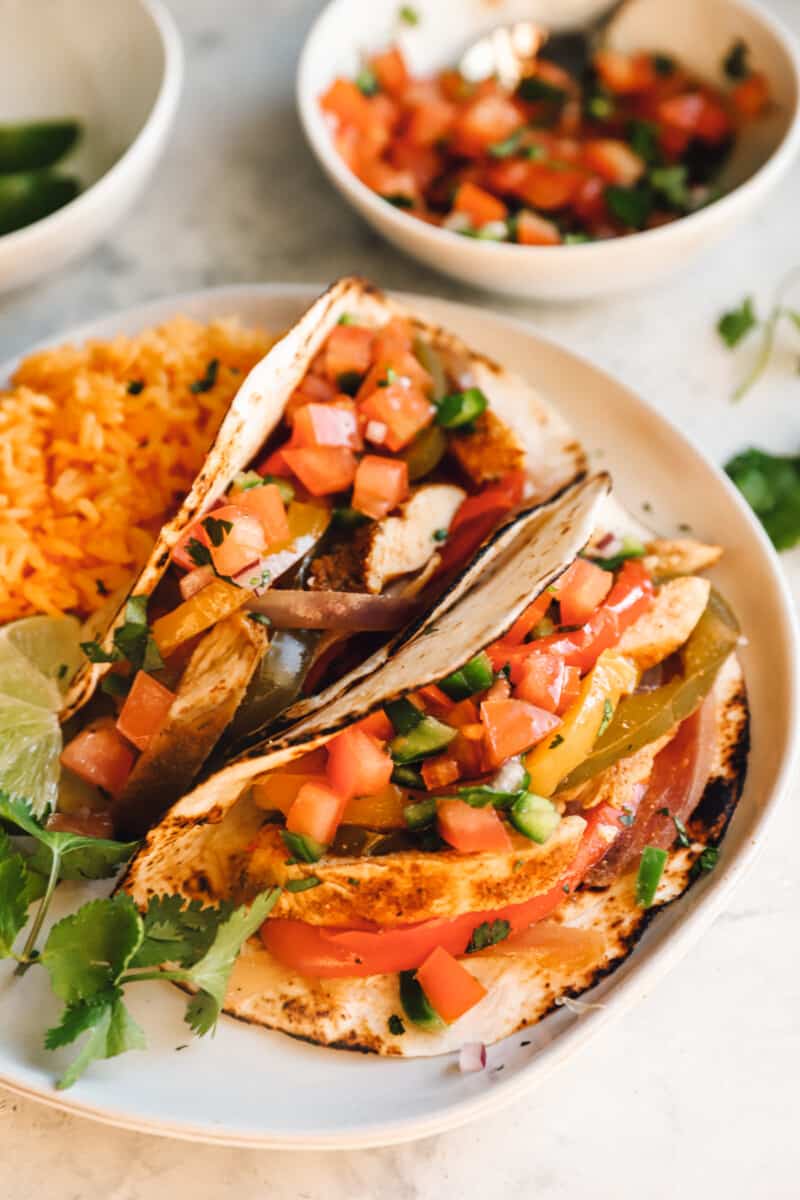 Serve these easy slow cooker fajitas at a football party, as a potluck dish, or just for a weeknight dinner with the family. No matter who tries these crazy good chicken fajitas, they're definitely going to ask for the recipe – so be ready to share!
If you make this recipe be sure to upload a photo in the comment section below or leave a rating. Enjoy! You can also jump to recipe.