Crockpot Chicken Cacciatore features seared chicken breasts that are slowly cooked to tender perfection in a mouthwatering medley of tomatoes, wine, veggies, and more! It's a hearty dinner that's easy to make and won't leave anyone at the table hungry.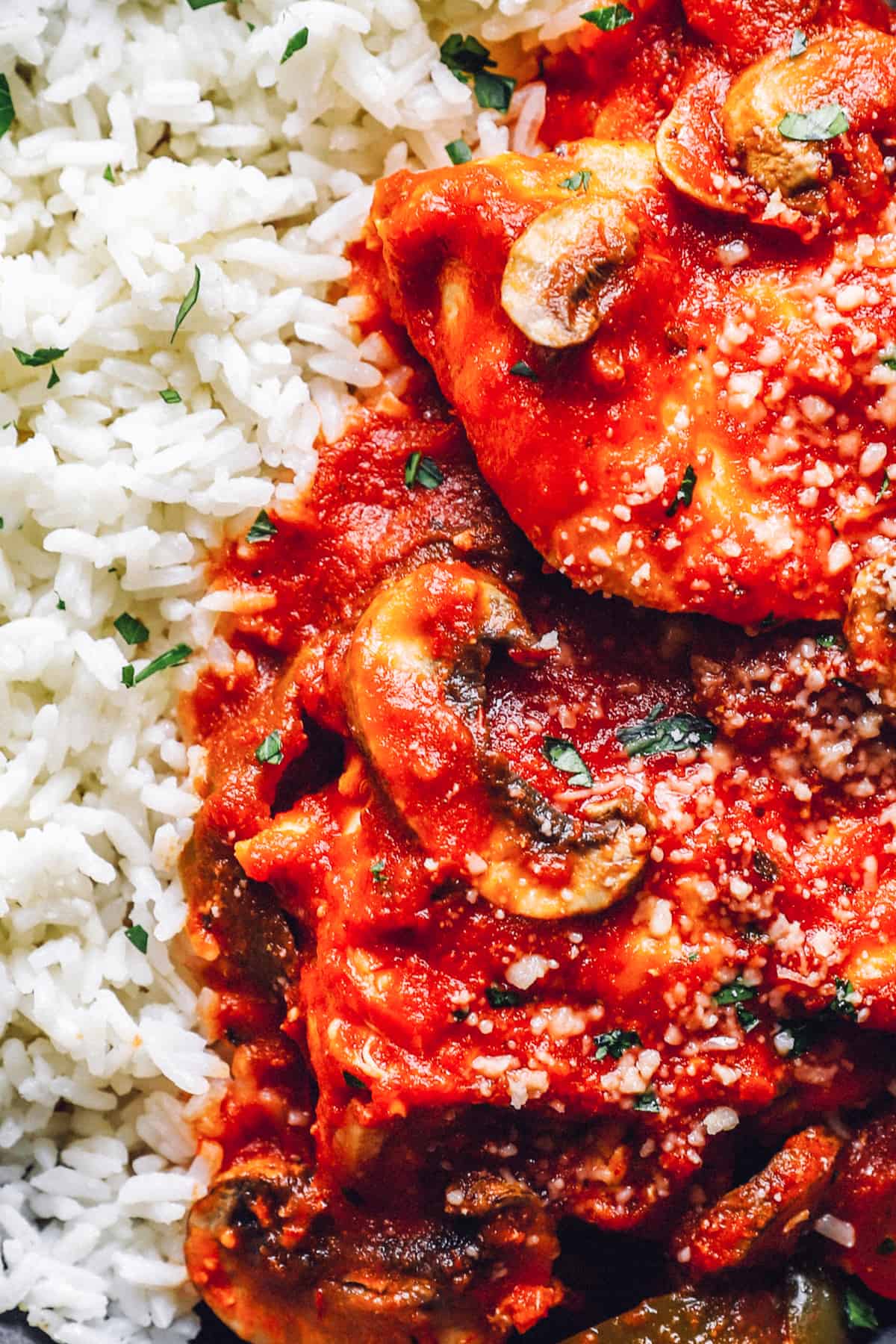 Slow Cooker Chicken Cacciatore
This Crockpot Chicken Cacciatore might just be better than your local Italian restaurant's! Because it's cooked in the Crockpot, the chicken in this recipe always comes out unbelievably tender and really infused with the flavor you love in classic chicken cacciatore.
Both crushed tomatoes and tomato paste create the signature red hue of this vibrant chicken dinner. They're enhanced with ingredients like white wine, Italian seasoning, onions, bell peppers, garlic, and of course mushrooms! You can't have this traditional Italian recipe without those tender mushrooms.
Why You'll Love this Chicken Cacciatore Recipe:
Filling: Serve your hearty chicken cacciatore with some white rice to make it even more filling! Plus, the rice is great for making sure none of that delicious sauce goes to waste.
Flavorful: The medley of bold, robust ingredients that the chicken slowly cooks with makes sure it's anything but bland. You'll love the herbaceous note from the Italian seasoning in there!
So Easy: Using the Crockpot makes this classic Italian recipe easier to make than ever before! After the chicken is seared, you just have to toss it all in the Crockpot and let it do all the work for you.
The bell peppers and mushrooms blend very well with the other ingredients in this recipe. So well, in fact, that your picky eater might not even care that they're in there! Crockpot chicken cacciatore is a protein-packed entree that's also got great nutritional value from those hidden veggies.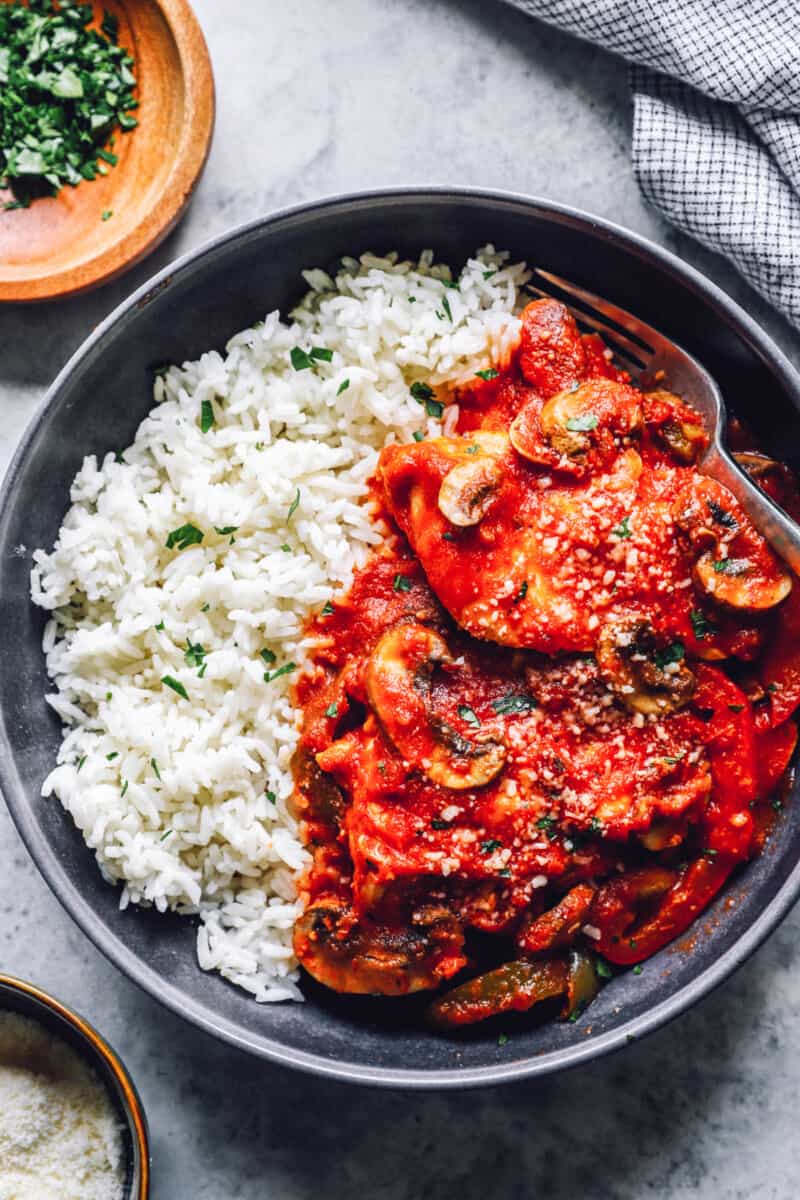 How to Make Crockpot Chicken Cacciatore
You can jump to the recipe card for full ingredients & instructions!
Sear the chicken breasts on your stovetop.
Add all of the ingredients except for the mushrooms to the Crockpot.
Cook the chicken on high for 3-6 hours or low for 6-8 hours.
Add in the mushrooms and cook for another 30 minutes.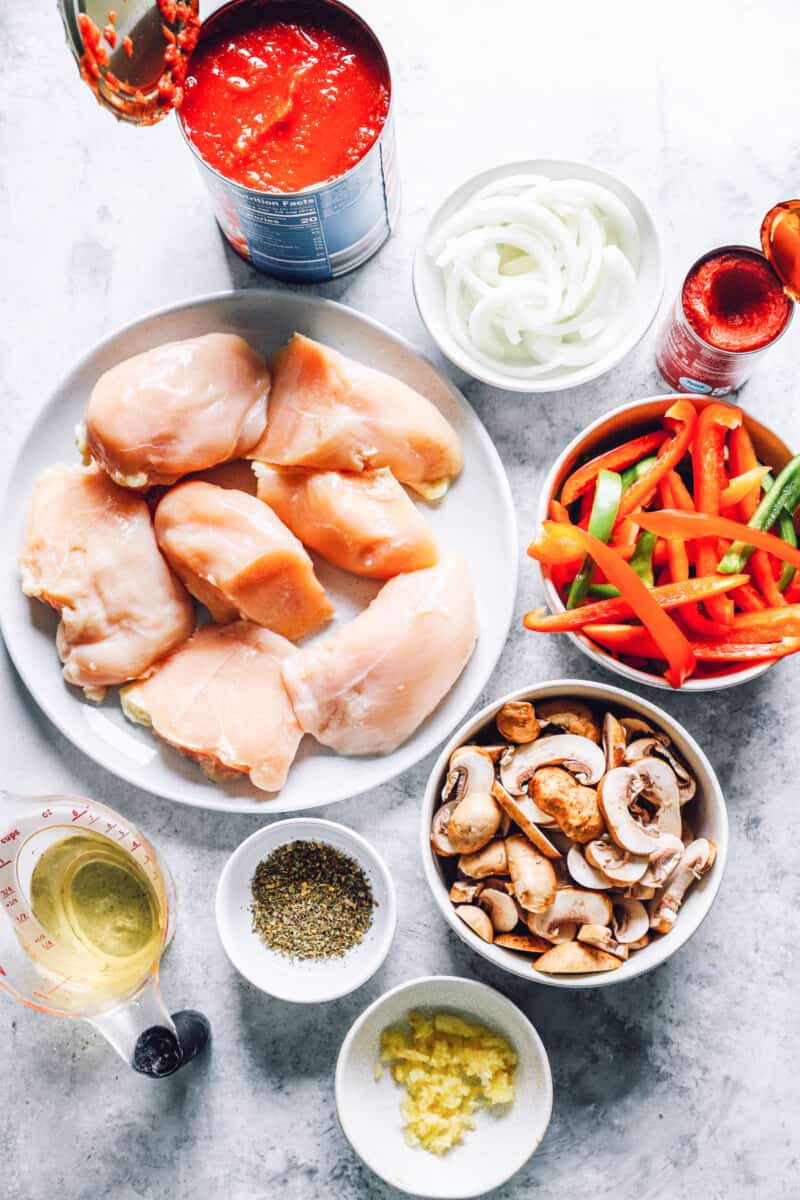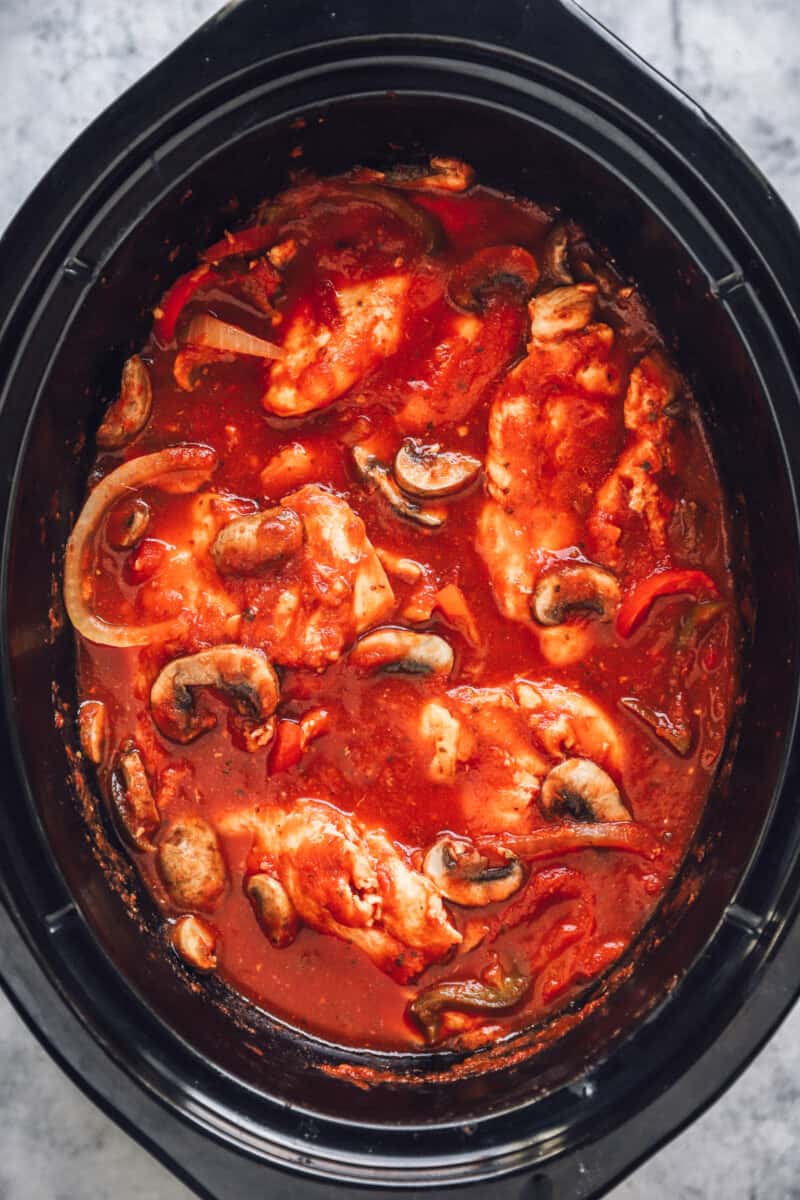 What is chicken cacciatore?
Chicken cacciatore is an Italian-style chicken dish with tomatoes, wine, peppers, and mushrooms. "Cacciatore" roughly translates to "hunter-style", referring to the fact that this dish was often prepared by hunters while out hunting,
What is the difference between chicken cacciatore and chicken parmesan?
In chicken parmesan, the meat is breaded, fried, and topped with cheese and sauce; whereas, with cacciatore, the meat is cooked in the sauce like a stew.
Can I put frozen chicken in a crockpot?
I do not recommend cooking chicken from frozen in the crockpot, as it spends too much time in the "temperature danger zone", which could cause food poisoning.
How do I thicken chicken cacciatore?
To easily thicken chicken cacciatore, remove the chicken, whisk together 1 tablespoon of cornstarch and 1 tablespoon of water, and stir this into the sauce. Let simmer until thickened.
What is chicken cacciatore served with?
Traditionally, chicken cacciatore is served with pasta or rice. However, you can also serve it with a side salad or bread!
This hearty Italian chicken dinner is perfect for those weeknights when you want something simple, flavorful, and filling on the dinner table! The biggest upside? This recipe will cost you far less than ordering at an Italian restaurant.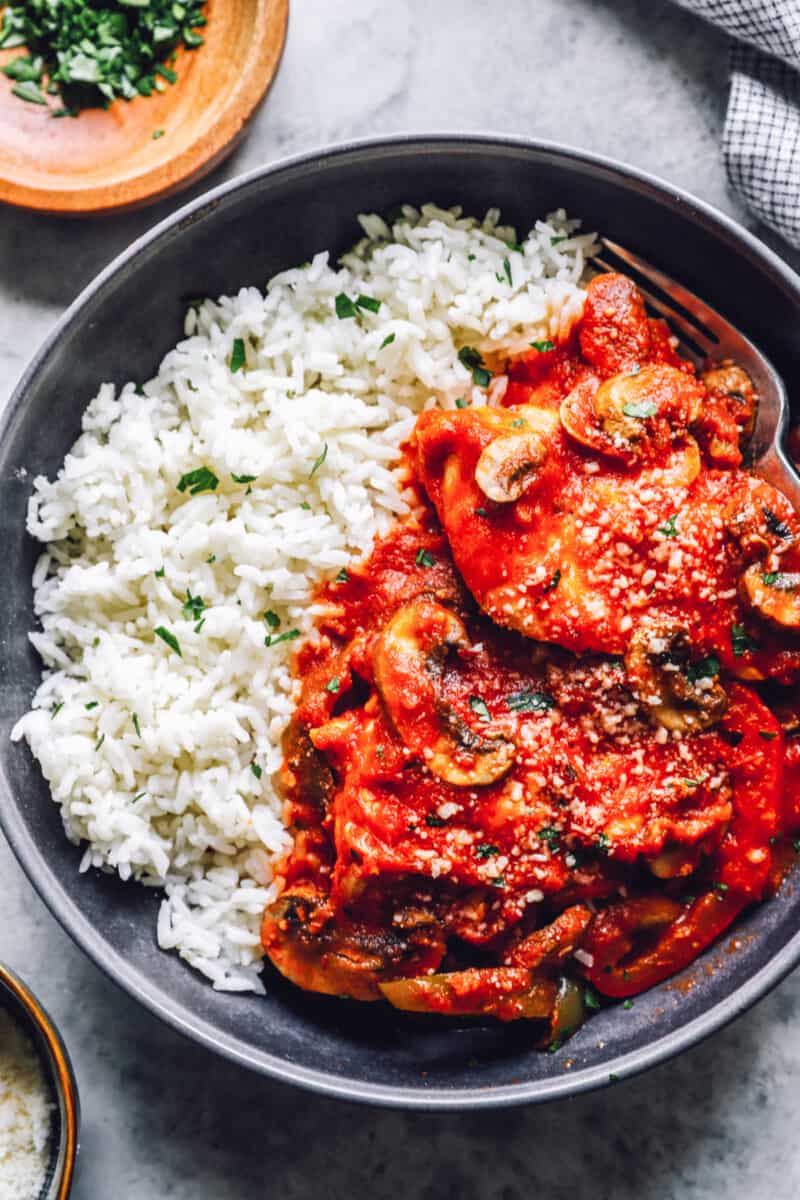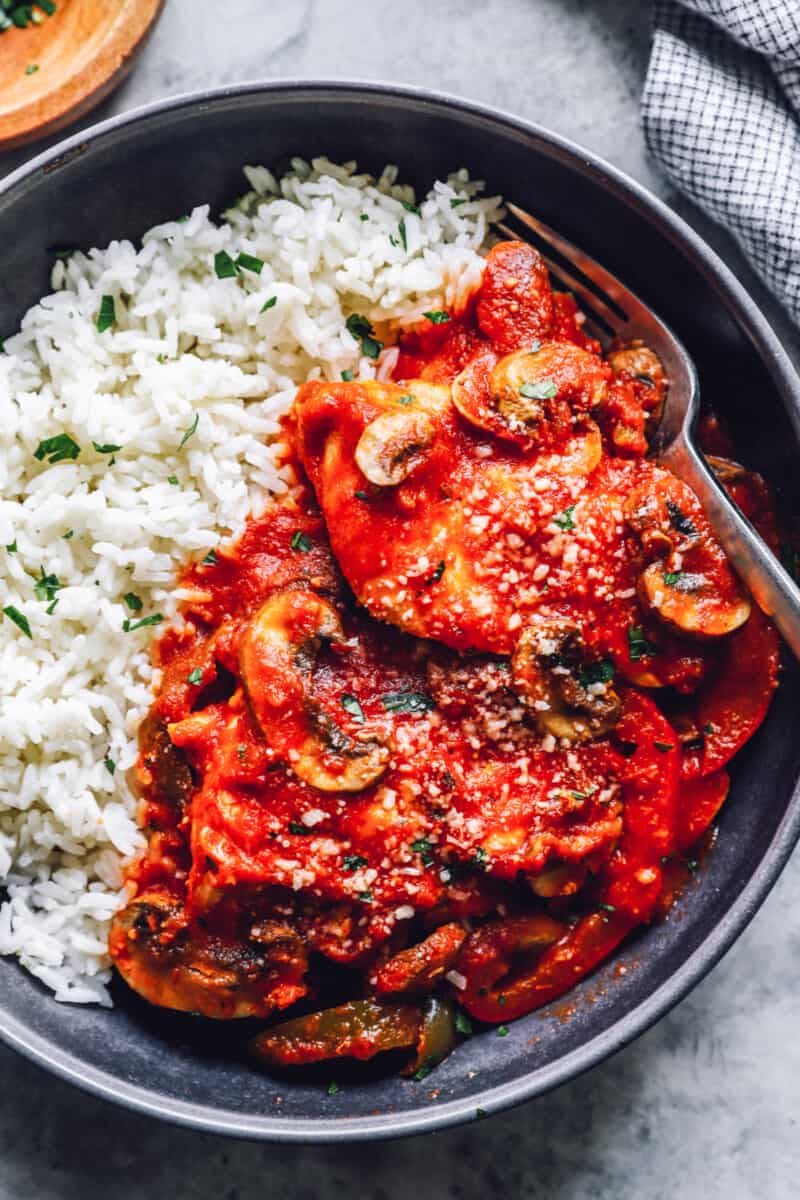 Make Ahead Instructions
This crockpot chicken cacciatore can be made up to 1 day in advance of when you plan to serve it. Store it in an airtight container in the refrigerator until ready to reheat and serve.
Storage Instructions
Store leftover crockpot chicken cacciatore in an airtight container in the refrigerator for up to 3 days. Reheat gently in the microwave.
Freezing Instructions
Freeze crockpot chicken cacciatore in an airtight container or Ziplock bag for up to 3 months. Let thaw overnight in the refrigerator before reheating and serving.
Substitutions
You can use boneless, skinless chicken thighs in place of breasts.
If you choose to use bone-in chicken breasts or thighs, it may take longer to cook.
In place of the white wine, you can use white cooking wine, white wine vinegar, or chicken broth.
Tips for the Best Crockpot Chicken Cacciatore
Be sure to dice the onion so that it cooks all the way through.
To thicken the sauce, remove the chicken, whisk together 1 tablespoon of cornstarch and 1 tablespoon of water, and stir this into the sauce. Let simmer until thickened.
Serve chicken cacciatore with rice, pasta, salad, or bread!
More Crockpot Chicken Recipes We Love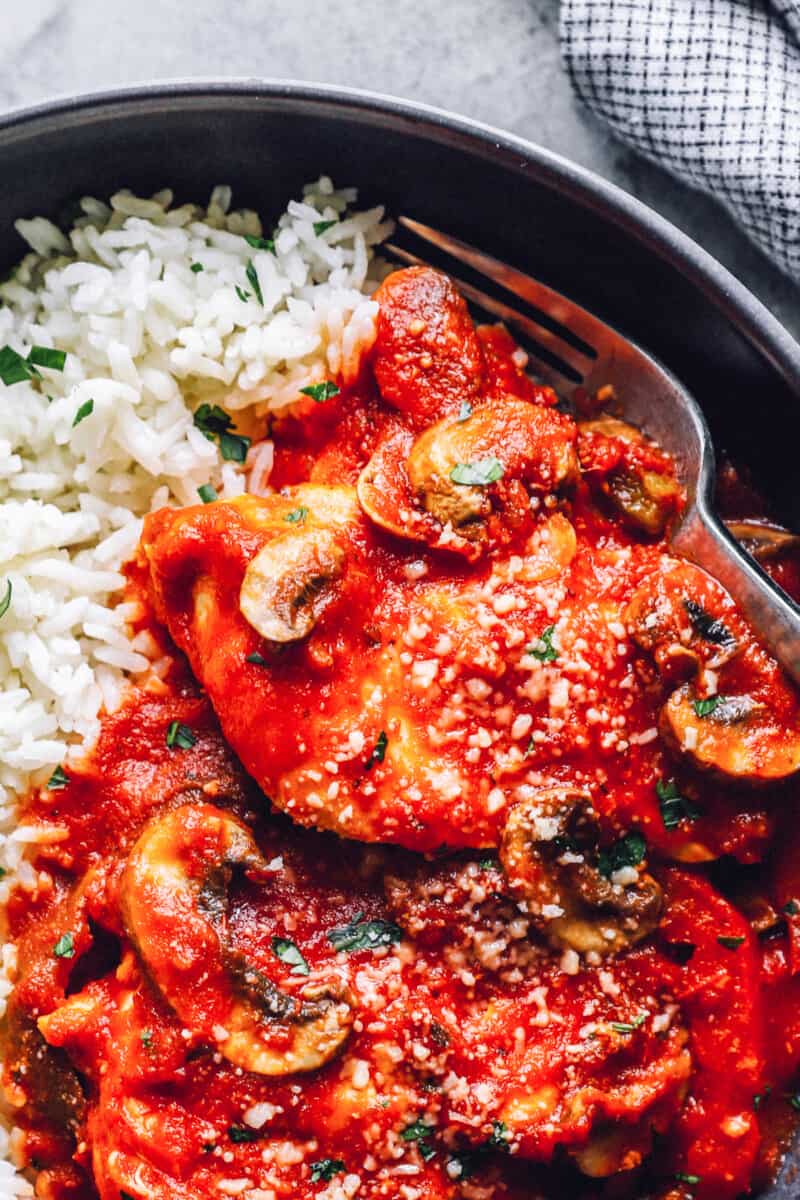 Did you know that "cacciatore" actually means "hunter" in Italian? That's because this simple dinner is considered hunter-style – a meat based dish full of veggies. You'll love every bite of flavor-packed chicken, tomatoes, onions, bell peppers, garlic, and those signature tender mushrooms!
More Italian Dinner Recipes to Try:
If you make this recipe be sure to upload a photo in the comment section below or leave a rating. Enjoy! You can also jump to recipe.