The next time you're craving delicious Indian food that's easy to make and full of flavor, give this Crockpot Chicken Tikka Masala a try! This curry dish is also a great recipe to prepare ahead of time and freezer-friendly for the ultimate easy meal prep!
What's in Slow Cooker Chicken Tikka Masala
This slow cooker version of the popular Indian curry recipe, Chicken Tikka Masala, is my favorite way to prepare this easy and delicious dish! This recipe is full of spices and flavor just like traditional Indian cuisine!
Chicken Thighs: You can use boneless, skinless chicken breasts instead of thighs if you'd prefer.
Ghee: You can use vegetable oil instead of ghee.
Onion
Serrano Chili: If you're sensitive to spice, leave out the Serrano chili.
Garlic: In place of fresh garlic, you can use ½ teaspoon of garlic powder.
Ginger: In place of fresh ginger, you can use ¼ teaspoon of ground ginger.
Garam Masala: In place of the garam masala, you can use a blend of 4 parts cumin to 1 part allspice.
Coriander
Cumin
Turmeric
Salt
Tomato Sauce: In place of the tomato sauce, you can use 15 ounces of diced tomatoes or 3 fresh tomatoes and puree them in a blender.
Whole Milk Yogurt: You can use sour cream or full-fat coconut milk instead of yogurt.
Basmati Rice
Fresh Cilantro
Need to make this dinner vegetarian-friendly? Easy! Simply swap the chicken for tofu or 2 cans of chickpeas!
What else can I add to Crockpot Chicken Tikka Masala?
With a dish this universally loved, there are SO many different ingredients you can add to the mix to better personalize it to your tastes. Want a subtle touch of sweetness? Mix in a teaspoon of brown sugar along with the spices. Want it spicier? Double up on the Serrano and/or sprinkle in enough cayenne powder to make your mouth water!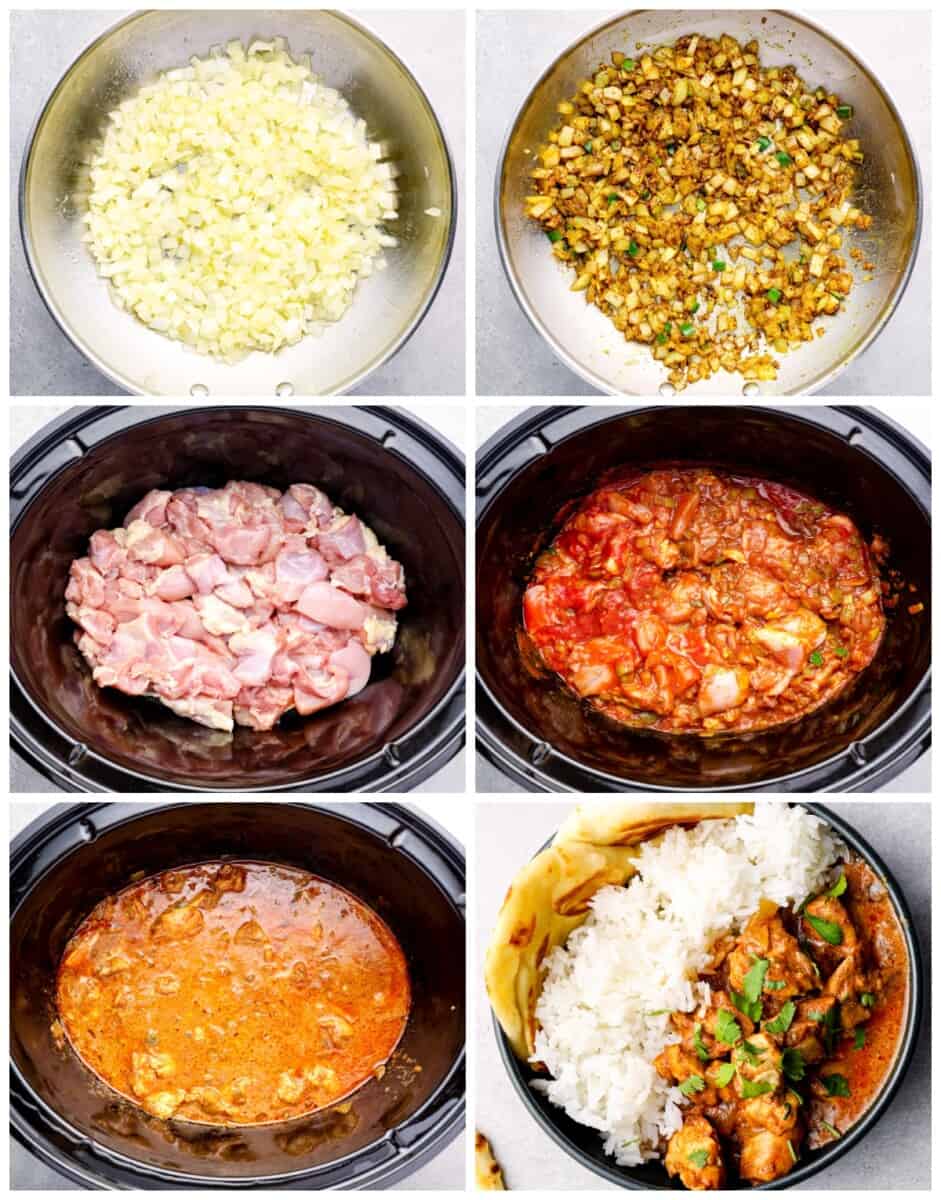 What is ghee?
Ghee is clarified butter. This means butter has been cooked down and strained to remove the milk solids and water. You can find it in the oil and vinegar aisle of most grocery stores, or you can order it on Amazon. If you're having trouble finding it, you can use neutral oil (like vegetable oil) instead. I do not recommend using regular butter in place of ghee, as it has a tendency to burn, leaving a bitter taste.
What is garam masala?
Garam masala is an Indian seasoning blend made from cinnamon, peppercorns, cardamom, mustard seeds, coriander seeds, cloves, mace, and nutmeg. You can find it in the spice aisle of most grocery stores or on Amazon.
How much dry rice makes 3 cups of cooked rice?
To get 3 cups of cooked rice, you will need 1 cup of dry rice. Prepare it according to the instructions on the package to serve with this delicious dish!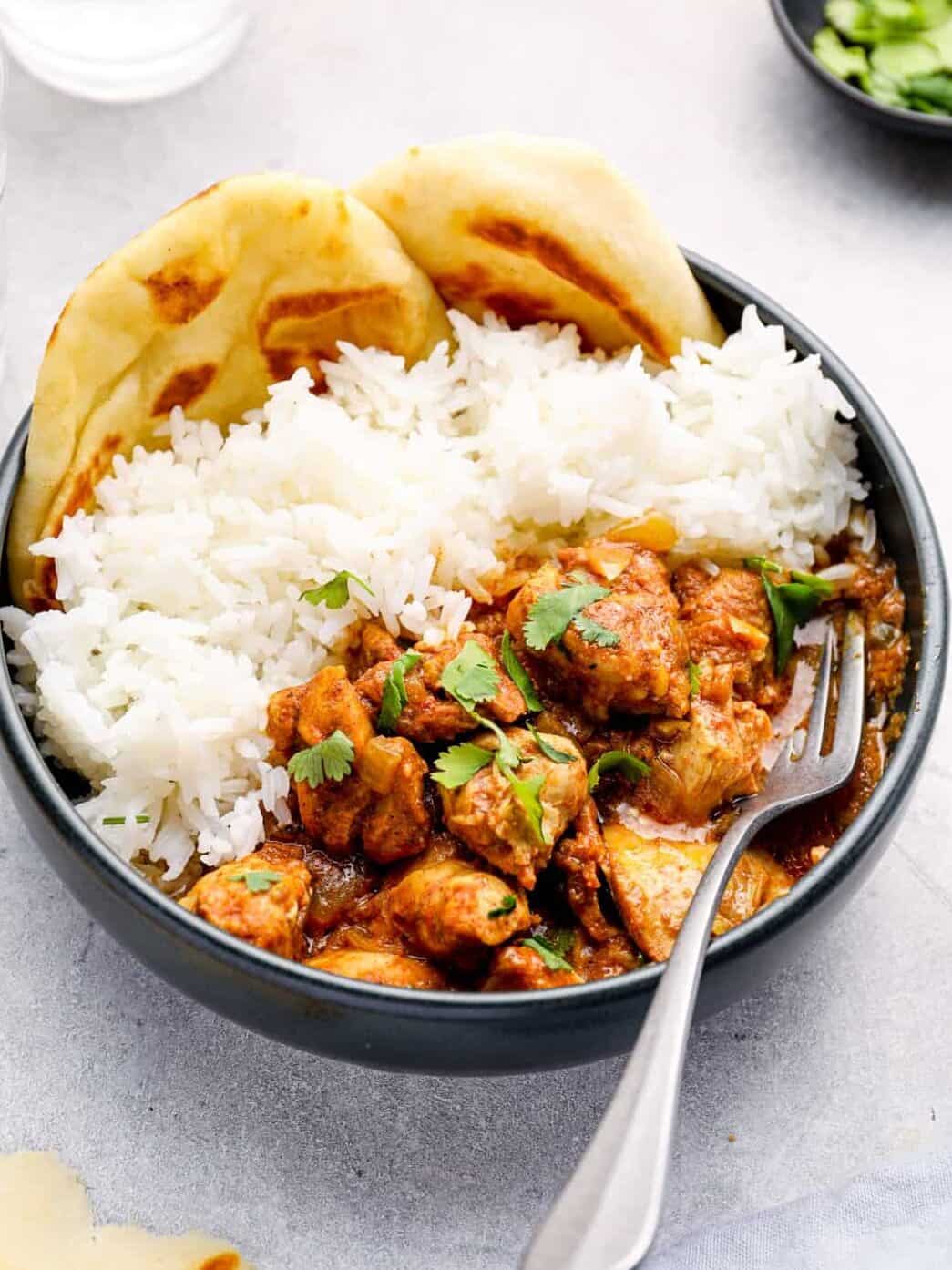 How to Store/Reheat Slow Cooker Tikka Masala Chicken
Store leftover Crockpot chicken tikka masala in an airtight container in the refrigerator for up to 3 days. Reheat in the microwave or on the stovetop over medium-low heat until warmed through.
How to Freeze Chicken Tikka Masala
Freeze Crockpot chicken tikka masala in an airtight container for up to 3 months. Let thaw overnight in the refrigerator before reheating.
What to Serve with Crockpot Indian Chicken Tikka Masala
If there's one thing you simply must serve with chicken tikka masala, it's naan bread! While I think that my homemade recipe is the best, store-bought is also perfectly fine.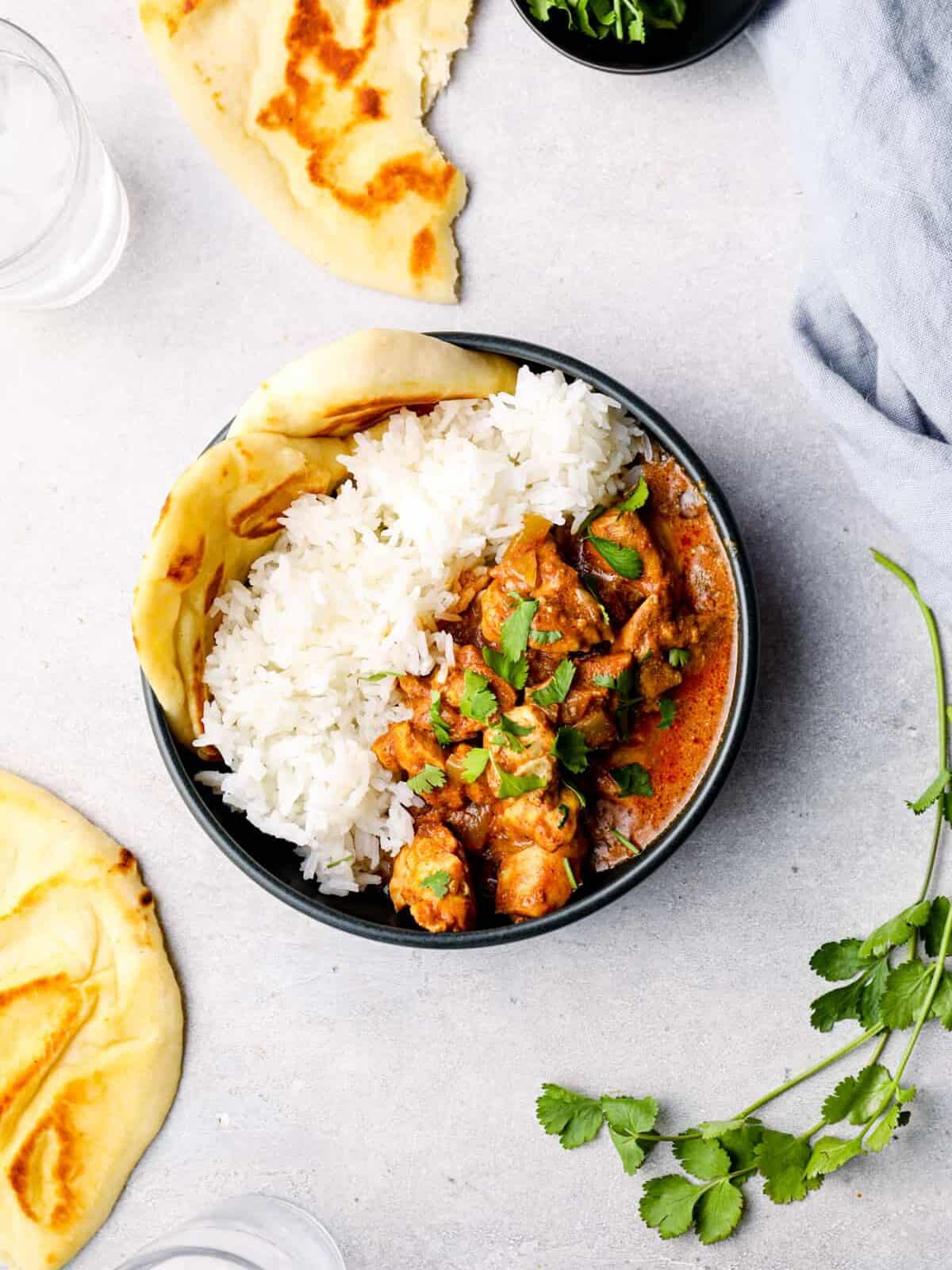 More Crockpot Chicken Recipes We Love