Make this Easy Chicken Tikka Masala a weeknight staple! Chicken is quickly marinated in a spiced yogurt mixture, so it's tender and juicy. Then, it's smothered in a creamy, comforting, flavor-packed curry sauce.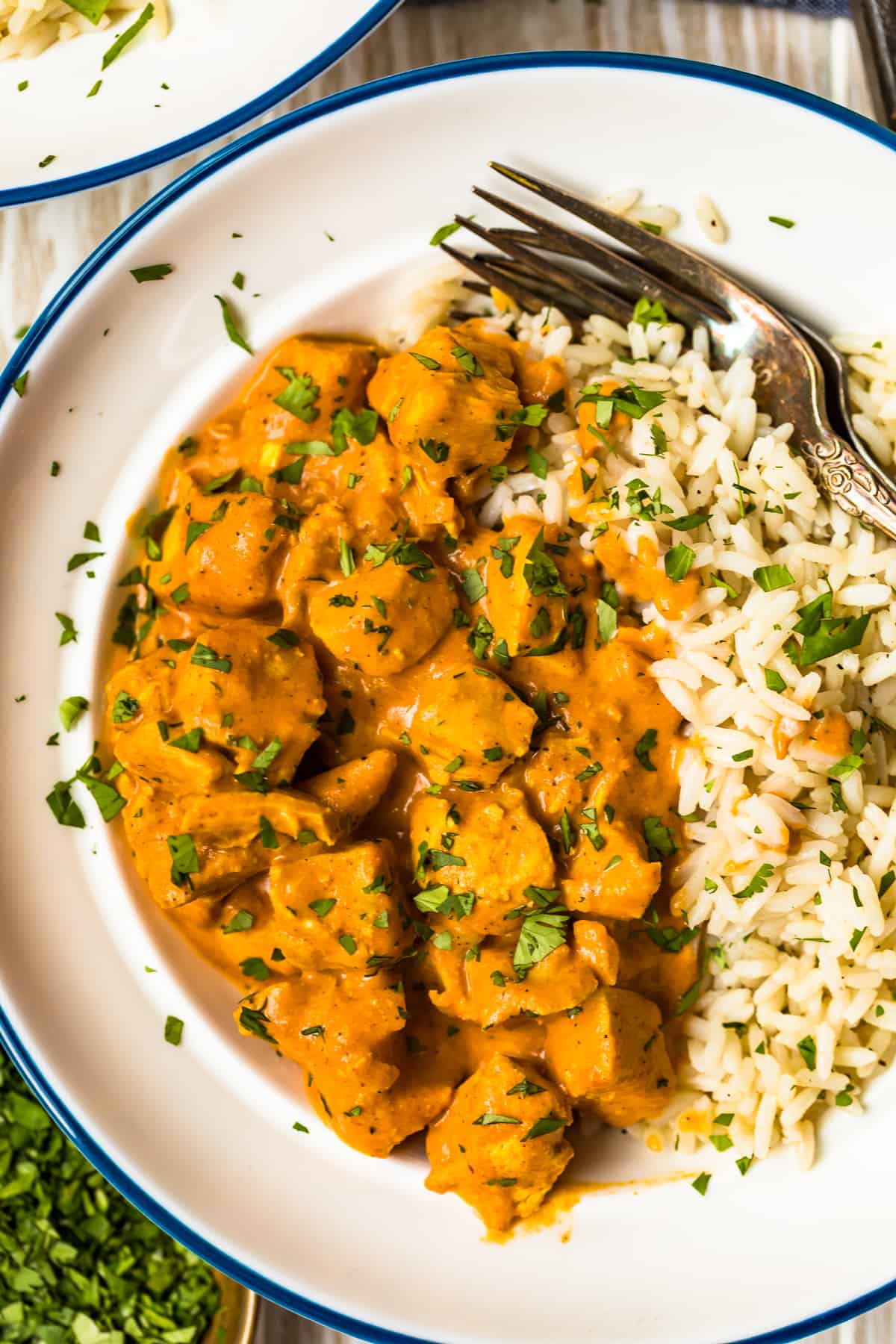 This Easy Chicken Tikka Masala goes toe-to-toe with the best take out! A quick marinade delivers the most flavorful chicken and that's not all..the curry sauce is absolutely knock out good!
How To Make Chicken Tikka Masala – Step by Step
For The Chicken
Cut the chicken into bite-size pieces and sprinkle with salt, pepper, curry, Garam Masala and sugar. Place it in a bowl or Ziploc bag. Then, pour the yogurt over the chicken. Set the chicken aside until ready to cook, at least 10 mins.
Then add the chicken to a pan with hot oil, Cook until the chicken is lightly seared and not quite cooked through
For The Sauce
Add diced onions to a pan with the hot butter and oil. Then add diced onions, garlic and the other spices. Once fragrant, add the tomato sauce, reduce heat to low and let the sauce thicken 10-15 minutes, stirring often.
Add the cream and sugar and bring the sauce to a low boil, then place in the cooked chicken.
Keep the heat on low and simmer until sauce thickens and chicken is fully cooked – 15-30 minutes more.
Garnish with chopped cilantro and serve with basmati or jasmine rice and Naan bread.
Enjoy!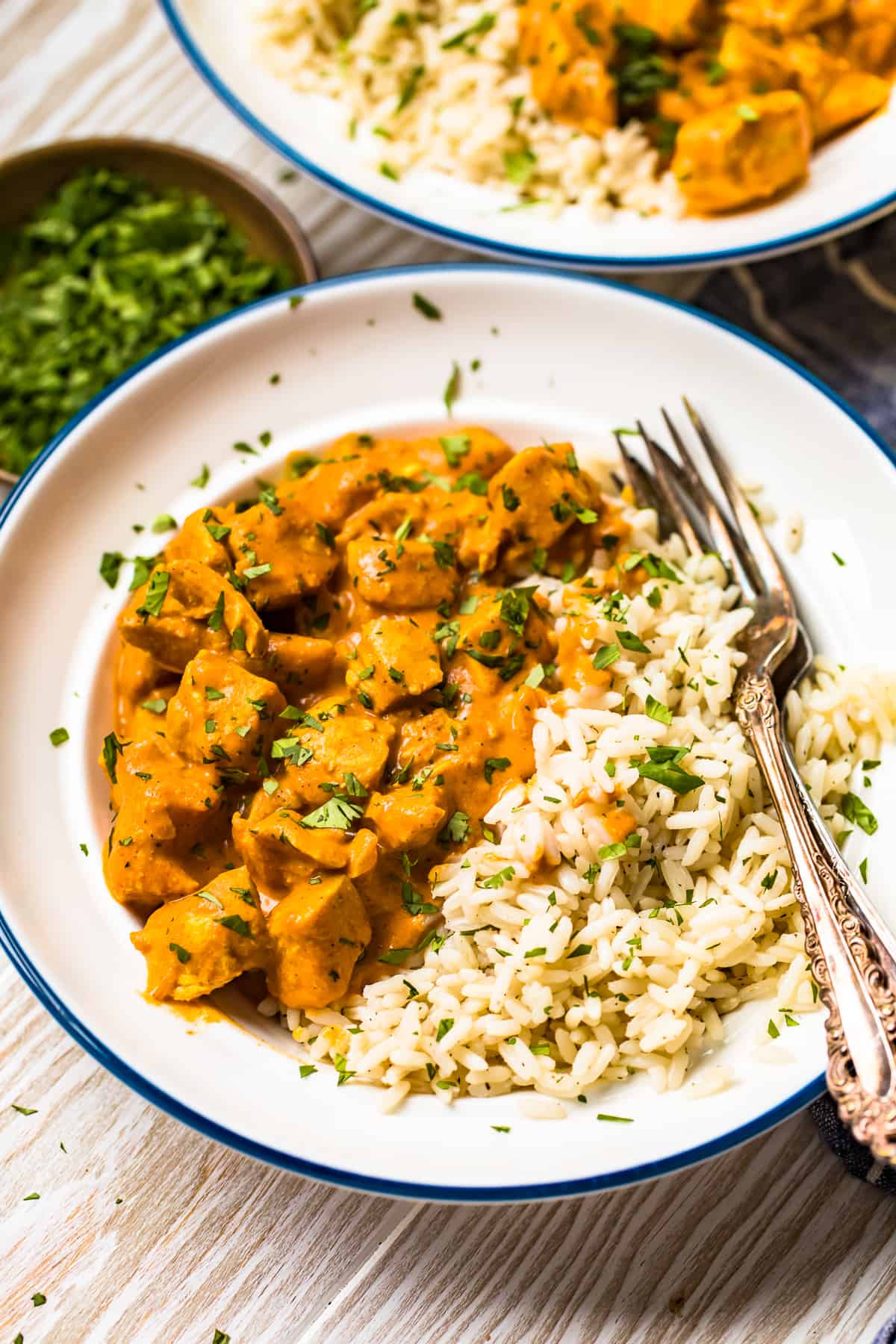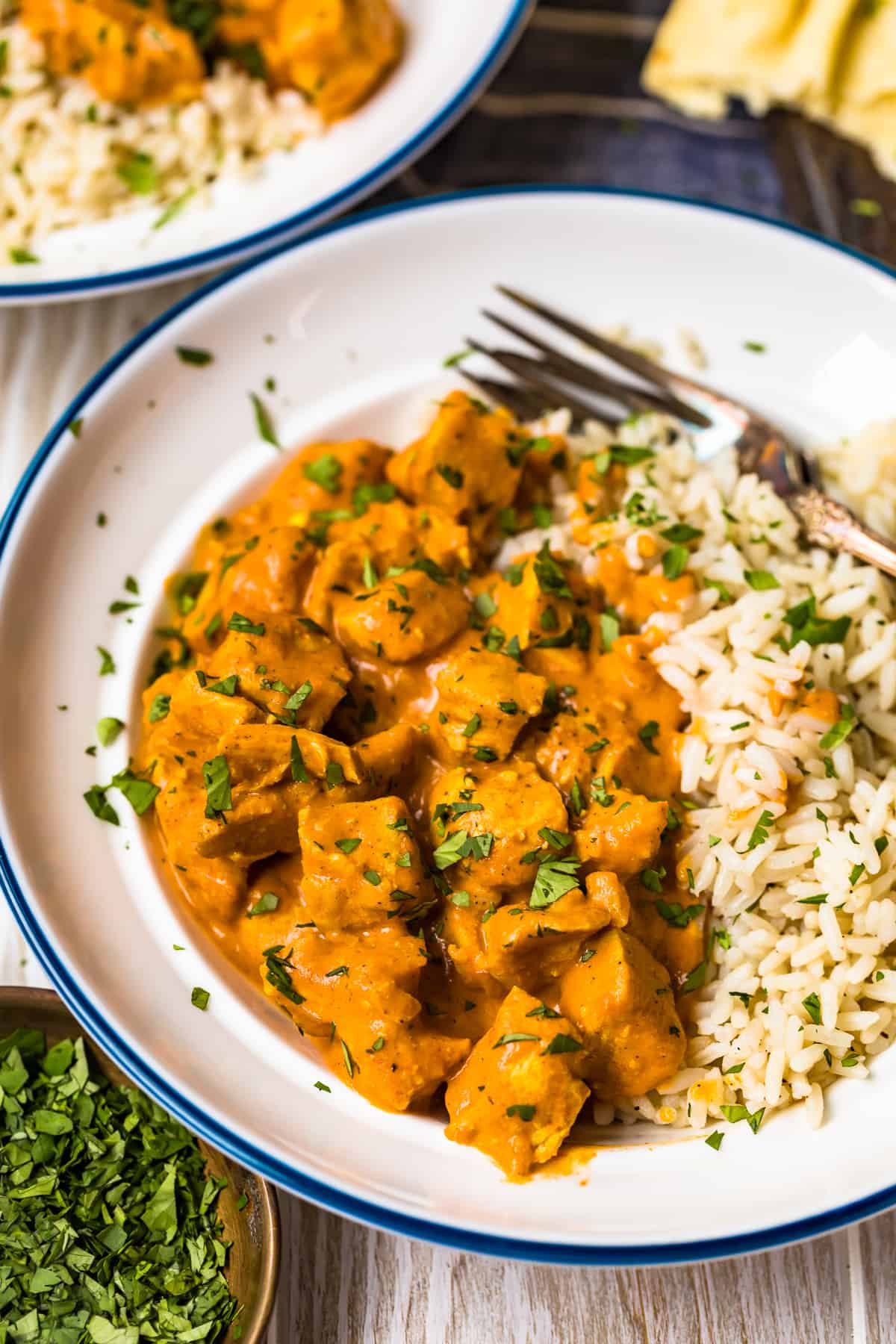 What Is Chicken Tikka Masala?
Chicken Tikka Masala is a dish that consists of chunks of marinated chicken smothered in a creamy, heavily-spiced, tomato-based curry sauce. It owes its name to that heavily-spiced sauce, as masala is an Indian term for a mixture of spices.
Chicken Tikka Masala is a super popular dish at Indian restaurants in the U.S. and it's typically served with rice and plenty of naan to mop up that delicious sauce.
Is it spicy?
Typically this curry is not spicy. It's appeal comes from the richness of the sauce and creamy coated chicken. The gravy part is prepared without any chilies. Ditto the 'tikkas' – boneless pieces of chicken marinated in spiced yogurt.
But of course you can throw in some sweat inducing chilies if you like it spicy!
Can I Freeze Chicken Tikka Masala?
If planning on freezing this dish, make double the sauce and freeze half. Freeze it separately without the chicken. When ready to serve, prepare the chicken as directed, then add it to the thawed sauce to simmer for 15-20 minutes or serve with rotisserie chicken.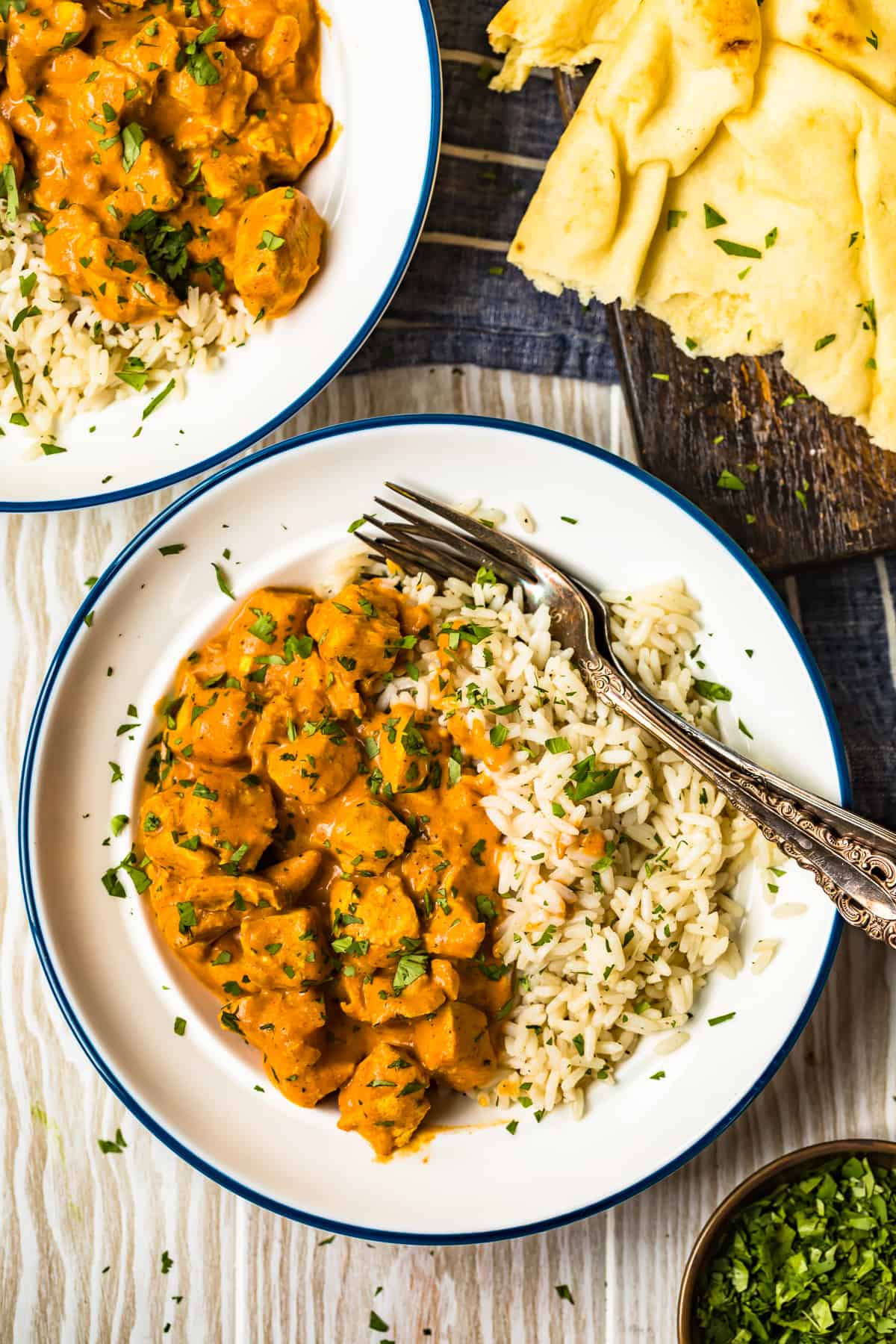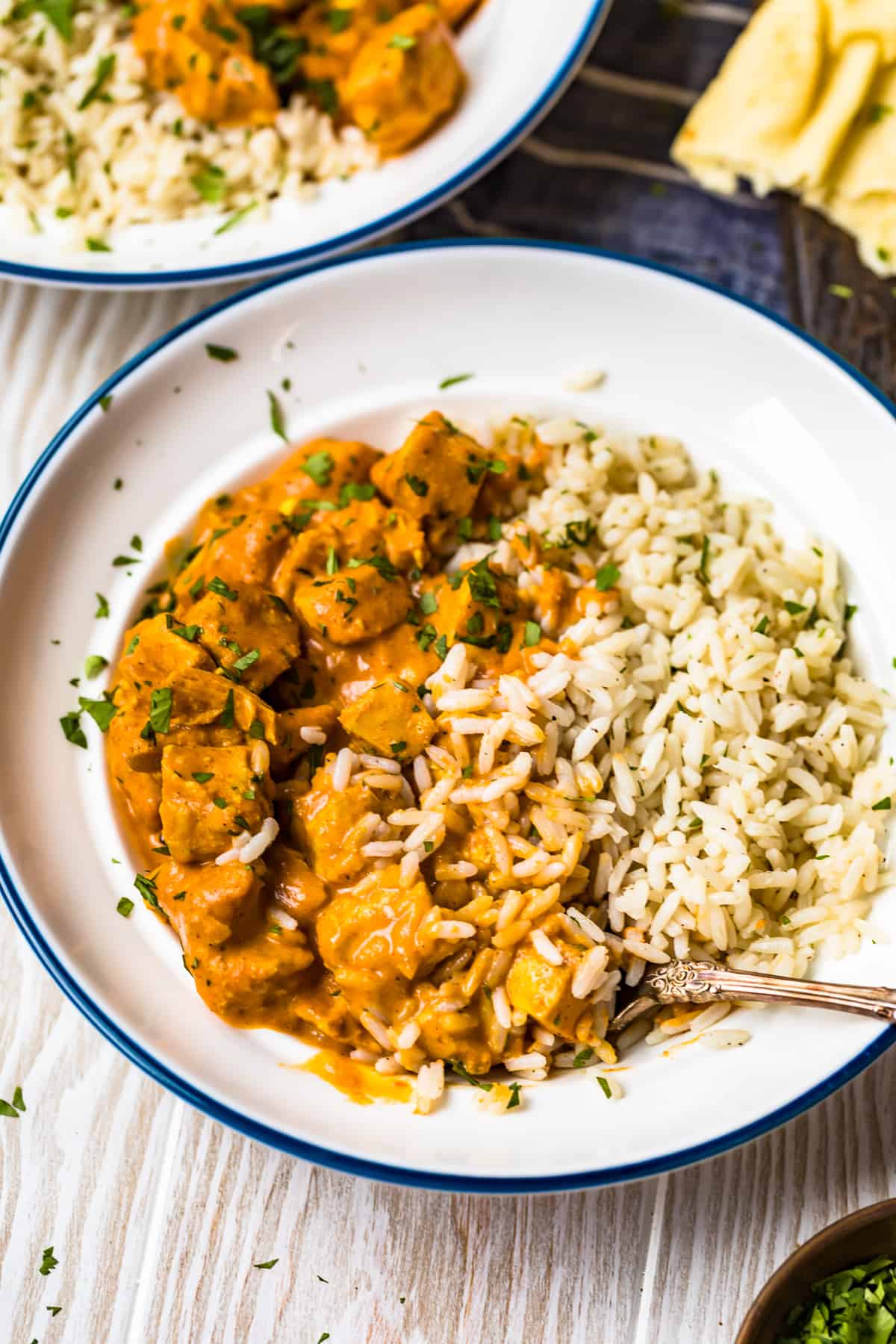 Easy Chicken Tikka Masala Recipe Tips
Make sure your spices aren't too old or they will be lacking in potency.
If in a hurry, rotisserie chicken can be substituted for skillet cooked chicken.
You can top with some creme fraiche, this adds some acidity and silkiness to the dish.
Top with cilantro and almond slices, serve with rice and naan.
Serving Suggestions
This curry dish is with chicken and rice is absolutely delish! The best way to finish it off is to serve it with fresh naan to help scoop up the extra sauce. I also recommend making these easy naan rolls to go with it!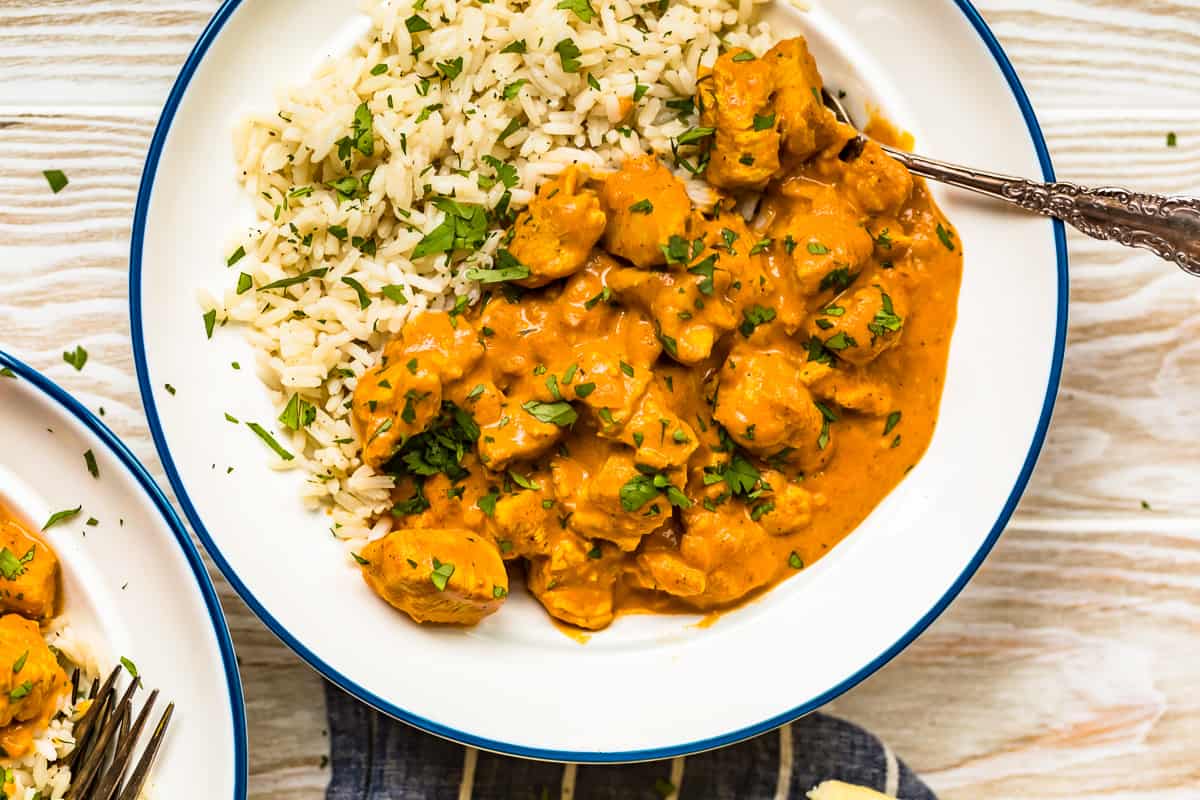 Check Out These Other Delicious Curry Recipes
Have you tried this Chicken Tikka Masala recipe? Feel free to leave a star rating and I'd love to hear from you in the comments below!