Chicken tikka masala is a classic Indian take out dish that you can easily make at home! Chicken is marinated in a spiced yogurt mixture, so it's tender and juicy. Then it's smothered in a creamy, comforting, flavor-packed curry sauce. This easy chicken tikka masala recipe is a weeknight staple!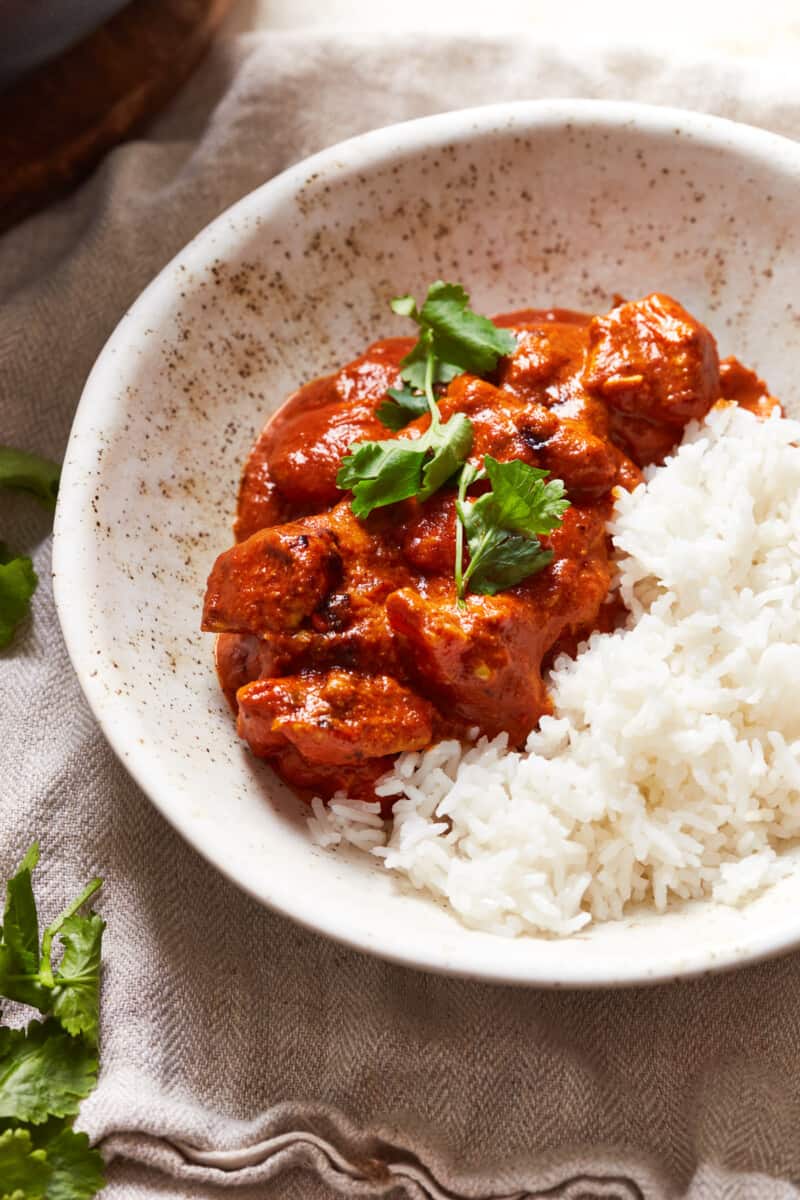 Easy Chicken Tikka Masala Recipe
This easy chicken tikka masala recipe goes toe-to-toe with the best take out! Make your favorite chicken curry at home for a flavorful weeknight dinner.
Chicken is marinated in yogurt, then cooked to perfection in a spicy and creamy tikka masala sauce. It's surprisingly quick to make at home!
Serve this chicken tikka masala over rice for an easy meal. Add some veggies or naan bread on the side, and it will be complete!
Why You'll Love this Chicken Tikka Masala Recipe:
QUICK AND EASY: This dish can be made in under 45 minutes! There's just a few steps, and it's really easy to make on weeknights.
SUPER FLAVORFUL: All of the typical tikka masala spices (cinnamon, turmeric, ginger, and more) are here to create the most flavorful dish ever!
CREAMY SAUCE: Chicken swims in a creamy tikka masala sauce that is absolutely to die for! It's so delicious, you'll want to finish every last bit.
If you want the flavors of this recipe in an easy game day appetizer, try these Baked Chicken Tikka Masala Wings or these Curry Chicken Meatballs!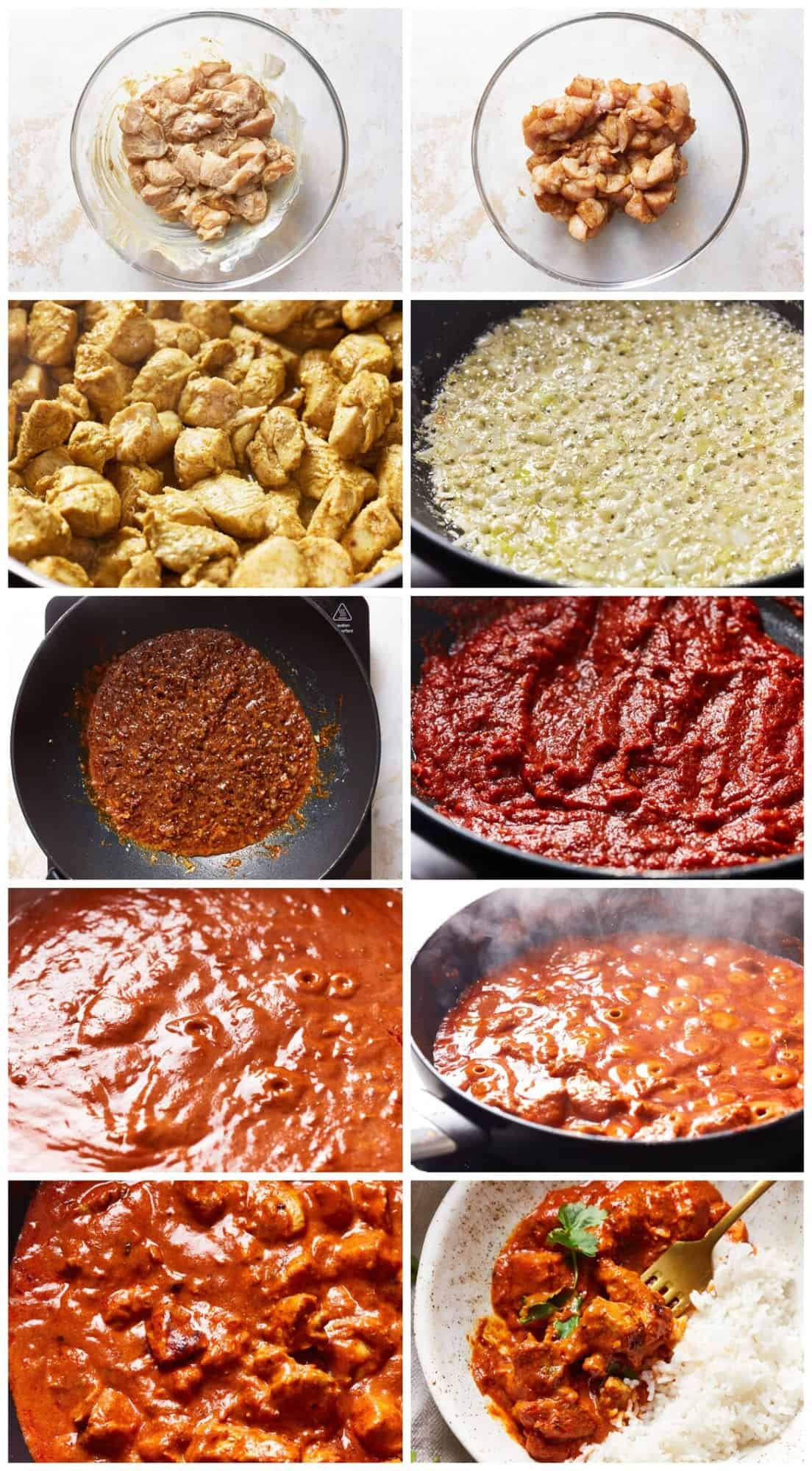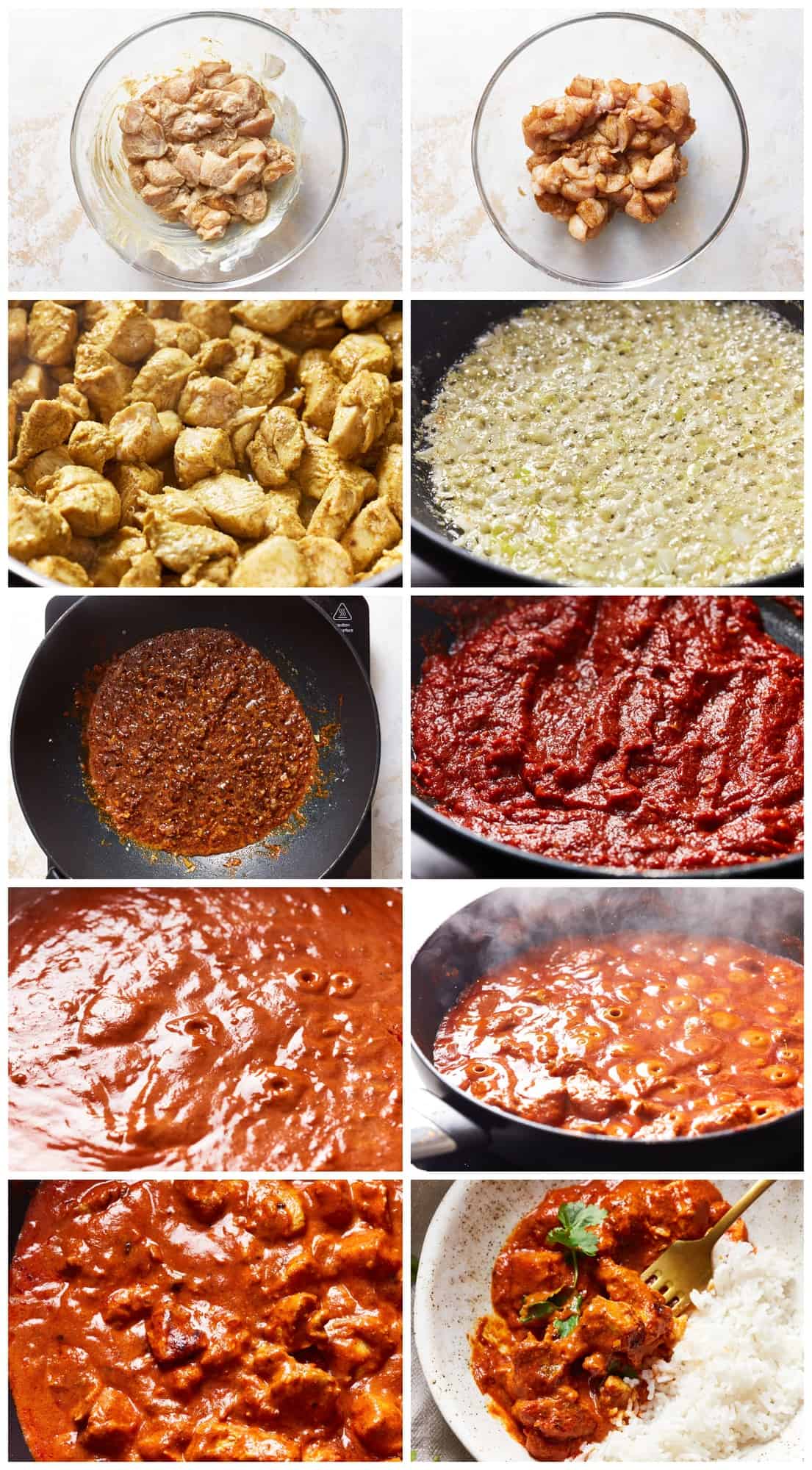 What is tikka masala?
Tikka masala is a curry dish. It's made with tomatoes, heavy cream, and lots of spices. This is an Indian-inspired dish, which is then cooked along with some form of meat/protein/etc. In this case, we made chicken tikka masala, which is chicken in a spiced curry sauce. Yum!
Tikka refers to the small pieces of meat, marinated in a sauce. Masala refers to the mix of spices added to the sauce.
Main Ingredients
Be sure to check the recipe card for the full ingredients list for this homemade chicken tikka masala recipe!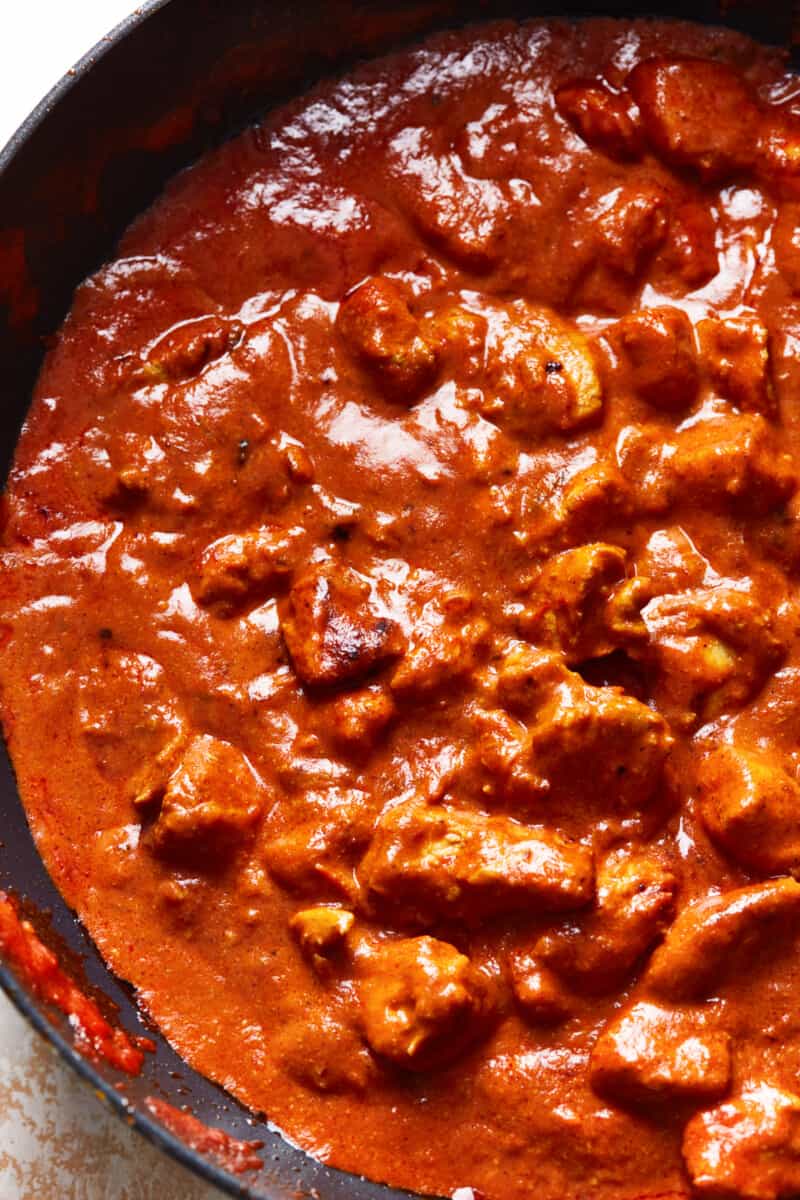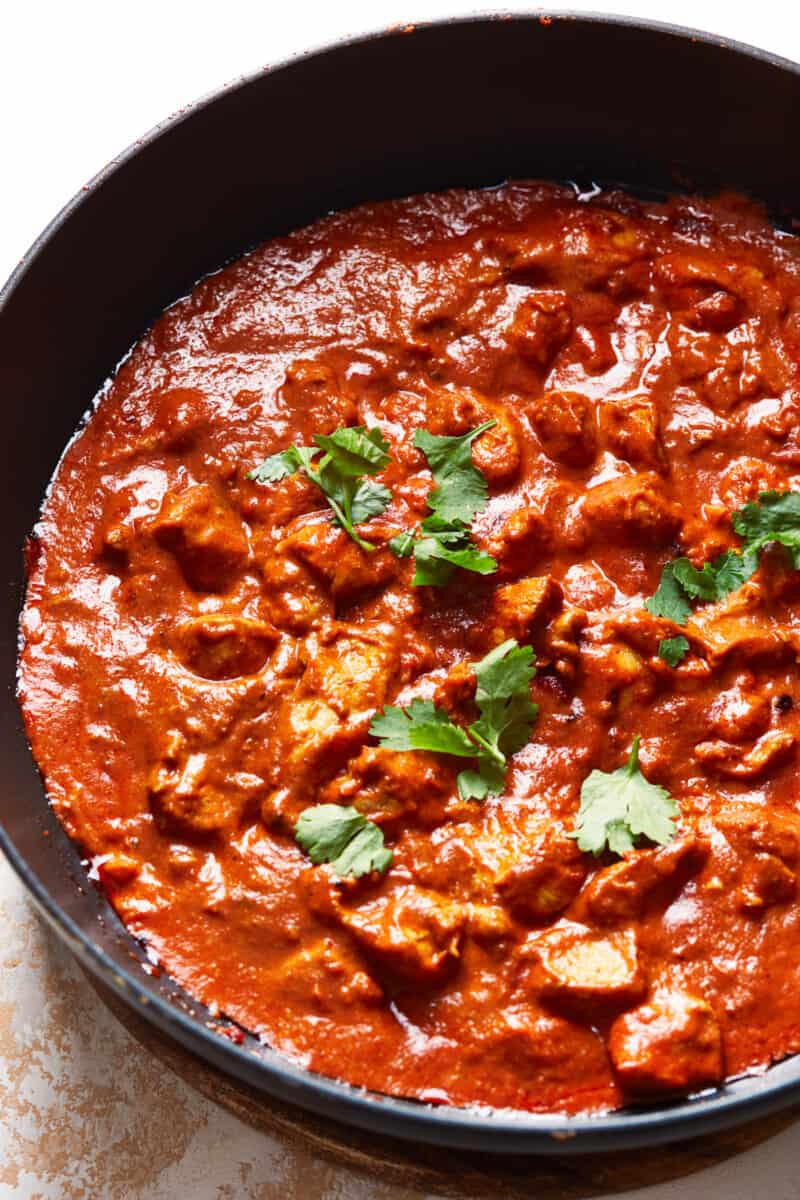 How To Make Chicken Tikka Masala
Be sure to see the recipe card below for full ingredients & instructions!
Prep and marinate the chicken breast in yogurt.
Sear the chicken on the stove, then remove it from the heat and set it aside.
Start making the tikka masala sauce, by simmering tomatoes along with spices, onions, and garlic. Once it thickens, add the cream and sugar.
Next, add the chicken into the sauce, and let it simmer until fully cooked, and sauce had thickened.
Serve with rice, veggies, and naan. Enjoy!
Recipe Variations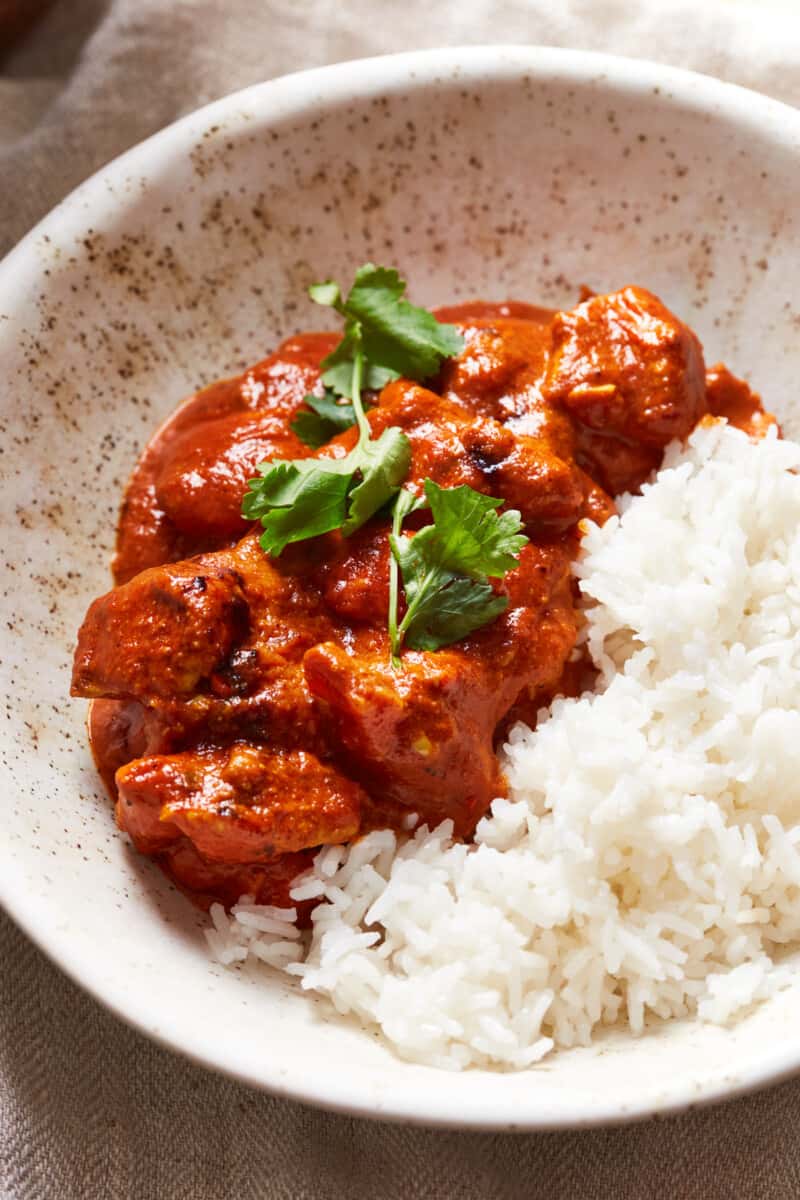 Is chicken tikka masala healthy?
This recipe is mainly chicken, tomatoes, and lots of spices, which makes it a decently healthy dish to make for dinner. There is some cream and sugar in the sauce, and the chicken is cooked in vegetable oil. But making homemade chicken tikka masala is definitely healthier than a takeout version.
Can I make this in a slow cooker?
If you prefer to make tikka masala in a crock pot, add all ingredients (except the cream) to the pot, and cook on LOW for 8 hours. Stir in the cream at the end until warmed and fully combined into the sauce.
What is garam masala?
Garam masala is a traditional Indian spice blend. It typically contains things like cumin, coriander, cinnamon, and peppercorns.
Is tikka masala a curry?
Yes, tikka masala is a curry sauce. This is a tomato-based curry, filled with lots of spices.
Is tikka masala sauce spicy?
This sauce is filled with spices like ginger, cumin, and more. So yes, it is mildly spicy. But it's more like an aromatic, full-flavored "spicy", rather than a hot kind of "spicy". It's definitely warming, but it won't set your mouth on fire.
Of course, this all depends on your tolerance level of spice, and you can make it more or less spicy as desired. Feel free to throw in some sweat inducing chilis if you like it hot!
Can you freeze chicken tikka masala?
The best way to freeze chicken tikka masala is to separate the sauce and the chicken. The sauce can be frozen, but it's best to cook the chicken when you're ready to serve it. Chicken breast can be frozen too, so you can definitely keep some in the freezer for later.
When ready to serve: Thaw the tikka masala sauce in the fridge overnight, or in warm water. Prepare the chicken as directed, then add it to the thawed sauce, and let both simmer for 15-20 minutes on the stove.
Tip: The sauce is actually a really great thing to make and freeze for future meals. So consider doubling the sauce recipe, and freezing lots of it to use as needed.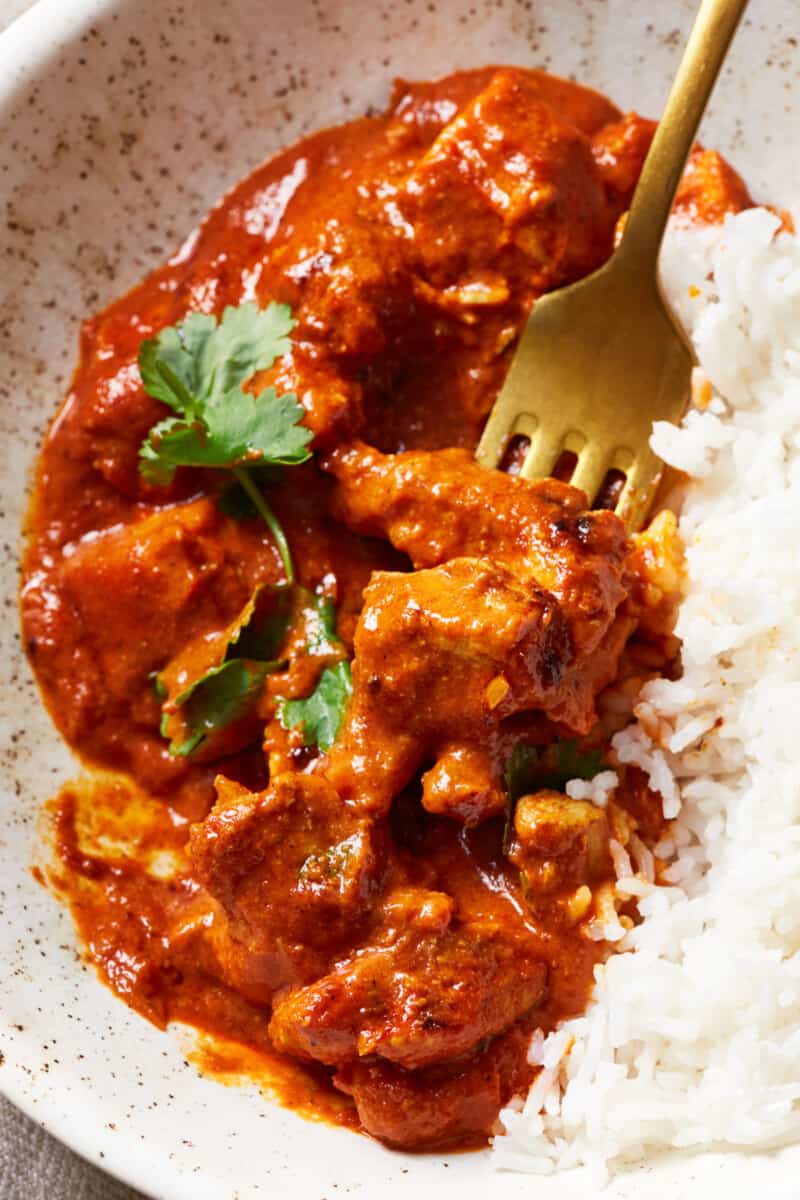 Tips!
Use rotisseries chicken (or another pre-cooked chicken) to save a little bit of time when making this recipe.
It's best to use newer/fresher spices. They don't have to be brand new, but older spices have less potency and are less flavorful.
You can prep and marinate the chicken in yogurt ahead of time if needed. It can sit in the refrigerator overnight, up to 24 hours.
The chicken should just be par-cooked at the start. Give it a sear, and take it off the heat while it's still slightly pink inside. It will be fully cooked later on with the sauce.
The dish is finished when the sauce is thickened and the chicken is fully cooked inside (it should reach 165F).
You can top with some creme fraiche to add some acidity, which creates an extra silkiness to the sauce.
Leftovers can be refrigerated in an airtight container for 3-4 days.
If serving with rice, cook it separately according to package instructions.
Serving Suggestions
This homemade chicken tikka masala recipe is best served over rice. I recommend using basmati or jasmine, or make coconut rice! The best way to finish off this dish is to serve it with fresh naan to help scoop up the extra sauce. You could also make these easy naan rolls to go with it!
If you want to add some veggies or side dishes, try these recipes.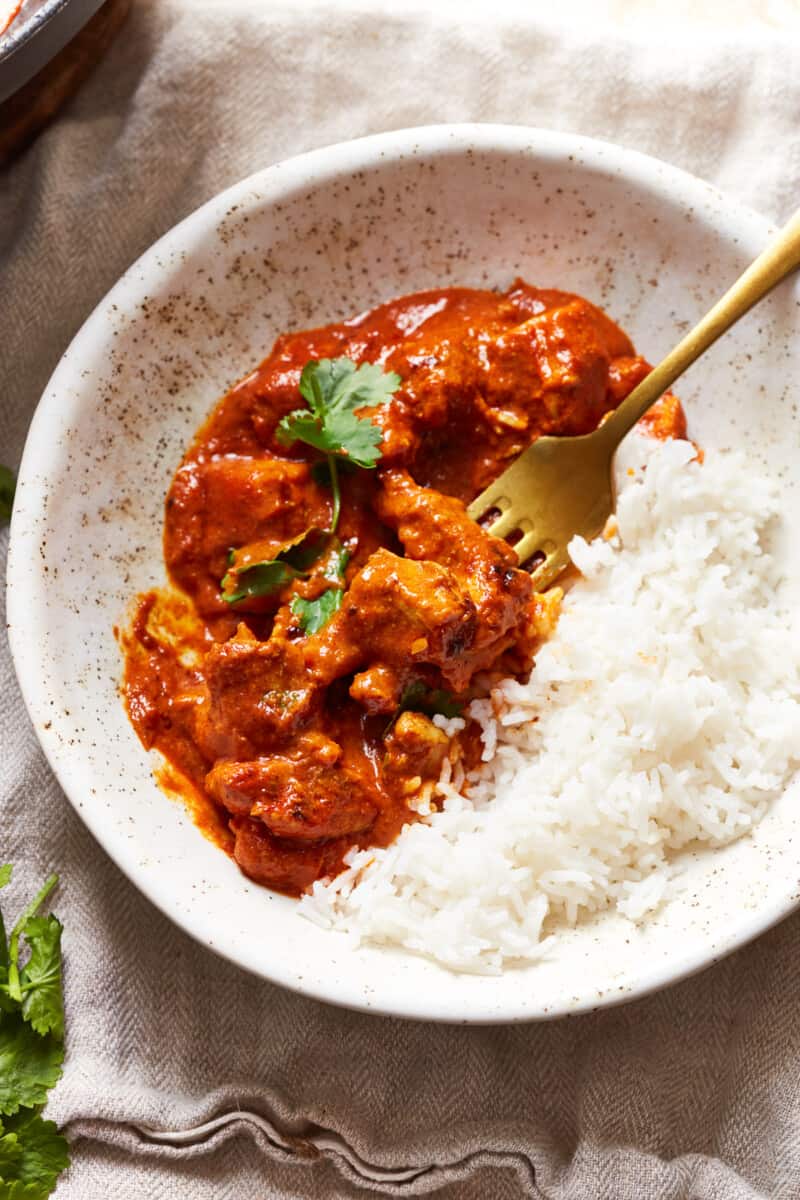 More curry recipes we love
This chicken tikka masala is just so creamy, tender, and flavorful. I absolutely love how rich the spices are, and this recipe is super easy to make at home. Make it for a casual date night, or for any weeknight dinner!
If you make this recipe be sure to upload a photo in the comment section below or leave a rating. Enjoy! You can also jump to recipe.