Creamy, delicious crockpot chicken Alfredo is always a family favorite whenever we go out to an Italian restaurant. It is also one of the easiest slow cooker recipes you can make at home on those cold winter nights. You won't believe how tender and juicy the chicken breasts taste after simmering in that famous creamy Alfredo sauce.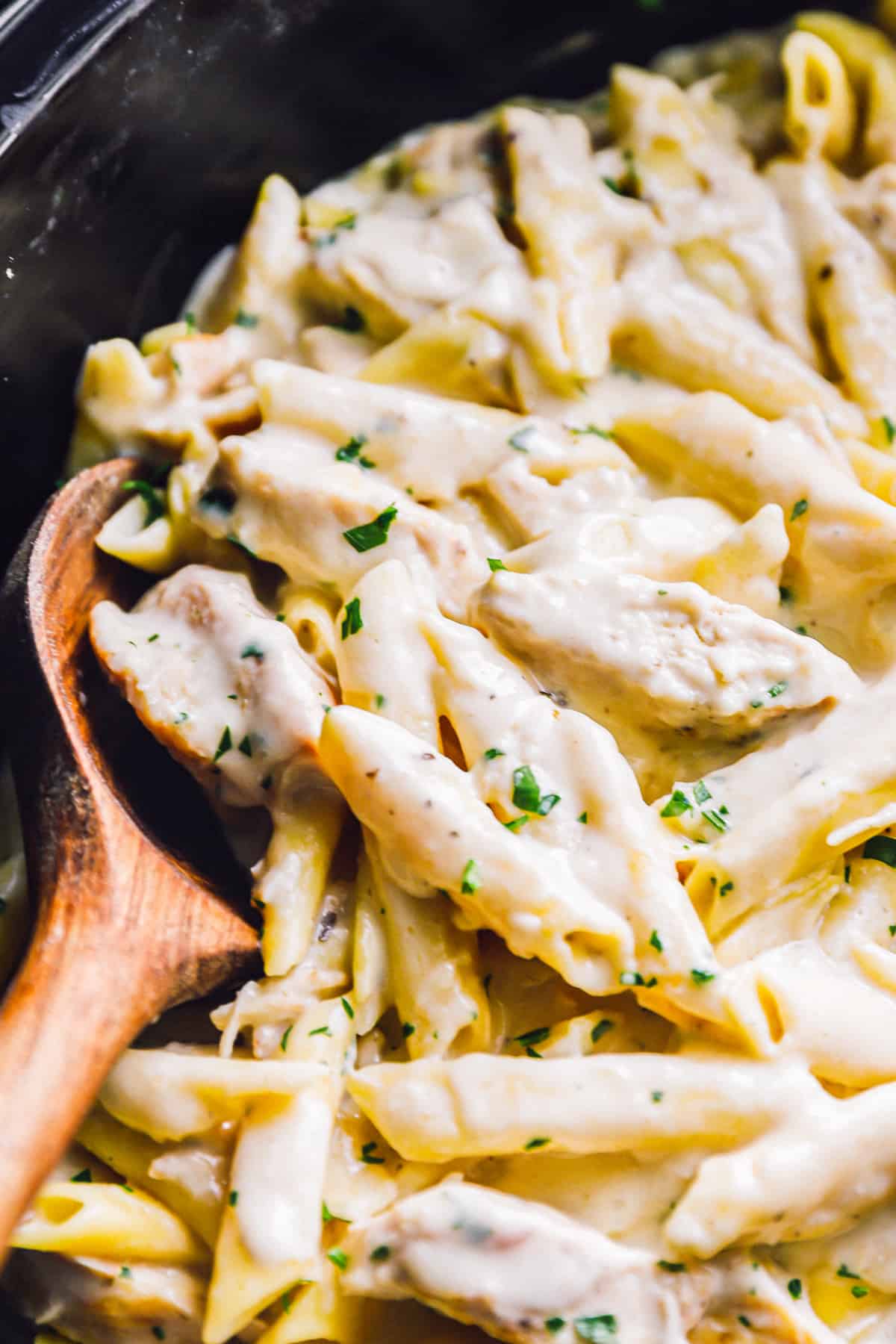 Slow Cooker Chicken Alfredo
This is a great recipe to make even on your busy days. You only need to pick up some heavy cream and parmesan from the store and put them together with a few other simple ingredients you probably already have in your kitchen.
Why You'll Love this Chicken Alfredo Crockpot Recipe:
Comforting: This recipe is high on my list of comfort foods. Something about the combination of cream, pasta, garlic, butter, and Parmesan cheese is so satisfying!
Easy to Make: If you can sauté chicken and boil water, you are qualified to make an irresistibly good chicken Alfredo that everyone in your family will love.
No Sides Needed: This recipe has everything you need to enjoy an easy, one-dish meal.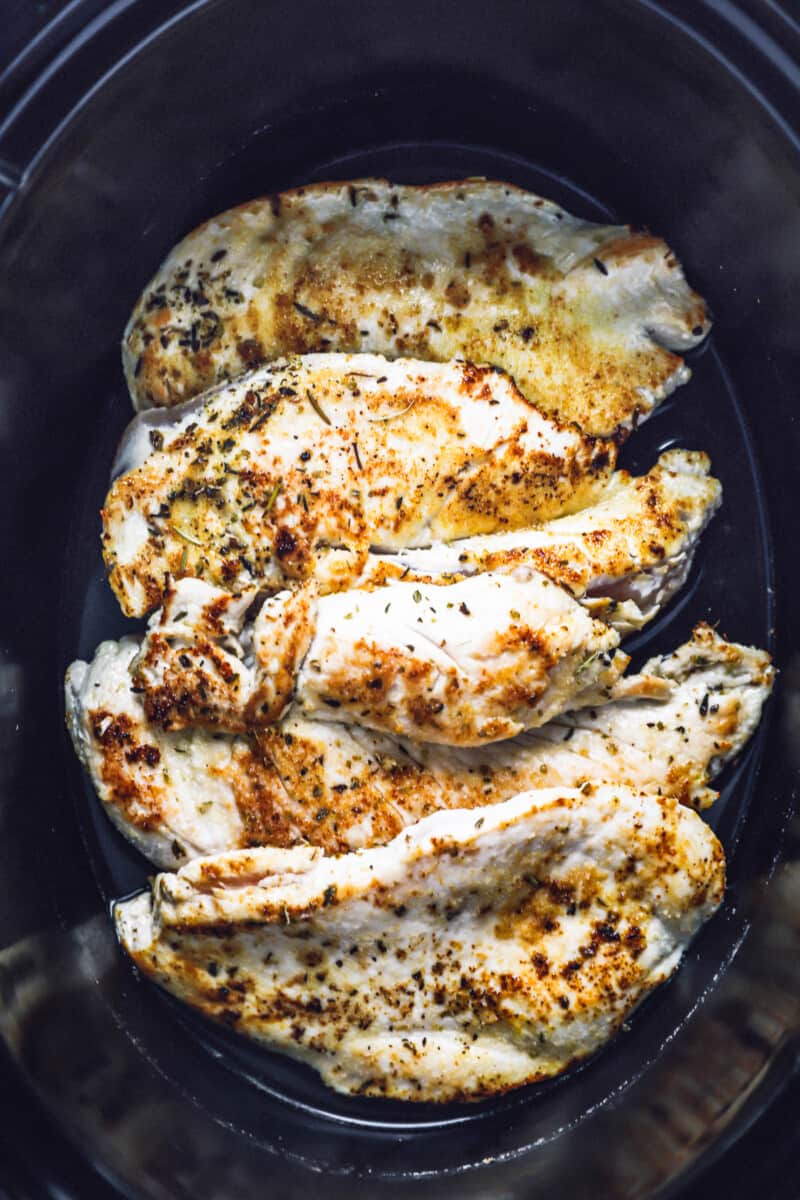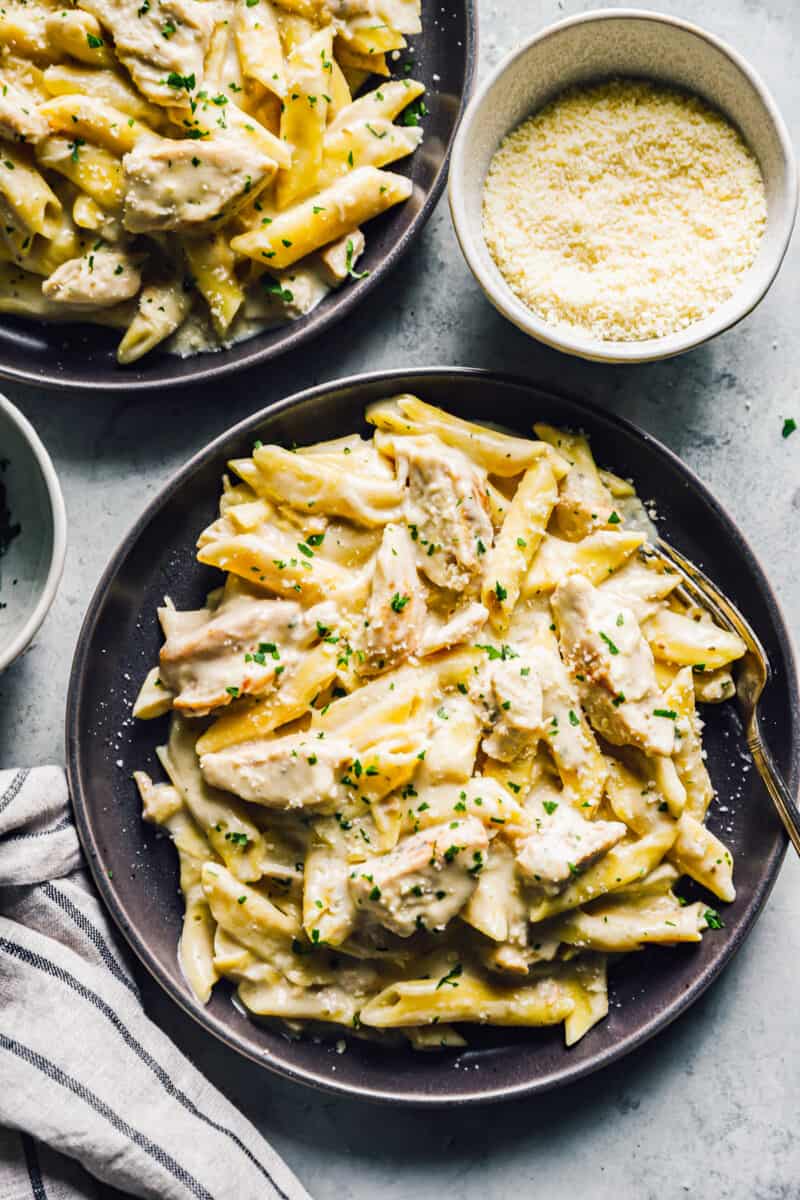 How to Make Crockpot Chicken Alfredo
You can jump to the recipe card for full ingredients & instructions!
Season the chicken and sauté in a skillet.
Add the chicken to the slow cooker with the cream, butter, and salt.
Cook the chicken in the covered slow cooker as directed in the recipe.
Prepare the penne pasta al dente, reserving some of the starchy water.
When ready, remove the chicken from the slow cooker and slice or shred.
Whisk the parmesan cheese and minced garlic into the cream.
Return the chicken, add the pasta, and stir everything together.
If the sauce is too thick, use the reserved water to get a perfect consistency.
Season with salt and pepper, and serve!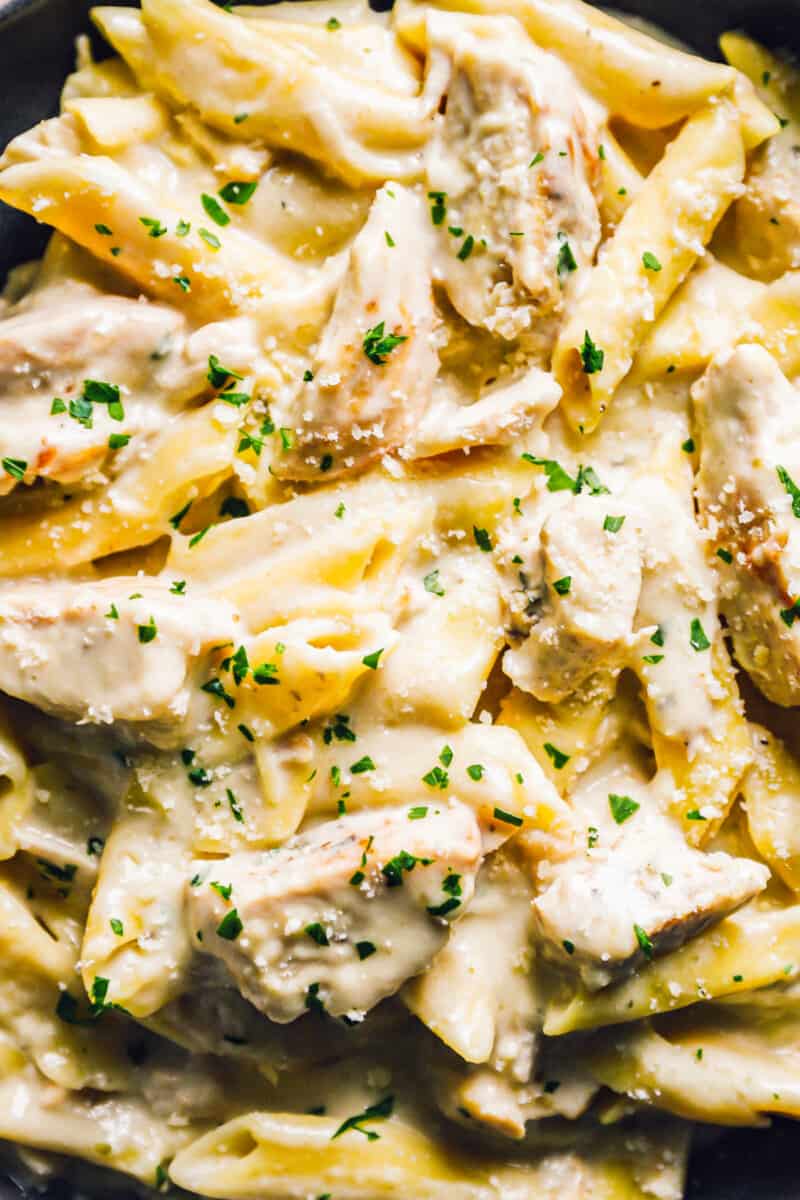 What does alfredo mean?
Alfredo is the name of the inventor of the dish, Alfredo de Lelio. Alfredo has come to mean a pasta dish tossed with butter, cream, and Parmesan cheese.
Can you cook pasta in a crockpot?
While you certainly can cook pasta in a crockpot, I find that it often turns out mushy due to the long cooking time. I recommend cooking the pasta separately in this recipe and stirring it in at the end of cooking.
What's the best pasta for crockpot chicken alfredo?
I really love penne, but you could use any pasta you like, such as shells, fettuccine, spaghetti, or rigatoni!
Can I make crockpot chicken alfredo with jarred alfredo sauce?
Absolutely! Omit the heavy cream, butter, ½ teaspoon kosher salt, Parmesan, and garlic. Follow the recipe as directed, pouring in jarred alfredo sauce in step 5.
Do I have to sear the chicken before adding it to the crockpot?
Nope! The chicken will still fully cook if you add it to the crockpot raw, but searing it adds a ton of great flavor, so I really recommend it!
Can I make crockpot chicken alfredo with chicken thighs instead of breasts?
You sure can! Swap in an equal amount of boneless, skinless chicken thighs and follow the recipe as directed.
Serving Suggestions
While slow cooker chicken Alfredo needs little else than a fork to enjoy but if you want to serve the pasta with bread, why not make the best garlic knots ever?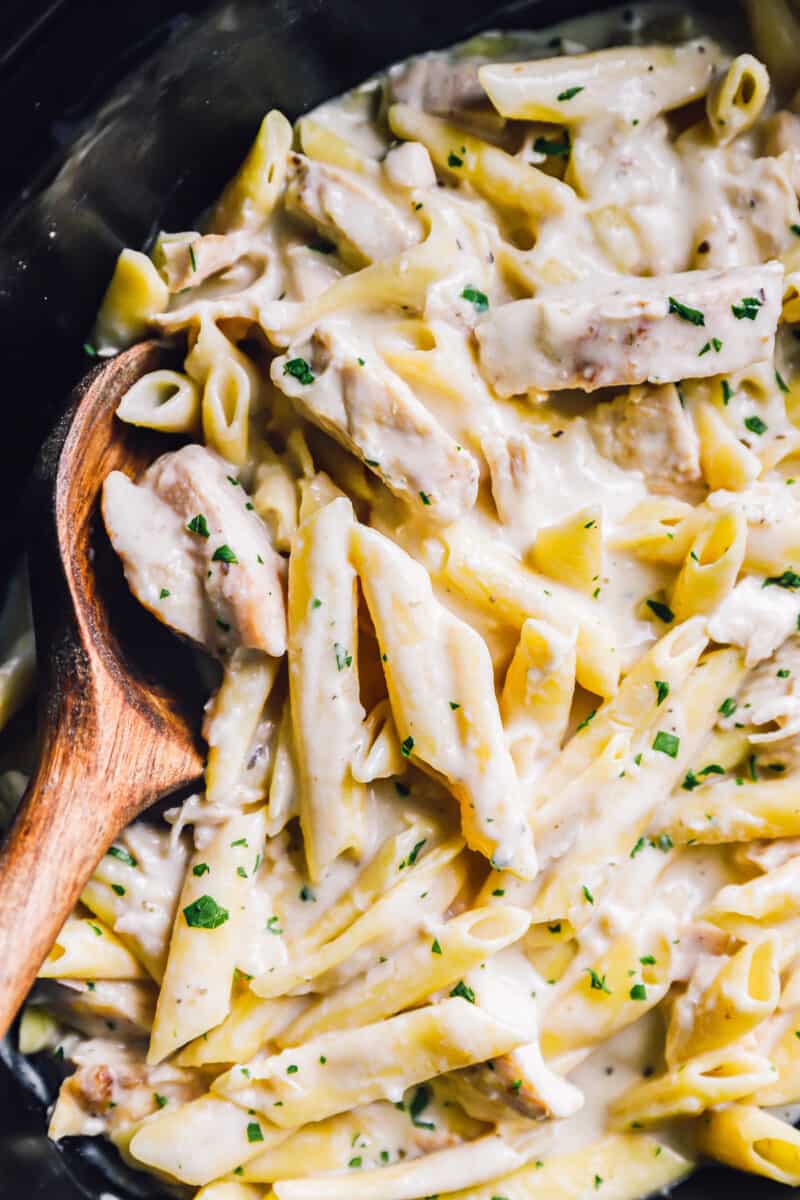 Make Ahead Instructions
Crockpot chicken alfredo can be made up to 1 day in advance and stored in an airtight container in the refrigerator until ready to serve.
Storage Instructions
Store leftover crockpot chicken alfredo in an airtight container in the refrigerator for up to 3 days. Reheat gently in the microwave or on the stovetop over medium-low, adding a splash of water if needed. I don't recommend freezing chicken alfredo.
Variations
To take your crockpot chicken alfredo to the next level, try these variations:
Add Greens: Add in some spinach or kale with the pasta and stir until wilted.
Swap Pastas: Try a different shape of pasta, such as bowties or rigatoni.
Swap Proteins: Try making salmon, shrimp, or meatball alfredo!
Add Veggies: Add broccoli florets, peas, or carrots for a veggie boost.
Add Pork: Add in chopped bacon or pancetta for an umami kick.
Tips for the Best Crockpot Chicken Alfredo
Cook your pasta separately to avoid mushy alfredo! I like to cook mine to al-dente and let it finish in the sauce.
Don't forget to save some of that pasta water to thin out the sauce if needed!
To save time, you can use pre-cooked shredded or sliced chicken.
If you need to thicken up your alfredo sauce, make a slurry of 1 tablespoon cornstarch and 1 tablespoon water and stir it into the sauce. Let it cook and thicken for 5-10 minutes.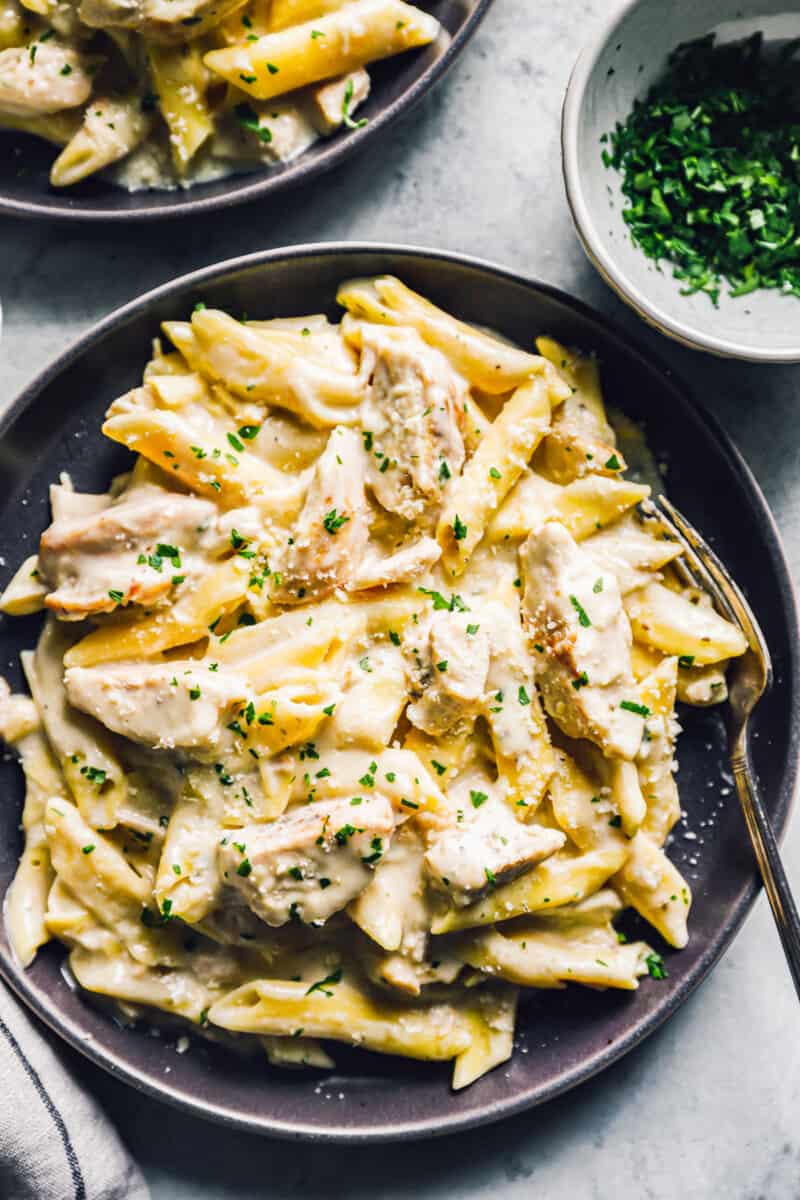 Since it was first invented by Chef Alfredo, crockpot chicken Alfredo has become a timeless restaurant classic that you can easily make at home, any time of year. It is always so good and satisfying, thanks to the simple but delicious ingredients and the slow cooker!
If you make this recipe be sure to upload a photo in the comment section below or leave a rating. Enjoy! You can also jump to recipe.