Curry Chicken Hand Pies are as easy as they are delicious! Game Day has never been more delicious than when you bring a batch of these Easy Chicken Curry Turnovers. These Curry Chicken Hand Pies are made with sliced chicken breast, frozen puff pastry dough, and a simple creamy chicken curry recipe and vegetable filling; pleasing even the pickiest party guests. So much flavor!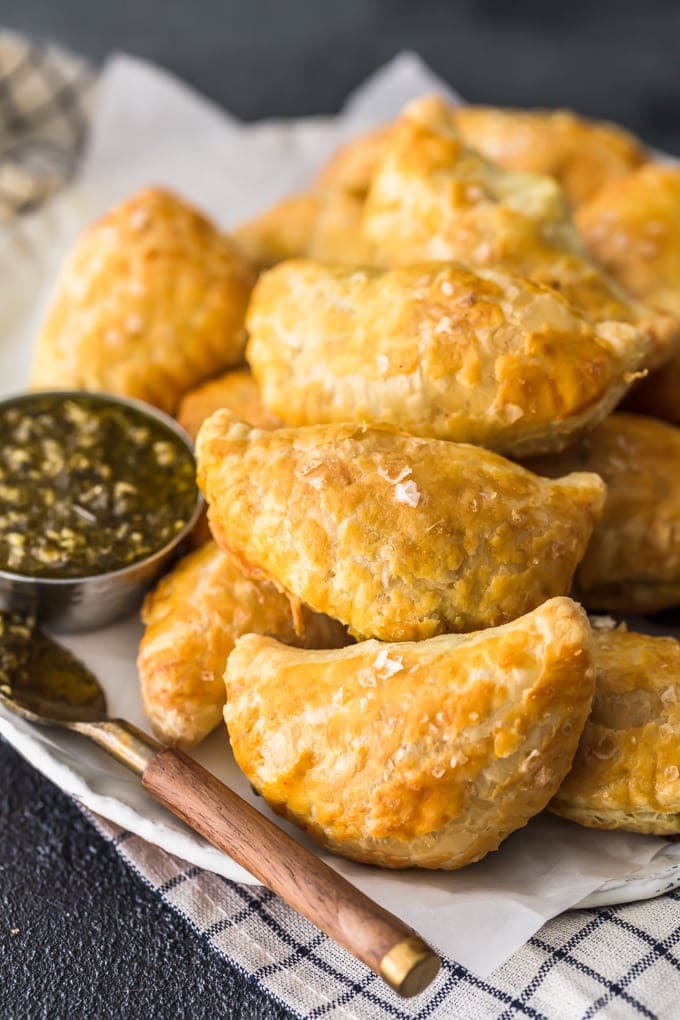 Curry Chicken Hand Pies
A delicious Curry Chicken recipe stuffed inside of flaky hand pies along with vegetables…you're going to love this easy Indian-inspired appetizer!
Curry Chicken is a typical (and incredibly delicious) Indian dish and I've turned it into an easy-to-eat hand pies recipe! You get the amazing flavors of chicken curry inside of a fresh, flaky pastry that you can eat with your hands. No need for a plate or utensils. Just pick up this curry chicken turnover and dig in.
These Curry Chicken Hand Pies make a great appetizer, and they're the perfect thing to serve on game day. They're surprisingly easy to make, and you can make as many as you need to keep your guests full. These savory hand pies are so tasty, full of spices, vegetables, and chicken!
Learn how to make an easy chicken curry recipe, mix it with some vegetables, stuff it all inside of pastry dough, and bake! Easy and flavorful. My two favorite words when it comes to cooking!
Make these easy Curry Chicken Hand Pies as an appetizer. The flavors of chicken curry inside of a flaky pastry…so good!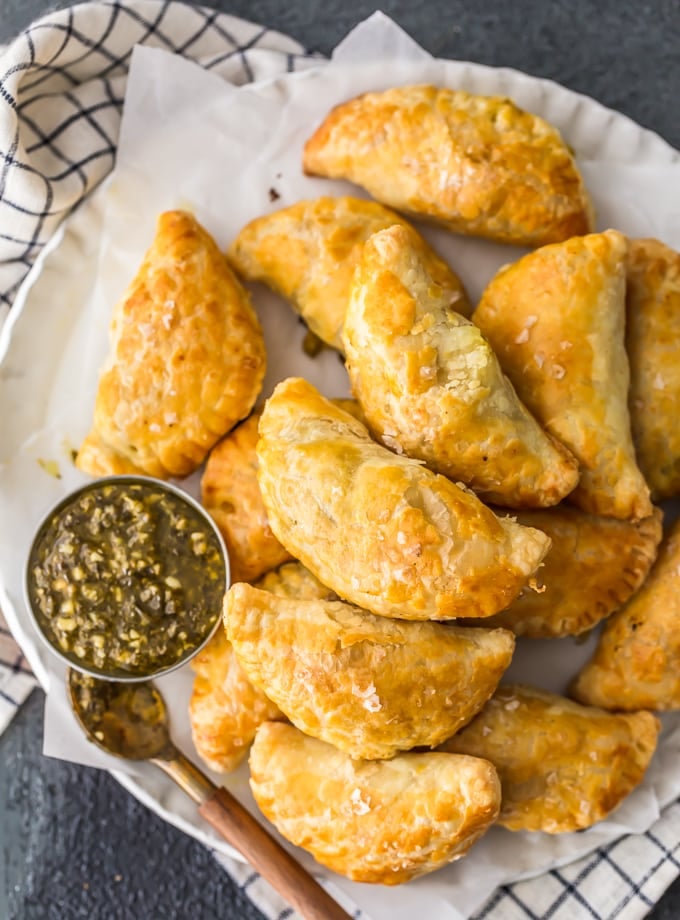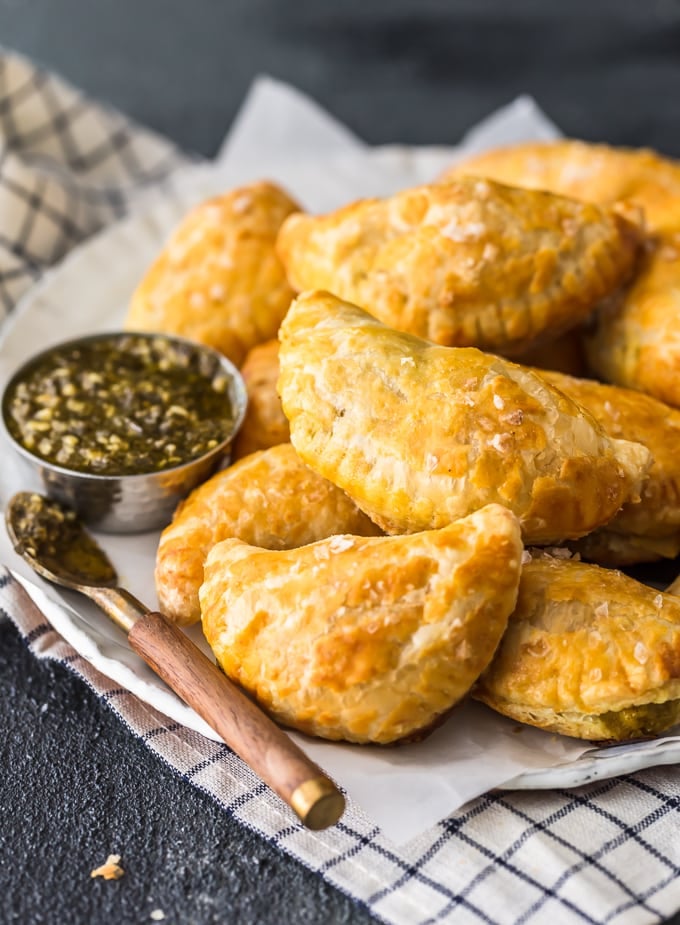 Curry Chicken Recipe
This tasty appetizer starts with a simple chicken curry recipe! I love the spicy, aromatic flavors of curry chicken. It's warm, it's savory, and it's full of flavor. I turned that into a savory hand pie because I wanted to get those classic Indian flavors into something that's easy to eat and great for a crowd of people. The creamy chicken curry is a great place to start.
Easy Curry Chicken Recipe:
Melt butter in skillet on medium-high heat
Add carrots, onions, and celery to skillet & cook for 5 minutes
Stir in curry powder & flour and coat veggies
Once it starts to form a paste, add in chicken broth, bring to boil, then reduce heat to low
Let it thicken for 1-2 minutes then remove from heat
Stir in sour cream and curry chicken breast
At this point, you have a delicious, creamy curry chicken recipe to fill your pastries with!
Savory Hand Pies
I love these savory hand pies! Why should pies be left to sweet desserts when you could have a pie stuffed with chicken curry and vegetables to eat at parties, as an appetizer, or even as a main dish? Serve these with the perfect dipping sauce (like a mint chutney or curry sauce) and you won't be able to put them down. They are so tasty!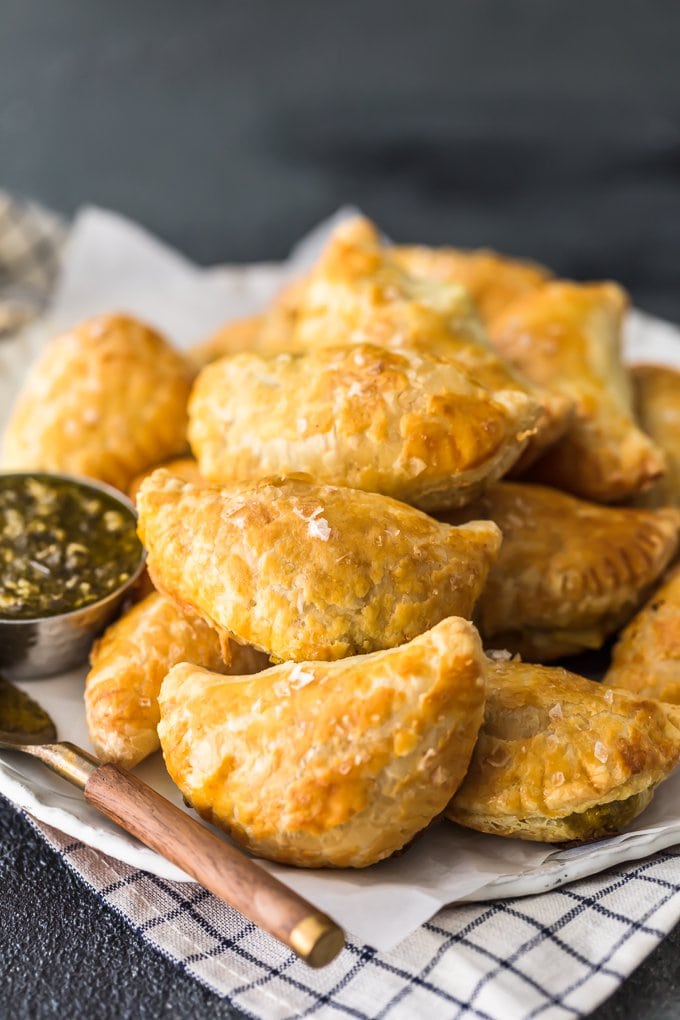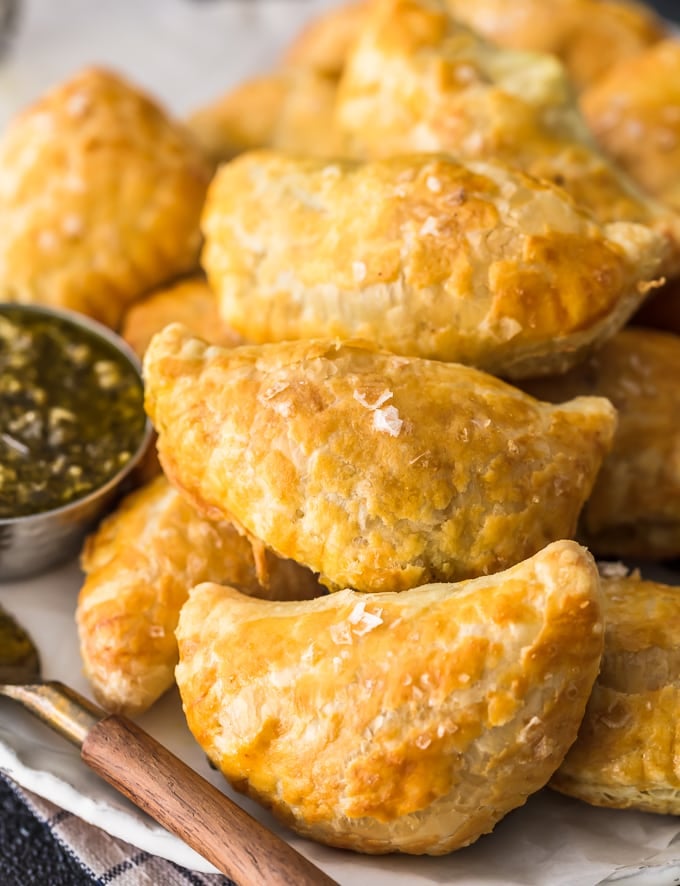 How do you make chicken curry hand pies?
Once you've got the curry chicken recipe sorted, turning into a curry chicken hand pie is fairly simple. Use frozen pastry dough to make things easy.
Cut the pastry sheets into 3″ round pieces
Add 1 tbsp of the chicken curry to half of each pie, then fold over the dough to enclose it
Use a fork to close the hand pies
Combine whisked egg & water in a small bowl, & brush each pie with the mixture
Lay them on a baking sheet & bake 18-20 minute
Easy chicken curry hand pies ready to serve!
What's in curry powder?
Curry powder is a mix of other spices that you'll find in a lot of Indian dishes. You can easily find curry powders for sale at most grocery stores, and that's what I used for this recipe. Not all curry powder blends will contain the exact same spices, but most will contain a few main ones.
Curry Powder Ingredients:
Coriander
Turmeric
Cumin
Chili Peppers
You might also find things like ginger, garlic, clove, mustard seed, nutmeg, and cardamom in curry powders. You don't need to pick a specific one; they will all give you that traditional Indian flavor for this chicken curry hand pies recipe.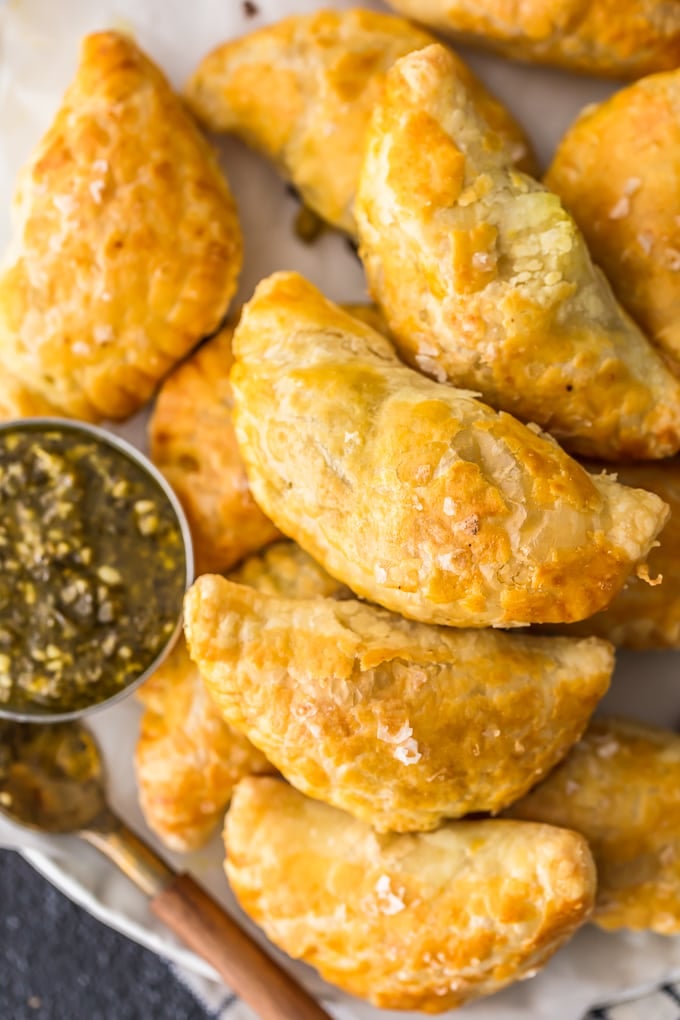 These Curry Chicken Hand Pies are so savory and full of flavor. They're the most delicious appetizer for game day or other parties, and they're easy enough to make without too much hassle. If you like chicken curry, you're going to love this recipe!
Watch the video or see the recipe below for details on how to make Curry Chicken Hand Pies. Enjoy!
If you like these curry chicken hand pies, you'll love these recipes too: