These quick and easy Pizza Sliders are stuffed with pepperonis, mozzarella, pizza sauce, and pesto, then baked until hot, cheesy, and toasty. It's such a simple lunch or dinner idea for busy days, and they make delicious appetizers too!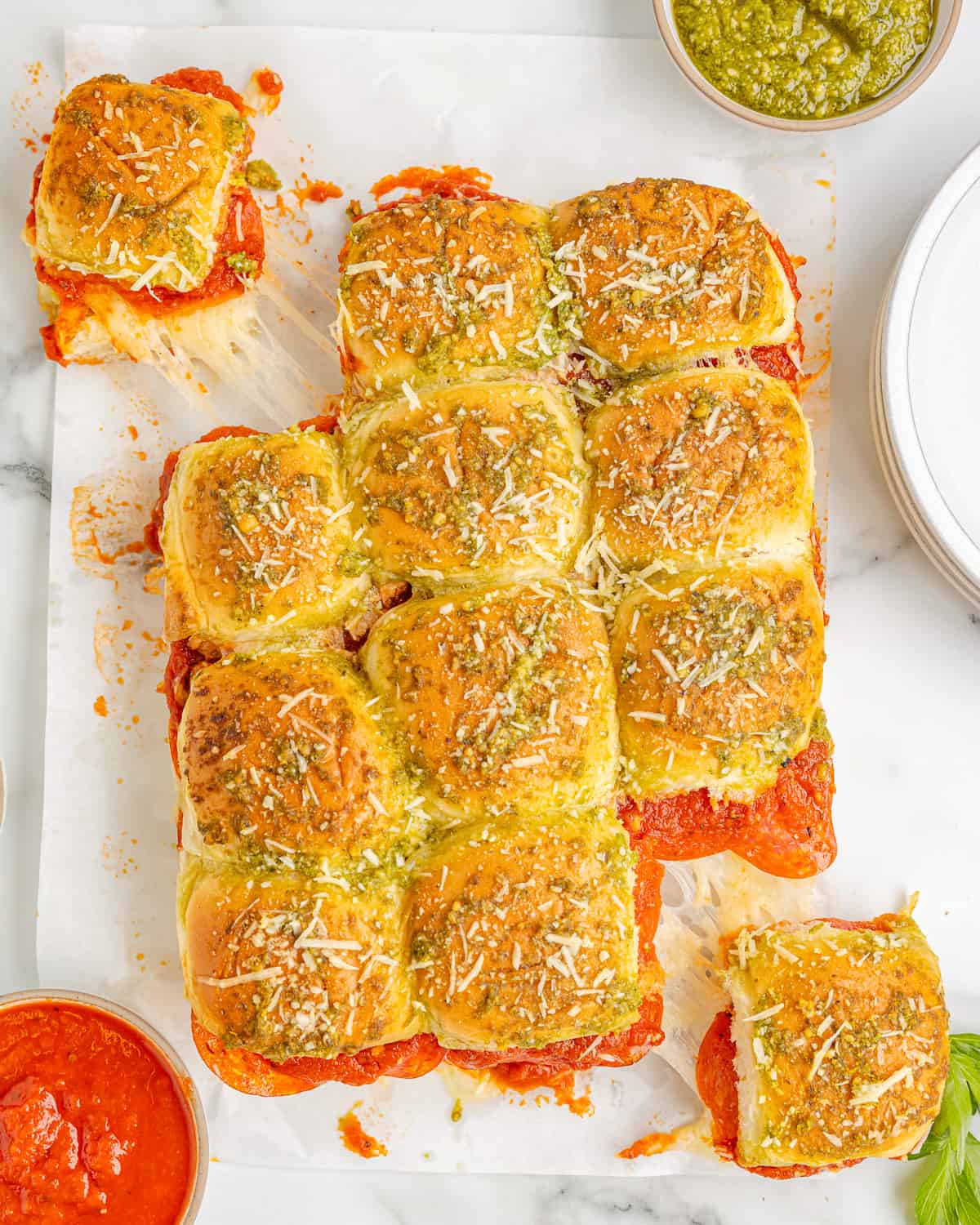 What's in this Pizza Sliders Recipe?
Soft, fluffy dinner rolls are piled up with classic pizza toppings, then coated in pesto for the ultimate fusion of pizza and sliders!
Dinner Rolls: You can use any roll, including Hawaiian rolls. Do not separate the individual rolls from one another before baking.
Cheese: Mozzarella cheese holds these sliders together, while Parmesan creates a crispy crust.
Pepperoni: You can use regular or turkey pepperoni.
Pizza Sauce: Adds tomato flavor and moisture to the sliders. You can also leave it on the side for dipping.
Pesto: Creates a golden brown and flavorful crust on top of the sliders.
Pro Tip: Prepackaged pepperoni is easier to separate than deli-sliced!
Variations on Pepperoni Pizza Sliders
You can use this recipe as a base to make any flavor of pizza sliders you like. Add some sautéed vegetables, meatballs, crumbled bacon, honey baked ham, or even grilled pineapple!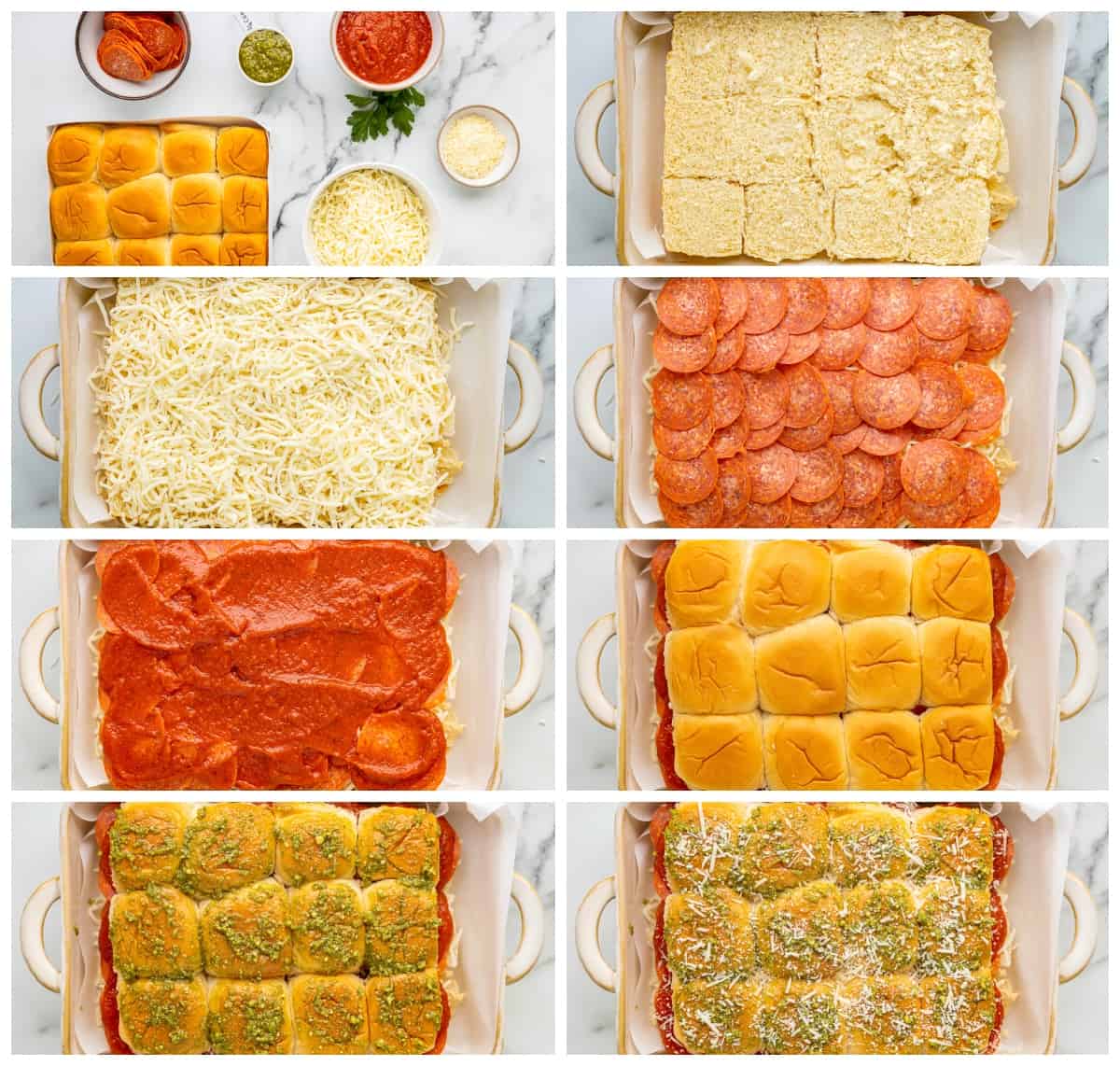 What type of dinner rolls do you use?
For this recipe, I use the King's Hawaiian savory butter rolls. The original Hawaiian sweet dinner rolls or classic plain dinner rolls will also work great in this recipe.
Can this be made with other types of bread, like hamburger buns?
Yes, you can change it out to whatever style of bread you would like to use. Using the pull-apart rolls helps everything bake and melt together nicely, though.
How do I prevent the sliders from getting soggy?
You have a few options to prevent the sogginess. The first option is to leave off the sauce and serve it on the side to dip. The second option is to toast your bread before putting your ingredients on. And the final option is to use only a small amount of sauce on the sandwiches.
Do I use the deli sliced pepperoni or the small prepackaged pepperoni?
I like to use the small prepackaged pepperoni because they pull apart more easily.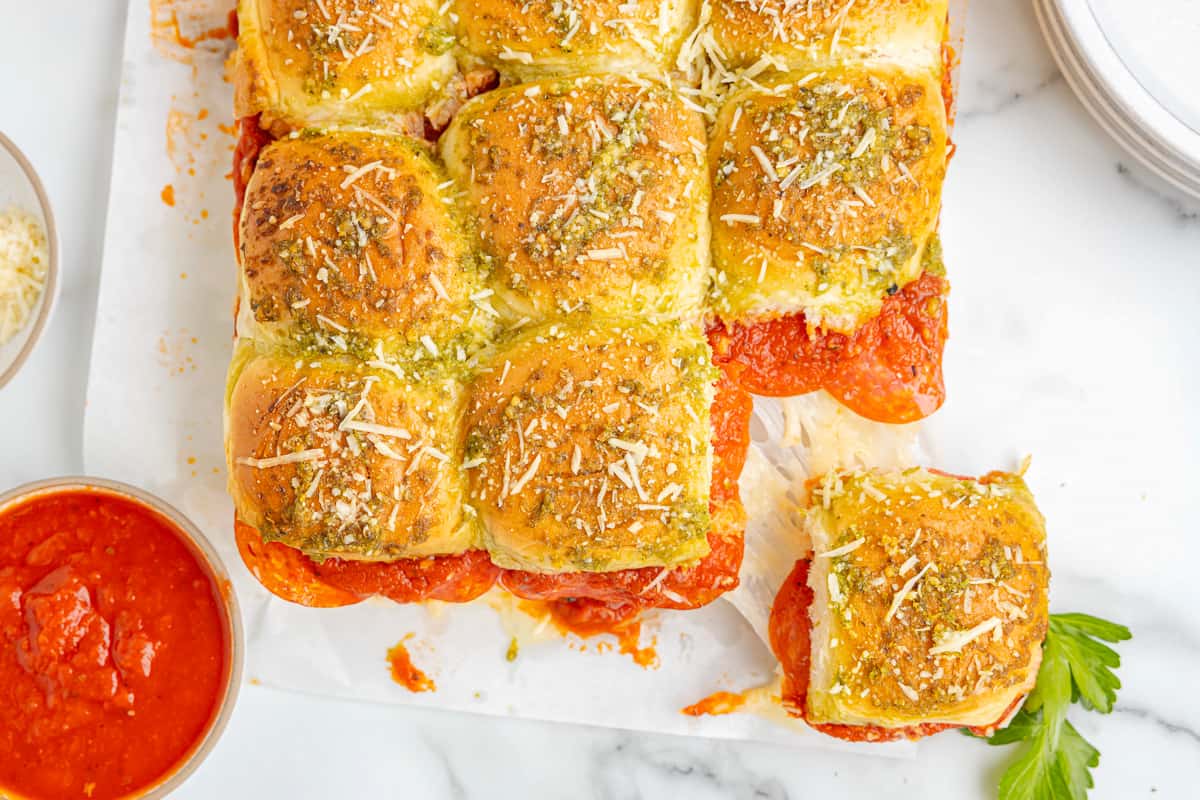 How to Store and Reheat
Store leftover pizza sliders in an airtight container in the refrigerator for up to 2 days. Reheat on a baking sheet in a 350°F oven for 5-10 minutes, until the sliders are warmed.
How to Freeze
Freeze pepperoni pizza sliders tightly wrapped in 2 layers of plastic wrap and 1 layer of aluminum foil for up to 3 months. Let thaw overnight in the refrigerator before reheating.
Serving Suggestions
Serve these sliders with extra marinara sauce or pesto for dipping, and a side of homemade French fries, garlic pasta chips, or an Olive Garden salad.
Leave off the pesto to make these a tasty dinner idea for little ones. Or serve them as the perfect food for Sunday night Football.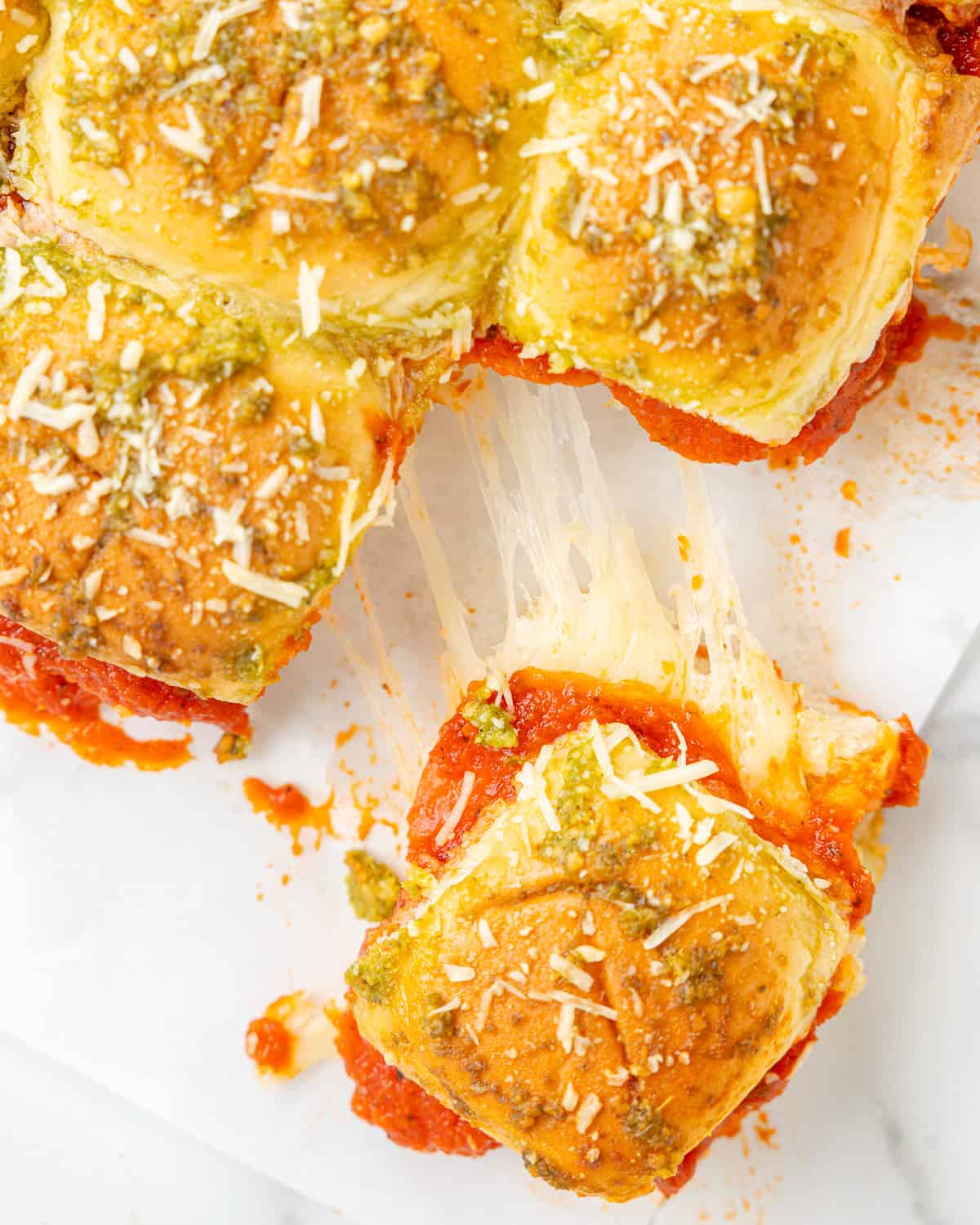 More Easy Slider Recipes We Love