Vegan Queso is our newest obsession! This dairy-free queso recipe is made with cashews, nutritional yeast, spices, spicy tomatoes, and more. It is SO shockingly delicious. You have to give it a try to believe it! I never thought I'd be a fan of Vegan Queso, but this recipe made me a believer.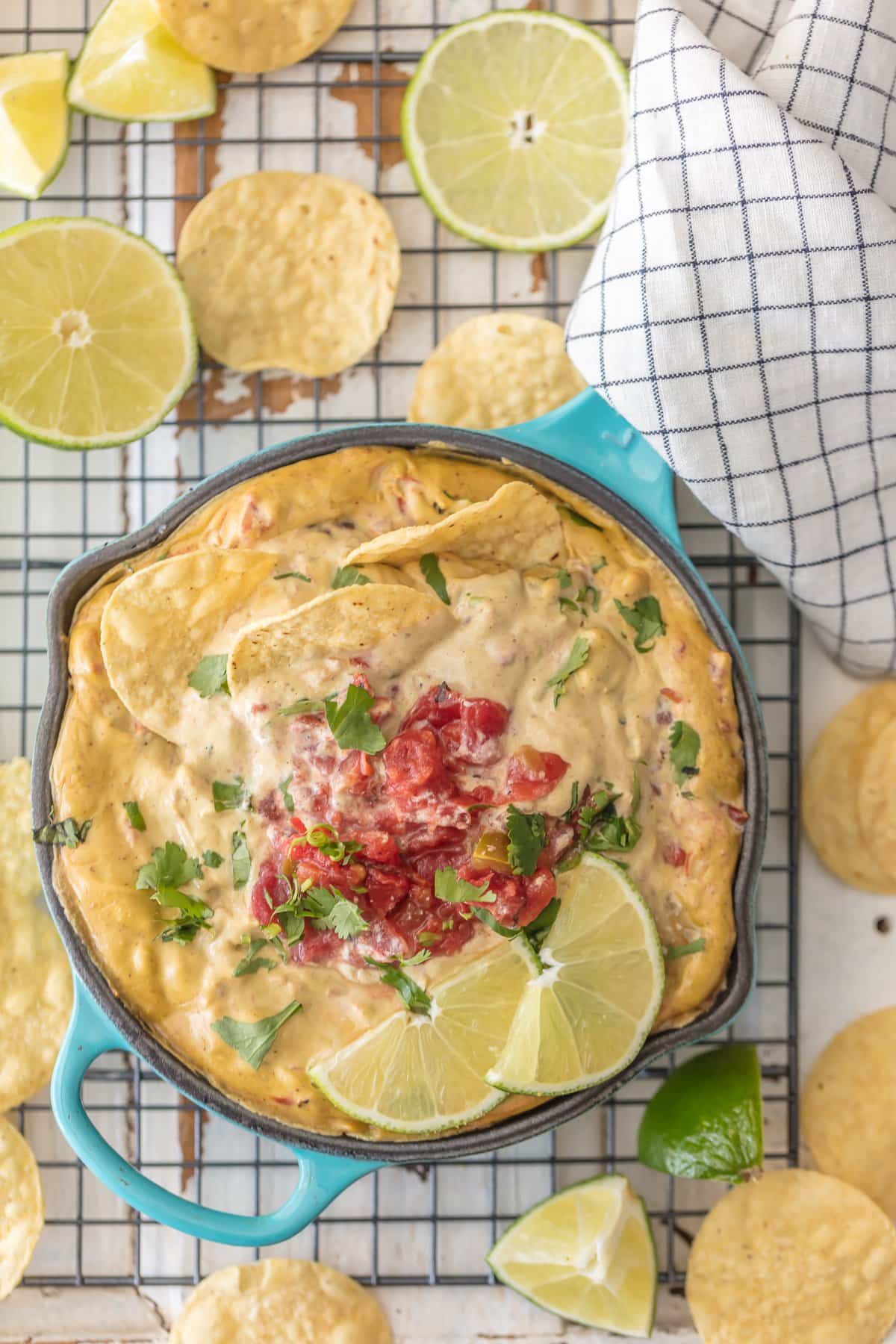 Vegan Queso Dip Recipe
This Vegan Queso Recipe is blowing my mind. Who knew I could love a Dairy Free Queso so much?!
I know, I know…it seems a bit strange for me to post a healthy queso recipe. I'm ALL about the cheese and you guys are well aware. But guess what…it's a new year and that means we should all be open to making little changes that can make our lives healthier and happier!
I have wanted to try a dairy-free cheese dip for some time, and I thought January was just the time to give it a whirl. This VEGAN QUESO has absolutely knocked my cheese loving socks off and I hope you give it a try.
From one cheese lover to another, it's so refreshing to find a recipe that is healthier, doesn't leave me with that stomach ache too much chips and queso can bring, and tastes absolutely INSANELY delish. You have to taste it to believe it!
This Vegan Queso will blow your mind! Who knew a dairy-free queso dip could be SO creamy and taste so cheesy?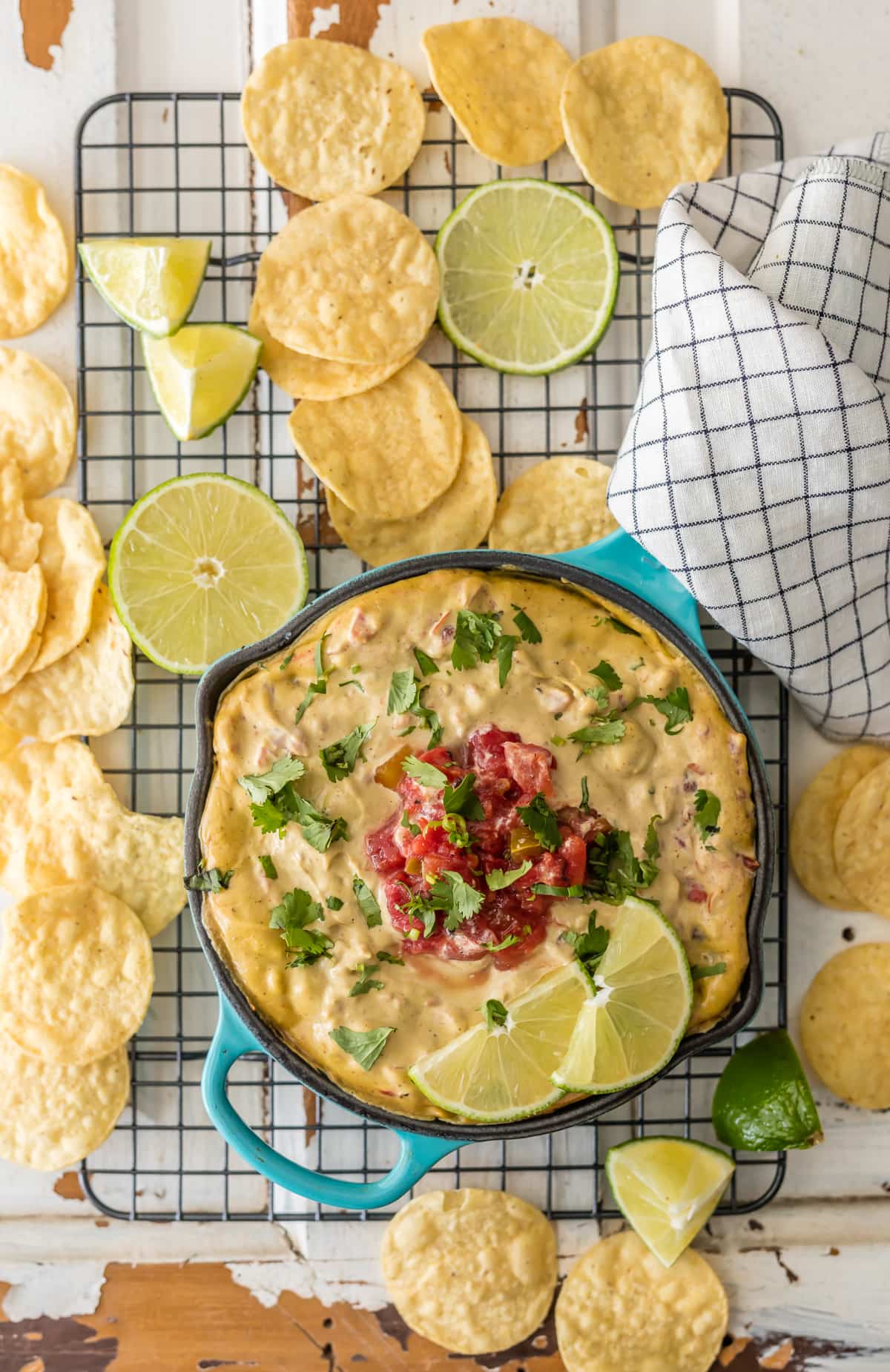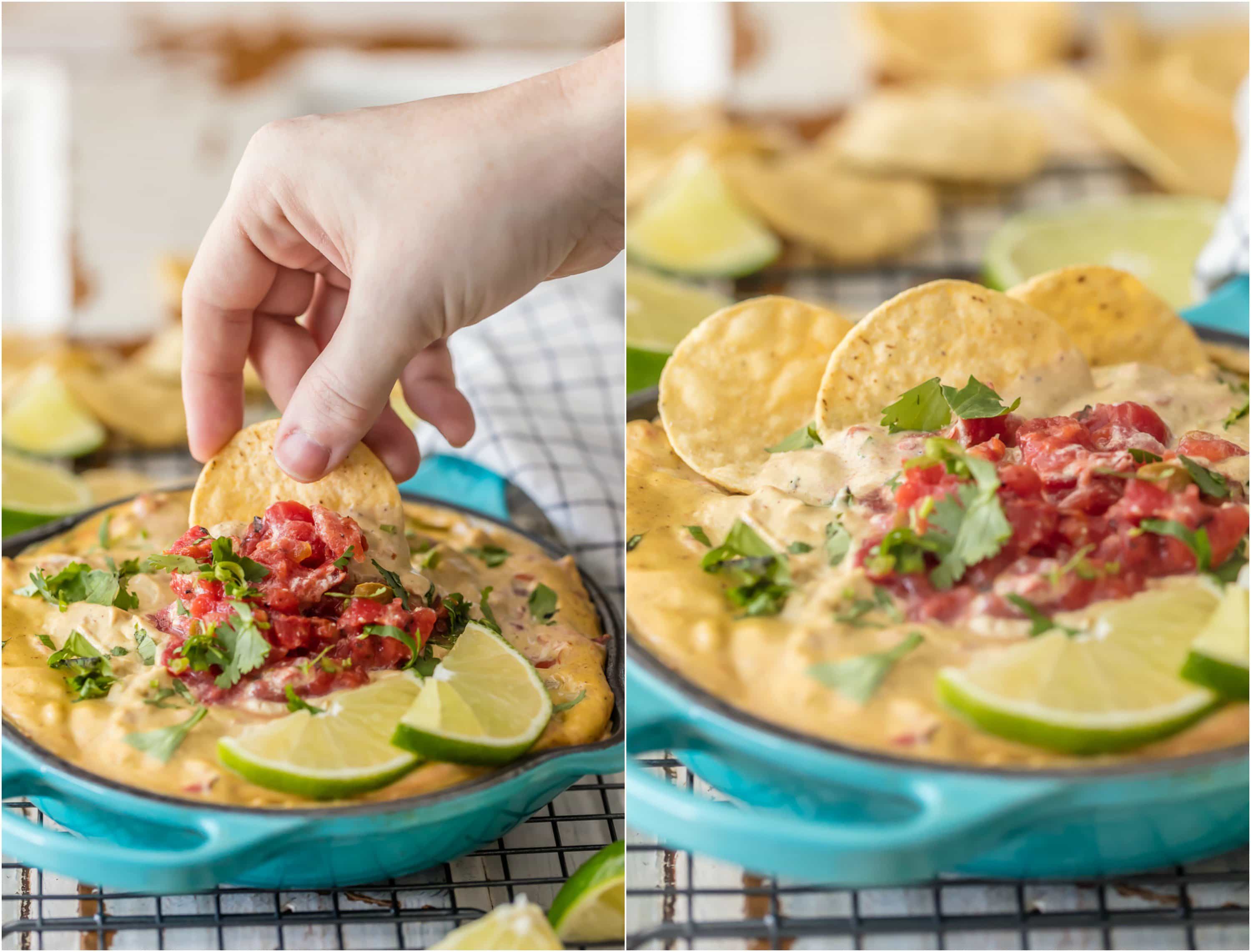 Dairy-Free Queso Dip
Dairy-free recipes don't have to be hard or lacking flavor. This Vegan Queso proves that you can have your cake and eat it too.
My mom has been telling my brother and me our entire lives that we are just a little bit lactose intolerant. You know the feeling…you dig into a bowl of ice cream or indulge in way too many cheese sticks and all of a sudden your stomach is hurting way more than it should. I have always just looked the other way, because I LOVE CHEESE.
Finding a recipe like this Vegan Queso dip can be life changing because I don't feel like I'm giving anything up! It almost feels like a lie…because it tastes SO much like my favorite cheese dips. It still has all the spice, tomatoes, cilantro…but none of the dairy. None of the stomach aches. Like I said…Vegan Queso, you've got to try it!
If vegan isn't your thing, we have lots of other queso recipes that might make you happy. Be sure to try our Loaded Velveeta Queso Dip (Cowboy Dip), Crock Pot Queso Fundido, Beer Cheese Dip (Only 3 Ingredients!), Best Ever White Queso Dip. Whew…I love cheese!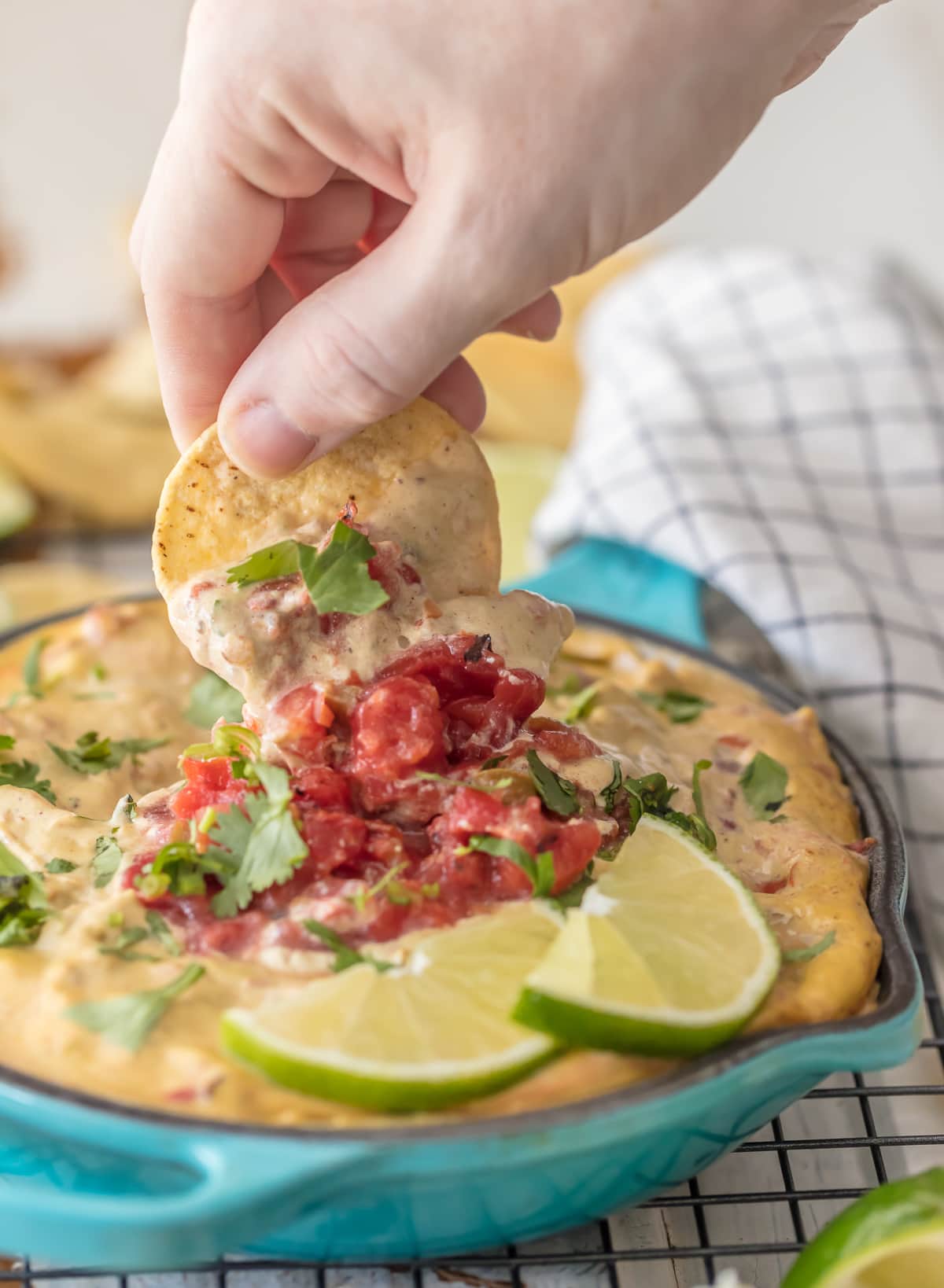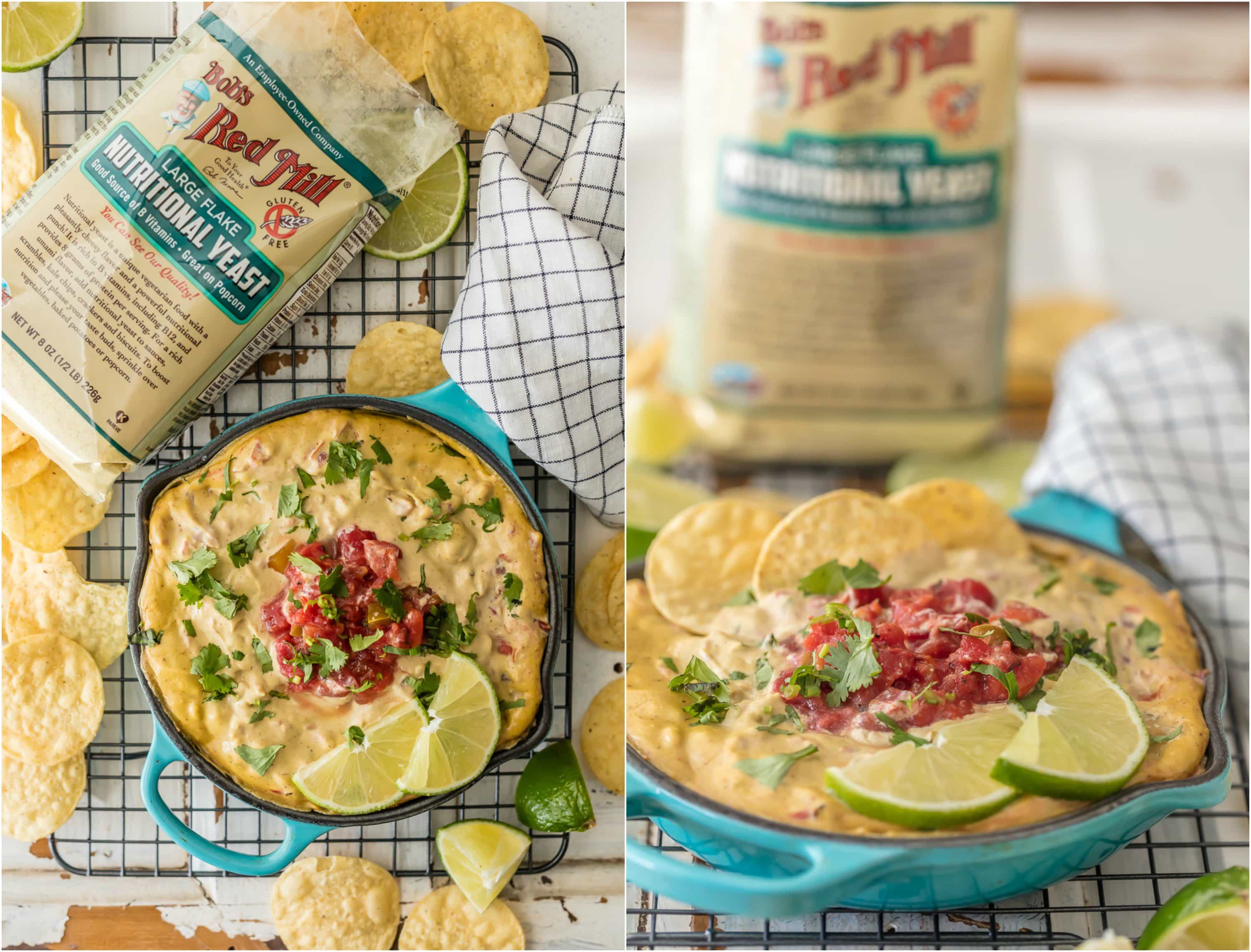 What is Nutritional Yeast?
What is Nutritional Yeast and how does it help this Vegan Queso Recipe taste like real and creamy cheese dip?
According to Wikipedia:
Nutritional yeast is a deactivated yeast, often a strain of Saccharomyces cerevisiae, which is sold commercially as a food product. It is sold in the form of flakes or as a yellow powder and can be found in the bulk aisle of most natural food stores. It is popular with vegans and vegetarians and may be used as an ingredient in recipes or as a condiment.

Nutritional yeast has a strong flavor that is described as nutty, cheesy, or creamy, which makes it popular as an ingredient in cheese substitutes. It is often used by vegans in place of cheese, for example in mashed and fried potatoes, atop "scrambled" tofu, or as a topping for popcorn.
So there you have it. Nutritional Yeast in this Vegan Queso fools our minds and taste buds into thinking we are eating creamy cheese dip!
How to Make Vegan Queso
There are two secret ingredients in this Dairy Free Queso Dip that make it both healthy and delicious: cashews and Bob's Red Mill Nutritional Yeast. The cashews add to the consistency, and the Nutritional Yeast fools you into thinking you're snacking on hot queso. OBSESSED. Bob's Red Mill just really has it all, and always knocks it out of the park for me. Have you ever used this product before? I hadn't…but now I'm hooked!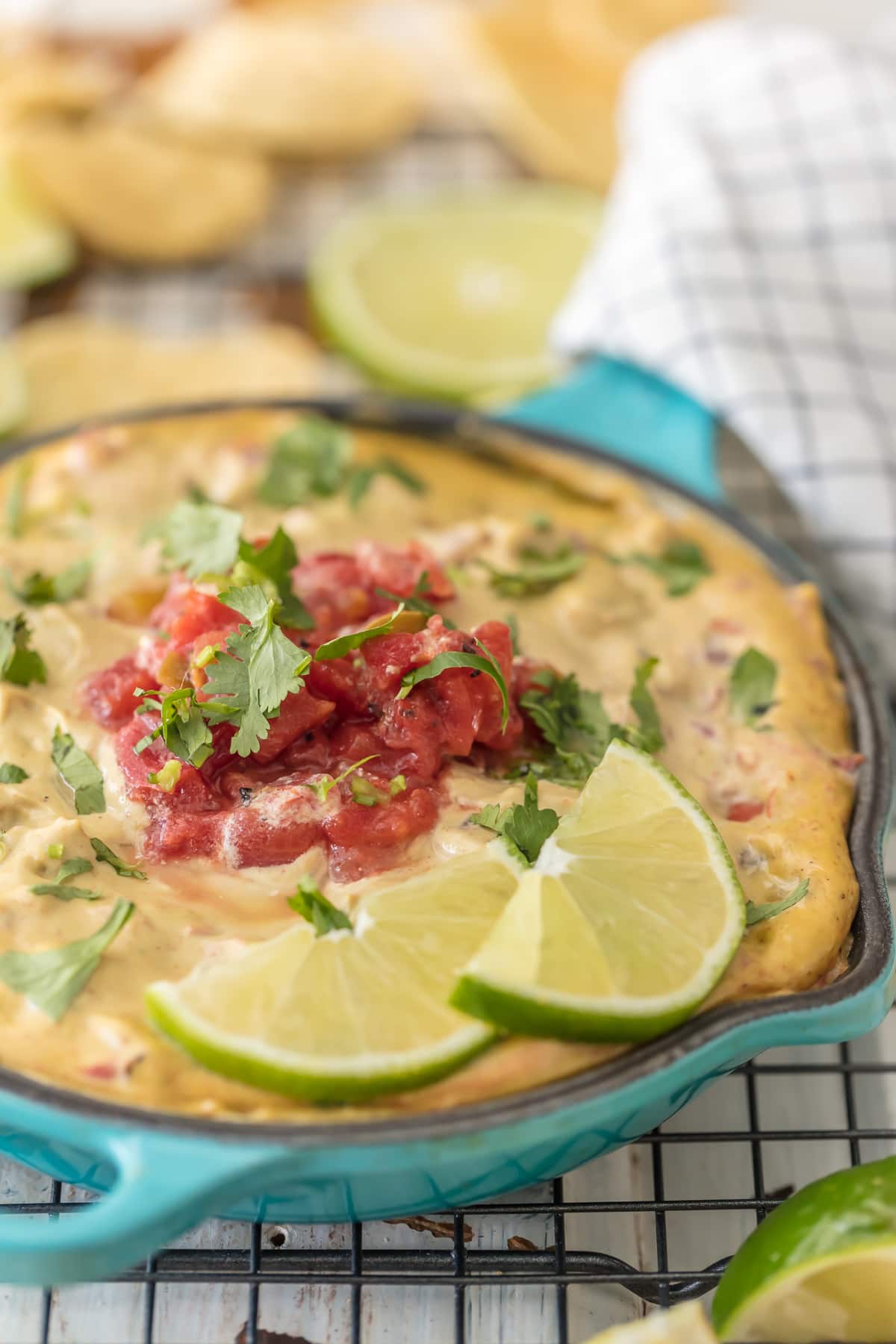 This Dairy Free Queso is the perfect healthier alternative to all the big game tailgating we are all about to do. Bring this to any party and feel great about what you're serving your friends…they don't even need to know it's secretly better for you! New year new US!
See the recipe card below for full details on How To Make Vegan Queso Dip. Enjoy!
If you like this vegan queso dip, try these other vegan, dairy-free, & lactose-intolerant-friendly recipes:
Vegan Spinach Artichoke Dip