This Taquitos Recipe with Cheese, Beans, and Green Chiles is one of our favorite ways to tailgate. I could eat 50 of these MINI BEAN & CHEESE TAQUITOS! I just can't get enough. Such a fun and easy appetizer for the holidays or game day. This Homemade Taquitos Recipe is always a crowd pleaser.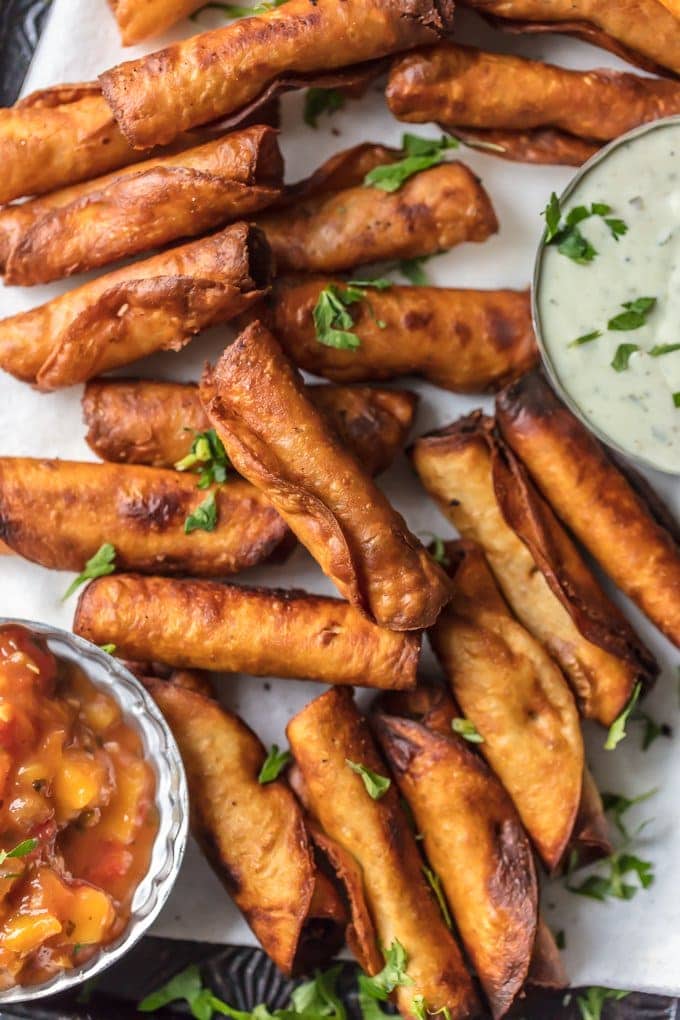 Easy Taquitos Recipe
This Homemade Taquitos Recipe is stuffed with green chiles, refried beans, and LOTS of cheese.
I've been wanting to make this Taquitos Recipe for so long, and I'm so glad I finally did! I wanted to make an easy and simple flavor combination, and I'm OBSESSED with how they turned out. This Mini Green Chile, Bean & Cheese Taquitos Recipe is SO GOOD! They're the ultimate fun appetizer for Super Bowl, New Years Eve, tailgating, BBQs, or an after school snack.
These tasty Homemade Taquitos are bite sized, super crispy, and just the right amount of spicy. I'm in LOVE and can't wait to try other flavors. I think a chicken cream cheese taquitos recipe should be next up on my list. Wouldn't that be delish?
Learn How to Make Taquitos with this Homemade Taquitos Recipe. These Mini Bean & Cheese Taquitos with Green Chiles are perfect for dipping!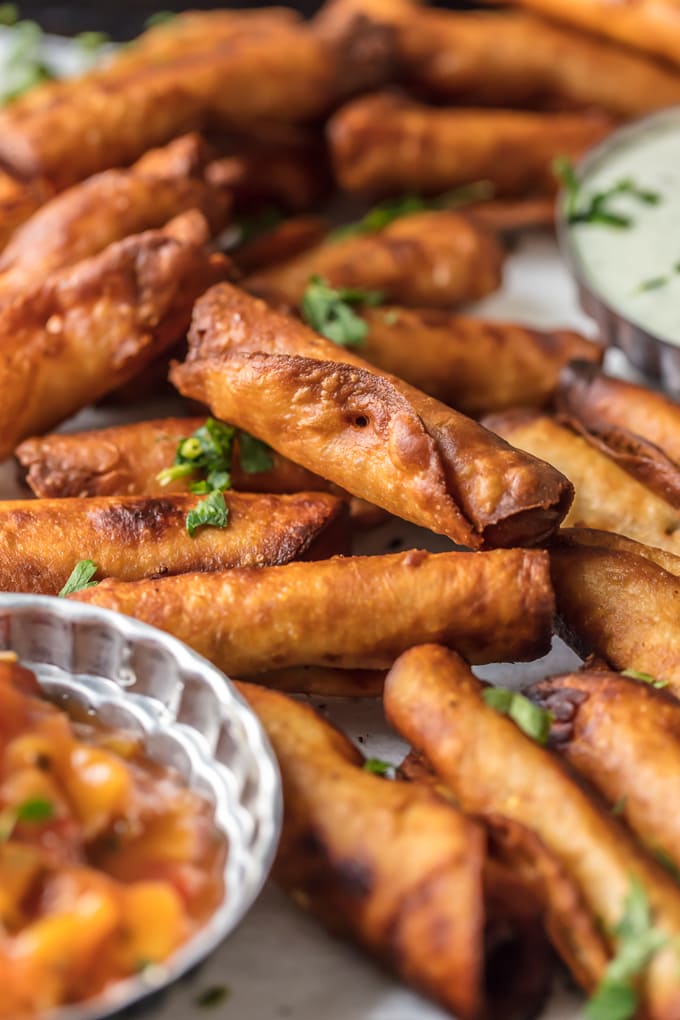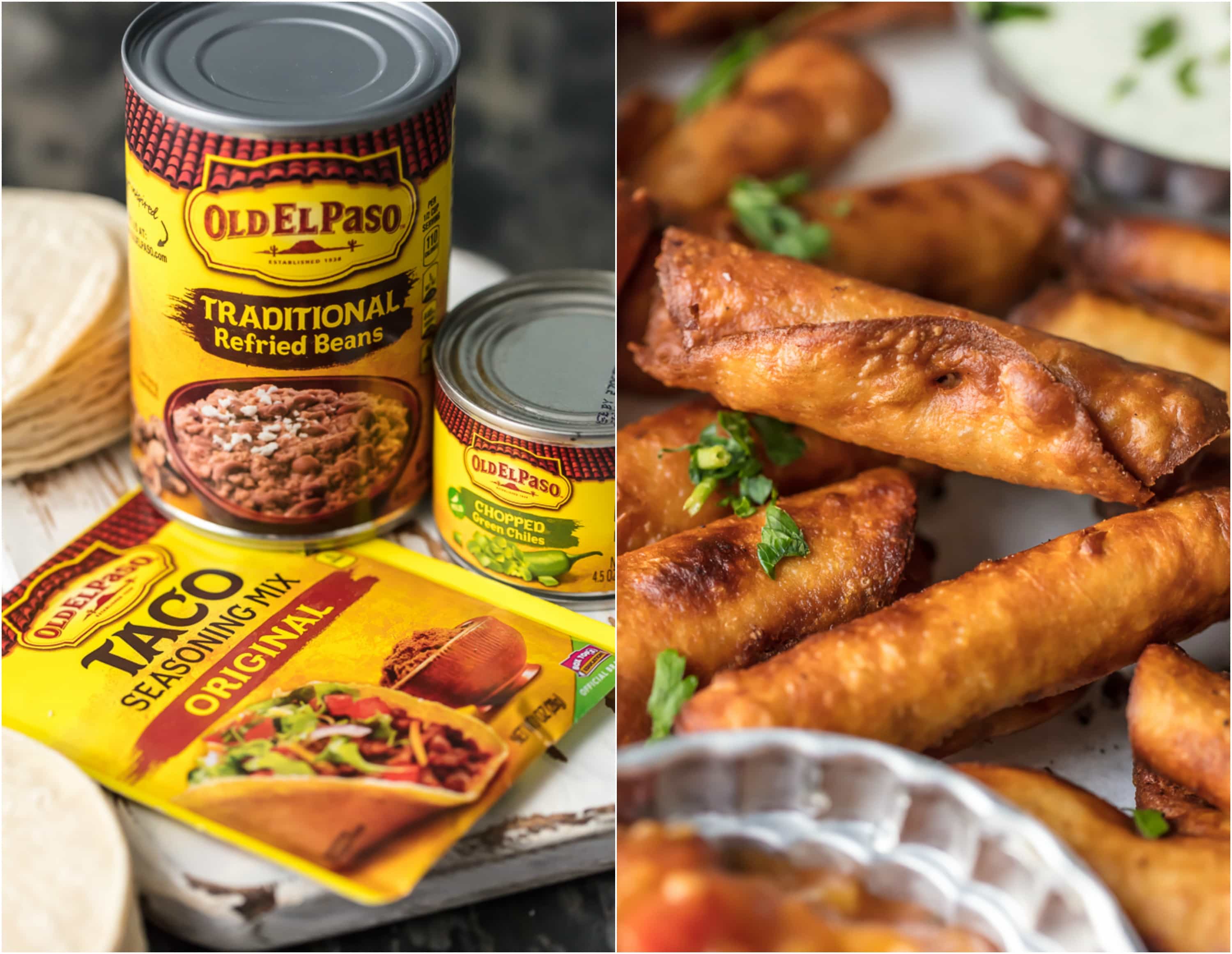 Homemade Taquitos Recipe
These cute mini bean & cheese taquitos are made with only 6 ingredients:
Refried beans
Taco seasoning
Green chiles
Lots of cheese
Fresh cilantro
and Tortillas
Well, 7 ingredients if you count the oil. And I guess the oil is necessary! Old El Paso helps to make this homemade taquitos recipe extra easy and quick by adding all the flavor with none of the fuss.
You guys know I'm a huge fan of Old El Paso, and their green chiles are my fave ingredient in so many recipes. I have used them in:
and SO much more. I'm such a big fan. And they are perfect for this homemade taquitos recipe too!
How to Make Taquitos
Trust me, this homemade taquitos recipe is super easy to make. Would I put it on here if it weren't? You know I love my easy recipes!
Start with the ingredients listed above (only a few!) to make your bean, cheese, and green chile mix. These will be stuffed inside of the tortillas (the small street taco size tortillas are perfect for this mini taquitos recipe). Add the bean mixture onto the tortillas, roll them up tightly, and then fry them in oil for a couple of minutes each. And voila!
You'll be making this easy homemade taquito recipe over and over again!
See recipe card below for full instructions.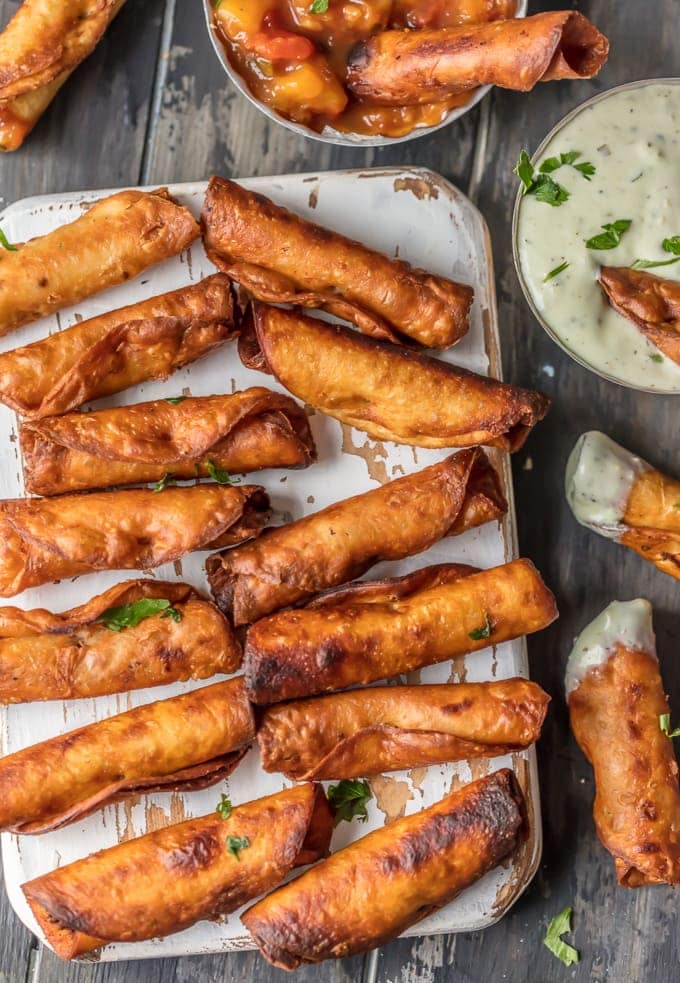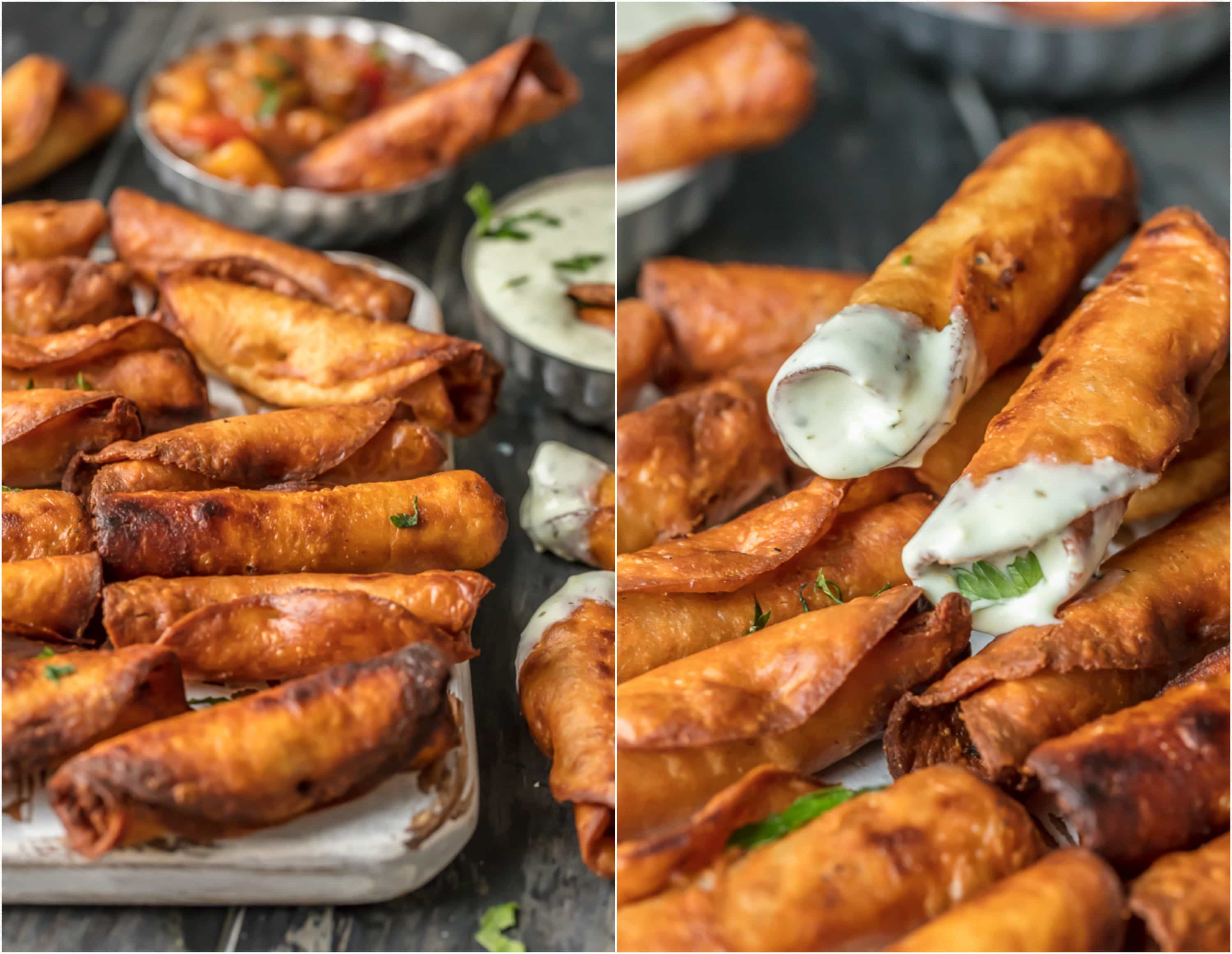 Mini Bean & Cheese Taquitos – perfect for dipping!
These homemade taquitos are delicious on their own, but they're even better when dipped in something. And the dipping possibilities are endless!
My FAVORITE dipping sauces for this mini bean & cheese taquitos recipe are salsa, sour cream, cilantro avocado ranch, and hot sauce. I personally like a combo of all of the above…
But I'm a huge fan of dips around here…and you probably already knew that. :) Here are a few incredible dips to make with this green chile homemade taquitos recipe:
These little Mini Green Chile Bean & Cheese Taquitos are sure to become a regular favorite at our house. I think I might just make these for my upcoming bunco night. Big change of subject but have you guys tried bunco? I'm so excited! I feel like a real bonafide grown up.
What drinks to pair with Taquitos
There's nothing better to pair with Homemade Taquitos than an amazing Margarita! We have compiled all our favorite Margarita Recipes in the ULTIMATE MARGARITA GUIDE. From classic to unique to flavored to frozen, we have you covered! Be sure to check it out today.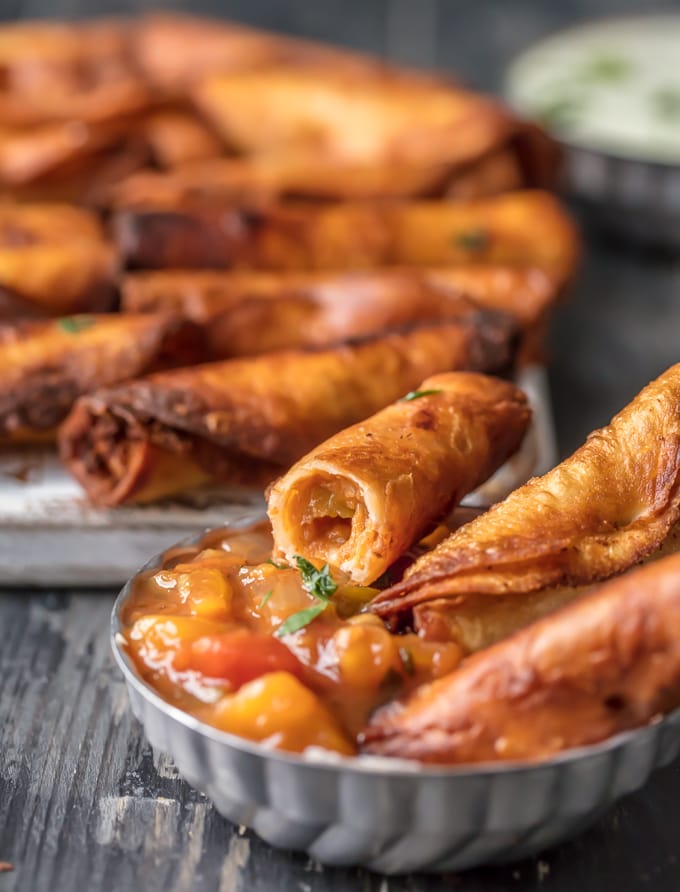 Now that you know how to make taquitos, I guarantee you'll be making them over and over again for parties, appetizers, game day, etc. This Homemade Taquitos Recipe is just TOO good!
See the recipe card below for details on How to Make Taquitos. Enjoy!
If you enjoyed these green chile, bean & cheese taquitos, you'll love these recipes too: