This dutch oven Beef Stew with red wine is pure comfort food, and it is utterly delicious! Tender beef is swimming in a rich beer and red wine sauce, accompanied by potatoes and carrots. Serve this easy stove top stew recipe with some crusty bread for a filling winter meal!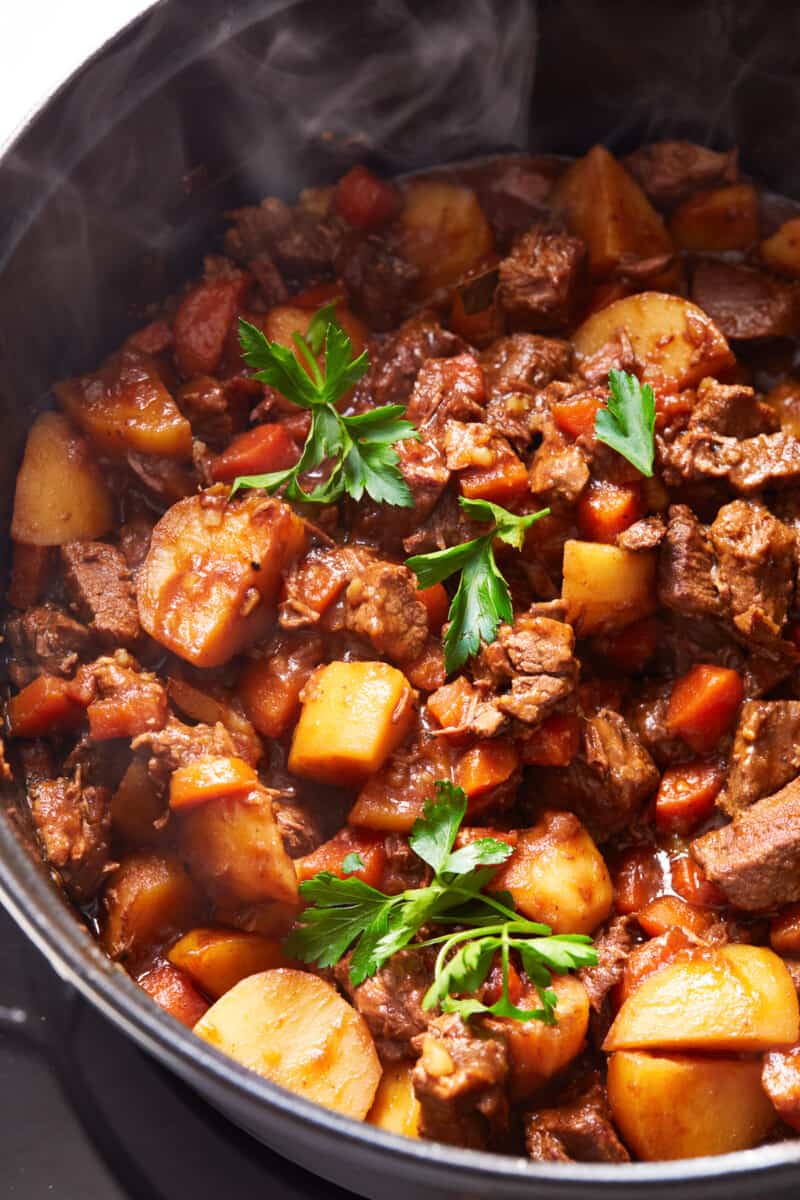 Red Wine Beef Stew
This old-fashioned beef stew with red wine is a delicious and classic dish for cold winter nights. It has a deep, rich flavor, and requires very little effort to make!
The meat in this stove top beef stew recipe comes out incredibly tender. And the red wine sauce adds so much flavor, and has a beautifully silky texture. This stew is filled with potatoes and carrots for an extra hearty and warming meal.
Everyone will love this dish, and it's sure to become a winter staple at your house. This dutch oven beef stew is sure to please, and it makes for great leftovers too.
Why You'll Love this Dutch Oven Beef Stew Recipe:
TENDER BEEF: Slow-cooked beef comes out perfectly tender in this flavorful stew.
RED WINE SAUCE: The combination of red wine and beer creates the most delicious red wine sauce for our beef stew.
ONE POT STEW: This recipe is so easy to make! All you need is one pot to make this simple stove top beef stew.
This easy red wine beef stew and potatoes is all made in one pot. It's a mostly hands-off recipe, so just let it simmer on the stove, and then enjoy!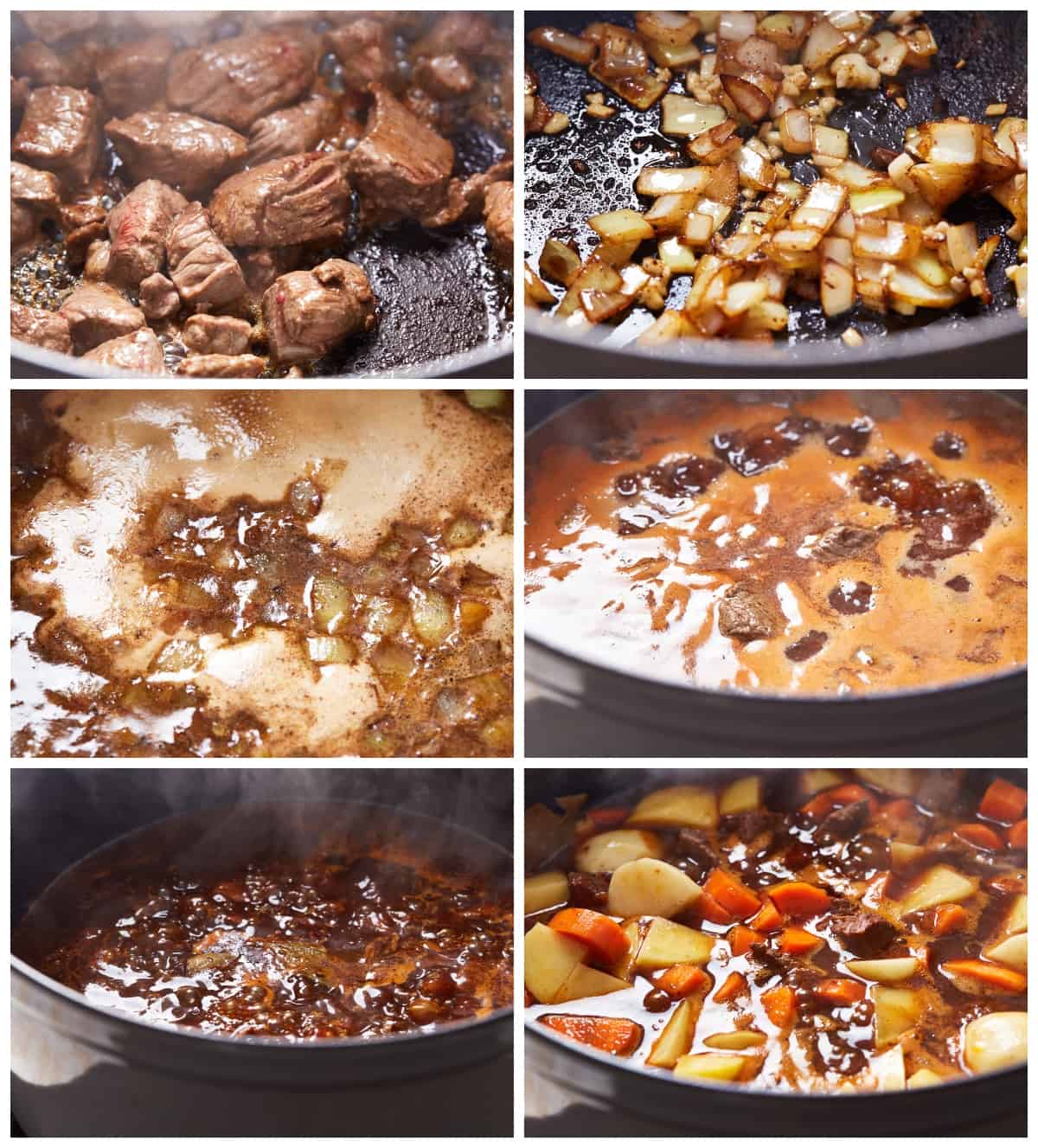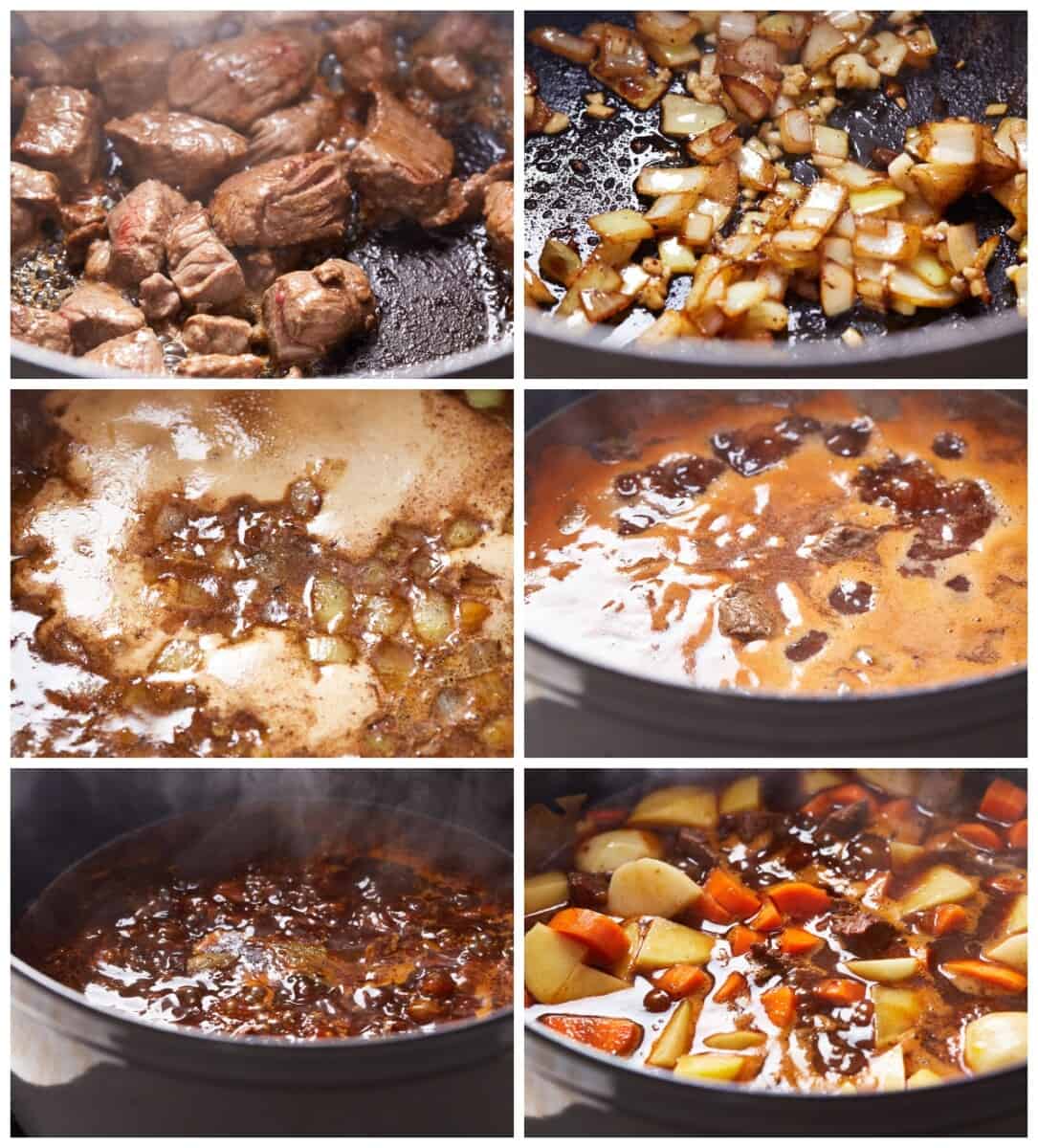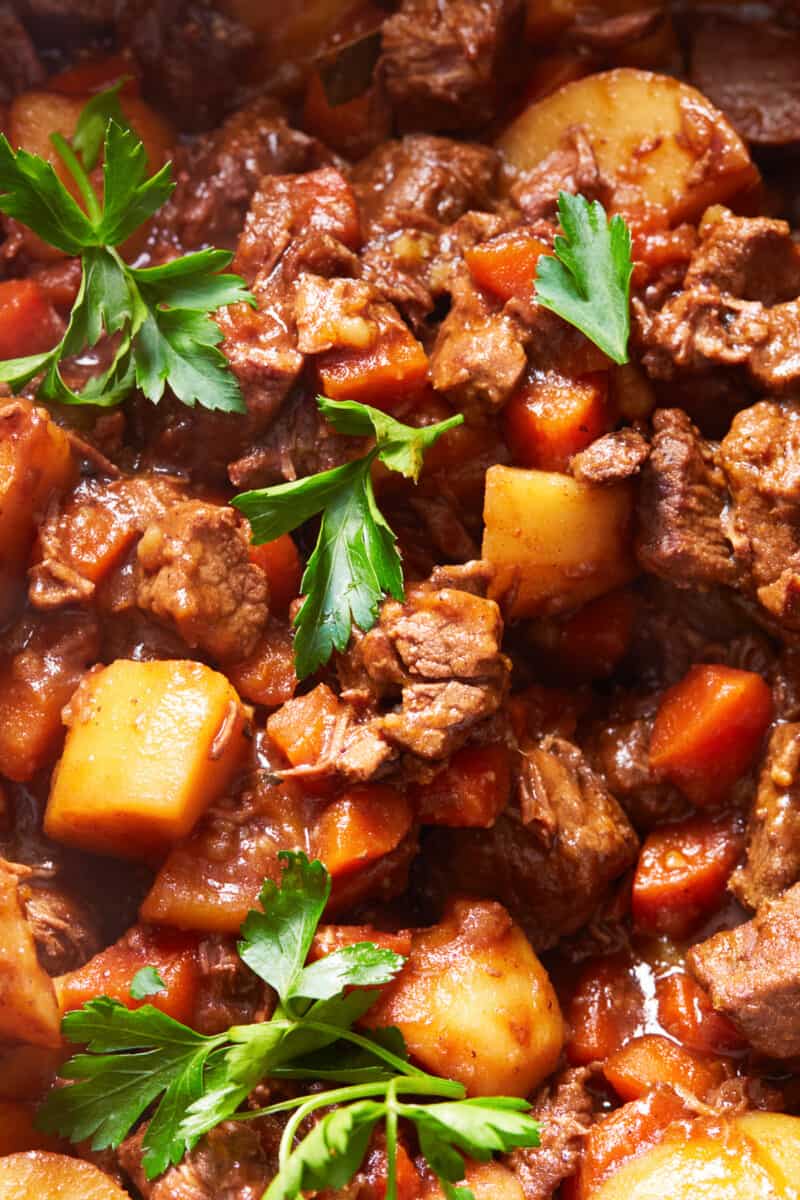 Beef Stew Ingredients
Olive Oil: You can also use canola oil instead.
Butter: Use unsalted butter.
Beef: Use stew meat or chuck roast, and trim the fat.
Veggies: This recipe calls for onion, carrots, and potatoes. But you can use different veggies if desired.
Garlic: Freshly minced.
Beer: A single 12 oz bottle of beer will do. Ideally, use a stout or dark ale (dark beer is better than light for stew).
Red Wine: Use a dry or semi-dry wine.
Beef Stock
Beef Bouillon Cubes: Or use dry au jus mix instead.
Tomato Paste
Worcestershire Sauce
Bay Leaves
Beef Stew Seasonings: Smoked paprika, kosher salt, ground black pepper, sugar.
Garnish: Add some fresh parsley after cooking.
How to make Red Wine Beef Stew on the Stovetop
You can jump to the recipe card for full ingredients & instructions!
In a Dutch Oven, brown the meat, then remove from the pot. Then place in onions and add the garlic. After they've softened add the beer, then add the beef and all other ingredients except carrots, potatoes and parsley.
Bring the mixture to a boil, then simmer covered for an hour.
Remove the lid and add the potatoes and carrots, simmer for another hour.
Allow to thicken, serve with chopped parsley and crusty bread!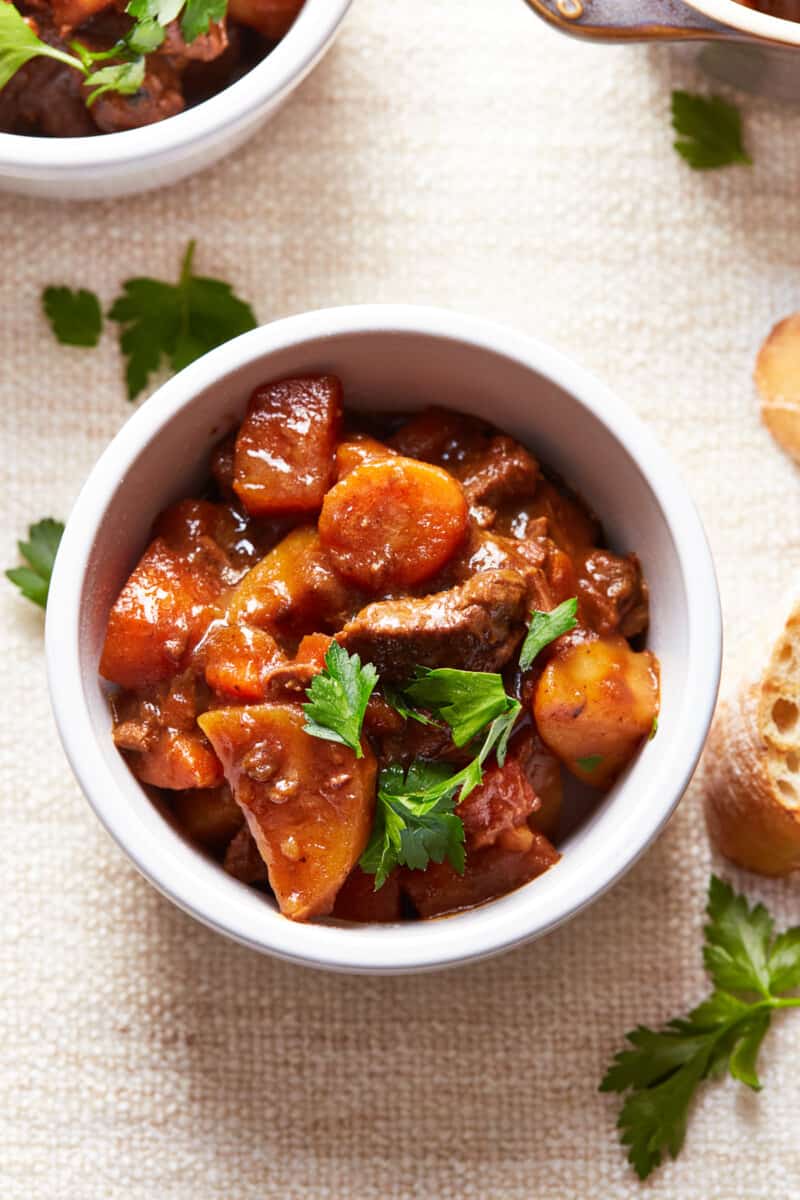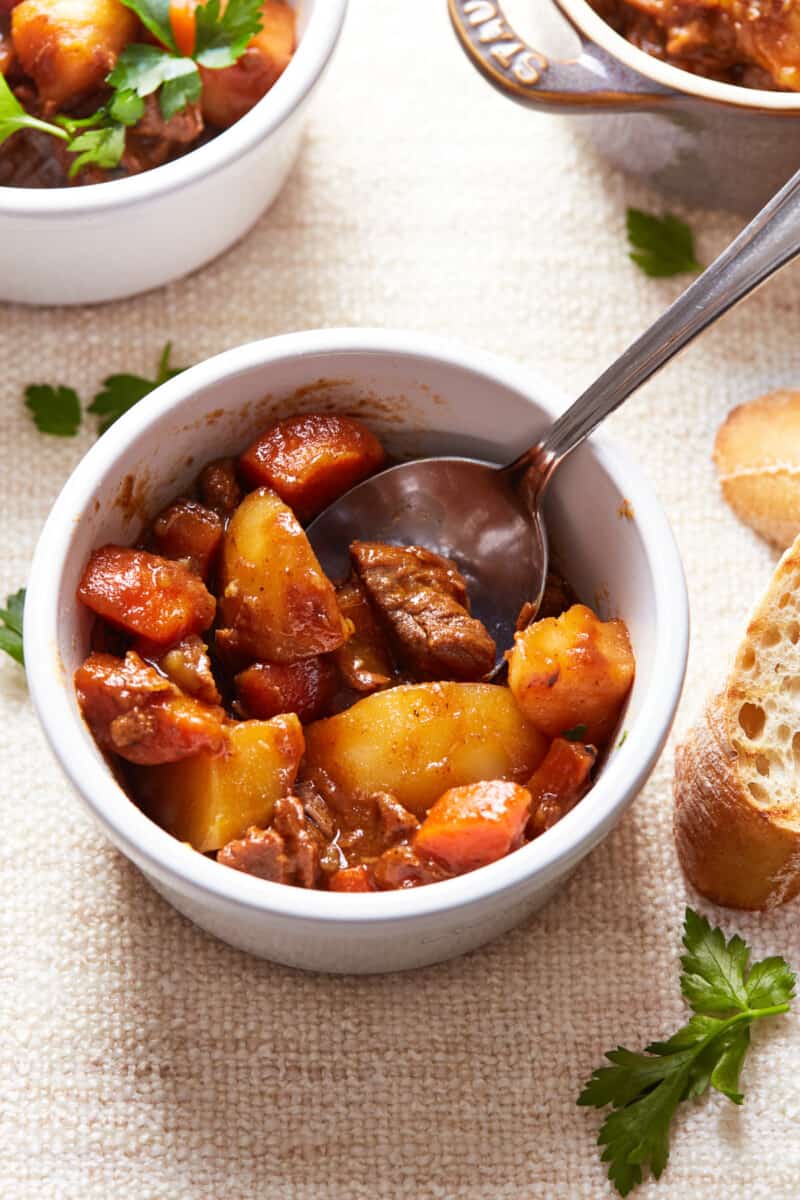 Recipe Variations
This easy beef stew with red wine is EASY to adapt. Feel free to make some changes based on the ingredients you have, and your taste.
Here are some ideas:
Substitute sweet potatoes, or leave potatoes out all together if you prefer.
Add in egg noodles or another pasta.
Toss in some frozen peas or sauteed mushrooms at the very end of cook time.
No matter how you make it, it's a super satisfying comfort food for a cold night!
What's the best red wine for beef stew?
Use a dry or semi-dry red wine (meaning something that isn't sweet). I recommend using a cabernet sauvignon or pinot noir. Feel free to use something inexpensive, because you don't want to waste the best wines on cooking!
What cut of beef should I use to make stew?
Stew is the ideal time to skip the lean, pricier cuts of meat and go for the less expensive, tougher cuts. The long, slow cook time leaves lean meat (like sirloin) tough and chewy, while tougher cuts (like chuck) break down and become really tender.
How long does it take to cook beef stew on the stove top?
Stew will need to cook on the stove top for about 2 hours. Prep is quick, so you won't have to tack too much more time on to the rest of the recipe.
How do I thicken or thin out stew?
To thicken beef stew, add some cornstarch in and let it simmer a little longer. To thin it out, add a bit more water or broth.
What veggies are best for beef stew?
Potatoes, carrots, and other root vegetables are ideal for stew. They can withstand long cook times, and become tender. You can add other veggies too if you prefer. Turnips, sweet potatoes, and peas would all taste great.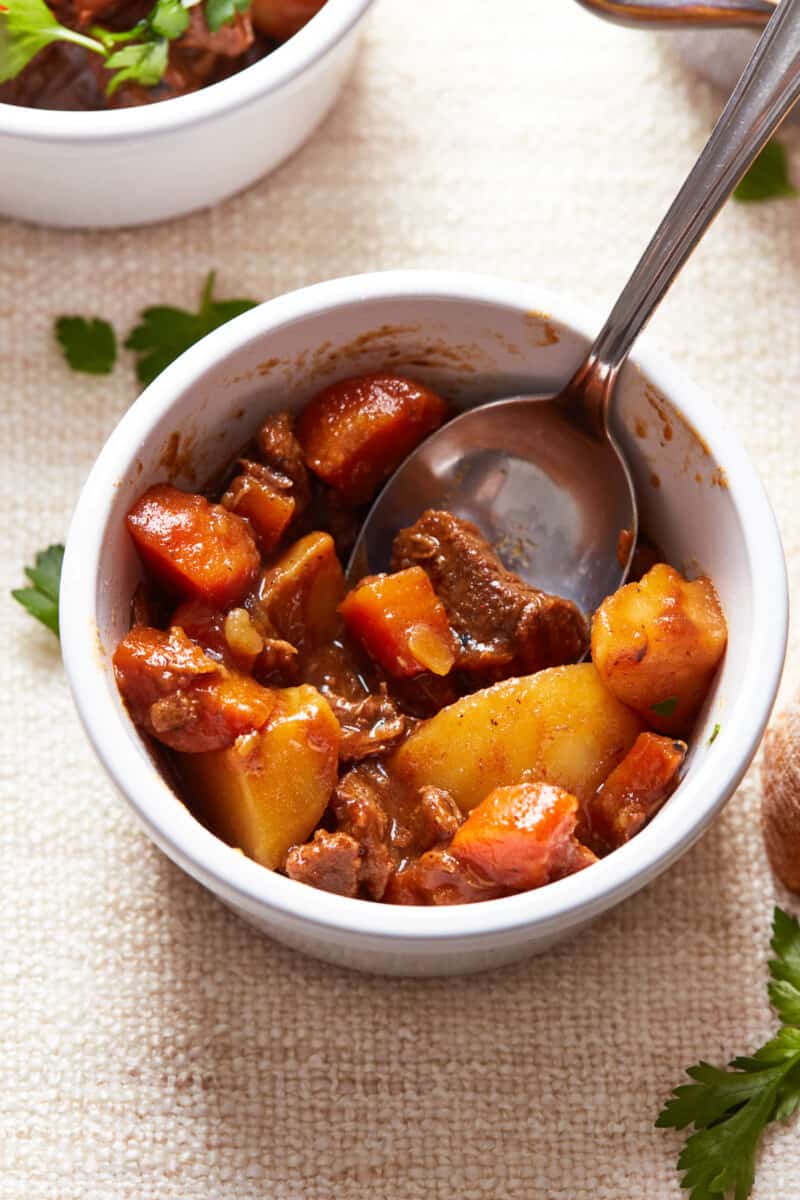 What does adding red wine to stew do?
Adding red wine to beef stew is a great way to balance out the taste. It adds a fullness in flavor that is both savory and a little fruity (like a great red wine!). Basically, it just makes this old-fashioned stew so much more delicious!
Do I have to use a dutch oven?
I love making this stove top beef stew in a dutch oven for a few reasons. They are large, have high sides, and a heavy bottom. And for dishes like stew and chili, heft is a necessity. It means higher heat retention, which is great for slow-cooking.
We're also browning the meat before adding it to the stew. And the heat retention of these pots means you can evenly brown and caramelize the meat.
A fitting lid is important too, ensuring a steady cooking temperature, resulting in super tender meat that is perfectly infused with moisture and flavor.
So no, you don't have to use a dutch oven, but I highly recommend it if you have one. If you don't, you can use any heavy-bottomed pot.
Can you freeze beef stew with red wine?
Yes, you can absolutely freeze this beef stew recipe if you have leftovers, or want to make it ahead of time. The stew can be frozen for up to 3 months!
Before serving, defrost the stew in the refrigerator for 24 hours and then reheat on the stovetop, over medium-low heat, until hot.
Note: If you are making this specifically to freeze, omit the potatoes because they don't freeze well. Instead, boil some potatoes separately when you defrost, and then add them into the stew.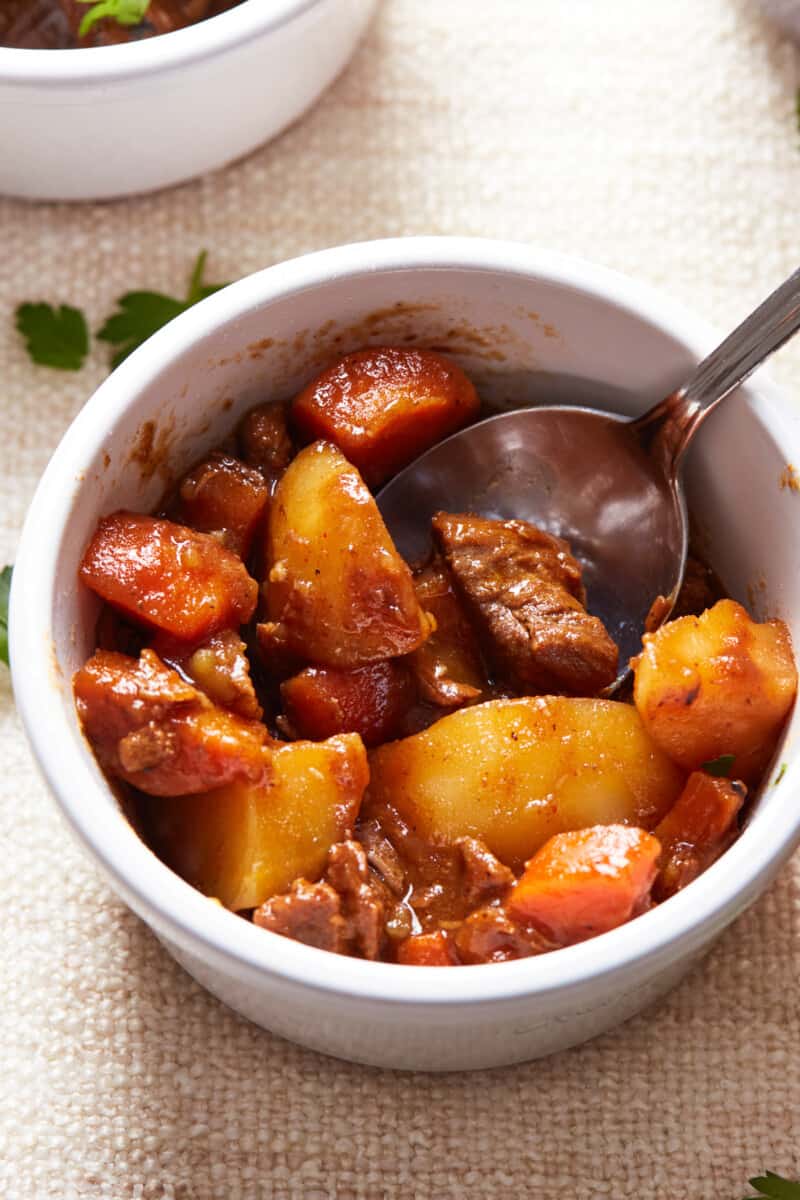 Tips!
Brown your beef. It's SO worth it. You can make this dutch oven stew without browning the beef before, and it's still good…but the version with the browned beef is amazing!
Adding Veggies. Add hearty vegetables, like carrots, turnips, and potatoes halfway through cooking. If you plan to include delicate vegetables, like peas, wait to add them until a few minutes before taking the stew off the heat.
This recipe makes a lot, and the leftovers are even more amazing, so definitely save what you don't eat the first night! You can refrigerate or freeze leftover beef stew.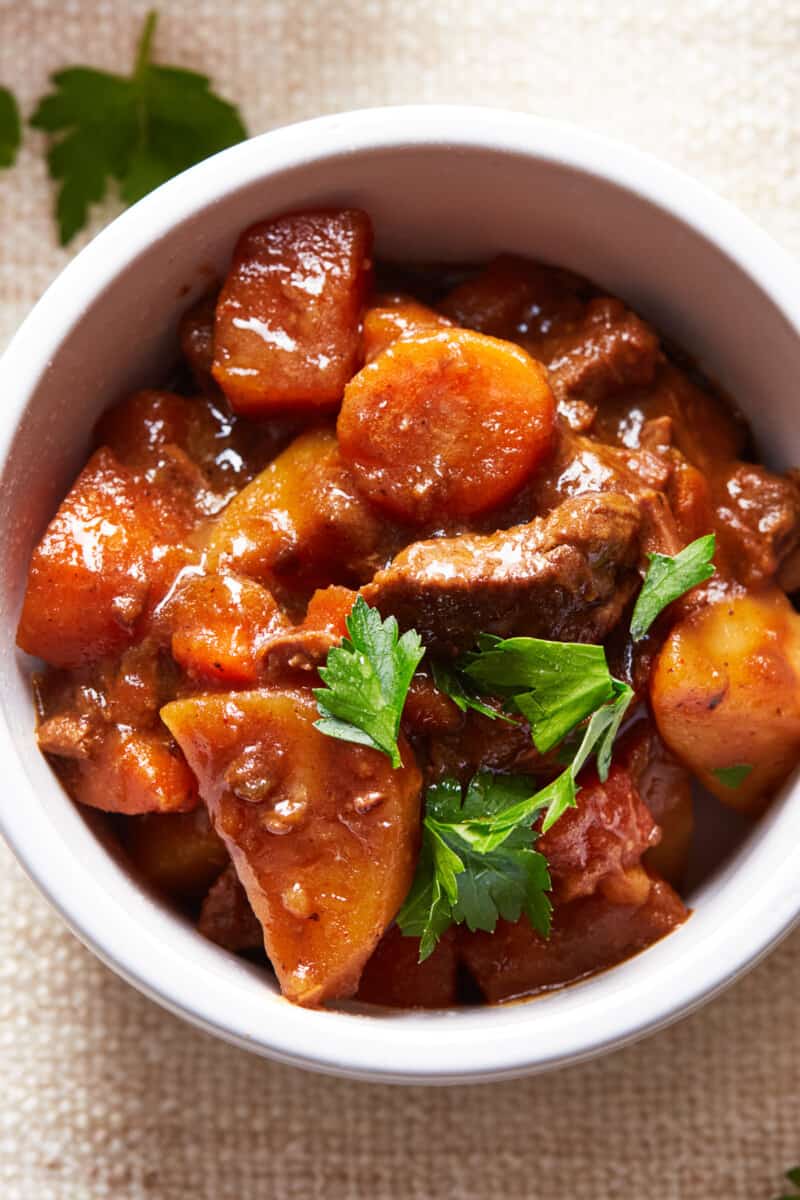 What to Serve with Beef Stew
This red wine beef stew is filled with carrots and potatoes, so it makes a pretty hearty meal on its own. Of course, I always recommend serving some crusty bread along with it (dipped in that red wine sauce? Delicious!). And a glass of red wine pairs perfectly for dinner.
If you want to add some side dishes, a salad or more veggies is a great idea!
This hearty beef stew with red wine is absolutely delicious! It's filled with so much flavor, and so easy to make on the stove top. Make this for cold winter nights, and save some in your freezer to serve later. Everyone will love this stew!
If you make this recipe be sure to upload a photo in the comment section below or leave a rating. Enjoy! You can also jump to recipe.