Guinness Beef Stew is a favorite Irish beef stew recipe in our house. We make this slow cooker beef stew for St. Patrick's Day every year, and we just can't get enough. It's the best Guinness stew recipe and so easy to make in a Crockpot!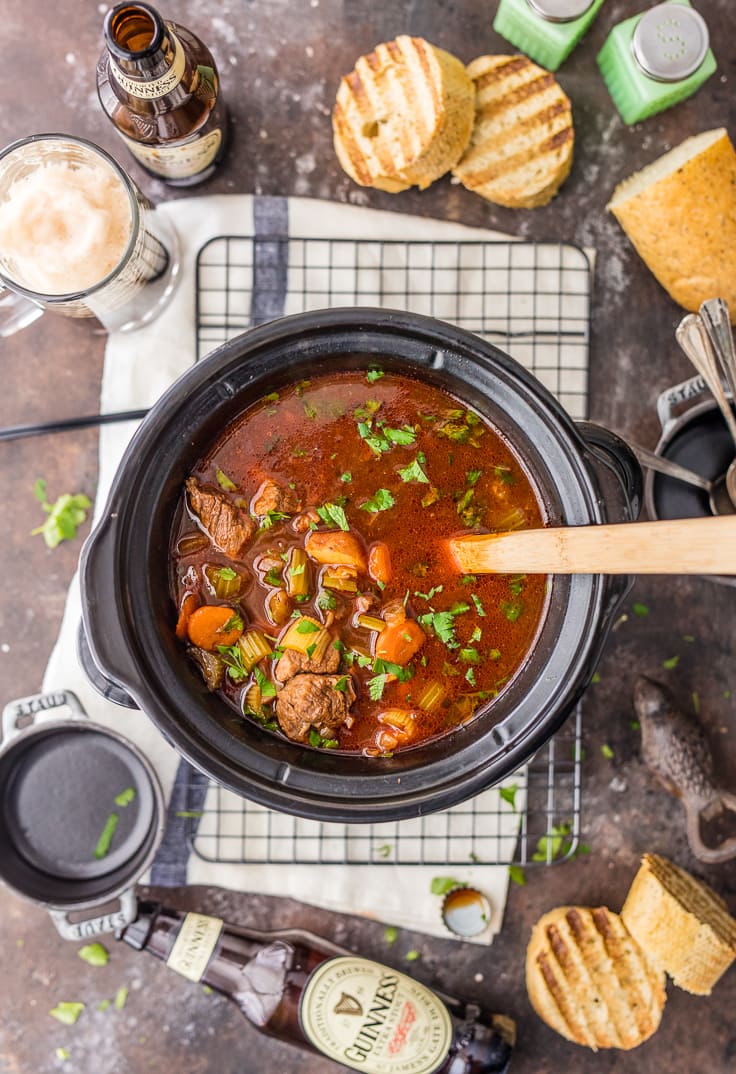 Guinness Beef Stew
Guinness Beef Stew is always a favorite on St. Patrick's Day. This slow cooker beef stew recipe is so simple and so tasty. The perfect Irish Beef Stew!
Every St. Patrick's Day, we celebrate with lots of drinks and plenty of good food. This Guinness Stew is a favorite because it's hearty, tasty, and easy! I mean, what could be easier than a slow cooker beef stew?
This Irish Beef Stew recipe is filled with potatoes, carrots, beef, celery, and plenty of seasoning. It's absolutely delicious, the perfect blend of flavors. It warms you up and helps balance out all those beers you're probably drinking on St. Patty's Day…
Why You'll Love this Irish Stew Recipe:
COMFORT: This recipe is SO comforting. There's noting like a hearty stew to warm you up on a chilly night!
DEEP FLAVOR: The flavor here is deep, rich, and delicious! Everything comes together perfectly as it cooks.
CROCKPOT RECIPE: Making Guinness stew in a slow cooker is SO easy. I love a hands-off recipe!
A delicious Irish Stew in a slow cooker, nothing can beat that! Guinness Beef Stew is the perfect dinner for St. Patrick's Day, Christmas Eve, or any cold evening. Everyone will love this slow cooker Irish Stew!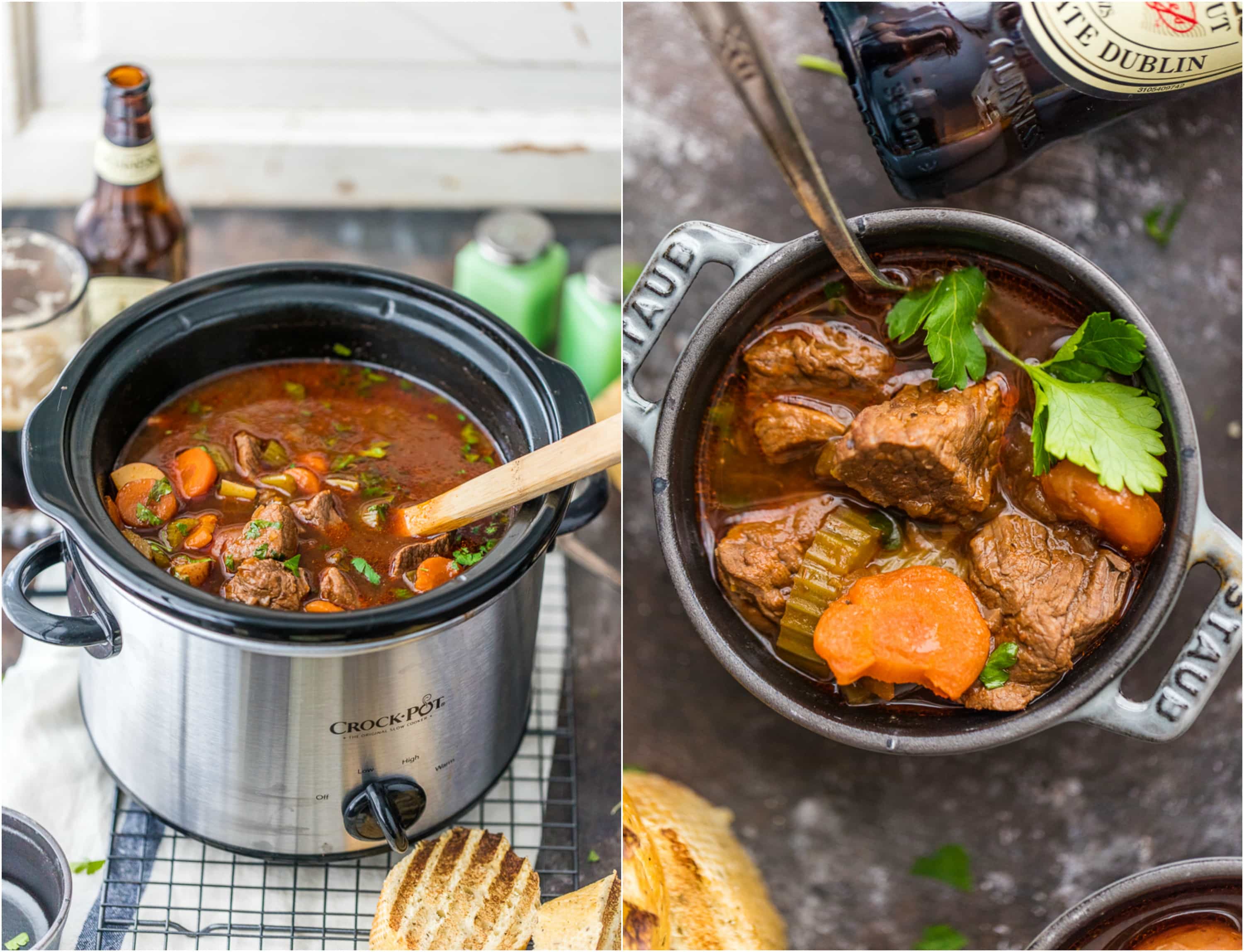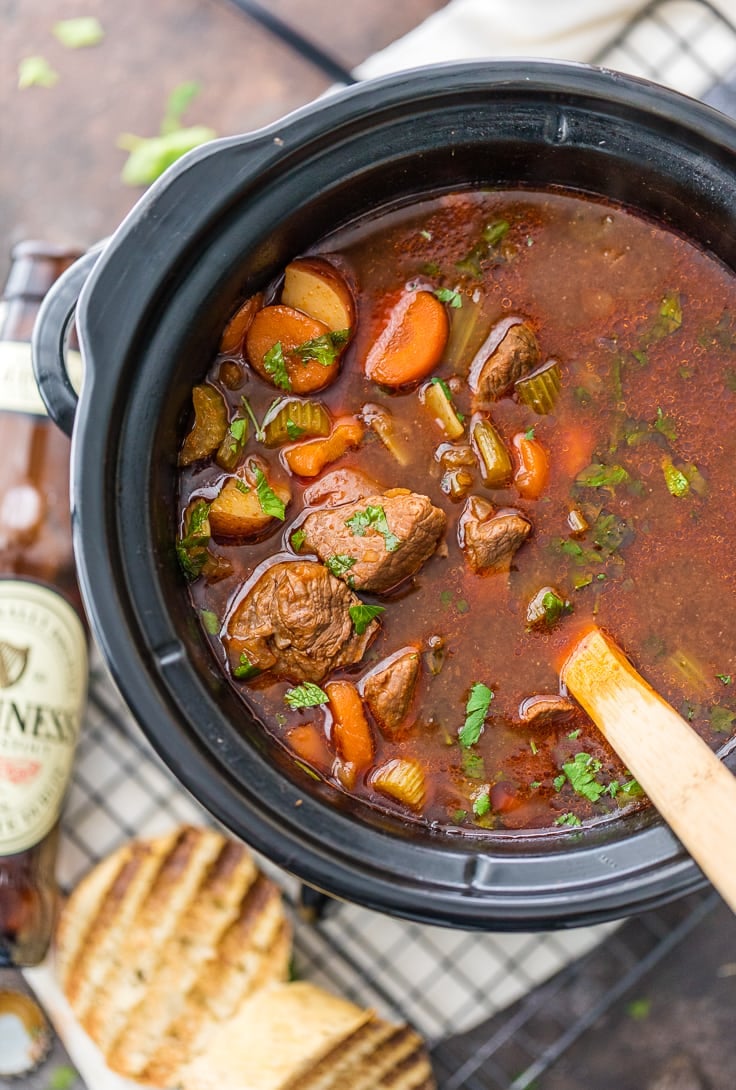 Irish Beef Stew
I just love the flavor the Guinness stout adds to this slow cooker Irish beef stew recipe. The flavor profile is so deep and rich, which makes for one hearty, easy, and delicious dish! Doesn't it make you want to gather around a table and enjoy some food with your loved ones? The best part is this recipe has very little prep or cleanup. Have fun with your family instead of working away in the kitchen!
Slow Cooker Guinness Beef Stew
I'm ALL about slow cooker soups and stews. They are one of my very favorite things to make and I cannot get enough! The crockpot is made for comfort food, and this Slow Cooker Guinness Beef Stew is SERIOUS comfort food.
This slow cooker cooker beef stew with onion soup mix, beef, carrots, potatoes and more is filled with flavor. It always warms me right up and makes me feel like I'm wrapped in a warm blanket. I just love the ingredients in this, and I LOVE that you can just set it and let it cook.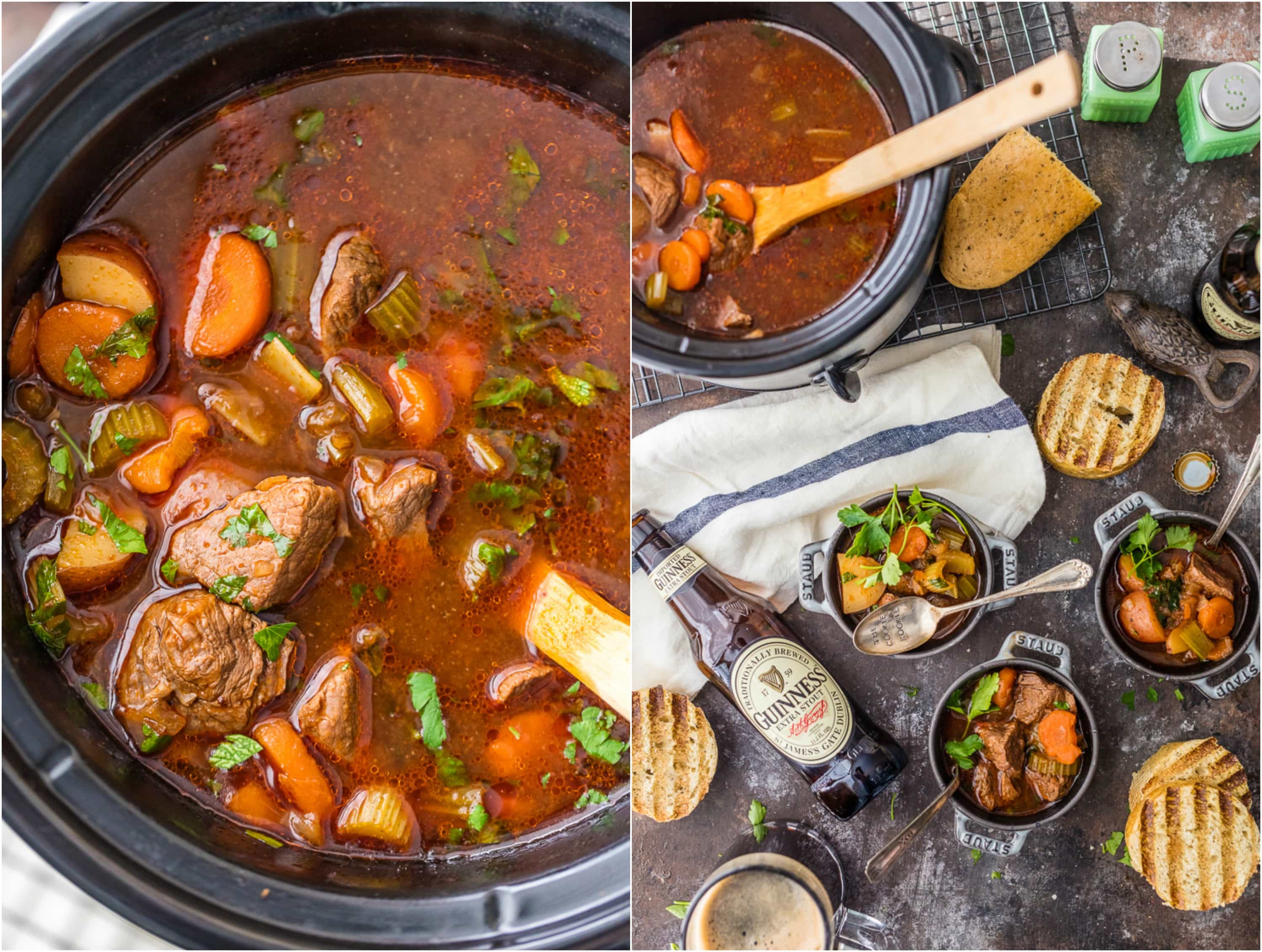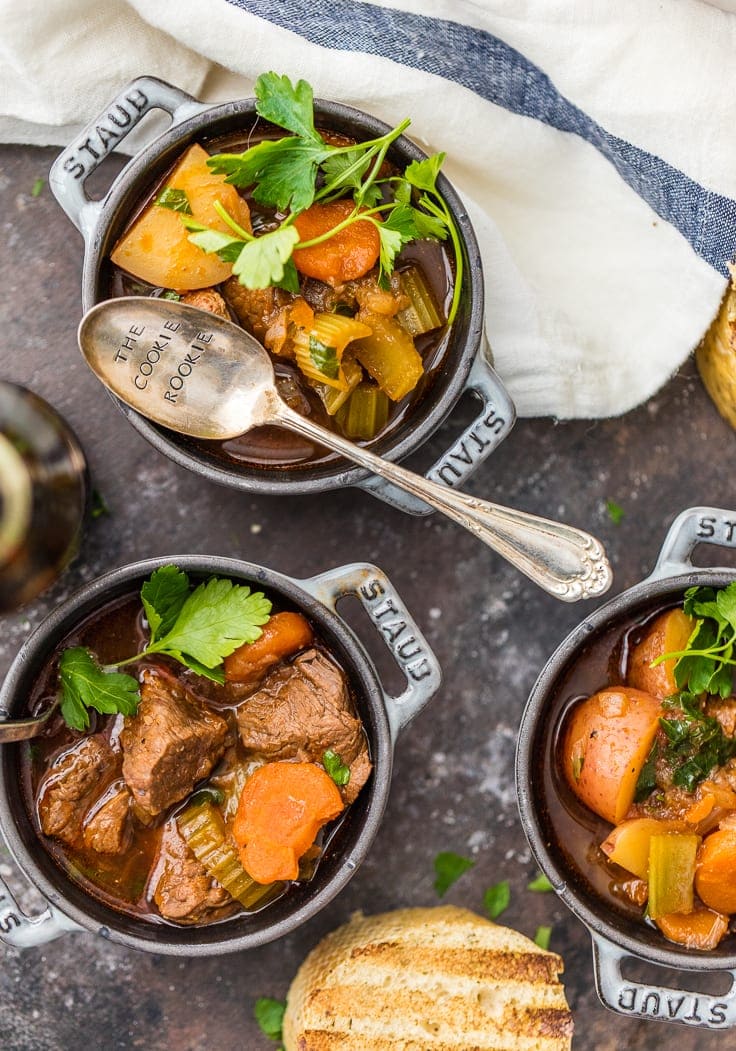 Ingredients
How to Make Guinness Stew in a Slow Cooker
Be sure to see the recipe card below for full ingredients & instructions!
Place the potatoes, carrots, and celery into the bottom of your slow cooker and turn it to low heat.
Then pour the Guinness and beef broth on top, and add in the garlic powder, onion soup mix, basil, and salt and pepper. Stir everything together.
Now season the beef cubes with salt and pepper, then coat them in flour.
Heat oil in a skillet and cook the beef. Add in the onions and cook it all for about 5 minutes, so that the onions are translucent and the beef is browned.
Add the beef and onions into the slow cooker with the rest of the ingredients. Stir in the tomato sauce.
Cover the slow cooker and cook on low for 8 hours (recommended), or high for 4 hours.
Easy as that! I like to serve this Guinness Beef Stew in large portions with hearty bread and more beer. Because that's how it's meant to be done!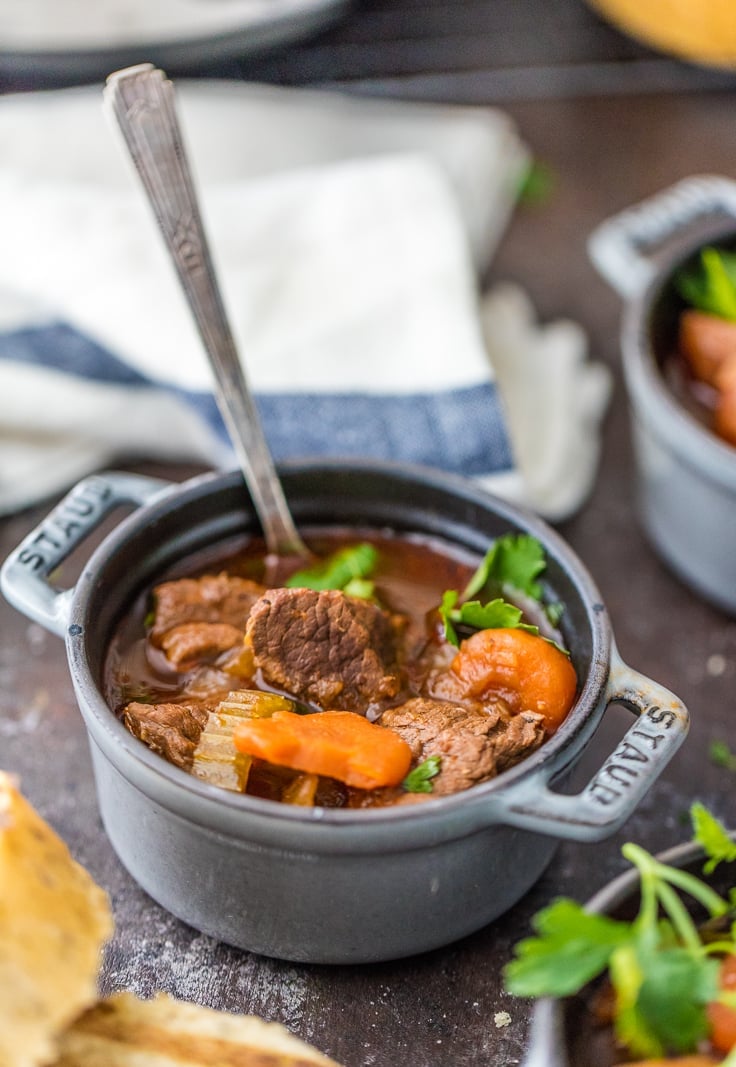 What's the best meat to use for beef stew?
The best stew meat is lean, with a lot of connective tissues. So chuck meat (from the shoulder) is your best option. Since it will be simmering for a long time, it will break down nicely and become tender.
Can you freeze Guinness beef stew?
Yes, it can be frozen for up to 3 months. Defrost in the fridge then reheat to serve.
Why do you cook the beef with flour?
Flour actually helps to brown the meat better, and it creates a better texture.
Can I make Irish stew with lamb instead of beef?
Yes, Irish stew is often made with lamb or mutton. So you can use that instead of beef if you prefer. Just follow the same process to brown the meat and then cook everything in the Crock pot.
How do you make stew thicker?
Flour is generally used to thick soups and stews. I recommend making a slurry first, which means mixing flour with water (or some of the broth), and then adding it into the stew.
Serving Suggestions
This slow cooker Guinness beef stew recipe is SO hearty as it is. It's filled with beef, potatoes, and veggies, so you won't need much in the way of side dishes. But I always love having bread on hand to scoop and soak up extra stew. Crusty, hearty slices of bread work great! Or start dinner with a salad. Either way, make sure you have a beer or glass of red wine to go with it!
If you're looking for more food to make on St. Patrick's Day, try this Corned Beef and Cabbage, Reuben Casserole, or Corned Beef Sliders.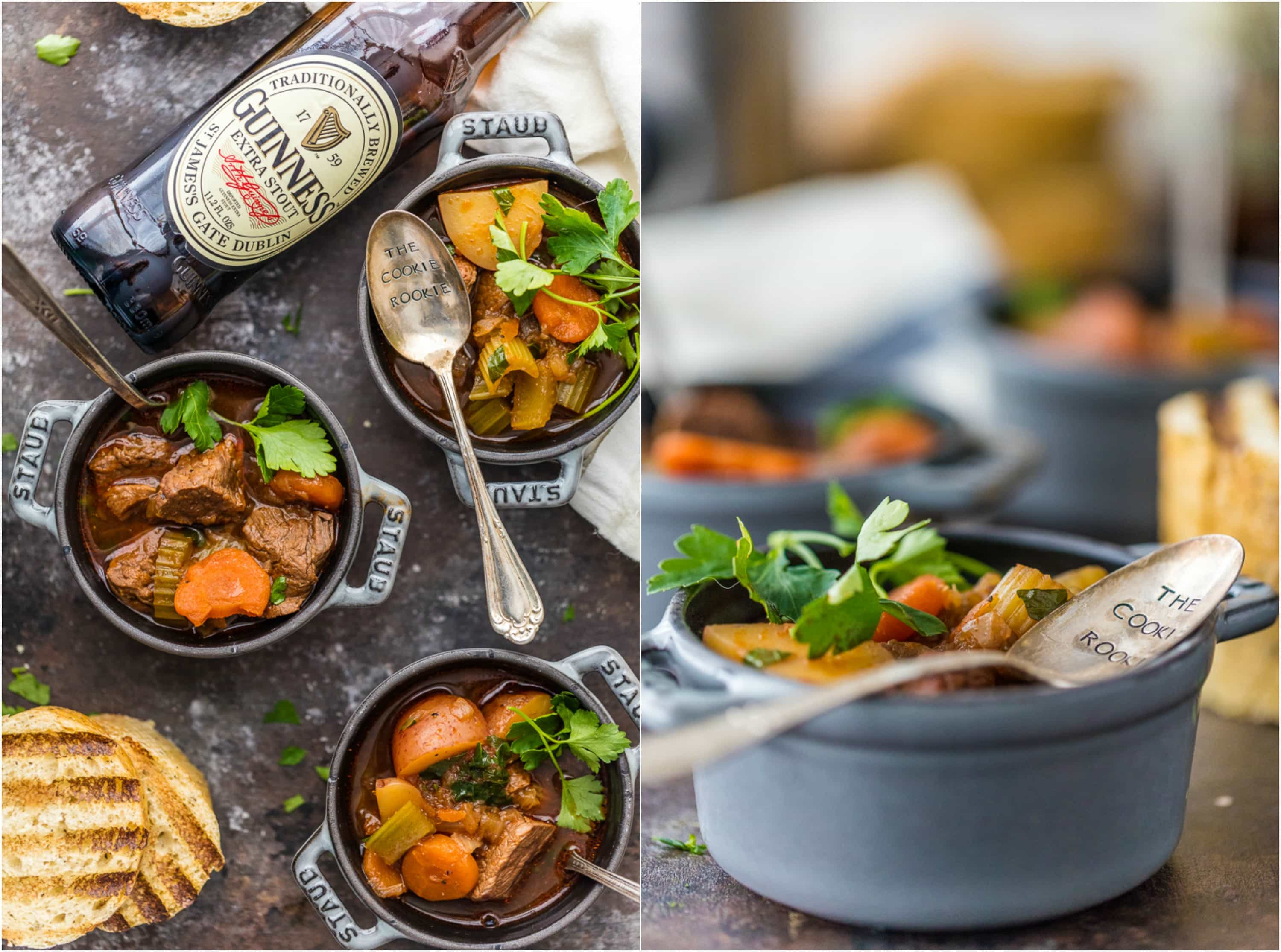 Tips!
I recommend cooking this on low heat in your Crockpot, for 8 hours. But if you don't have time, cook on high for 4 hours.
Store leftovers in an airtight container in the fridge for 4-5 days.
What is the difference between Irish Stew and Beef Stew?
Irish Stew is essentially any stew made with a mixture of meat and root vegetables, a popular native dish in Ireland. Traditional Irish Stew is made with mutton, but it's often made with other types of meat. So this slow cooker beef stew is just another version since it's made with beef, carrots, and potatoes (also known as Irish Beef Stew).
Do you have to cook the beef before you put it in the slow cooker?
For this Guinness Beef Stew recipe, you should brown the meat before adding it into the slow cooker. You will season the beef, cover it in flour, and then cook it in a skillet along with the onions. This is a good way to prepare it for slow cooking to hold flavor, plus the flour will help make a thicker stew.
That being said, it is not always necessary to cook meat before adding it to the slow cooker, but it's definitely recommended!
More Crockpot Recipes We Love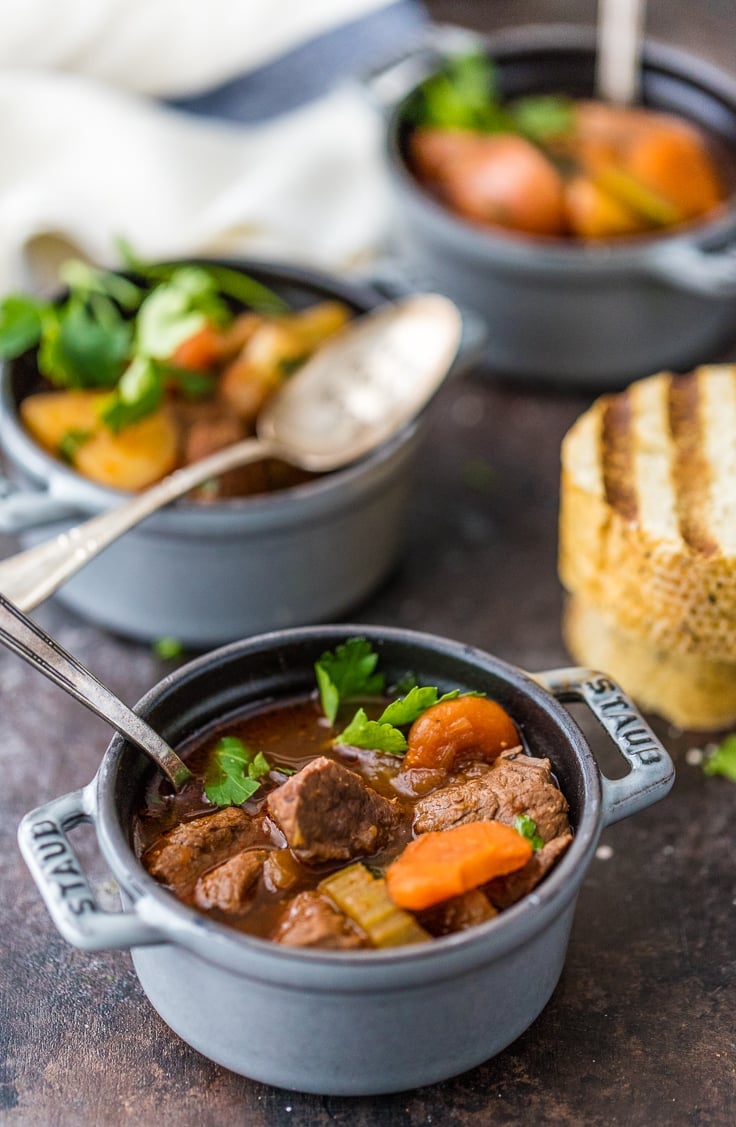 Like I said, this Guinness Stew recipe is true COMFORT FOOD! Beef, carrots, potatoes, BEER. So many good flavors coming together in a meal that will warm the soul and make you think of my favorite holiday, St. Patrick's Day! Be sure to wear green while eating this Irish Beef Stew!