This quick and easy, Creamy Chicken Stew recipe is the comfort food you need for cozy nights! A hearty mix of shredded chicken, potatoes, and vegetables are cooked in cream of chicken soup, with plenty of garlic and herbs thrown in for savory flavor. The best part is this creamy stew will be ready to devour in under and hour!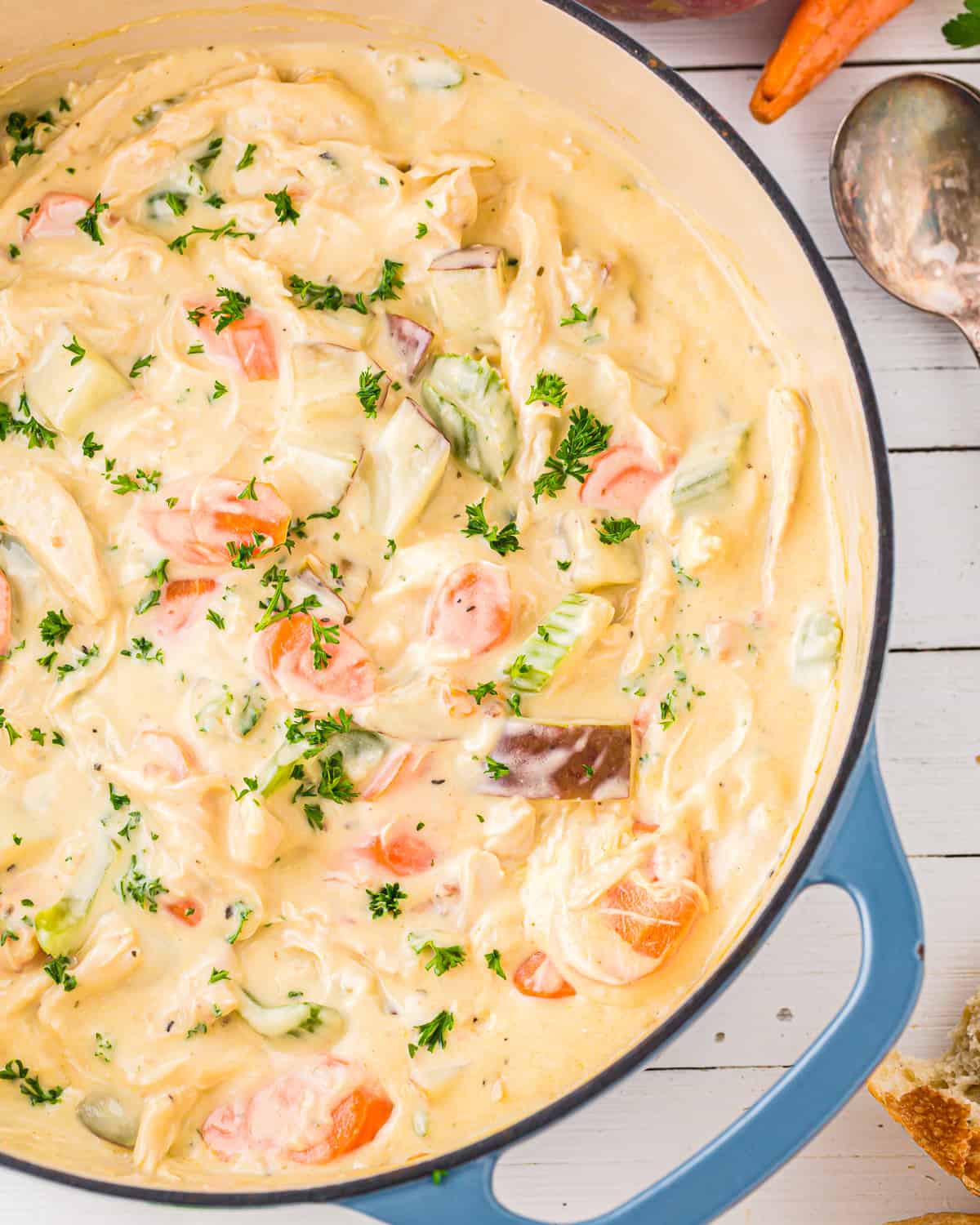 What's in this Recipe for Creamy Chicken Stew?
Like any good chicken stew, this recipe for creamy chicken stew is simple to make and chock full of flavor. It has a thick, rich consistency that'll have the whole family asking for more!
Salted Butter: Adds richness and flavor to the vegetables as they cook.
Carrots: Add sweetness and earthiness to the stew.
Celery: Adds a mildly sweet and earthy flavor to the mix.
Red Potatoes: These waxy potatoes hold their shape well even when cooked for a long time, making them perfect for stews.
Shredded Cooked Chicken: This is a great use for any leftover chicken you may have in your fridge or freezer. Shred or dice it up and throw it in the pot!
Garlic: Adds earthiness and deepens the flavor of the stew.
Chicken Broth: Forms the base of the stew. I like to use low-sodium.
Condensed Cream of Chicken with Herbs: Adds creaminess, substance, and flavor to the stew.
Heavy Cream: Makes this chicken stew super creamy and rich.
Pro Tip: If you can't find cream of chicken with herbs, use regular cream of chicken soup and add the savory herbs of your choice!
Variations on Creamy Chicken and Potato Stew
I love the ease that using store-bought condensed "cream of" soup adds to this recipe. However, sometimes I'm just craving that homemade element. For a more homemade version, replace the "cream of" soup with more chicken broth and heavy cream. I like to make a roux from 2 tablespoons of flour and 2 tablespoons of butter mixed into the vegetables before any broth is added to help thicken up the stew even more.
For a slightly different flavor, you could try thickening your stew 1:1 with my homemade cream of mushroom soup! I like to add mushrooms and other veggies, like peas or green beans, to amp up the veggie element of the soup.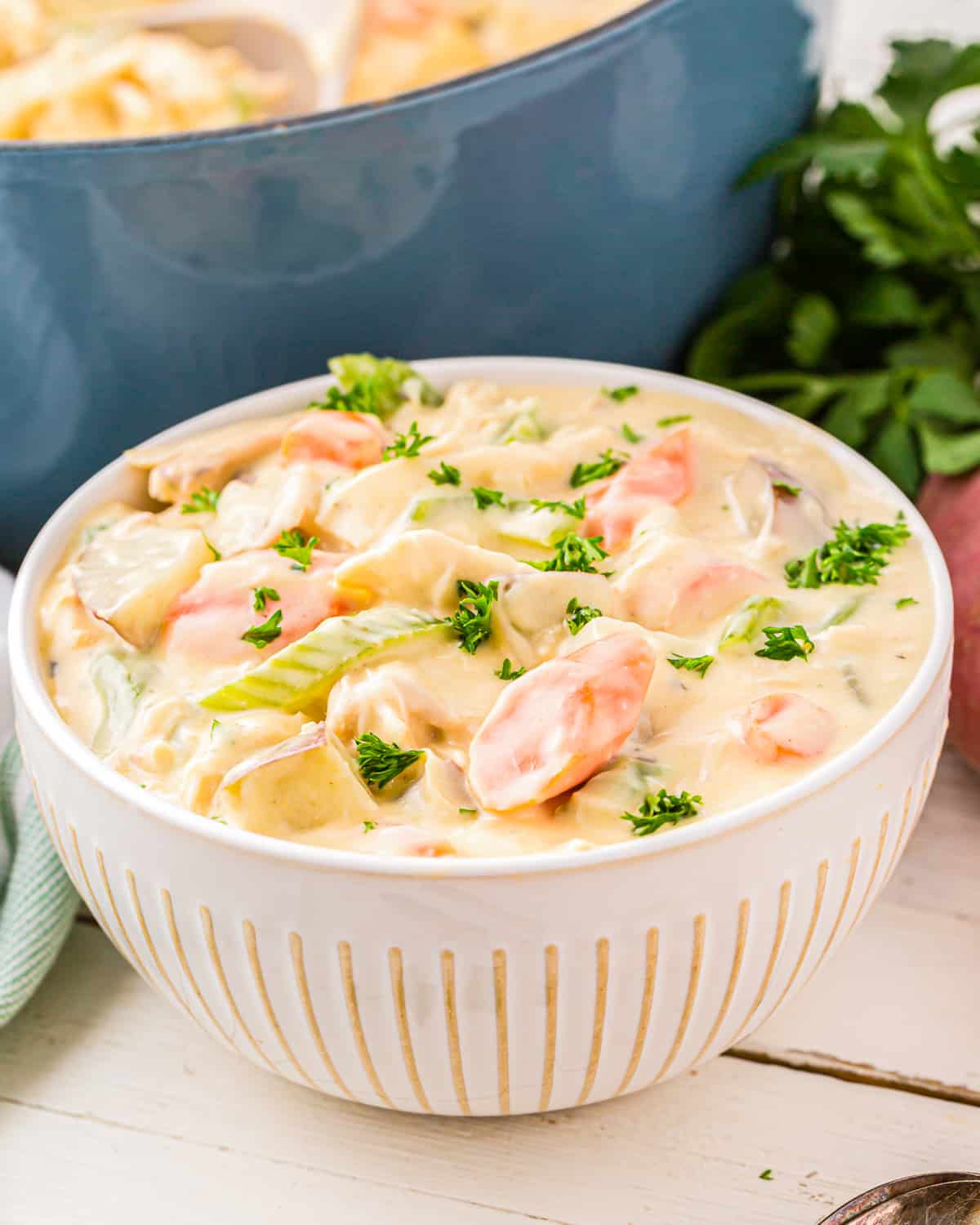 What's the difference between chicken soup and chicken stew?
Chicken soup uses a lot more broth and is much thinner than a stew, even when heavy cream or another creamy element is added.
Is stew chicken good for you?
This soup is high in protein, potassium, vitamin A, vitamin C, and iron. However, it is also high in carbs, saturated fat, cholesterol, and sodium. Enjoy it in moderation as part of a balanced diet.
What do you thicken chicken stew with?
In this case, we utilize condensed cream of chicken soup with herbs to thicken this stew. However, you could also use a roux made from 2 tablespoons of butter mixed with 2 tablespoons of flour and cooked with the vegetables until it forms a paste.
How long can you keep cooked chicken stew in the fridge?
This stew will keep well for up to 3 days!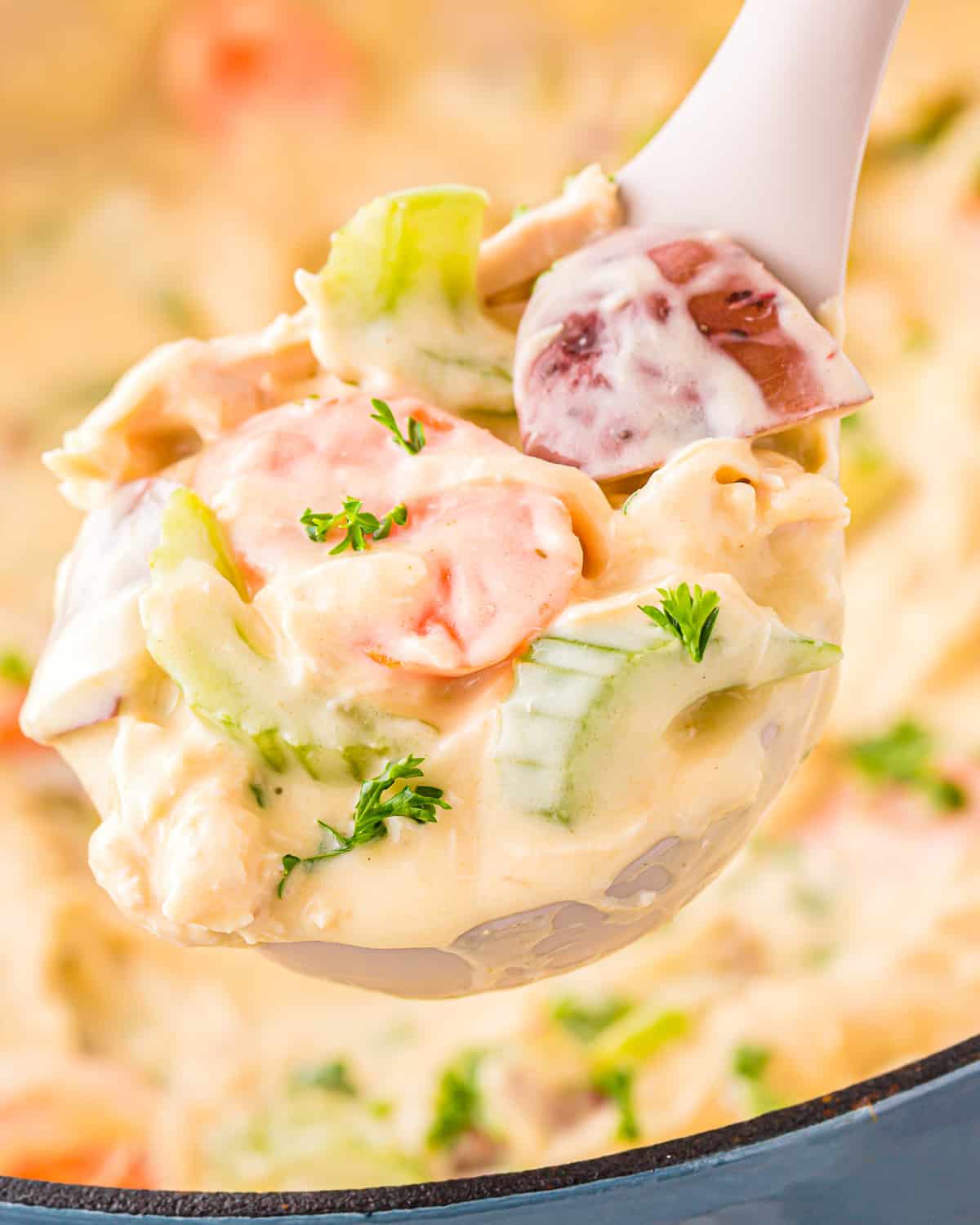 How to Store and Reheat
Store leftover creamy chicken stew in an airtight container in the refrigerator for up to 3 days. Reheat in a saucepan set over medium-low heat or in the microwave in 30-second increments until warmed through.
I do not recommend freezing this stew recipe, because the cream tends to separate once thawed, leading to an undesirable texture.
Serving Suggestions
Serve this chicken and potato stew with plenty of dinner rolls or cornbread muffins for scooping up that creamy broth, and a tasty chopped salad!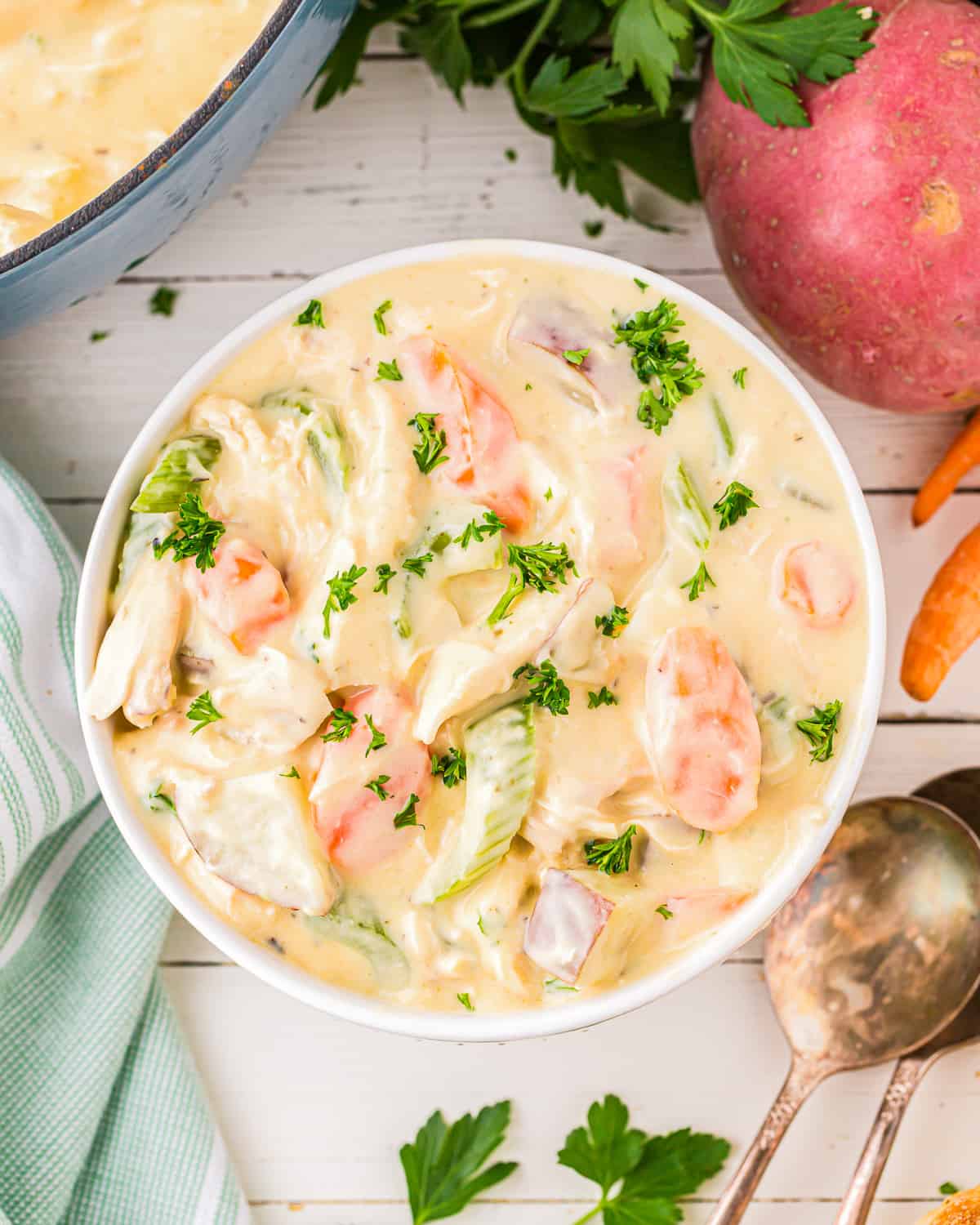 More Creamy Chicken Soup Recipes We Love