This savory Witches Brew Stew recipe is so easy to make in the slow cooker for a filling and comforting meal. It's filled with Italian sausage, ground beef, mushrooms, potatoes, and lots more delicious ingredients. I cut the carrots and mushrooms into fun shapes to add a spooky twist. It's the best stew to serve on Halloween, to keep everyone warm before trick-or-treating!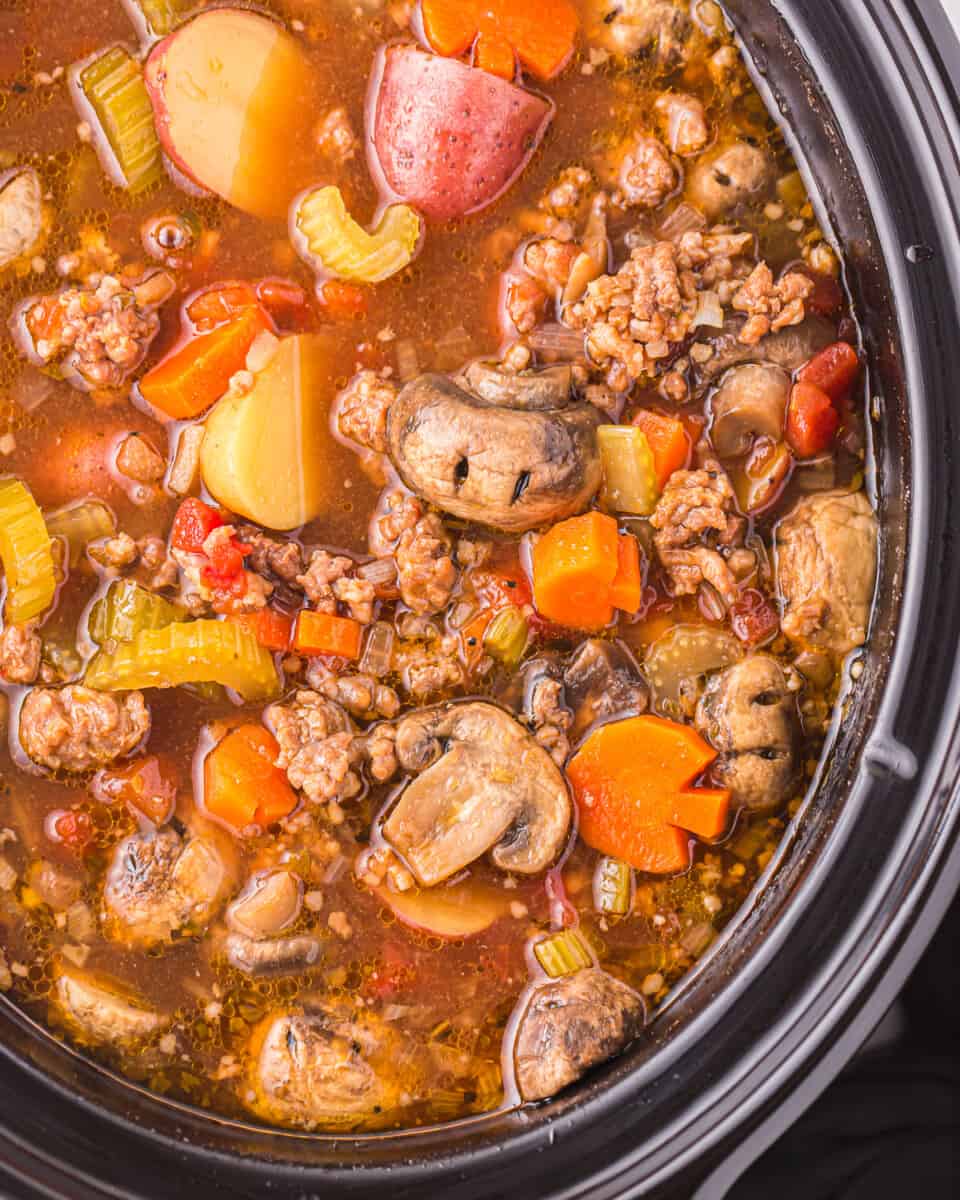 What's in Witches Brew Stew?
This Halloween stew is a hauntingly delicious combination of sausage, ground beef, and hearty vegetables!
Italian Sausage: You can use another type of sausage–such as chorizo or bratwurst–or omit it entirely for a vegetarian version.
Lean Ground Beef: Ground chicken or ground turkey is a leaner option. If you use ground beef with more fat, be aware that you will release more grease. Do not add it all to the slow cooker, only what naturally transfers with the ingredients.
Shallots: White onion and minced garlic can be substituted if needed. You will want 1 small white onion and 2-3 garlic cloves.
Onion Soup Mix: You can also use a mixture of dried onion flakes, garlic powder, and beef bouillon if needed.
Large White Mushrooms: Substitute other mushrooms of your choice. Remember that they shrink while cooking, so larger mushrooms work better in this recipe in order to get the spooky "shrunken-head" look.
Carrots: Substitute sweet onion, butternut squash, parsnip, or another root vegetable if needed. Making other vegetables look like mini-pumpkin will be easier if sliced easily.
Celery: Adds a bit of crunch and earthiness. You could use fennel or water chestnuts instead.
Baby Gemstone Potatoes: Any baby potatoes, such as red or golden potatoes, will work for this recipe. Fingerling potatoes also work well.
Beef Broth: Substitute vegetable broth if needed.
Petite Diced Tomatoes: Crushed tomatoes and tomato sauce are both excellent substitutes. You may add ½-1 teaspoon of Italian seasoning for flavor.
Red Wine Vinegar: Substitute another type of vinegar for a slightly different flavor finish, or use some mustard to add tang to this dish.
Pro Tip: To add more "spooky" fun, make "eyes" out of a scoop of sour cream or cream cheese, topped with a sliced black olive to go on the top of the soup. This adds a fun element and a creamy flavor that compliments the soup well.
Variations on Witches Stew
There are lots of ways to change up this festive witches brew Halloween stew!
To make it vegetarian, omit the meat and use vegetable broth instead of beef. You could also add more vegetables, such as bell peppers or zucchini.
To make it spicier, add some chopped jalapeño or red pepper flakes to the meat while it's cooking, or add some diced hot peppers along with the other vegetables.
To make it more filling, you could add some cooked beans such as kidney or black beans, or some cooked grains such as quinoa or rice.
To make it creamier, add some heavy cream or coconut milk at the end of the cooking time.
To make it more colorful, you could use various colored vegetables, such as purple potatoes or rainbow carrots.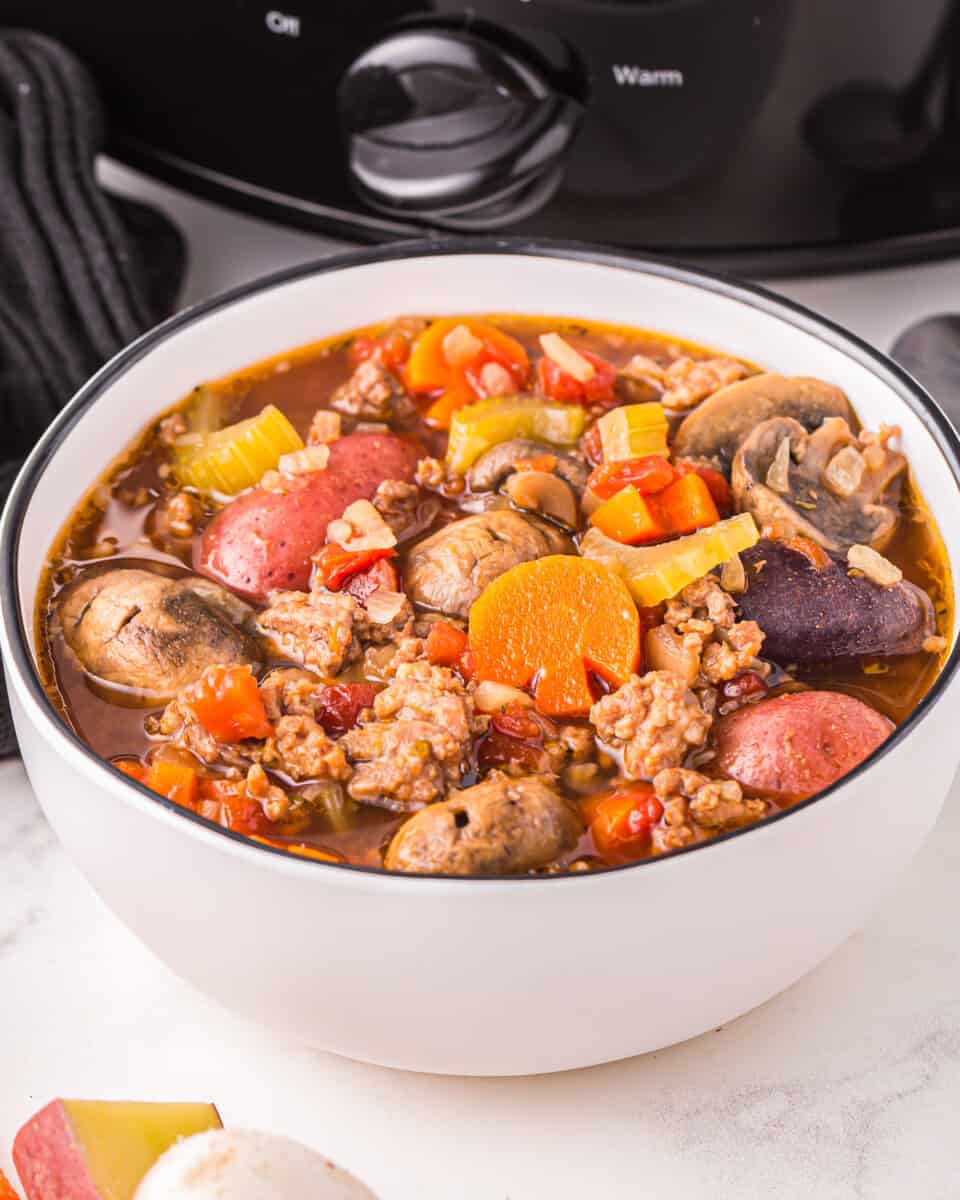 What is witches brew stew?
Witches brew stew is a hearty and flavorful Halloween-themed stew that includes beef, sausage, and lots of veggies!
Why is it called "witches brew stew"?
The name comes from the whimsical elements that are added to this stew, such as "carrot pumpkins" and "shrunken head mushrooms".
Is witches brew stew only for Halloween?
Nope! This rich and tasty stew is great just about any time of year!
Can I make it in advance for a party?
Yes, you can prepare the components of the stew in advance and then assemble and reheat it before serving. This is especially helpful if you're hosting a Halloween party and want to spend more time enjoying the festivities.
Can I still make it if I don't have a crockpot?
You sure can! Simply add all of the ingredients to a large Dutch oven and simmer for 30-45 minutes, or until the potatoes are fork tender and the stew is warmed through.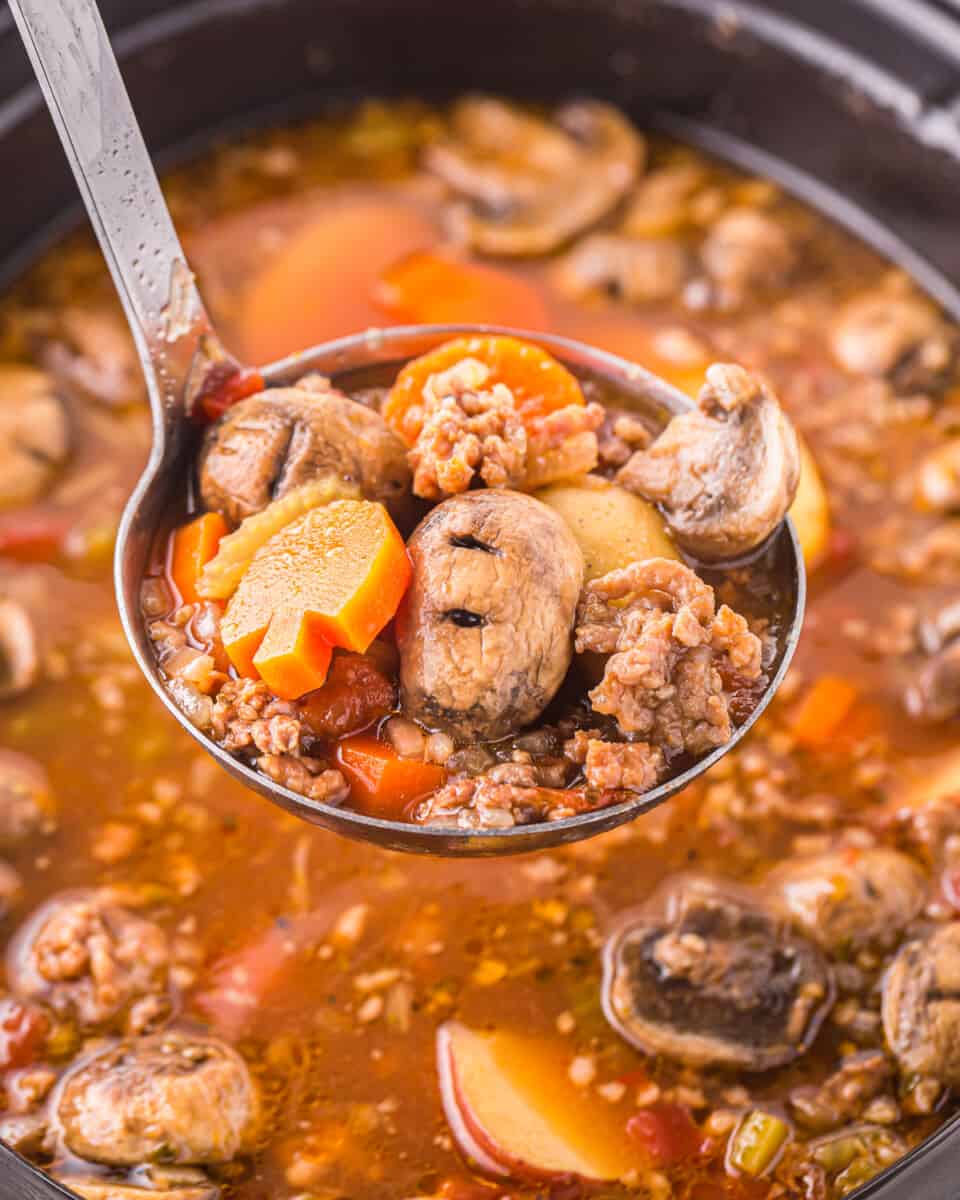 How to Store and Reheat
Store leftover witches brew stew in an airtight container in the refrigerator for up to 4 days. To reheat, you can either microwave it in a microwave-safe bowl, stirring occasionally, or heat it on the stove in a pot over set medium heat until it's hot all the way through.
How to Freeze
You can freeze witches stew in an airtight container or Ziplock bag for up to 3 months. Let thaw overnight in the refrigerator before reheating.
Serving Suggestions
Cheese focaccia, dinner rolls, Dutch oven bread, or cornbread muffins are excellent choices to serve alongside this spooky stew. These sides can be used to soak up the flavorful broth.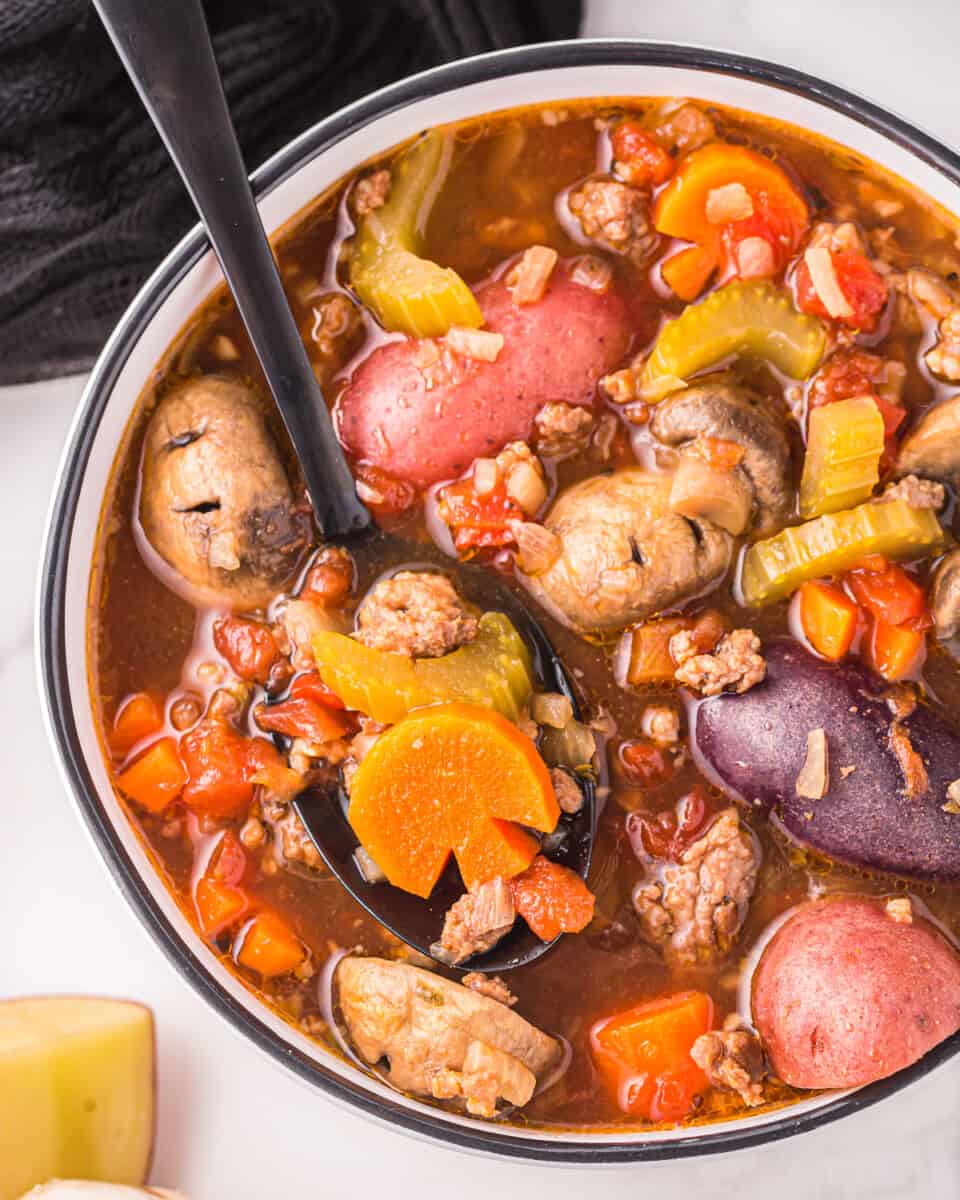 More Beef Stew Recipes We Love