This SUPER EASY PUFF PASTRY STRAWBERRY TART is our favorite simple Summer sweet treat. Made in minutes, it's delicious on its own or topped with vanilla ice cream!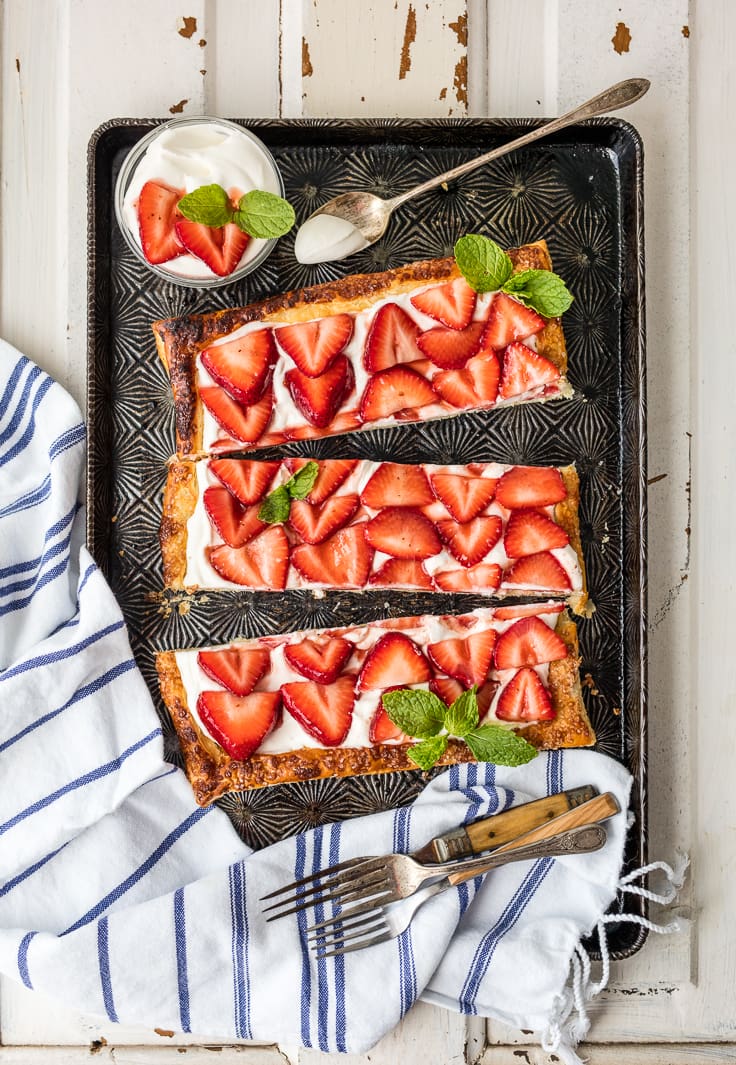 I've been really working on my dessert game. I'm so honored to be contributing over at one of my very favorite baking blogs, My Baking Addiction, and it has me so inspired. Jamie is the absolute queen of easy and attainable desserts, and she makes me feel like I can do it too. So…baby steps. One sweet treat at a time. Last month I made these Mini Nutella Cheesecakes, and it helped me to remember that simple is best. I could eat those things every darn day. This month, I settled on this Super Simple Puff Pastry Strawberry Tart, and I couldn't be happier. It just looks and tastes like Summer. Fresh fruit, a creamy and easy base, and puff pastry. It's pretty much the only thing I need in this world this Summer!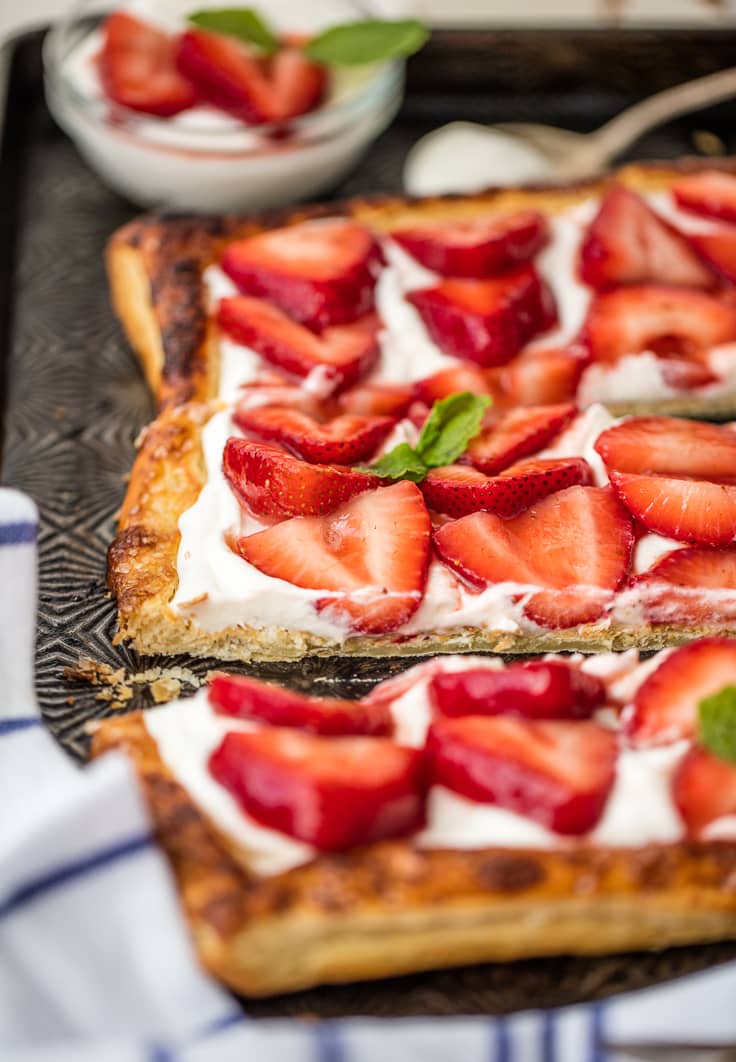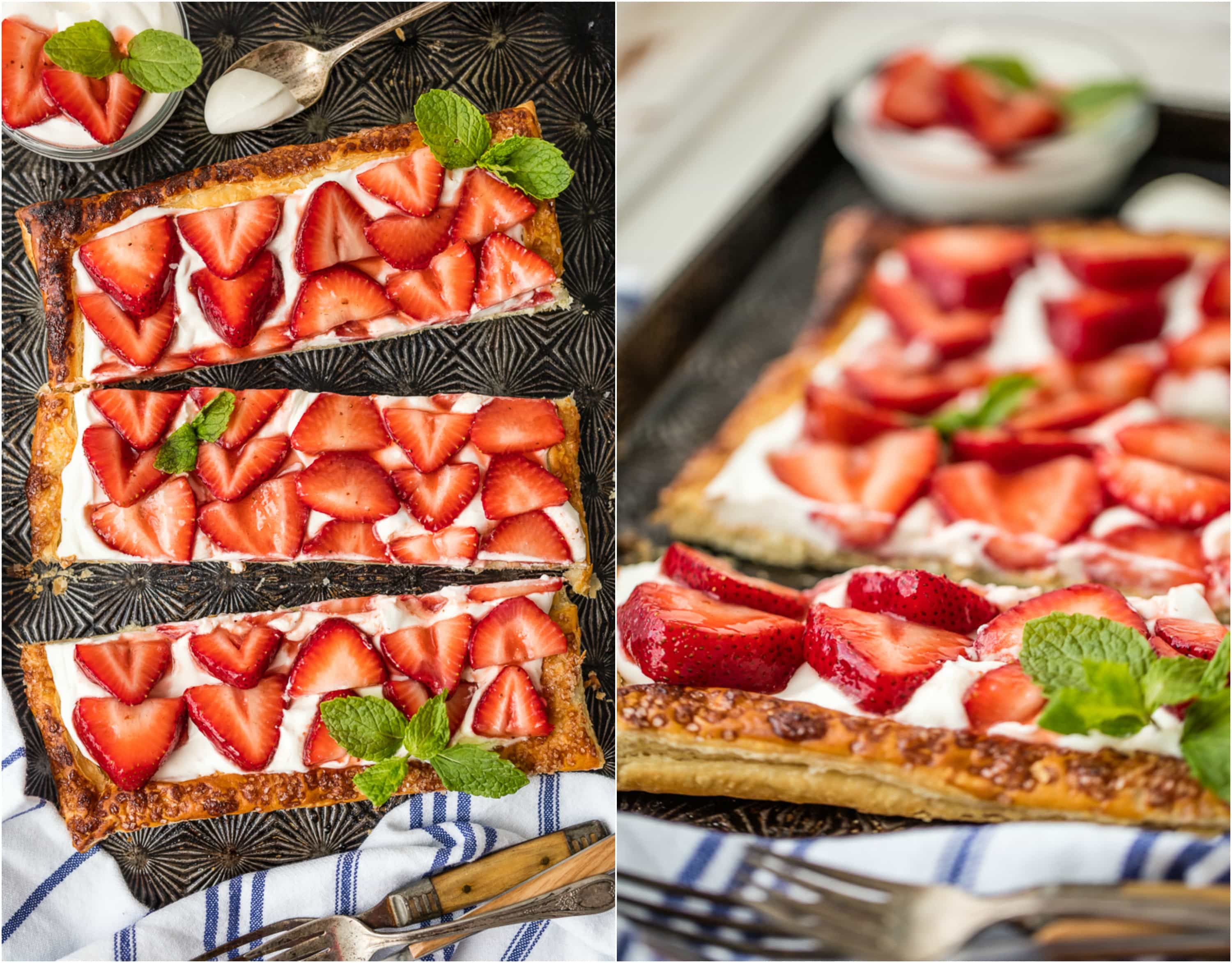 This Easy Puff Pastry Strawberry Tart is the perfect sweet treat to bring with you to family BBQs, work potlucks, or any Summer get together. Believe me, it will be the hit of the party! Way better than store bought but almost just as easy. But you might want to make two. One is gone REALLY quick…trust me!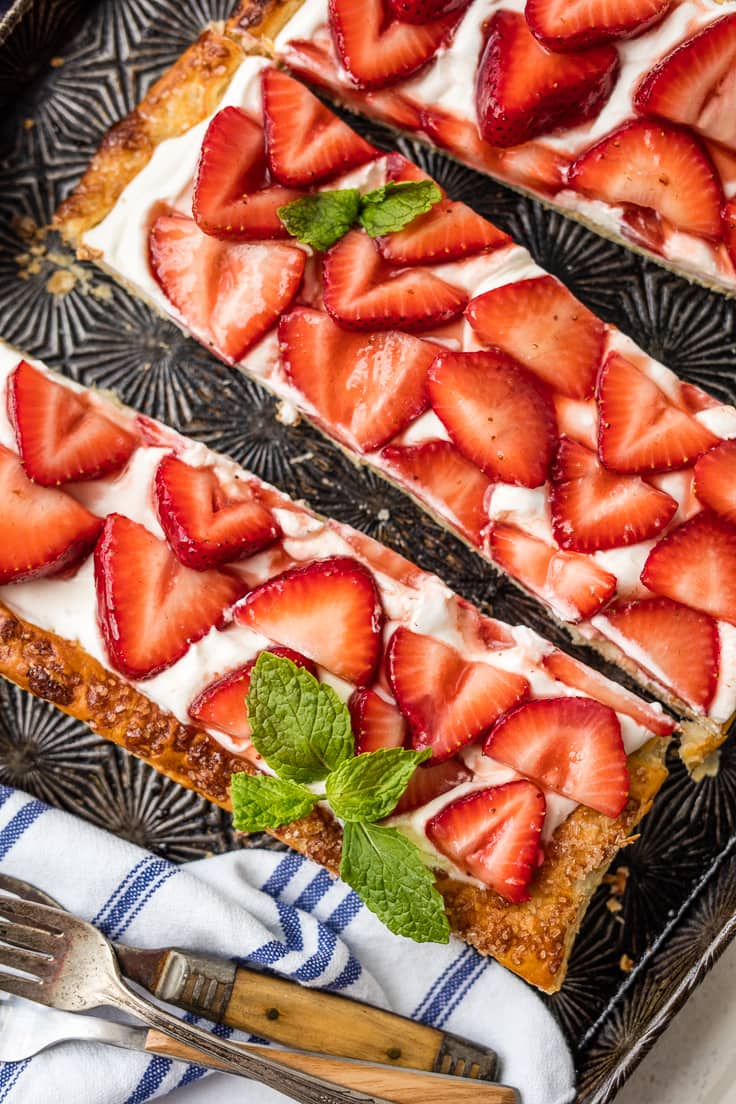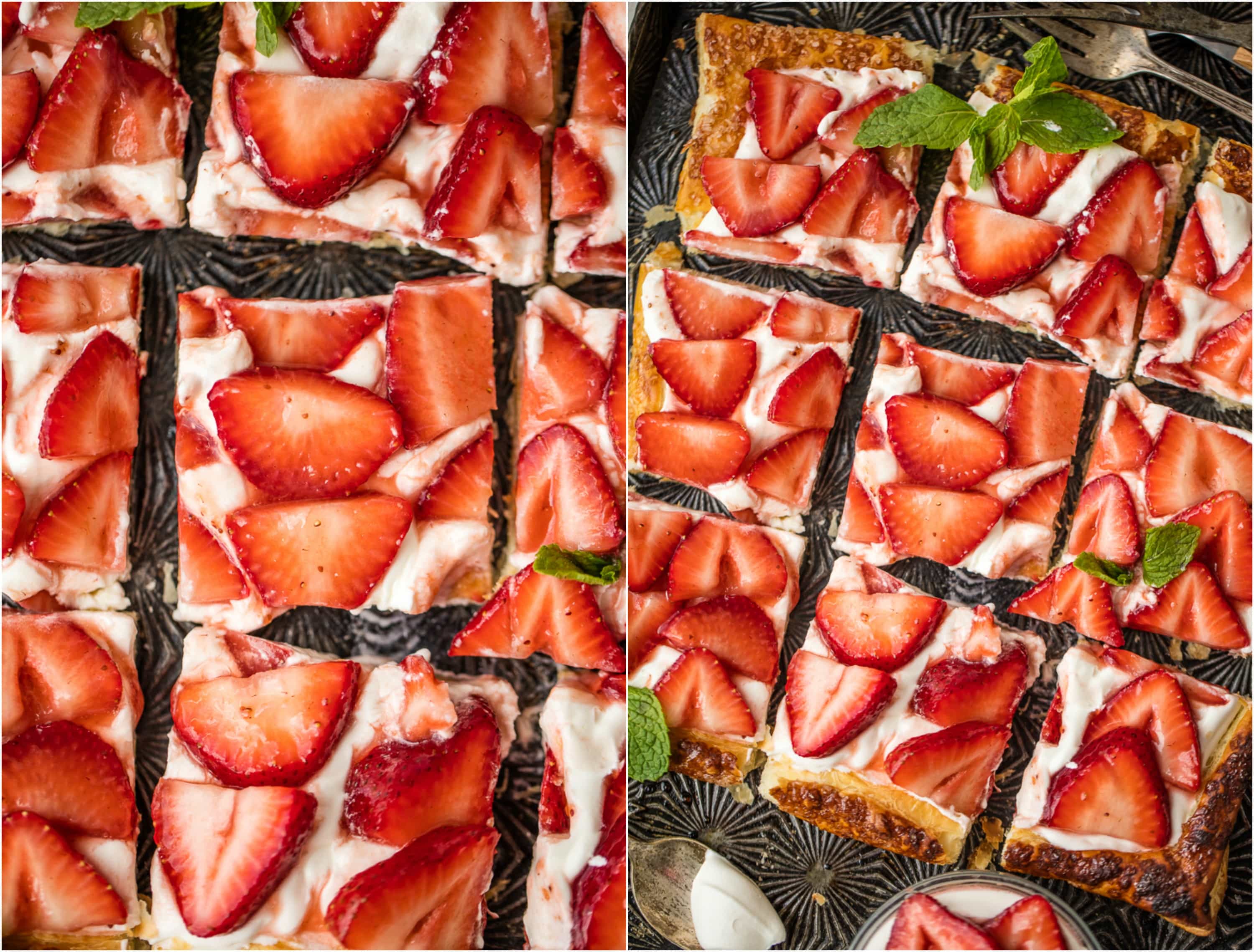 You can't claim that this Puff Pastry Strawberry Tart is made from scratch, but you can say that it's homemade. And I feel pretty good about that. It's certainly a massive step up from when I used to show up to every party with nothing but Buffalo Wild Wings. Your friends and family will thank you for bringing this beautiful, EASY, and delicious dessert. You can keep the fact that it's so easy to yourself!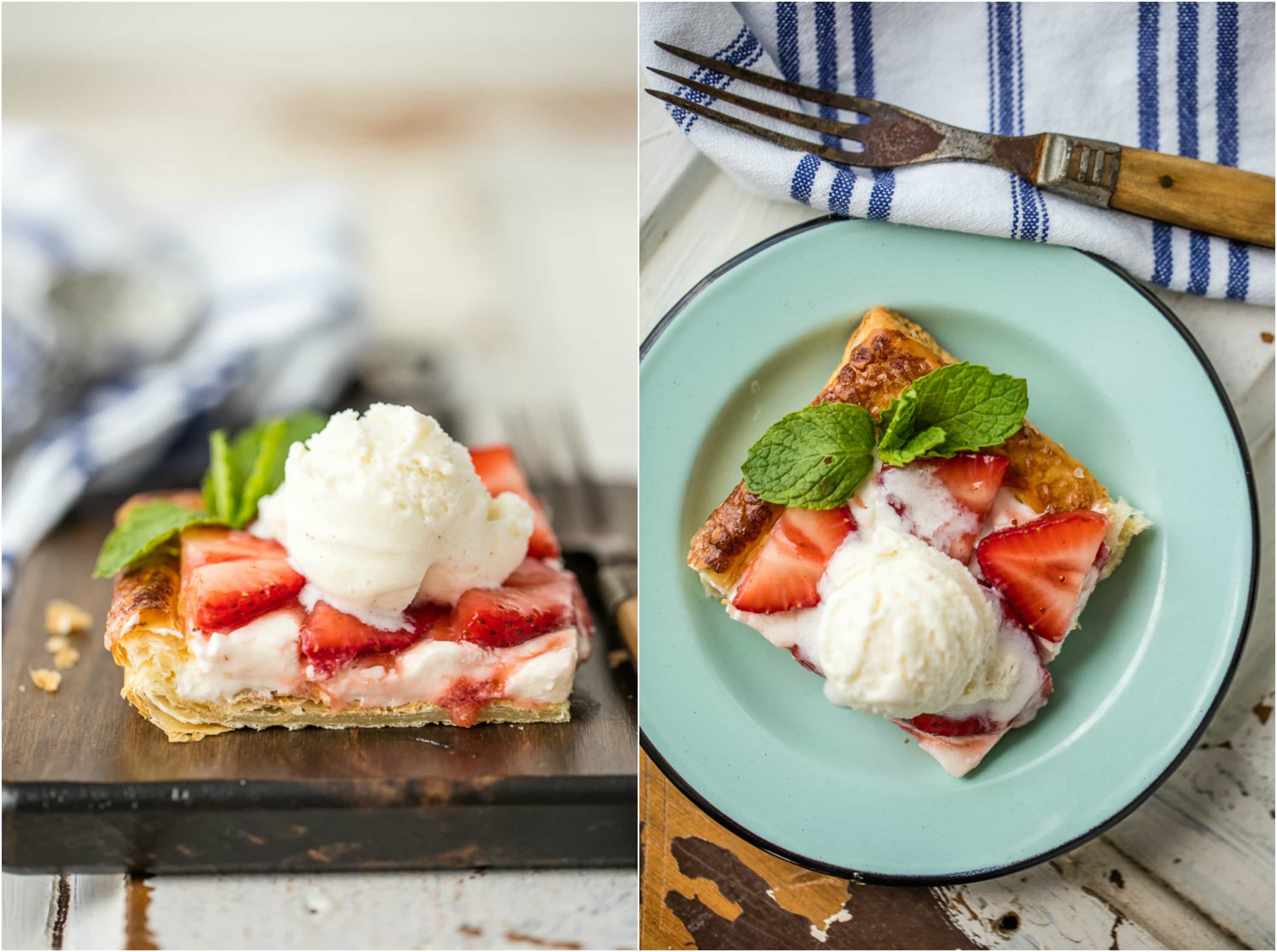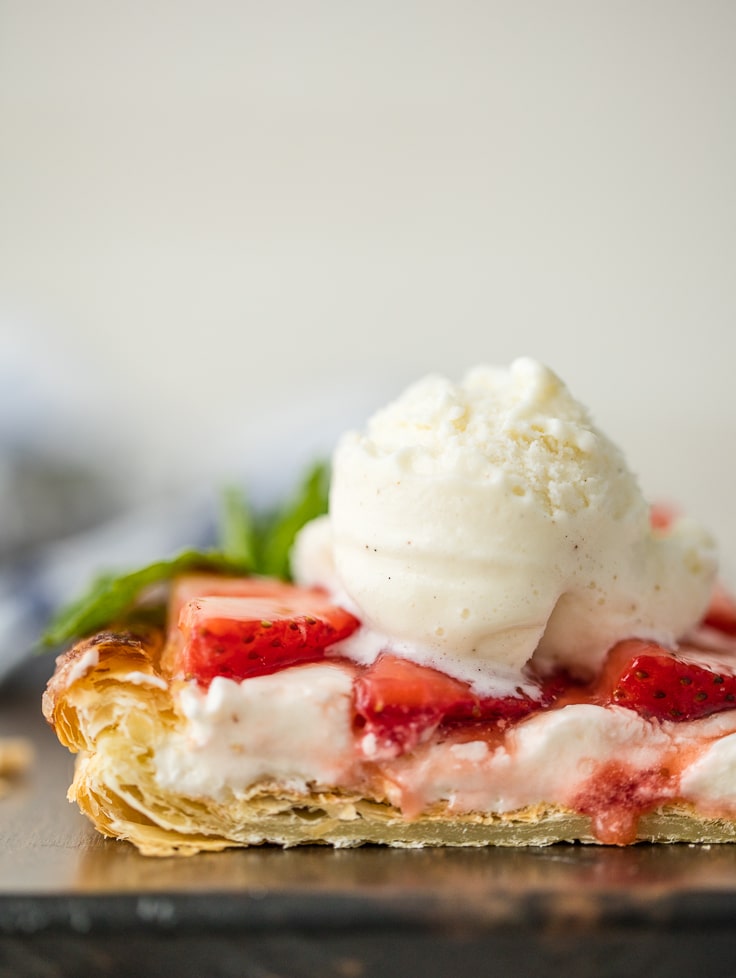 '
Eat it on its own straight out of the fridge, or heat it up and top it with vanilla ice cream. There's no wrong way. Only tastiness awaits!!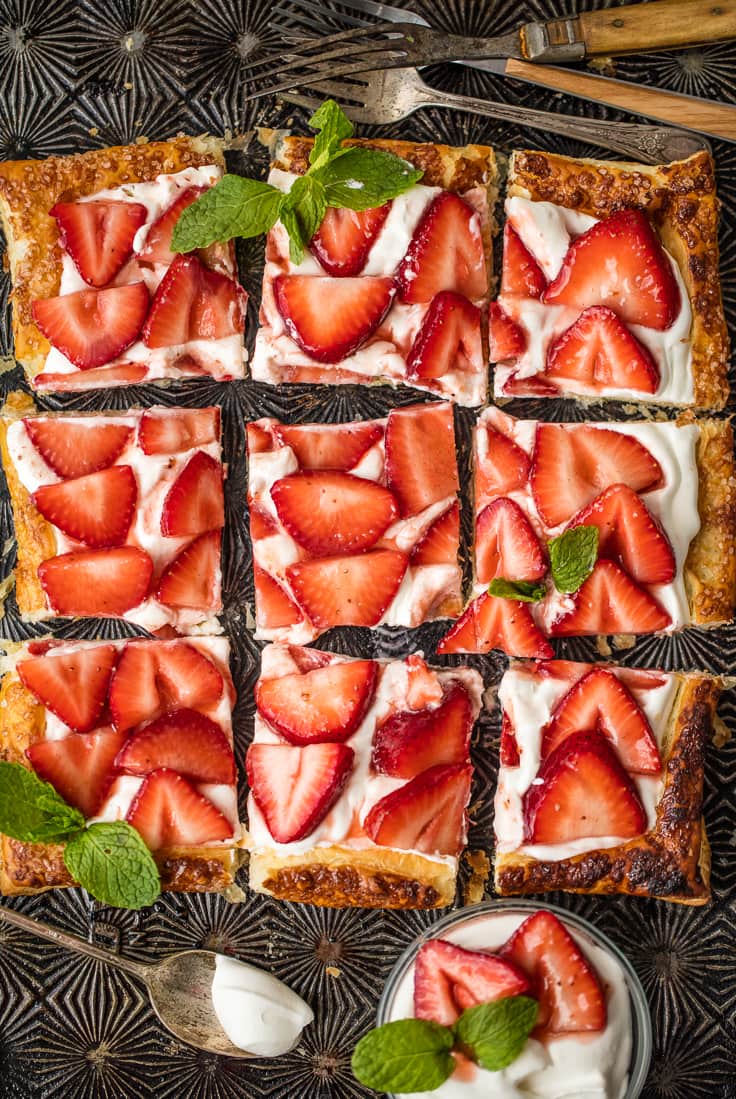 Enjoy!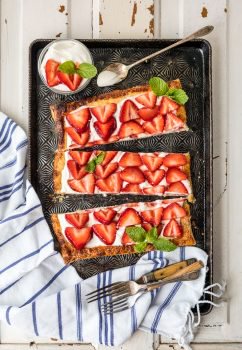 Super Easy Puff Pastry Strawberry Tart
Print
Ingredients
1

sheet frozen puff pastry

thawed

1

egg

2

teaspoons

water

sparkling sugar

optional

1

pint

strawberries

washed/hulled, and sliced into 3-4 slices each

1/4

cup

strawberry jam

3/4

cup

white sugar

divided

4

ounces

mascarpone cheese

4

ounces

whipped cream

fresh whipped cream or cool whip

ice cream for garnish

optional
Instructions
Preheat oven to 400F

On a parchment lined baking sheet, roll out the puff pastry dough to a large rectangle.

In a small bowl, whisk together the egg and the water.

Use a knife to scour a border, 3/4 of an inch inside from the edge of the puff pastry. Use a fork to pierce the inside of the tart several times.

Brush the pastry with the egg wash along the border. Sprinkle with sparkling sugar if desired.

Bake for 20 minutes until golden brown and cooked. Set aside to cool.

While the puff pastry is cooking, prepare the topping. In a large bowl, stir together the whipped cream, 1/2 cup white sugar, and mascarpone cheese.

In a separate bowl, mix together the strawberry slices, 1/4 cup white sugar, and strawberry jam.

Once puff pastry is cooled, top with the cream and then the strawberries. Keep refrigerated until ready to slice and serve.

Top with vanilla ice cream. Enjoy!