This easy, rustic Pear Tart recipe is perfect for fall! Puff pastry is all dressed up with thinly sliced pears and a buttery mixture of the very best warm, sweet fall flavors. You only need 5 ingredients and about 30 minutes to make this picture perfect tart!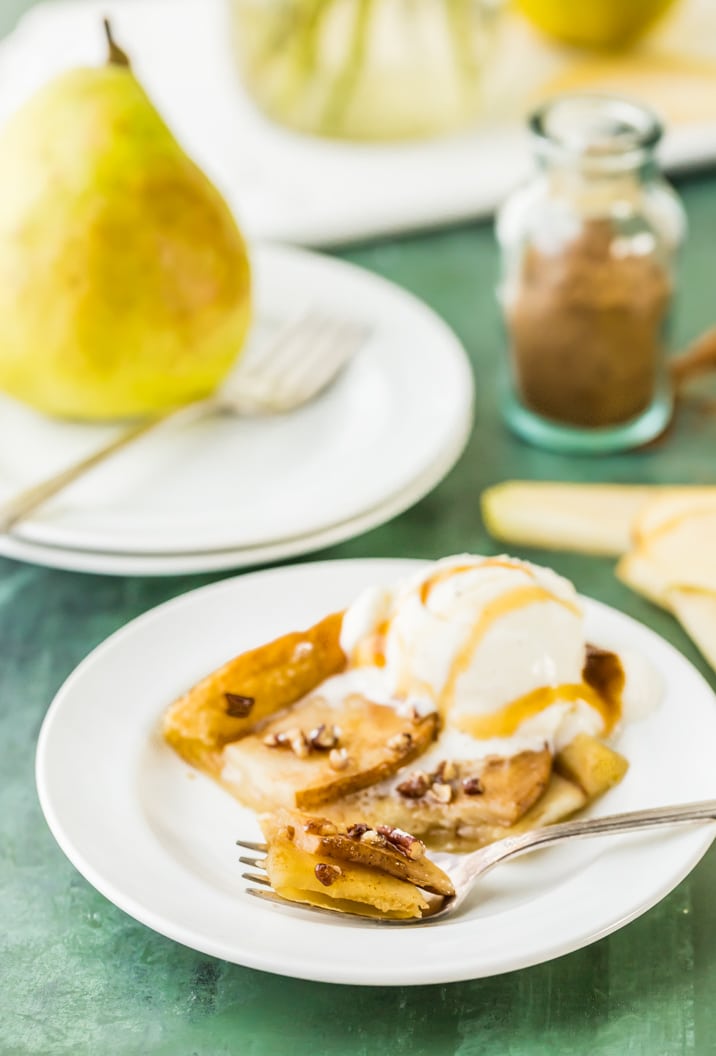 What's in this Pear Tart Recipe
It only takes 5 ingredients to make this delicious tart.
Puff Pastry Dough: Let the puff pastry dough thaw before using it.
Salted Butter: To melt the butter, microwave it in a bowl for about 30-60 seconds.
Pumpkin Pie Spice: My homemade pumpkin pie spice has the very best warm flavor!
Brown Sugar: You can easily make your own by combining 1 cup of white granulated sugar with 1 TBSP of molasses.
Pears: Slice the pears thinly. That way they will cook all the way through and sit nicely on the pastry.
Pecans: This is an optional garnish. I love the crunch they give each bite!
Ice Cream: A big scoop of cold vanilla ice cream with a warm slice of pear tart is worth drooling over.
Pro Tip: Serve this pear tart warm with a scoop of vanilla ice cream and sprinkle some pecans on top.
What kind of pears should I use for this tart?
You can use any type of pears you like. I find that Bosc and Anjou pears work great for baking, but whatever you have on hand or find at the store will work.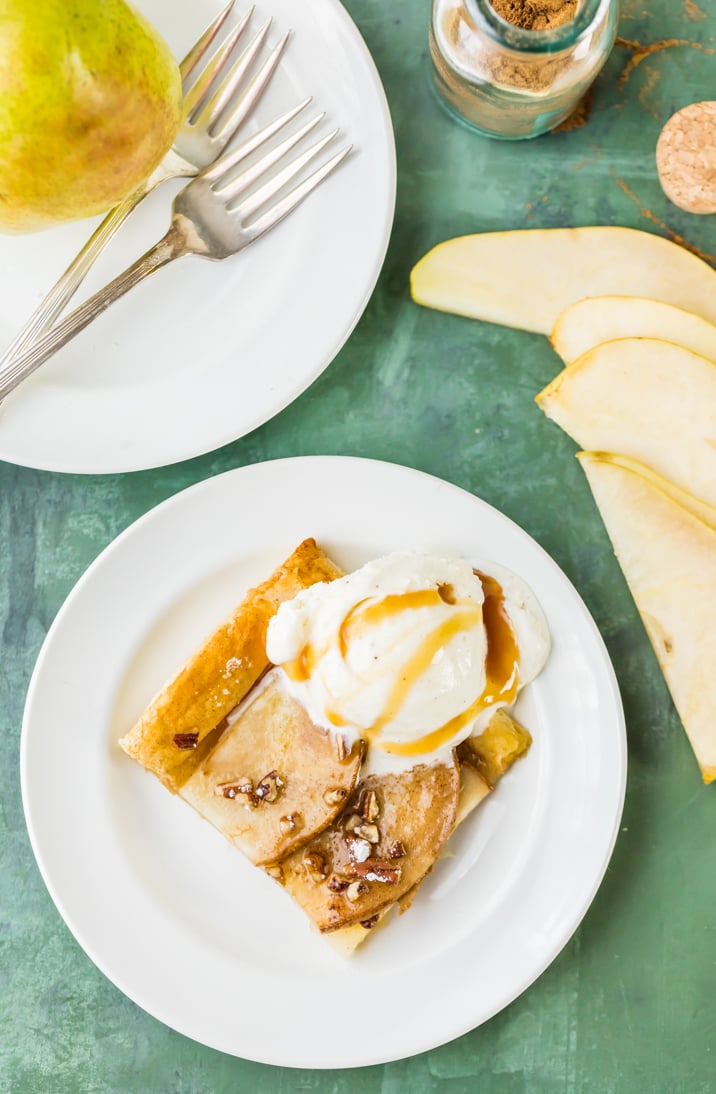 Why do you use pumpkin pie spice?
Most pear tart recipes contain the same spices that you find in the mix (like cinnamon, cloves, and nutmeg). I figured it would be much simpler to use my homemade pumpkin pie spice blend instead of worrying about all of the spices individually. This definitely speeds up the recipe a little bit and makes it feel much easier when you're in a rush!
How can I tell when it's done baking?
Take a look at the edges! The edges of the pastry will start to puff up and brown when it's done.
Do pears need to be ripe before cooking?
They certainly can be, but they don't necessarily need to be. Under-ripe pears actually tend to hold their shape better when cooking at high temperatures.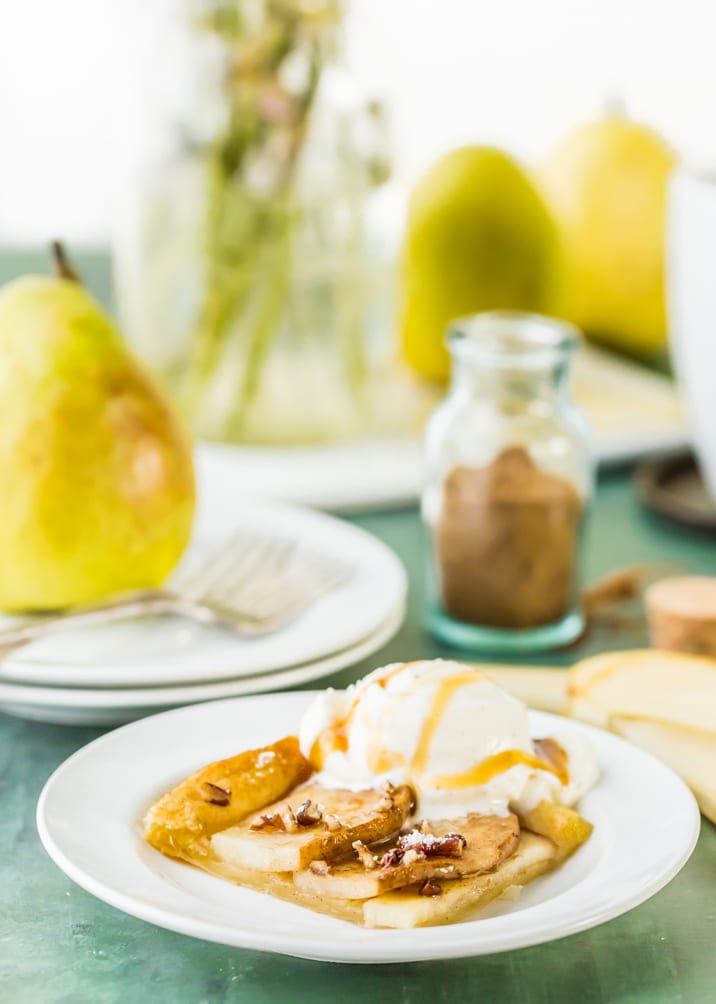 How to Store and Reheat
Once cooled to room temperature, you can keep this pear tart stored in an airtight container in the fridge for up to 3 days. Reheat it in the microwave for 30 seconds at a time until warmed all the way through.
Serving Suggestions
While vanilla ice cream and pecans are my favorite accompaniments for this pear tart, you can always feel free to get creative! Use candied pecans for even more sweetness or pumpkin ice cream for additional fall flavor.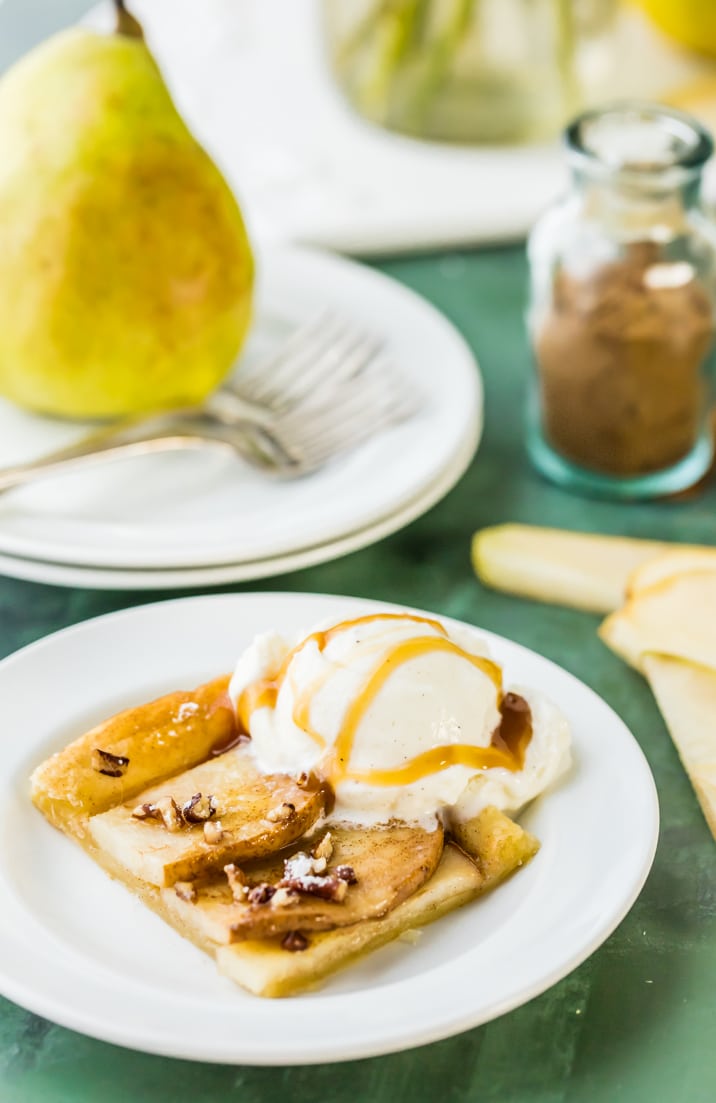 5-Star Review
"YES! Pears are my favorite thing about fall (way more than pumpkin, I have to admit!). I basically consume pounds and pounds of Bartlett pears each year. This tart is fantastic! I'm such a fan of puff pastry! So great to have on hand." – Laura
More Fruity Dessert Recipes We Love