This pear tart recipe couldn't be easier! You only need 5 ingredients and 30 minutes to make this quick and easy tart. It'll be ready for guests or last-minute desserts, no problem!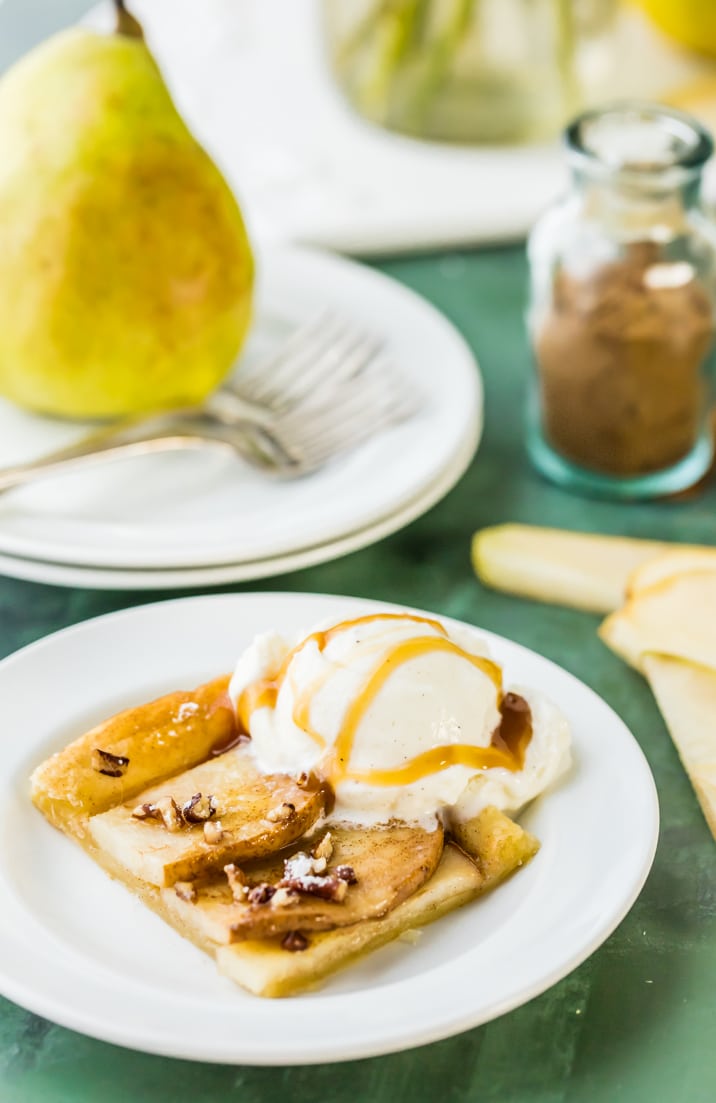 Easy Pear Tart
This pear tart recipe and so quick and so easy. We're using puff pastry dough to make it simple.
Even though the recipe is extra easy, the flavor is just as amazing! It looks beautiful, tastes great, and guests will be impressed you whipped this up so fast.
This makes a great autumn treat, but it's welcome for dessert any time!
Why You'll Love this Pear Tart Recipe
QUICK DESSERT: You won't need more than 30 minutes, start to finish, to get this dessert ready.
5 INGREDIENTS: It only takes 5 ingredients to make this delicious tart.
DELICIOUS: Fresh pears mixed with a bit of brown sugar and pumpkin spice creates the perfect, simple flavor.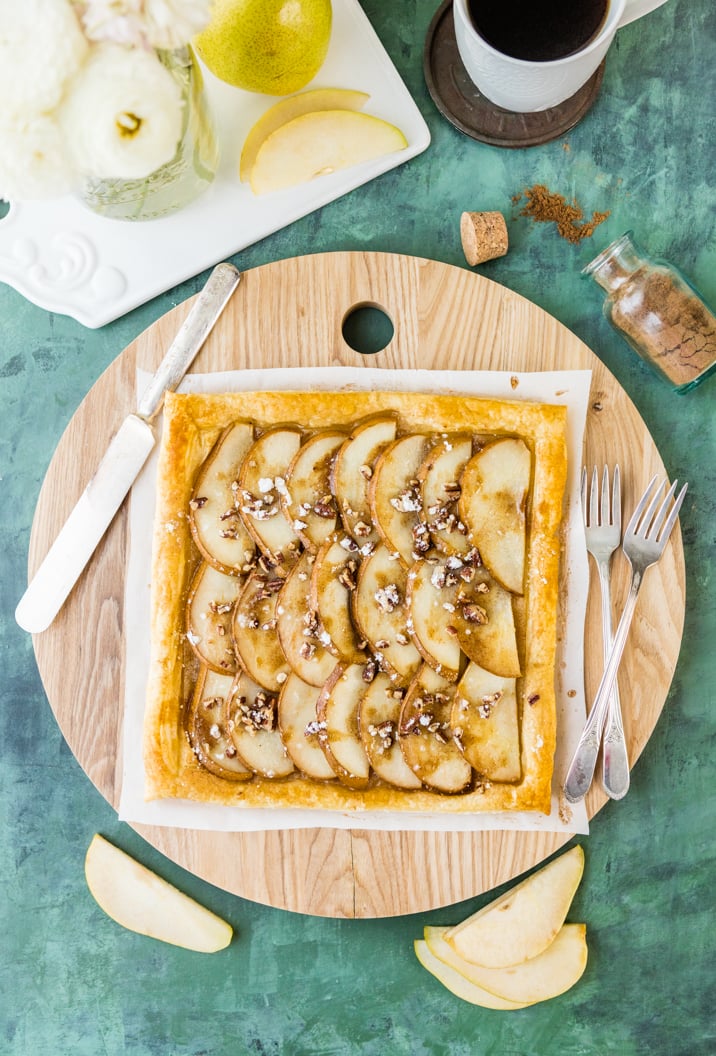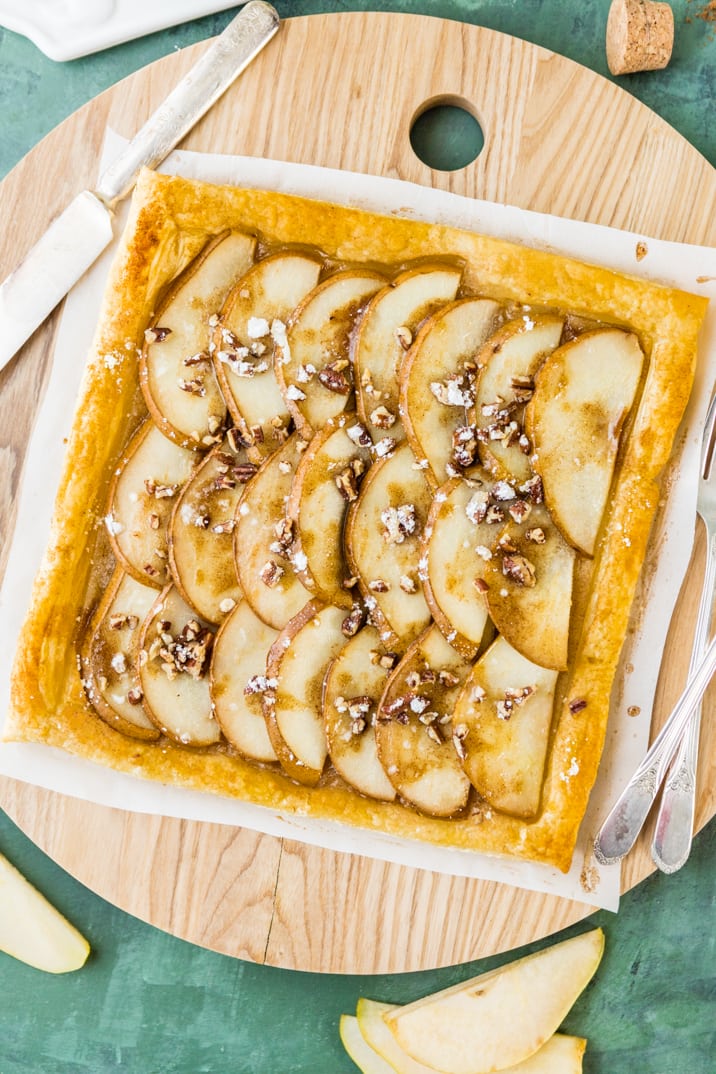 How to Make a Pear Tart with Puff Pastry
*Be sure to check the recipe card below for the full, detailed instructions and ingredients list.
Thaw puff pastry, preheat oven, and slice pears.
Lay out the pastry sheet on a baking sheet and cut a line around the edge of the dough.
Combine the melted butter with the pumpkin pie spice and brown sugar.
Brush the mixture over the pastry dough, then arrange the sliced pears on top. Overlap them slightly.
Pour the rest of the butter mixture on top.
Bake at 400F for 15-18 minutes, or until fully cooked.
Use a pizza cutter to cut it into squares. Serve warm and enjoy!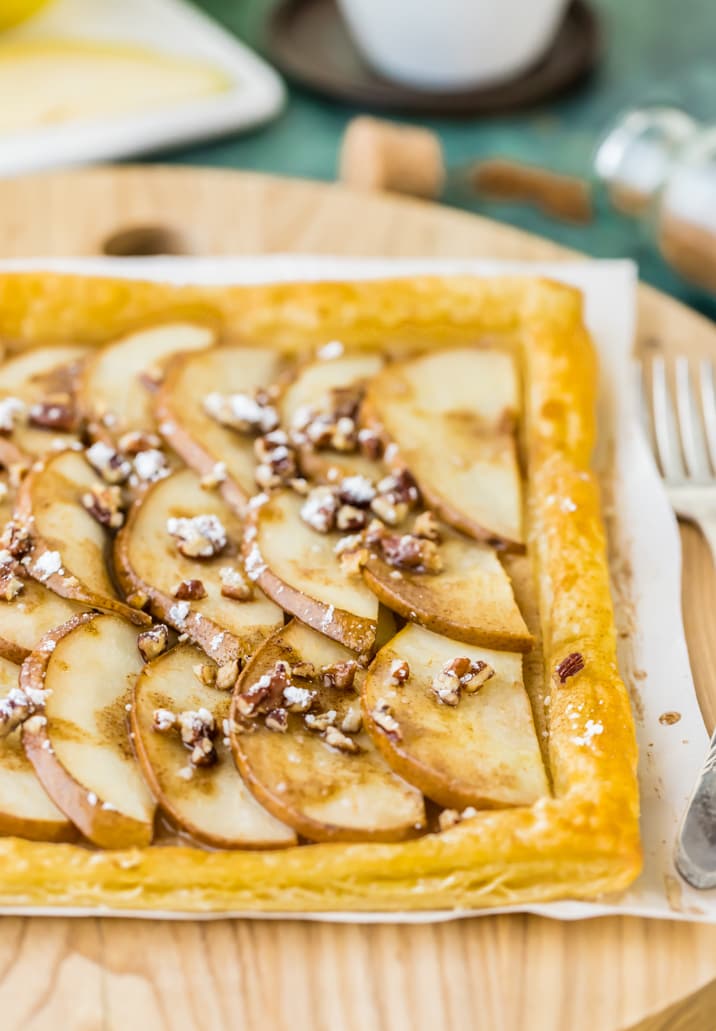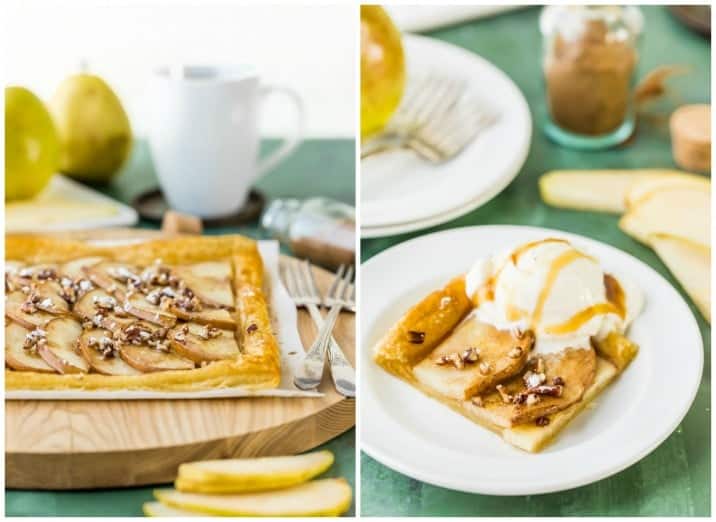 What kind of pears should I use for this tart?
You can use any type of pears you like. I find that Bosc and Anjou pears work great for baking, but whatever you have on hand or find at the store will work.
Why do you use pumpkin pie spice?
Most pear tart recipes contain the same spices that you find in the mix (like cinnamon, cloves, and nutmeg). I figured it would be much simpler to use my homemade pumpkin pie spice blend instead of worrying about all of the spices individually. This definitely speeds up the recipe a little bit and makes it feel much easier when you're in a rush!
Can I make this pear tart ahead of time?
This tart will taste best when served fresh, and luckily it doesn't take long to make. However, you can make it ahead of time and store it in the refrigerator up to 3 days. Same goes for leftovers.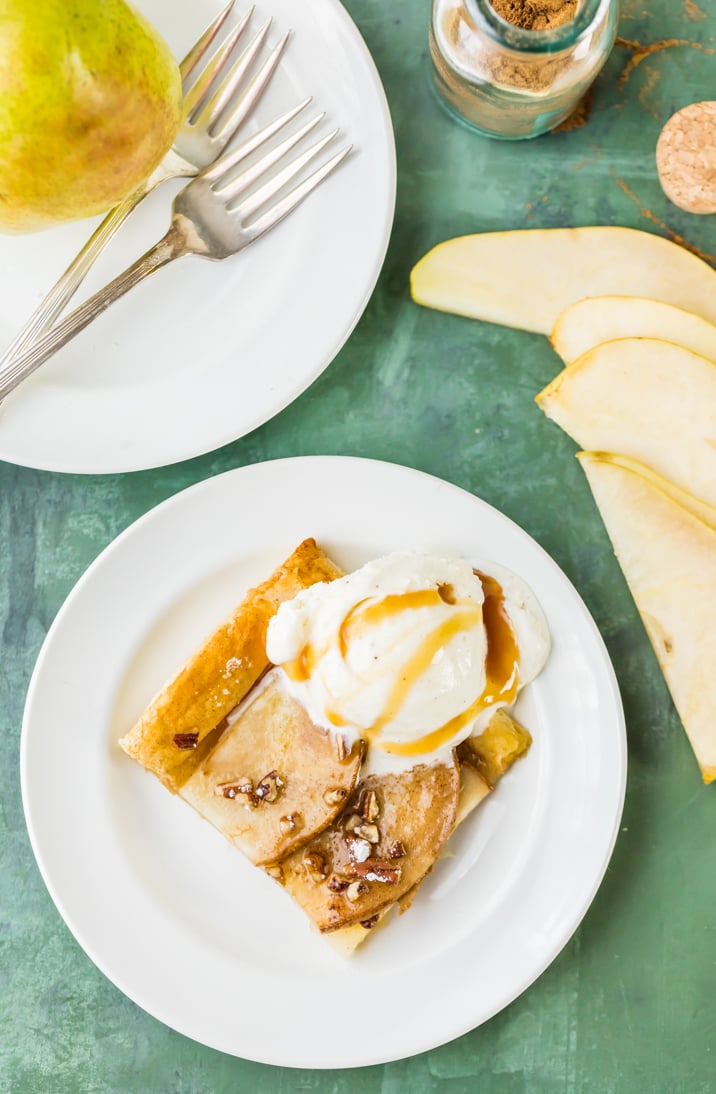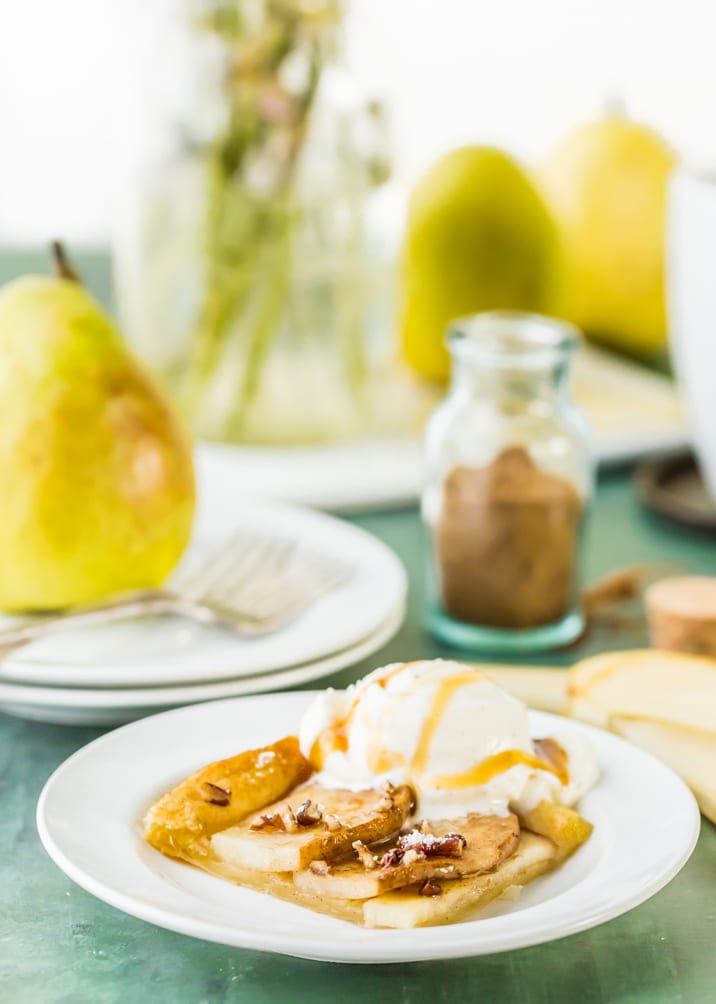 Recipe Tips and Tricks
Let the puff pastry dough thaw before using it.
Slice the pears thinly. That way they will cook all the way through and sit nicely on the pastry.
To melt the butter, microwave it in a bowl for about 30-60 seconds.
The edges of the pastry will start to puff up and brown when it's done.
Serve this pear tart warm with a scoop of vanilla ice cream and sprinkle some pecans on top.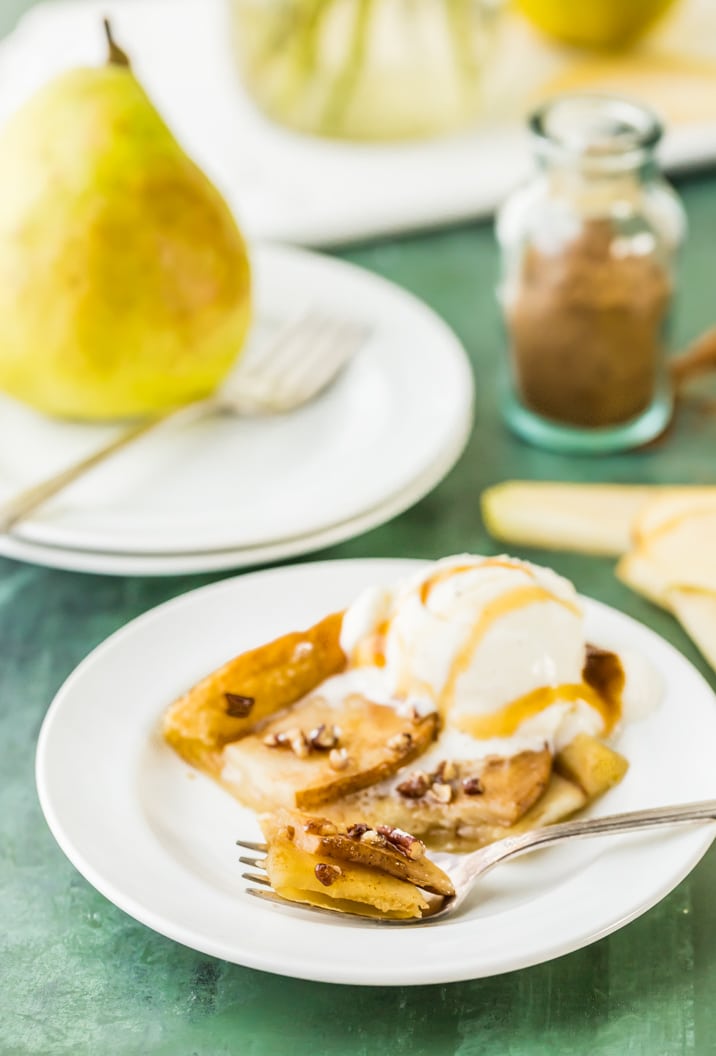 Top off this easy pear tart with your favorite vanilla bean ice cream for an extra special treat! Enjoy!
More fruity dessert recipes: