This easy Raspberry Tart recipe is going to change your life! Use this amazing raspberry pie hack to make a simple, delicious, beautiful dessert that you can prepare for guests in no time. It's just as tasty as a traditional tart, but with a lot less hassle. Make this raspberry dessert, or make a version with blueberries, blackberries, or strawberries.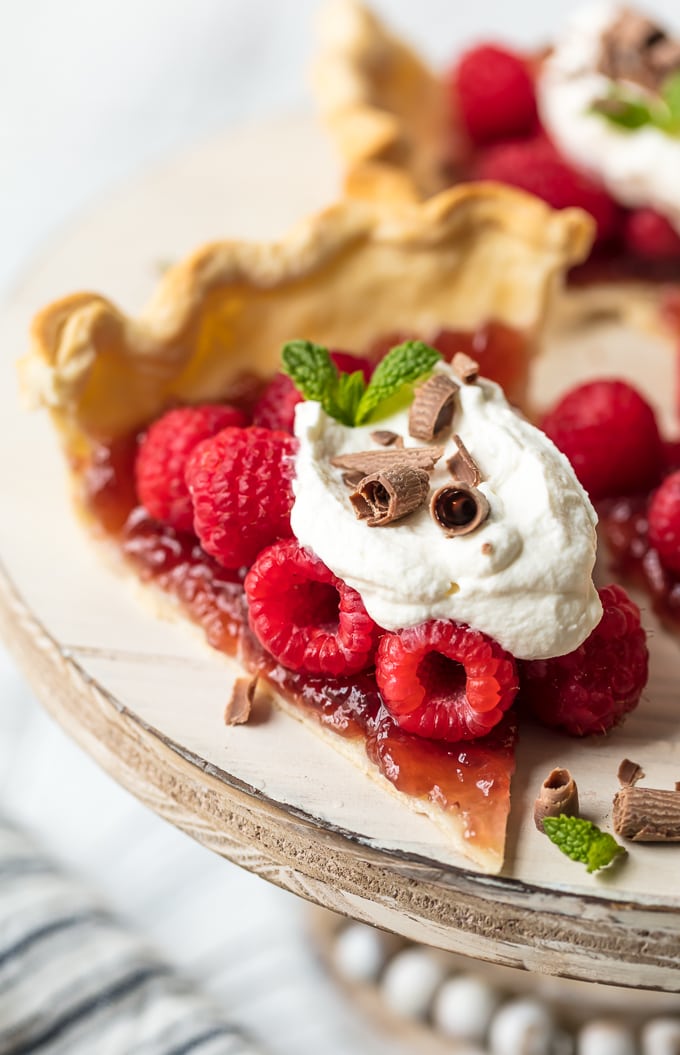 Raspberry Tart
Raspberry Tart doesn't have to be complicated. Use this amazing raspberry pie hack to make the perfect (and EASY) raspberry dessert in no time!
Whether you call this a raspberry tart or a raspberry pie, the point is that this thing is delicious and it's EASY. You get a beautiful presentation, a tasty dessert to serve to your guests, and you can prepare it in almost no time at all!
Using a pie crust, some fresh berries, sugar, and jam, you can whip up an easy Raspberry Tart full of flavor. Add on a simple whipped topping, some other toppings of your choice (chocolate shavings, mint leaves, sliced almonds, chocolate sauce!), and this dessert is ready to go. Talk about an easy raspberry pie. No baking or hassle required!
This is the perfect thing to serve when you have guests but you just don't have time to hang around in the kitchen baking. This is especially great for the summer season, when you've got fresh berries at your disposal. And you can recreate the same recipe using blueberries, blackberries, or any kind of berries you prefer!
Use this amazing raspberry pie hack to create the perfect EASY Raspberry Tart. It tastes delicious and takes almost no time to make!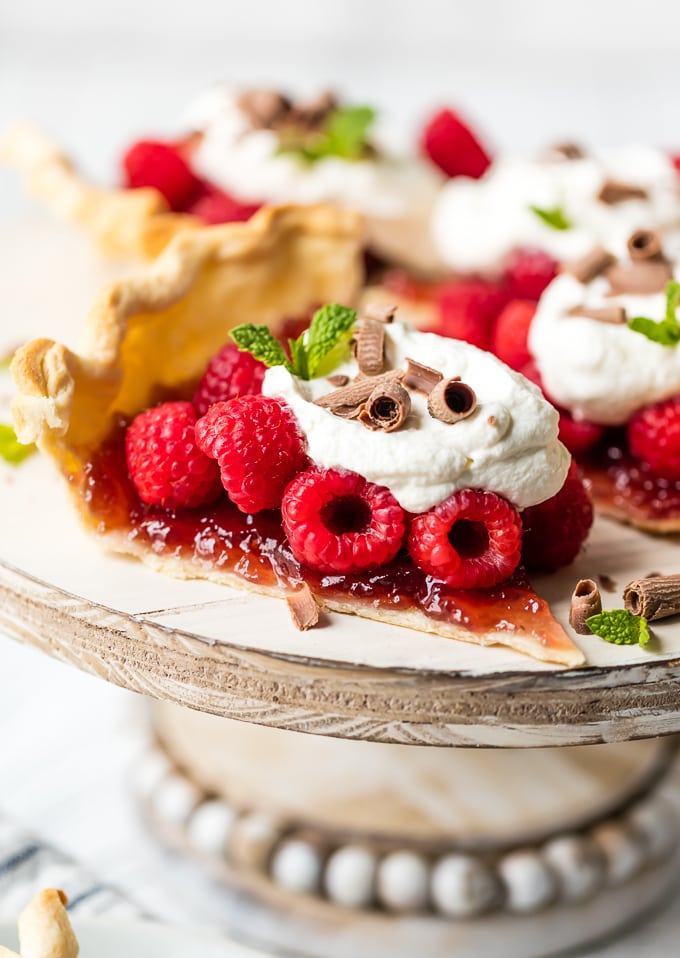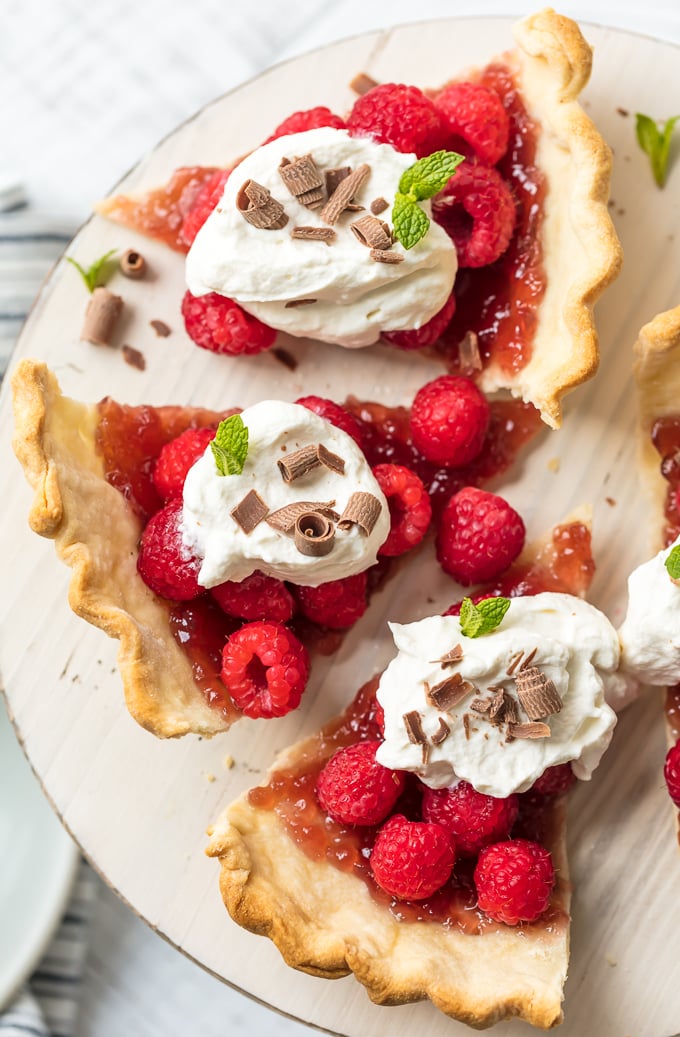 Raspberry Pie Hack
Why go through the hassle of making a full raspberry pie with traditional filling, when you could just use a recipe hack? All you have to do is bake the pie crust, spread on a layer of jam, then start piling on the fresh berries and toppings. It's just as pretty and just as tasty as a regular raspberry pie, but it's infinitely easier.
You could whip up this raspberry dessert for unexpected guests without having to spend all your time in the kitchen to get it ready. How perfect is that?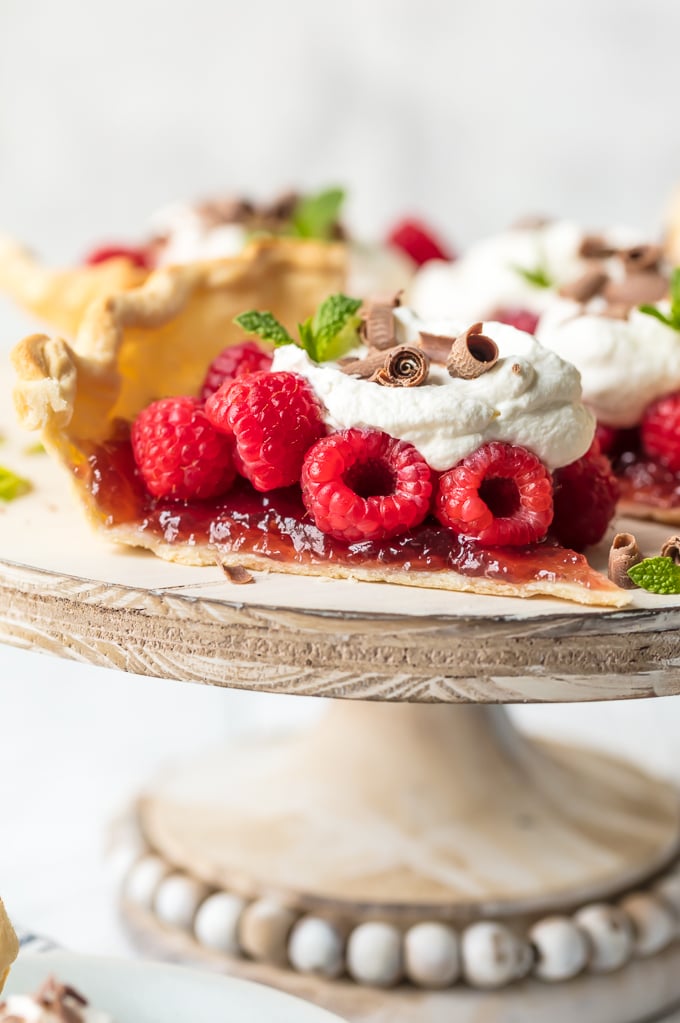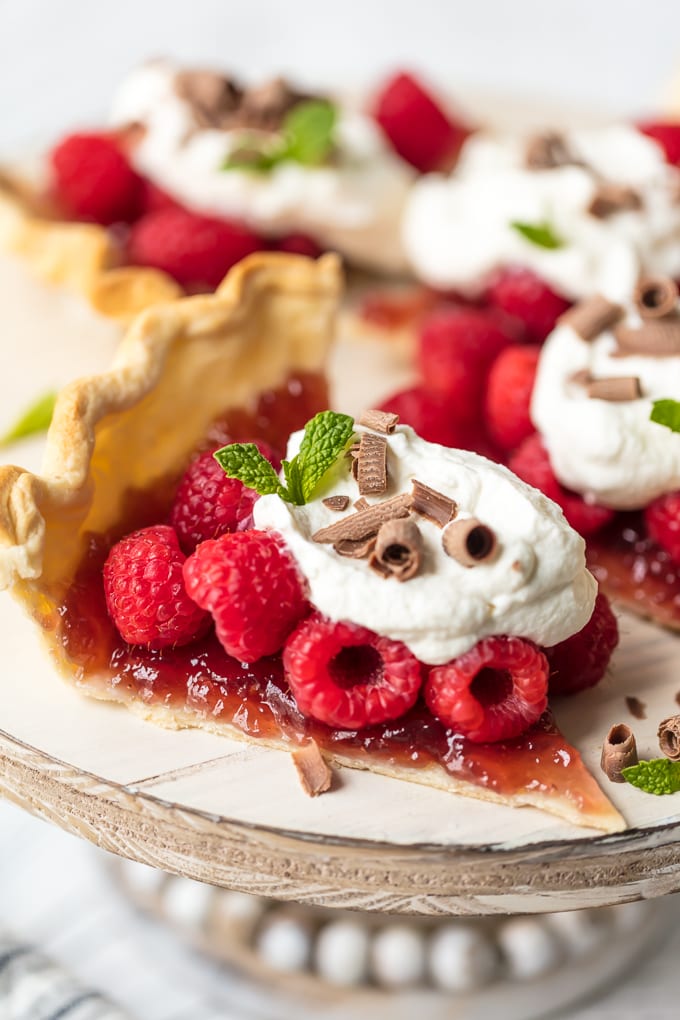 How to Make Easy Raspberry Tart
This raspberry tart recipe is so simple, it's almost crazy…and that's the way I like it! You just need your fresh berries, a pie crust ready to bake, sugar, fruit jam, and a few more things for toppings. I used chocolate shavings and mint leaves, but you can use a variety of things to add an extra kick to this raspberry dessert.
How to make easy Raspberry Tart:
Bake pie crust and let it cool before starting.
Mix raspberries with sugar and let them sit for about 15 minutes. Stir a couple of times as they sit.
Spread a layer of jam over the bottom of the pie crust.
Slice the pie into pieces first, then spoon on the fresh berry mix.
Finally, top each piece with the whipped cream and other toppings!
The whipped topping can easily be made ahead of time and stored in the refrigerator until ready to use. And since the pie crust needs to cool before filling, that can be baked shortly ahead of time as well. So you can get most of the raspberry dessert prepared before your guests arrive, and then put it all together when it's ready to serve.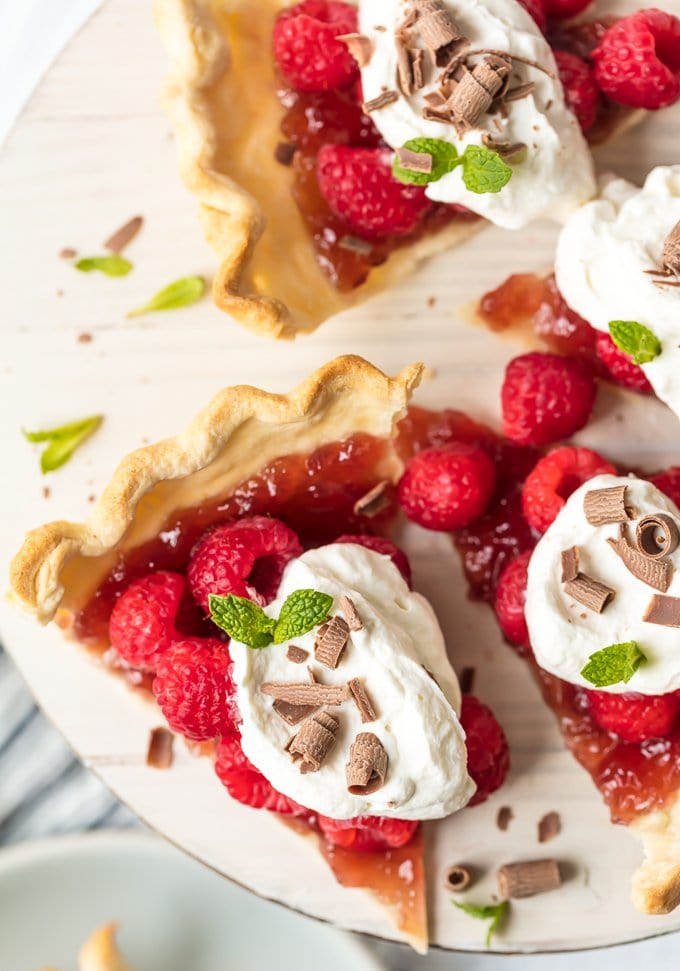 Other Fruit Tart Variations
This raspberry tart is sooooo good. I love the fresh raspberries and raspberry jam for a summer dessert. But the beautiful thing about this recipe is that you can switch it up and use your favorite berry instead. Try a blackberry tart, a blueberry tart, or a strawberry tart. Pair the fresh berries with their matching jam and you've got a handful of easy desserts to try throughout the season!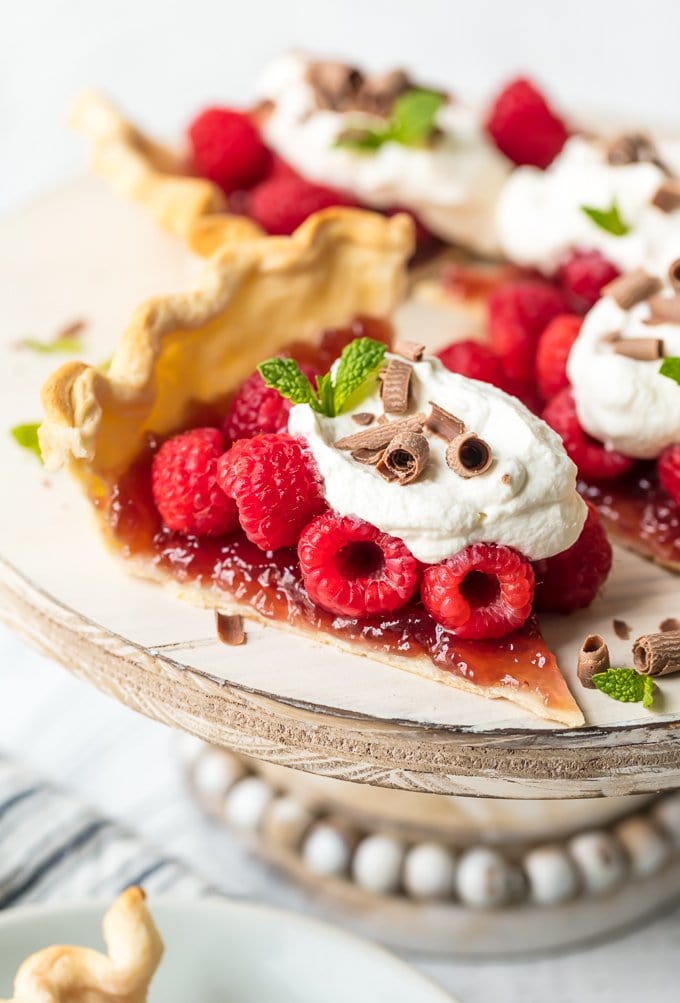 This easy raspberry tart is just so perfect for a simple summer dessert. I can't believe how easy this raspberry pie hack is. I might not ever go back to traditional pies again! Okay, that's a lie…all pies are good pies and I need them all in my life. But you guys need to try this delicious fruit tart hack as soon as possible!
See the recipe card below for details on how to make this easy Raspberry Tart recipe. Enjoy!
If you like this raspberry pie hack, try some more favorite pie and tart recipes: