This festive Pumpkin Cheese Ball recipe is the perfect appetizer for Thanksgiving, Halloween, or any fall party. A savory cream cheese ball is shaped like a pumpkin then coated with bacon and pecans. It's so cute, easier to make than it looks, and it's sure to impress party guests!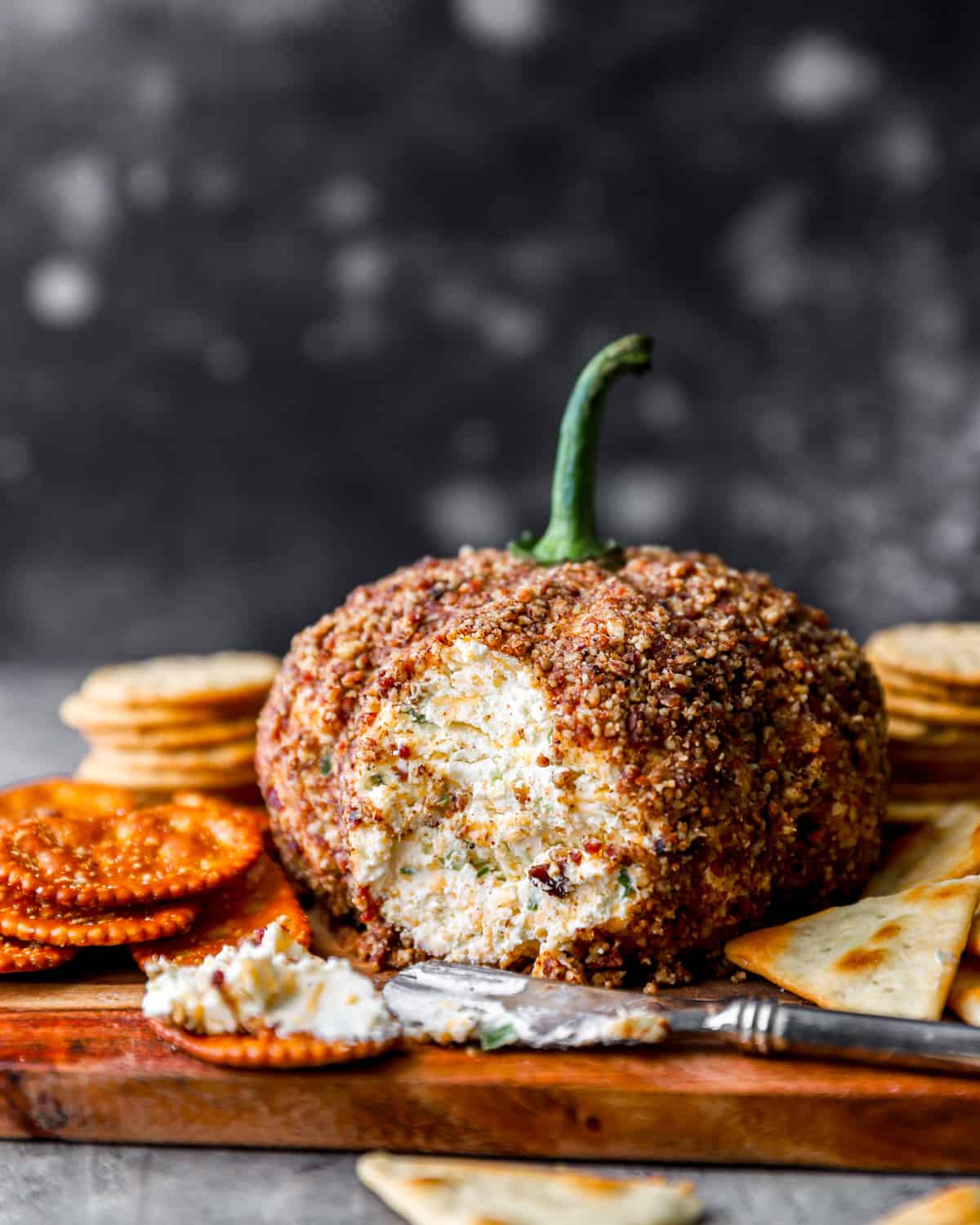 What's in this Pumpkin Cheese Ball Recipe?
If you're looking for a fun and festive cheese ball appetizer for Halloween or Thanksgiving, this is it! This pumpkin shaped cheese ball is as flavorful as it is beautiful. I guarantee your guests will be begging for the recipe!
Cream Cheese: Forms the base of our cheese ball, helping it hold its shape once chilled.
Cheddar Cheese: Adds delicious sharp and cheesy flavor.
Garlic + Onion Powder: Enhances the savory flavor of this cheese ball.
Green Onions: Add a pop of freshness to the cheese ball.
Black Pepper: Adds a hint of spice.
Cooked Bacon: Adds delicious flavor and creates a crunchy crust on the outside.
Toasted Pecans: Add a nutty flavor and crunch!
Pro Tip: Use the stem from a mini pumpkin or a bell pepper to create a stem for your cheese ball.
Variations on a Pumpkin Shaped Cheese Ball
You can change up the flavor of this fall cheese ball by using different kinds of cheese, like sharp cheddar, pepper jack, Monterey jack, gouda, Swiss, or provolone. Try adding different spice blends to the mix to bring out a different flavor, like Italian seasoning! To keep this dish vegetarian, simply omit the bacon and use more pecans.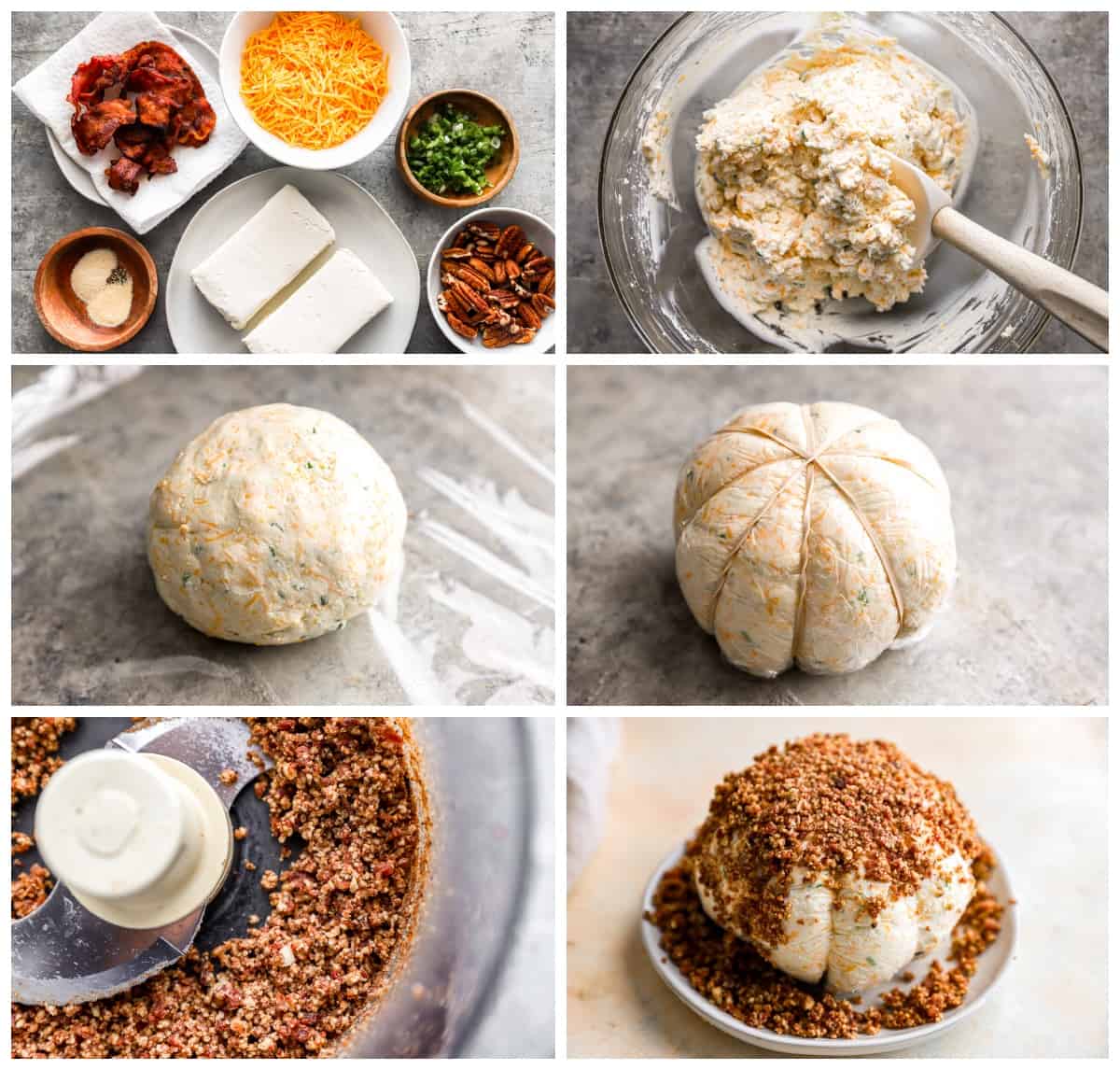 Do cheese balls need to be refrigerated?
Yes! The inclusion of cream cheese means this pumpkin cheese ball should be stored in the refrigerator to maintain its freshness.
Why is my cheese ball so hard?
Your cheese ball will firm up in the refrigerator, which can make it difficult to spread. I recommend letting it sit out at room temperature for a bit before serving.
How long should a cheese ball sit out before serving?
I recommend letting your cheese ball sit out for 20-30 minutes at room temperature so that it's easier to spread.
How long can you keep a cheese ball after you make it?
This pumpkin shaped cheese ball will keep in the refrigerator for up to 4 days.
How do you keep a cheese ball cold?
Wrap the ball carefully in plastic wrap and aluminum foil and store it in the refrigerator to keep it cold. Do not leave your cheese ball out of refrigeration for more than 2 hours.
What if my cheese ball is too wet?
If your cheese ball is too wet, it probably needs to be chilled for longer. Try refrigerating it for an extra hour or even overnight. If that doesn't firm it up, add a little extra shredded cheese to the mixture.
What do you serve with cheese balls?
I like to serve mine with crackers or pretzels, but you could also serve it with raw vegetables or crusty bread!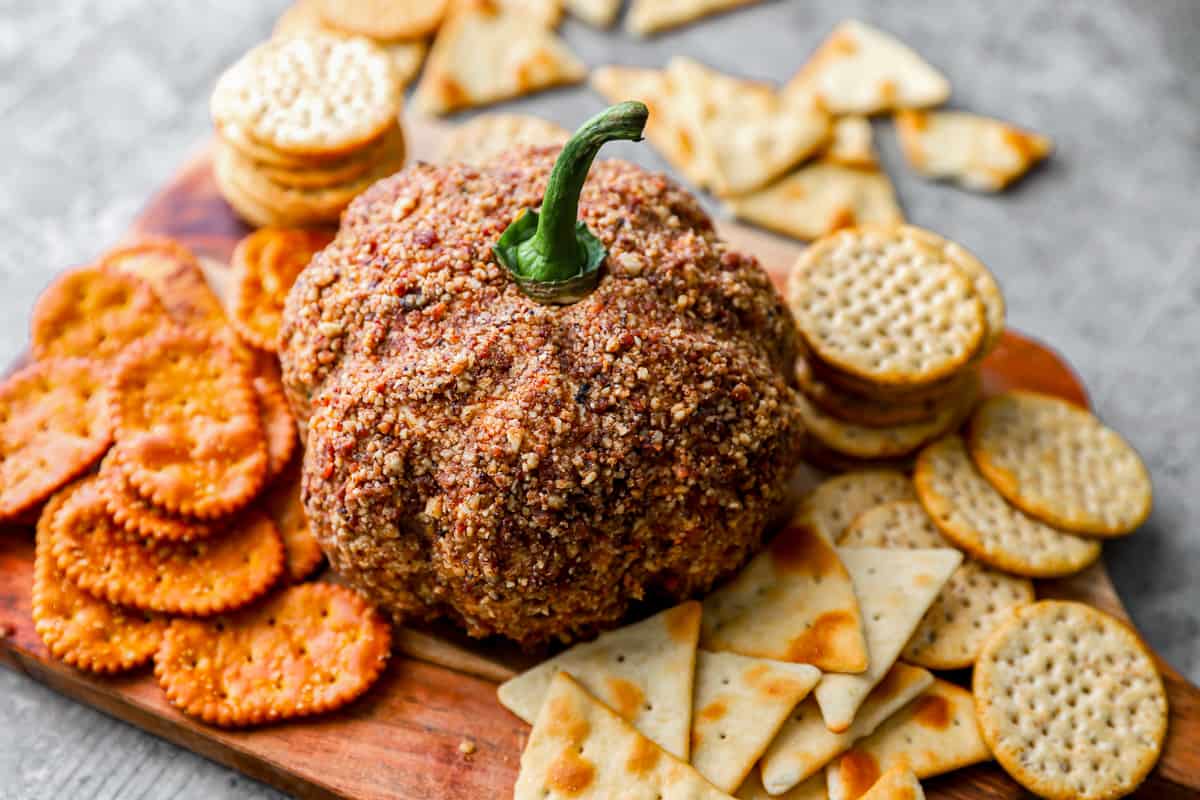 How to Store
Store your pumpkin cheese ball tightly wrapped in plastic wrap and aluminum foil in the refrigerator for up to 4 days. Let it come to room temperature for 20-30 minutes before serving.
How to Freeze
Freeze a pumpkin cheese ball tightly wrapped in 1 layer of plastic wrap and 2 layers of aluminum foil for up to 1 month. Let thaw overnight in the refrigerator before serving.
Serving Suggestions
Serve this tasty pumpkin shaped cheese ball with crackers, pretzels, tortilla chips, wonton chips, baked sweet potato chips, raw vegetables, or crusty bread (I love this Dutch oven bread!). Add some pumpkin hummus or this cream cheese pumpkin dip to the table for even more dipping options.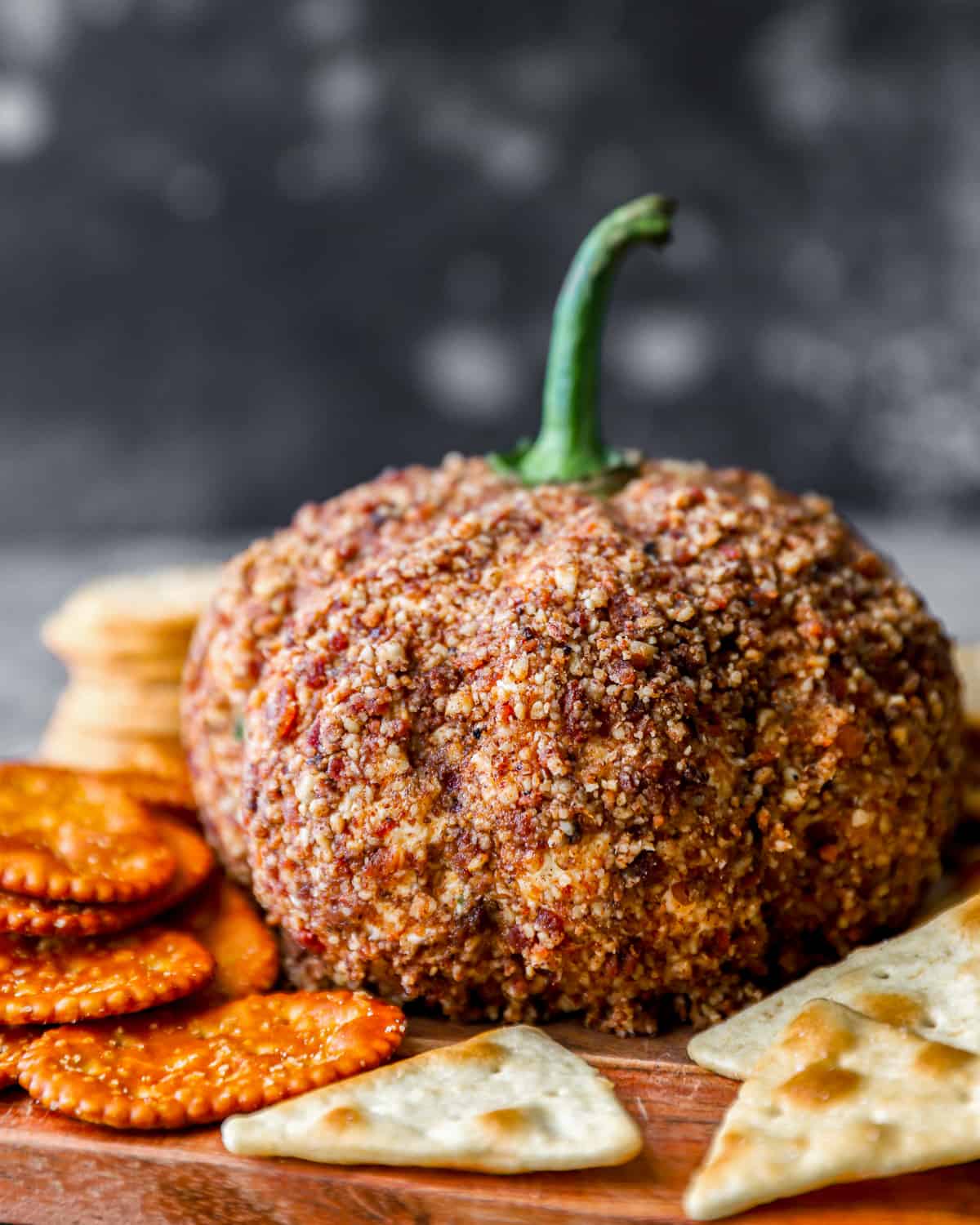 More Cheese Ball Recipes We Love