The Best Nachos Recipe is one that's easy, delicious, and quick. That's exactly what these Foil Packet Nachos are! Loaded with beef, tomatoes, green chiles (and more), and covered in melty cheese…I'm obsessed! I love foil packet recipes and these nachos can be made in the oven or on the grill.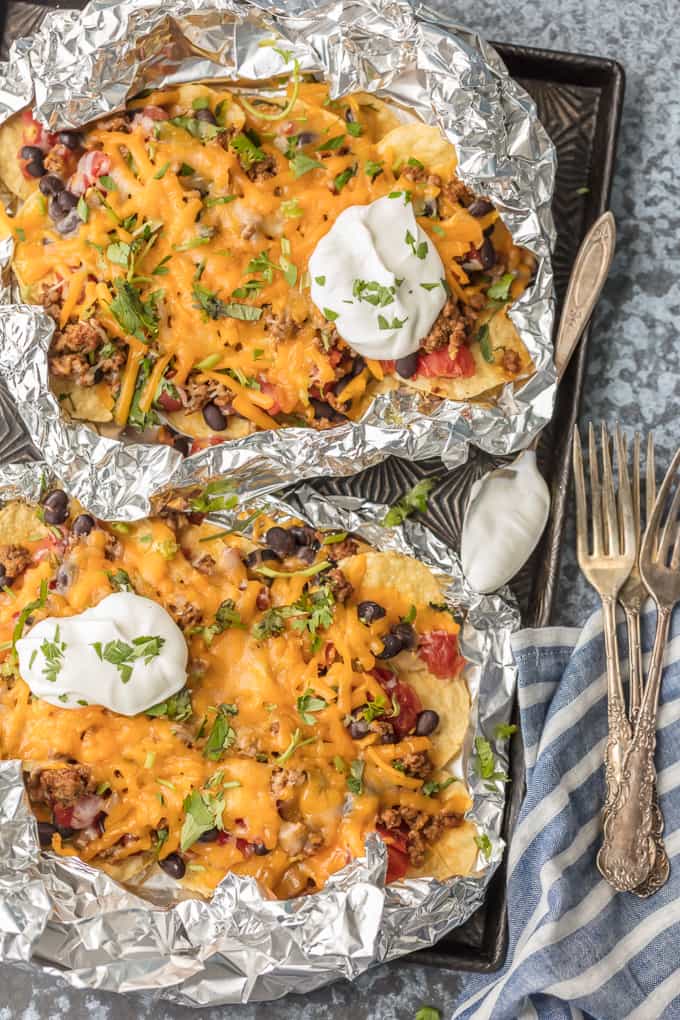 Baked Nachos Recipe
These foil packet nachos are so quick & easy to make, plus they're super delicious! This just might be the best nachos recipe, and it can be made on the grill or in the oven.
Foil Packet recipes are literally ALL THE RAGE right now on fb and the internet!? I see them everywhere and now I get it. They're so fun, easy to clean up, and usually work like a charm! You might remember the Foil Packet Caesar Salmon we recently made, one of my favorites!
I decided to give another foil packet recipe a shot and these Foil Packet Nachos were born! They're filled with spicy beef, tomatoes, black beans, green chiles, chips, and lots of cheese. OF COURSE there's lots of cheese. They all melt together like a dream inside the foil tent, either in the oven or on the grill. I could really get into this trend!
Between the amazing flavor of all the ingredients and the ease of making these in packets, I've decided this is the Best Nachos Recipe because flavor and simplicity are what really matters!
These Foil Packers Nachos are one of the BEST Nachos recipes I've ever tasted!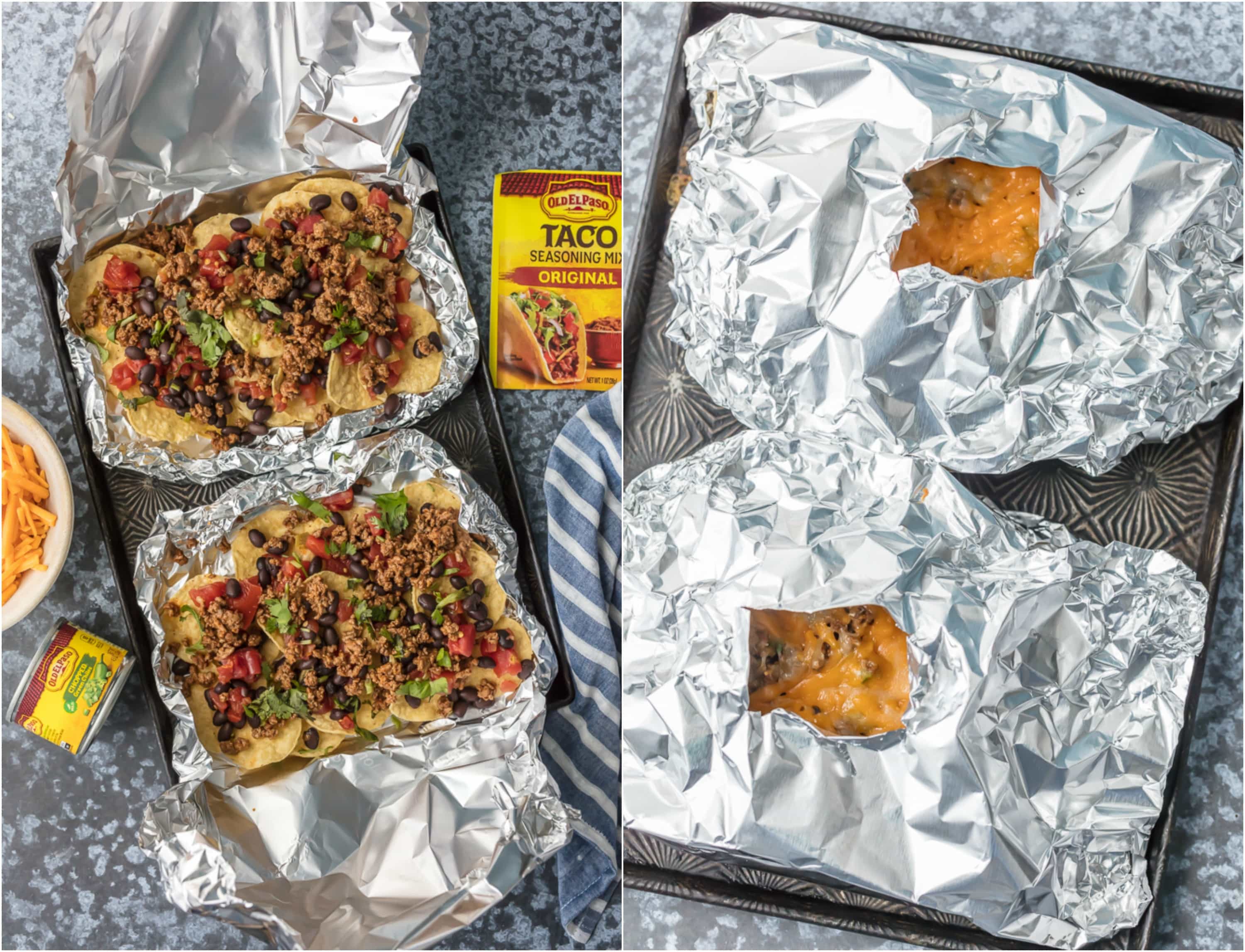 Easy Nachos Recipe (on the grill or in the oven!)
I'm a big fan of making cooking easy, and that's what I love about foil packet recipes! This is the best nachos recipe because you can just throw everything into the foil packets and then bake them in the oven or put them on the grill. It's so easy and doesn't take long at all.
Best Nachos Ingredients
You can make these easy nachos packets as small or as large as you'd like, making them for a crowd or just for yourself. You can make some with chicken and some with beef; some with jalapenos and some without! They're fully customizable, super delicious, and totally fun!
Here are my favorite nacho ingredients:
Green Chiles
CHEEEEESE
Black Beans or Refried Beans
Jalapenos
More Cheese
And topped with sour cream
You can put whatever you want on these tasty nachos. Foil Packet Nachos for the win!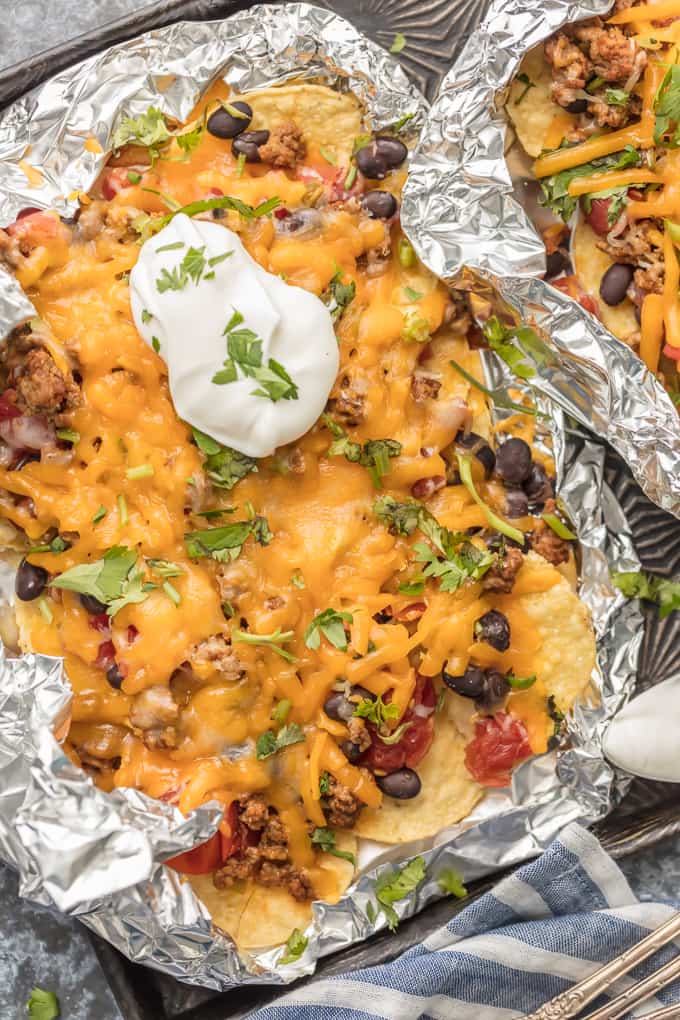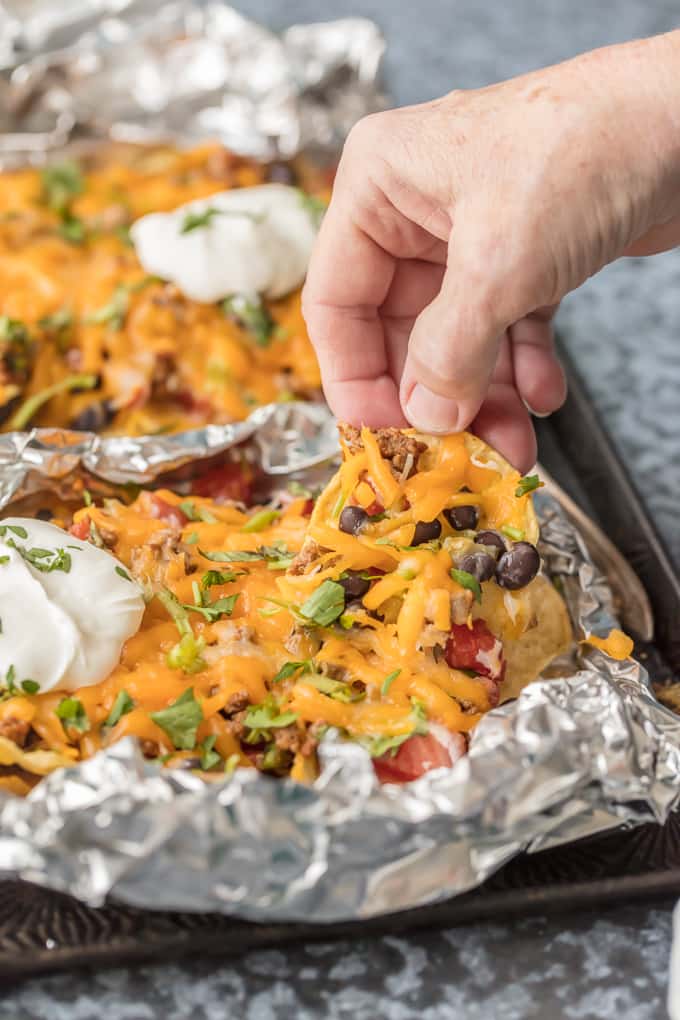 Easy Foil Packet Recipes
Foil Packet recipes are the definition of easy recipes. Just use aluminum foil to create your packets, throw in the ingredients (some might need to be cooked before this step), and then bake or grill! Not only is the cooking part easy, but clean up is a cinch. No pots and pans to scrub because everything was contained inside the foil packets. And let's be honest, cleaning is the least fun part of cooking!
Have you tried any other foil packet recipes? Which ones are your favorite? I have quite a few I want to try and I'm always looking for more recipes.
Here are a couple more foil packet recipes for you to try: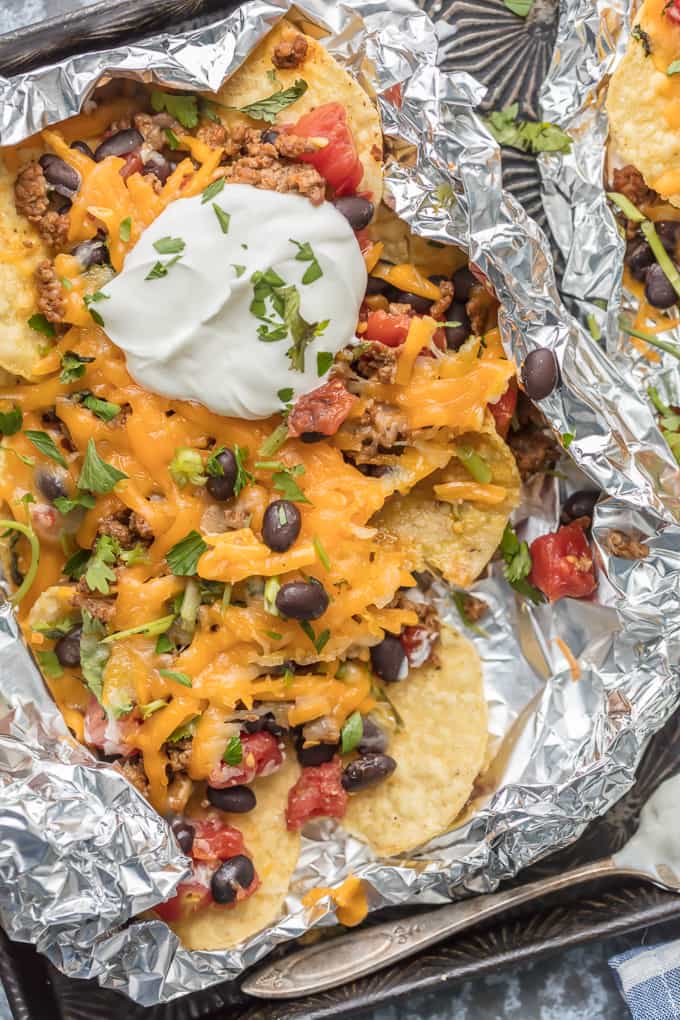 These foil packet nachos are 100% the BEST Nachos recipe both for taste and ease of preparation. Make these nachos in the oven or on the grill. Top them with whatever ingredients you love. And dig in! These are great for summer grilling, BBQ, or game day parties. There's never a bad time for delicious nachos or an easy foil packet recipe.
Watch the Video & See the recipe card for details on how to make the Best Nachos Recipe. Enjoy!
If you like these foil packet nachos, try these other great recipes:
Blackened Chicken Alfredo Nachos