We love throwing these FOIL PACKET NACHOS on the grill any time of year! Loaded with beef, tomatoes, green chiles (and more), and covered in melty cheese. Obsessed.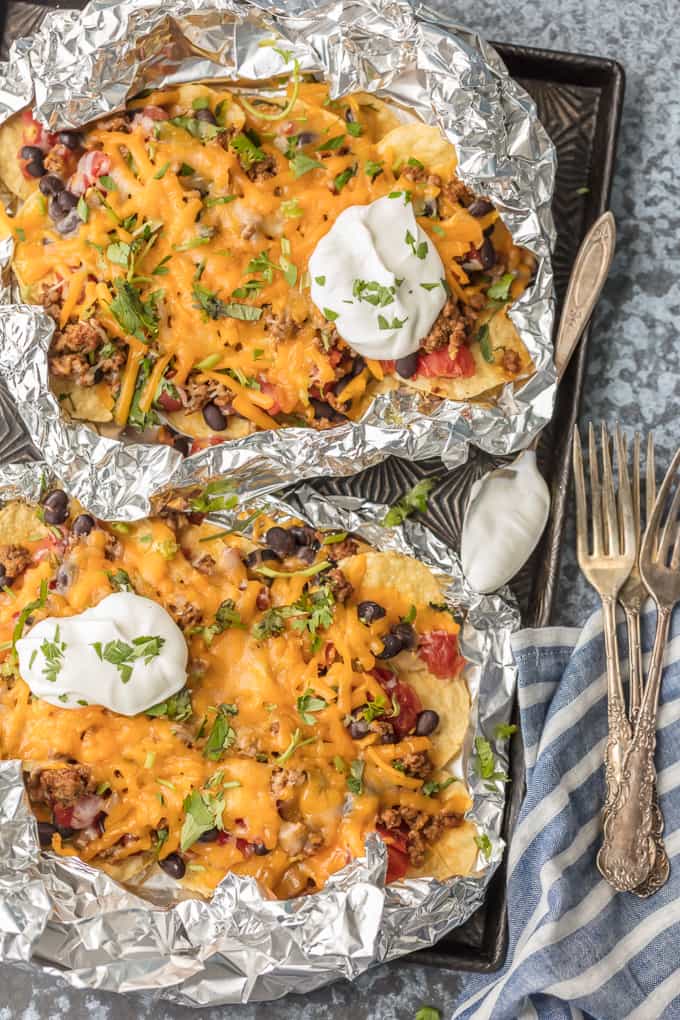 Have you guys noticed that Foil Packet recipes are literally ALL THE RAGE on fb and the internet!? They're so fun, easy to clean up, and usually work like a charm! You might remember the Foil Packet Caesar Salmon we recently made, one of my favorites! I decided to give another foil recipe a shot and these Foil Packet Nachos were born. Spicy beef, tomatoes, black beans, green chiles, chips, and lots of cheese. OF COURSE there's lots of cheese. They all melt together like a dream inside the foil tent, either in the oven or on the grill. I could really get into this trend!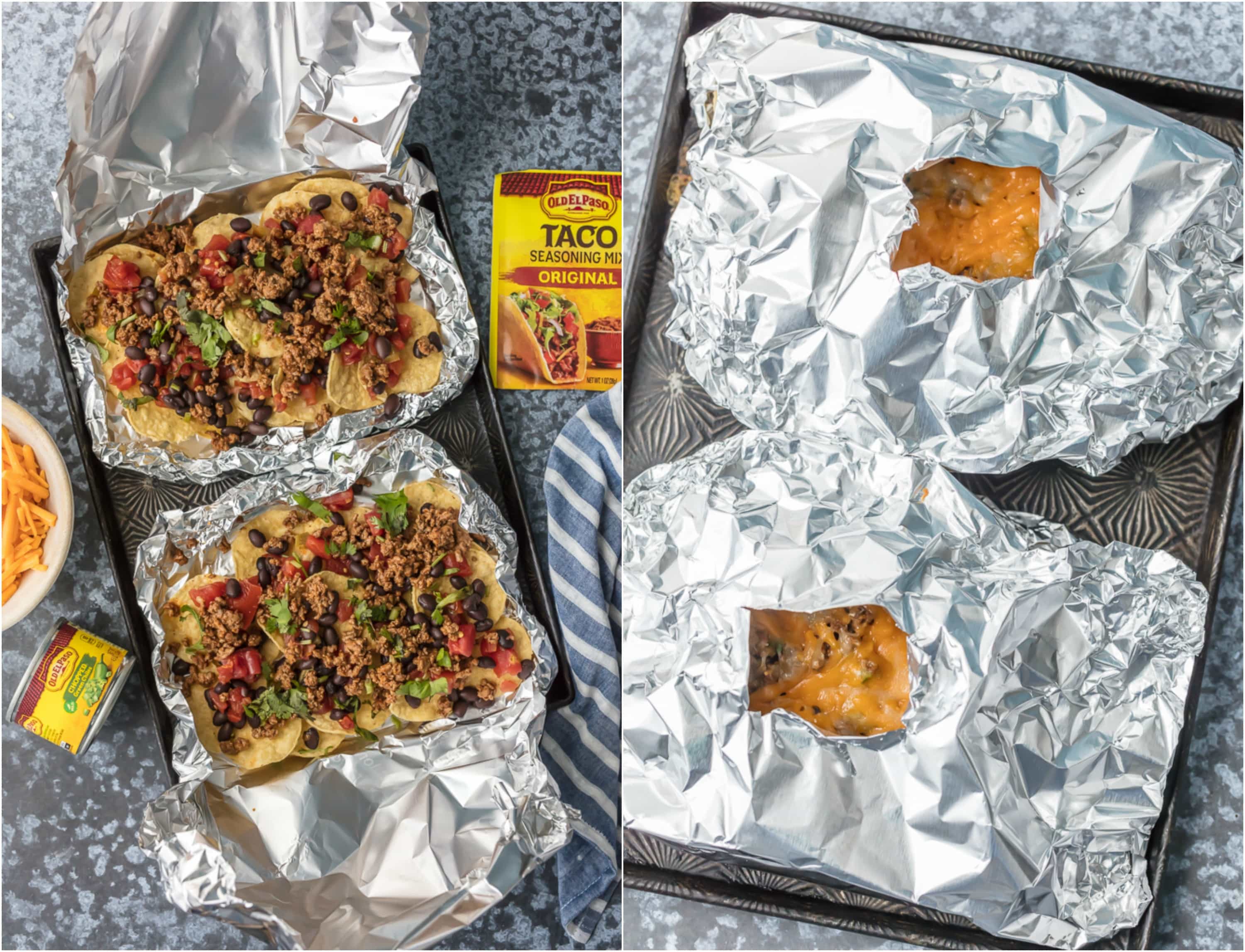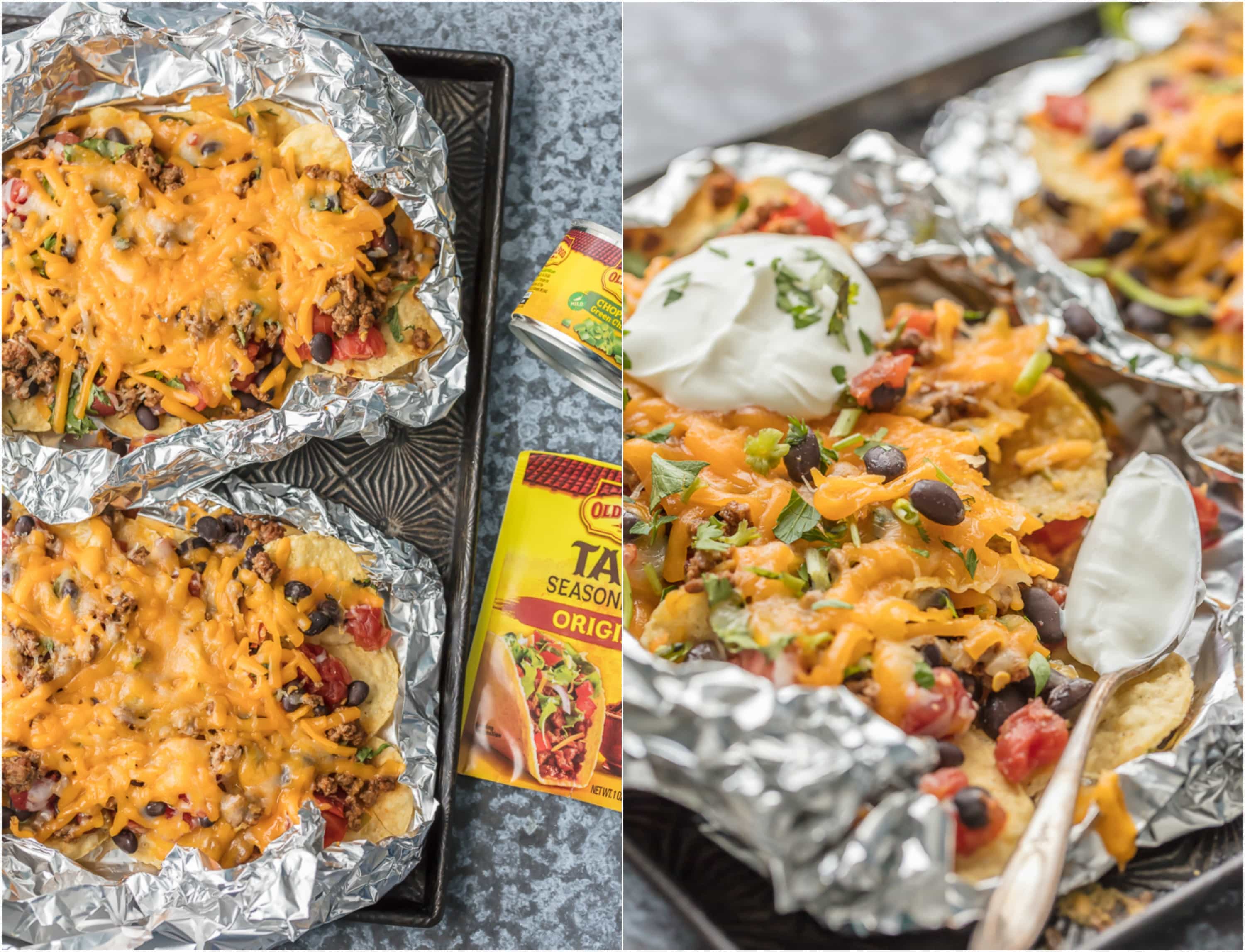 You guys know I love me some Old El Paso, and their products kicked these Foil Packet Nachos up a huge notch. Their taco seasoning is SO simple to spice up my favorite recipes, and their green chiles bring just the right amount of heat. I'm not someone who likes this "burn your mouth off spicy", so green chiles are my jam. You can make these nachos packets as small or as large as you'd like, making them for a crowd or an individual. You can make some with chicken and some with beef; some with jalapenos and some without! Fully customizable, delicious, and fun!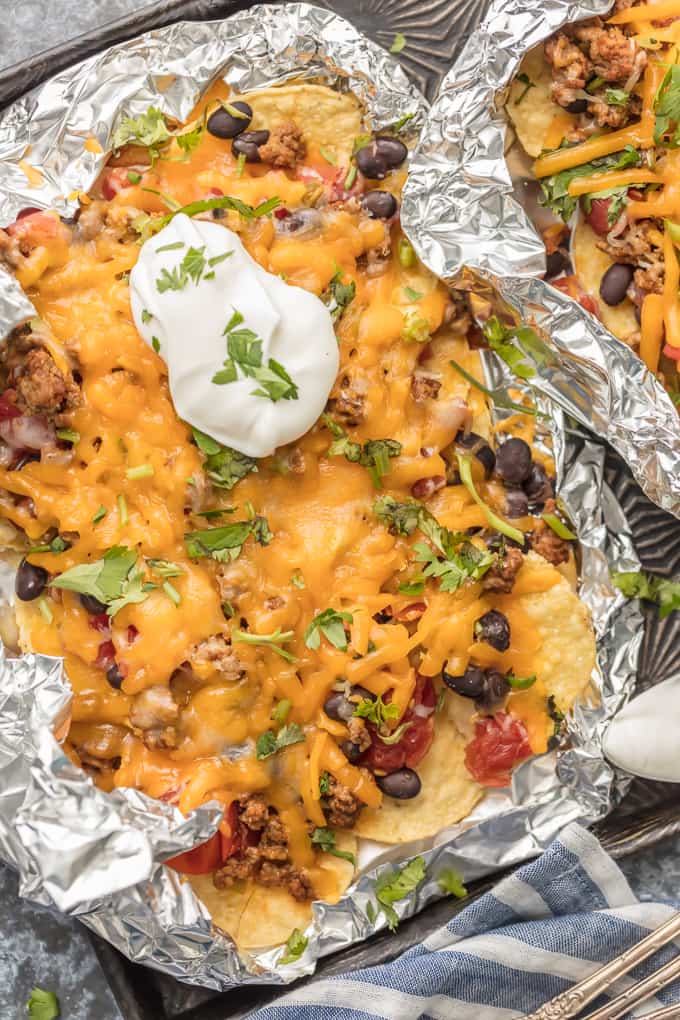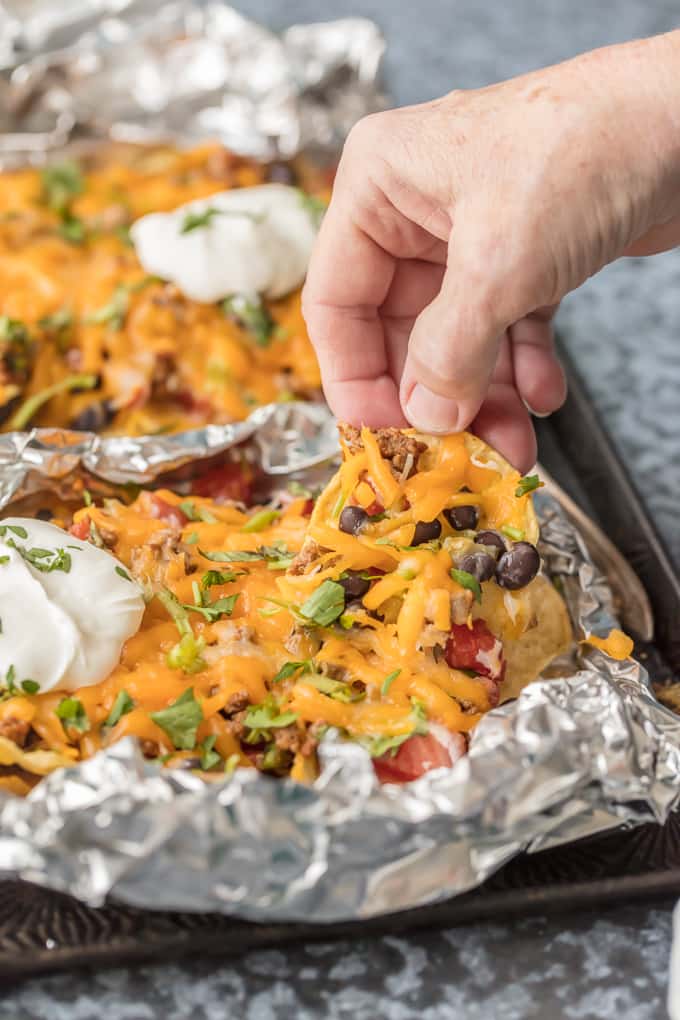 Have you tried other foil packet recipes? Which ones are your favorite? I'm way too excited to try these Shrimp Boil Foil Packets and Butter Garlic Herb Steak Foil Packets. The internet (and those fab bloggers) are onto something big. I hope you love these Foil Packet Nachos as much as we do!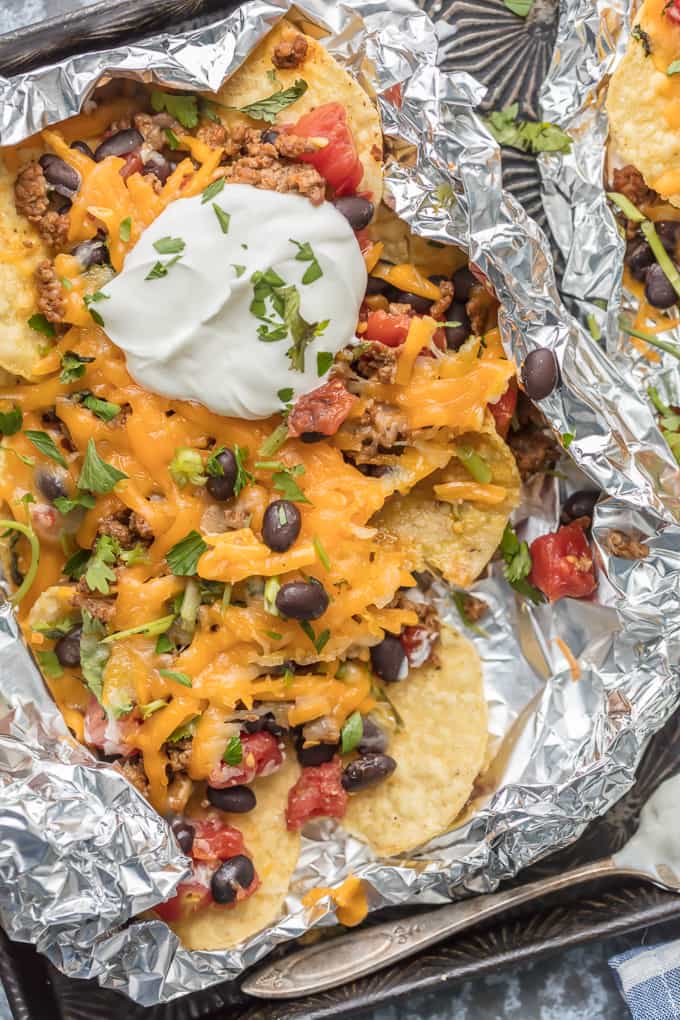 Enjoy!!!
Foil Packet Nachos
10 minPrep Time
15 minCook Time
25 minTotal Time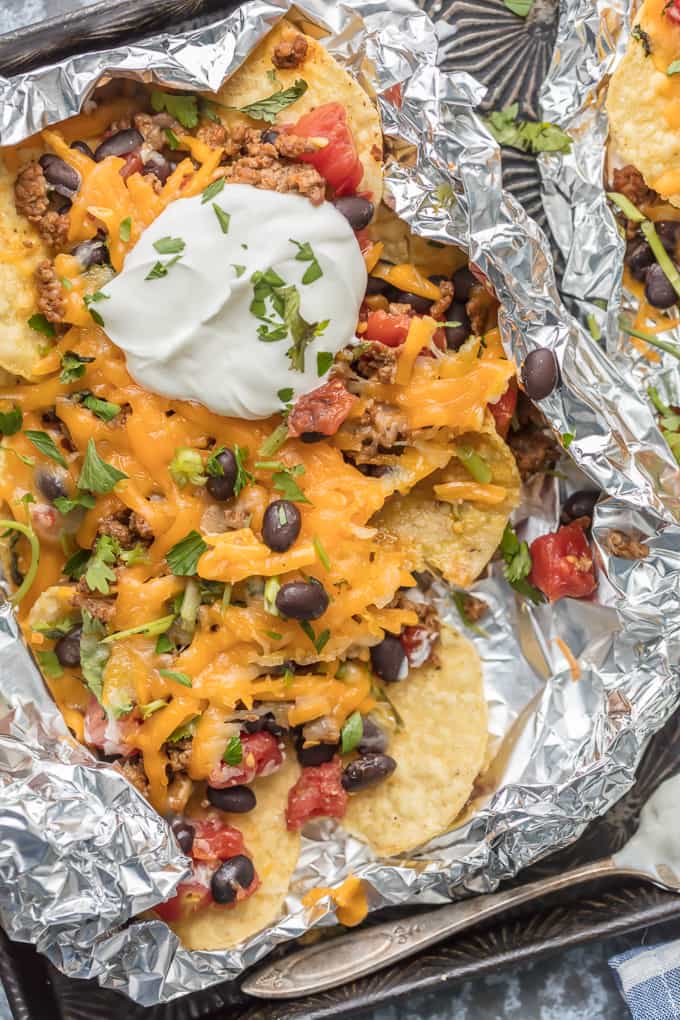 4 based on 9 review(s)
Ingredients
5 cups tortilla chips
1/2 lb lean ground beef
1 (1 ounce) packet Old El Paso Taco Seasoning
1 (4.5 ounce) can Old El Paso Green Chiles, drained
1/2 (14.5 ounce) can diced tomatoes, fully drained
1/2 (14.5 ounce) can black beans, drained and rinsed
1/2 cup diced onion (green, red, or white...whichever you love best!)
2 cups Mexican blend cheese
1/2 cup fresh cilantro, finely chopped
sour cream for garnish
Instructions
Heat grill to medium high heat (or heat oven to 350F)
In a large skillet, brown beef over medium high heat. Stir in the taco seasoning and stir to coat. When almost browned, toss in the tomatoes and green chiles (both fully drained) and stir to combine. Remove from heat and set aside.
Fold two large 12x24 inch sheets of foil in half and fold up the edges to create the bottom of each packet. If you prefer smaller packets you can use 12x12 inch pieces and divide ingredients into fourths instead of halves.
Place half the chips at the bottom of each foil packet.
Sprinkle each with half the beef mixture, half the black beans, half the onion, and top with half the cheese. Lastly sprinkle with chopped cilantro.
Fold the other half of each foil packet and pinch shut. Cut a hole in the top of each packet as shown so steam can vent (and avoid chips getting too soggy).
Bake or grill for 12-15 minutes or until cheese is fully melted. Top with sour cream, jalapenos, or your fave nacho toppings.
Enjoy!
7.6.7
2421
https://www.thecookierookie.com/foil-packet-nachos/