SKILLET STEAK FAJITA NACHOS are a must make for tailgating, the Super Bowl, or anytime! These delicious steak nachos are loaded with peppers, onion, cheese, and marinated steak. Possibly the best nachos ever!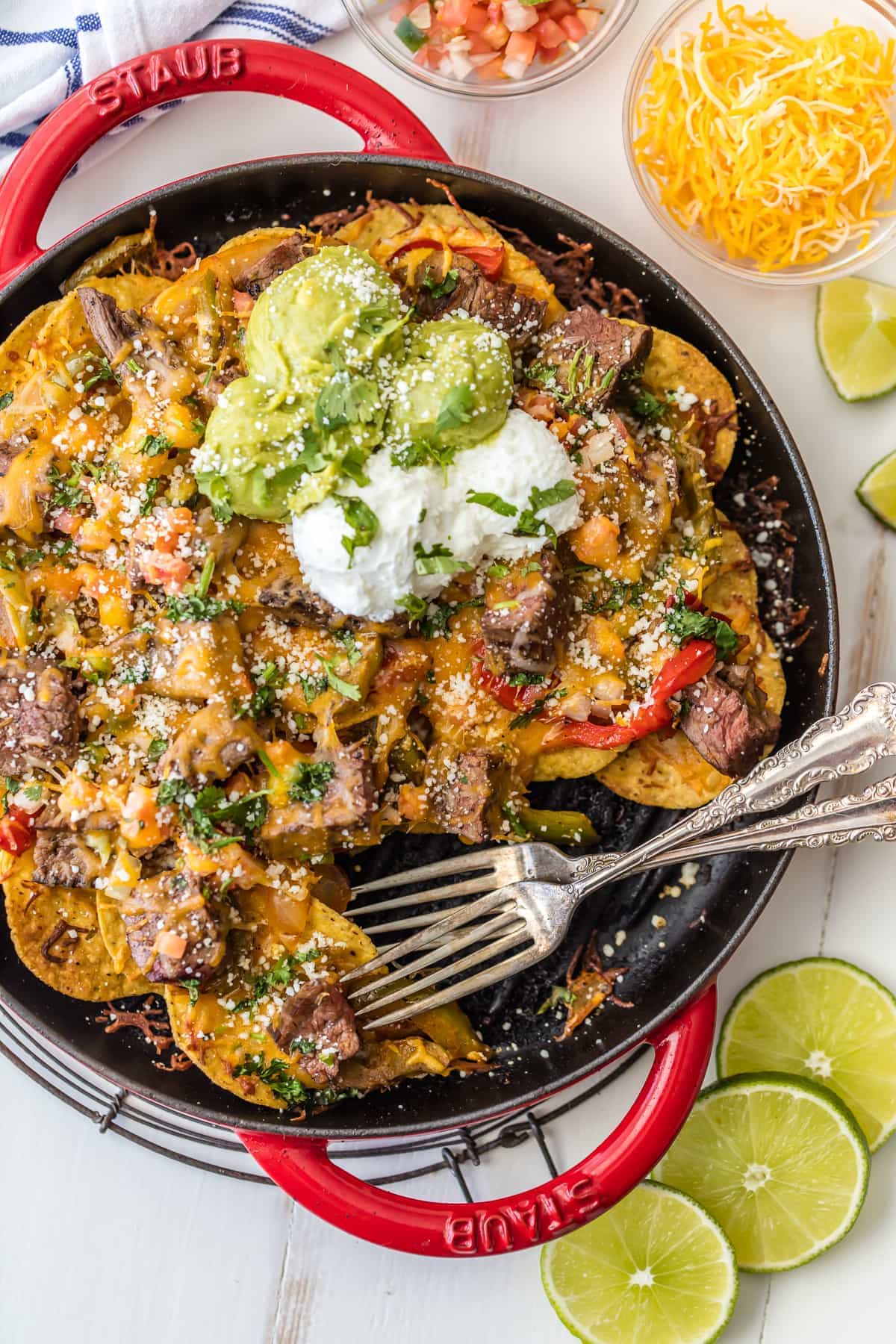 Steak Fajita Nachos
Steak Fajita Nachos are the perfect tailgating recipe to share with friends. These steak nachos are just too delicious!
We are in the middle of the best tailgating season of the year! Baseball is about to be in post season, football is alive and well, and the SUPERBOWL will be here before we know it! It's time to talk about all the party food and game day appetizers that you need to be serving while watching all these sports. My favorite recipe this season is most definitely these SKILLET STEAK FAJITA NACHOS! They're bursting with flavor and fun, made entirely in ONE SKILLET, and gone in seconds.
There is so much to love about these steak nachos. The marinated steak is sooo juicy and tender, which blends perfectly with all of the other amazing ingredients in this dish. If it's good enough for fajitas, it's good enough for fajita nachos! Peppers, cheese, onion, cilantro, and more. Top them off with guacamole, sour cream, and some pico de gallo, and you've got one irresistible appetizer!
While these steak fajita nachos are perfect for game day or sharing at parties, I would also recommend making a batch just for yourself , because they are THAT good. This recipe makes two batches, so might as well keep one for yourself anyways.
Skillet Steak Fajita Nachos are THE tastiest game day appetizer for any tailgating party, and especially the Superbowl. You won't be able to resist these steak nachos!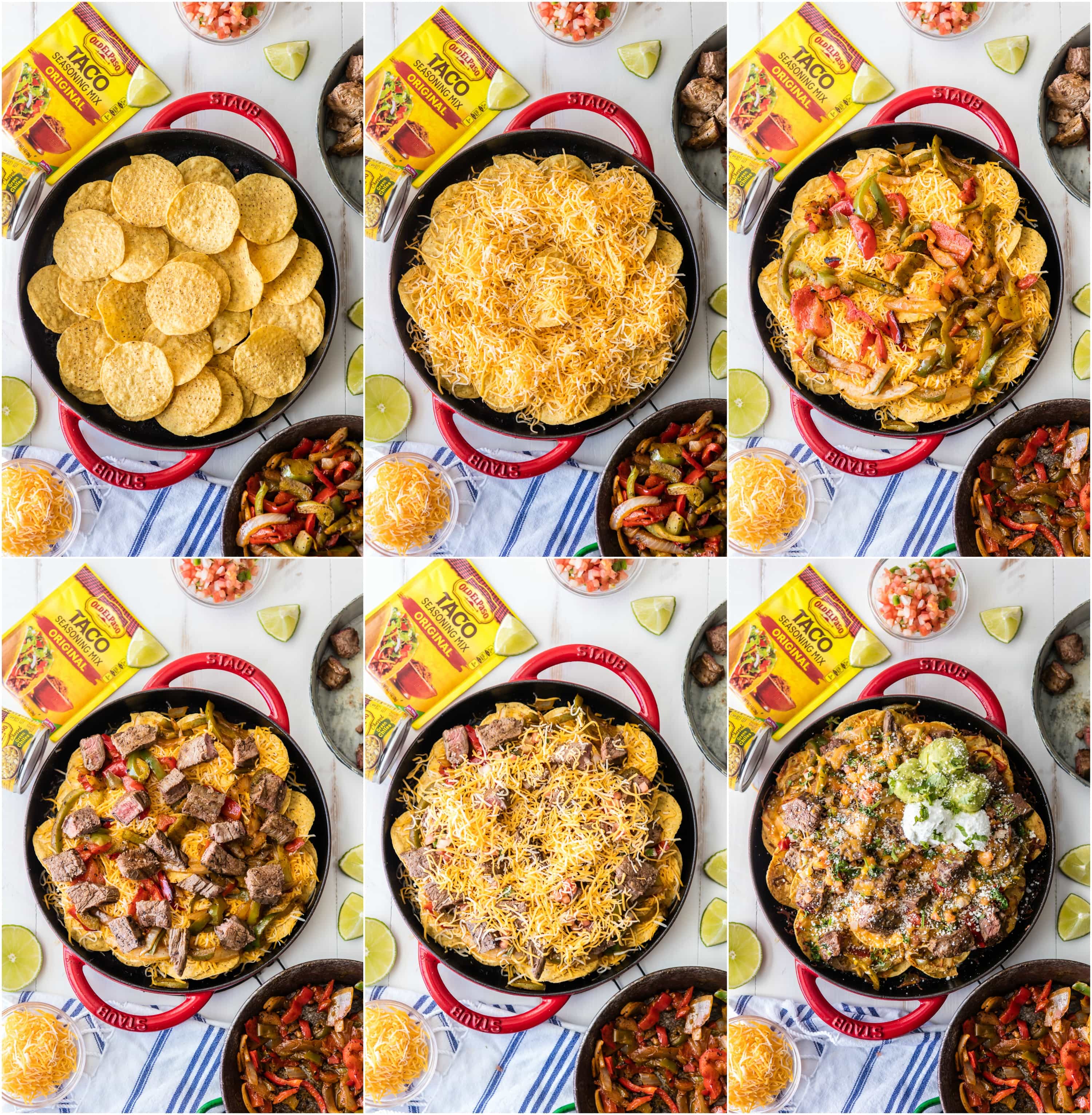 Steak Nachos Step by Step
These Skillet Steak Fajita Nachos have everything you'd expect from delicious fajitas…juicy marinated steak, onions, and peppers combined with cilantro, CHEESE, green chiles, and pico de gallo. You know I used my fave brand Old El Paso to take these steak nachos from great to PERFECT! The marinade is made extra easy and extra delish by using Old El Paso Taco Seasoning, my go-to add in for every Tex Mex recipe! You should have seen Pat devour these. He was a BIG FAN.
Looking for more nacho recipes? Try our Easy Foil Packet Nachos, our Italian Nachos (Baked Chicken Alfredo), or our Tequila Lime Chicken Nachos.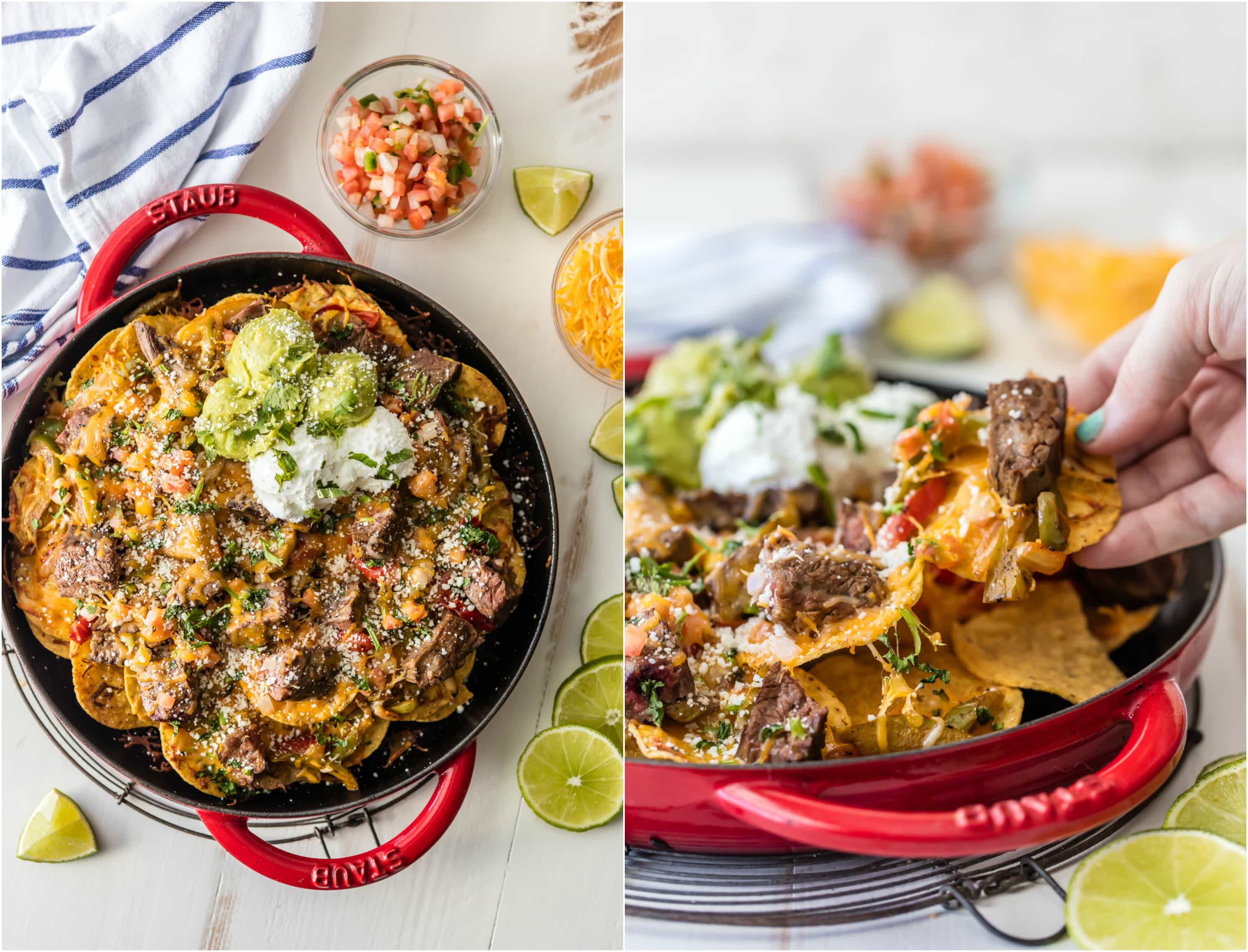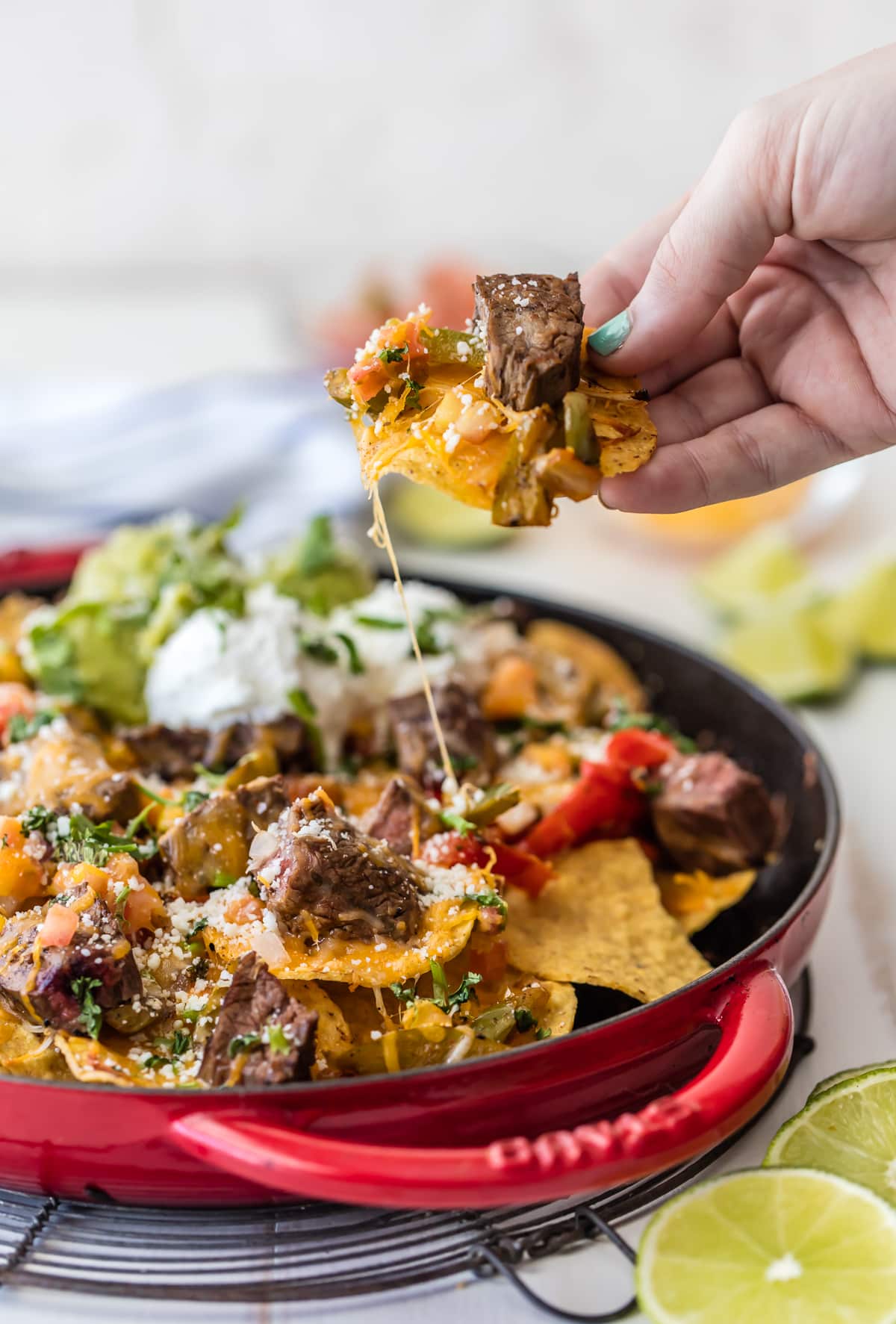 How to Make Steak Fajita Nachos
These fajita nachos do take some planning. You'll need to marinate the steak for 24 hours before making the nachos, but we're always planning for the next tailgating party, so no worries there! These steak nachos are well worth the extra planning. Once the steak has marinated in the refrigerator, you can move on to the easy part.
How to make skillet steak nachos:
Cook marinated steak on a skillet for 4-6 minutes on each side, then cut into small pieces/strips.
Add peppers, onion, and the steak marinade into the same skillet, and cook 3-5 minutes.
Assemble nachos in the skillet: tortilla chips, half the shredded cheese, peppers & onions, steak, then top with the rest of the cheese.
Broil the fajita nachos in the oven for 4-6 minutes OR cook on the stove until cheese is melted.
This recipe is enough for two batches of steak nachos, perfect for parties. If you just want to make one batch, halve the recipe. See the recipe card for details instructions!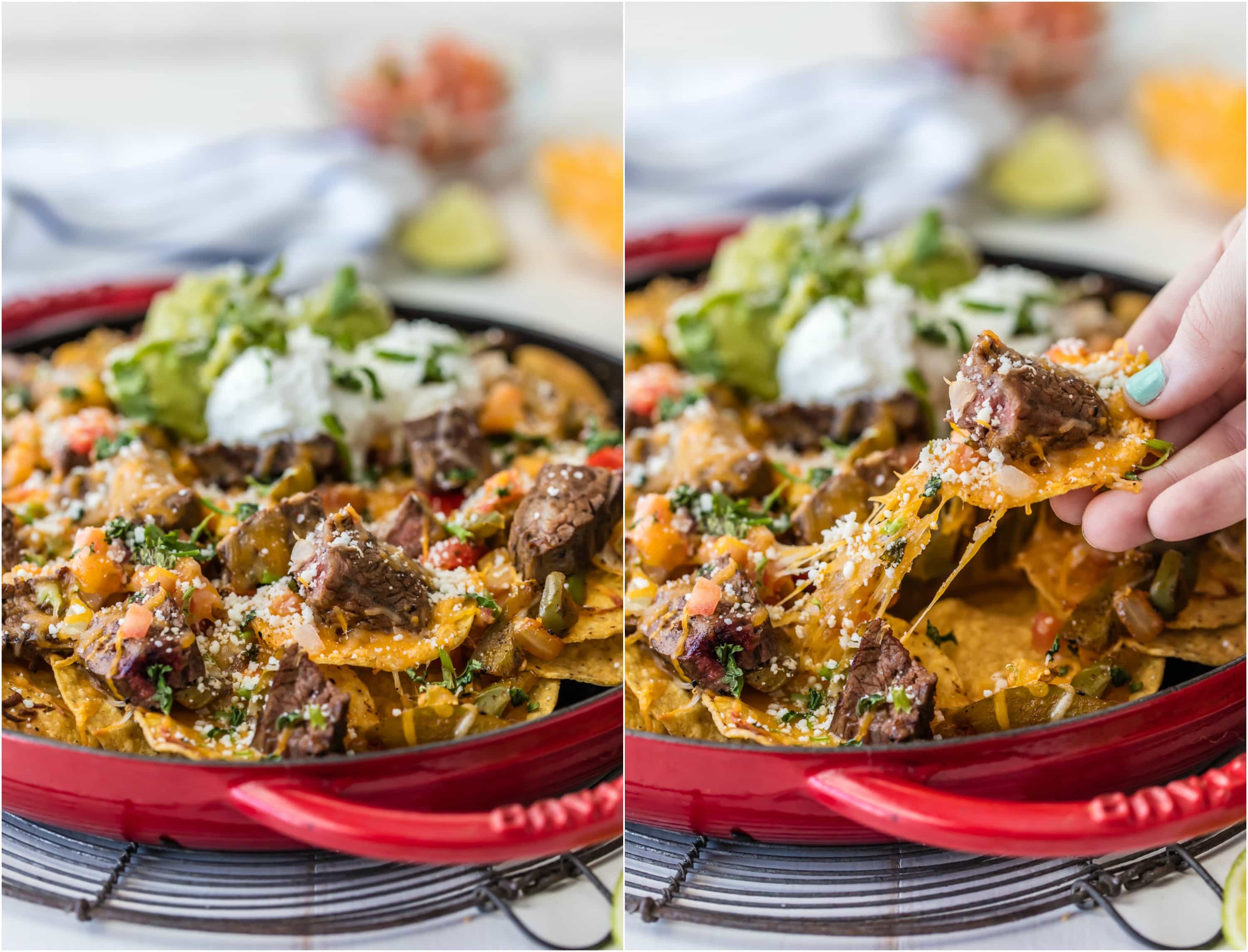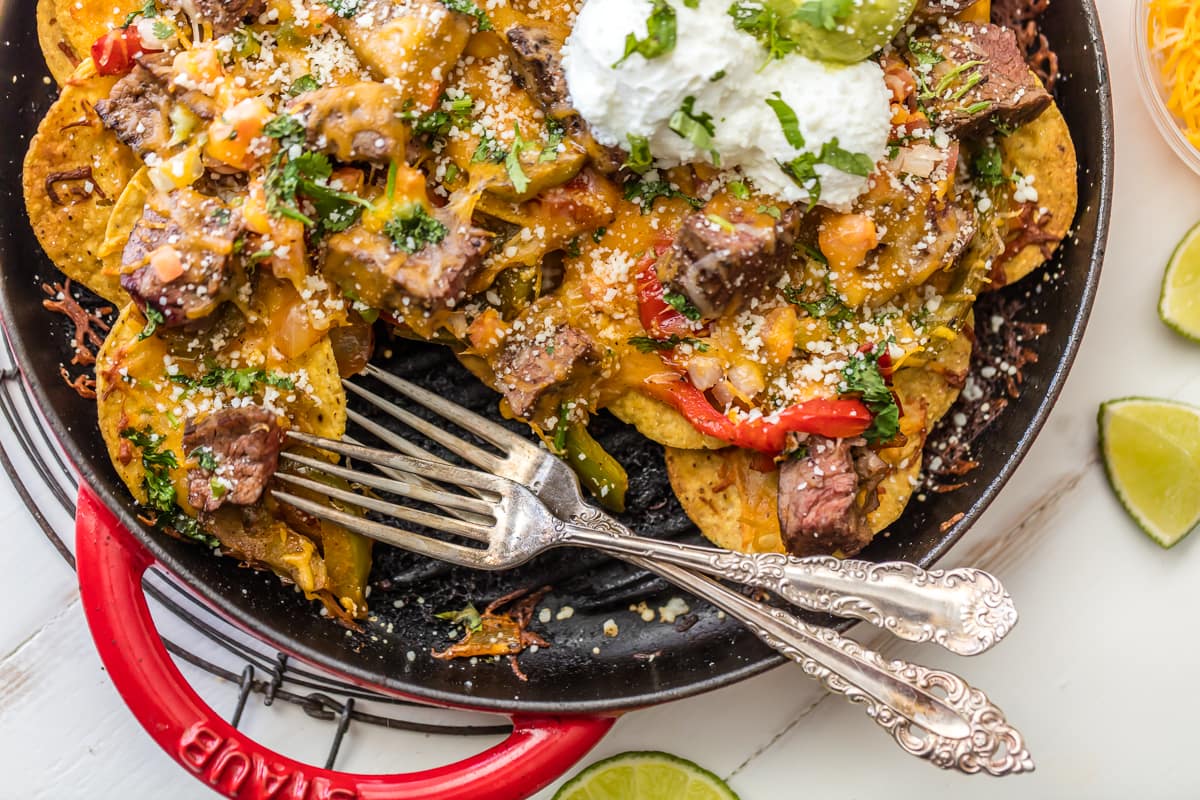 You'll most definitely be the MVP of your neighborhood tailgate party if you bring these Skillet Steak Fajita Nachos. The recipe feeds a crowd and feeds them well! You could make two skillets with the ingredients, or halve the recipe to make just one. But with how fast they're going to be gone, I recommend making two. You won't regret it!
See the recipe card below for details on how to make Skillet Steak Fajita Nachos. Enjoy!
Ttry some more favorite tailgating recipes: