Gingerbread cookies are the best Christmas cookie! They're just so fun to make and eat. Learn how to make gingerbread man cookies at home for the best texture and flavor, then decorate as you please! This recipe is so much fun to make with the family, or to bring to a holiday party.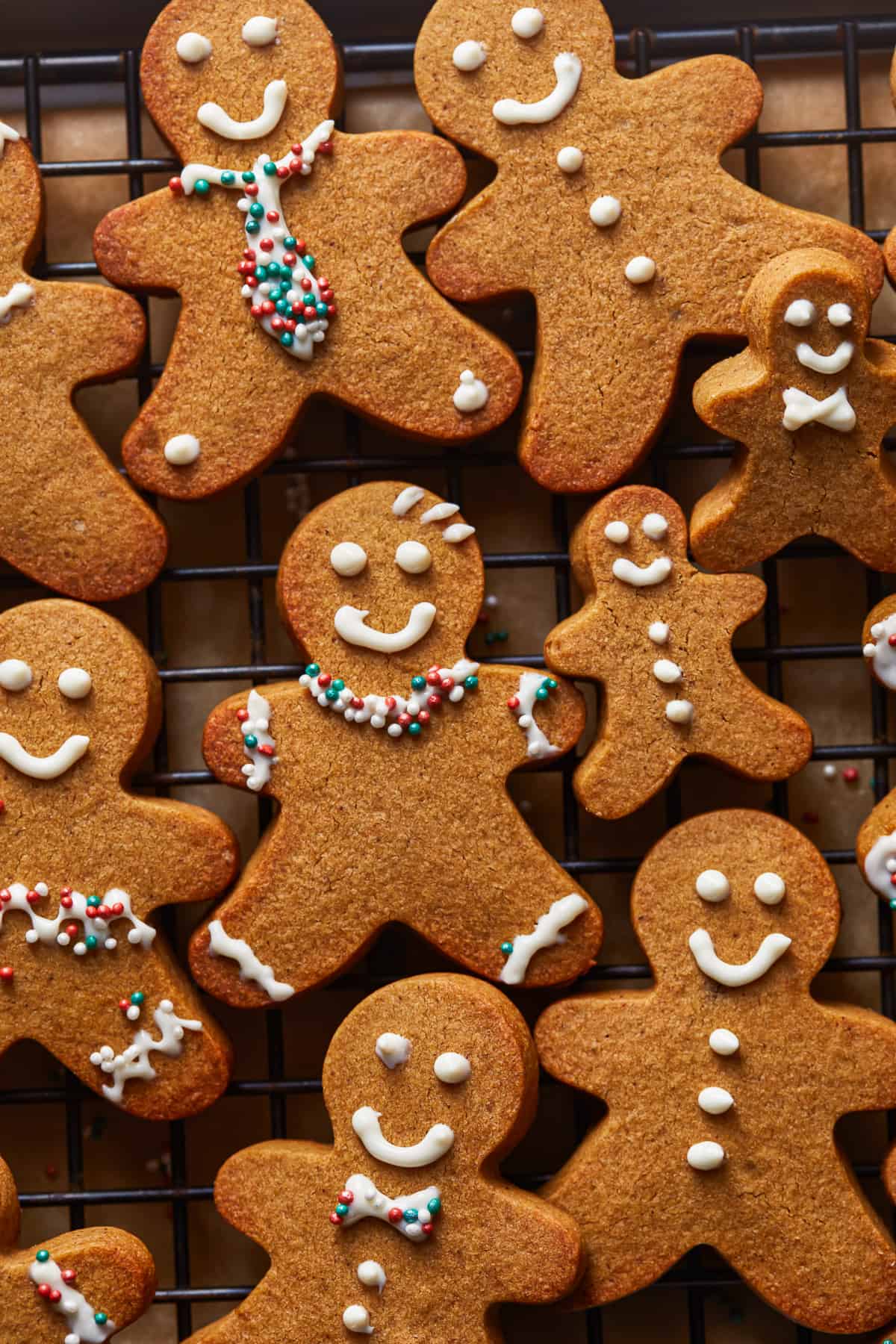 Best Gingerbread Cookies
Nothing says Christmas like gingerbread cookies! They're festive, cute, and so tasty. These little gingerbread family cookies can be baked and decorated together for a fun family activity.
These are one of the best Christmas cookies! Make a batch for the kids to decorate, and set them out for Santa on Christmas Eve. Or make them for a holiday party!
Homemade gingerbread cookies are easy to make, and they taste a lot better than store-bought ones. So make this your next holiday baking recipe and enjoy!
Why You'll Love this Christmas Cookie Recipe:
Festive: These are just perfect for Christmas! Make them for a holiday party, Christmas Day, or for Santa.
Family: The kids will adore these adorable gingerbread man cookies. Everyone can decorate them together, and of course eat them together too!
Freezer Friendly: This cookie dough is easy to freeze! Make it ahead of time, and freeze until ready to use. This really comes in handy during the busy holiday season.
Learn how to make gingerbread cookies with this easy recipe, then cut them into different sizes to create the cutest little gingerbread family! The kids will absolutely love making these, and eating them is fun too.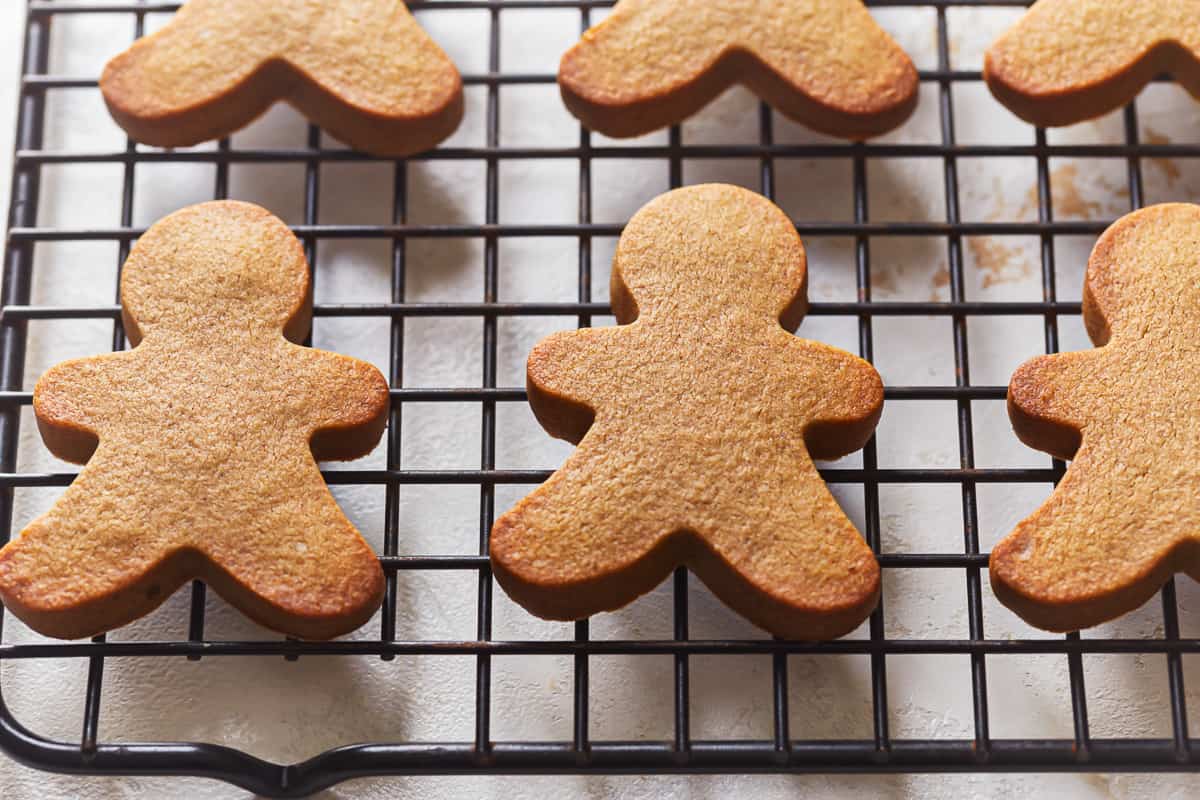 How to Make Gingerbread Cookies
You can jump to the recipe card for full ingredients & instructions!
Begin by adding ingredients into a stand mixer to combine, then add the egg and molasses.
Mix dry ingredients in a separate bowl, then mix them into the wet ingredients.
Divide dough in half, roll it out, and then place it on parchment paper on a large sheet pan. Cover and refrigerate at least 2 hours.
Preheat oven, and cut dough into individual cookies. Place the gingerbread cookies on a parchment-lined pan.
Bake for 10-12 minutes. Then let them cool completely before decorating.
Recipe Notes
Let your butter warm to room temperature before using it.
Overmixing cookie dough will lead to tough, flat cookies. So mix just until ingredients are incorporated.
The dough needs to chill for at least 2 hours before baking, so plan accordingly!
Gingerbread cookies are done when the edges start to darken. They will still look a little soft and doughy, but they will harden as they cool.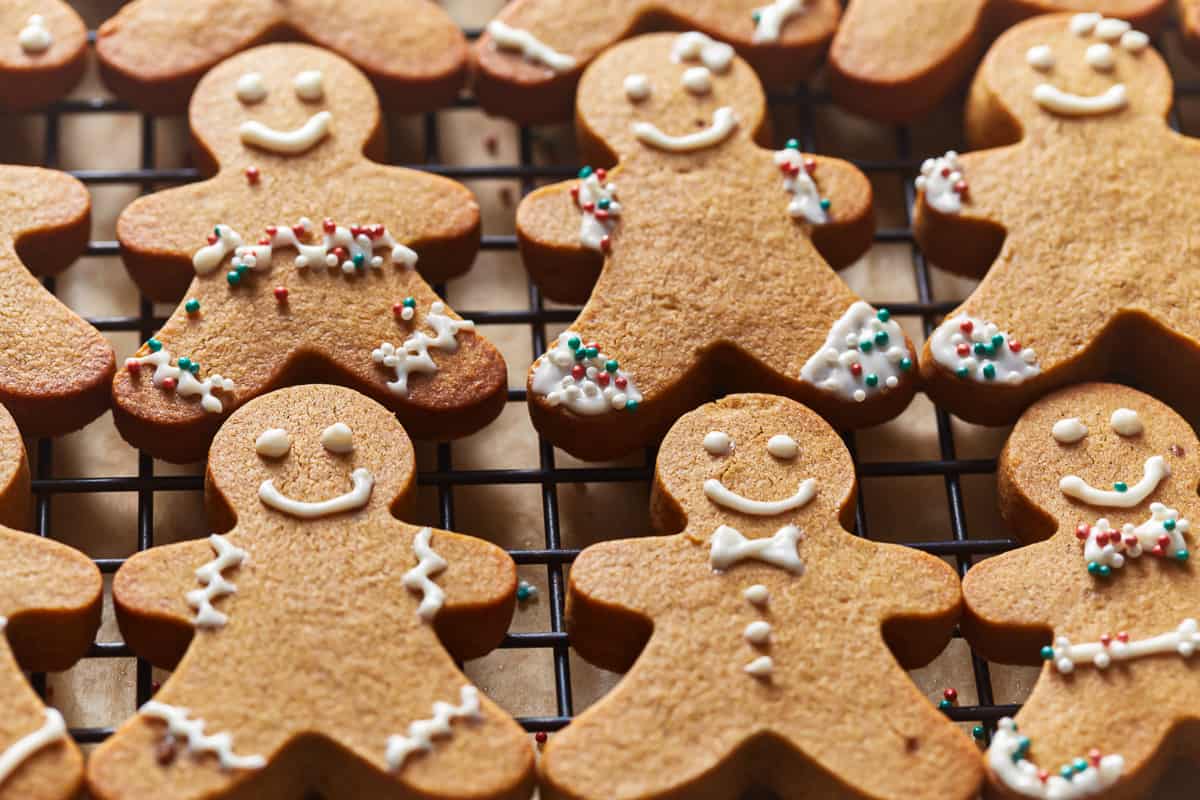 What kind of molasses should I use?
Use light molasses to make gingerbread cookies (it's light and sweet). I do not recommend using dark or blackstrap molasses for this recipe (it's more intense and not as sweet).
How long do gingerbread cookies last?
Store cookies in an airtight container at room temperature for up to 5 days, or in the freezer for up to 3 months.
Can I freeze the cookie dough?
To freeze the cookie dough, cover the rolled cookie dough on the cookie sheet with plastic wrap and foil. Place the entire baking sheet in the freezer. When ready to bake, let the cookie dough thaw in the refrigerator, then continue with step #9.
Can I freeze decorated gingerbread cookies?
I don't recommend freezing cookies with icing and other toppings on them. It's better to freeze baked cookies plain, then you can decorate after thawing.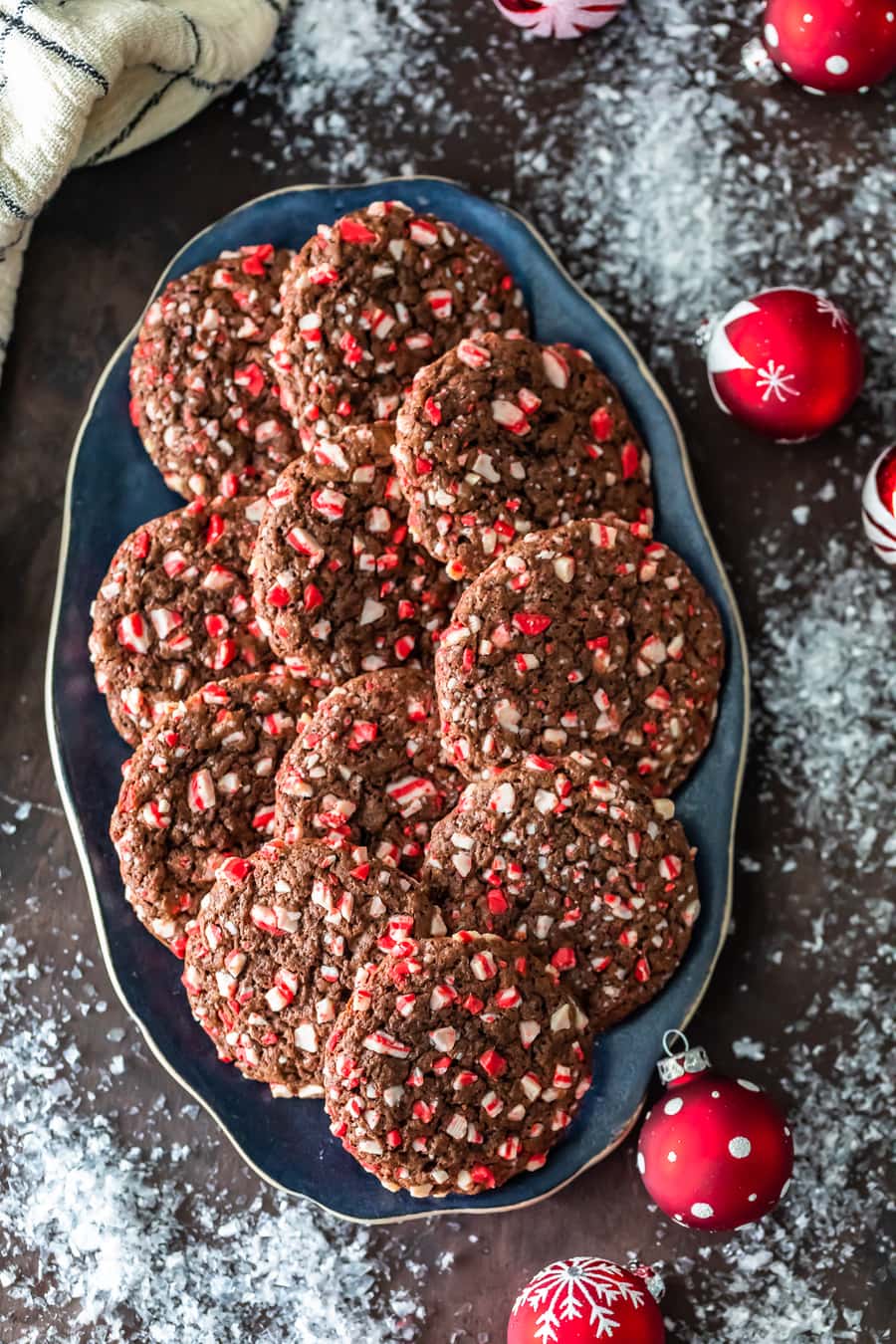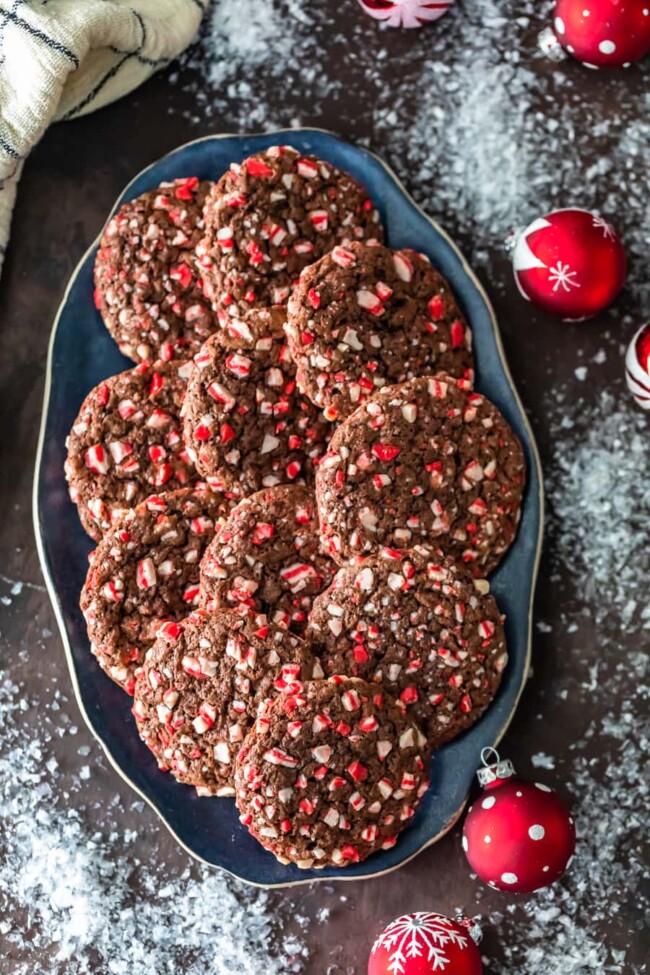 All the Holiday Cookies
25+ Favorite Christmas Cookies
Baking and Christmas go hand in hand. See our guide for our fave recipes + tips and tricks for perfect cookies.
See Guide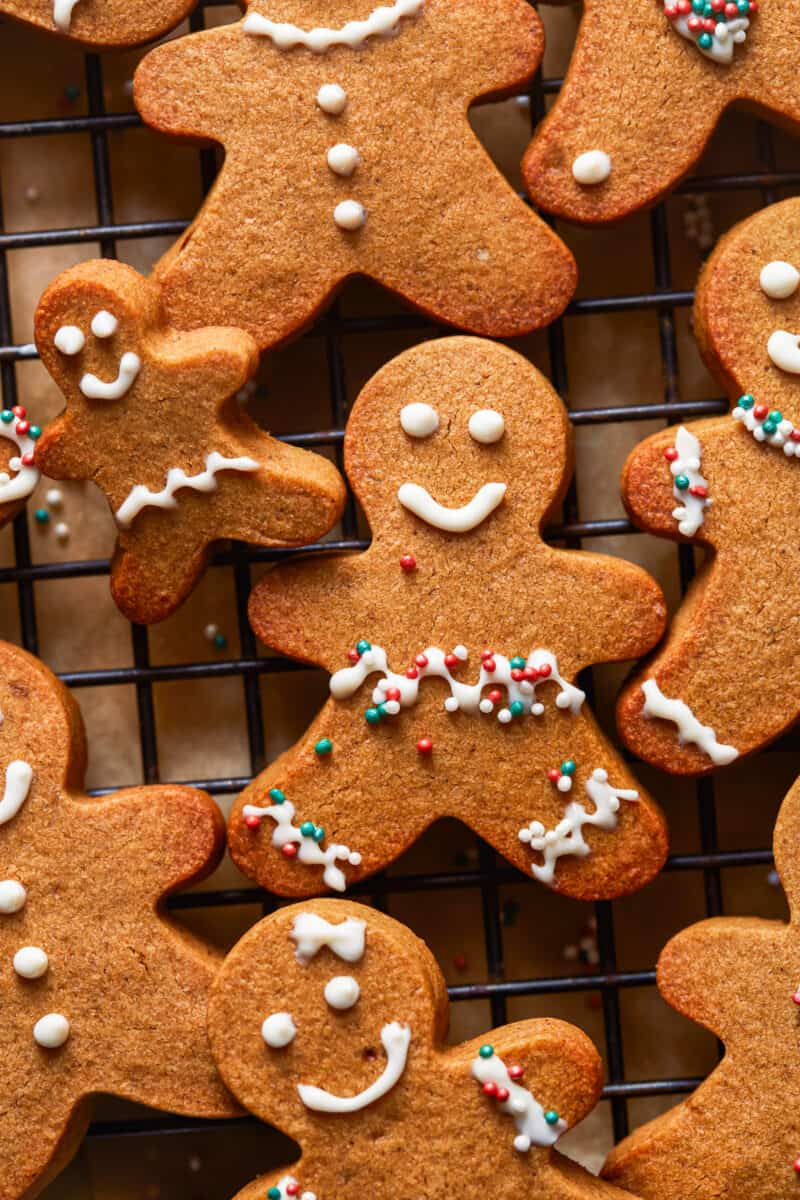 Tips!
If you want to get a head start on making these, you can make the dough ahead of time and freeze it.
Spraying your cookie cutters with nonstick spray will help cut the dough cleanly.
Making gingerbread man shaped cookies is fun, but you could also use this recipe with any cookie cutter shape you choose. Christmas tree cookies, snowflake shape, snowman? All fun to decorate and eat!
Let cookies cool completely before decorating, or else the icing will melt and get messy.
If freezing baked cookies, place parchment paper between each layer of cookies.
Set up a decorating station with bowls of toppings, so kids can make their own gingerbread cookies however they like! This is a fun way to spend Christmas Eve, or something to do after opening presents.
What can I use instead of apple pie spice?
If you don't have apple pie spice, use a mix of cinnamon, allspice, and nutmeg instead.
What can I use to decorate gingerbread cookies?
Use any icing, frosting, candies, or toppings you like to decorate these gingerbread cookies. Generally, I like using powdered sugar-based icing for these, but buttercream frostings are great if you want to just cover the whole cooking instead of decorating.
I recommend grabbing some store-bought icing packages (those little ones that have a piping tip) in different colors, so they're easy and ready to use. Or else you can make your own, of course, and use food coloring to dye.
You can also use Christmas-colored sprinkles, heart sprinkles, M&Ms, gum drops, crushed peppermint, and so much else!
What size cookie cutters should I use?
You can use any shape or size of cookie cutters you like, and you can use multiple cutters too. Get a gingerbread family cookie cutter kit to make different sizes, like I did here! Make jumbo cookies, mini cookies, and anything in between.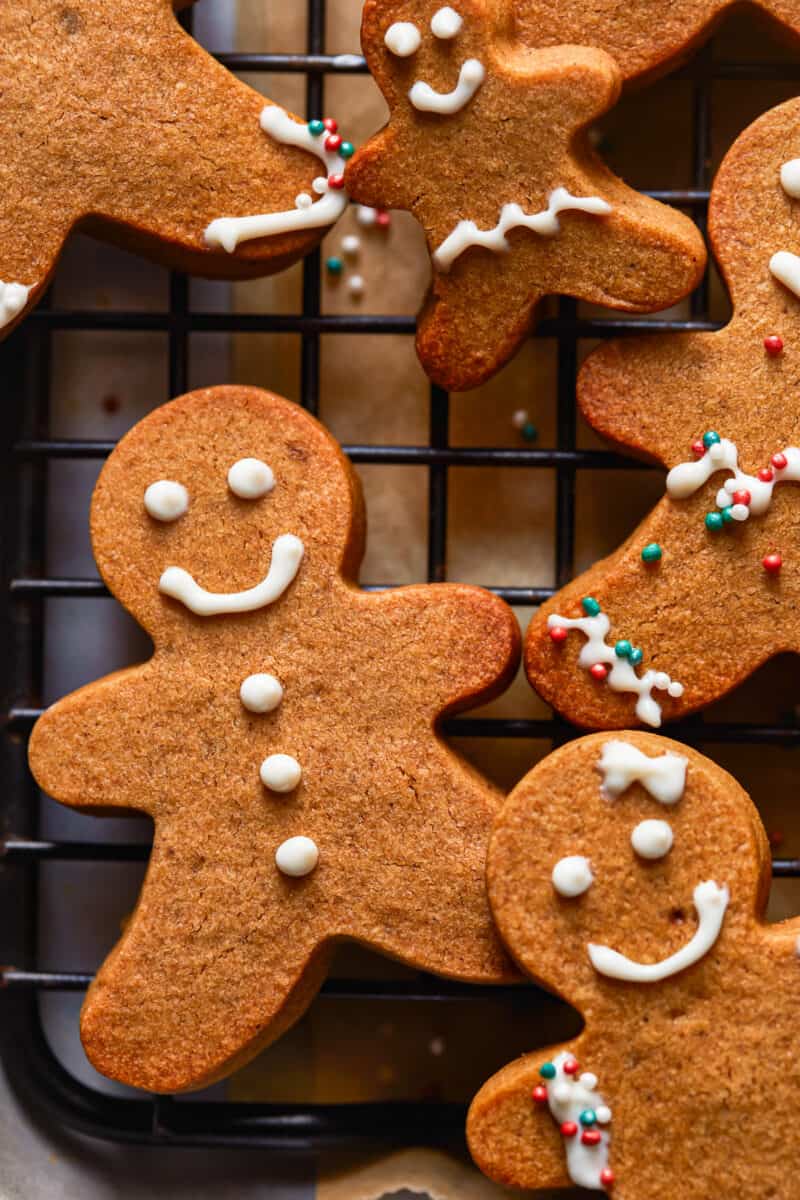 This is the best gingerbread cookie recipe, because they are easy to make and really tasty too. So have fun baking and decorating these for Christmas!
If you make this recipe be sure to upload a photo in the comment section below or leave a rating. Enjoy! You can also jump to recipe.