Lime Sherbet Punch is the perfect St. Patrick's Day punch to celebrate the holiday. This fun green punch is made with pineapple juice, ginger ale, kool-aid mix, and sherbet. It can be made as a cocktail or as a non-alcoholic St. Patrick's Day drinks recipe. It's the perfect sherbet punch for a crowd!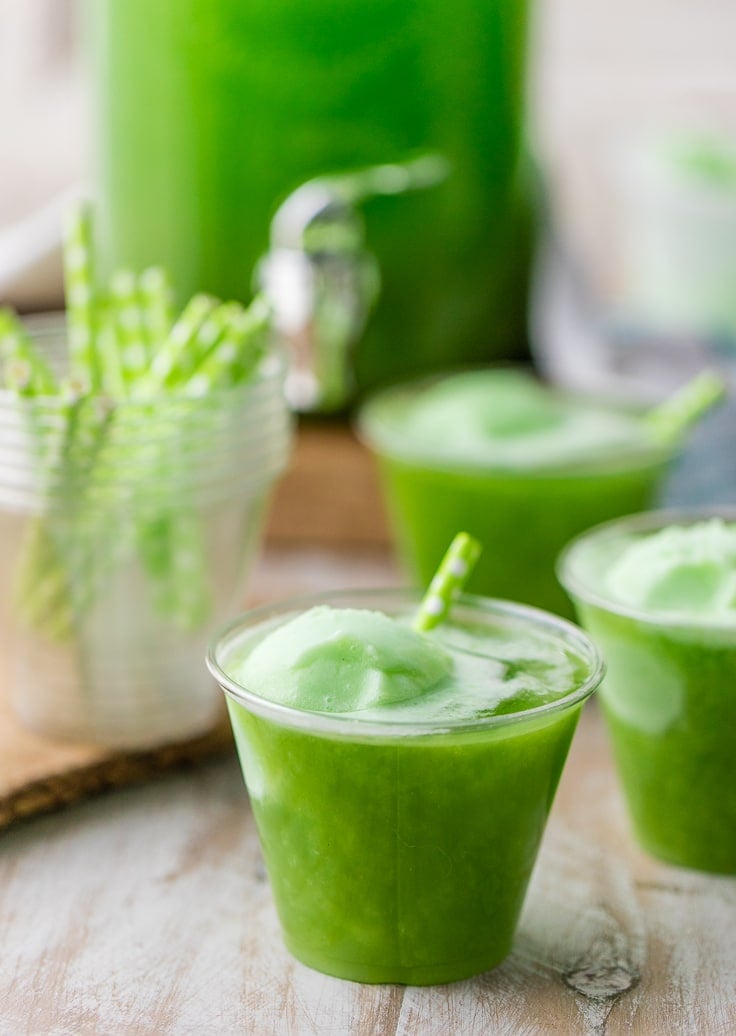 What's in this Green Punch recipe?
You only need 5 ingredients to make this delicious green punch. It comes together so fast, making it great for parties. It's the best St. Patrick's Day drink for a crowd, but cute for baby showers, Easter, or any festive celebration too.
Kool-Aid Mix: Use 2 packets of the lemon-lime dry powder mix. This adds flavor and the bright green color to our punch.
Pineapple Juice: Use chilled pineapple juice. This adds a delicious, fruity, citrus-y flavor.
Ginger Ale: This adds carbonation and a bit of ginger flavor. You can substitute a lemon-lime soda (like Sprite), seltzer, or ginger beer.
Water: Cold water fills out the punch, and helps to dilute and blend the other ingredients.
Lime Sherbet: Scoops of sherbet add flavor, sweetness, and texture to the punch. As it melts it will create a creamy, frothy texture.
You can scoop sherbet into individual cups and pour the punch on top as you serve if you want to keep it intact (more like a float). Otherwise, add it right into the punch bowl!
Can I make this St. Patrick's Day punch alcoholic?
The base recipe for this green lime sherbet punch is non-alcoholic, which makes it family-friendly! But if you want to make a cocktail version for your party, simply add your favorite liquor.
Vodka, tequila, gin, and rum all work perfectly. A lime-flavored vodka would be even better! Just stir it in with the rest of the ingredients, to your taste. You could also make a non-alcoholic punch, and add the liquor to individual cups as you serve.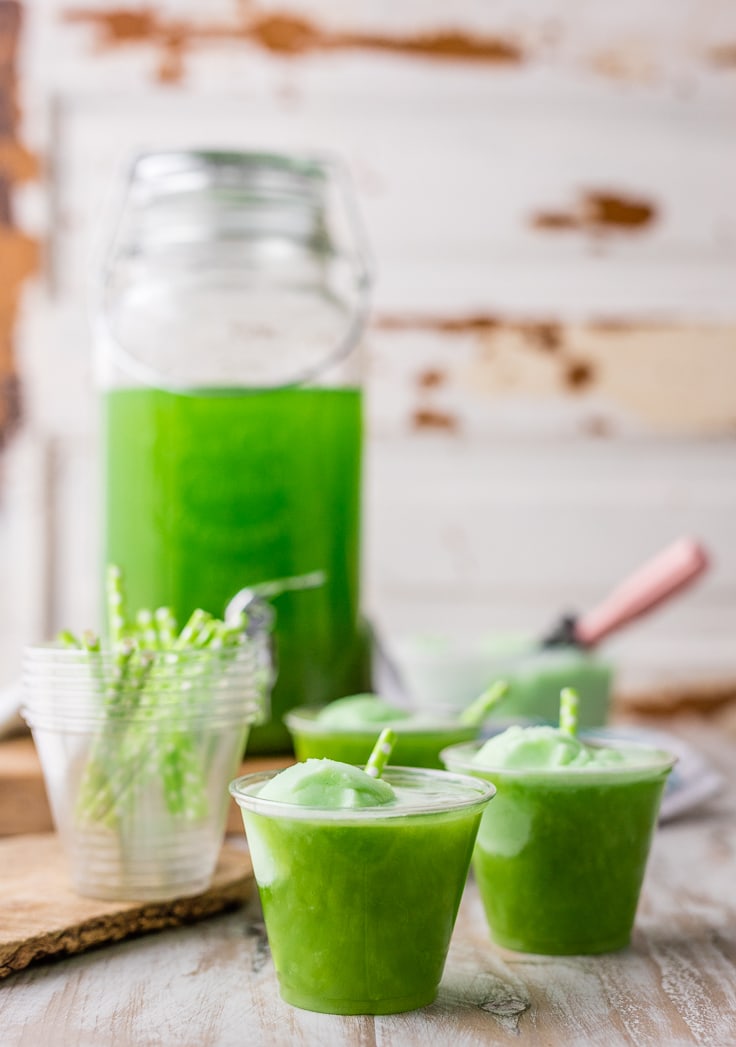 How much alcohol do you put in this punch?
This is completely up to you and how strong you want to make it. Generally, you should keep a party punch to under 10% alcohol. So, for example, with 5 liters of liquid, you'd likely want to max out at .5 liters of liquor.
Can I skip the sherbet?
This pineapple lime punch will still taste great without the sherbet, put it will be a different texture overall.
What makes this punch green?
The lemon-lime Kool-aid powder mix is what turns this punch bright green, so no food coloring is necessary.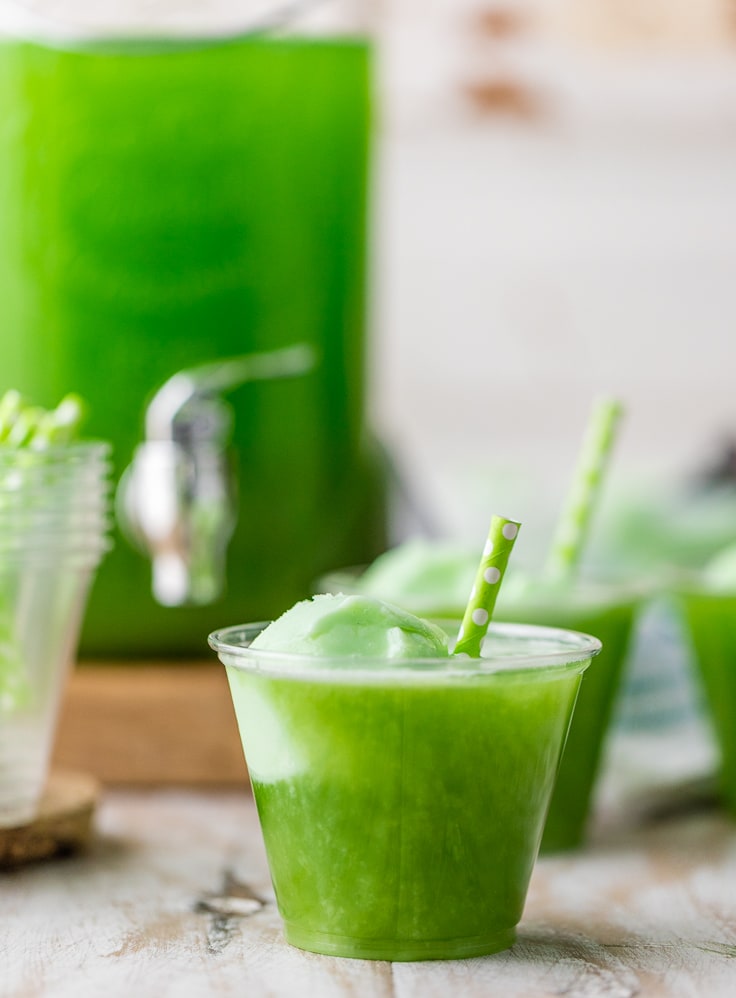 How to Store Green Punch
This green sherbet punch recipe is best served immediately. If made too far ahead of time or stored, the sherbet will dissolve and the carbonation will flatten, so the quality won't be as good.
However, if you would like to save leftovers, keep pitchers of it in the refrigerator, fully chilled. I wouldn't recommend making it any more than a few hours ahead of time. Leave out the sherbet if you can, and you can always mix in a bit more ginger ale/soda for carbonation.
What to Serve with Lime Sherbet Punch
This delicious lime party punch is great for serving along with appetizers, party snacks, and other drinks and cocktails. Make these reuben egg rolls for St. Patty's Day parties, or tortilla roll-ups for any occasion. Candy Rice Krispie Treats make fun kids treats for something sweet. Or try these beer margaritas for another cocktail option.
Looking for more St. Patrick's Day drinks? You'll love this homemade Irish cream, Shamrock Shakes, or Leprechaun Milk!