If you're a fan of Chipotle's barbacoa beef, commonly added to a bowl with rice and other fresh, Mexican-style ingredients, be sure to try these delicious Barbacoa Burrito Bowls. The bowls are loaded with incredible flavor and sure to leave a lasting impression on your loved ones! Who needs to go to Chipotle when you can make this goodness right at home?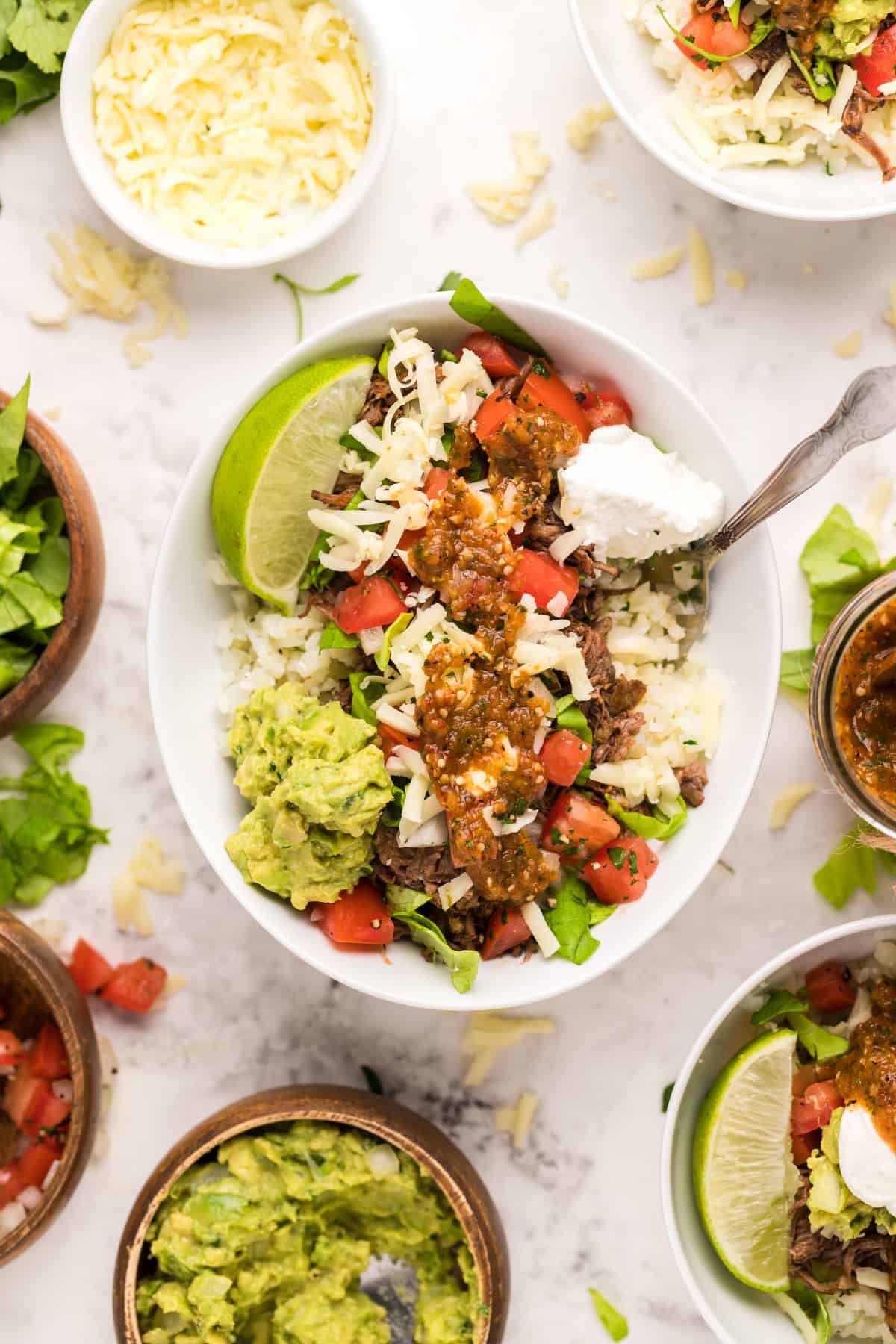 Healthy Beef Burrito Bowls
These beefy, flavorful burrito bowls taste so good, and they're good for you. You'll find some of the healthiest ingredients, like butter lettuce, plain Greek yogurt, fresh barbacoa meat, pico de gallo, and more.
Enjoy something that's filled with flavor, whether you're trying to eat healthy and diet or not!
Why You'll Love this Burrito Bowl Recipe:
BETTER THAN CHIPOTLE: If you've always loved food from Chipotle, you'll be glad to learn that you can quickly make something similar at home.
EASY PREP: You won't need to spend too much time in the kitchen while trying to assemble these easy burrito bowls.
CUSTOMIZABLE: Add your favorite toppings to your barbacoa bowls to customize them to your liking. Try fresh guacamole, which is sure to pair perfectly with the cilantro lime cauliflower rice and beef.
These Barbacoa Burrito Bowls are filling and flavorful. The abundance of protein, veggies and the cauliflower rice will all keep you fuller even longer. You can use the beef to make Barbacoa Tacos too!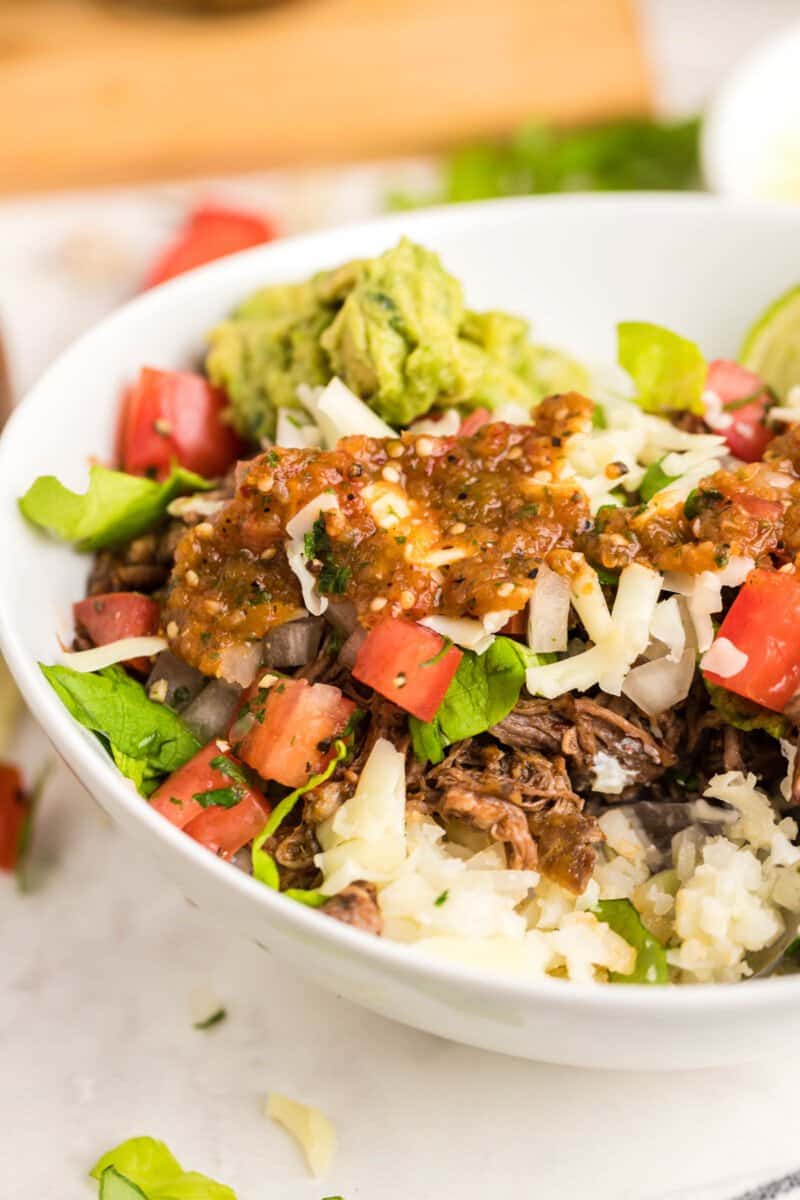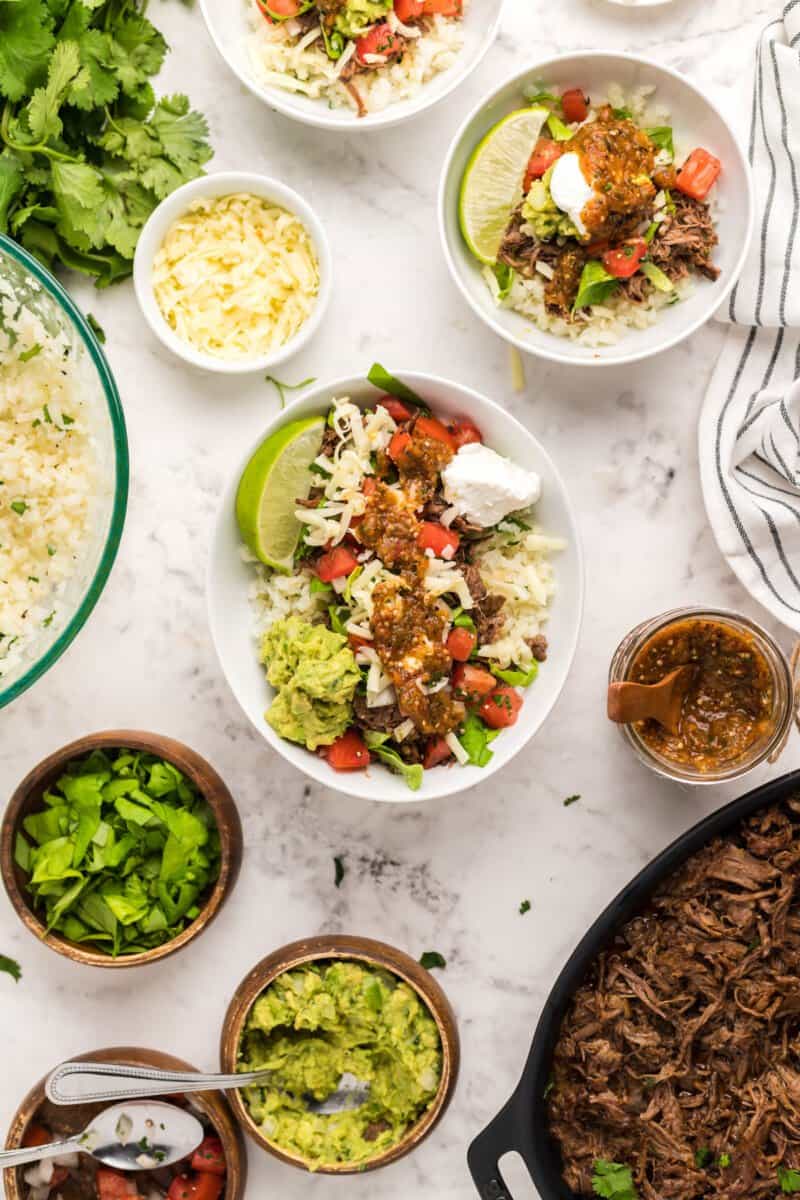 How to Make Barbacoa Burrito Bowls
You can jump to the recipe card for full ingredients & instructions!
Follow the barbacoa slow cooker recipe to make your meat. You'll need two cups of the meat for this burrito bowl recipe.
Cook your cauliflower rice according to the packaging and then transfer it to a bowl while mixing it with more lime and cilantro for added flavor.
Begin assembling your bowls, adding rice first followed by the meat, lettuce, cheese, pico de gallo, and other ingredients.
Prepare homemade salsa or guacamole according to the instructions and add it on top as a finishing touch to give your burrito bowls an even better taste.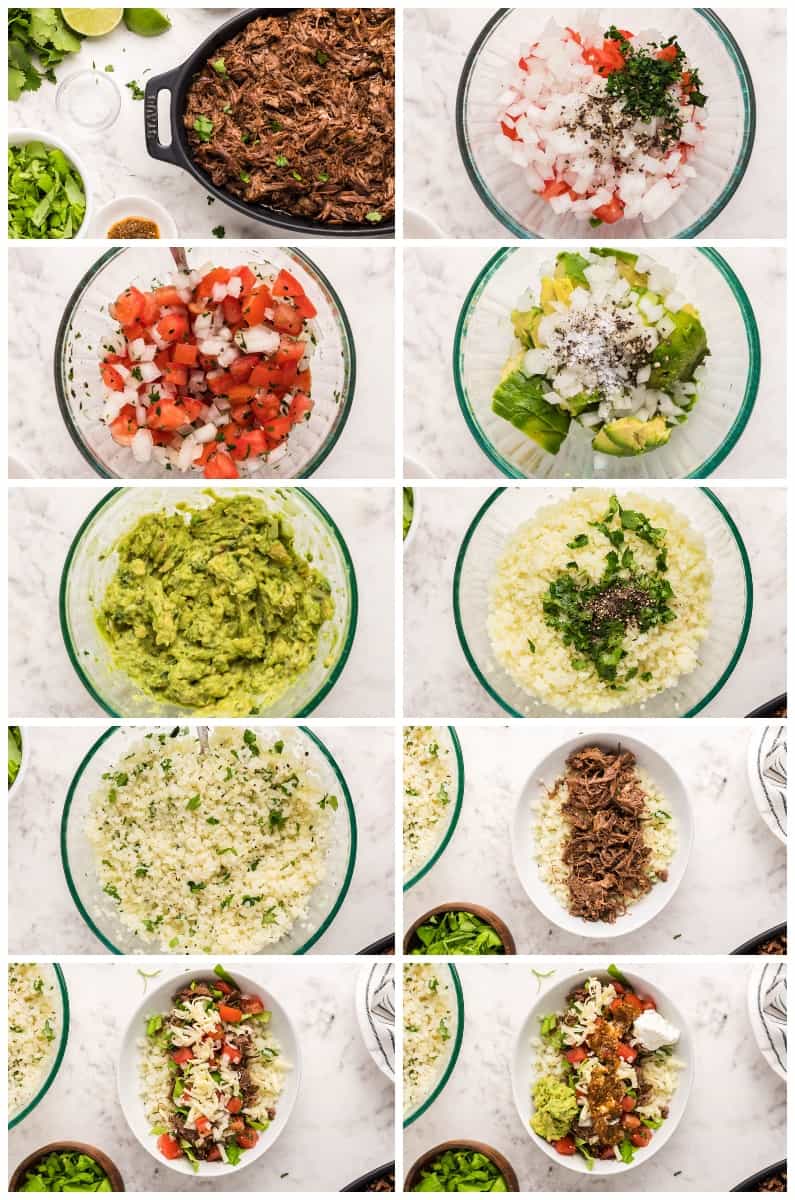 What recipe should I use for the barbacoa meat?
Follow this crockpot barbacoa beef recipe! It's easy to prepare and will leave you with something that tastes amazing.
Can I make these burrito bowls with another kind of meat?
Absolutely. Feel free to use some of your favorite types of meat, such as shredded chicken or ground beef. It's important to use what you like so that you'll enjoy the taste of these burrito bowls even more.
How long do these burrito bowls last?
When stored properly in the fridge, these burrito bowls last for up to three day. Make sure you're using an airtight container!
Can I use regular rice instead of cauliflower rice?
Yes, you can use regular rice if you prefer it over cauliflower rice. You can prepare white rice from scratch, adding lime juice and cilantro to it yourself, or you can buy a bag or box of cilantro lime rice to use for these bowls.

Serving Suggestions
Chips and queso
Tortillas
Enjoy the zesty, wholesome taste of these Barbacoa Burrito Bowls. They're great for lunch or dinner. You can even make them in advance if you're meal prepping and want something delicious to enjoy for lunch at work.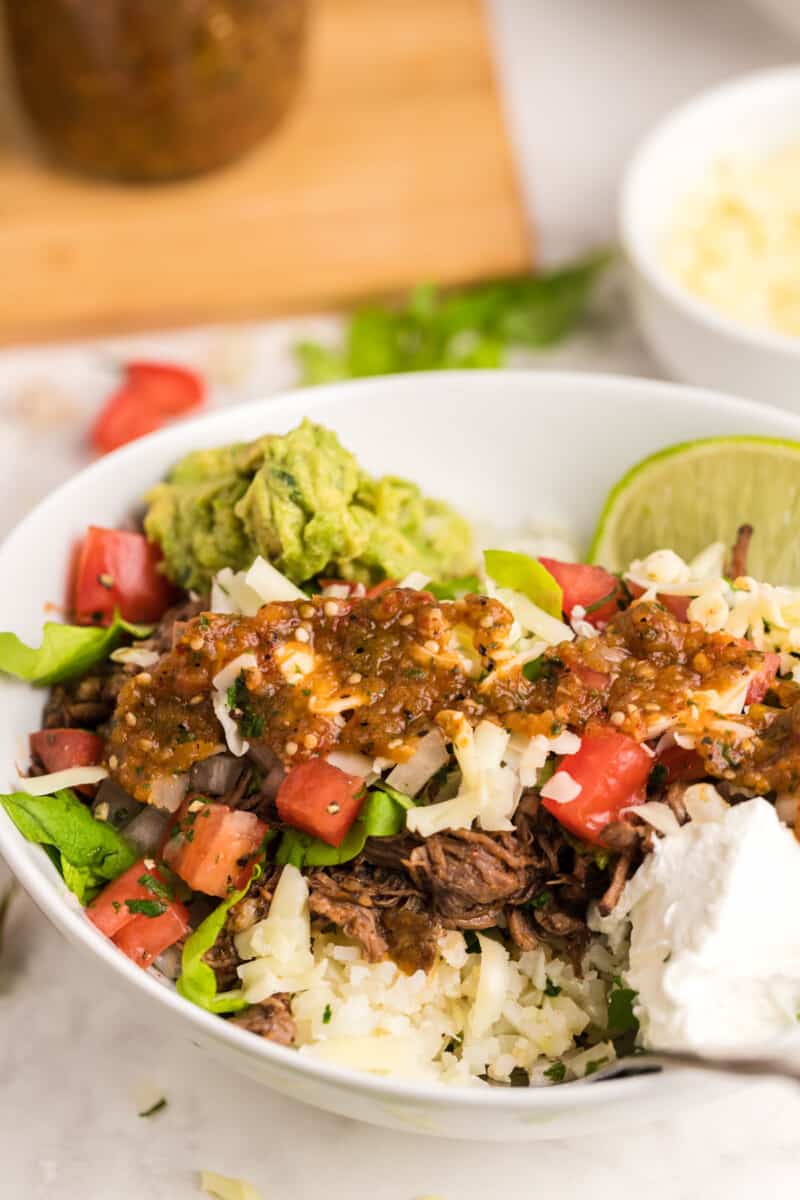 Tips!
Feel free to use any type of shredded cheese that you prefer. It doesn't matter if it's sharp cheddar, mild cheddar, or even colby cheese.
If you're a meat lover, you can double up on the meat, adding more of it to your bowl compared to the cauliflower rice at the bottom.
If you don't have butter lettuce, feel free to use shredded iceberg lettuce, which will taste just as good when added to these bowls.
These bowls are an easy meal prep idea! Just prepare all the ingredients ahead of time, store separately, and assemble your bowls fresh. Or portion everything out so they're ready to grab and go!
Prepare your ingredients and assemble these flavorful bowls in no time. It's the perfect way to save money while preparing something healthy and delicious for the entire family.
Can I use store bought salsa and guacamole?
Definitely. If you don't feel like preparing homemade salsa and guacamole because of the extra time it takes, feel free to purchase your favorite brands from the store. You can also choose from all different types of guacamole, including spicier versions if you like a little heat!
How can I make these burrito bowls vegetarian?
It's easy to make these burrito bowls vegetarian by simply leaving the meat out of them. You can also replace the barbacoa with a plant-based meat option if you feel like your bowls will need something extra added to them.
Will beans taste good with these bowls?
Definitely. Feel free to add some black beans or pinto beans into the mixture with your meat and cauliflower rice. You also have the option of adding some whole kernel corn for an added sweet touch.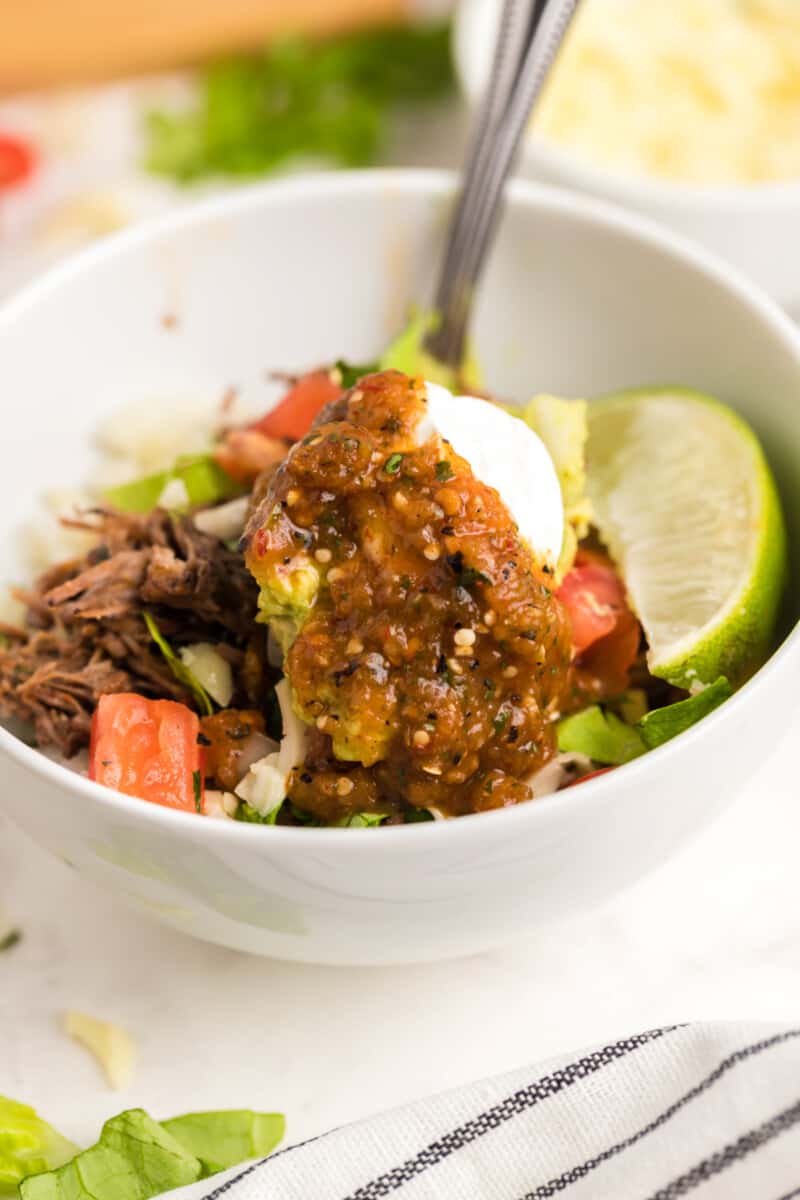 If you love these Barbacoa Burrito Bowls, be sure to check out some of our other incredible recipes. Many of these recipes take little to no time to prepare, leaving you with wholesome, tasty food to enjoy!
If you make this recipe be sure to upload a photo in the comment section below or leave a rating. Enjoy! You can also jump to recipe.