This is the best Ham and Bean Soup recipe! There's no better comfort food than an easy and classic soup, and this definitely makes the cut. I love this hearty soup when the weather turns cool. This classic ham and bean soup is easy to make and something the entire family will love!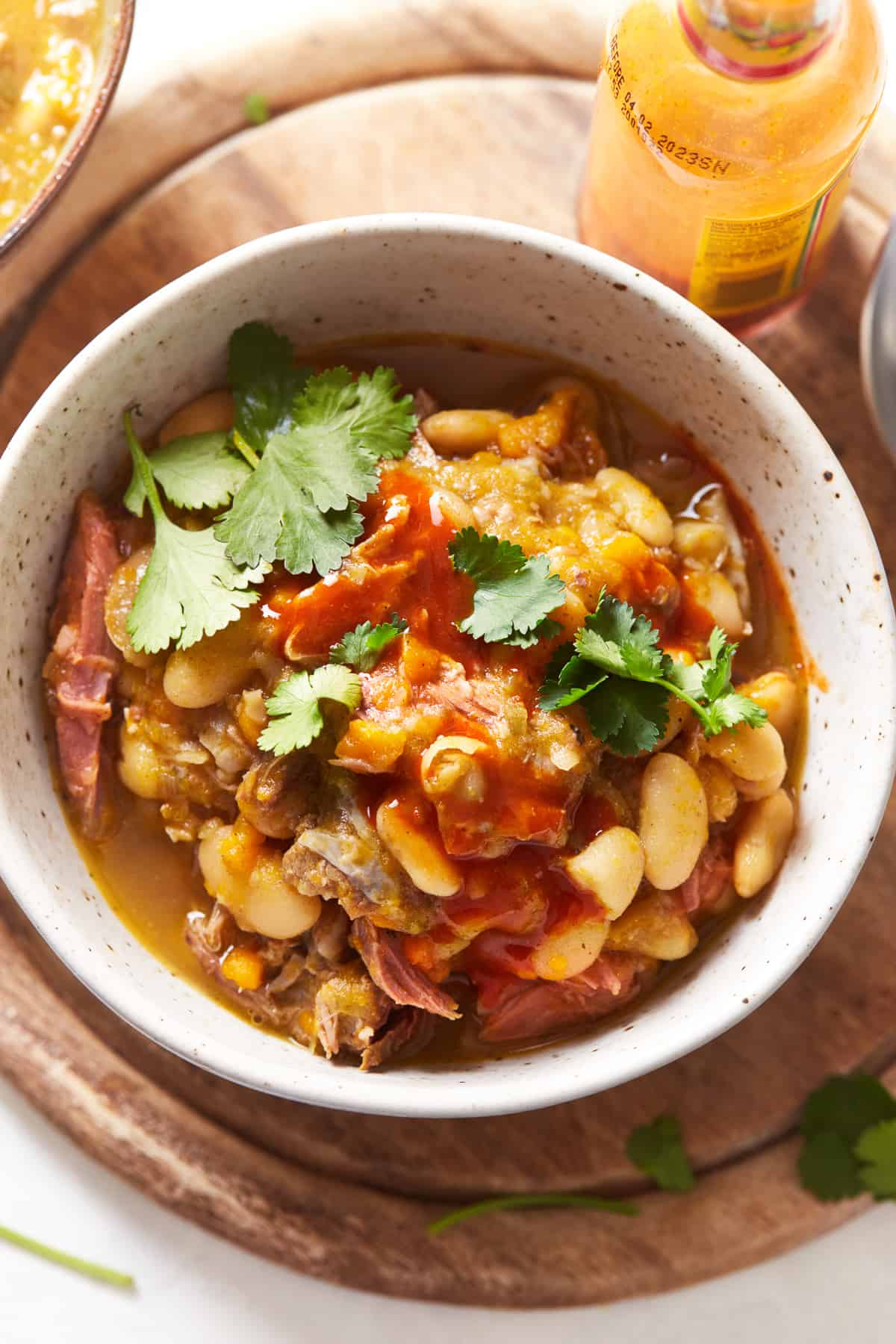 What's in this Ham and Bean Soup Recipe?
It's a good thing to have some classics in your repertoire. They're almost always easier than you think! This is the best ham and bean soup recipe, and it's so easy to make any time.
Great Northern Beans: provide a creamy texture and nutty flavor. They are hearty and absorb the flavors of the other ingredients.
Olive Oil + Butter: Helps the vegetables sauté without burning and creates a rich and flavorful base.
Carrots: Add sweetness and texture to the soup.
Sweet Onion: Adds a mild, sweet, and earthy flavor to the soup.
Celery: Adds a herbal flavor and crunch to the soup.
Garlic: Adds an earthy flavor and a pungent aroma.
Chicken Stock: Provides a savory base for the soup. I prefer to use low-sodium stock.
Water: Adds volume to the soup without adding additional calories and sodium. Water is also key for soaking the beans to soften them.
Ham Hock + Ham Shank: Provide flavor, richness, and a smoky taste to the soup.
Seasonings: Parisien Bonnes Herbes, dry mustard, black pepper, salt, seasoned salt, smoked paprika, and nutmeg add depth and complexity to the soup, making it savory, smoky, and slightly spicy.
Bay Leaves: Infuse the soup with their unique herbal flavor.
Bacon: Adds a smoky and salty flavor to the soup.
Pro Tip: Do not add the kosher salt until the soup has cooked for an hour. Taste and add salt only if needed.
Variations on Bean and Ham Soup
If you don't have Great Northern Beans, Cannellini or Navy beans are great substitutes. If you're short on time, you can use canned beans instead of soaking them from dry. If you can't find a ham hock, another ham bone works well.
For an extra kick, I like to add some hot sauce to my soup, but that is totally optional!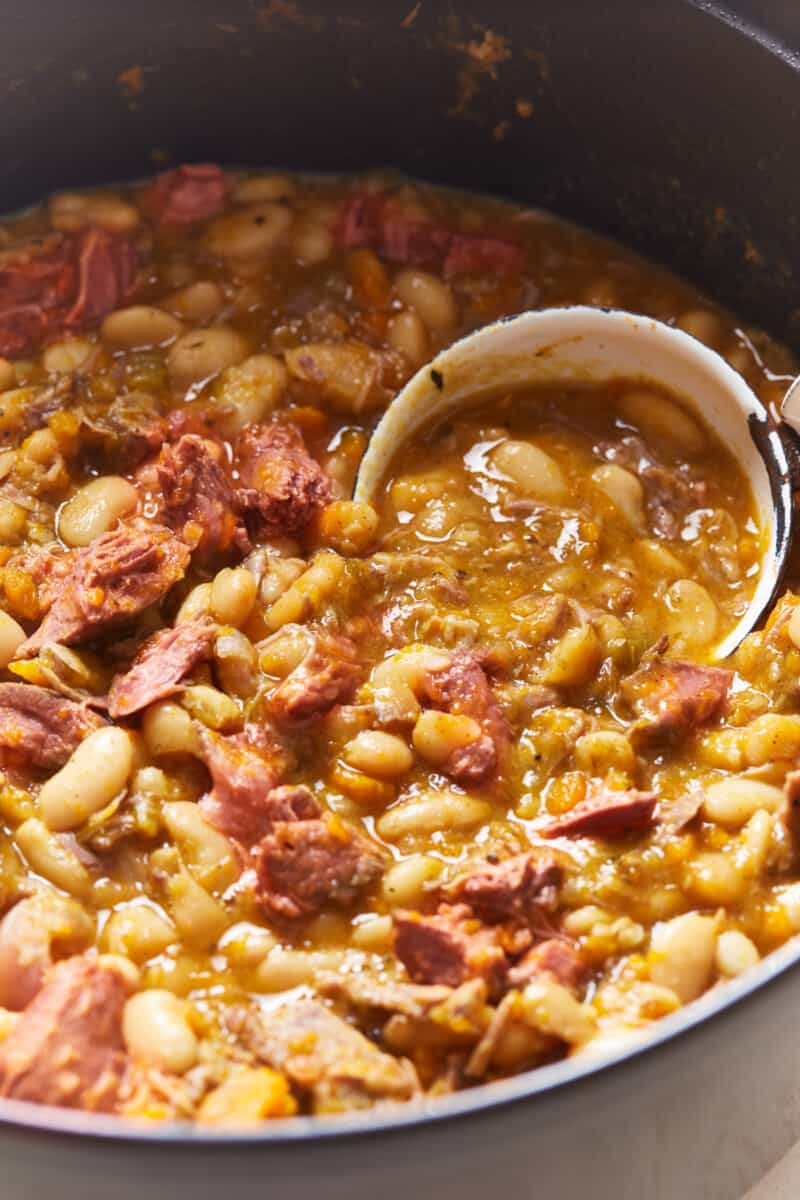 What kind of beans do you put in ham and bean soup?
We recommend using Great Northern Beans for this recipe, but you can also substitute Navy or Cannellini Beans.
What will happen if I eat undercooked beans?
Unfortunately, beans are not safe to eat unless they have been fully cooked. Fully cooked beans are tender and creamy, and some of them may even split open. If you accidentally eat undercooked beans, you may experience gastrointestinal upset or vomiting. If these symptoms are severe or persistent, it's a good idea to visit the ER.
How do you thicken ham and bean soup?
This soup should thicken up on its own, but if you'd like it even thicker, try adding some cornstarch mixed with cold water. Continue cooking the soup until it thickens to the desired consistency.
How long does it take for ham and bean soup to thicken?
This soup takes about 3 hours to cook and thicken.
What is a good substitute for ham bones?
If you can't find a ham bone, you can use pork shank, smoked bacon, or smoked sausage instead.
Why does my ham and bean soup taste bland?
Seasoning this soup is key. I like to add dry mustard powder for a bit of a spicy kick, but you can also add a splash of red wine or apple cider vinegar to make the flavors pop even more.
Can you freeze ham and bean soup?
Yes, this soup freezes well for up to 3 months!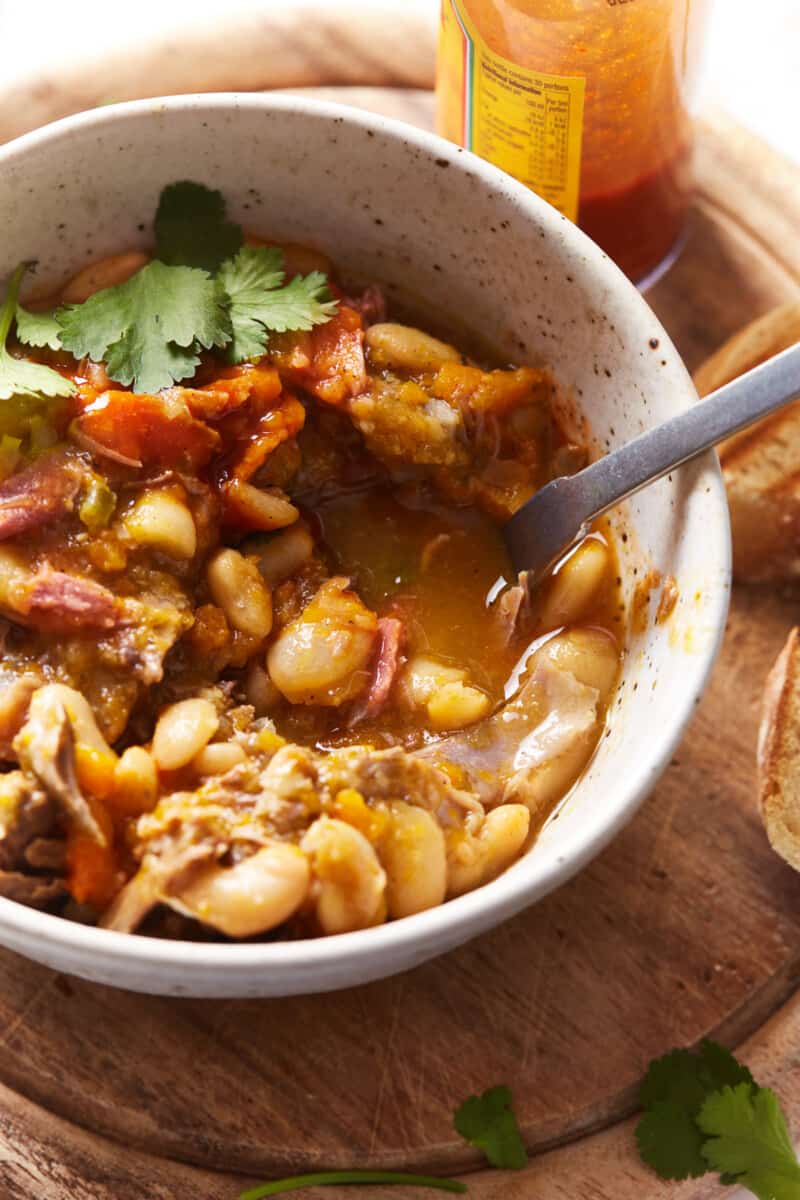 How to Store and Reheat
Store leftover ham and bean soup in an airtight container in the refrigerator for up to 5 days. Reheat in a pot set over medium-low heat or in the microwave in 30-second increments until warmed through.
How to Freeze
Freeze ham and bean soup whole or in individual portions in airtight containers or Ziplock bags for up to 3 months. Let thaw overnight in the refrigerator before reheating.
Serving Suggestions
Just like any good soup, garnishes are key. Be sure you serve this Ham and Bean Soup with some delicious crusty bread, cornbread, or biscuits and some hot sauce. A little spice goes a long way but really tops off this delicious soup.
I also enjoy this soup paired with corn on the cob, green beans and bacon, scalloped potatoes, or roasted sweet potatoes.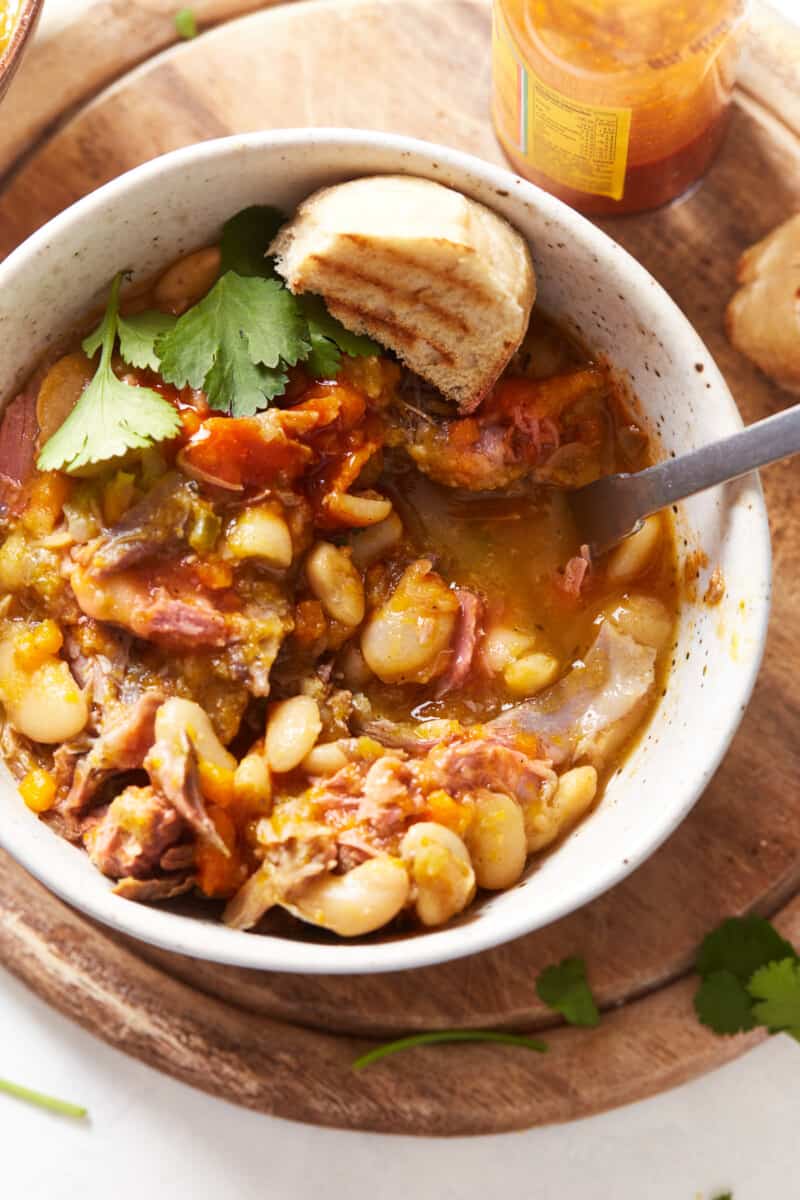 More Ham and Bean Soup Recipes We Love