These sheet pan scalloped potatoes are the perfect creamy potato side dish! Made from scratch, and indulgent but simple to make, this is a real show stopper! Perfect to feed a crowd at any occasion.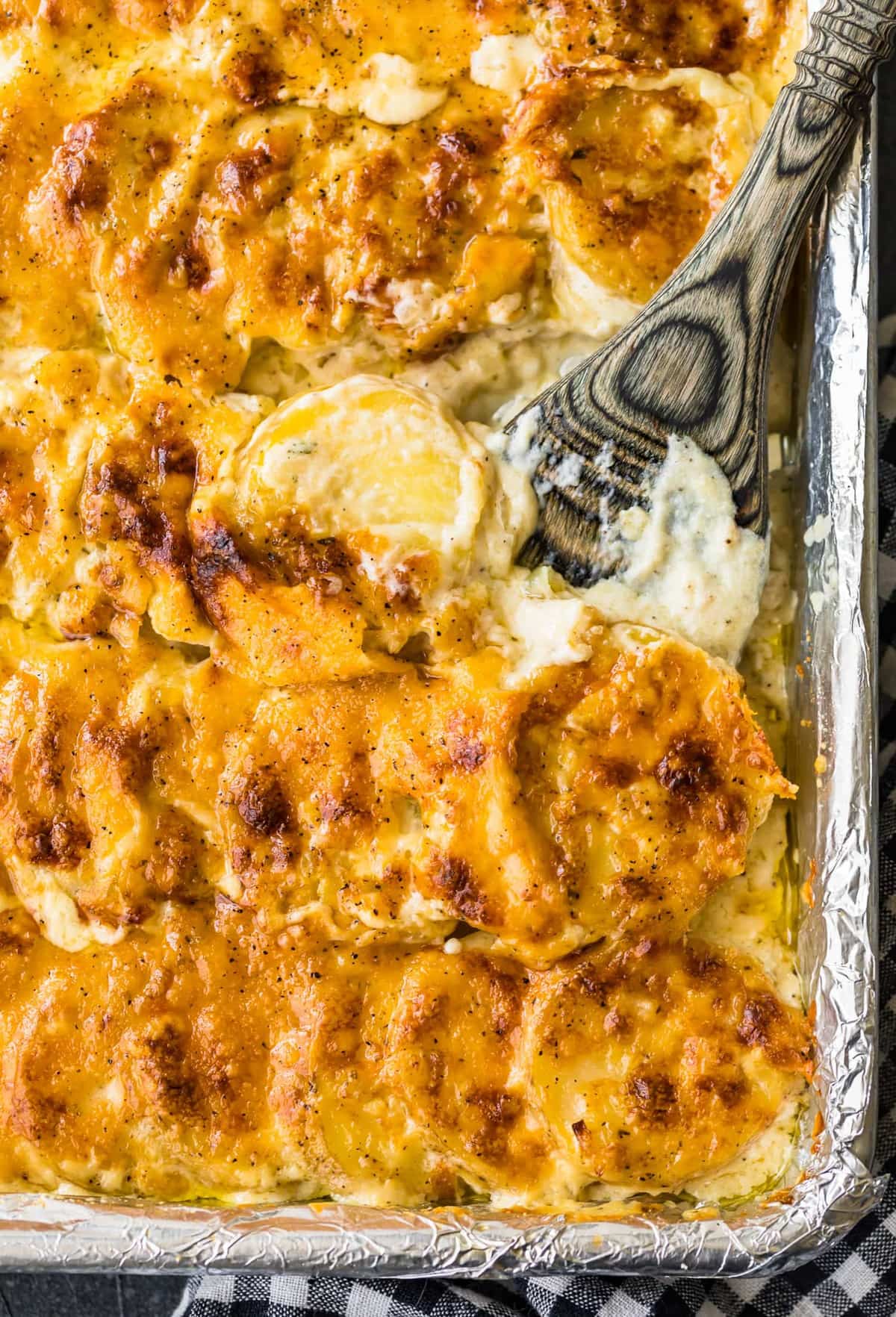 When it comes to side dishes, it really doesn't get much better than creamy scalloped potatoes! Super versatile and a delight to eat, it's so easy to make a huge batch for entraining!
How to make Sheet Pan Scalloped Potatoes
Line a large, rimmed baking sheet with nonstick cooking spray and heat oven to 450°F.
Heat a large skillet, over medium-low heat, and add the oil and butter. When the oil is hot and butter has melted, add the diced onion. Cook, stirring often, until the onion has softened and is translucent, about 5 minutes.
While the onions cook, scrub, dry and cut the potatoes into 1/8-inch slices. Pat the slices dry with paper towels and lay them (shingle-stylin the prepared baking sheet. The rows of potatoes should barely touch and the potatoes should fill the pan.
Season the potatoes with black pepper, and sprinkle them with half of the Gruyere and half of the Parmesan.
When the onions are ready, raise the heat to medium and add the cream, Dijon and herbs, stirring continuously. Heat just to a simmer and carefully pour the cream/onion mixture over the potatoes. Tilt the sheet pan slightly in all directions to spread the cream/onion mixture to the edges and corners of the pan. Season with additional freshly ground black pepper.
Top with the remaining cheeses; Gruyere first and Parmesan on the very top.
Cover the potatoes with foil that has been sprayed with non-stick cooking spray. Be sure to place the foil sprayed-side down.
Bake 15 minutes at 450°F and remove the foil.
Reduce the temperature to 375°F and continue baking 40-45 minutes or until the potatoes are cooked through, the edges are crispy, the middle is bubbly and the top is golden brown.
Transfer the potatoes from the oven and let cool 15 minutes before serving.
Enjoy!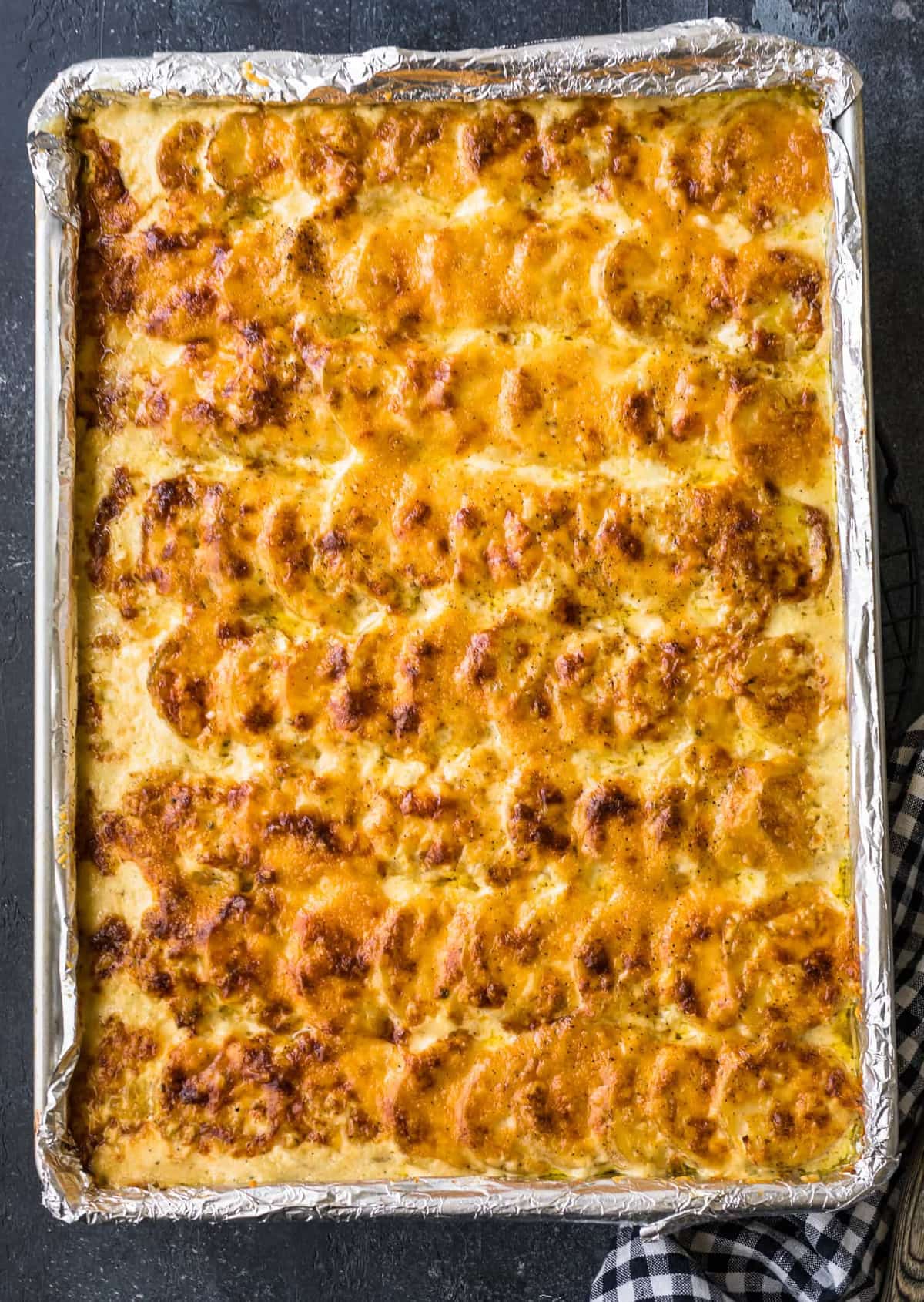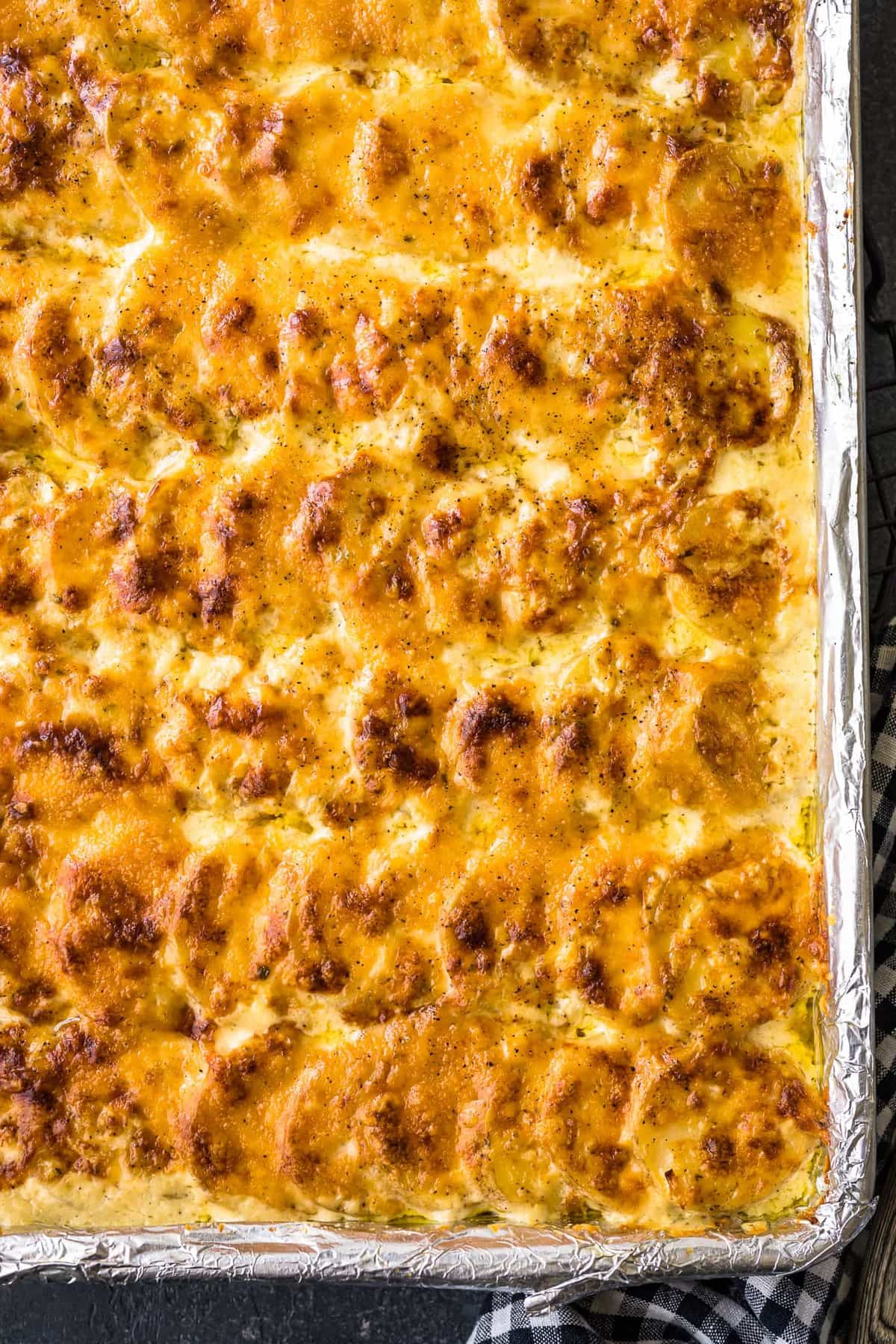 Creamy scalloped potatoes
This delicious scalloped potato recipe is one of my go to side dishes when entertaining – they are exactly what you need to be serving to guests!
They are so full of flavor and they feel like a real treat! By cooking them in a sheet pan, it's so easy to make enough to feed a small army and the potatoes cook so evenly. Cheesy and creamy, you really can't go wrong with these!
Make ahead potato side dish
Not only are these great for feeding several people (this recipe makes 10 servings!), but if you are being organized, you can also make the dish ahead of time.
Simply prepare the dish up to the point of baking it, cover it and keep it in the fridge for 2 to 3 days before cooking it through to serve.
You can also freeze the scalloped potatoes at this point and they will keep for a month – you can cook them right from frozen too!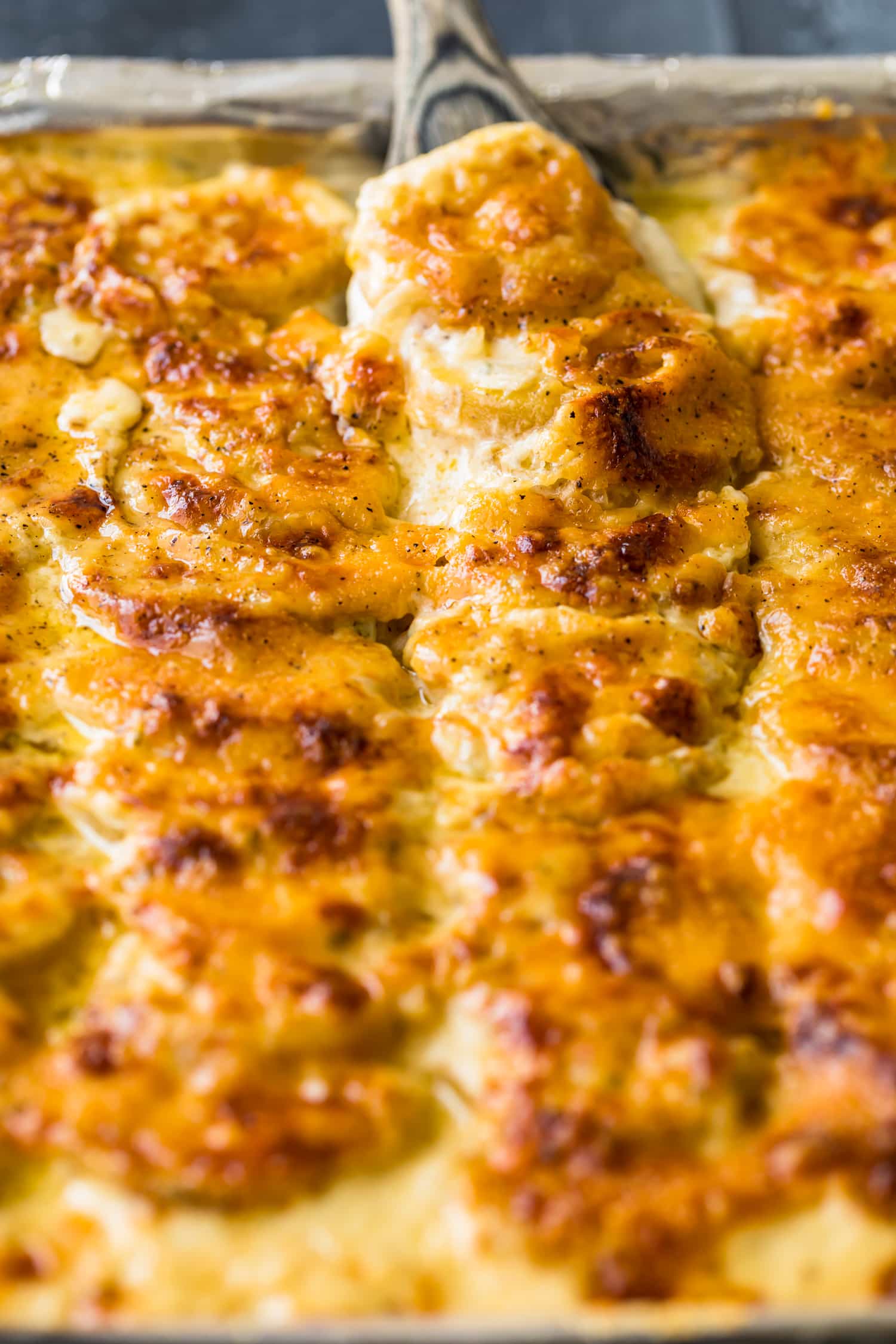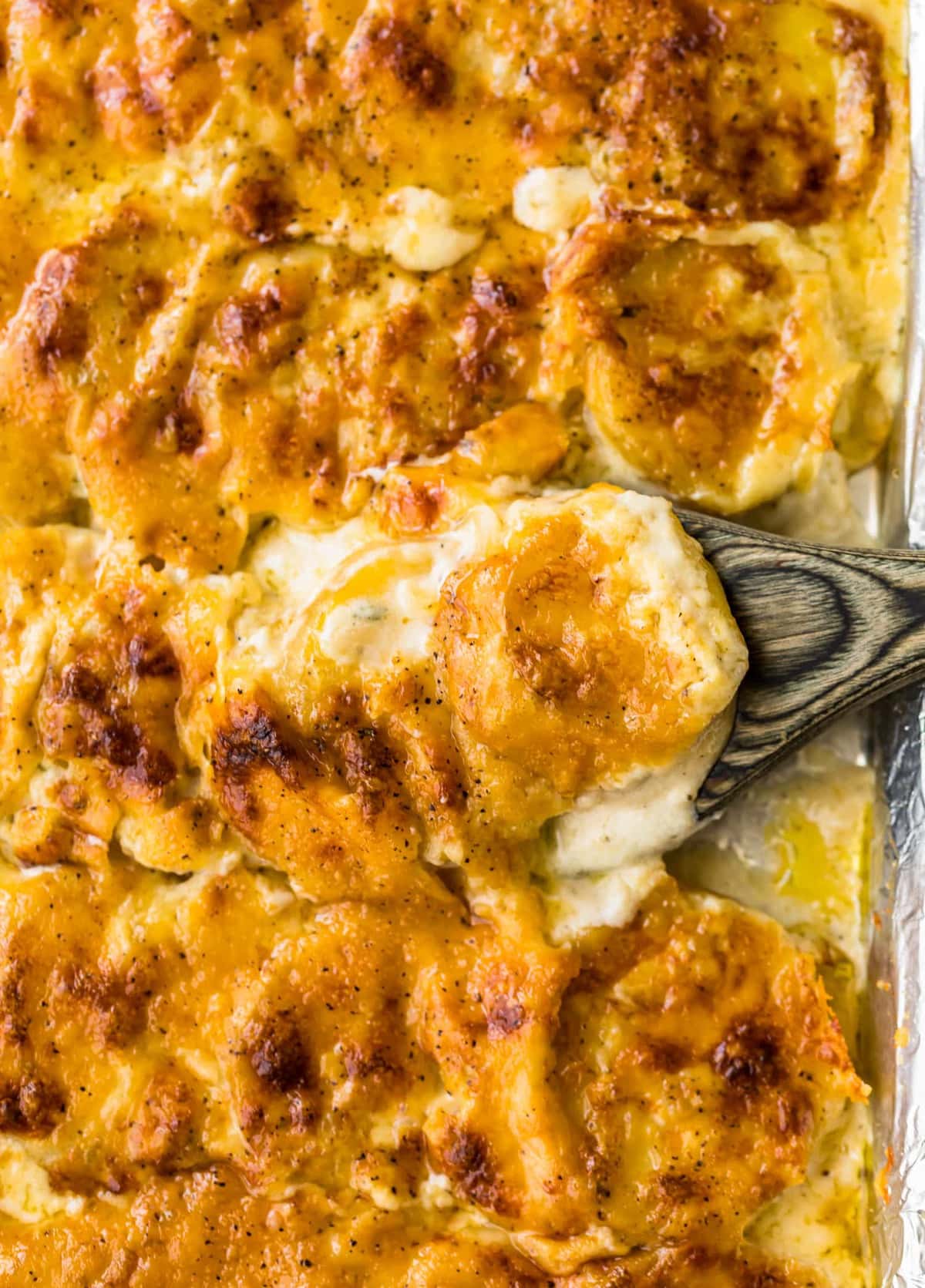 What to serve with this scalloped potato recipe
This potato side dish is so versatile, and it's great to serve with so many dishes. This is a perfect dish to serve for any big occasion like Thanksgiving, Christmas or Easter, alongside thanksgiving turkey or Herb Crusted Rack of Lamb.
They can also be served up with lighter weeknight meals such as Baked Pesto Salmon or Spinach Stuffed Chicken Breast – perfect for any leftovers!
Here are some other ideas for what to pair with Scalloped Potatoes: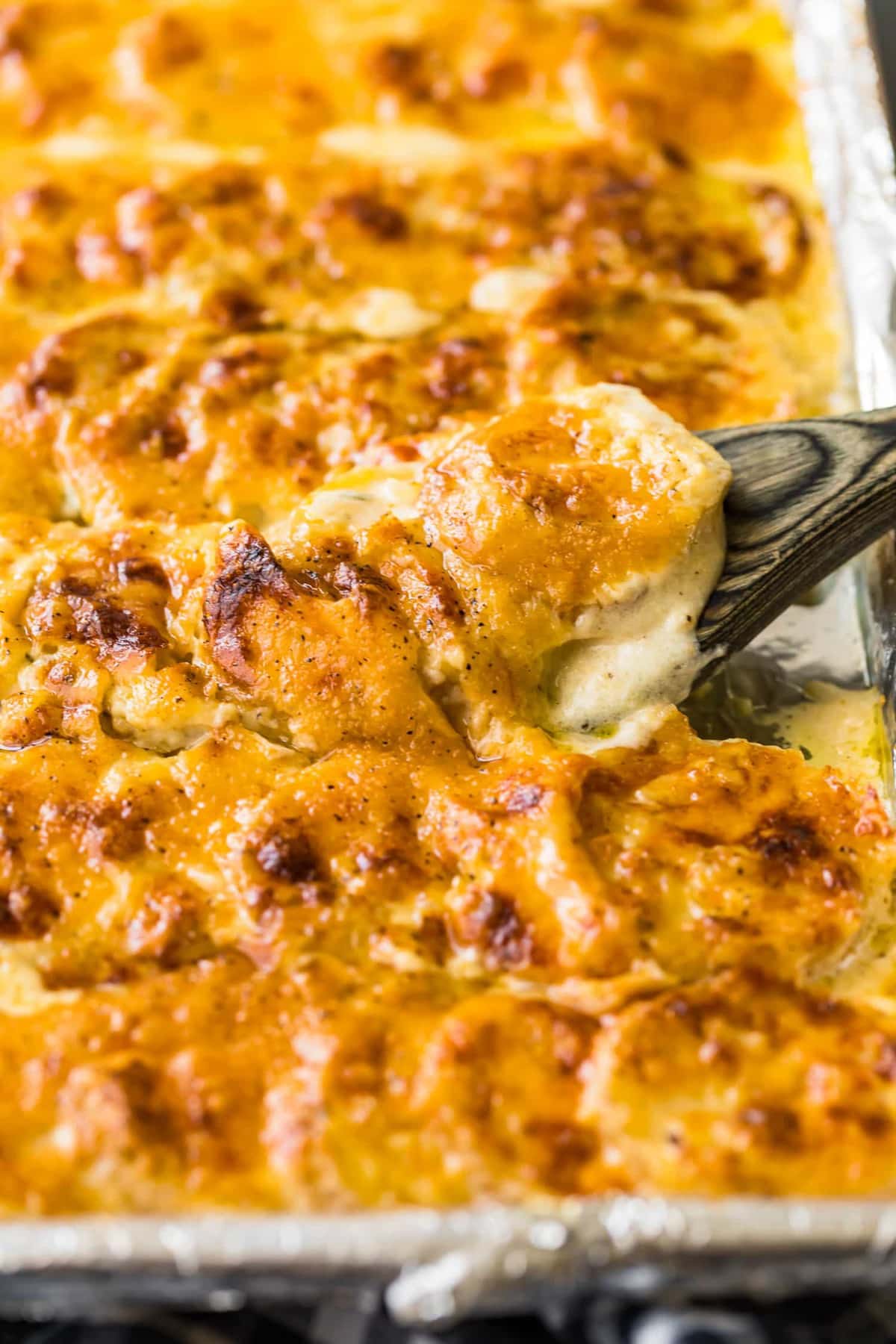 Top tips to make Sheet Pan Scalloped Potatoes
Yukon gold are the best potatoes to use in this recipe.
This recipe does not call for salt due to the sodium amounts in the cheeses. If you like things salty, you can add 1 teaspoon kosher salt when adding pepper.
Bake the potatoes in a pre-heated oven.
Leftovers and be covered in the fridge and reheated the next day.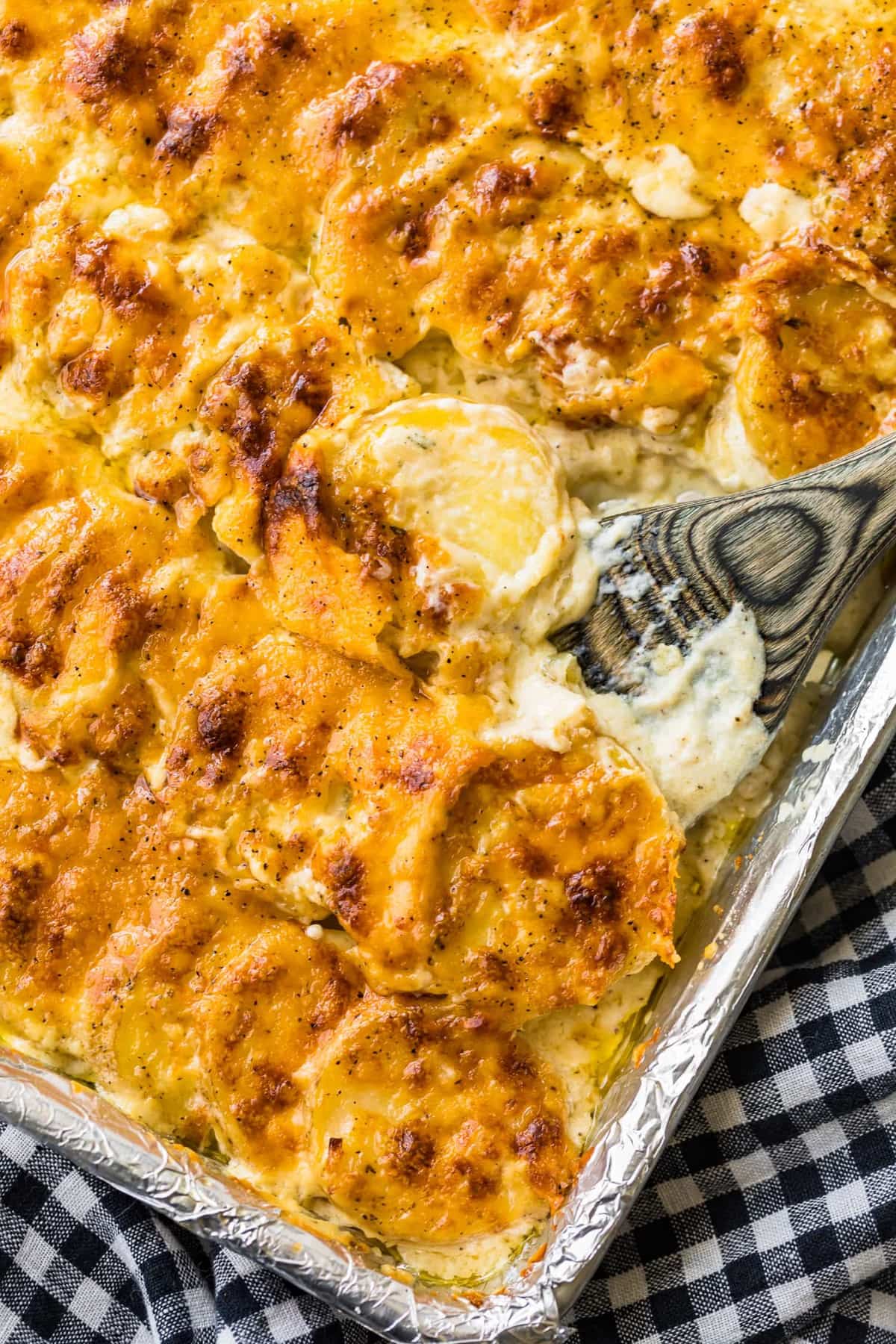 Be sure to check out these other potato side dish recipes!
Cheesy Vegan Mashed Potatoes Recipe (Dairy Free Mashed Potatoes)
Cheesy Potato Soup Recipe (Cheesy Potato Chowder)
Cheesy Potato Casserole (Hash Brown Potato Casserole Recipe)
Best Herb Roasted Potatoes (Simple Seasoned Potatoes)
If you make this recipe be sure to upload a photo in the comment section below or leave a rating. Enjoy! You can also jump to recipe.