Whip up this creamy Ham and Potato Soup recipe in just 30 minutes! This quick and easy soup is filled with cubes of ham, hearty potatoes, veggies, and a delightfully creamy base. It's the most comforting soup and it's perfect for busy weeknights.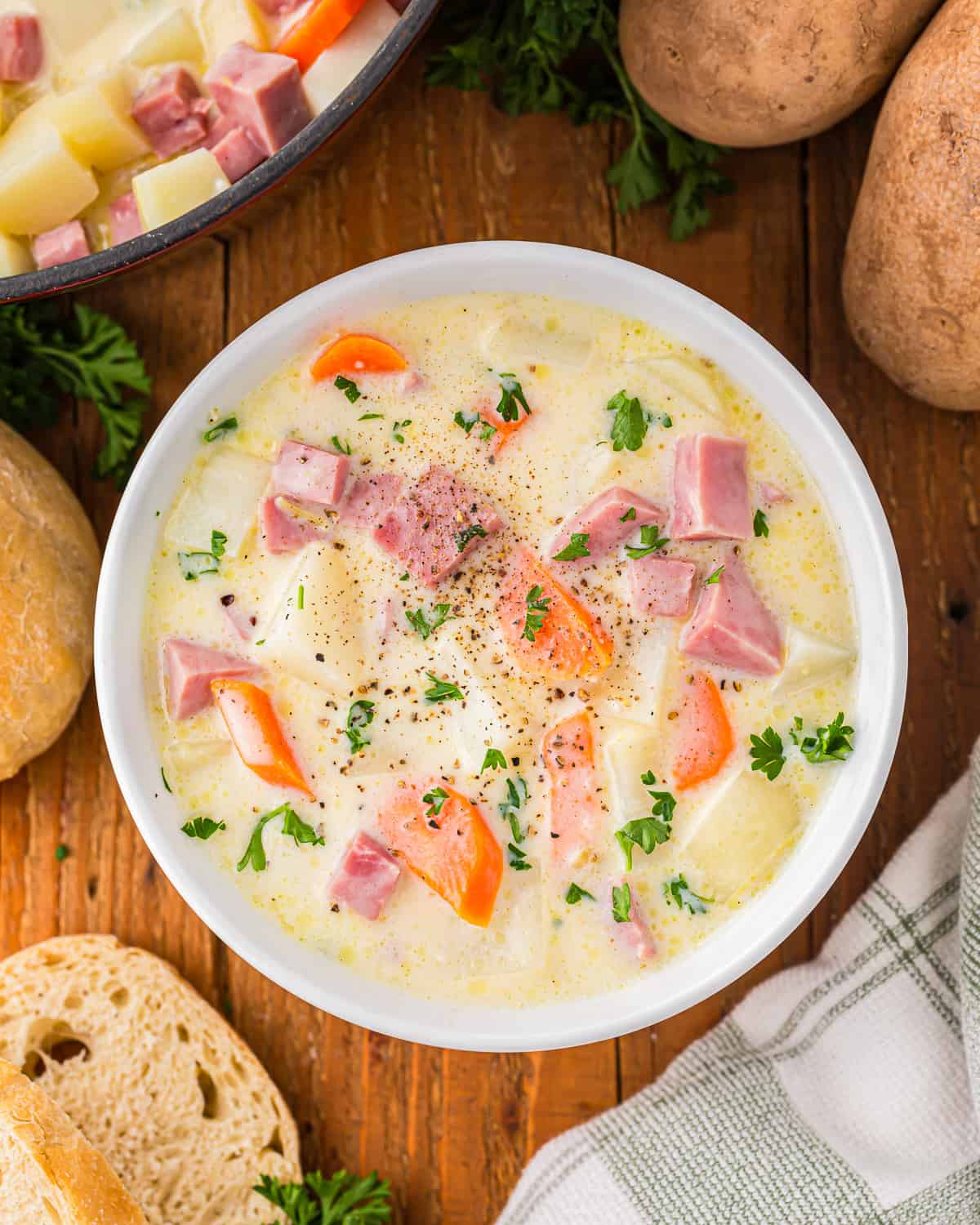 Why We Love This Ham and Potato Soup Recipe
To me, there is nothing more comfortable than a homemade pot of this Creamy Ham and Potato Soup. Here are some reasons why we make it time and time again:
Easy. Grab a few pantry staples, some leftover ham, and a couple other basic ingredients to make this easy ham and potato soup in just half an hour!
Creamy. Russet potatoes, cream of celery soup, and half-and-half make this soup silky smooth.
Flavorful. Carrots, garlic, and vegetable broth add so much flavor to this soup.
Variations on Potato and Ham Soup
There are so many fun ways to change up this creamy ham and potato soup recipe. Try some of these variations!
Spicy: Mix in chili powder and/or red pepper flakes with the other spices. Sprinkle pepper jack cheese on top. You could even mix in green chiles to really spice things up.
Protein Swap: Use cooked turkey or chicken instead of ham.
Load it Up: Mix in bacon crumbles, sliced jalapeños, broccoli bits, peppers, or anything you like. It would also taste great served with a dollop of sour cream on top!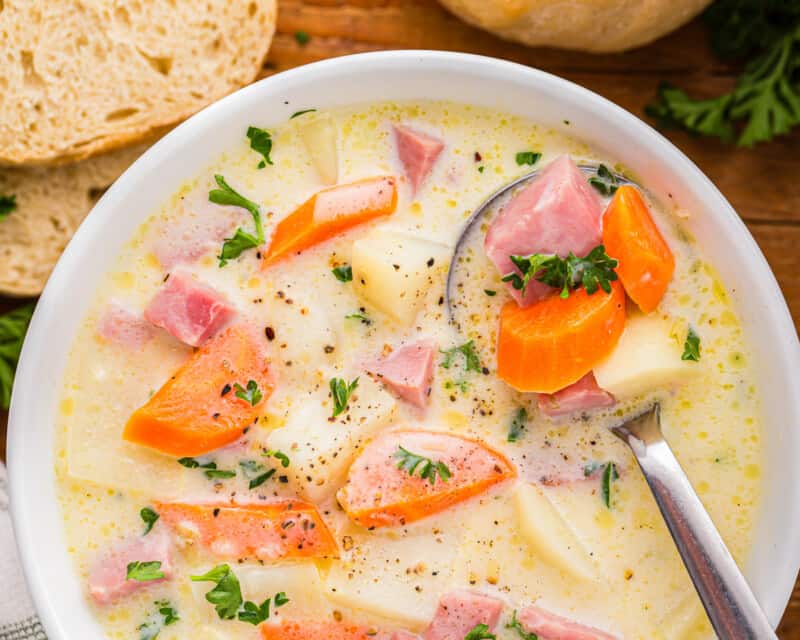 How to Store and Reheat
Store leftover ham and potato soup in an airtight container in the refrigerator for up to 4 days. Reheat in a saucepan set over medium-low or in the microwave in 30-second increments, stirring frequently, until warmed through.
I do not recommend freezing this soup, as the half-and-half tends to separate once thawed.
Serving Suggestions
Serve this creamy ham and potato soup with some homemade croutons, homemade cornbread, or our favorite Parker House rolls. It's also great with a chopped salad.
Which potatoes hold up best in soup?
I recommend Russets or all-purpose baking potatoes. These potatoes are high in starch and low in moisture, so they will soak up lots of liquid and lose their shape, creating a thick and delicious soup.
Can you leave the skin on potatoes for soup?
That's up to you! I chose to remove mine for a creamier, smoother texture, but you can leave them on if you like a chunkier texture.
Should I soak potatoes before putting them in soup?
There's no need to soak the potatoes before adding them to this soup. We want all of their excess starch to help thicken the soup.
How do you thicken ham and potato soup?
The starch in the potatoes should do most of the work, and the cream of celery soup will take it the rest of the way there!
What makes potato soup gummy?
If you process the potatoes too much, they will turn gummy and sticky in the soup. This is why I recommend adding them in chunks rather than mashing them.
Why does my potato soup have no flavor?
This soup should have plenty of flavor when made as written, but you can help brighten it up and accentuate the flavor even more by adding a squeeze of lemon juice or a dollop of sour cream!
More Potato Soup Recipes We Love
How to Make Ham and Potato Soup Step by Step
Melt the Butter: Melt 3 tablespoons of salted butter in a large Dutch oven set over medium heat.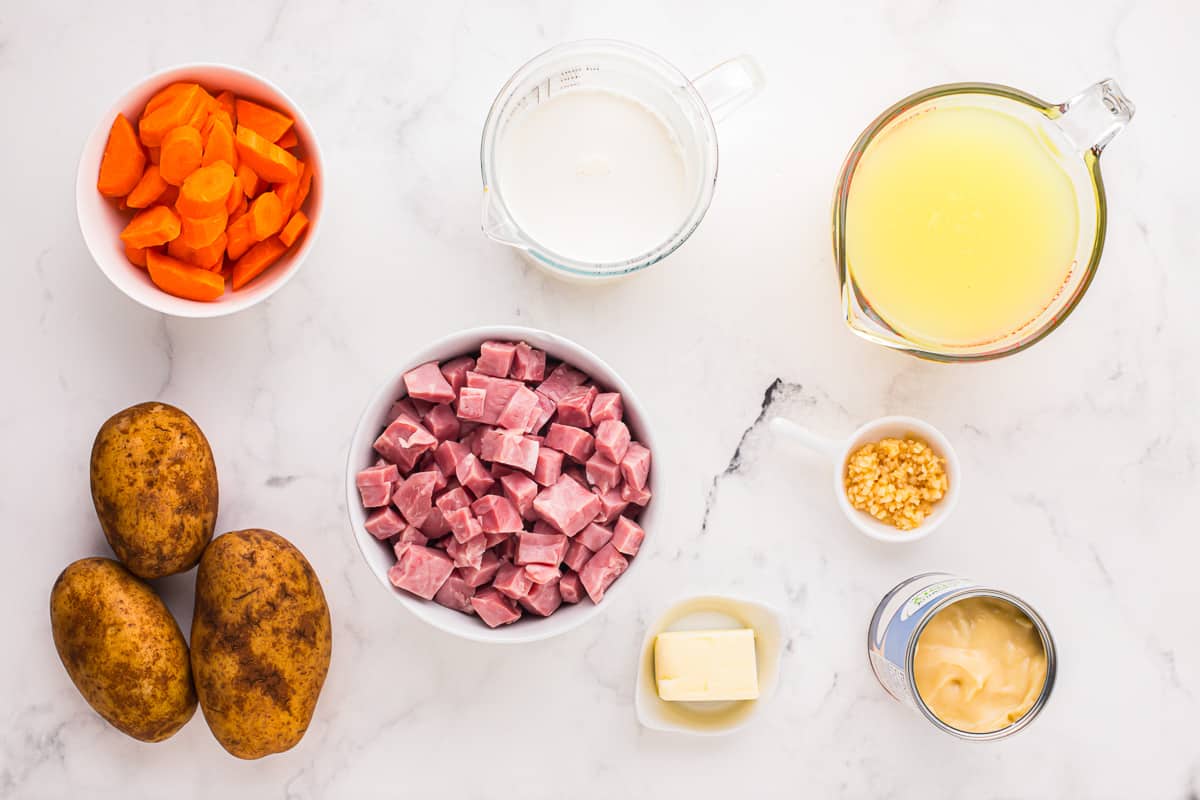 Cook the Veggies and Ham: Add in 1 pound of cubed ham, 1 cup of sliced carrots, and 1 tablespoon of minced garlic and cook for 3-5 minutes, or until the ham and garlic are fragrant and the carrots soften on the edges.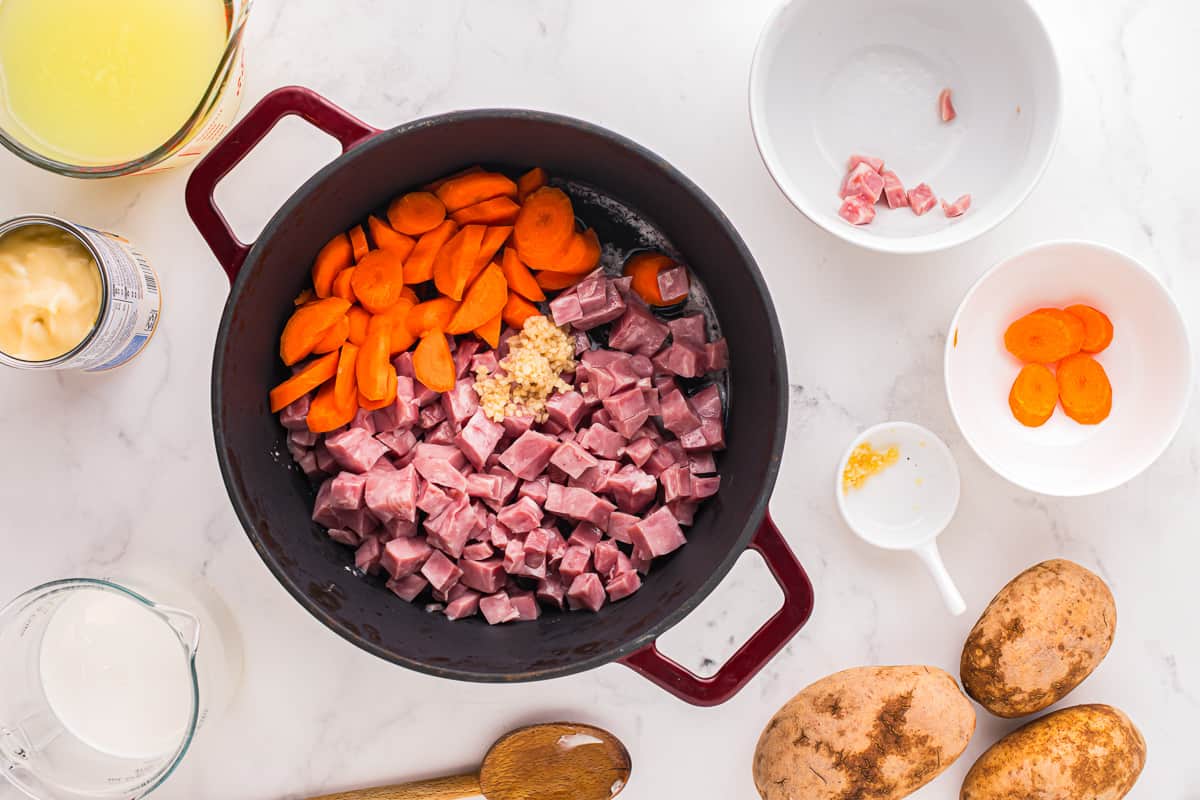 Add the Potatoes: Carefully and gradually mix in 3 peeled and cubed russet potatoes, 2 cups of low-sodium vegetable broth, and 10 ounces (1 can) of cream of celery soup, stirring until smooth.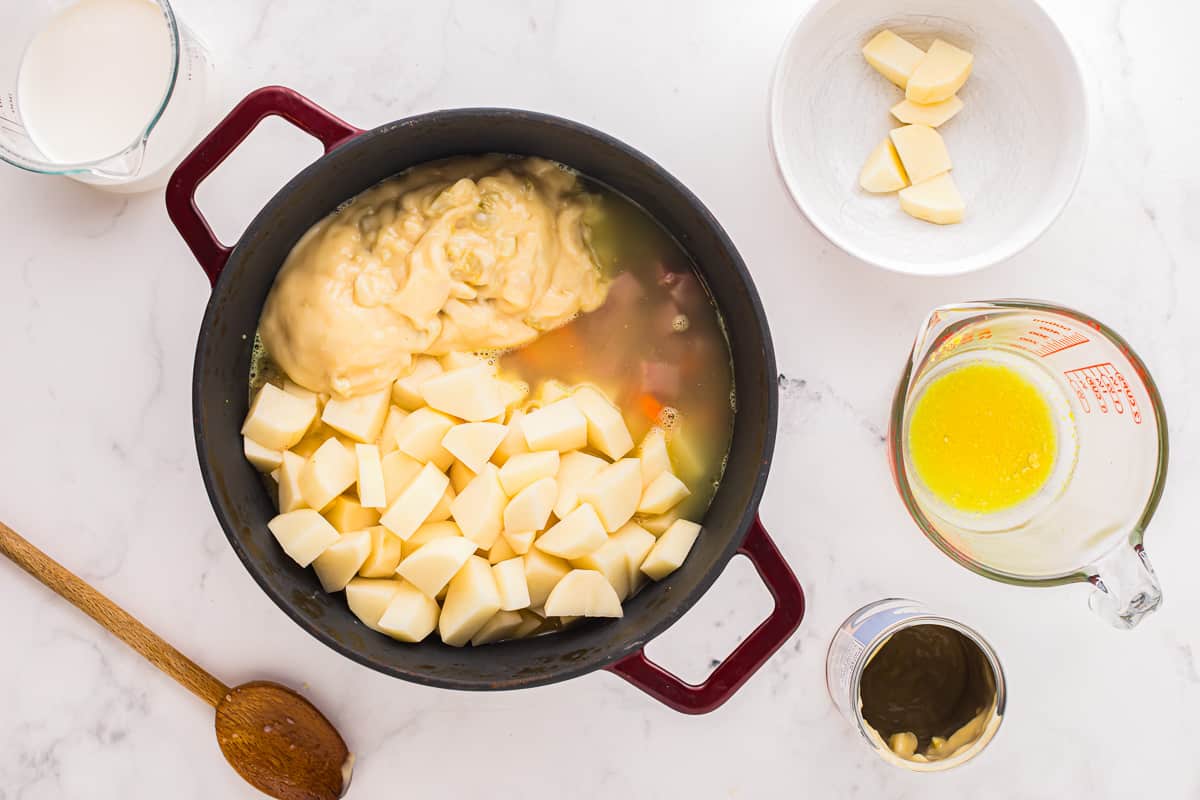 Cook the Soup: Bring to a low boil and allow the soup to cook for 15-18 minutes, or until the potatoes and carrots are easy to pierce with a fork. Be sure to stir often so nothing sticks to the bottom of the pot.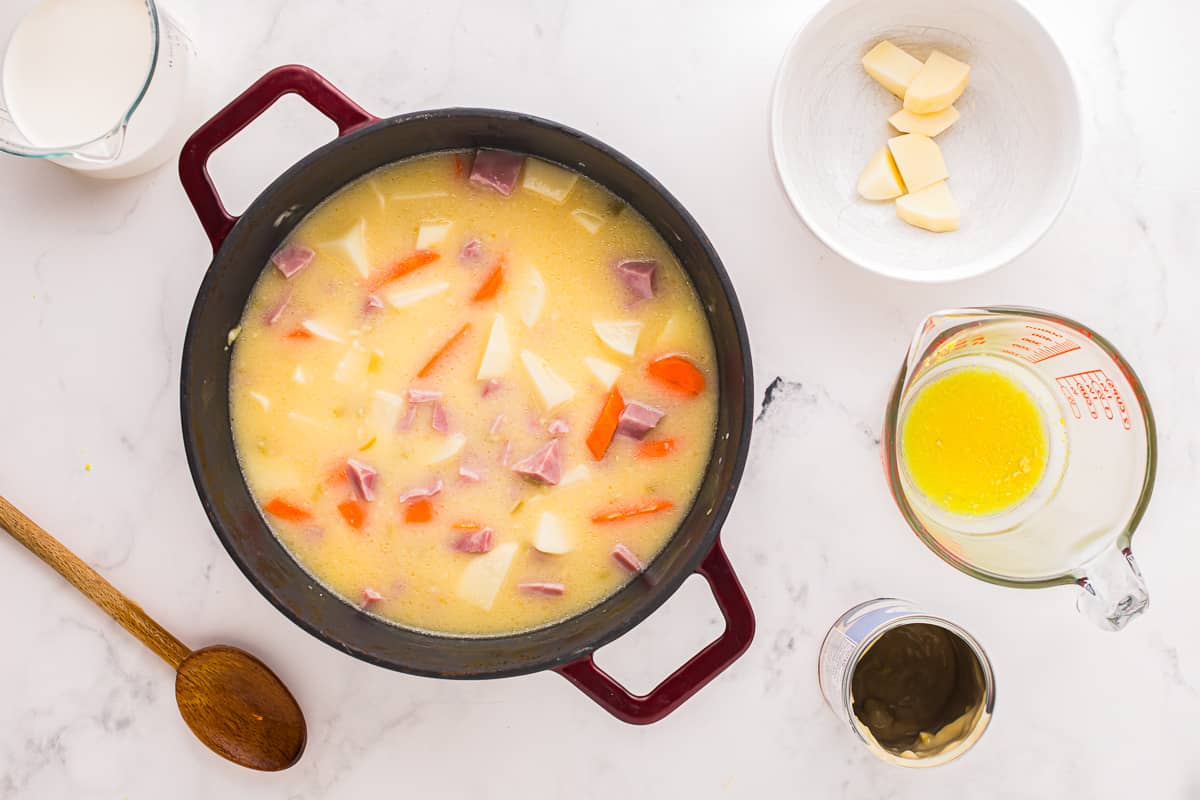 Add the Half-and-Half: Once the vegetables have softened, remove the pot from the heat and stir in 1 cup of half-and-half.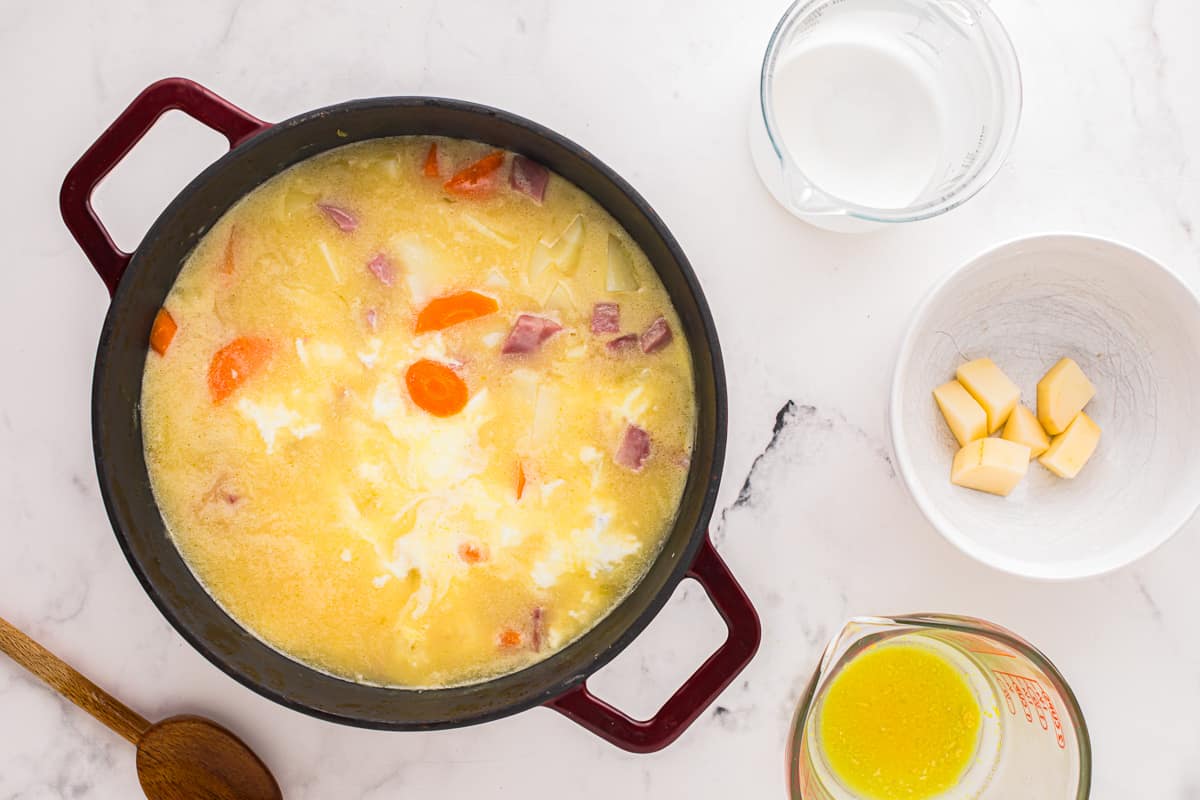 Serve the Soup: Serve hot, garnished with black pepper and chopped parsley if desired.