If you are looking for a standout side dish for Thanksgiving, this maple roasted sweet potato casserole is a certified crowd pleaser! Easy to prep, it's just the right amount of sweet and the walnuts add an amazing texture!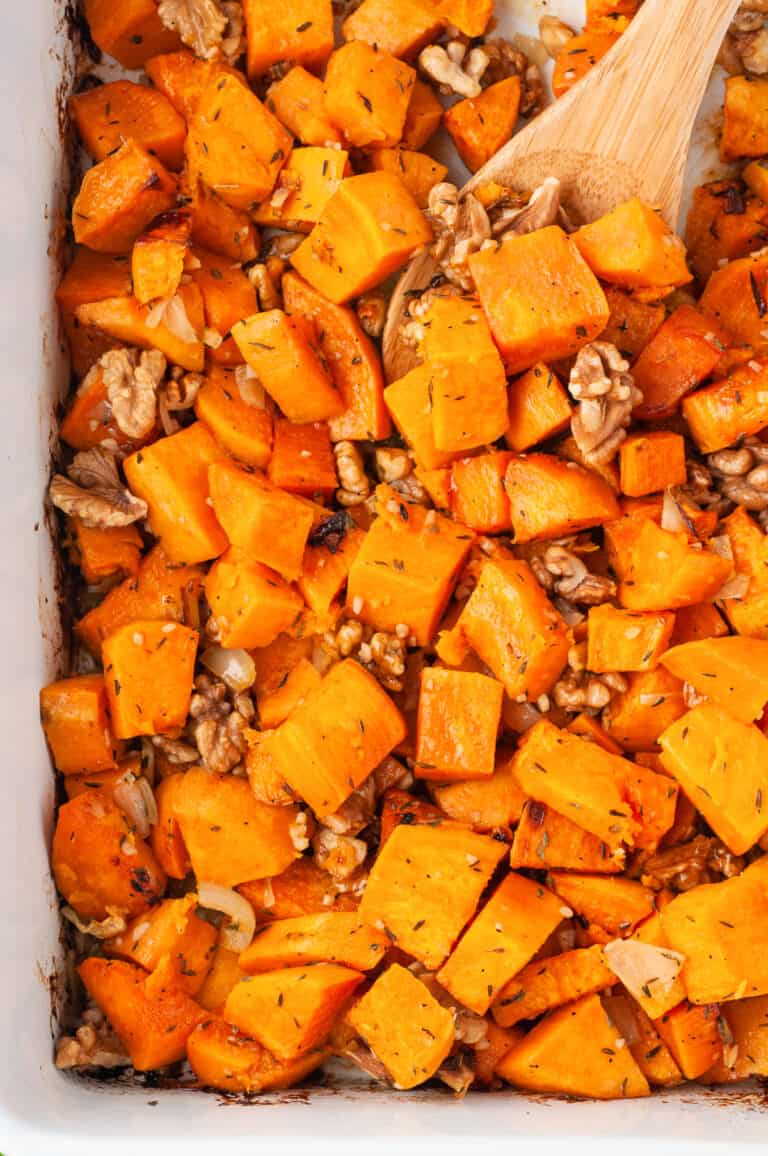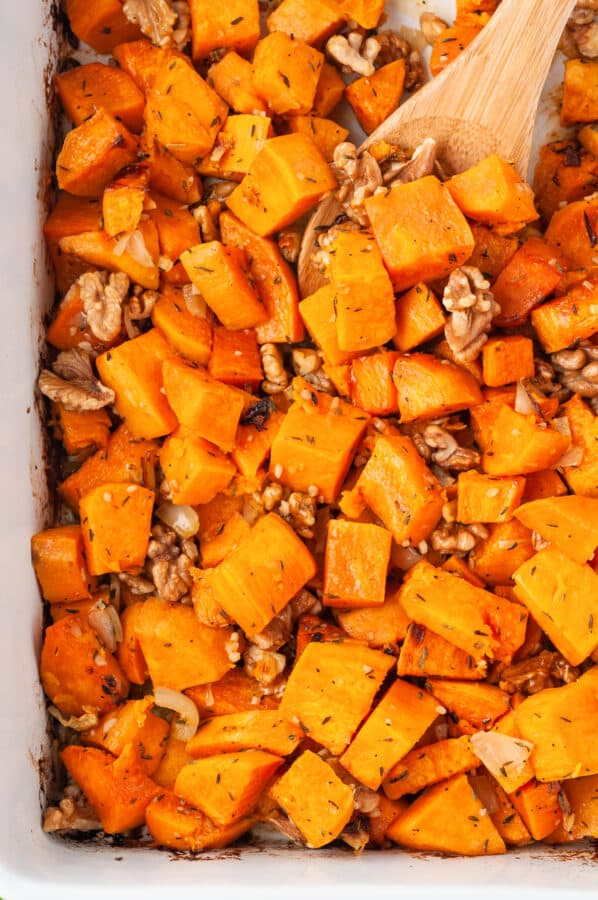 One of my favorite parts of planning Thanksgiving and the holidays is working out what side dishes to make and serve. I always have to have some form of sweet potato on the table, and this year, the comes in the form of these delicious roasted sweet potatoes.
Glazed with maple syrup, cooked with garlic and herbs and finished with earthy walnuts. I guarantee that everyone will be asking you for this recipe!
If you need more sweet potato recipe inspiration, be sure to check out my Savory Mashed Sweet Potatoes and Candied Sweet Potatoes and have a browse through my 62+ EASY Thanksgiving Side Dishes!
Why you will love this roasted sweet potato side!
Vegan: This recipe is a great choice if you are catering for vegetarians or vegans. It's also gluten-free.
Easy to prep: It takes no more than 10 minutes to make this dish before it goes into the oven to roast. It's perfect if you are planning ob making several different dishes!
Make ahead: You can easily do the prep work the day before making things a lot less stressful on the day.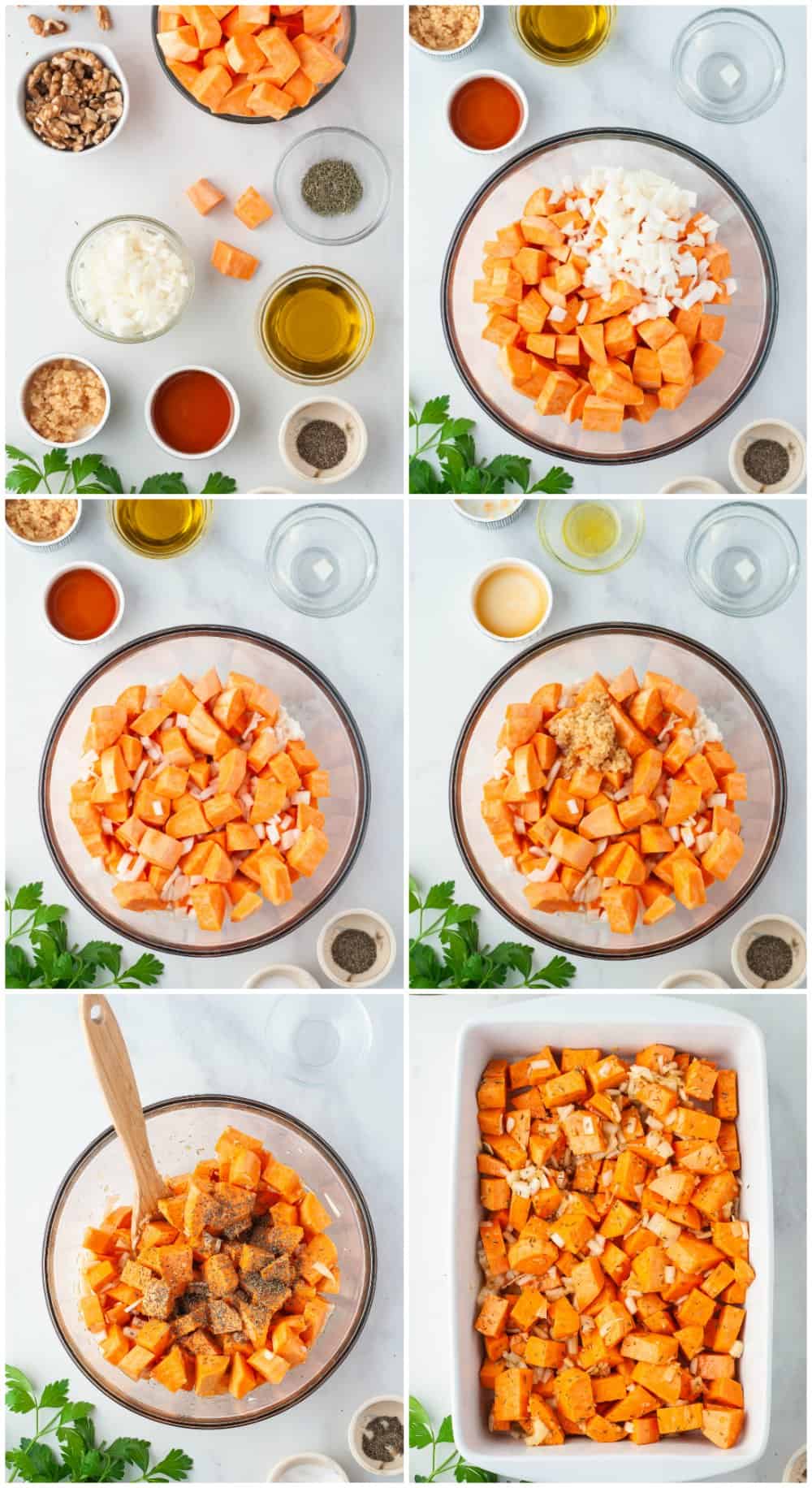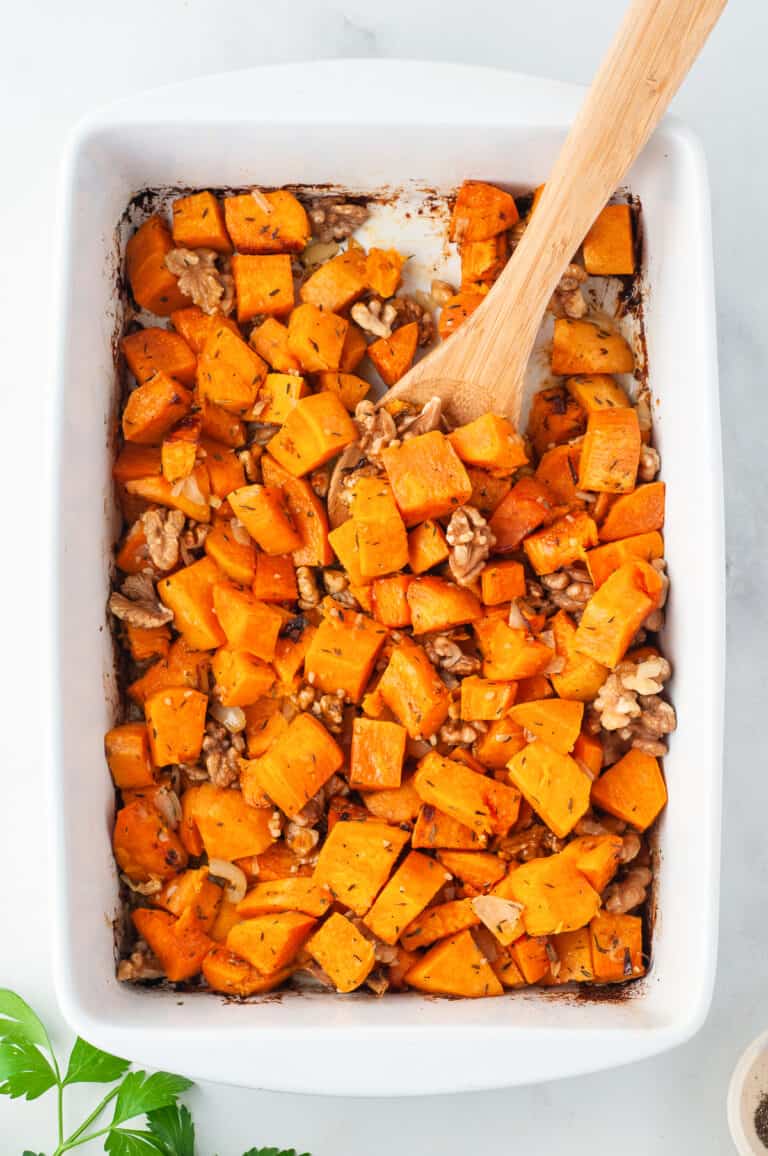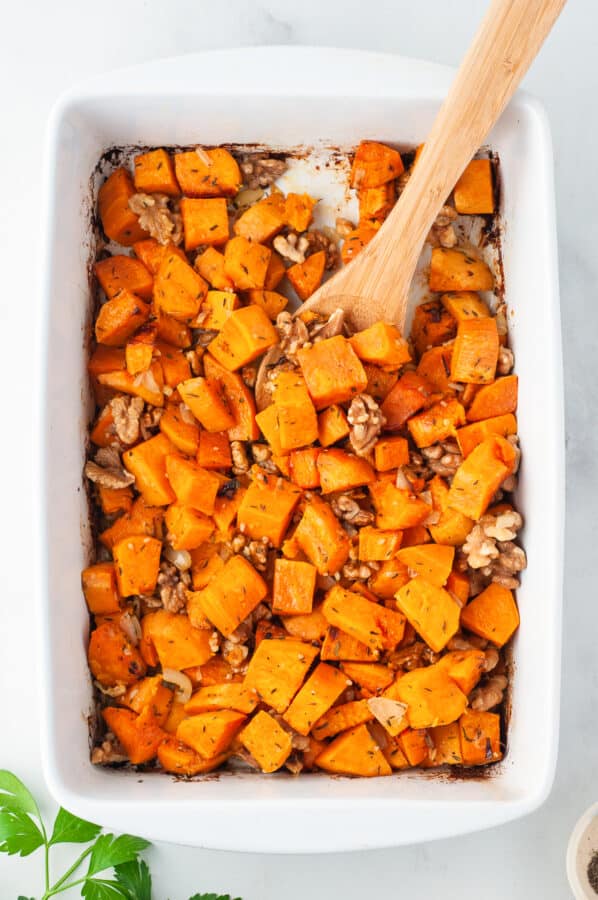 How to make maple roasted sweet potatoes
Be sure to scroll down for the full recipe!
Peel and chop the onion and sweet potatoes.
Toss them in oil, maple syrup and garlic and season.
Bake on a sheet pan until soft and browned.
Stir in the walnuts, cook for another few minutes and serve.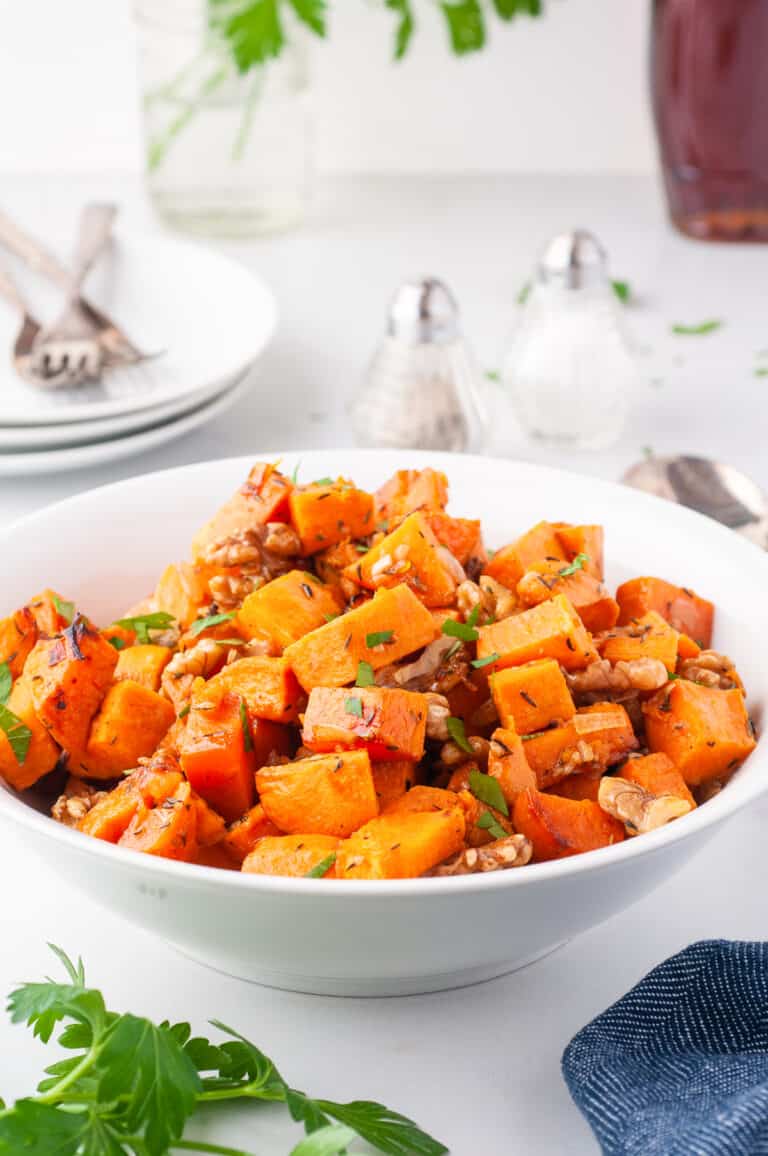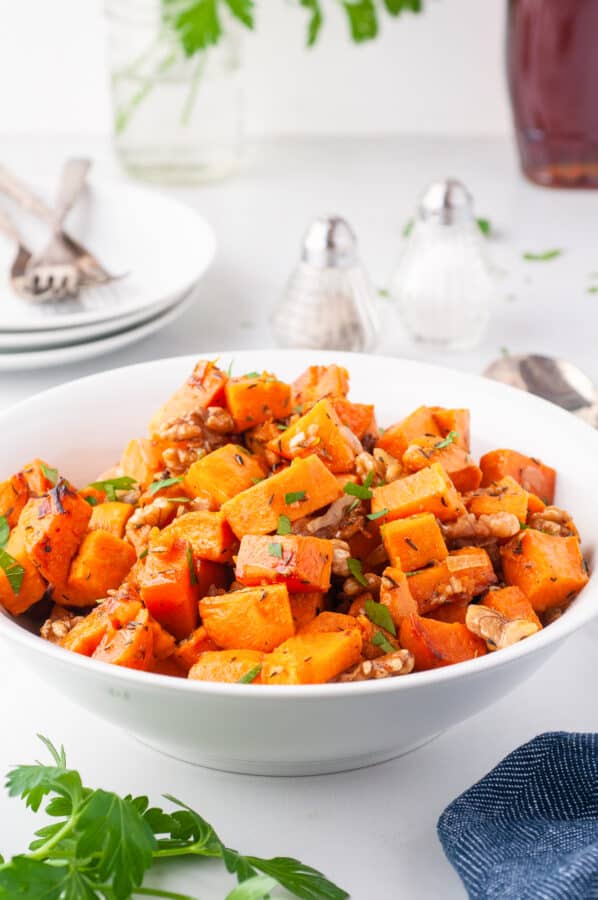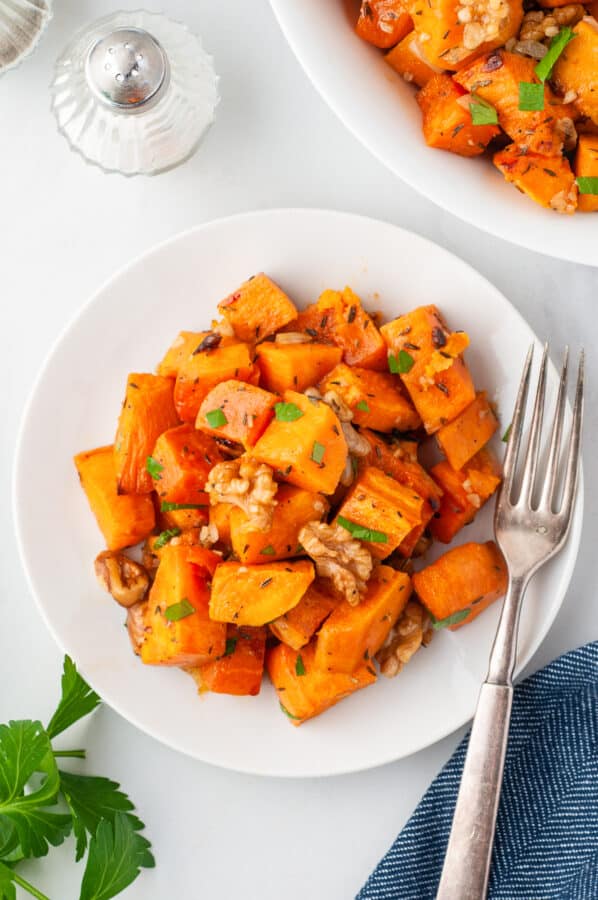 Can you make them ahead of time?
You can prep the whole dish the night before and keep it covered in the fridge until you are ready to cook.
Once roasted, the potatoes are best served straight away, but if you do have leftovers they can be stored in the fridge for 3 to 4 days and reheated in the oven.
What do you serve them with?
This sweet potato side dish is perfect to serve as part of any holiday menu, serve them up with your other favorite sides along with turkey, pork, chicken or beef. Try them with:
Do you have to boil sweet potatoes before roasting?
Because sweet potatoes are softer than regular potatoes when roasted, there is no need to par-boil them. Simply peel (although even this step is optional!) and dice them and they are ready to go in the oven.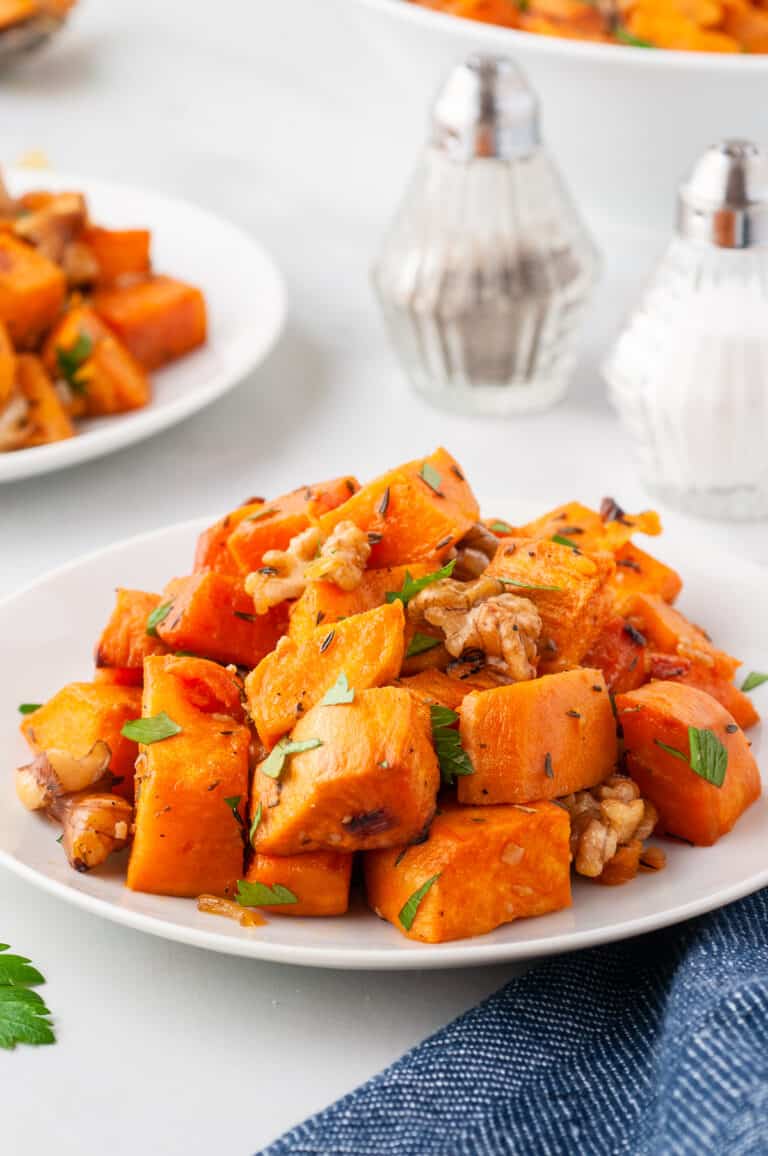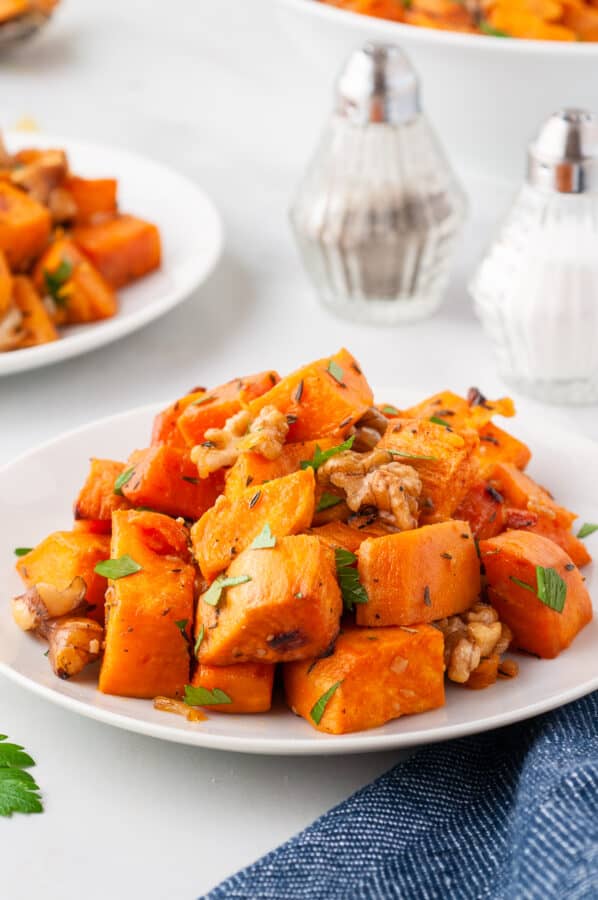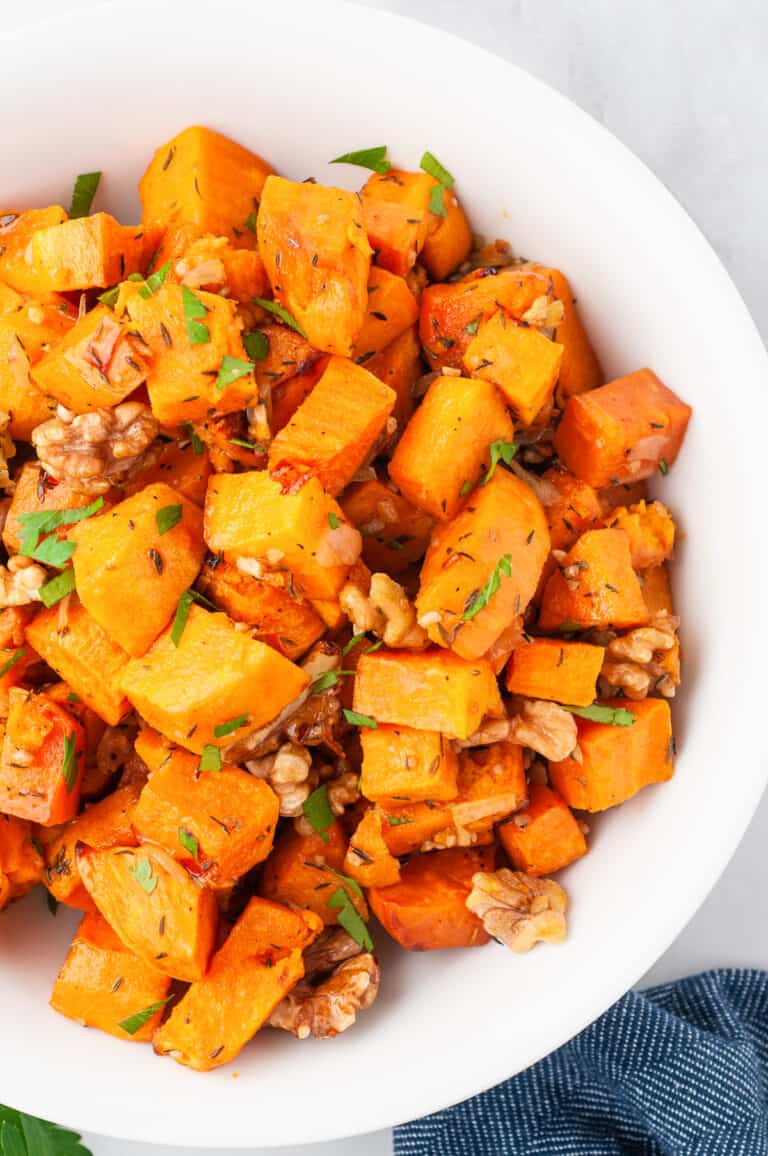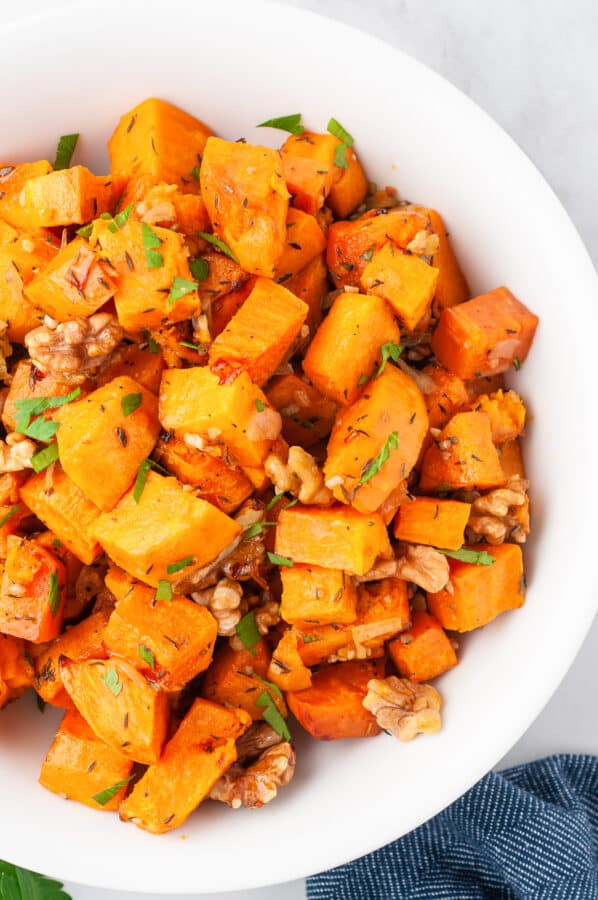 Recipe Notes and Tips
Pecans can be substituted for the walnuts in this recipe.
Store in the refrigerator in an air-tight container for up to 3 days.
Potatoes can be reheated by placing them in a baking pan in the oven at 350F for 15-20 minutes. They will be a little softer than when they were originally cooked.
Try to cut the potato cubes roughly the same size to ensure even cooking.
I prefer the texture of the sweet potatoes when they have been peeled, however, the skin is edible and you can leave it on if you wish.Cooking time may vary depending on the size of the pieces of sweet potato.
Check the doneness of the potatoes by testing them with a fork. They are done when they are tender.
If you don't have maple syrup, you can substitute it with honey.