How to Cook Corn on the Cob: We have mastered all the tips and tricks for how long to boil corn on the cob, what to add in to make the corn extra tender and delicious, and fool-proof ways to cook to perfection every time. This Perfect Corn on the Cob is our very favorite Summer Side Dish.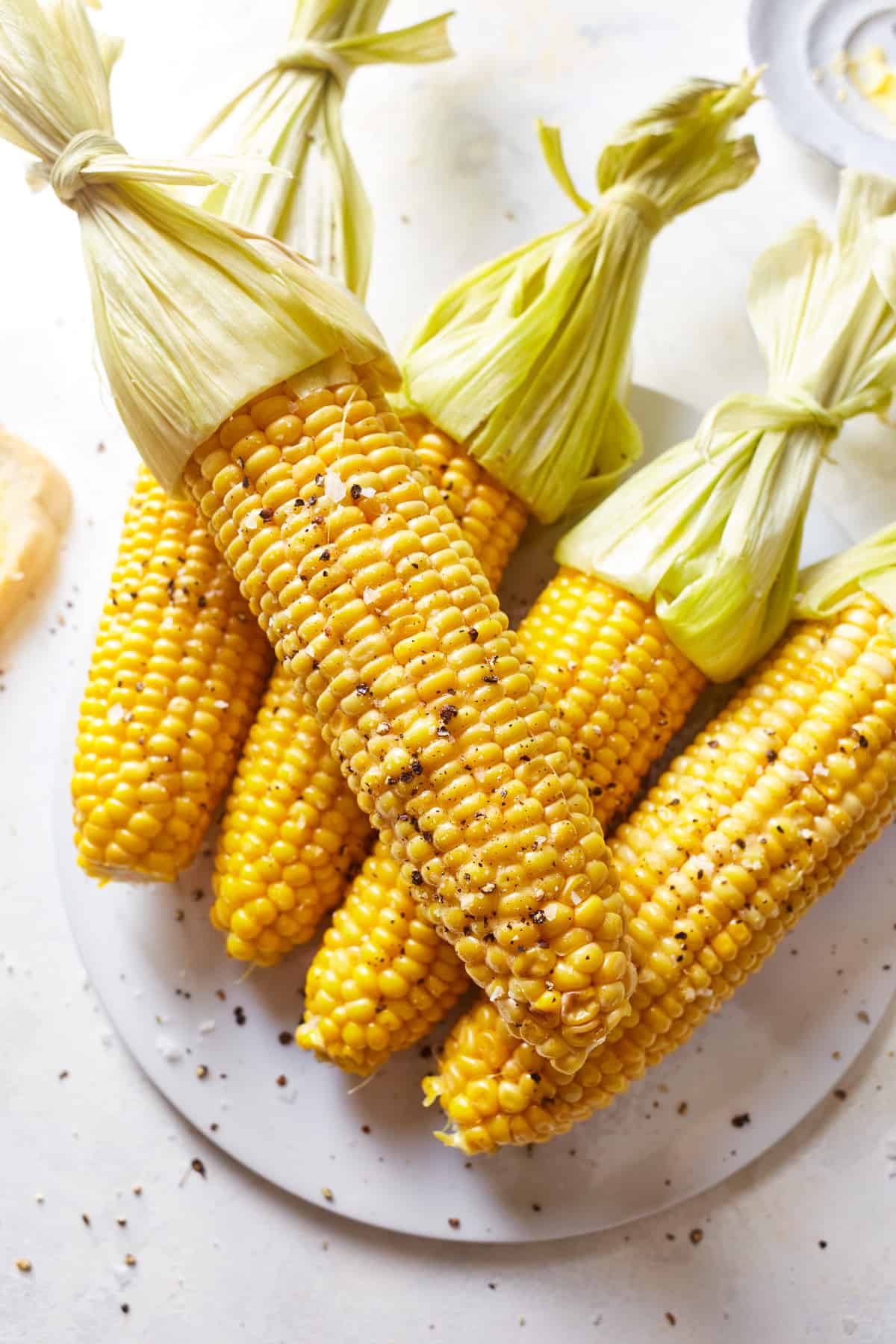 What's in Boiled Corn on the Cob?
It's not too late in Summer to make this favorite Summer Side Dish recipe. As long as you can get fresh produce, this recipe for boiling Corn on the Cob is a must-make.
Corn: There's nothing like fresh sweet corn! Gently pull back the top of the husk just enough to see the kernels. If they look plump and juicy, you've picked a good ear. If they look withered or deflated, choose another ear.
Sugar: Just a hint of sugar helps bring out the natural sweetness of the corn. You can skip this if you like your corn more savory.
Water: Of course, for boiling corn, we need water!
Pro Tip: For instant buttered corn, add 2 tablespoons of butter to the boiling sugar-water before adding the corn.
Variations on How to Cook Corn on the Cob
How to Bake Corn on the Cob:
Heat oven to 450°F. Husk corn and remove silk. Rinse off/clean the corn.
Place each ear on a piece of foil. Spray cooking spray on all sides of ears. Sprinkle with salt and pepper. Wrap each ear in foil.
Place sealed ears in the oven and bake about 20 minutes or until corn is tender.
Preheat an outdoor grill for high heat and lightly oil grate.
Husk corn and remove silk. Rinse off/clean the corn. Place 1 tablespoon butter, salt and pepper on each piece of corn.
Wrap each ear of corn in aluminum foil. Place on the prepared grill. Cook for approximately 30 minutes or until soft and tender.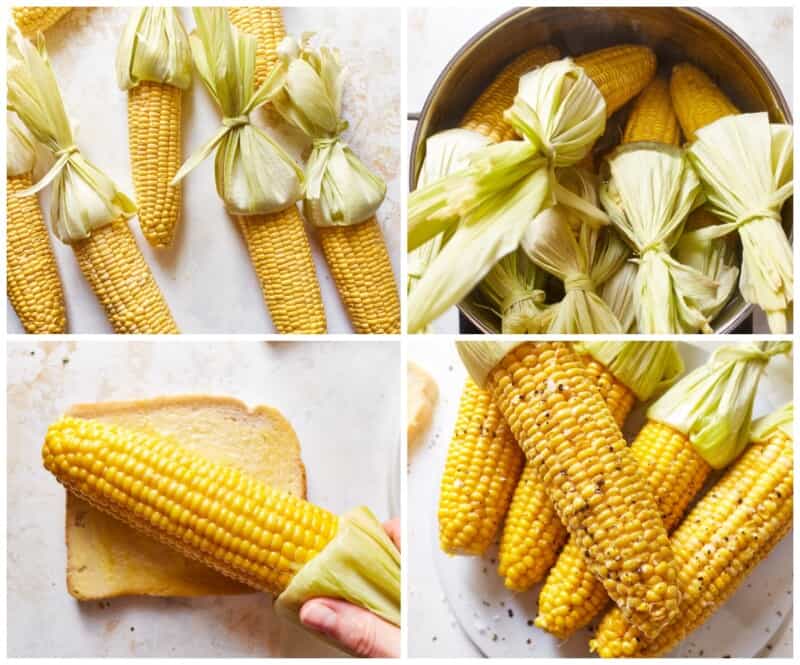 Is corn on the cob healthy?
Corn is a great low-glycemic food that is slowly digested and doesn't cause spikes in blood sugar. It also contains vitamins and minerals, such as vitamin B, zinc, magnesium, and iron.
Do you need to wash corn on the cob?
You should peel back the husks and remove the silks from each ear of corn on the cob, and rinse with water to clean. Rinsing in cold water should be enough before boiling the corn.
How long do you boil corn on the cob?
Boiling corn on the cob is a short process, taking as little as 1 minute!
How can you tell when the corn on the cob is done cooking?
A fun tip for cooking corn on the cob is when it's done, it will steam off moisture quickly. If you remove the corn from the water, it will dry quickly when done. Interesting, right?
Can I bake Corn on the Cob instead of boiling?
You can! We have written this recipe for how to boil corn on the cob, but if you prefer baking or grilling your corn, you can absolutely do that. See above for how!
Can dogs eat corn on the cob?
No! While corn off the cob is safe for dogs, corn on the cob can pose a life-threatening choking hazard.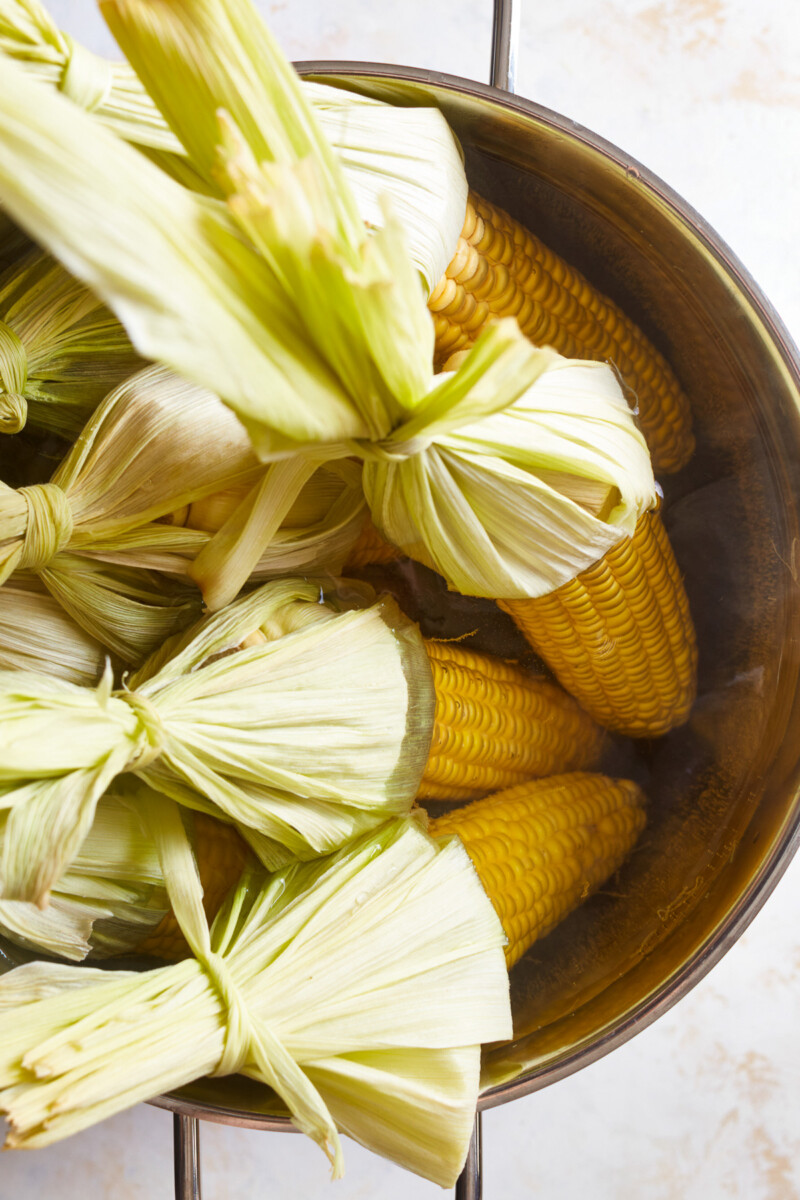 How to Store and Reheat Stovetop Corn on the Cob
Store leftover corn on the cob in an airtight container in the refrigerator for up to 5 days. Reheat in a 400°F oven in a covered baking dish with 2 tablespoons of water in the bottom for about 5 minutes.
How to Freeze Fresh Corn on the Cob
Freeze corn on the cob tightly wrapped in plastic wrap in a Ziplock bag for up to 6 months. Let thaw overnight in the refrigerator before reheating. I like to cut the corn off the cob before freezing it so I have corn kernels ready for soups and stir-fries!
What to Serve with the Best Corn on the Cob
This tender, sweet corn pairs well simply with a little butter and salt. Add a bit of your favorite seasoning, like ranch or Creole seasoning for a bit of a kick. A bit of honey butter would also be delicious! Top it with sour cream, cheese, and taco seasoning for an easy street corn!
Corn on the cob makes a great side to grilling classics like BBQ chicken, St. Louis ribs, pork chops, or grilled ribeyes.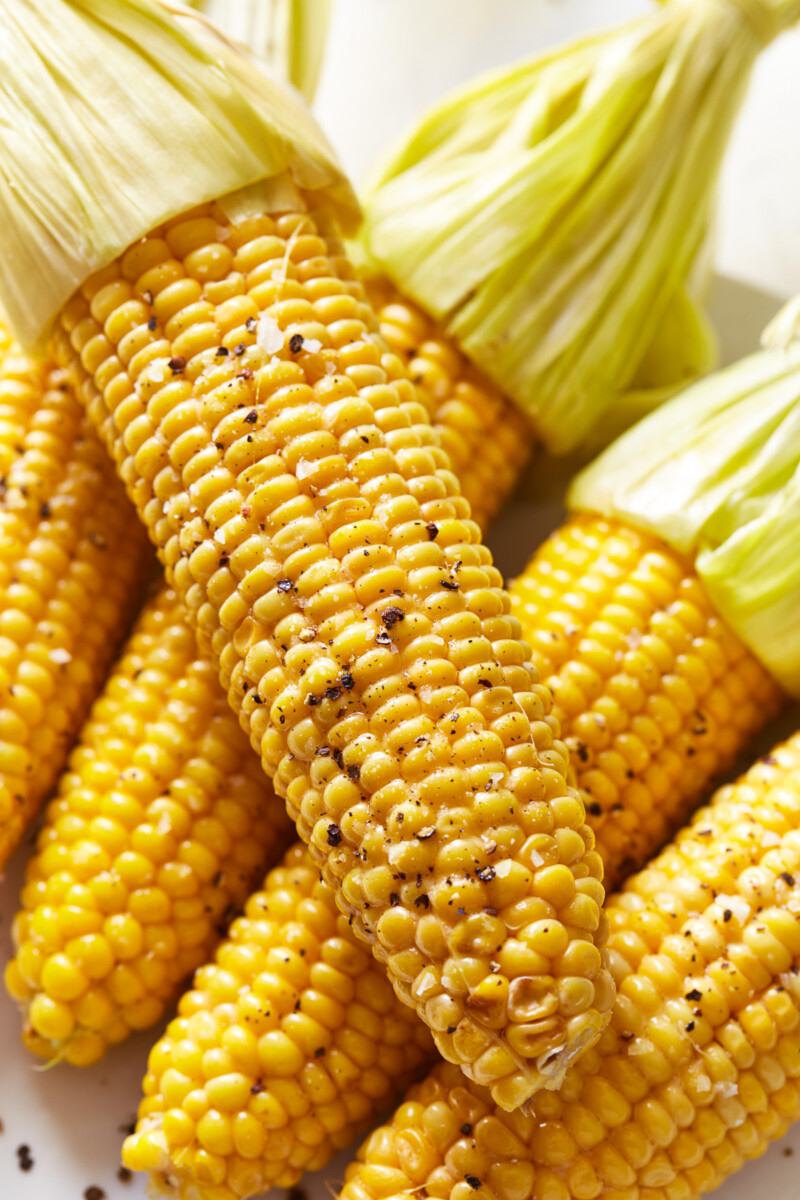 More Corn Recipes We Love