Au Gratin Potatoes are a stunning side dish that deserve a spot on your holiday lineup! Thinly sliced potatoes and onions baked in a rich, creamy sauce with a delicious cheesy crust will have the whole family smitten.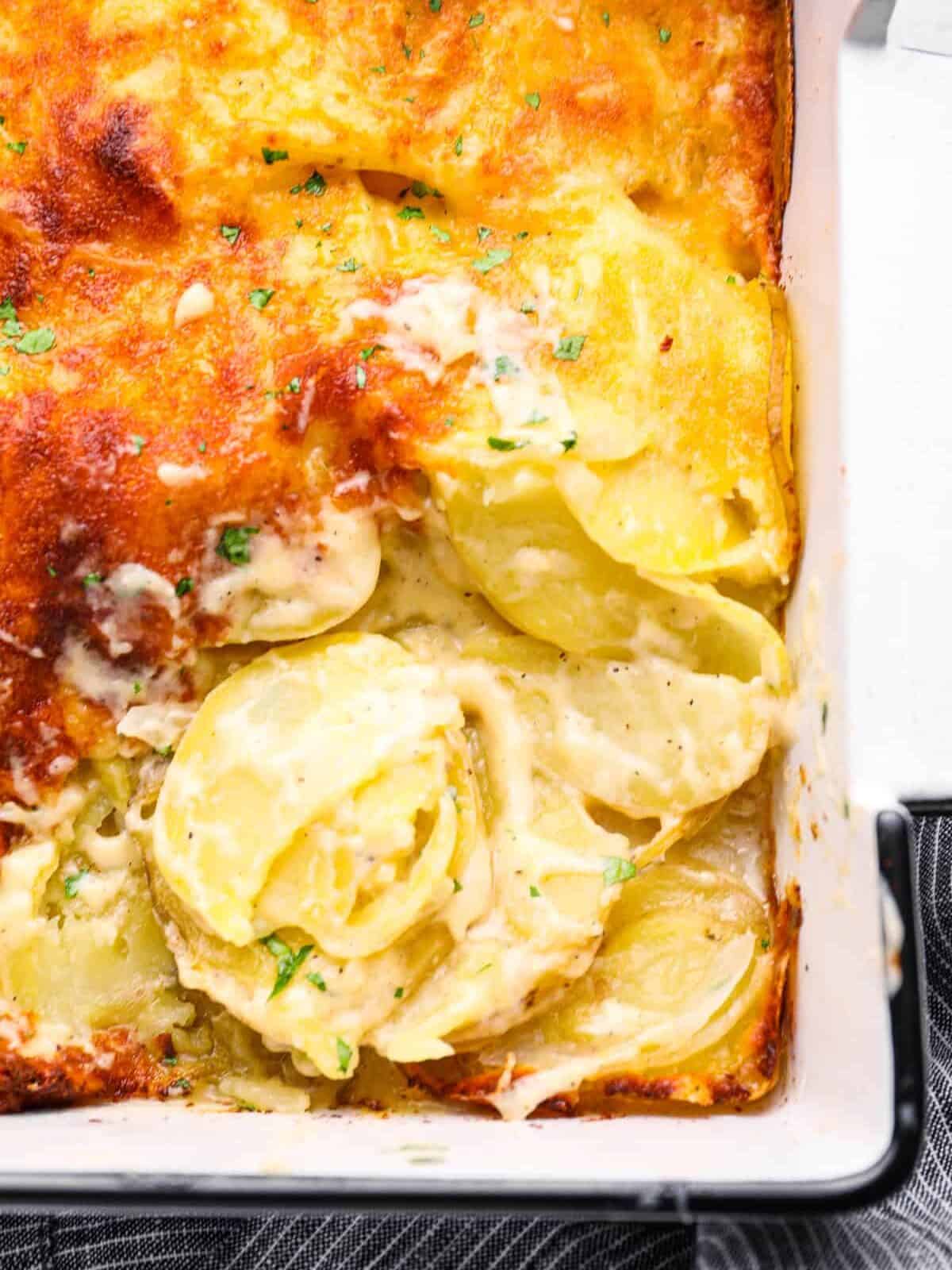 What's in this Potatoes Au Gratin recipe?
This au gratin potatoes recipe uses simple household ingredients and will go from kitchen to table in just a few easy steps!
Potatoes: We use Yukon gold potatoes in this recipe. They hold their shape wonderfully and don't need to be peeled, making prep time a breeze.
Onion: Yellow onions work best, since they have a natural sweetness that compliments the rest of the dish.
Butter: Unsalted butter is best to avoid a salty taste. However, salted butter may be used if preferred.
Garlic: Fresh garlic is best, but pre-minced can be used in a pinch.
Flour: All-purpose flour works best. For gluten-free au gratin potatoes, swap the all-purpose flour for an equal amount of gluten-free 1:1 flour.
Whole Milk: Try not to substitute this with any other dairy product! Whole milk helps to create the best cheesy, decadent consistency.
Salt and Pepper: Add more to taste if you'd like. Also, keep in mind that freshly cracked black pepper yields the best flavor.
Cheddar, Gruyere and Parmesan Cheese: Shred your own cheese from a block for the smoothest sauce. Pre-shredded cheese is coated in starches that can cause the sauce to become grainy!
Pro Tip: Don't pack in the potatoes and onions too tightly. You want to leave enough space for the cheese to penetrate all the way through.
Variations on Au Gratin Potatoes
You can use red potatoes in place of Yukon Gold.
Feel free to switch up the cheese. Some other great cheeses include Swiss, fontina, Havarti, gouda, or mozzarella.
Try adding 6-8 ounces of chopped cooked bacon or ham!
Try adding 1-2 teaspoons of fresh herbs to the cheese sauce.
Try topping your casserole with breadcrumbs or crumbled Ritz crackers.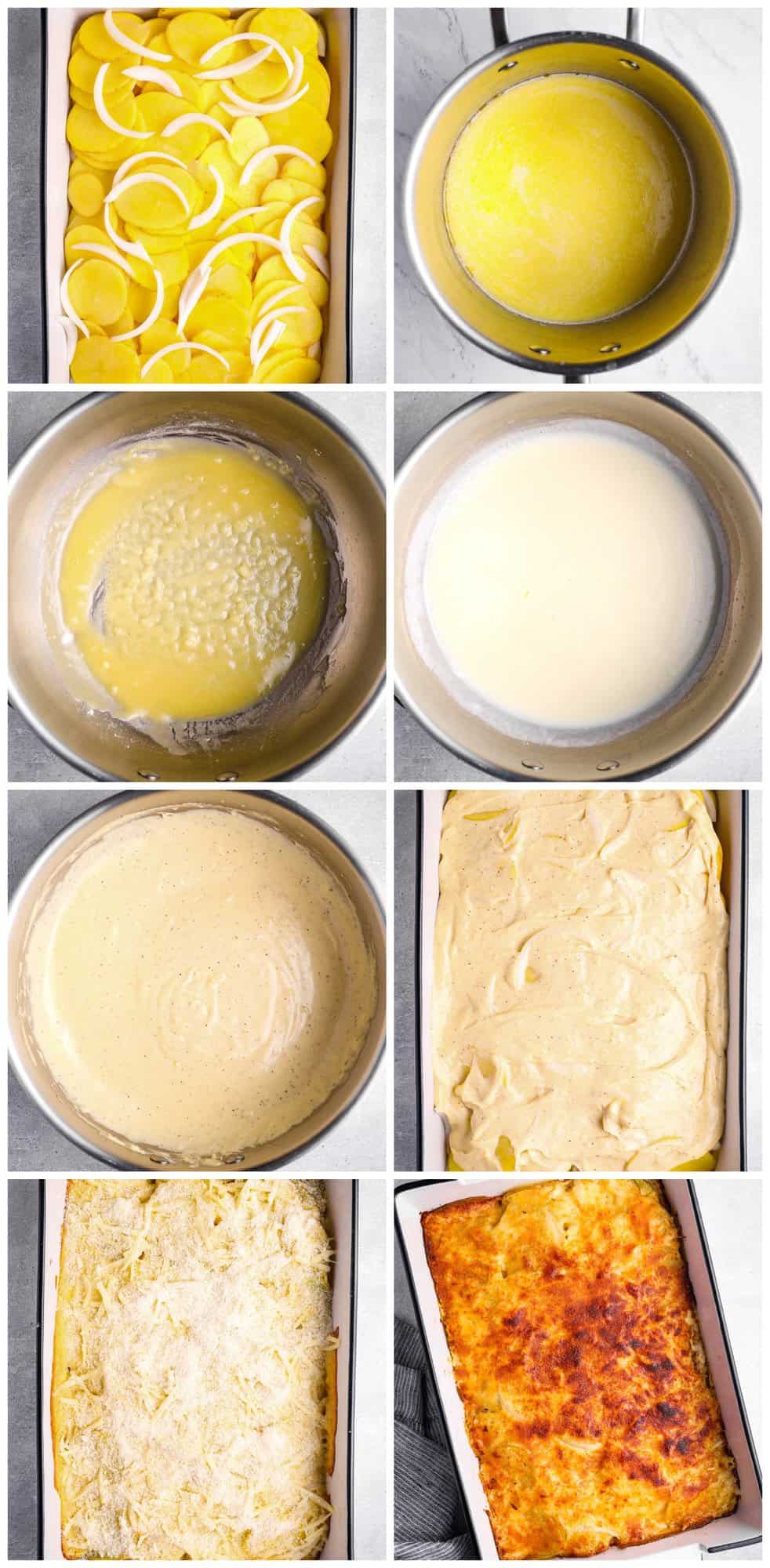 What's the difference between scalloped and au gratin potatoes?
Au gratin potatoes are a much more decadent version of scalloped potatoes because they include the addition of cheese! Scalloped potatoes are baked in a basic cream sauce, while au gratin potatoes are made with cheese both in between the layers and on top!
What is potatoes au gratin?
Potatoes au gratin is a luscious side consisting of thinly-sliced potatoes and onions layered with a creamy cheese sauce and topped with crispy, bubbly cheese!
Why are they called au gratin potatoes?
"Au gratin" basically means covered with breadcrumbs or grated cheese and browned. It refers to the bubbly, crispy cheese topping!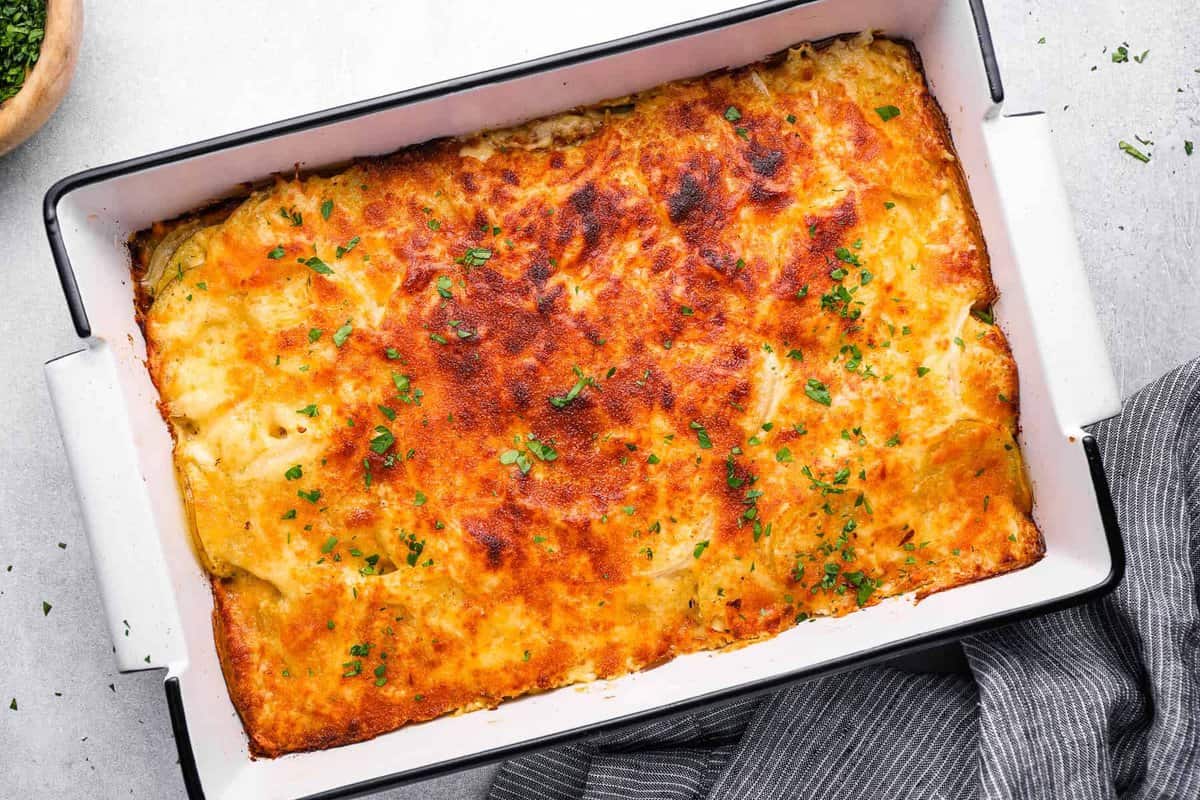 How to Store and Reheat
Store leftover au gratin potatoes in an airtight container in the refrigerator for up to 5 days. Reheat in a 350°F oven covered with foil for about 20 minutes, or until hot.
How to Freeze
Freeze au gratin potatoes in individual portions in airtight containers for up to 2 weeks. Let thaw overnight in the refrigerator before reheating.
Serving Suggestions
Potatoes au gratin are the ultimate side dish for Thanksgiving, Christmas, Easter, or any holiday. They pair nicely with Thanksgiving turkey, Easter ham, beef tenderloin, or any other holiday main dish you serve.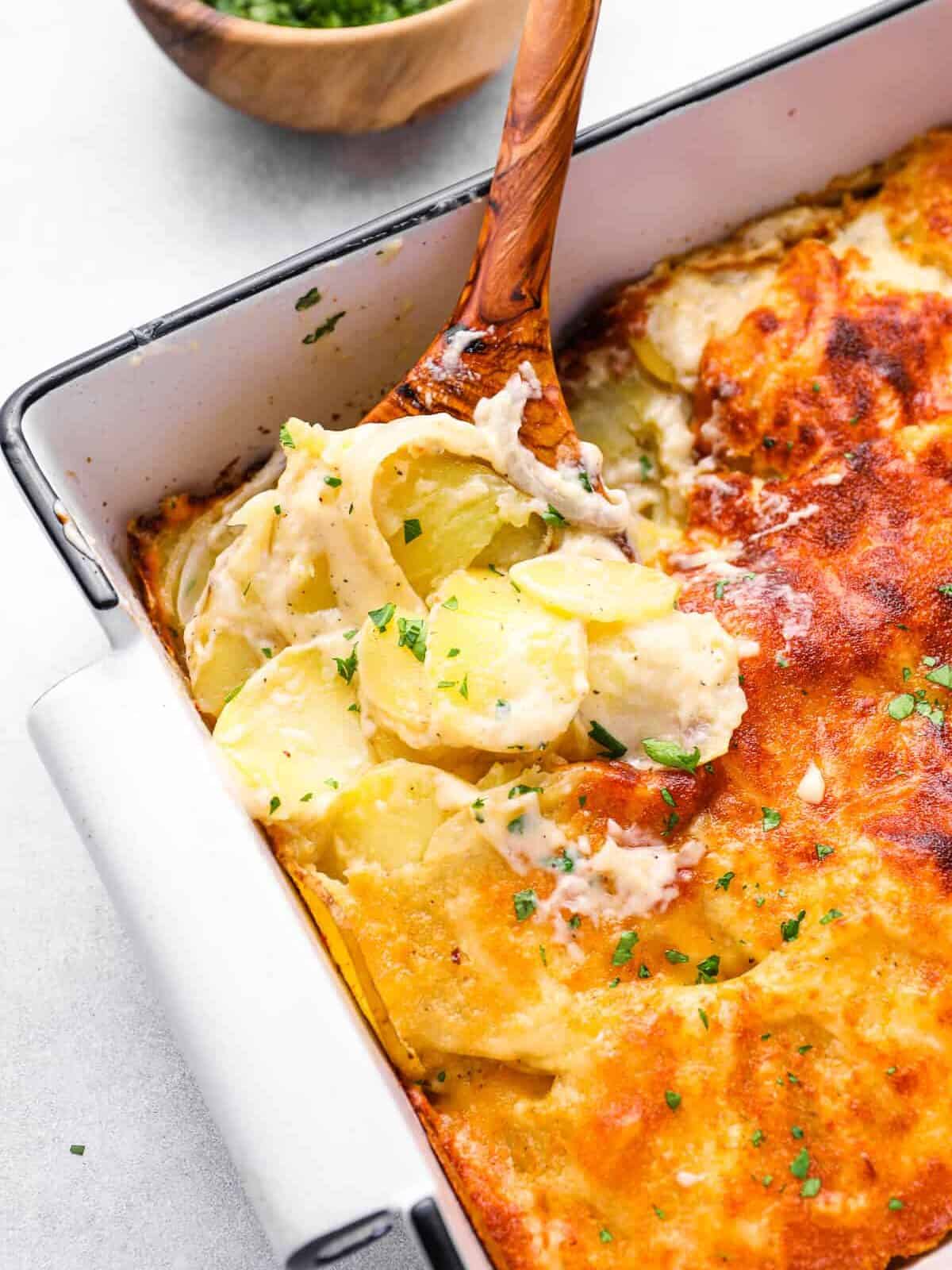 More Holiday Side Dish Recipes We Love