These homemade au gratin potatoes are the perfect side dish for this year's holiday table. Thinly sliced potatoes and onions baked in a rich, creamy sauce with a delicious cheesy crust will have the whole family smitten!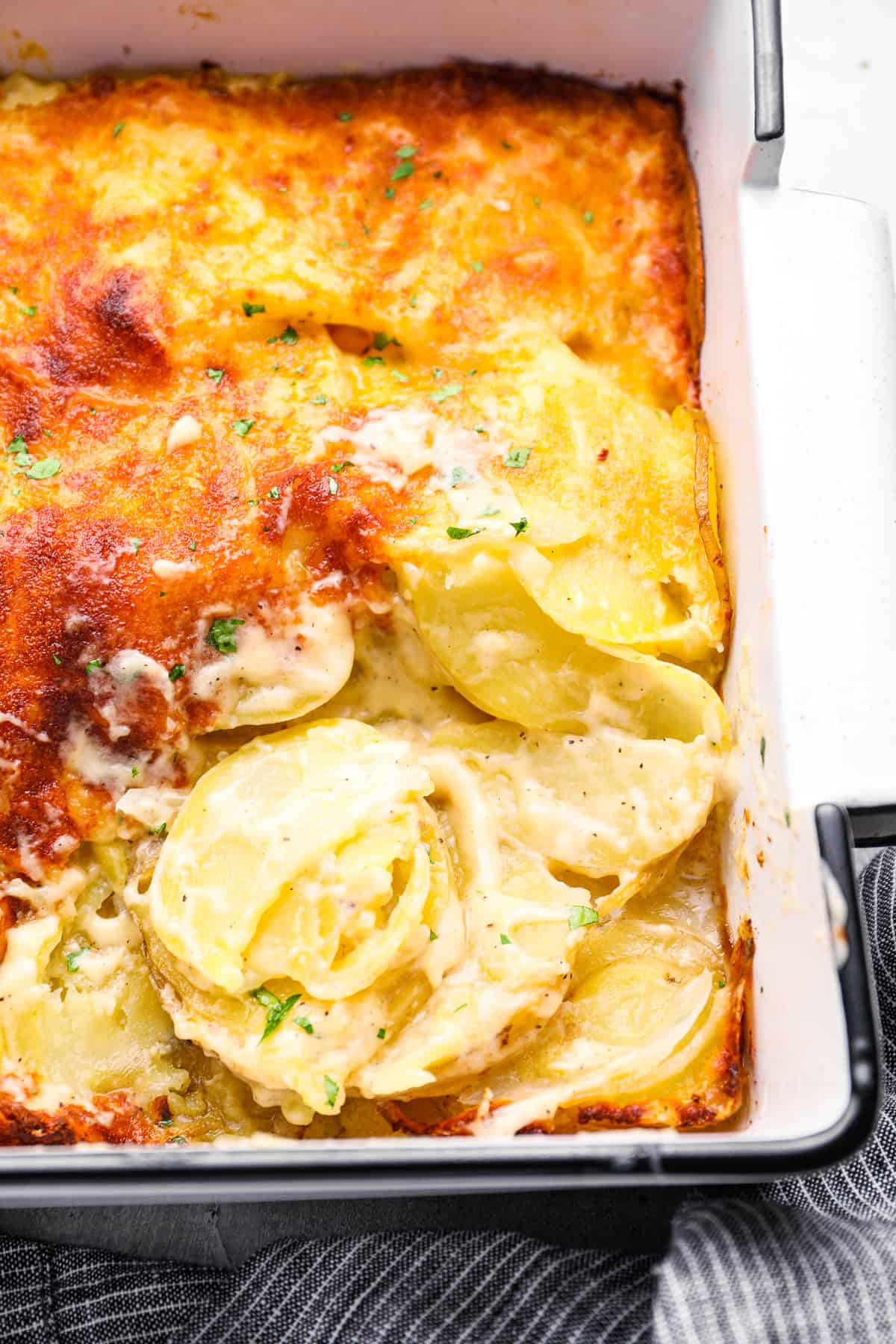 Potatoes Au Gratin
Cheesy au gratin potatoes will always be a hit whether you're serving this casserole dish for Thanksgiving, Christmas, or a simple family dinner. We use Yukon gold potatoes in this recipe. They hold their shape wonderfully and don't need to be peeled, making prep time a breeze.
Take these creamy au gratin potatoes to the next level by browning the cheese in the broiler and garnishing with your favorite fresh herbs.
Why You'll Love this Au Gratin Potatoes Recipe:
The Best Sauce: These scalloped potatoes are baked in a decadent, creamy cheese sauce that is simply addictive.
Easy to Make: This au gratin recipe uses simple household ingredients and will go from kitchen to table in just a few easy steps!
Family Favorite: Cheesy potatoes are always popular, especially around the holiday season!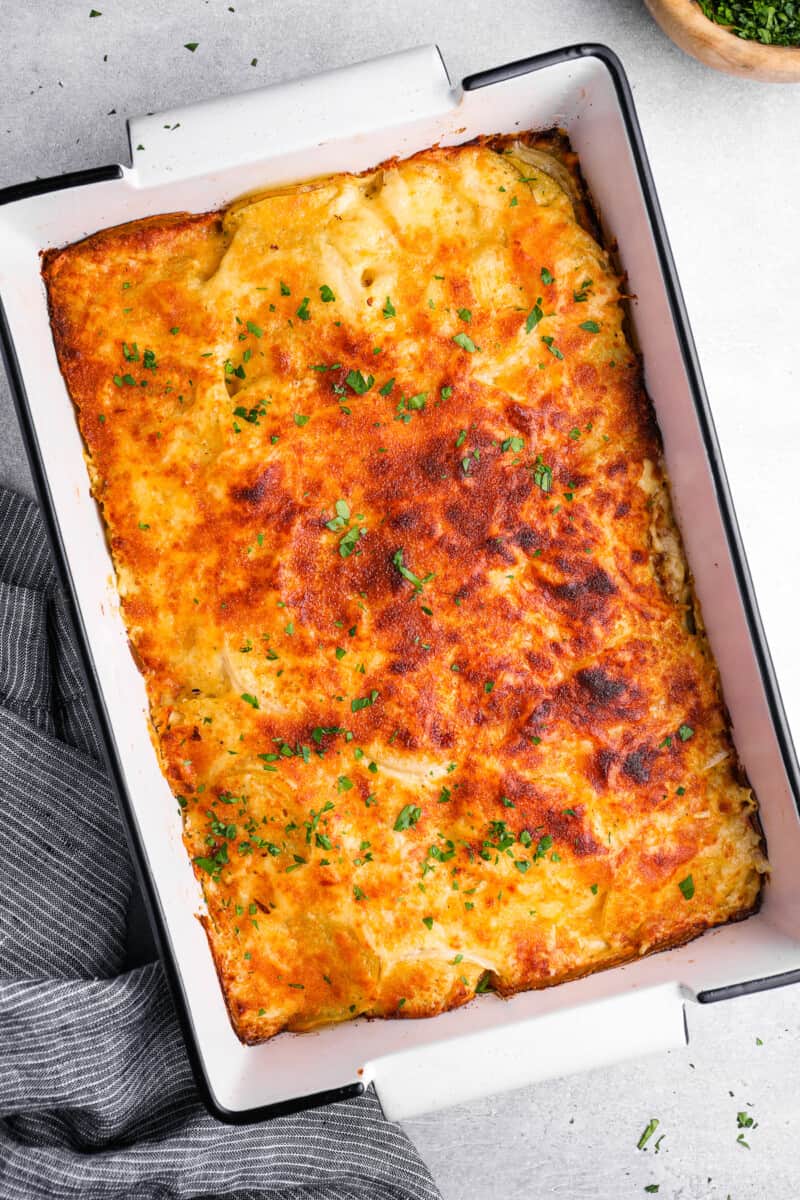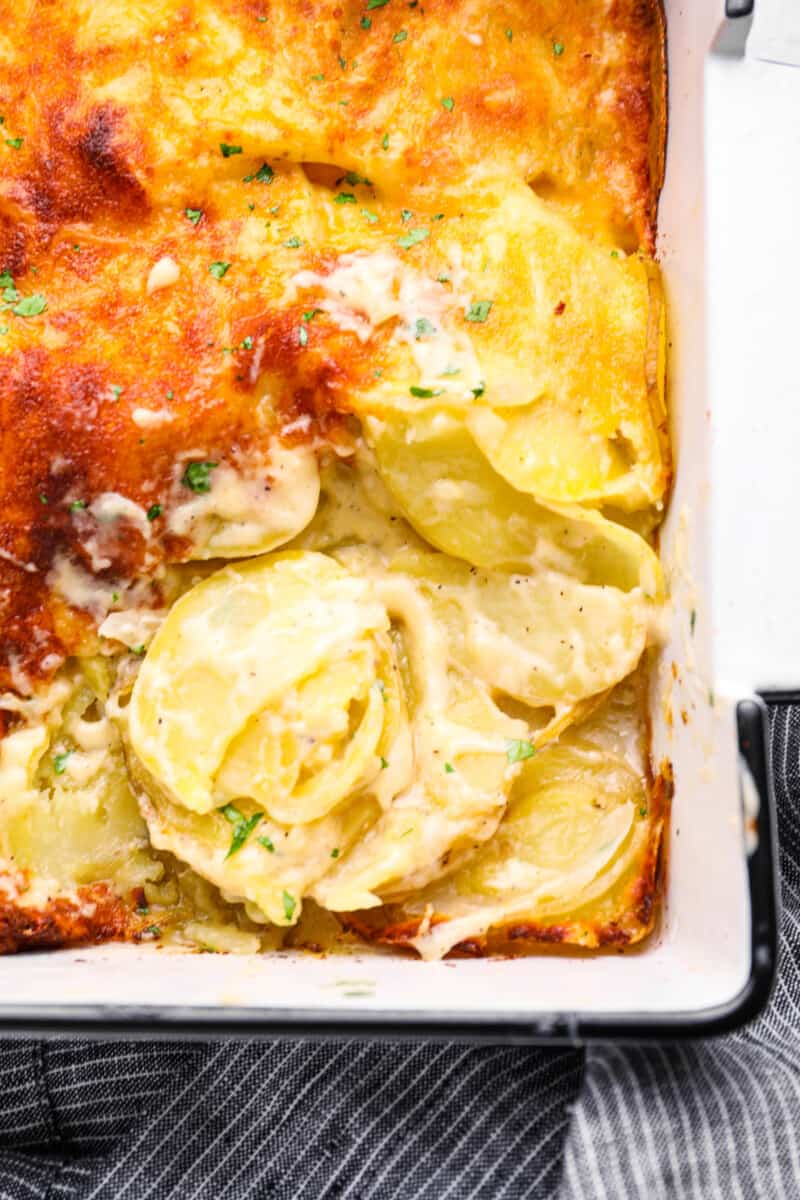 How to Make Au Gratin Potatoes
You can jump to the recipe card for full ingredients & instructions!
Preheat oven to 350°F. Grease a 9×13-inch baking dish with butter.
Layer the potatoes and onions in the baking dish. Set aside.
Melt the butter in a saucepan over medium heat. Add in the garlic and cook until fragrant.
Whisk in flour and milk according to the instructions below (in the recipe card). Bring to a simmer.
Remove from the heat and whisk in the salt, pepper, and cheese until melted. Pour over the potatoes.
Cover with foil and bake for 45-60 minutes.
Remove the foil and sprinkle on the remaining cheese. Bake for 15-20 minutes more.
Optional: to brown the cheese, broil for 1-2 minutes. Garnish with herbs and serve!
Recipe Notes
You can also use red potatoes in this recipe.
Try adding 1-2 teaspoons of fresh herbs to the cheese sauce.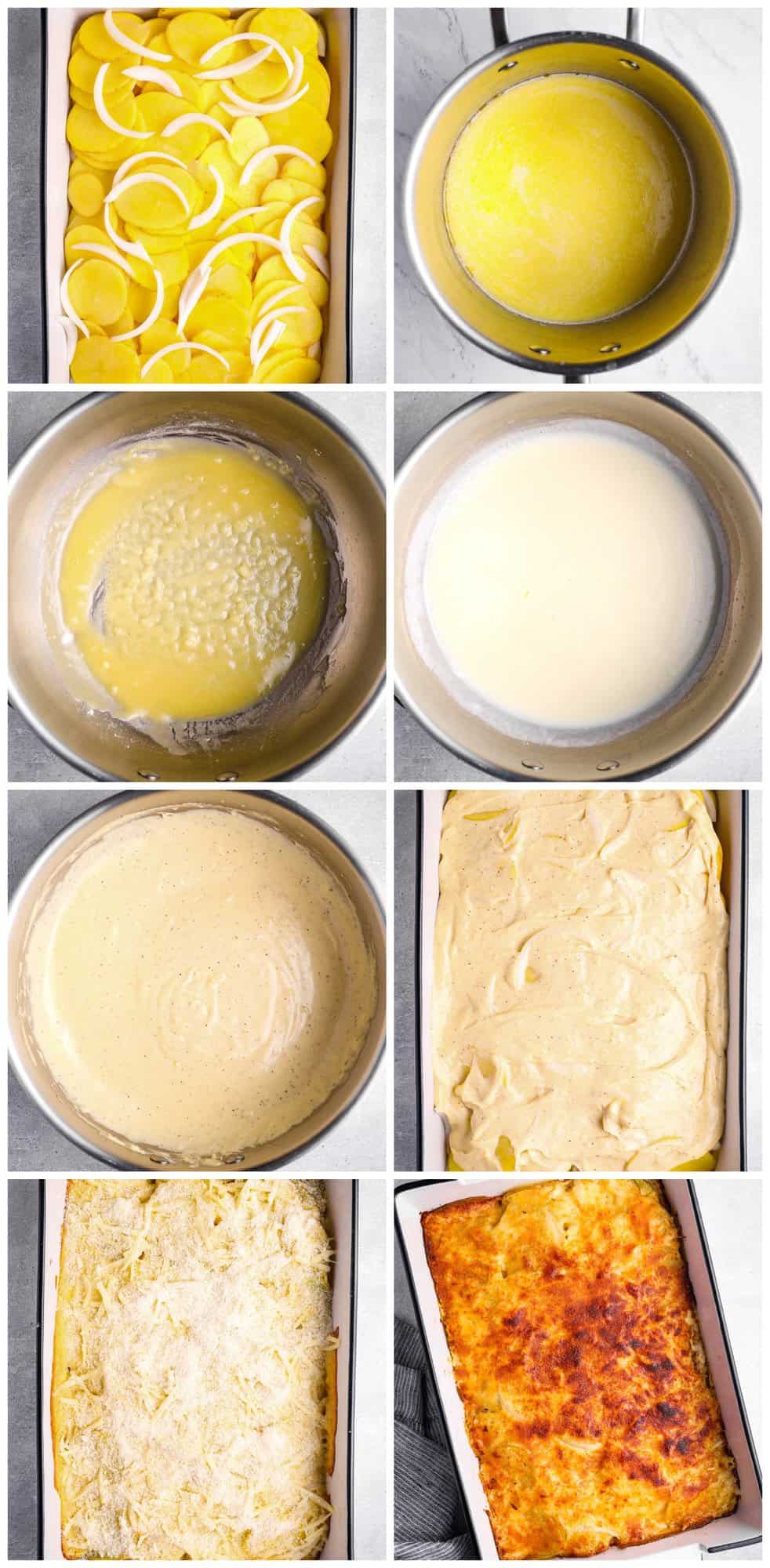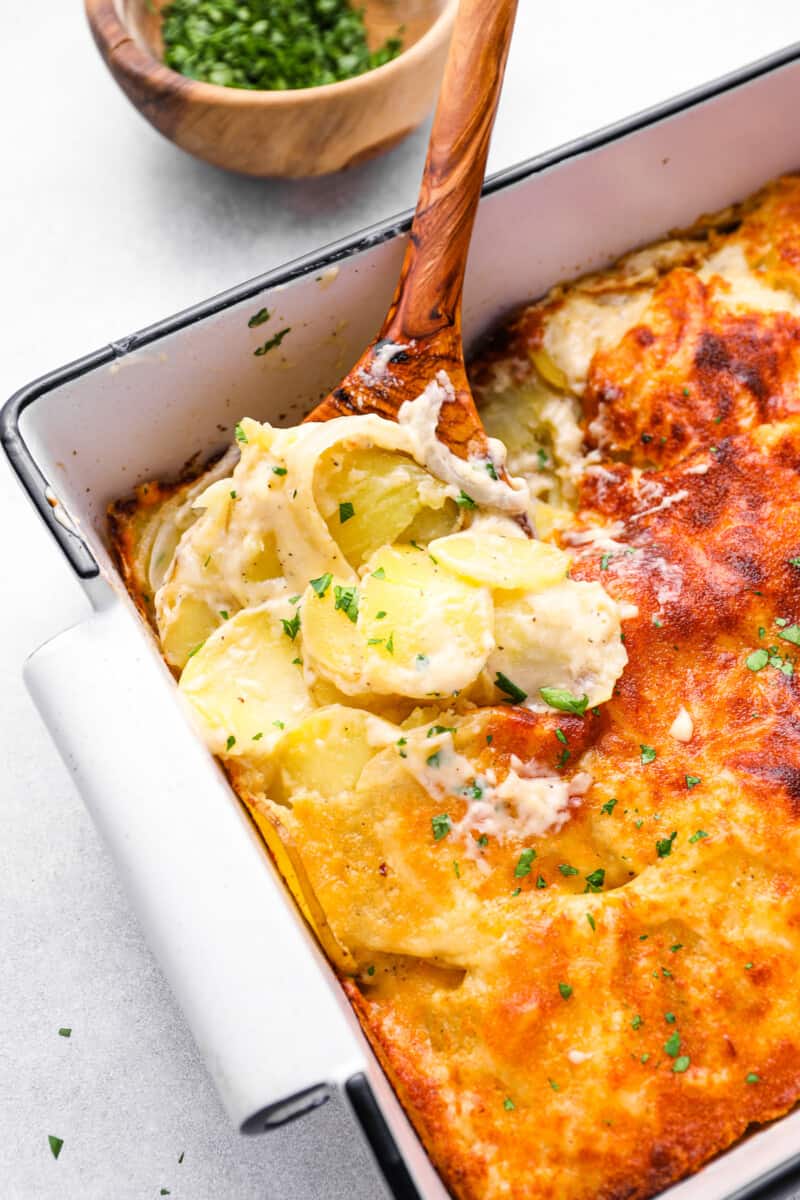 What is potatoes au gratin?
Potatoes au gratin is a luscious side consisting of thinly-sliced potatoes and onions layered with a creamy cheese sauce and topped with crispy, bubbly cheese!
Why are they called au gratin potatoes?
"Au gratin" basically means covered with breadcrumbs or grated cheese and browned. It refers to the bubbly, crispy cheese topping!
What's the difference between scalloped and au gratin potatoes?
Au gratin potatoes are a much more decadent version of scalloped potatoes because they include the addition of cheese! Scalloped potatoes are baked in a basic cream sauce, while au gratin potatoes are made with cheese both in between the layers and on top!
What are the best potatoes for au gratin potatoes?
The best potatoes for au gratin are waxy potatoes, such as Yukon Gold or red-skinned potatoes. Waxier potatoes hold their shape better. Plus, they are thin-skinned, so they don't need to be peeled. Russet or baking potatoes are starchier and don't hold their shape as well, which can lead to mushy au gratin potatoes.
What's the preferred cheese to use for au gratin cooking?
There are a lot of great cheeses for au gratin potatoes, such as gruyere, cheddar, Swiss, fontina, Havarti, gouda, or mozzarella. I like a mix of cheddar and gruyere with a bit of Parmesan sprinkled on top! I recommend shredding the cheese yourself for the smoothest sauce. Pre-shredded cheeses are coated in starch to prevent sticking, and this starch makes them melt more slowly and can cause graininess in your sauce!
How do I slice potatoes for au gratin potatoes?
For au gratin potatoes, you want even ⅛-inch slices. Use a sharp knife to make these slices, or save some time (and your fingers!) by using a mandoline slicer or food processor. If your potatoes are wobbly, slice a thin layer off along the bottom so that they sit flat for easier cutting.
Make Ahead Instructions
These au gratin potatoes can be made 24 hours in advance. Once you've poured your cream sauce over the potatoes, tightly cover your dish with plastic wrap and refrigerate. Make sure to cover all the potatoes in the sauce. Otherwise, any exposed bits will become discolored.
When your au gratin potatoes are ready to eat, remove them from the fridge at least 30 minutes before baking to allow them to reach room temperature. Set them in the oven, following the rest of the steps in the recipe. You may need to add 10 minutes to the baking time if necessary.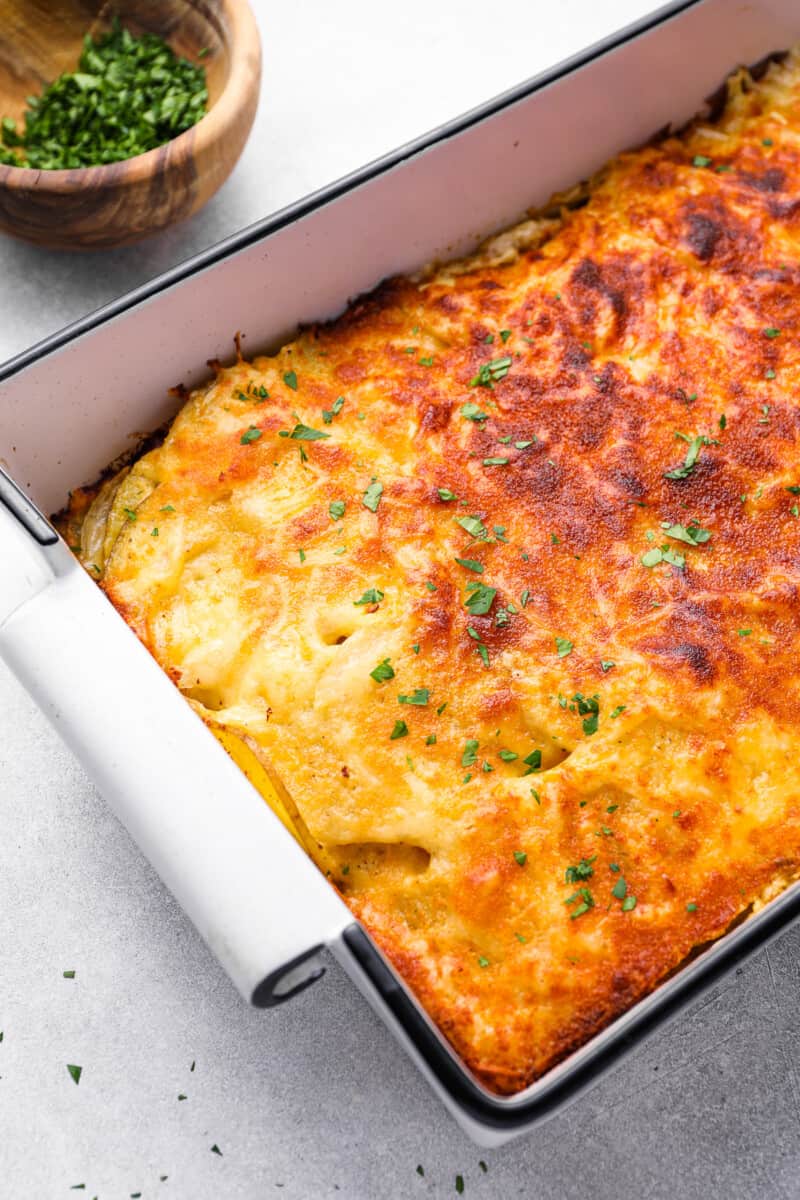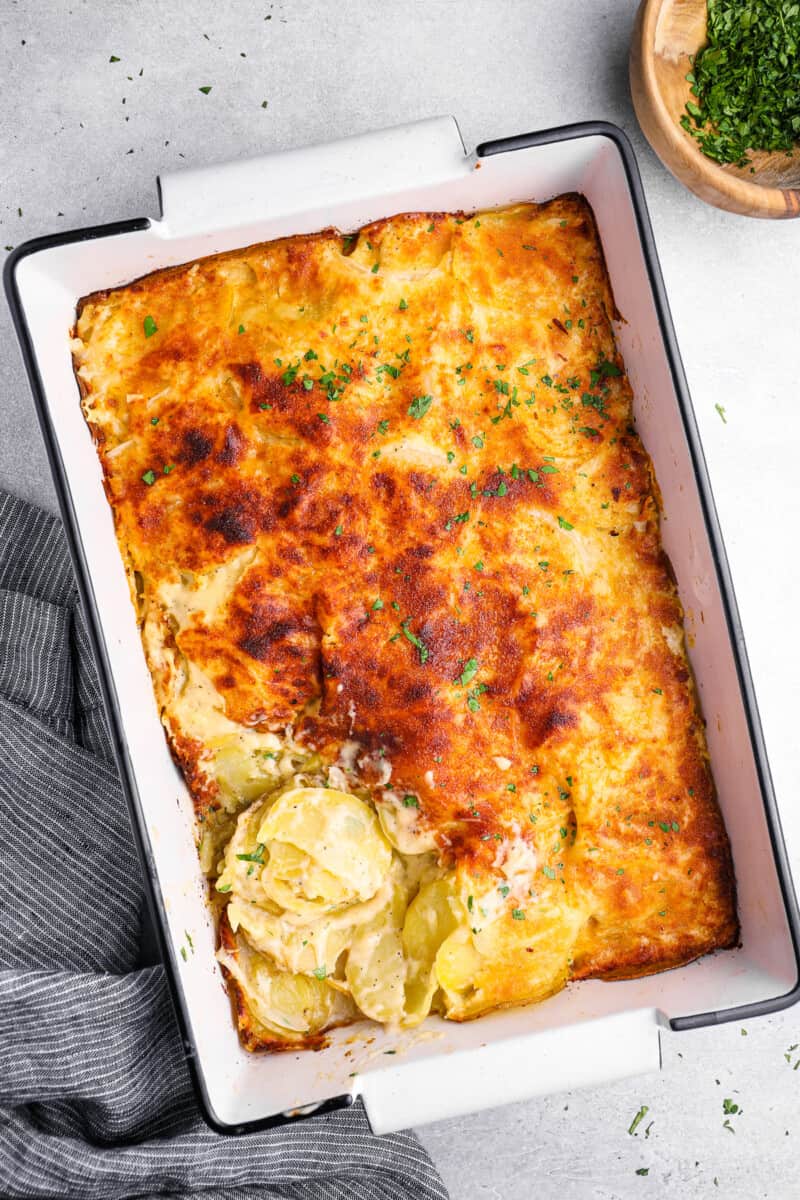 Make Ahead Instructions
Au gratin potatoes can be fully assembled through step 6, tightly covered with plastic wrap, and refrigerated for up to 24 hours before baking. Let sit out of the refrigerator for 30 minutes before baking.
Storage Instructions
Store leftover au gratin potatoes in an airtight container in the refrigerator for up to 5 days. Reheat in a 350°F oven covered with foil for about 20 minutes, or until hot.
Freezing Instructions
Freeze au gratin potatoes in individual portions in airtight containers for up to 2 weeks. Let thaw overnight in the refrigerator before reheating.
Variations
You can use red potatoes in place of Yukon Gold.
For gluten-free au gratin potatoes, swap the all-purpose flour for an equal amount of gluten-free 1:1 flour.
Feel free to switch up the cheese. Some other great cheeses include Swiss, fontina, Havarti, gouda, or mozzarella.
Try adding 6-8 ounces of chopped cooked bacon or ham!
Try adding 1-2 teaspoons of fresh herbs to the cheese sauce.
Try topping your casserole with breadcrumbs or crumbled Ritz crackers.
Tips for the Best Au Gratin Potatoes
Take care to slice the potatoes into even

⅛-inch thick slices; use a mandoline or food processor for easy even slices!

Don't pack in the potatoes and onions too tightly. You want to leave enough space for the cheese to penetrate all the way through.
Shred your own cheese from a block for the smoothest sauce. Pre-shredded cheese is coated in starches that can cause the sauce to become grainy!
If you're short on time, wrap the baking pan (non-metal only!) in plastic wrap before adding the cheese sauce, microwave on high for 10 minutes, remove the plastic wrap, add the cheese sauce, and bake as directed for about 40-45 minutes.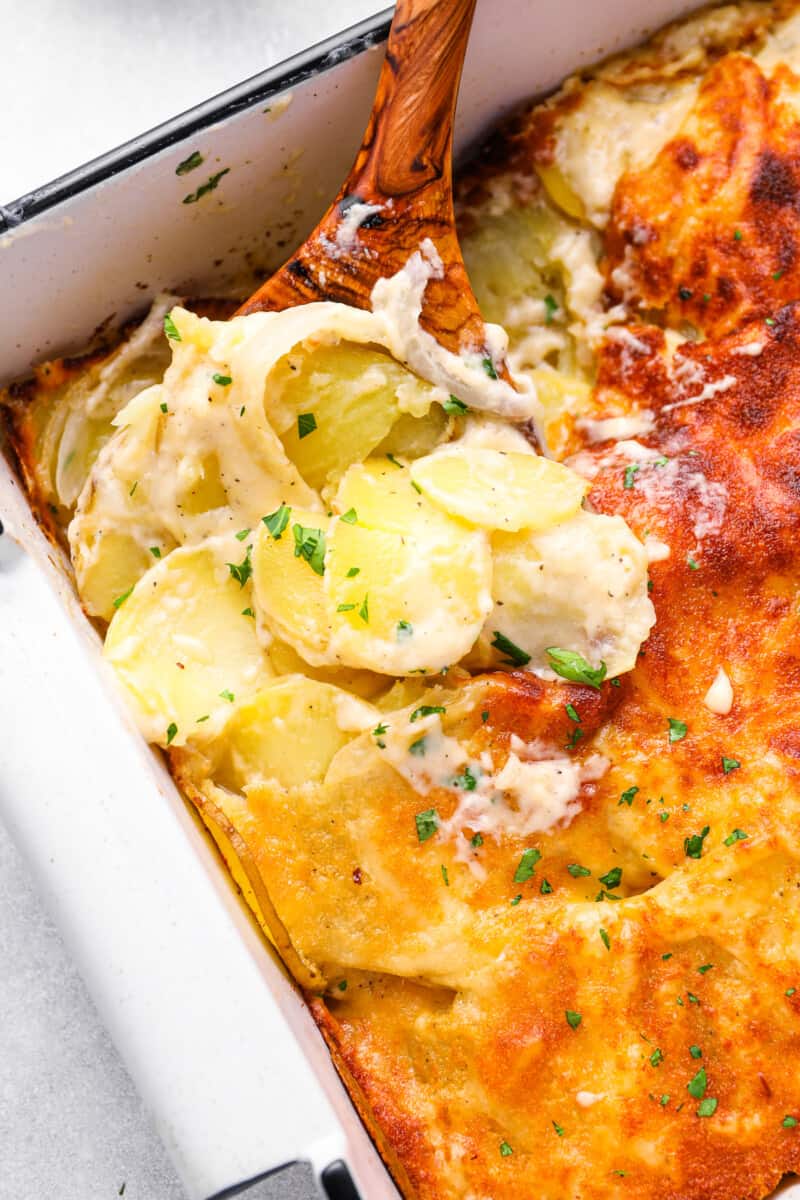 We hope you and your family enjoyed these tasty au gratin potatoes! They are the ultimate trusty side dish and a great addition to any dinner table. Happy cooking!
If you make this recipe be sure to upload a photo in the comment section below or leave a rating. Enjoy! You can also jump to recipe.