Garlic croutons are so easy to make, and they add the perfect flavor and crunch to your salads. Making croutons on the stove is quick and simple! Just follow this homemade crouton recipe and skip the pre-made ones!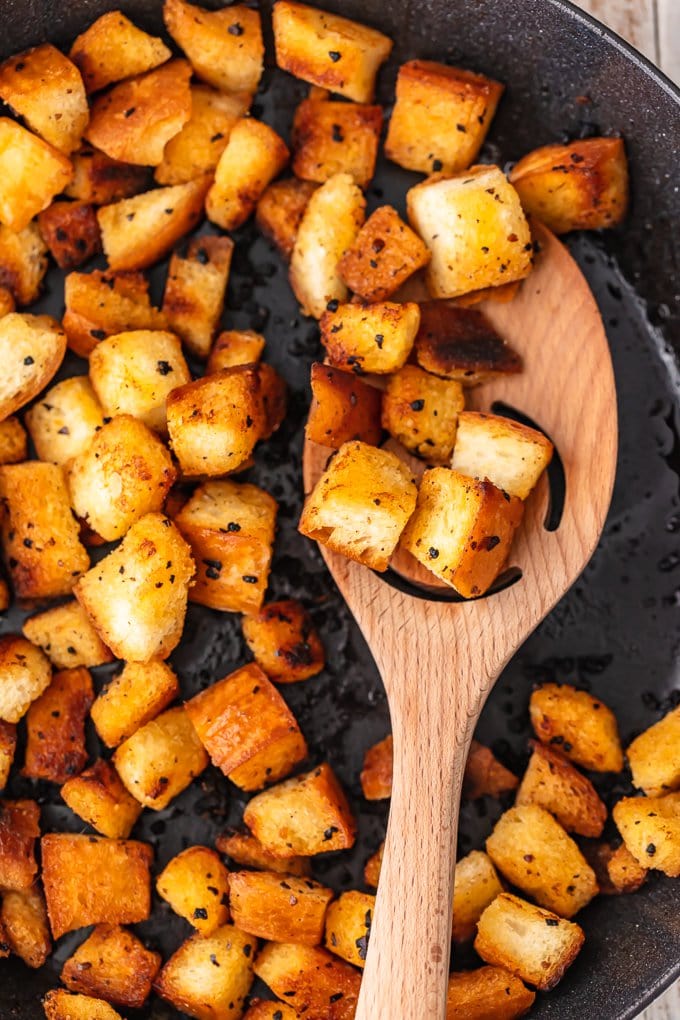 Garlic Croutons
Garlic Croutons are the perfect addition to any salad. Luckily, making croutons on the stove is super easy, so you can have this homemade crouton recipe ready in a flash!
No salad is complete without croutons! And this garlic crouton recipe is so perfect for almost any salad. These fried croutons are made from Italian bread and cooked up with garlic on the stove. They are SO good.
Homemade croutons are a must if you ask me. There's really no need to buy pre-made ones at the store when making croutons is so easy. I've made baked croutons before, and that is such a great way to make them. But frying croutons on the stove is just as simple.
I initially made these garlic croutons for my Kale Caesar Salad, but I'm saving the extra to use on my other salads. And they are so good with soups too. Throw a handful of these into tomato soup and you've got a simple yet delicious meal!
Learn how to make garlic croutons on the stove for an easy addition to any salad!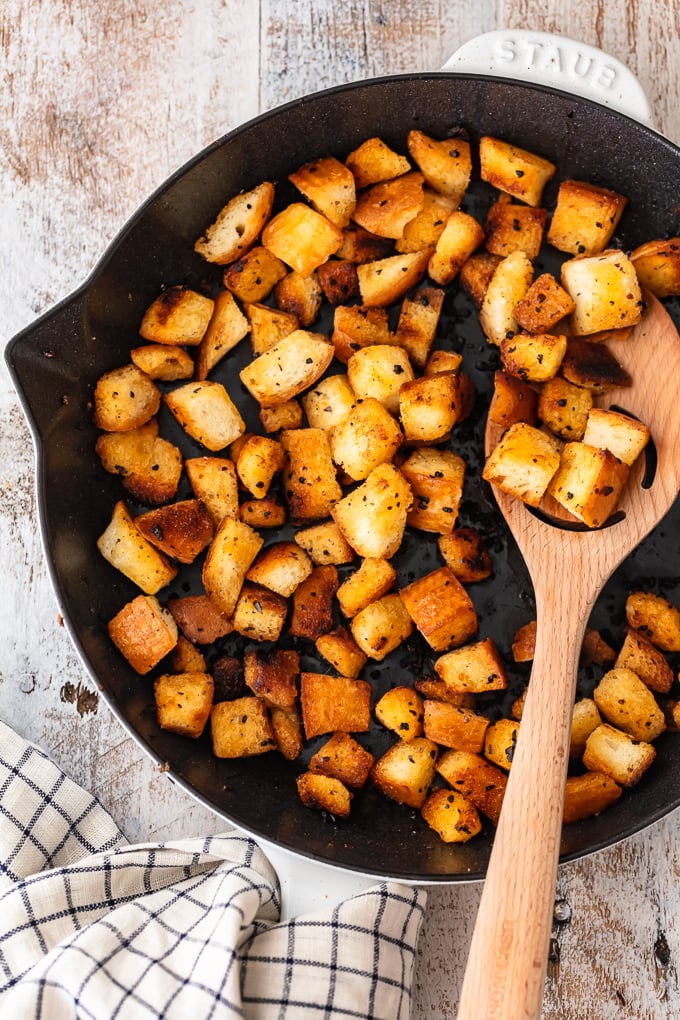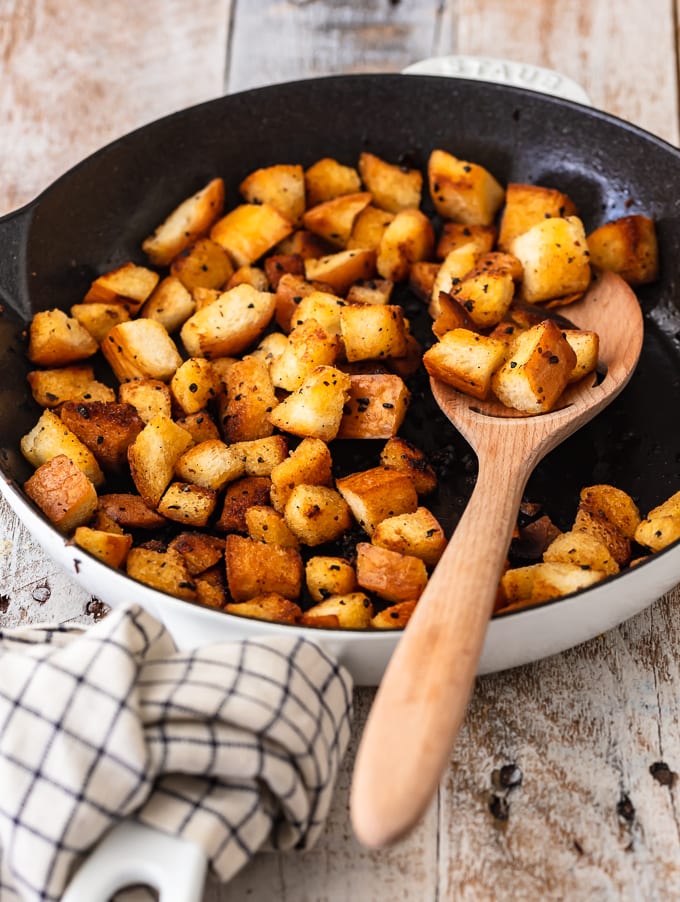 Making Croutons on the Stove
Making croutons on the stove is so simple! All you need is a skillet or frying pan, some olive oil (or another type of oil), and bread. Thick, crusty bread works best when making croutons, and day old bread works even better. This is such a great way to use up bread after it gets stale–no need to let it go to waste!
As the croutons fry up on the stove, they get super crunchy. You can switch up the flavors and seasonings you use, but we used garlic and red pepper flakes for this garlic crouton recipe. Try it with a bit of parmesan for the perfect garlic and cheese croutons!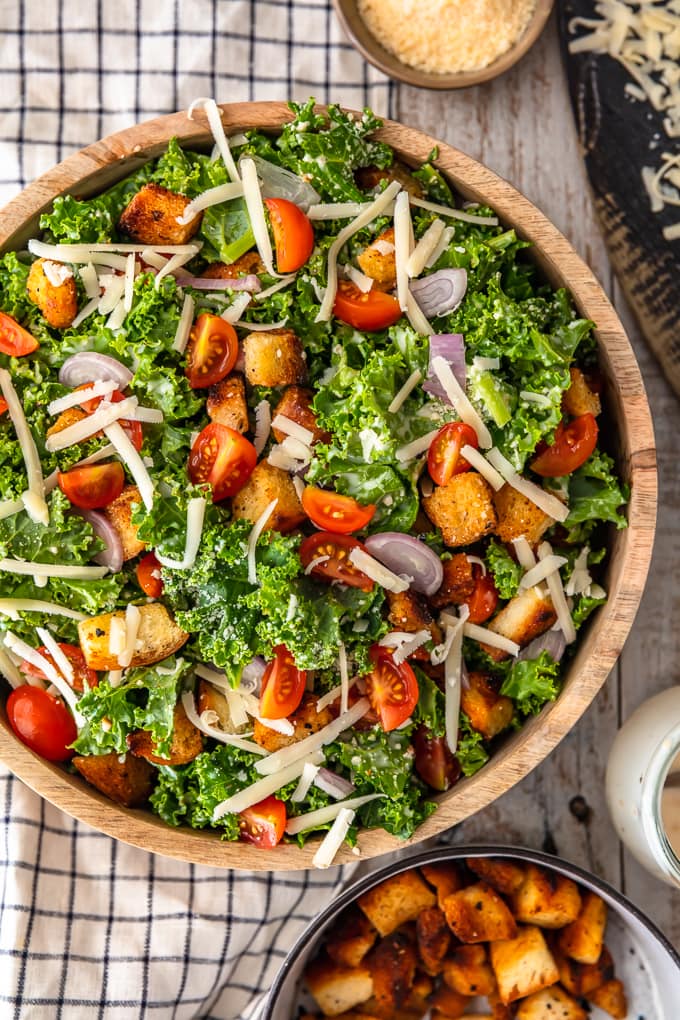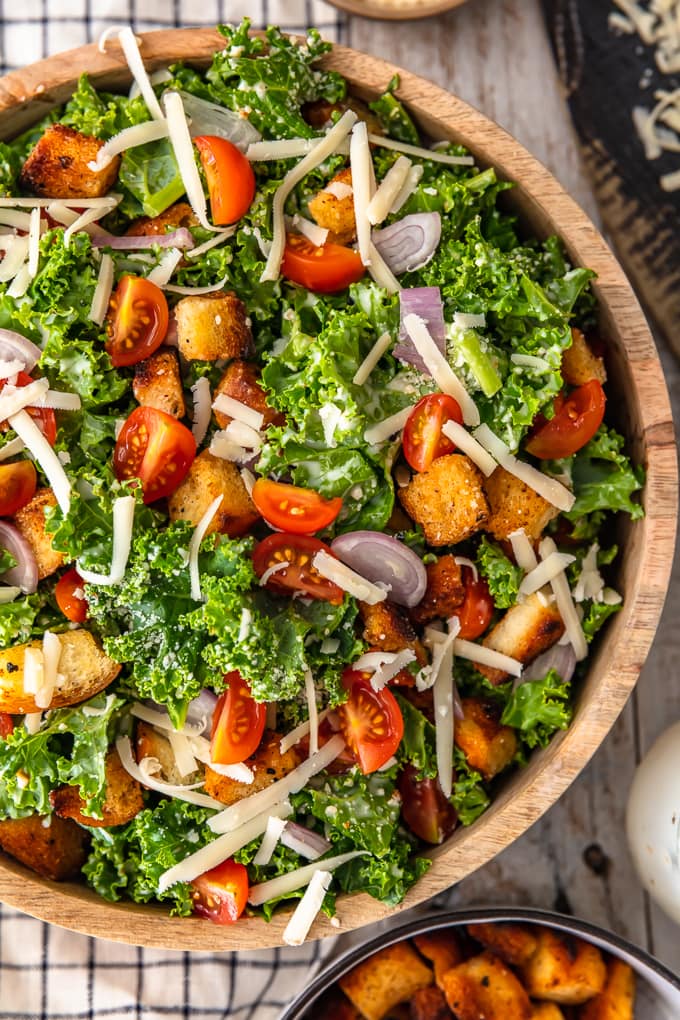 How to Make Garlic Croutons
Fried croutons cook up pretty quickly, and they're mostly a hands-off recipe (which means your hands are free to start prepping the perfect salad or soup to eat with them). Start by cutting up your bread into small, bite-sized cubes, then you can start frying!
How to make fried croutons:
Coat our skillet with oil, then add in the garlic and red pepper flakes.
Cook over medium heat for a few minutes, until the garlic starts to become transparent.
Next, add in the bread cubes and make sure they all get coated in the oil/garlic/red pepper.
Continue cooking until the bread becomes crunchy, crispy, and golden. Stir regularly to make sure all sides fry up evenly.
Once they're done, let them cool before storing or adding to your salad.
How long to homemade croutons last?
When stored in an airtight container or resealable bag, these garlic croutons will last for about 2 weeks (unless you eat them all!). And when you run out, it's super easy to prepare another batch. Never be left without homemade croutons for your salads and soups!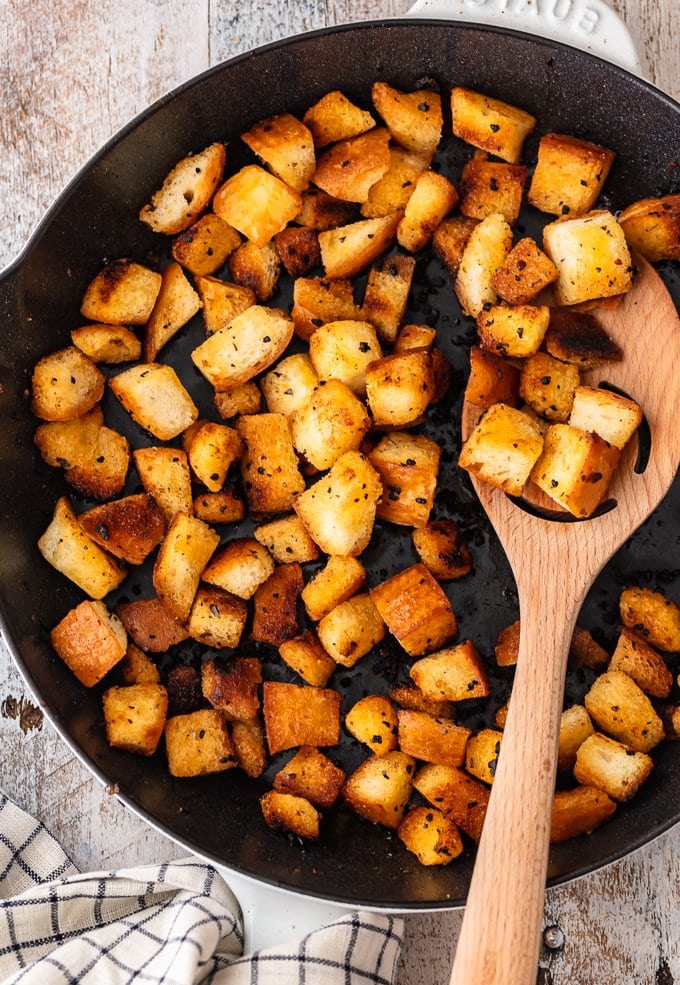 Making croutons is so easy, so don't forget to make some for your next salad. Or just go ahead and fry up some garlic croutons on the stove right now so you have them for later!
See the recipe card below for details on how to make Garlic Croutons on the Stove. Enjoy!
If you like this recipe, try these other simple recipes: