This cheesy potato soup is filled with hearty potatoes and tons of vegetables, in a thick and creamy base. With lots of delicious cheddar and a chowder-like texture, this recipe is beyond comforting. Cook it up in less than an hour for an easy meal!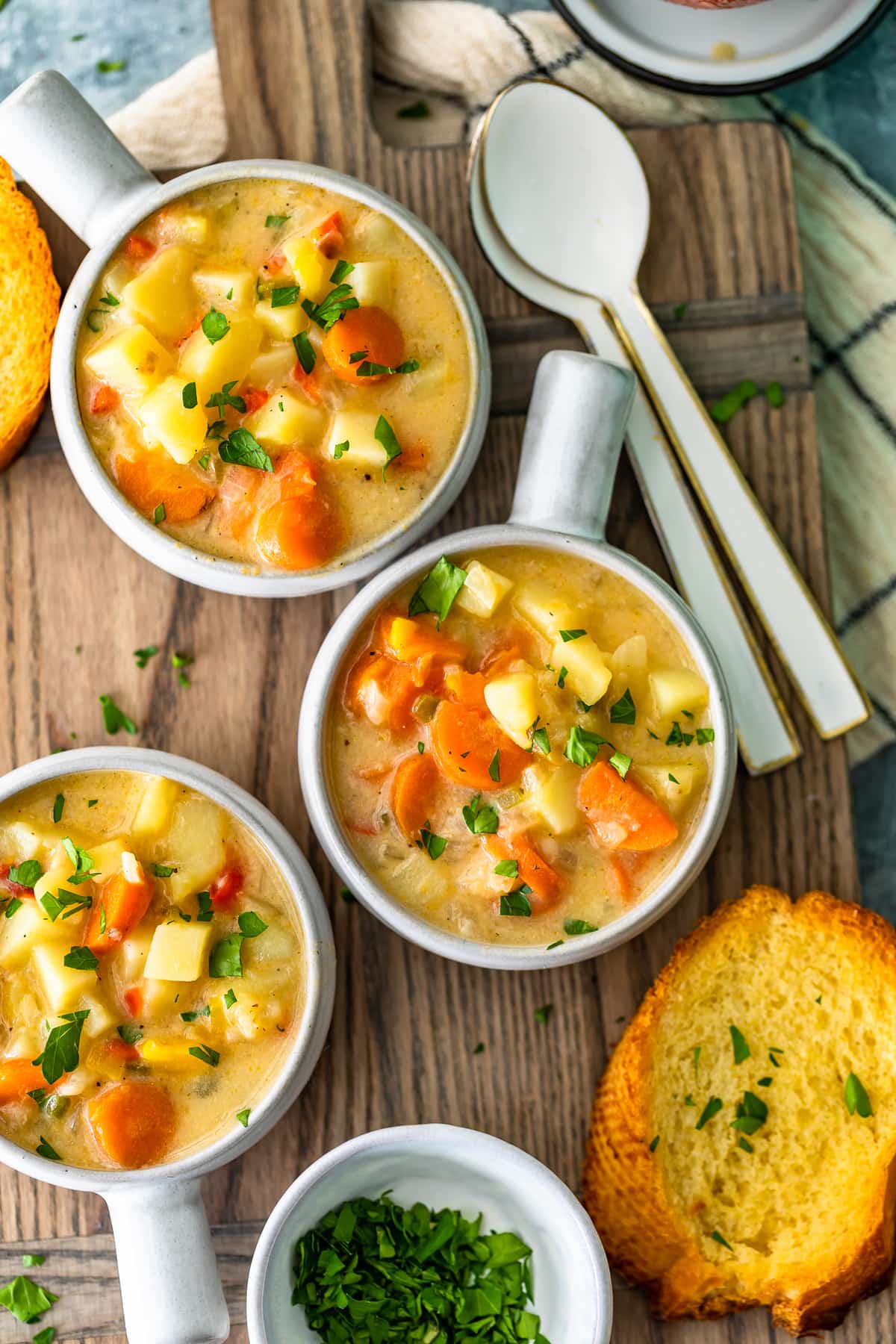 What's in this Potato Soup recipe?
This cheesy chowder soup is filled with hearty, flavorful ingredients, and it's so easy to make.
Potatoes: Yukon Gold potatoes are the best for potato soup. Peel and dice before adding to the pot.
Cheese: Sharp cheddar cheese creates the best flavor, and I mix in a bit of Gruyere or swiss cheese too. Freshly shredded cheese will melt best for a creamier texture.
Chicken Broth: I recommend using unsalted or low-sodium chicken broth.
Vegetables: There are lots of veggies in this soup, including carrots, peppers, onions, and fennel.
Milk: Adding milk creates a thicker, creamier texture–more like a chowder.
Flour: Flour helps to thicken the soup.
If you want to make the soup a little bit spicier, add in a jalapeno pepper!
Recipe Variations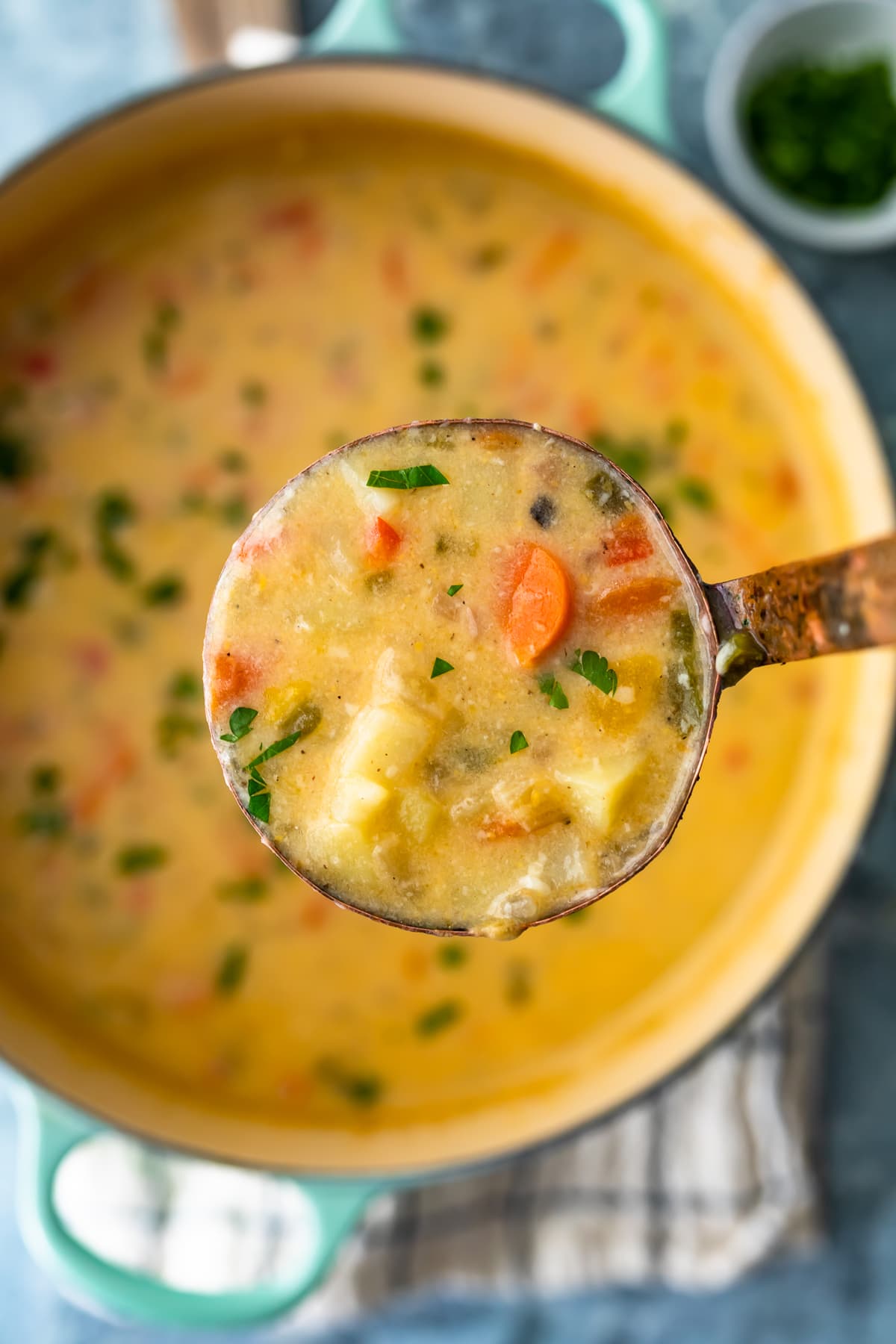 What's the difference between potato soup and potato chowder?
Chowders are thick and creamy soups, with chunkier ingredients. They're usually made with some kind of dairy and flour to create that texture. Compared to a soup, which can be thinner and lighter.
How do you thicken potato soup?
Mixing flour into the soup base thickens it. You can also let it simmer longer to thicken.
How do you keep potatoes for getting mushy I soup?
Potatoes get mushy when they are overcooked. In this recipe, they'll cook for around 20 minutes, so that shouldn't be an issue here.
Should you peel potatoes for soup?
Yes, peel your potatoes and cut them into small pieces before adding them into the pot.
How to Store and Reheat
Store leftover potato soup in an airtight container and keep in the refrigerator up to 3 days. Reheat by warming on the stove.
How to Freeze Potato Cheddar Soup
Pour cooled soup into freeze-safe containers and freeze up to 3 months. Thaw in the refrigerator before reheating.
What to Serve with Potato Soup
Pair this easy, cheesy potato chowder with your favorite breads or rolls, like skillet bread, cornbread, rosemary focaccia, or cheddar bay biscuits.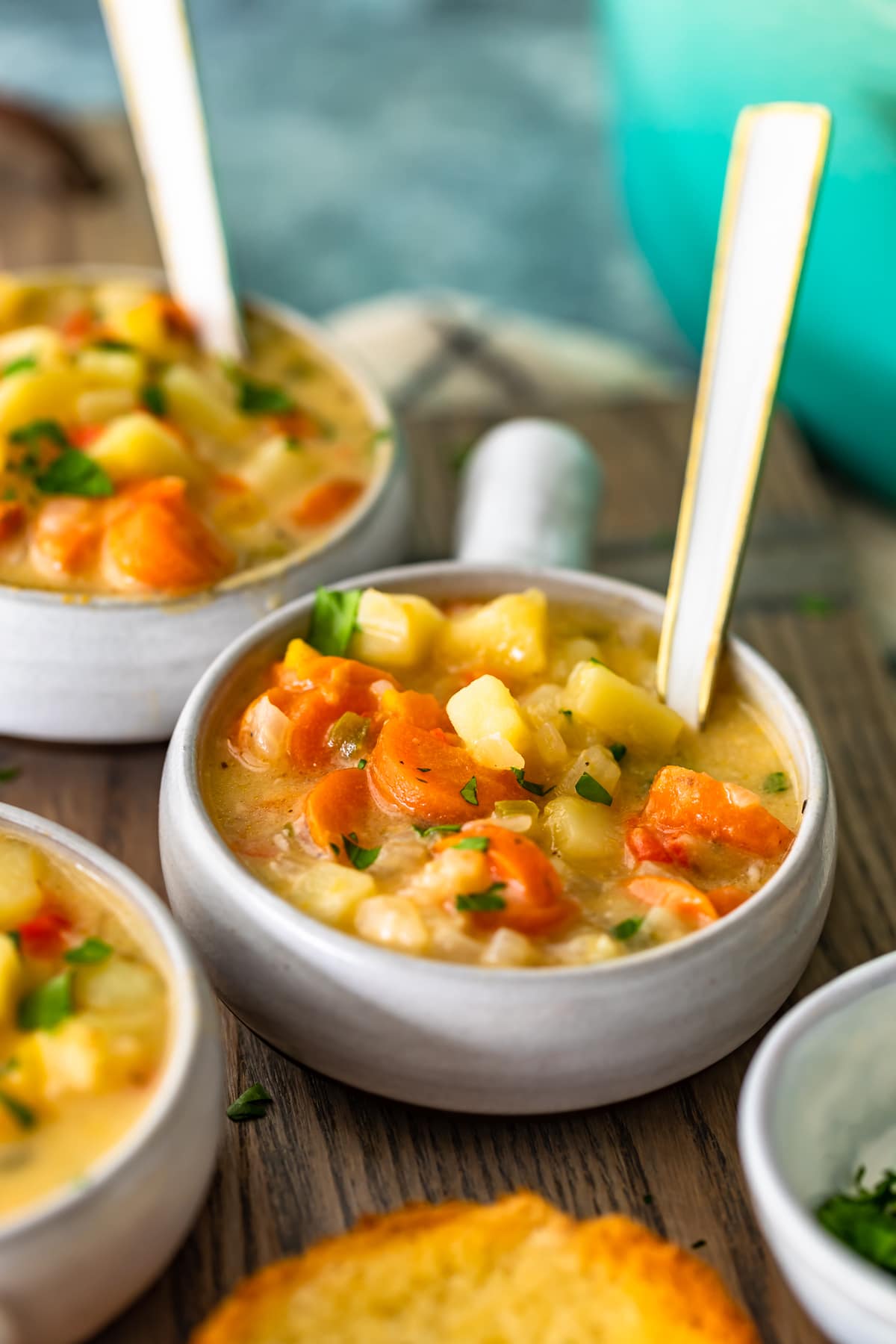 If you make this recipe be sure to upload a photo in the comment section below or leave a rating. Enjoy! You can also jump to recipe.
More Comforting Soups We Love