This Bacon Cheeseburger Soup is a savory, delicious soup with classic all-American flavors. It's filled with everything you'd expect from a good cheeseburger, plus topped with homemade bacon croutons. Easy to make and hard to stop eating!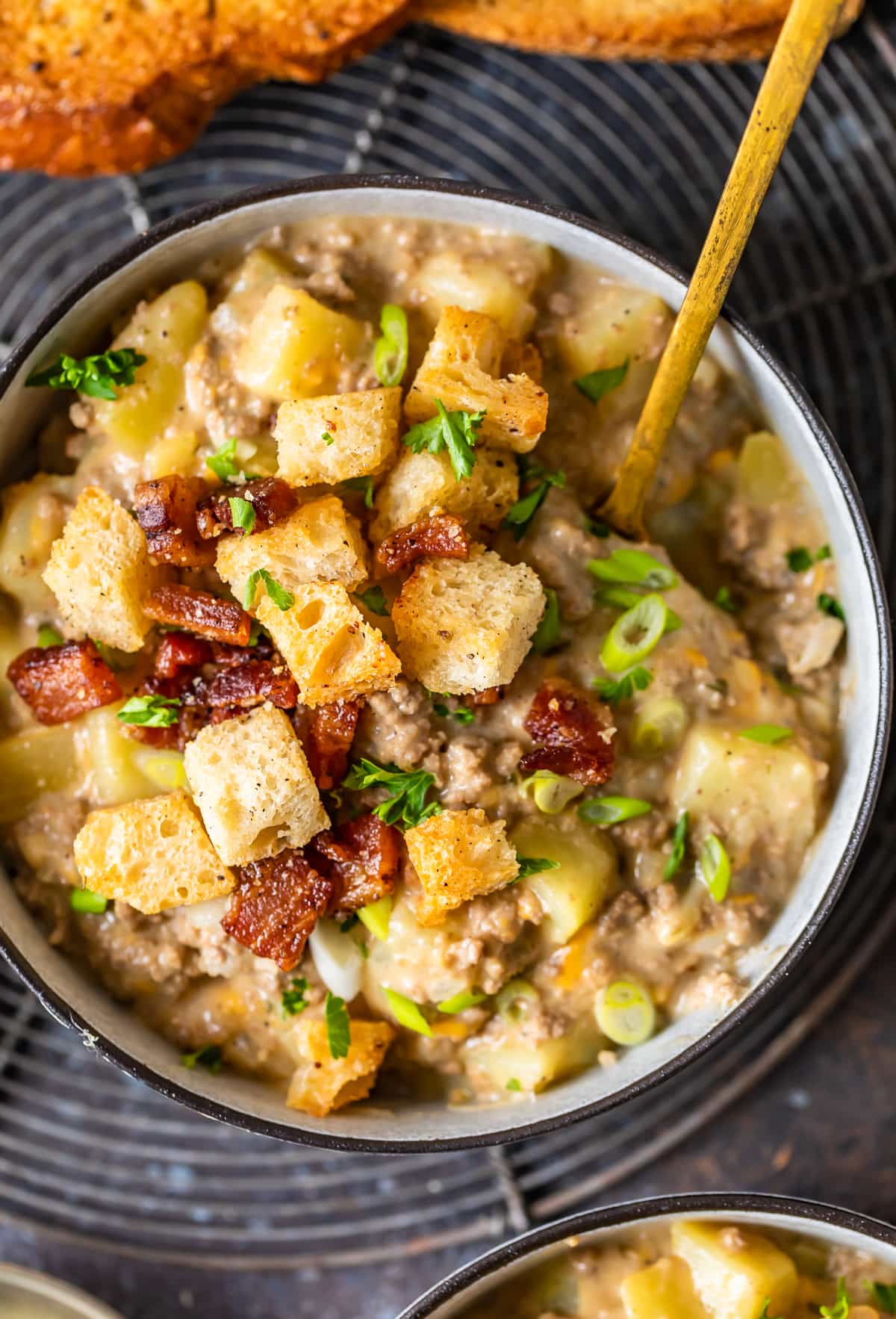 Bacon Cheeseburger Soup Recipe
Winter is almost over, but I'm still fully in soup mode. I just love a meal that's warm, filled with flavorful ingredients, and easy to eat. Nothing is easier than mixing everything into one spoonful!
There's nothing quite as classic in American cuisine as a cheeseburger, so I think it makes the perfect soup. Beef, velveeta cheese, hot sauce, bacon croutons, and so much more make this Bacon Cheeseburger Soup recipe absolutely delicious!
Easy to make, really hard to stop eating…this is the best soup to finish out the cold winter season and eat right on into spring and summer. Cheeseburgers ARE basically the flavor of summer after all, so there's never a wrong time to eat this recipe.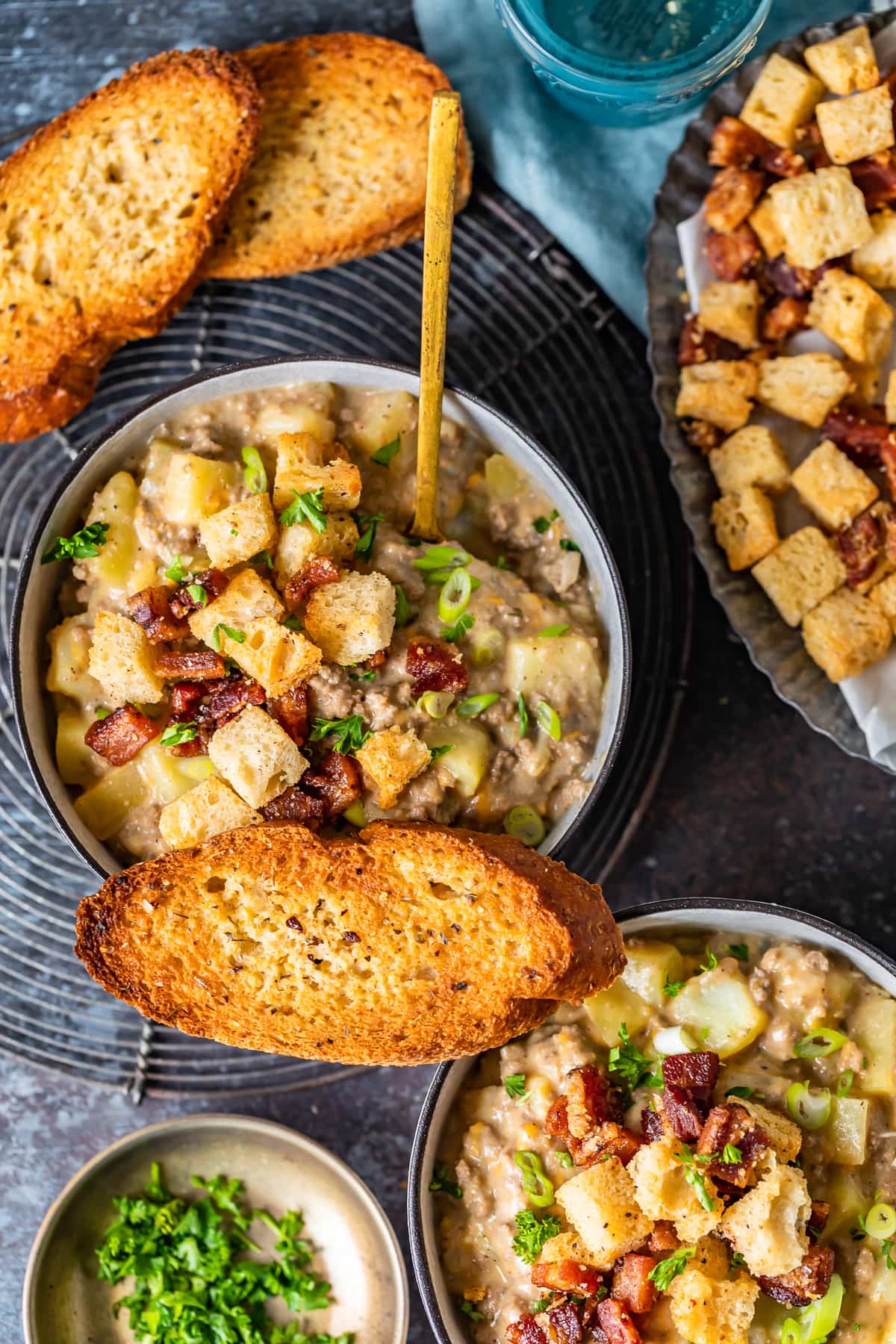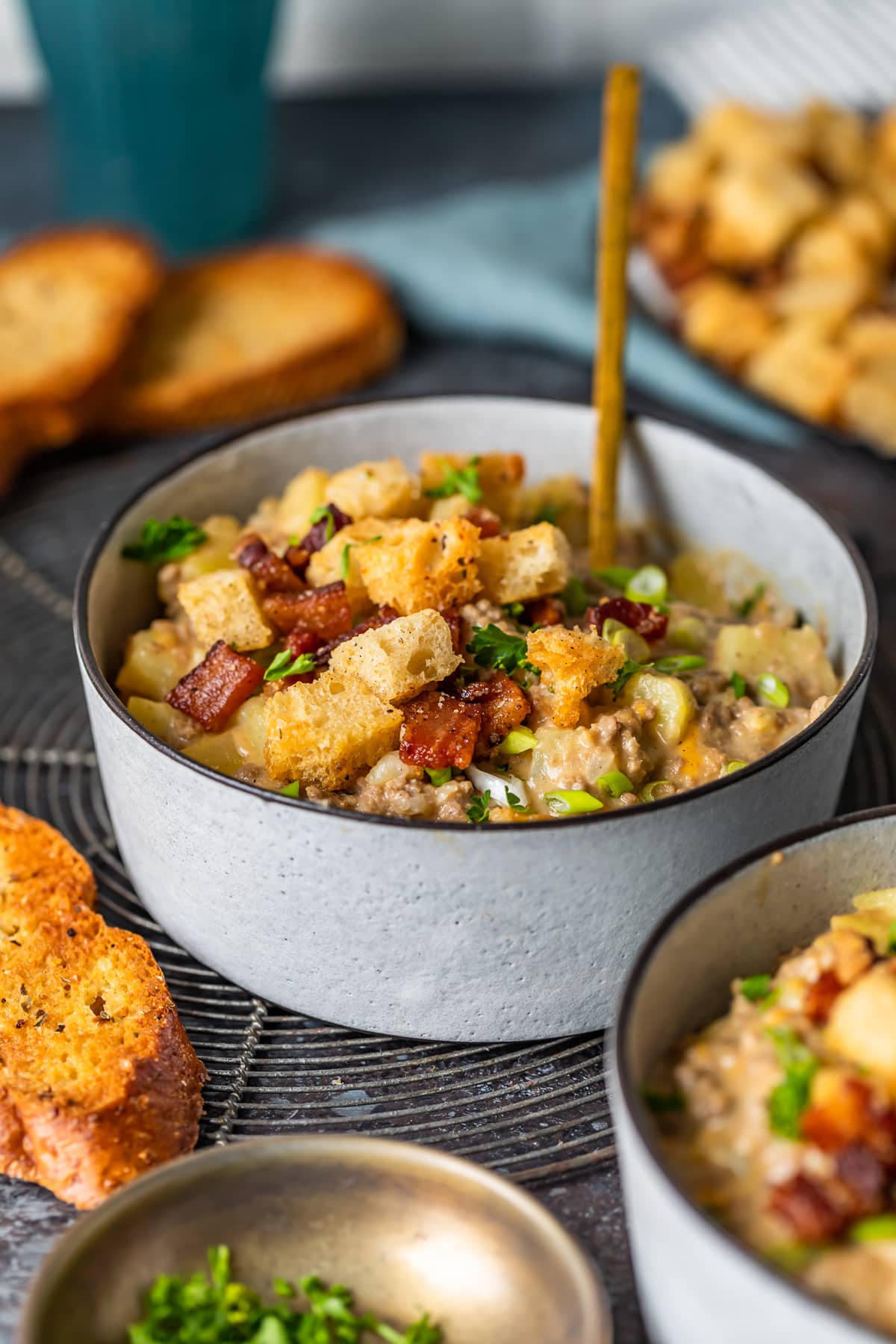 Ingredients
Ground Chuck
Yellow Onion
Potatoes
Chicken Broth
Hot Sauce
Parsley
Seasoned Salt
Whole Milk
Velveeta Cheese
Gruyere or Swiss Cheese (or both!)
Olive Oil
Butter
And of course don't forget the bacon croutons…
Bacon Croutons
This cheeseburger soup wouldn't be complete without the bacon croutons! That's what makes this a bacon cheeseburger soup, after all. Crunchy baked croutons mixed with freshly cooked bacon make a savory topping perfect for this soup. They'd be amazing on a salad too, but….that's not quite as fun.
Find out how to make Bacon Croutons here.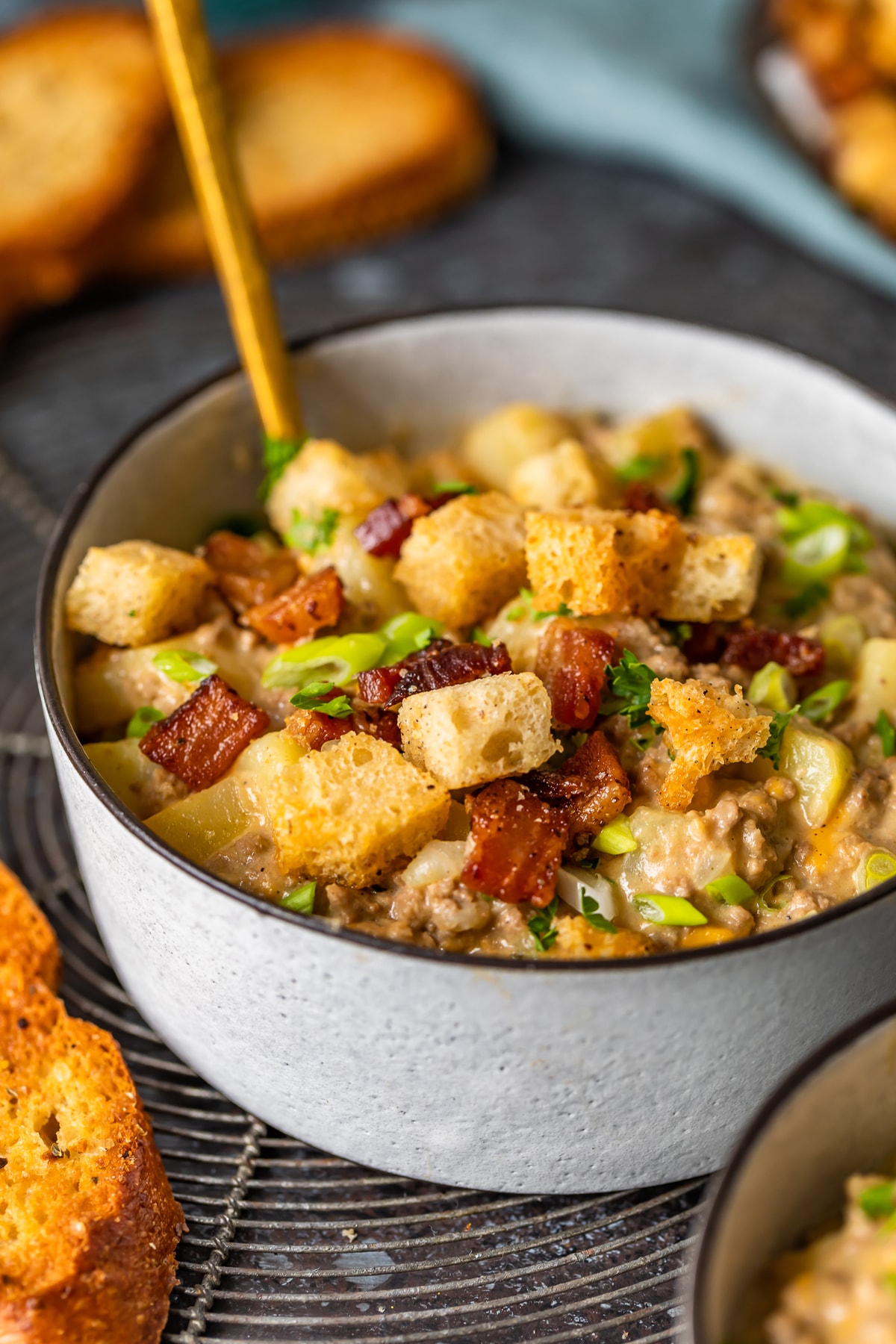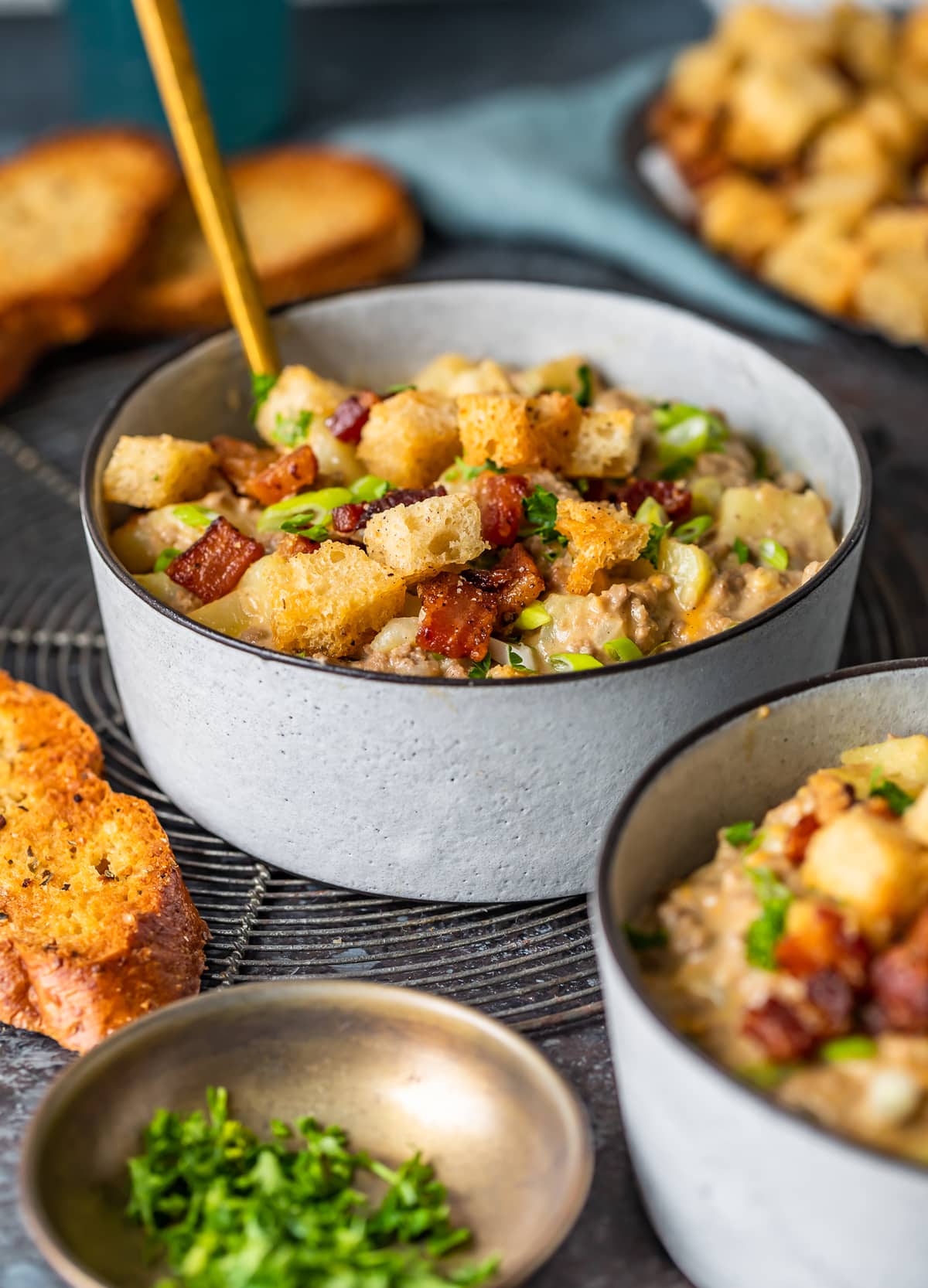 How to Make Bacon Cheeseburger Soup
This soup is relatively quick to make; you can have it ready and on the table in less than an hour! You can make the croutons ahead of time so they're ready to go, but they don't take long to make either.
Begin by cooking the ground chuck in a skillet. Cook it fully, and then drain the grease and set the beef aside.
Now add butter and oil to the same skillet, and let it melt. Add in the onions and cook about 4-5 minutes until they are translucent.
Add in the parsley, cubed potatoes, chicken broth, seasoned salt, hot sauce, pepper, and the cooked beef.
Bring the soup to a boil, then reduce heat and let it simmer about 10-15 minutes, or until the potatoes become tender.
Next, add in the milk and let it simmer another 5 minutes until the soup has thickened. Stir regularly.
Remove the soup from heat and stir in all of the cheese. (If it doesn't seem to be melting fully, put it back on low heat for a minute or two.)
Now season the soup with salt and pepper, and add on those bacon croutons before serving.
Serve with some hearty, crusty bread for dipping and you're good to go! A nice filling meal with SO much flavor!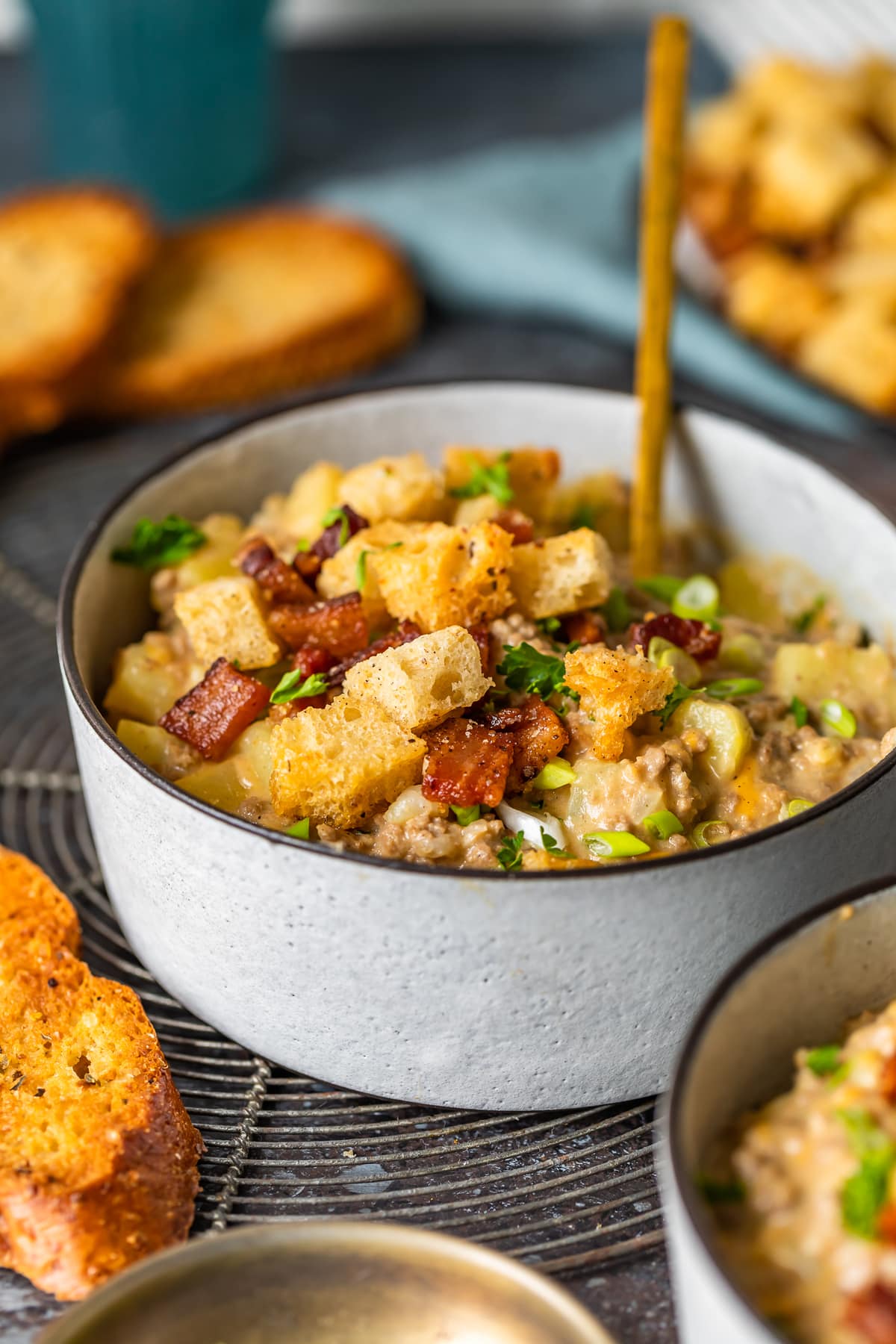 Cheeseburger Inspired Recipes
I LOVE everything about cheeseburgers. The beef, the cheese, and all the toppings. I love having them throughout the summer time, fresh off the grill. I love them so much, I don't think they should be confined to just the original…I want those flavors in all kinds of foods!
After you try this Bacon Cheeseburger Soup recipe, try these other cheeseburger inspired dishes too: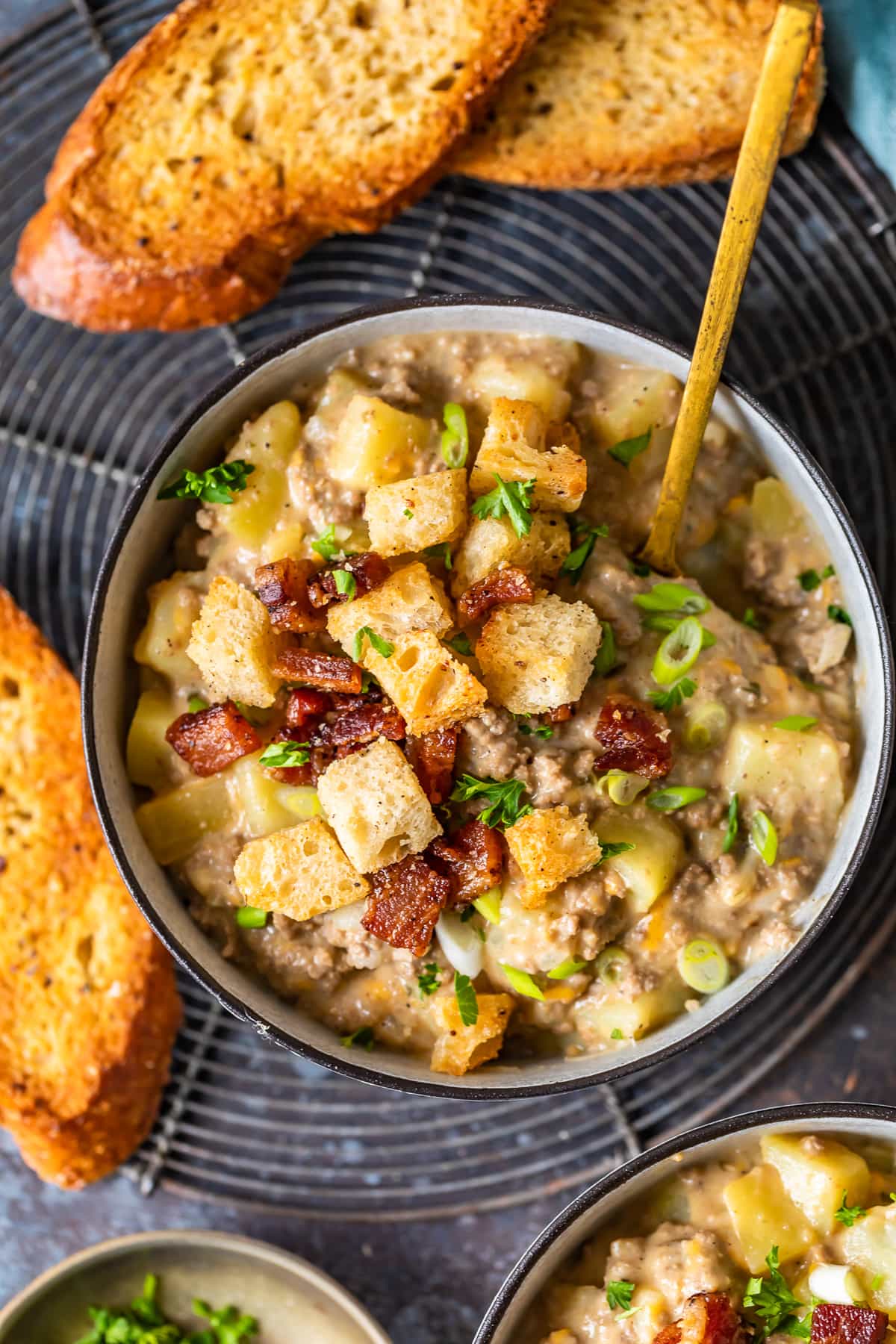 I hope you all love this cheeseburger soup as much as I do! I mean, it's hard not to love something this delicious, but I'll let you be the judge. Let me know if you try this recipe in the comments below! I love hearing your feedback.
See the recipe card for details on how to make Bacon Cheeseburger Soup. Enjoy!
If you like this recipe, try our other hearty and flavorful soup recipes: