Gardettos are my weakness for salty spicy snack mix. This recipe for Homemade Gardetto's is a fun and easy way to make a delicious snack mix for your family! We love the flavor and that you can control all of the ingredients to make it just like your family loves it. This copycat Gardettos Recipe is perfect for tailgating, family BBQs, or holiday parties. No need to buy it when you can make it at home!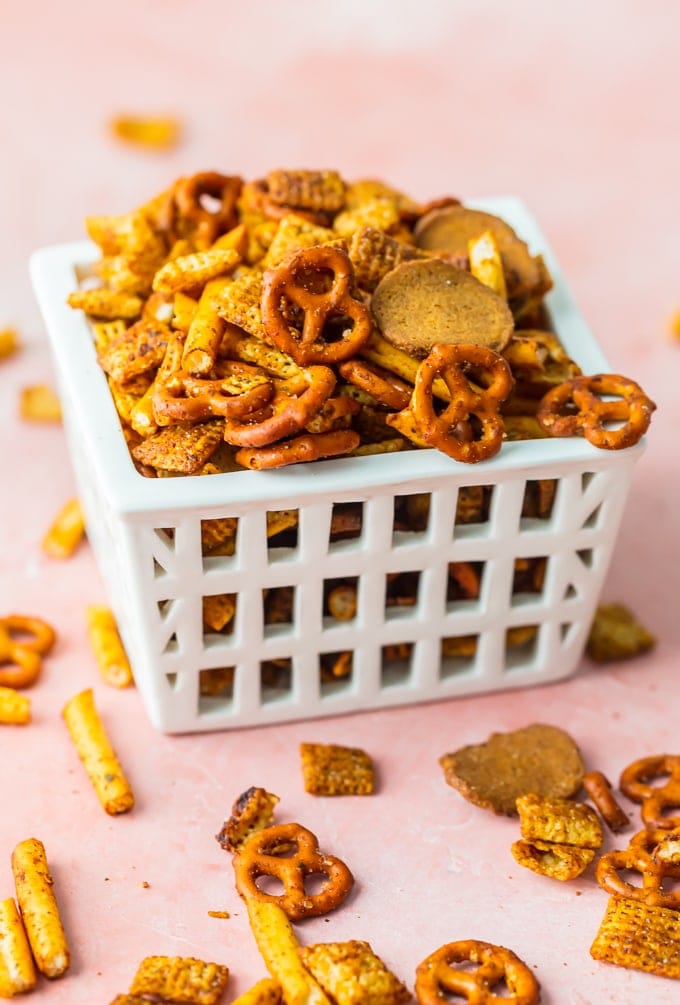 How to Make Homemade Gardettos
This Gardettos Recipe can get me through any tough day. In college I was OBSESSED with Gardetto's. I would stay up late procrastinating and popping this snack mix like candy. I probably could have learned a bit about everything in moderation, but they were just SO darn good! I never dreamed that I could make it in large batches at home so easily.
So often I look back and wish I would have started cooking earlier, but then I probably wouldn't have this blog all about learning to cook. We already have a favorite Chex Mix recipe on the blog (Mom's famous for it!) but now we have these Homemade Gardetto's as an option as well. So flavorful, delicious, and easy! The spicy and salty combination makes this snack mix recipe all I need in life!
Move over Chex Mix, there's a new favorite snack mix recipe in town!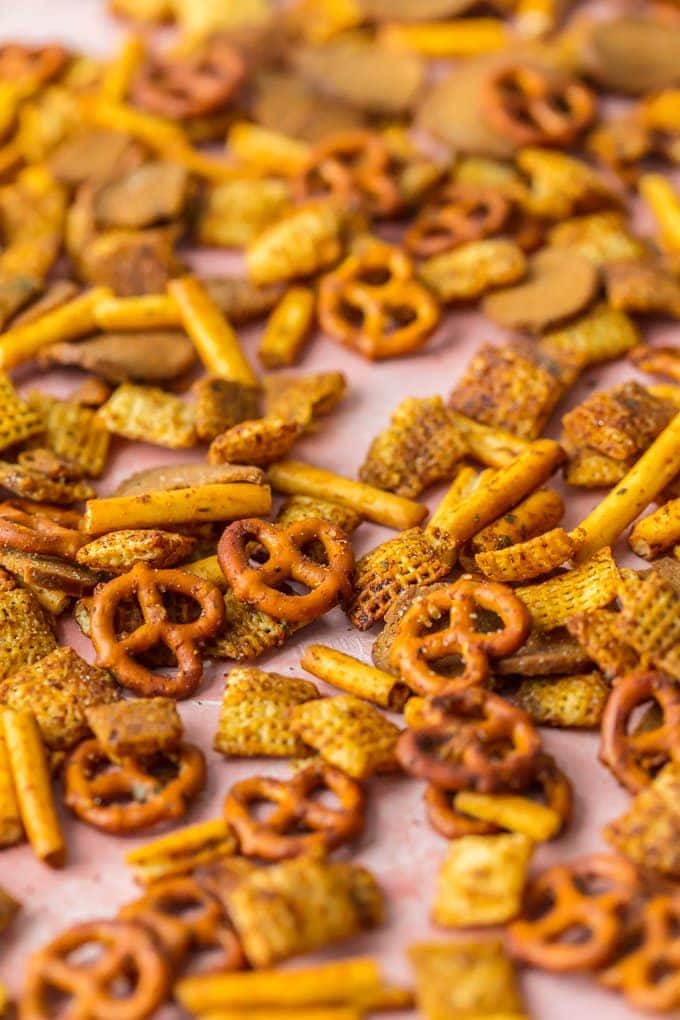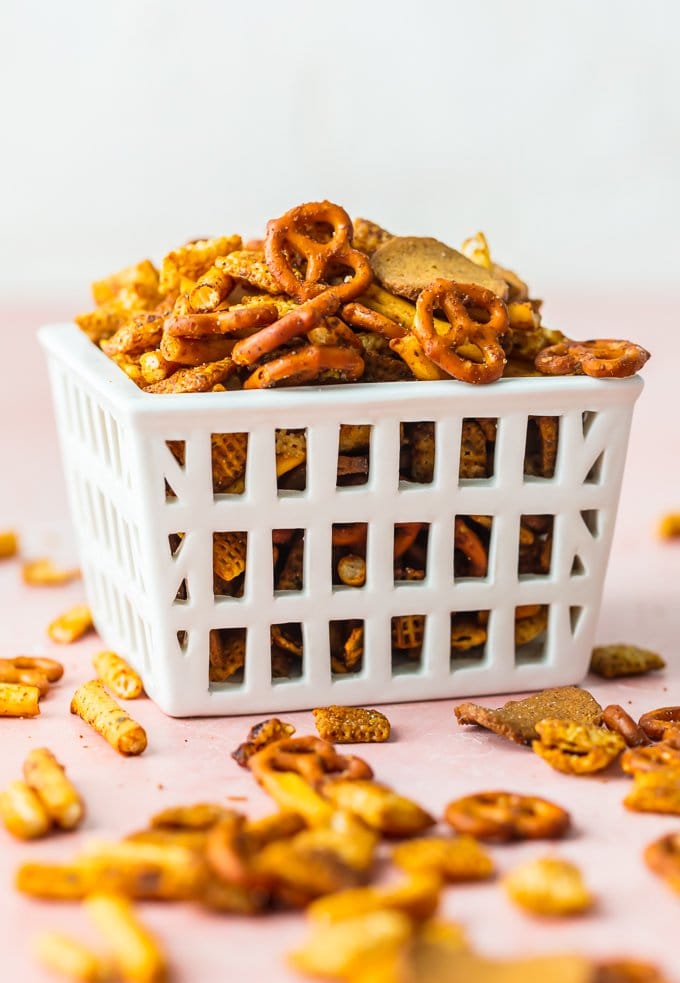 Copycat Gardettos Recipe
We adapted this recipe from one of my favorite cookbooks, Cravings by Chrissy Tiegen. Not only is Chrissy an amazing model and the funniest person on Twitter, she's also an incredible cook. She compiled some of her favorite approachable and creative recipes into her cookbook and I love it SO much. So many fun and tasty options. These Homemade Gardetto's stuck out to me as one I wanted to try right away and they took me back to college with the first bite.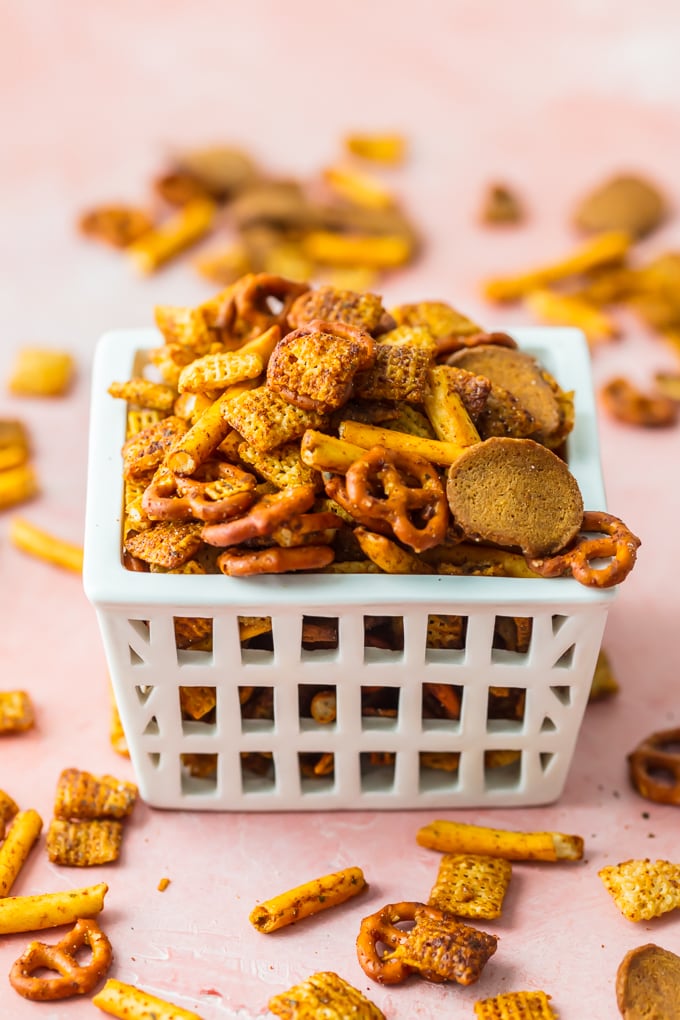 Tips and tricks for making Gardettos at home
You know those dark brown little chips in Gardettos? They're just little spiced pieces of dried rye bread. We made a couple tweaks like using Gardetto's toast pieces in the recipe instead of toasting our own bread.
If you'd like to make your own, you can use small wheat slices like THESE, cut them into fourths, and toast them before throwing them into the mix. An awesome option for sure! We just opted for the easiest path possible to making this recipe exactly like the original.
If you make an amazing snack mix recipe at home, you need some good cocktails to wash it down with. We recommend our Skinny Margarita, Summer Shandy, Champagne Sangria, or Party Punch if you're serving a crowd. Game Day here we come!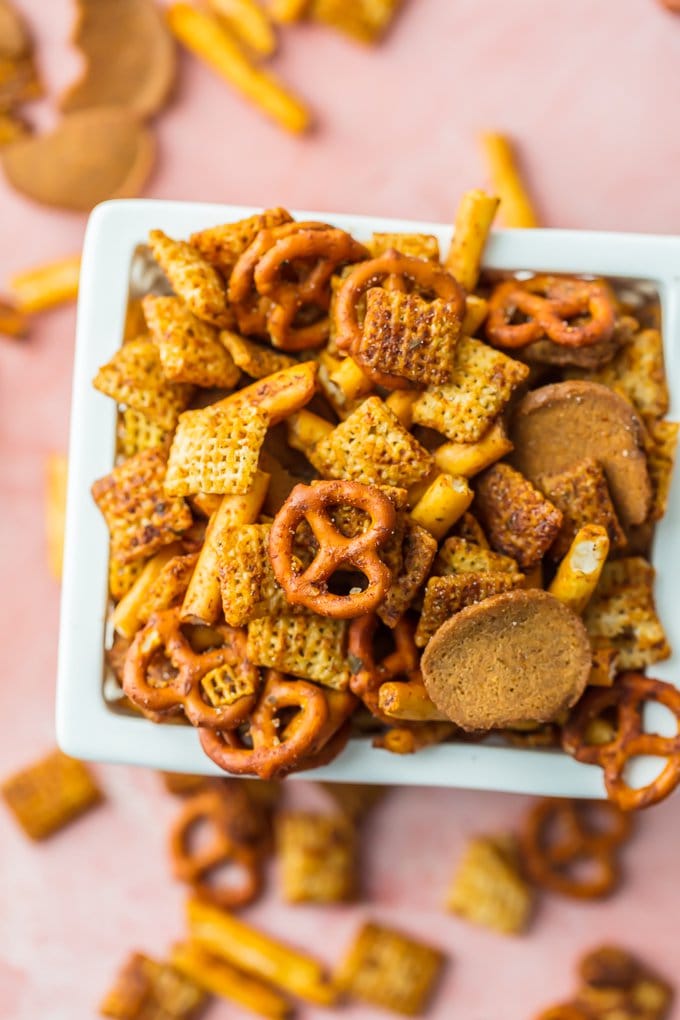 I hope this recipe brings you joy and calms your snack cravings! Hopefully it makes its way to your Super Bowl party, Christmas table, Summer BBQs, long road trips, and beyond.
If you're looking for more homemade snack mix recipes be sure to check out our Butter Toffee Pretzels, Easy Candied Walnuts, Garlic Parmesan Pasta Chips, and Homemade Chex Mix Recipe. Enjoy!
See the recipe card below for details on How to Make Gardettos. Enjoy!
AROUND THE WEB: Looking for more great homemade snack mixes? Check out these favorites. Ranch Snack Mix, Parmesan Garlic Mix, and Sweet and Salty Trail Mix.