Step up your coffee game with a hot, homemade Honey Almond Milk Flat White! Made with 3 simple ingredients, this naturally dairy-free recipe sweetens any morning.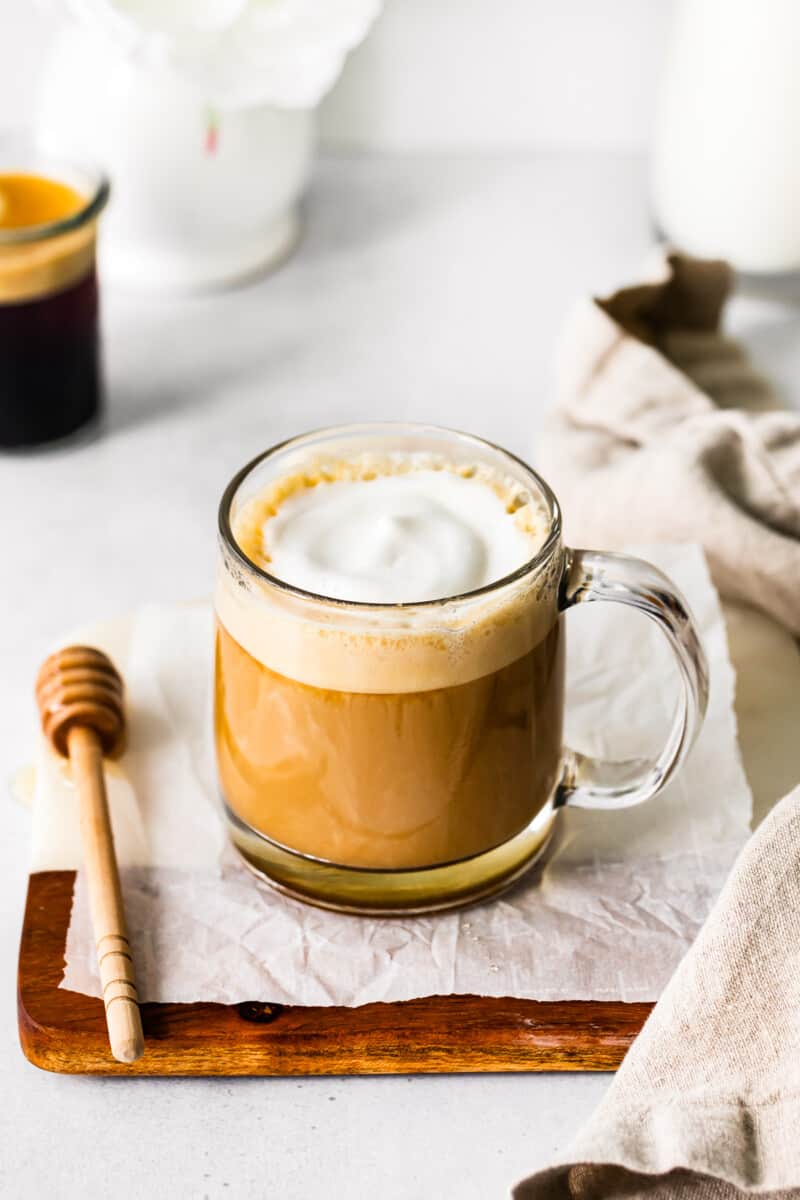 Hot Honey Almond Milk Flat White Recipe
If you're looking for a delicious twist on your daily cup of coffee, try this hot honey almond milk flat white recipe! Not only does this caffeinated beverage taste great and give you an energy boost, it's simple to prepare with just 3 ingredients. If you love coffee, this is a must-try recipe!
This almond milk flat white is similar to a Starbucks flat white, with the addition of honey for a little something sweet. The combination of espresso, steamed milk, and honey is so satisfying and warms you up on the chilliest of days. Whip up this classic coffee drink at home today!
Why you'll love this Honey Flat White recipe:
SIMPLE: You only need 2 minutes and 3 ingredients for this classic beverage.
DAIRY FREE: Featuring frothed almond milk, this creamy coffee drink is naturally dairy free.
DELICIOUS: Each sip of this homemade coffee drink features toasty espresso, warm almond milk, and sweet honey. Instantly fall in love with this honey flat white!
Say goodbye to waiting in long lines for coffee and hello to a homemade honey almond milk flat white!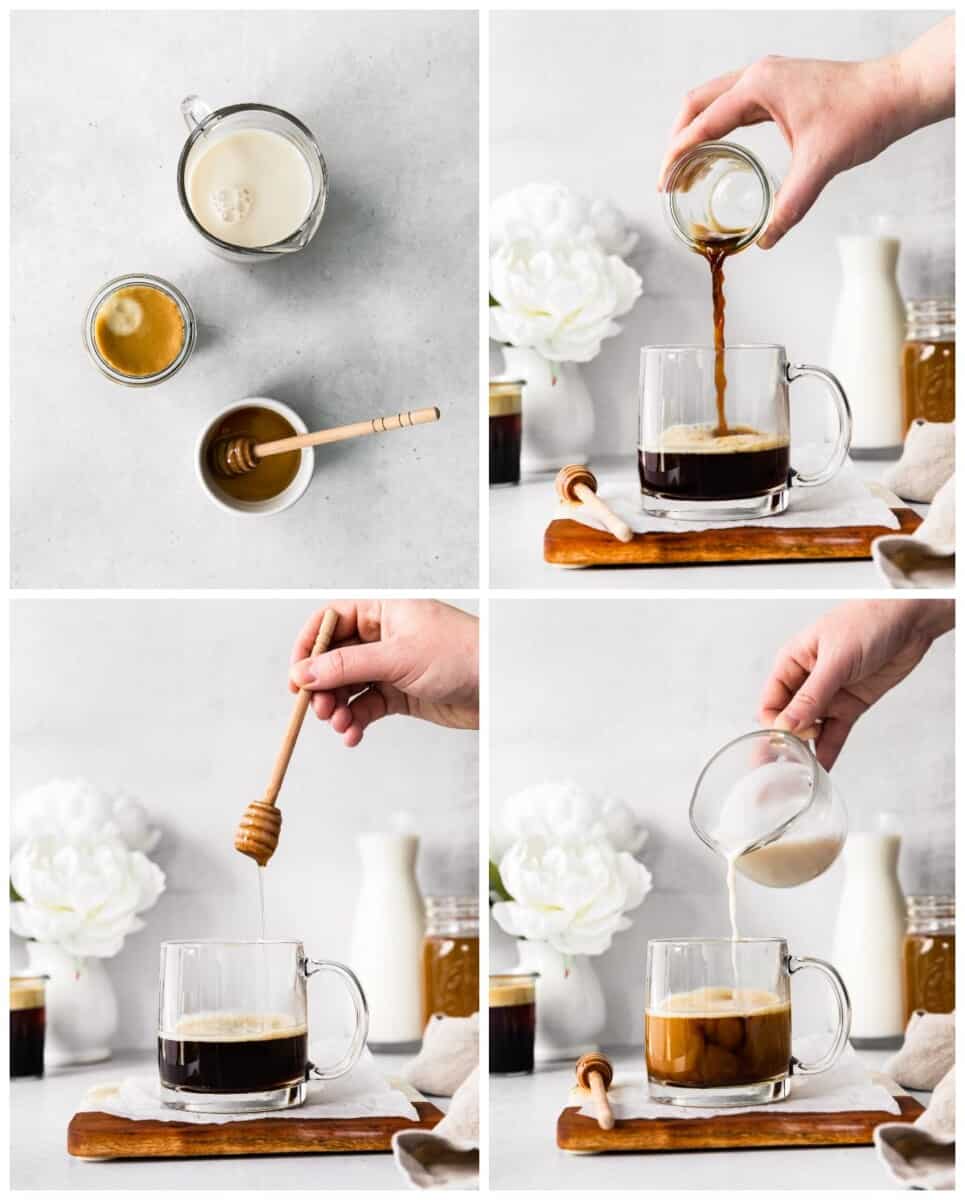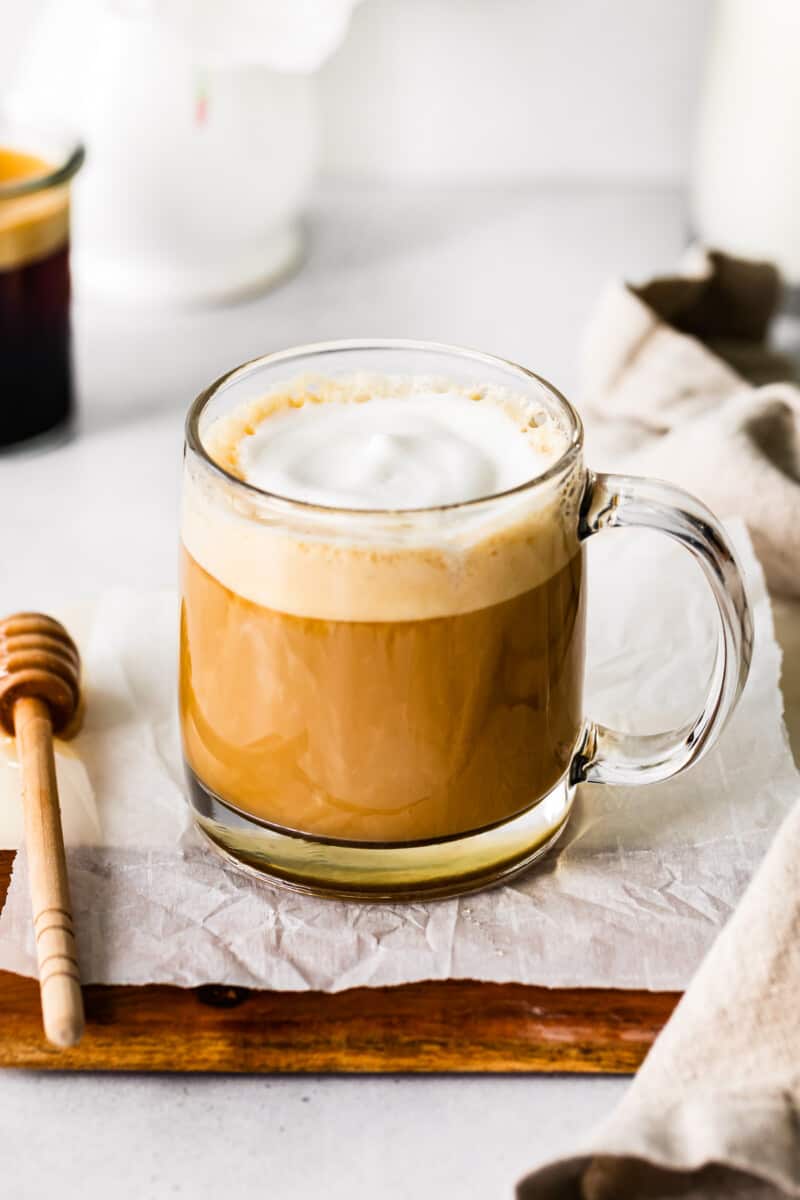 How to make an Almond Milk Honey Flat White
You can jump to the recipe card for full ingredients & instructions!
Stir the espresso and honey together in a mug.
Froth the almond milk and pour it into the mug.
Top with additional honey and a sprinkle of cinnamon.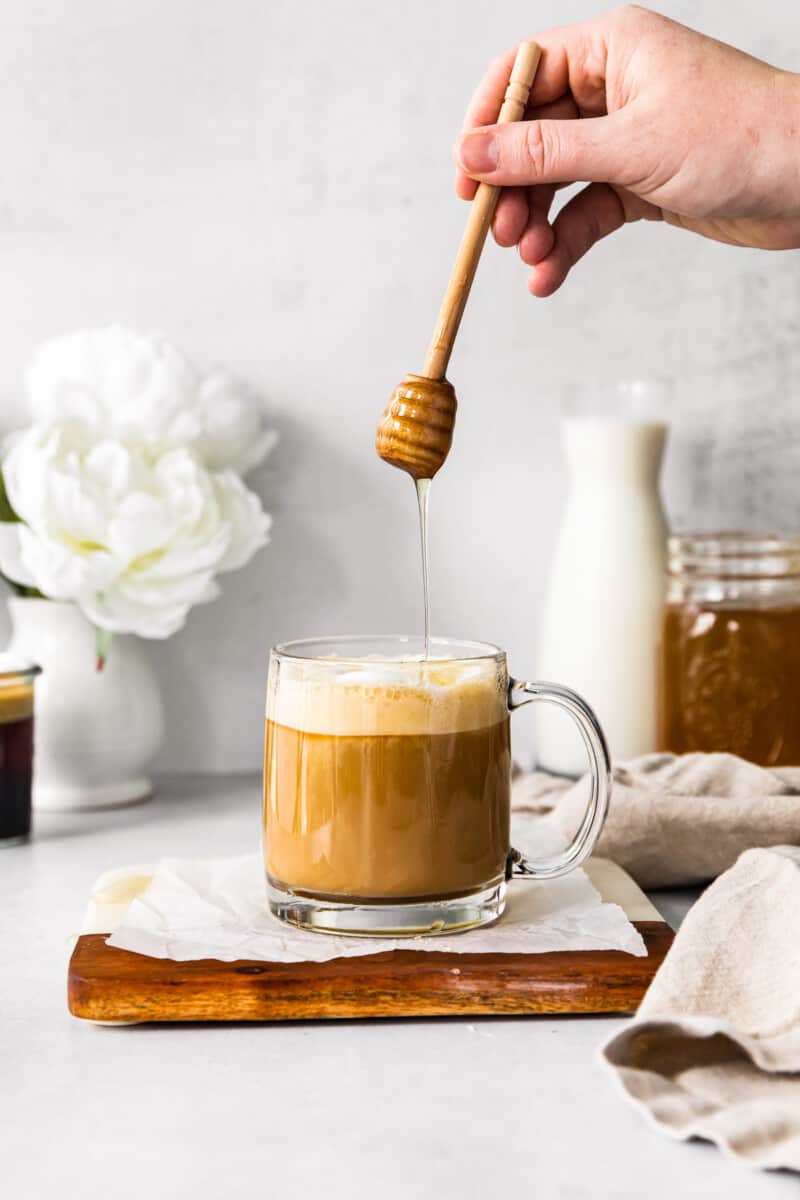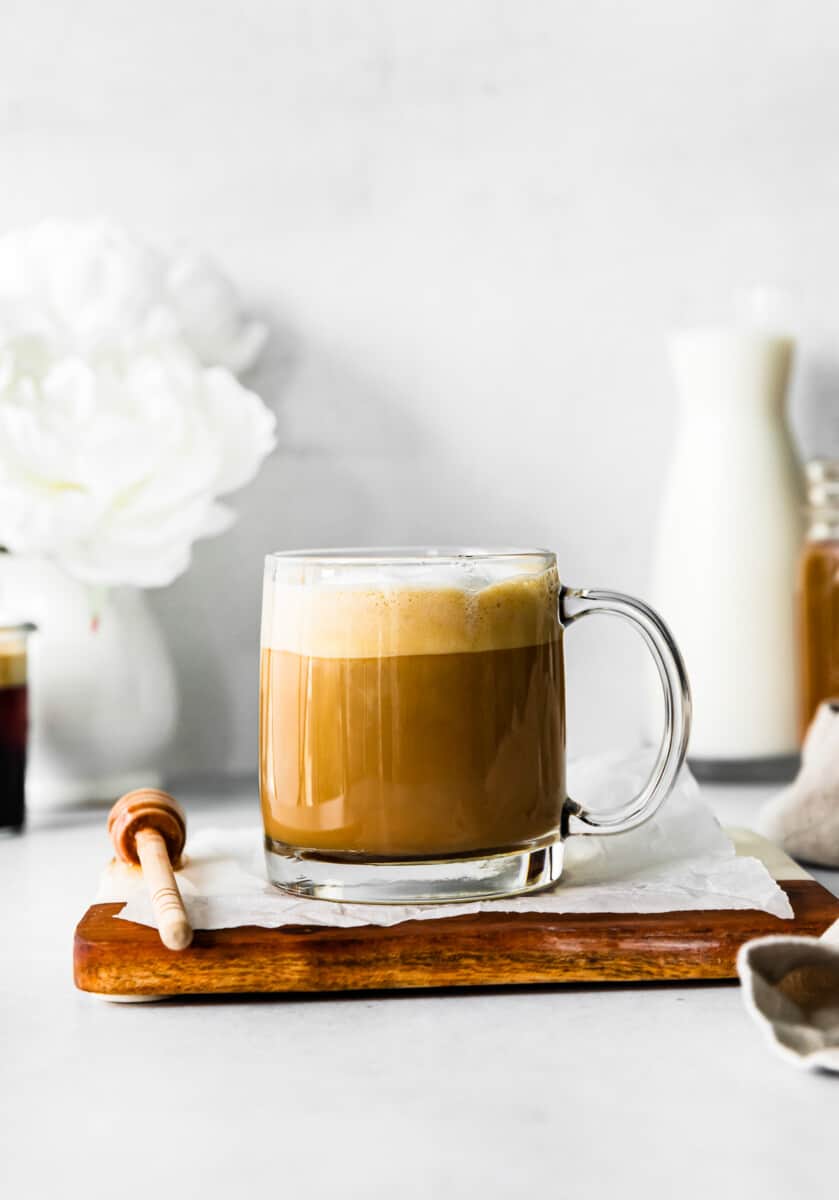 Can I use coffee instead of espresso to make a flat white?
Yes. While it won't taste as strong, you can use your favorite kind of coffee (or even cold brew) depending on what you enjoy and have on hand.
What milk is best for a honey flat white?
Any dairy-free or regular milk works great! I love using almond milk (plain or vanilla) because it froths really well! I've also had success with oat milk (results in a thicker consistency), cashew milk, and regular milk.
Can I use maple syrup in place of honey in this recipe?
Yes! For a completely vegan flat white, replace the honey with pure maple syrup.
Is this recipe similar to the Honey Almondmilk Flat White drink at Starbucks?
It sure is! If your go-to Starbucks order is the Honey Almondmilk Flat White, this copycat recipe will quickly become your go-to.
If you love the classic flat white from Starbucks, give this honey almond version a try. Pair it with fluffy croissants or egg bites!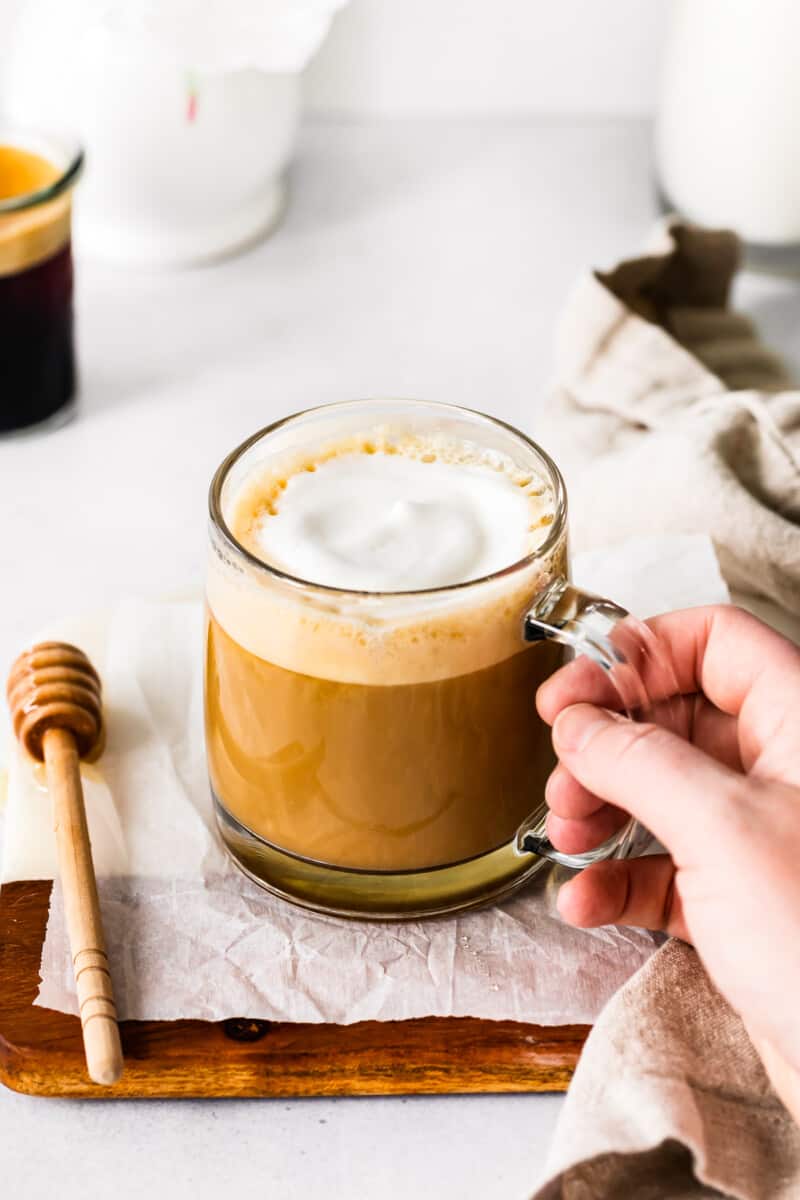 Tips!
If using the microwave to heat the milk, watch it closely as it can quickly overheat and splatter.
For even more flavor, add a caramel or chocolate syrup drizzle on top.
This recipe can be easily doubled!
If you're looking to elevate your morning coffee, a homemade honey almond milk flat white is your answer. It comes together quickly and easily – a hassle-free way to enjoy a fancy coffee in the comforts of your own home!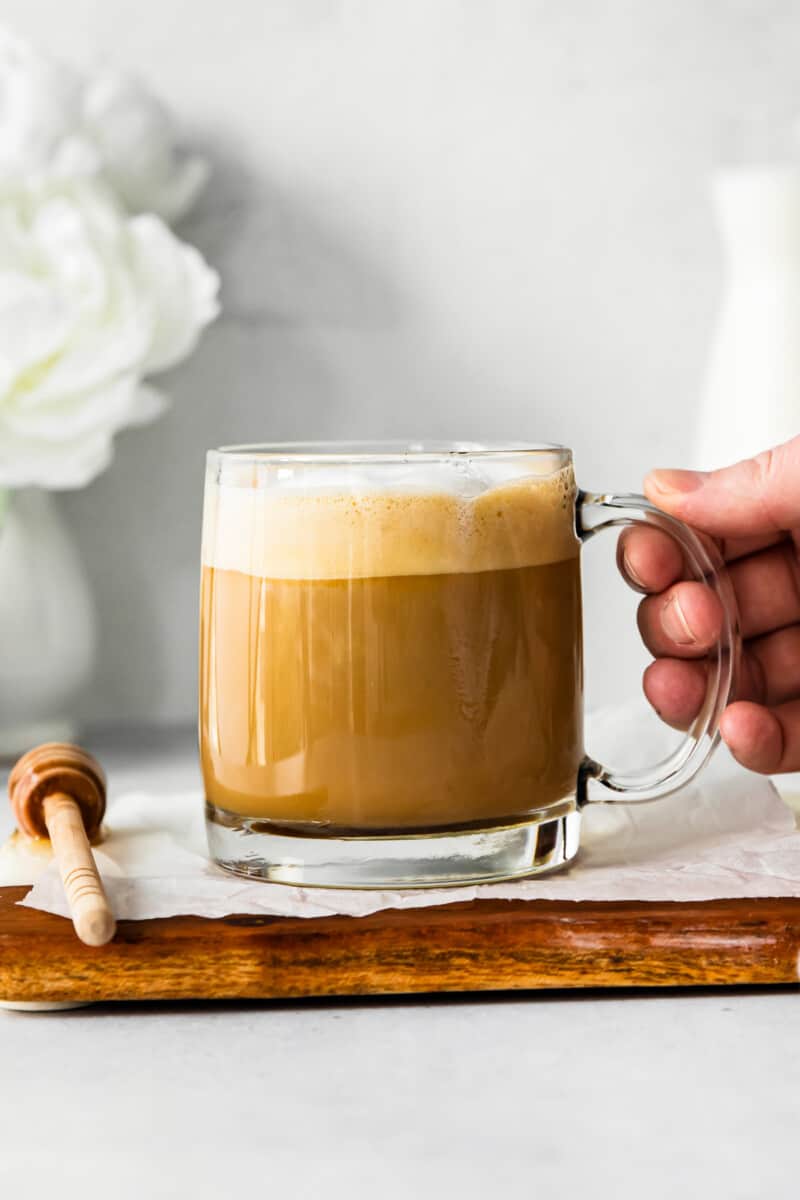 Any day that starts with a honey almond flat white is guaranteed to be a good day!
If you make this recipe be sure to upload a photo in the comment section below or leave a rating. Enjoy! You can also jump to recipe.