Skinny Hazelnut Iced Coffee is the perfect healthy way to start the day!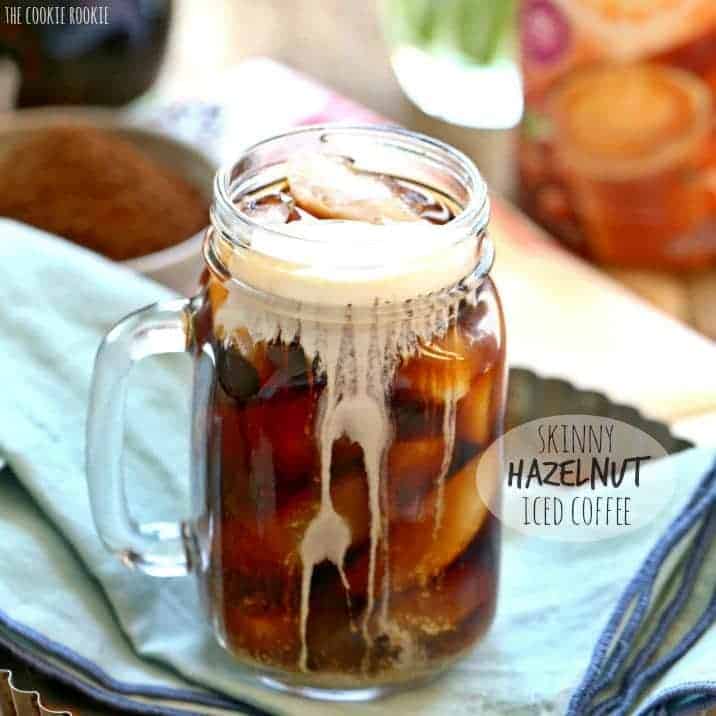 I'm still getting into a routine of being home.  I thought it would feel like hours and hours of available time to work…but it doesn't! People warned me that the time would fly every day, and they're definitely right.  This week I lost two work days to house appointments (we are making the dining room into a studio/office…I'm SO excited), and the other days just seemed to be gone in a flurry of replying to comments, editing pictures…and loving life! So fun.  But man…I need to get into a routine! Starting with coffee.  Lots of coffee.  Make that Skinny Hazelnut Iced Coffee.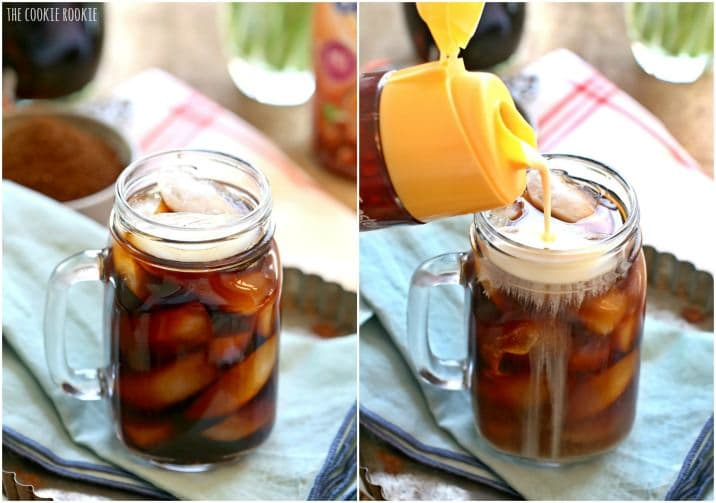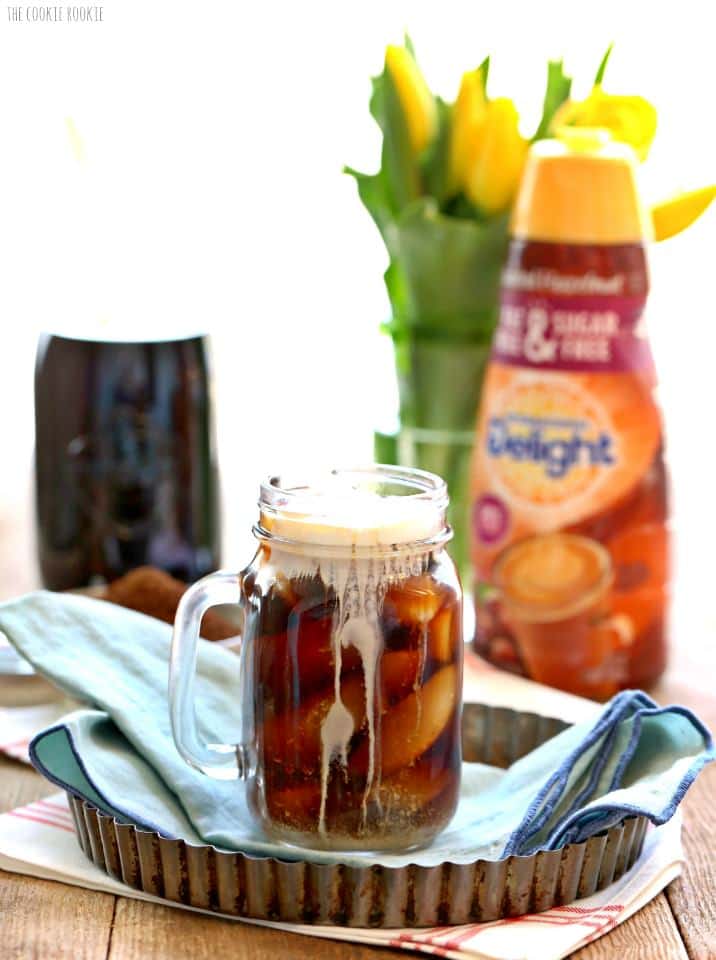 I've mentioned it before but I might not have really hammered it home…I'M NOT A MORNING PERSON. :) But this little beauty has really helped these first two weeks as a full-time blogger.  I used to rely on McDonald's for my iced coffee…but honestly it's better at home and SUPER easy.  It's easy to make in large batches and never fails to fuel my day.  One of the easiest and best secret tricks I've learned yet.
Pull up a seat, I'm more than happy to pour you a glass of Skinny Hazelnut Iced Coffee !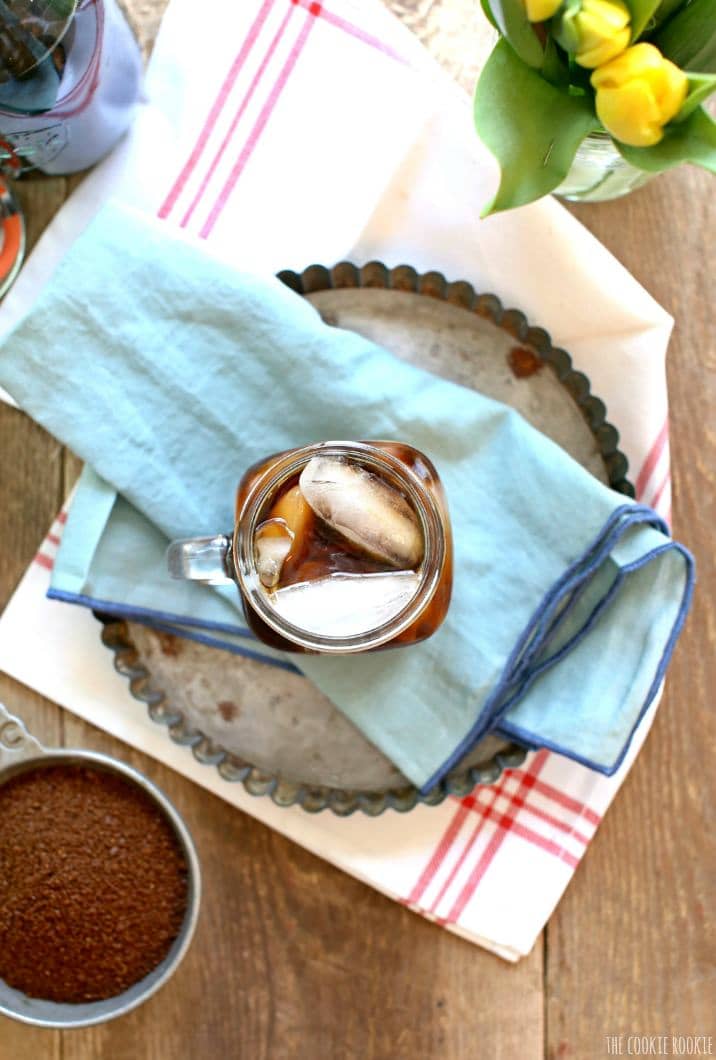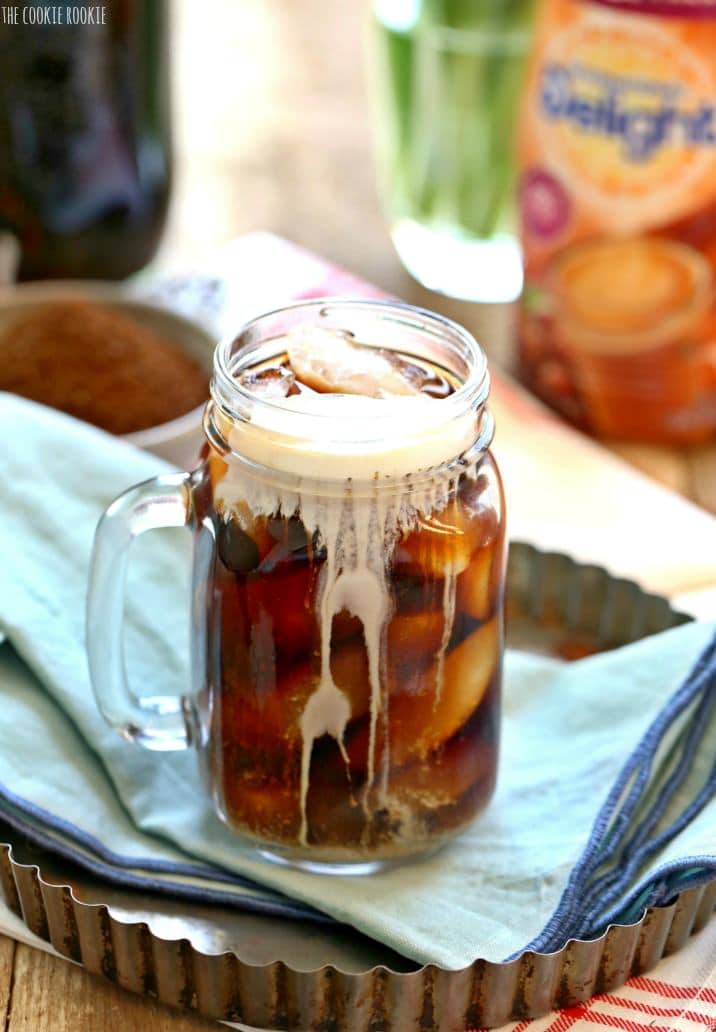 One thing I love about this delicious morning (or anytime of the day) treat is how easy it is to keep it healthy without sacrificing flavor.  My very favorite creamer and new obsession is International Delight FAT FREE and SUGAR FREE Toasted Hazelnut.  Um…wow.  Fat Free AND Sugar Free? Only 15 calories per serving?? Yes.  Please.  I'm home all day surrounded by cheese and chocolate.  The least thing I can do for myself is keep the coffee calorie intake to a minimum.  Best part? You'll never miss the fat or sugar.  It tastes so awesomely full of flavor.  A skinnier and hipper version of your favorite creamer flavors.  Hallelujah!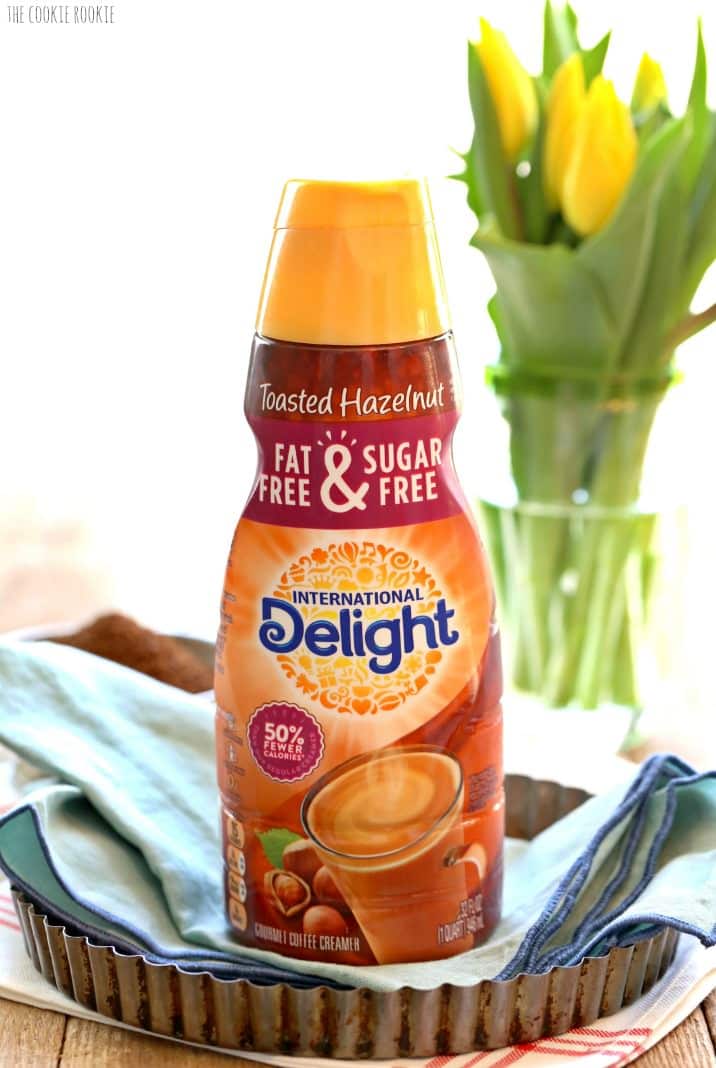 So now you know what I do first thing every morning.  Take some of my homemade iced coffee out of the fridge…pour in some International Delight Toasted Hazelnut Creamer, and get lost in all my non-free free time.  I'll get a good routine one of these days!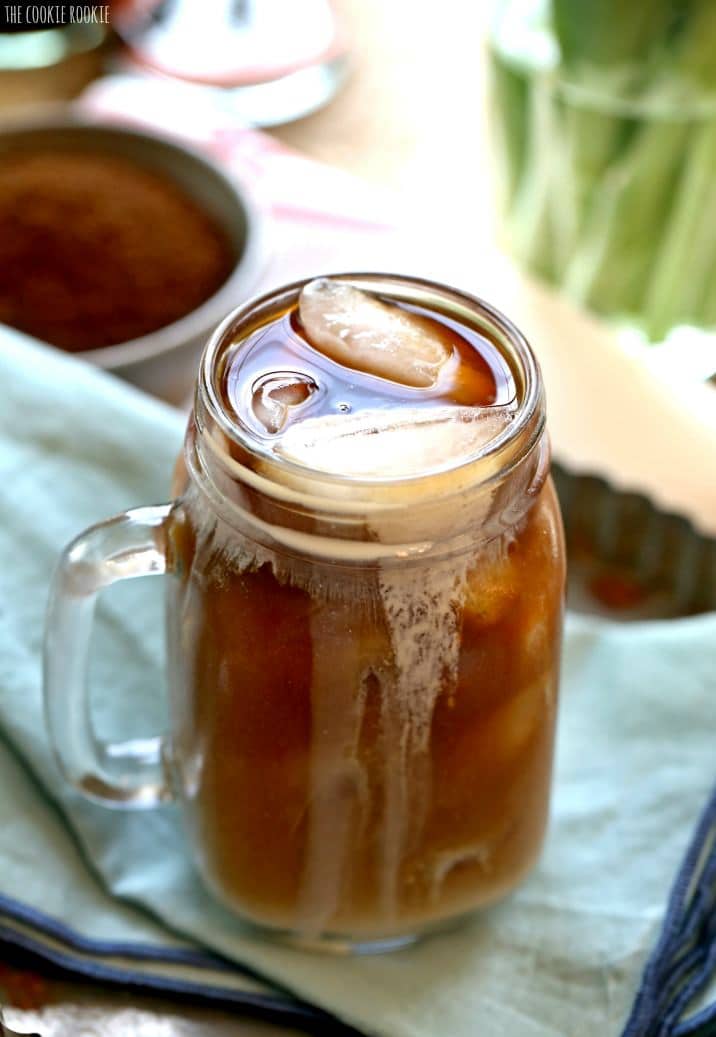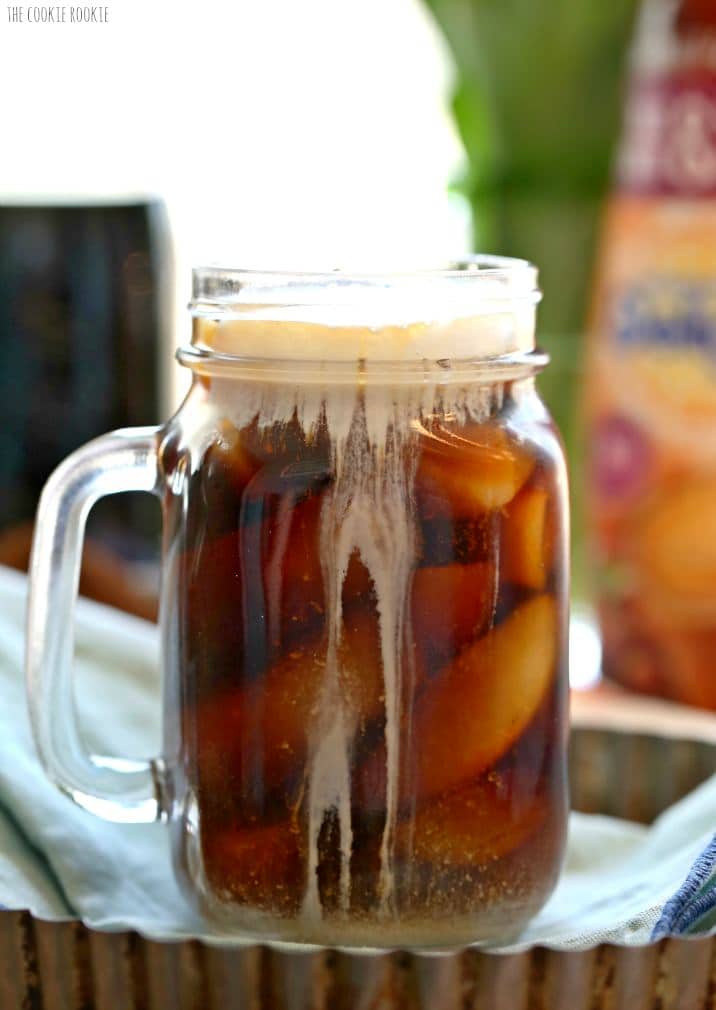 Cheers to good mornings and productive days! Be sure to check out How to Make Iced Coffee and our Favorite Iced Thai Coffee!
Skinny Hazelnut Iced Coffee
8 hrPrep Time
8 hrTotal Time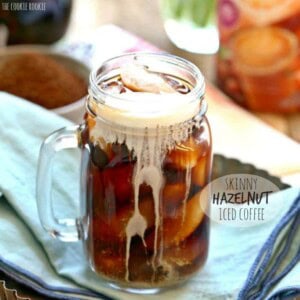 Ingredients
1 pound Ground Coffee (go for the good quality!)
8 quarts Cold Water
healthy splash of International Delight Sugar Free Fat Free Toasted Hazelnut Creamer per serving (I used about 2 tablespoons per tall glass)
sweetener of your choice (optional)
Instructions
In a large container (I use a large tupperware), mix ground coffee with water. Cover and allow to sit at room temperature overnight or for a minimum of 8 hours.
Pour the liquid through a cheesecloth lined strainer into a pitcher. You will want to press the grounds that collect into the strainer to get the last amount of liquid through. Discard the grounds.
Place coffee liquid in the refrigerator and allow to cool.
Serve over ice and mix in creamer to your liking.
(you can also add sweetener if you want! I prefer my coffee a bit on the strong side so I thought this was plenty sweet with just the creamer...but dress yours up the way you love it!)
Enjoy!
7.6.7
1793
https://www.thecookierookie.com/skinny-hazelnut-iced-coffee/
This is a sponsored conversation written by me on behalf of International Delight. The opinions and text are all mine.
Did you make this recipe?
Never Miss a Recipe!
Subscribe to have posts delivered straight to your inbox!