Quick and easy to make, this chicken salad recipe is perfect as is for Chicken Salad Sandwiches. Shredded chicken, celery and grapes are tossed in a creamy and tangy dressing and served in croissants for a tasty bite.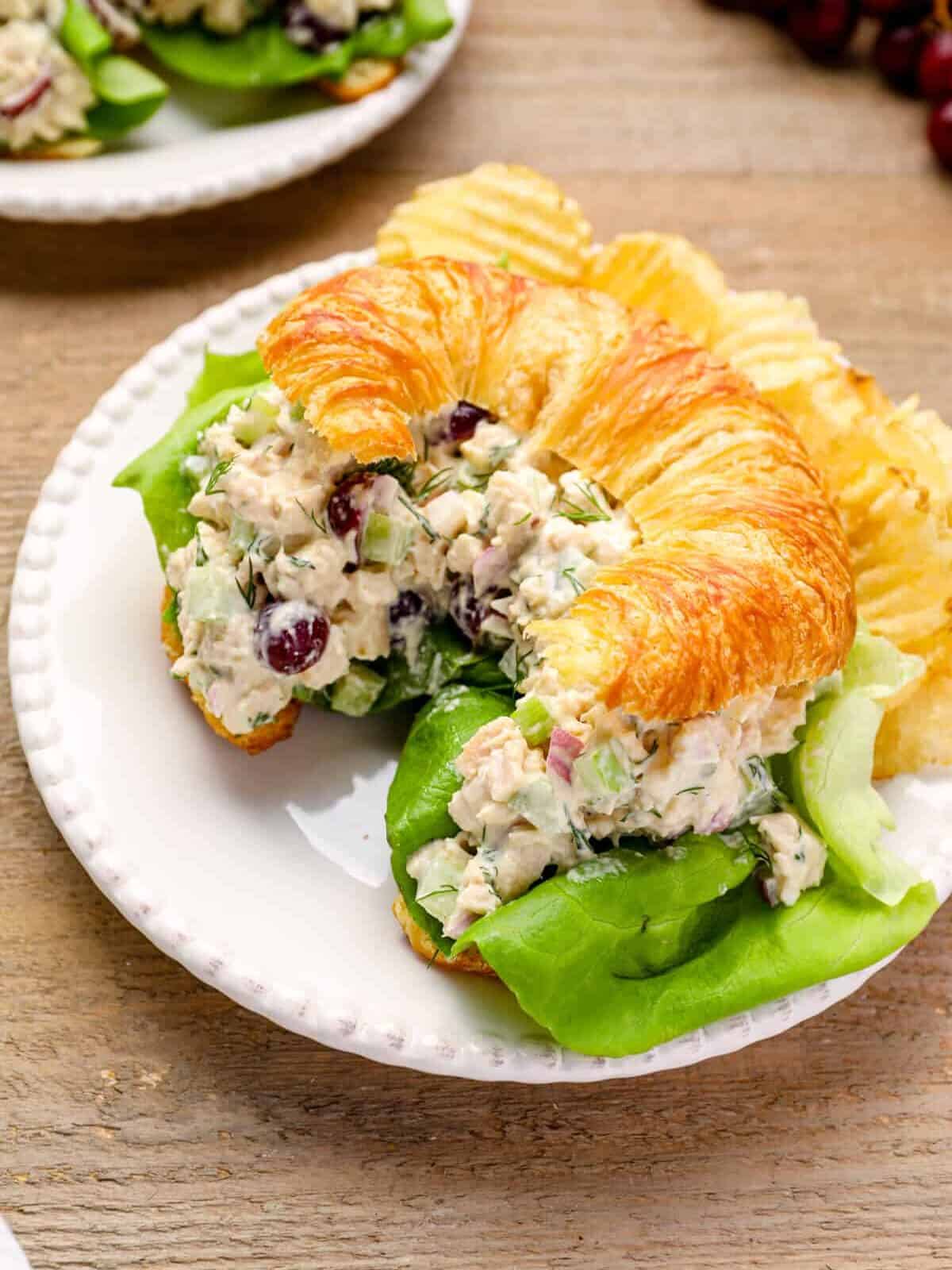 What's in a Chicken Salad Sandwich?
When you are in a hurry, you can not go wrong with a homemade chicken salad piled into a croissant for a tasty handheld bite. The creamy mayo dressing has a nice tang thanks to some Dijon mustard, and it's a perfect way to use up rotisserie or leftover roasted chicken.
Mayonnaise: Forms the creamy base of our chicken salad and helps loosely bind the ingredients together.
Dijon Mustard: Adds a bit of tanginess and spice.
Garlic Powder: Adds an earthy flavor.
Red Wine Vinegar: Adds a tangy zip.
Fresh Dill: Adds a fresh, herbaceous flavor.
Cooked Chicken: This recipe is perfect for using up leftover cooked shredded chicken!
Celery: Adds a bit of crunch!
Grapes: Add a pop of sweetness.
Red Onion: Adds a spicy-sweet flavor.
Croissants: The perfect vehicle for chicken salad sandwiches.
Butter Lettuce: A great compliment to chicken salad.
Pro Tip: You could also serve these up on homemade sandwich bread!
Variations on Chicken Salad
There are lots of ways to modify this recipe. For starters, you could change up the mix-ins. Keep total add-ins to about 2 cups. I love adding grapes, celery, and onion, but chopped walnuts or pecans, dried cranberries, hard-boiled eggs, or avocado would be delicious additions! You could change the flavor slightly by swapping out the dill for another fresh herb, like parsley, basil, chives, or tarragon.
To make this chicken salad a bit healthier, try swapping half of the mayo for plain Greek yogurt. To make it gluten-free, use your favorite gluten-free bread instead of croissants, or serve it over a salad.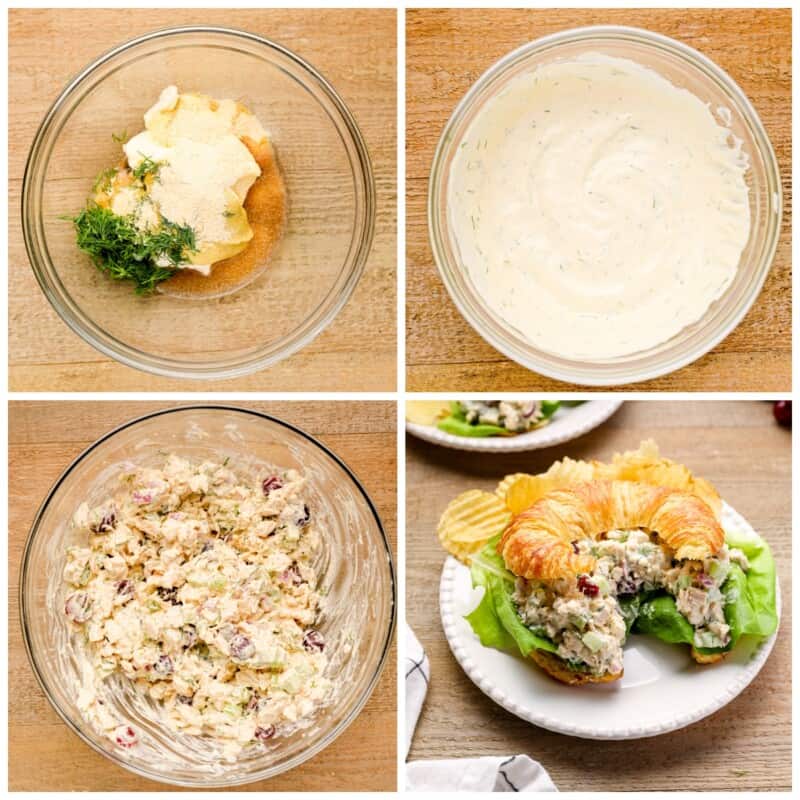 What kind of chicken should I use?
Use chopped or shredded cooked chicken. This is a great way to use up leftover chicken or for a shortcut, use a rotisserie chicken.
Is chicken salad healthy?
Chicken salad is packed with lean protein, vitamins, and minerals. However, it is also high in saturated fat, cholesterol, and sodium. Enjoy chicken salad in moderation.
Can you make these sandwiches ahead of time?
Make the chicken salad up to 2 days in advance and assemble the sandwiches just before serving.
Can you freeze chicken salad?
Because the chicken salad contains dairy it is not suitable for freezing.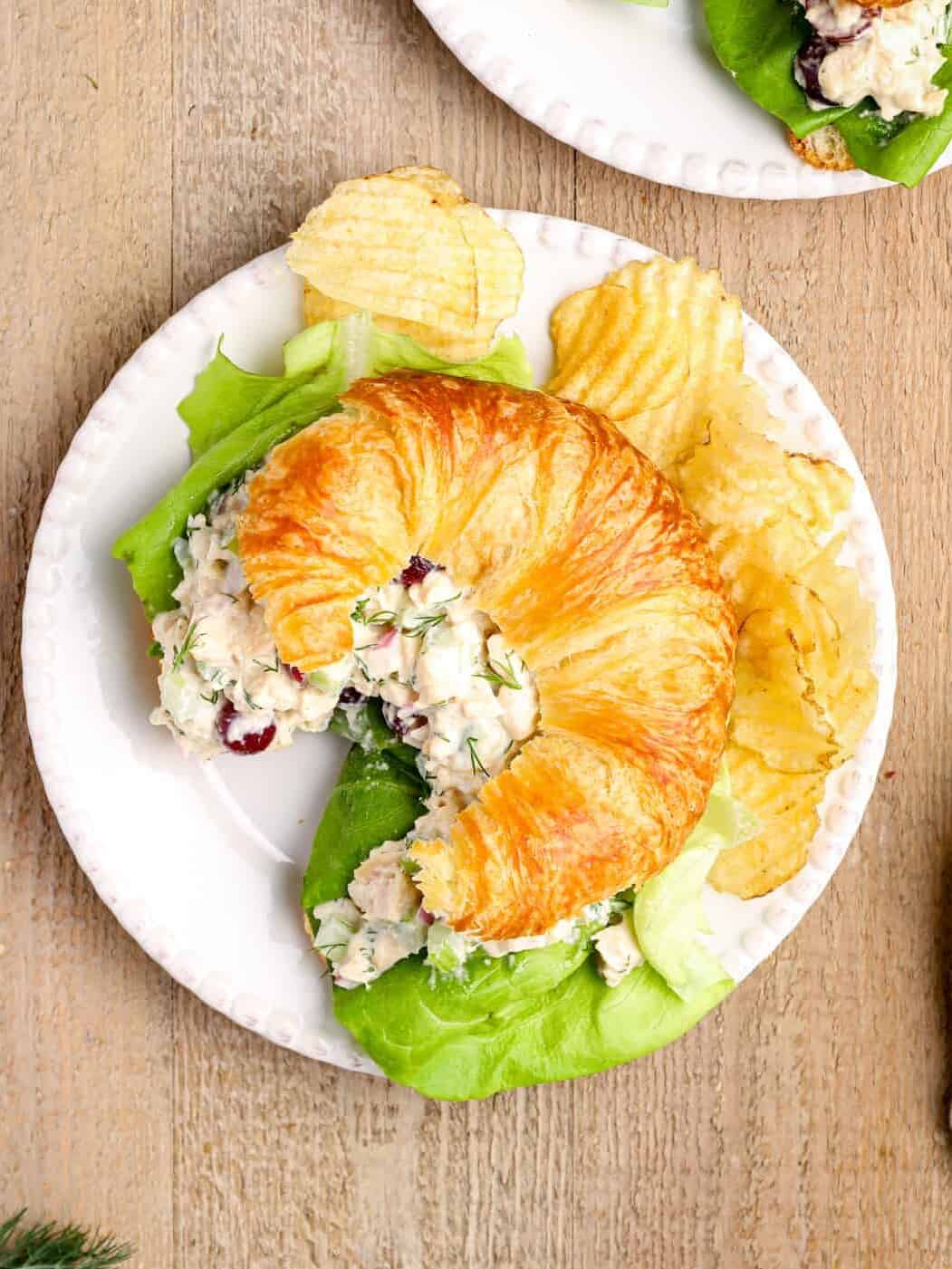 How to Store
Store leftover chicken salad in an airtight container in the refrigerator for up to 3 days. Enjoy cold. I do not recommend freezing chicken salad.
Serving Suggestions
I love chicken salad served on top of a crescent roll, or on focaccia bread or a Hawaiian roll. Serve chicken salad sandwiches with a side of french fries, zucchini fries, German potato salad, or baked sweet potato chips.
You can also serve chicken salad on top of a Waldorf, green goddess, or chopped salad. Or add it to portions of macaroni salad for a quick one-bowl dinner!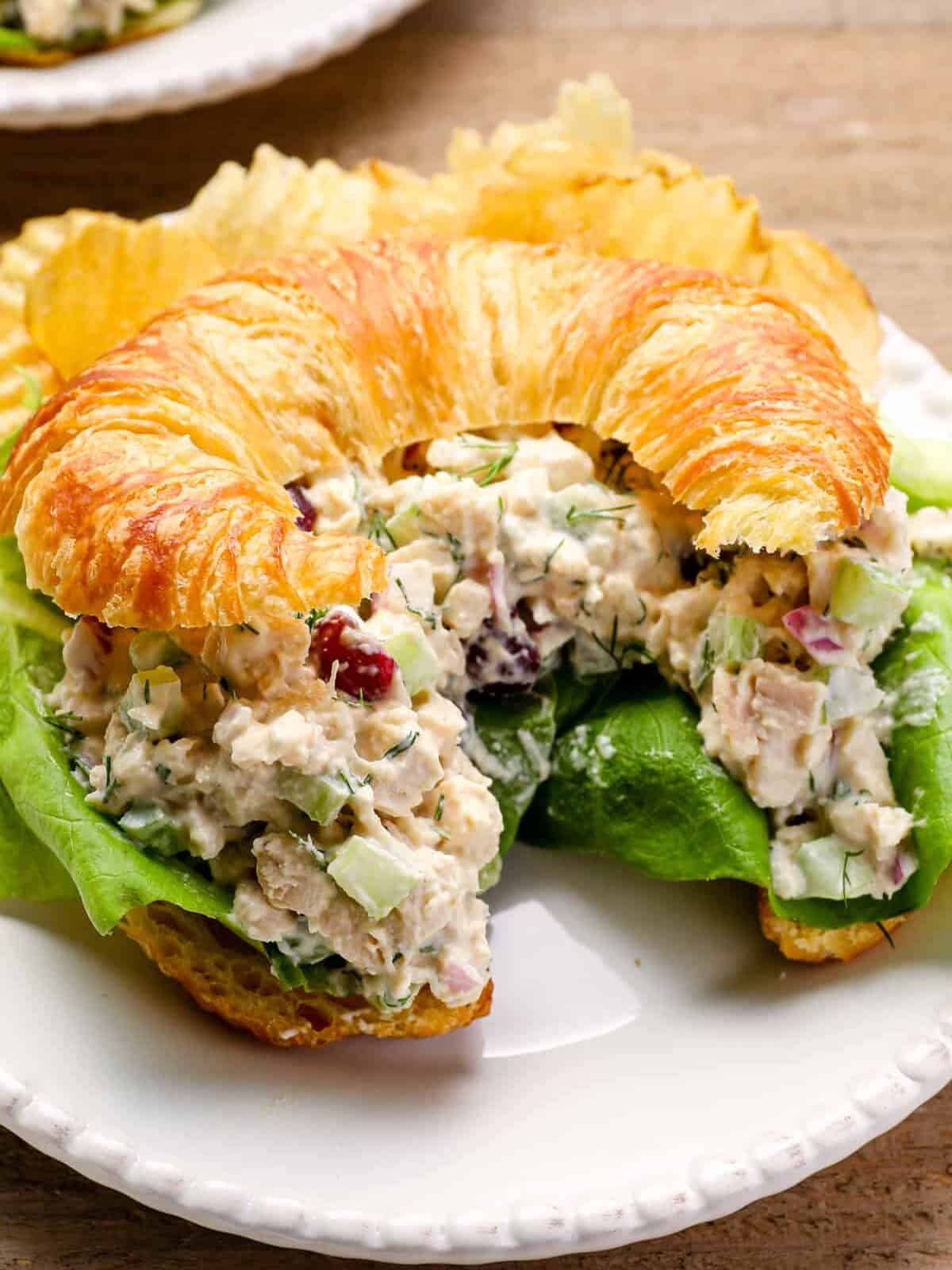 More Chicken Salad Recipes We Love