Beer cheese dip is hot, cheesy, and delicious! This corn and bacon filled cheese dip is the perfect easy appetizer for game day. A quick dip recipe sure to please any crowd!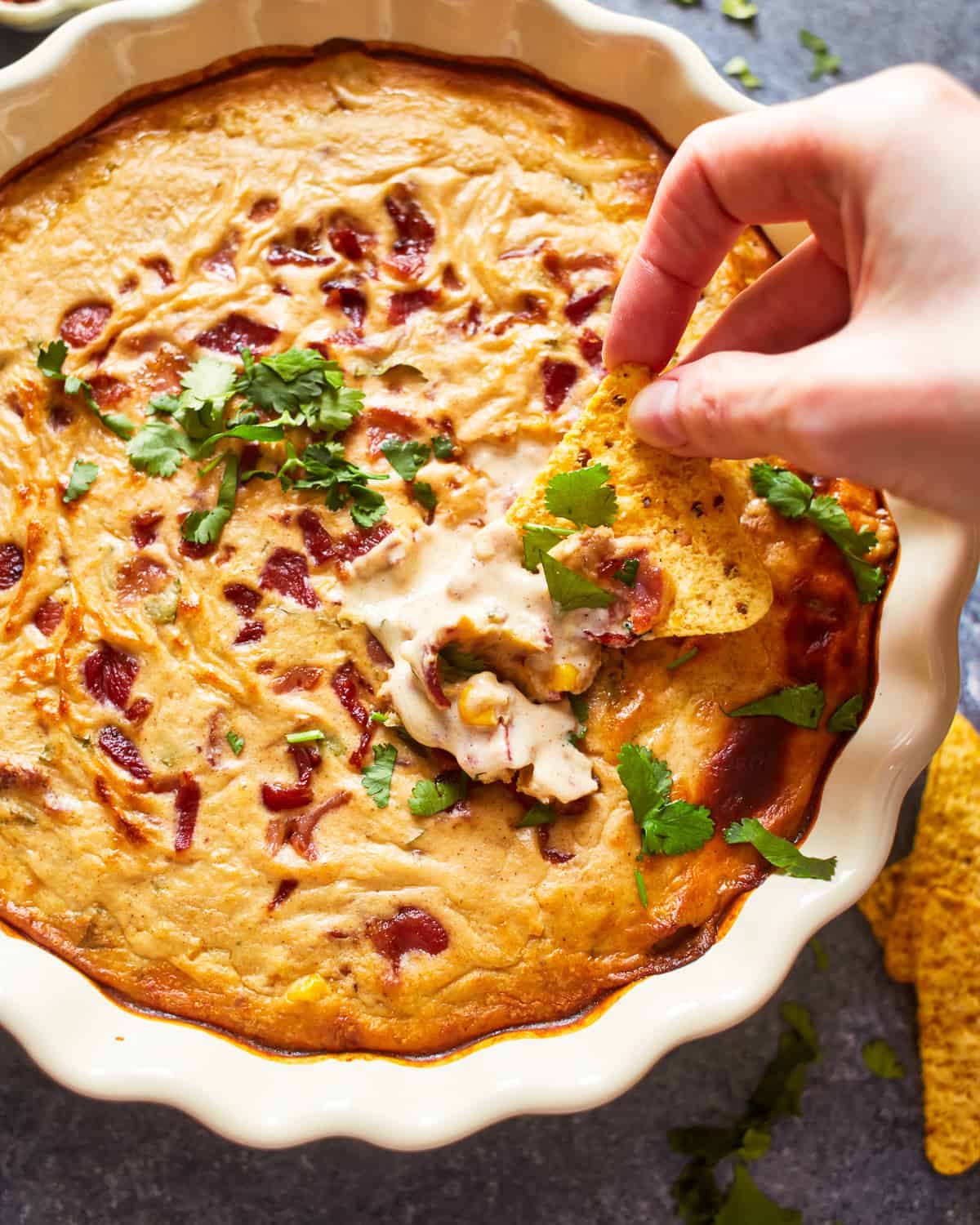 What's in Beer Cheese Dip with Bacon?
This corn and bacon packed beer cheese dip is a crowd favorite! It's hot, cheesy, and filled with beer and bacon. What more could you want in a dip?
Cream Cheese: Forms the creamy, tangy base of this dip.
Cheese: A combination of Parmesan cheese and mozzarella (and provolone, if you like!) makes this dip salty, creamy, and ultra-cheesy!
Beer: I like an IPA for this dip, but a golden lager will also work.
Spices: Black pepper, paprika, and garlic powder give this dip a spicy, earthy flavor.
Canned Corn: Adds a pop of sweetness and freshness. You can use frozen or fresh corn if you prefer.
Bacon Crumbles: Add a salty, umami flavor to the dip. The more, the better!
Cilantro: Adds a pop of color and freshness. You can leave it out if you're not a fan.
Pro Tip: Room temperature cream cheese will combine better than cold.
Variations on Bacon Beer Cheese Dip
There are so many easy ways to change up this beer cheese dip to suit your personal tastes. Here are a few ideas:
Spicy: Add some diced jalapeños or a pinch of cayenne pepper to the mixture for some heat.
Smoky: Add a few dashes of liquid smoke to the mixture for a smoky flavor. You could also use smoked cheddar or gouda instead of the mozzarella/provolone blend.
Herb and Garlic: Stir in some finely chopped fresh herbs (such as parsley, chives, and thyme) and minced garlic for a more herbaceous and garlicky dip.
Mexican-Style: Swap out the Parmesan cheese for queso fresco and the bacon for cooked chorizo. Add some diced tomatoes and green chilies for extra flavor.
Buffalo: Stir in some Buffalo sauce for a spicy and tangy dip. You could also top it with some crumbled blue cheese before serving.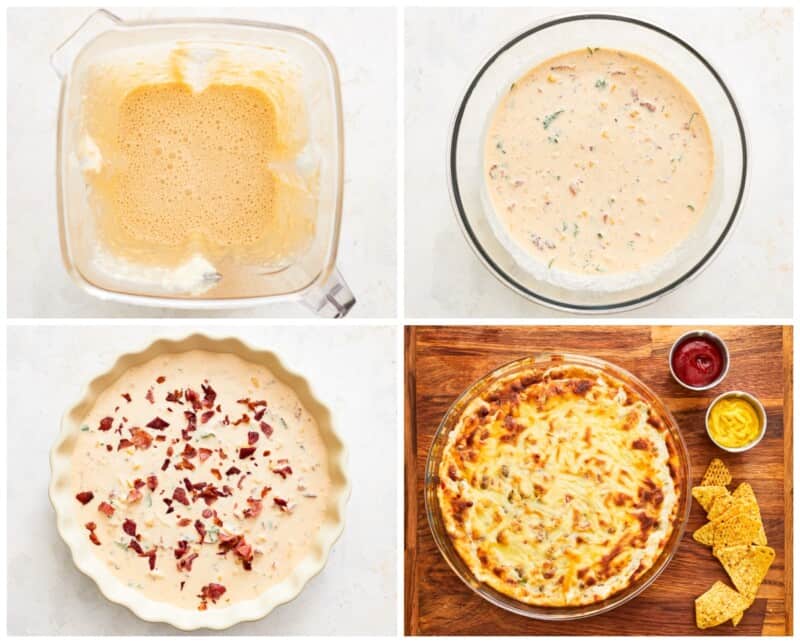 What beer should I use in this beer cheese dip?
I recommend using an IPA for this beer cheese dip recipe. It has a great depth of flavor while still being crisp and light. It's one of our favorite beers on its own, and it's perfect in this recipe. You'll only need about half a bottle, so feel free to sip on the rest while cooking.
Can I make this dip in a crockpot?
You sure can. Dump all of the dip ingredients in a crockpot, cover, and cook on low heat for 4 hours (or high heat for 2 hours).
Should this dip be served hot or cold?
This oven-baked dip is best served hot if you ask me, but it can certainly be served cold if you prefer. Feel free to serve it straight from the fridge.
How can I keep this dip warm?
If you're serving this dip at a party, keep it warm in a slow cooker set to low.
Can I save leftovers?
Absolutely! Don't let any of this hot beer cheese dip go to waste! It will keep for up to 3 days in the refrigerator.
How to Store and Reheat
If you somehow have leftovers (it's really good and hard to resist), store it in an airtight container. You could also wrap the serving dish with plastic wrap or foil. Then, store it in the refrigerator for up to 3 days.
It tastes pretty good cold, or you can reheat it in the microwave or oven. I do not recommend freezing this dip!
Serving Suggestions
A good dip deserves an even better chip! You can't go wrong with tortilla chips here. I recommend using a sturdier chip to make sure it holds up against all that cheese, corn, and bacon. You could also serve this with crackers, pita chips, bread dippers, or even some veggies (just for the illusion of health).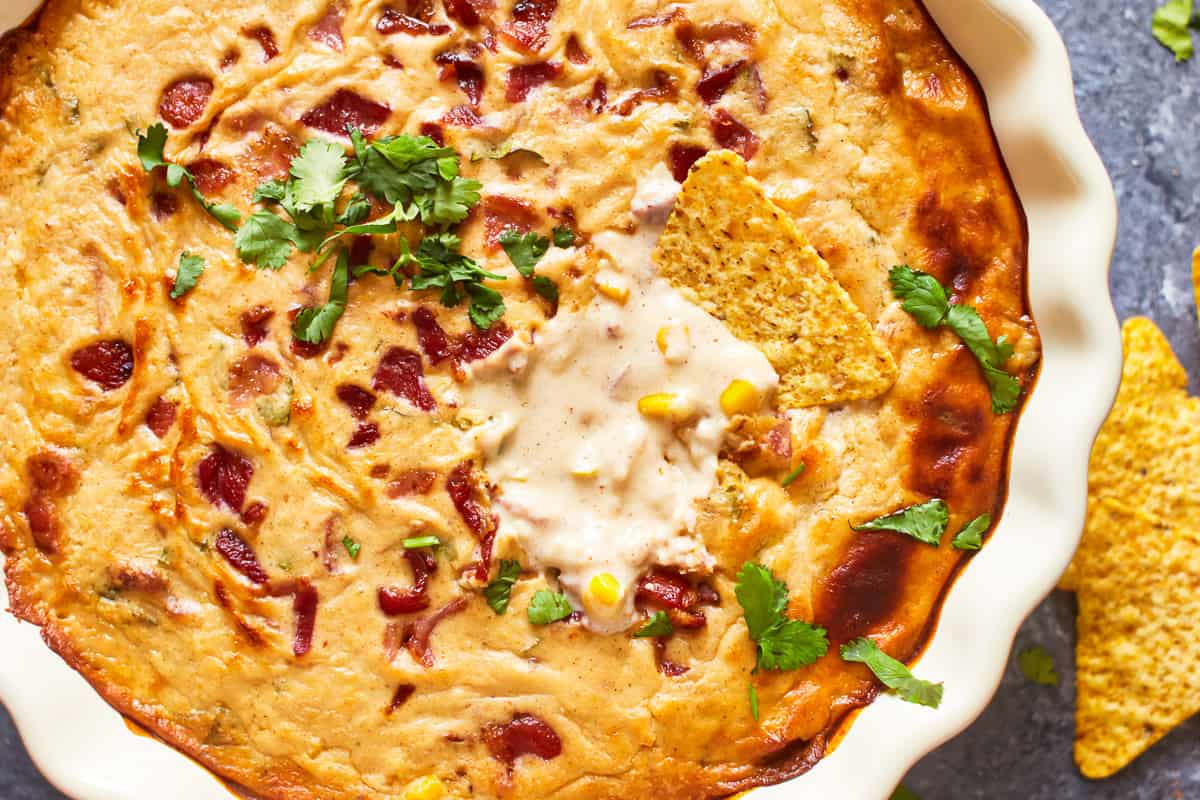 More Bacon Dip Recipes We Love