This cheesy Bacon Spinach Dip is one of the top dip recipes you have to try! Loaded with crispy bacon, robust spinach, and cream cheese, this easy appetizer is a crowd-favorite! This dip is served in a large baking dish, making it perfect for sharing as a party snack for any occasion. With under an hour of total time for cooking, you can easily make this go-to recipe for a game day, weekend potluck, work party, and more!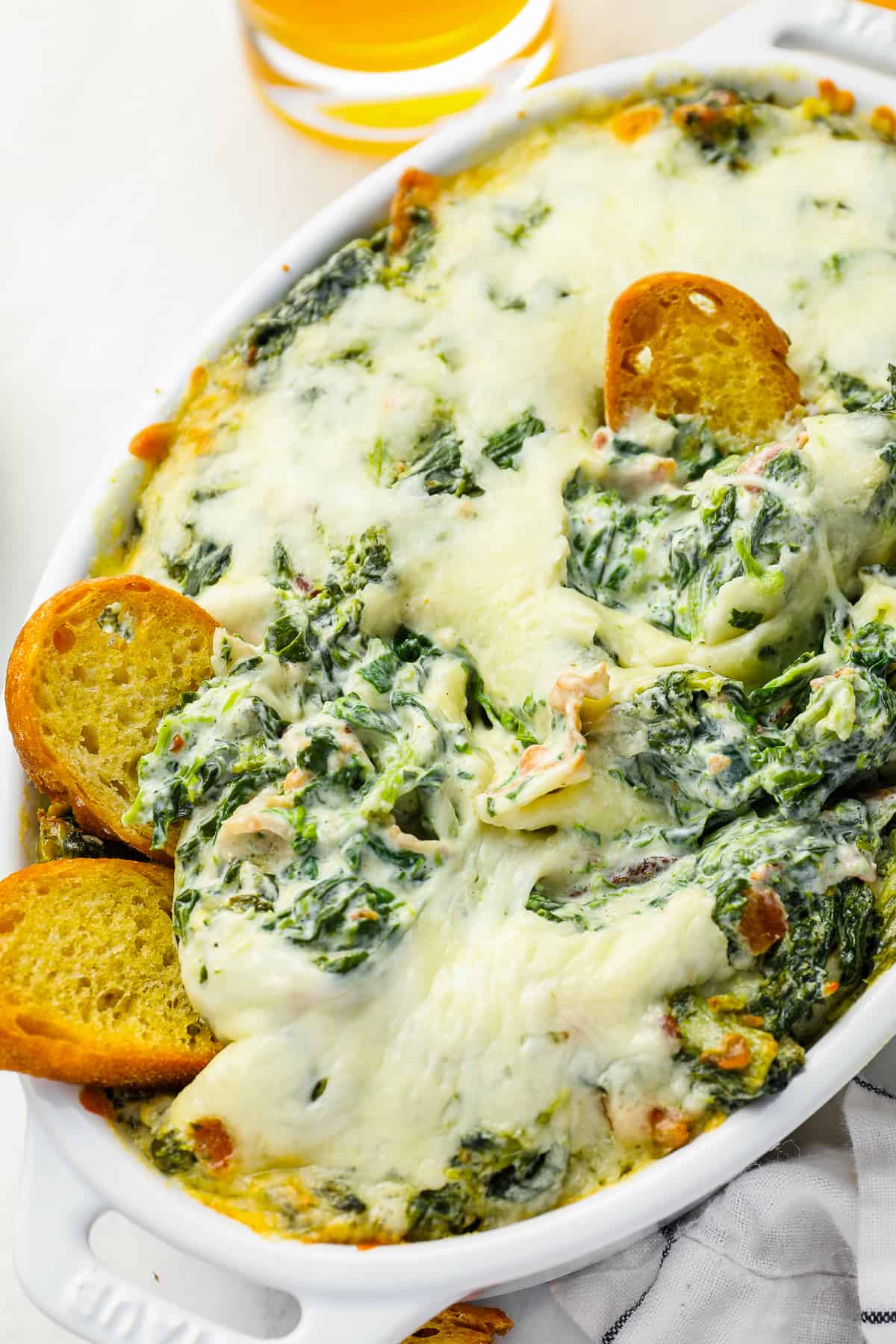 What's in Bacon Cream Cheese Dip?
This recipe is made using simple and strictly necessary ingredients to maximize the ease and flavor within this dip.
Bacon: The bacon in this easy recipe adds an additional layer of savory, bacon flavor to traditional spinach dip.
Cream Cheese: The cream cheese in this recipe helps to bind everything together and serves as the best and easiest way to add a creamy, tangy element to this dish.
Mayonnaise: A necessary ingredient that adds to the overall flavor and balance within this easy dip.
Sour Cream: Sour cream in this recipe adds additional tanginess and creamy taste and texture to the Bacon Spinach dip.
Spices: The simple spices of garlic powder and black pepper in this dip add the necessary amount of additional flavor layering for the perfect appetizer every time!
Worcestershire Sauce: A miniscule amount of Worcestershire sauce is used in this recipe but it has a big impact on the taste in this cheesy dip.
Spinach: The full pound of spinach in this recipe is just one of the many reasons you can feel good about enjoying this indulgent treat!
Cheese: This cheesy spinach dip uses mozzarella cheese and parmesan cheese to create the ultimate creamy snack.
Pro Tip: Reserve some of the cooked bacon to add to the top as the dip gets eaten so that every bite is full of bacony goodness!
How to Spice Up Spinach Bacon Dip
To spice up this hot party dip, try adding chopped green onions, diced green chiles, crushed red pepper flakes, or a few dashes of tabasco sauce!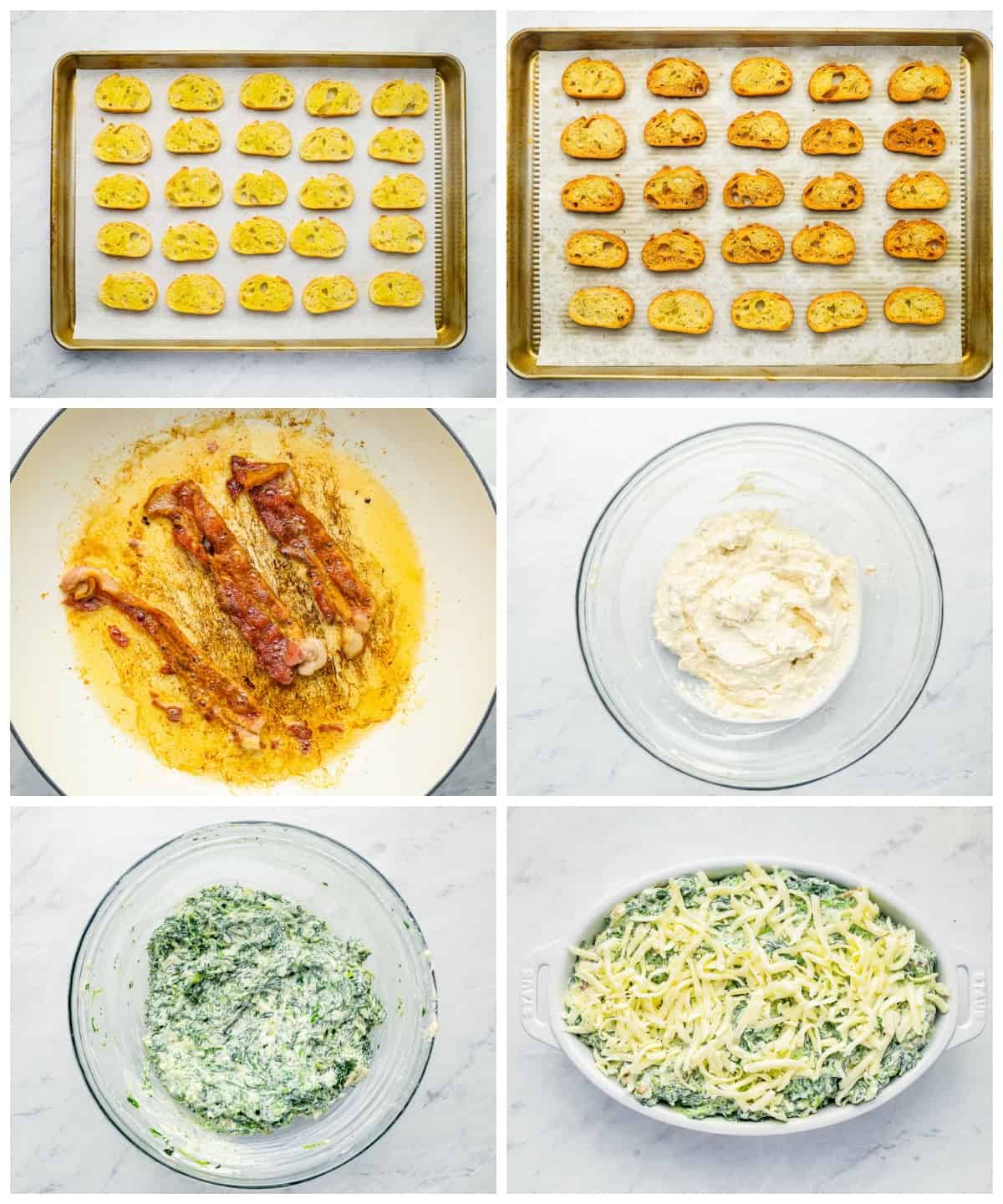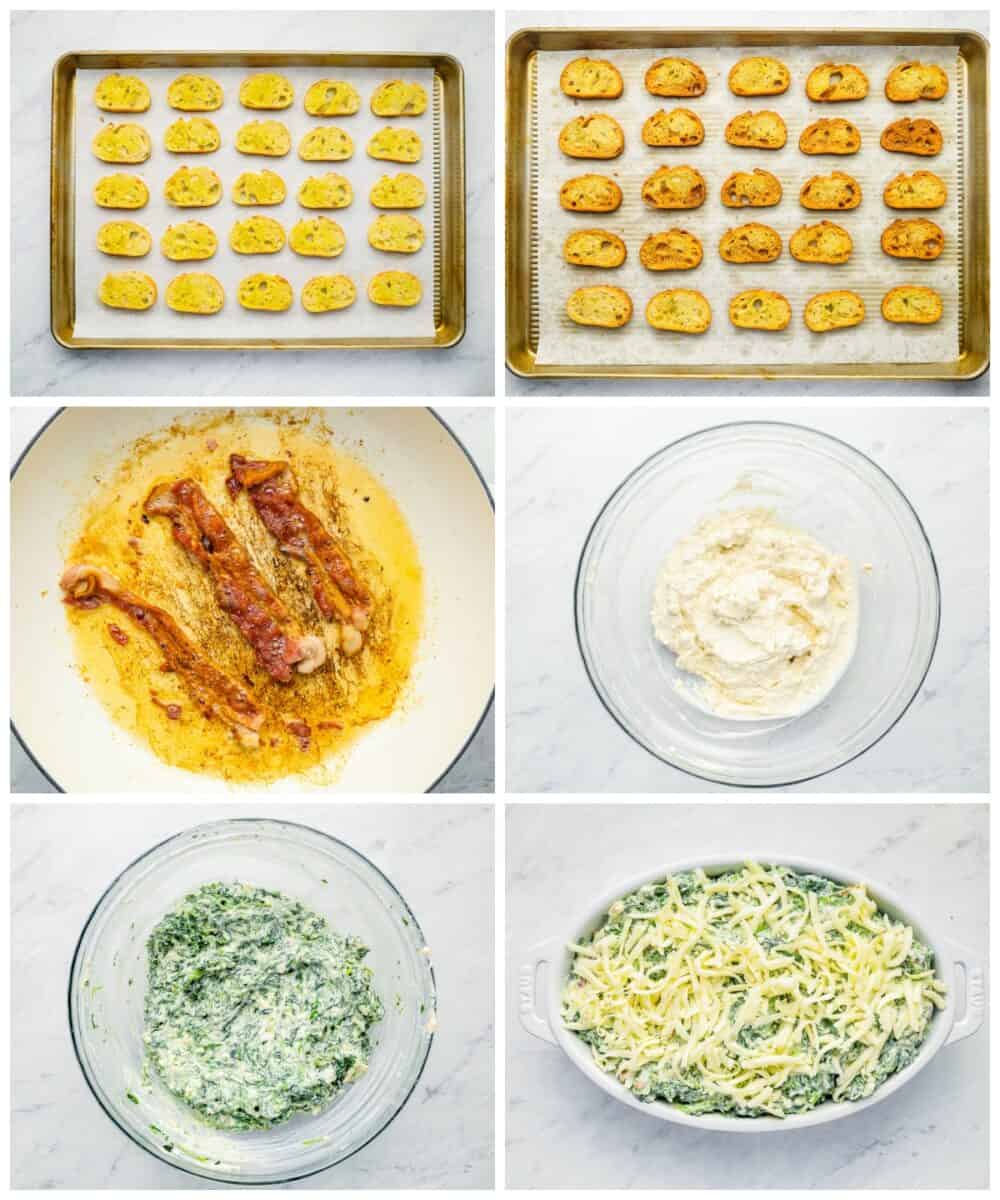 Is spinach dip supposed to be hot or cold?
Spinach dip can be served either hot or cold. In this case, I like to serve this dip hot because it helps the cheese stay extra melty!
Can I make bacon spinach dip with fresh spinach instead of frozen?
Absolutely! If you'd like to use fresh spinach, simply cook down 1 pound of fresh spinach until wilted, then drain off any excess liquid.
Is this dip gluten-free?
Unfortunately, this dip is not naturally gluten-free due to the addition of Worcestershire sauce. If you're looking to make it gluten-free, be sure to grab some certified gluten-free Worcestershire sauce and serve the dip alongside a gluten-free baguette or crackers!
Do I have to use sour cream?
Nope! The sour cream adds great tanginess, but you could use plain Greek yogurt instead!
Why is my bacon spinach dip runny?
The most common reason for a runny dip is forgetting to drain the frozen spinach. It's important to drain off any excess liquid, then pat the spinach dry with a clean kitchen towel or paper towel. If you forgot, simply add a bit more cream cheese to thicken it back up!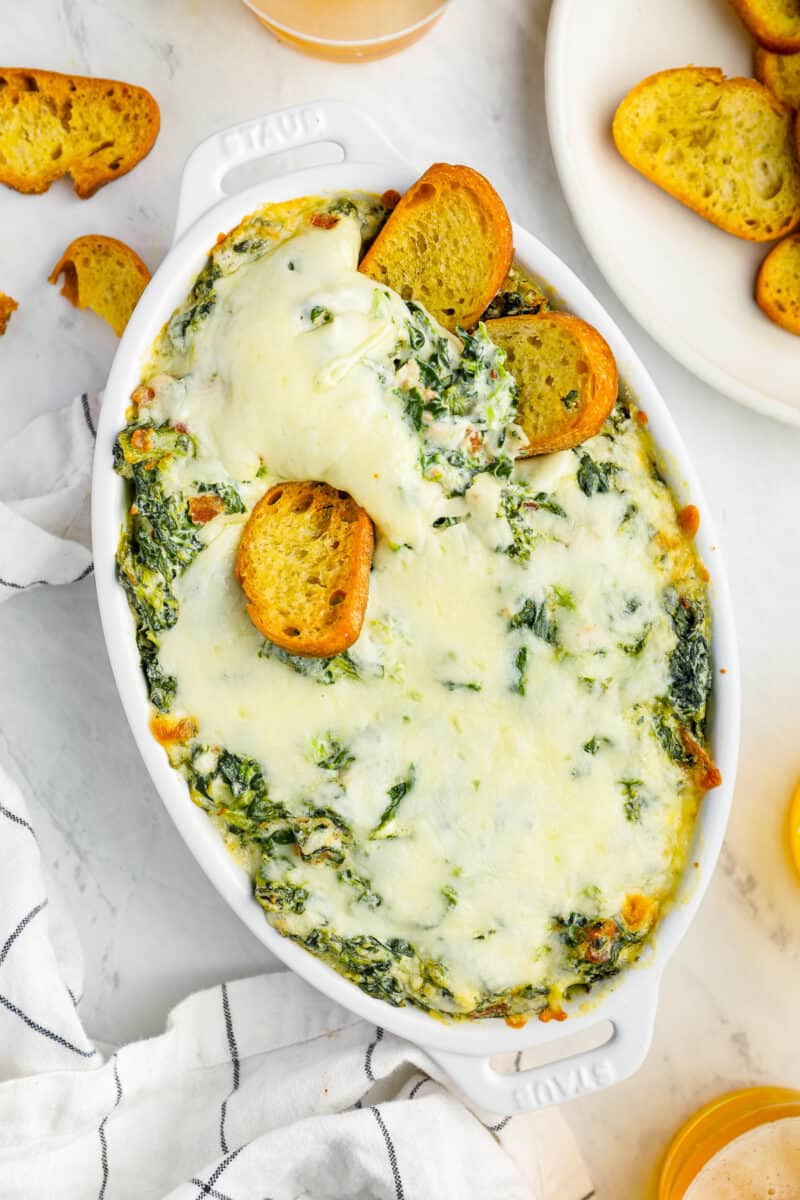 How to Store and Reheat Cream Cheese Bacon Dip
Store leftover bacon spinach dip tightly covered with plastic wrap in the refrigerator for up to 4 days. Reheat covered with aluminum foil in a 350°F oven for 15-20 minutes, or until warmed through. Uncover in the last 5 minutes of baking to brown the cheese.
What to Serve with Cheesy Bacon Dip
Cheesy Bacon Dip goes so well with all types of food and drink! Whether you're making this dip for a special occasion or no particular reason at all, you can't go wrong serving this dish alongside any of the following:
Bread bowl
Pita chips
Carrot sticks
Pretzel sticks
Celery sticks
French bread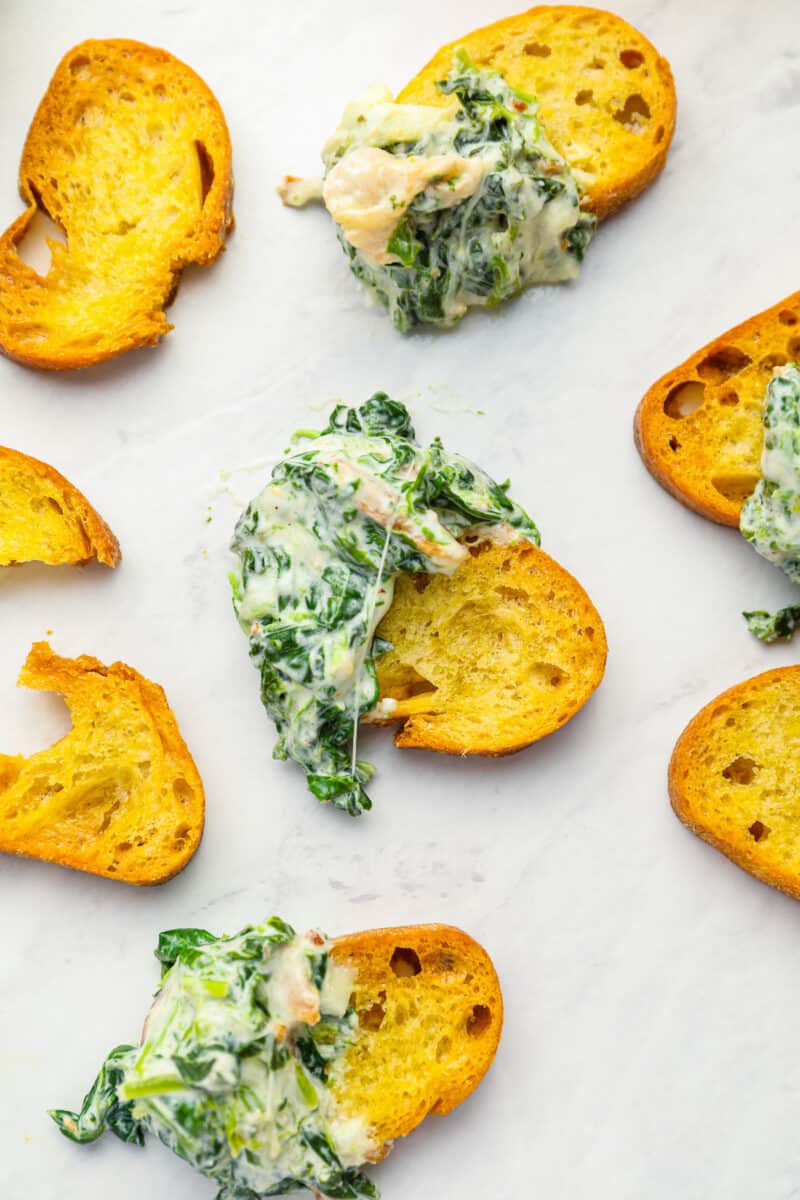 If you make this recipe be sure to upload a photo in the comment section below or leave a rating. Enjoy! You can also jump to recipe.
More Bacon Dip Recipes We Love