CARAMELIZED ONION DIP is the ultimate super easy appetizer to make for game day! This amazing sour cream and bacon dip is made in minutes and loved by all. It's filled with so much flavor, and so many delicious ingredients, like bacon, sour cream, caramelized onions, and chives. Serve this up with chips and enjoy!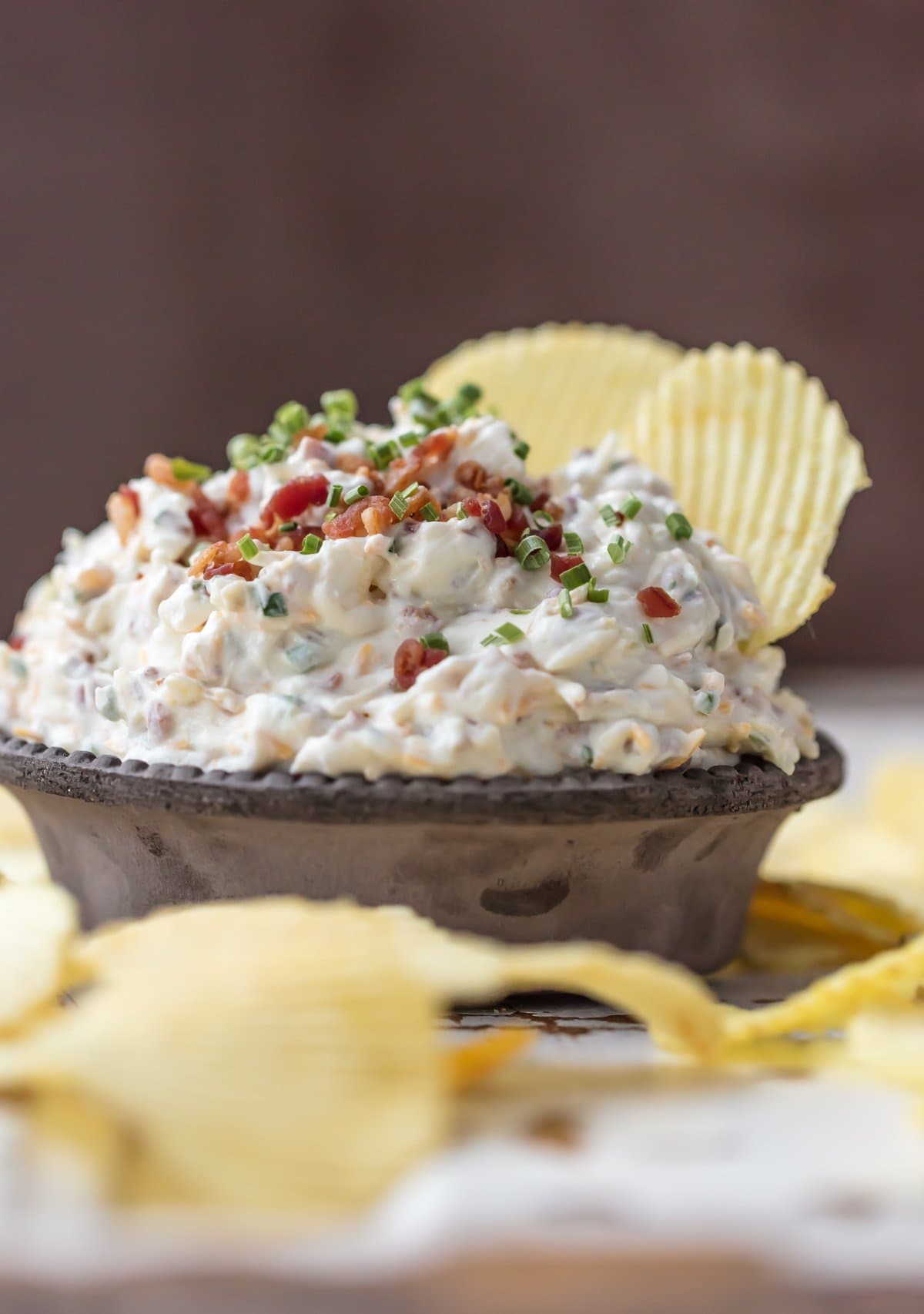 Caramelized Onion Dip
Caramelized Onion Dip is one of the best cold dip recipes ever. This easy and delicious bacon dip is perfect for every game day party!
Have you guys figured out yet that tailgating is food is my VERY FAVORITE type of food?! I just cannot get enough of dips, wings, nachos, and snacks of any kind.
The easier and cheesier the better! With the Super Bowl quickly approaching, I'm in a mad dash to find all of my very favorite appetizer recipes and get you stocked and ready for all those tailgating parties!
This super easy CARAMELIZED ONION DIP is just the thing for a quick party favorite. It's loaded with onions, bacon, chives, sour cream, and of course CHEESE. You just can't go wrong with this tasty bacon dip. Everyone will devour it in no time!
As much as I love hot dips (like this amazing queso recipe or this hot onion dip), I think every party needs a cold dip recipe too. It cleanses the palette between all the hot dips, right? Either way, this is one of the best party dips for game day and beyond!
This Caramelized Onion Bacon Dip is the perfect thing to serve every game day.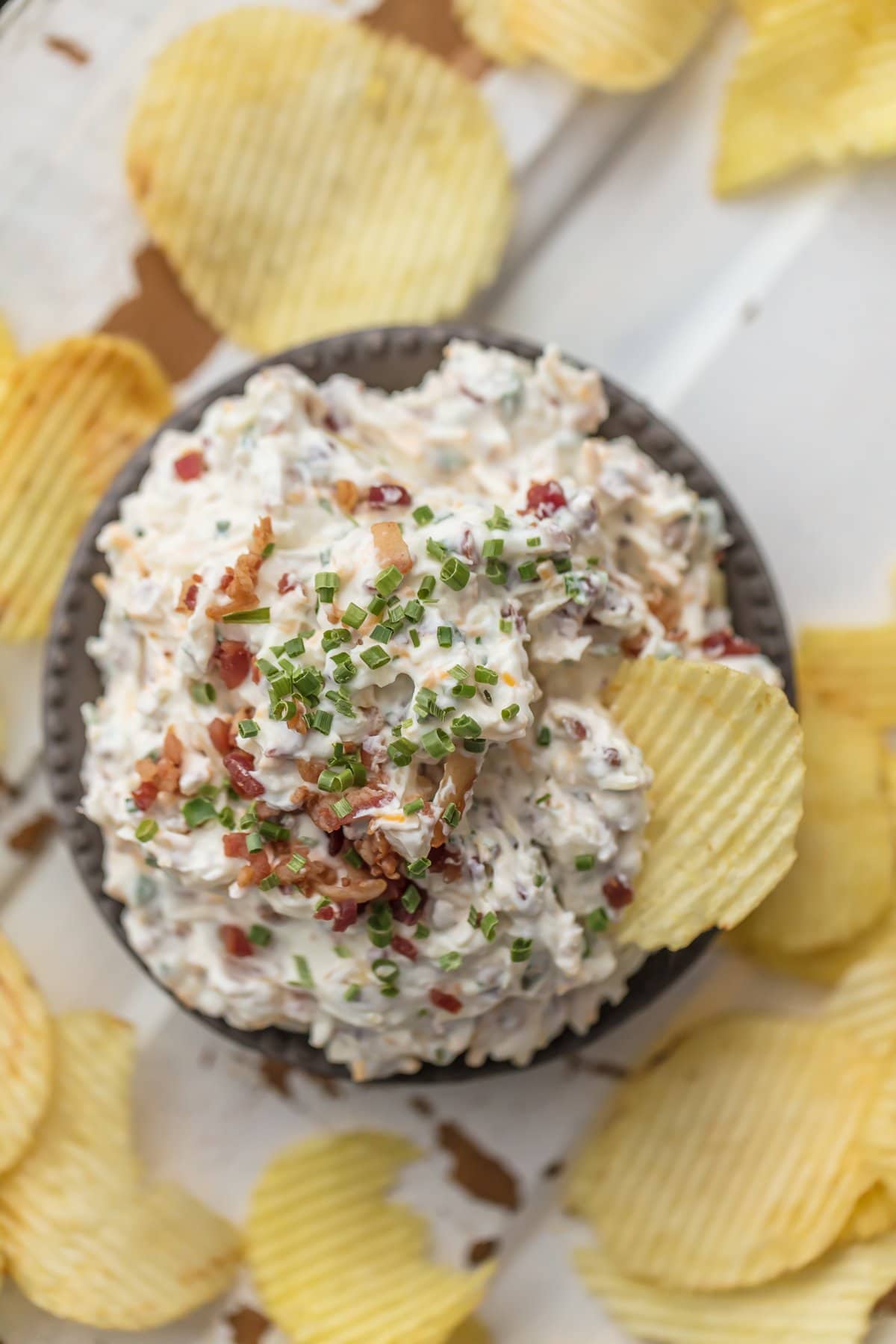 Caramelized Onion Sour Cream Dip
Milk is such a great source of calcium, potassium, and vitamin D, not to mention protein and tons of other vitamins. Real milk can't be replicated!
I was able to find great sour cream and it made the perfect base for this Caramelized Onion Dip…SO YUM! I love how creamy it is!
How to Make Onion Bacon Dip
I love sour cream and onion dip, I love bacon dip…combine all the best parts to make this amazing Caramelized Onion Bacon Dip!
It only takes a bit of prep, and then just let it sit in the fridge for an hour or so to cool. It comes out so creamy and sooo good.
How to make Caramelized Onion Dip:
Heat oil in a skillet and cook chopped bacon until crispy (6-8 minutes)
Cook onions in the same skillet for about 10 minutes, until they caramelize
Mix together sour cream, onion, bacon, chives, shredded cheese, and salt & pepper in a bowl
Set in refrigerator to cool for at least 1 hour before serving. Store in an airtight container.
Nobody will be able to resist this delicious cold dip recipe. As soon as you set it out with some potato chips, everyone will dig in and eat it up.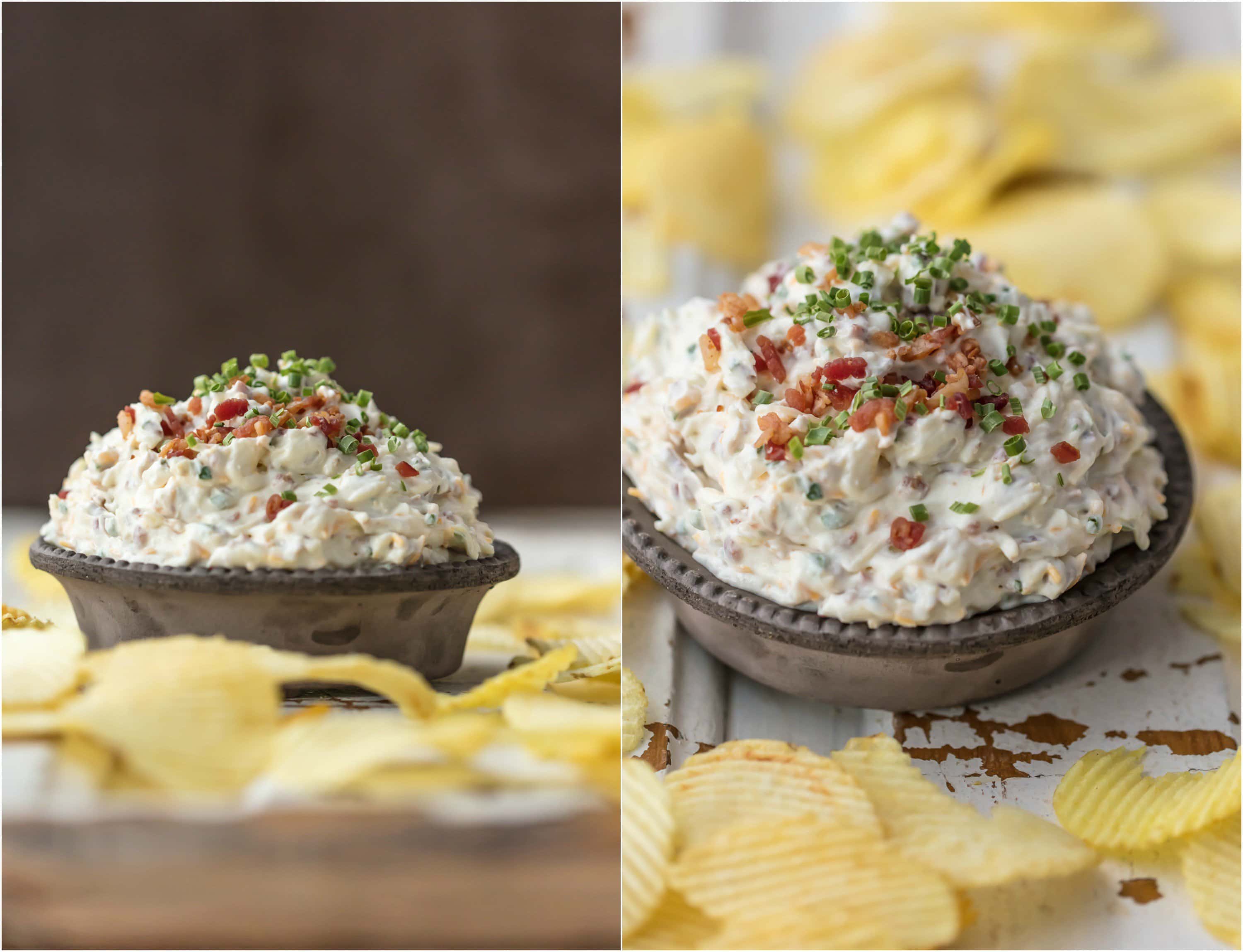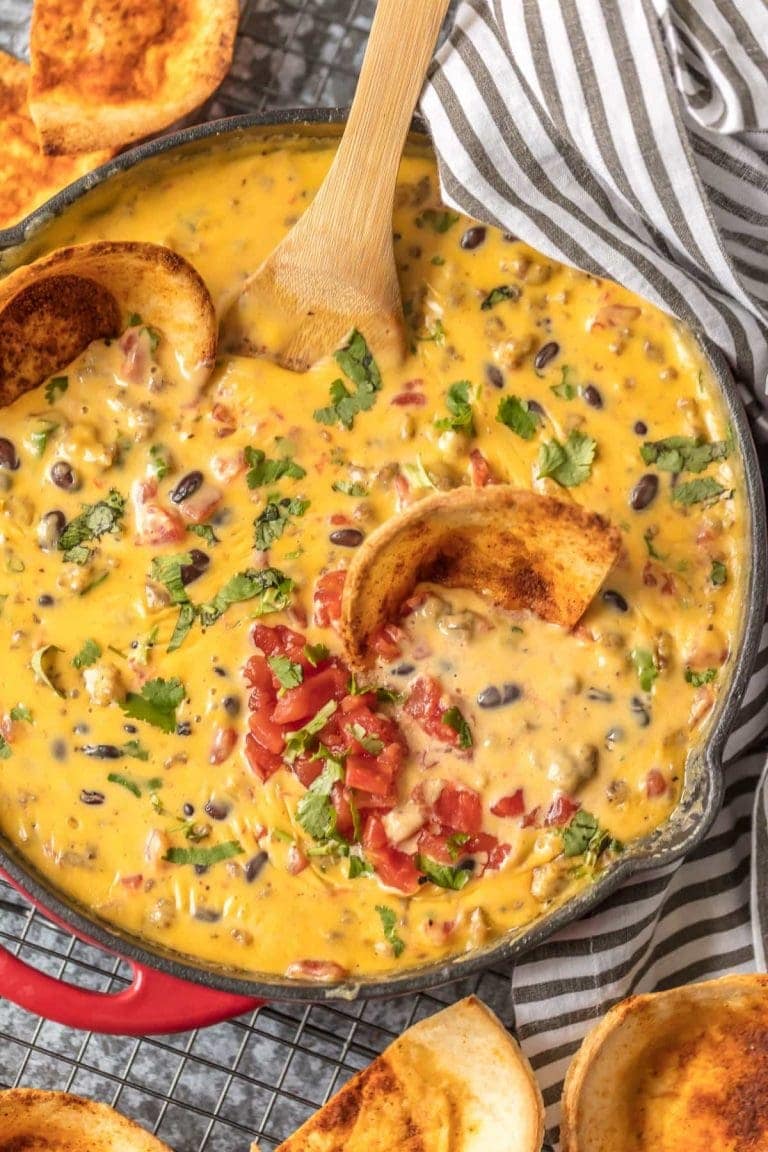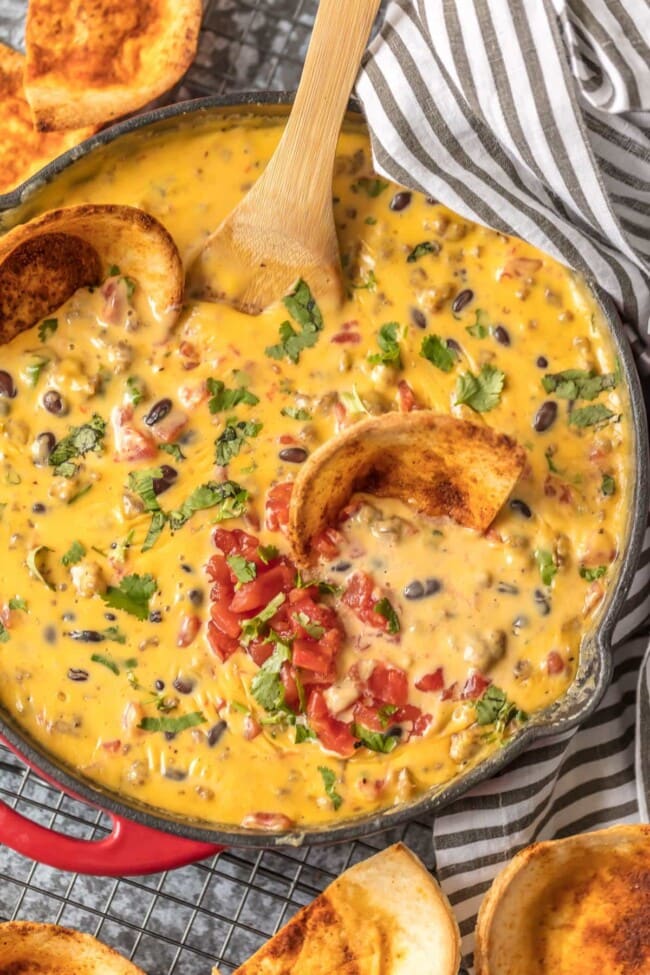 Game Day is covered!
101+ Super Bowl Appetizer Recipes
If its game day grub you crave, we have all the recipes you need to win big! Check out our easy Super Bowl recipes (or World Series, March Madness, National Championship, you get the idea!)
Game Day Guide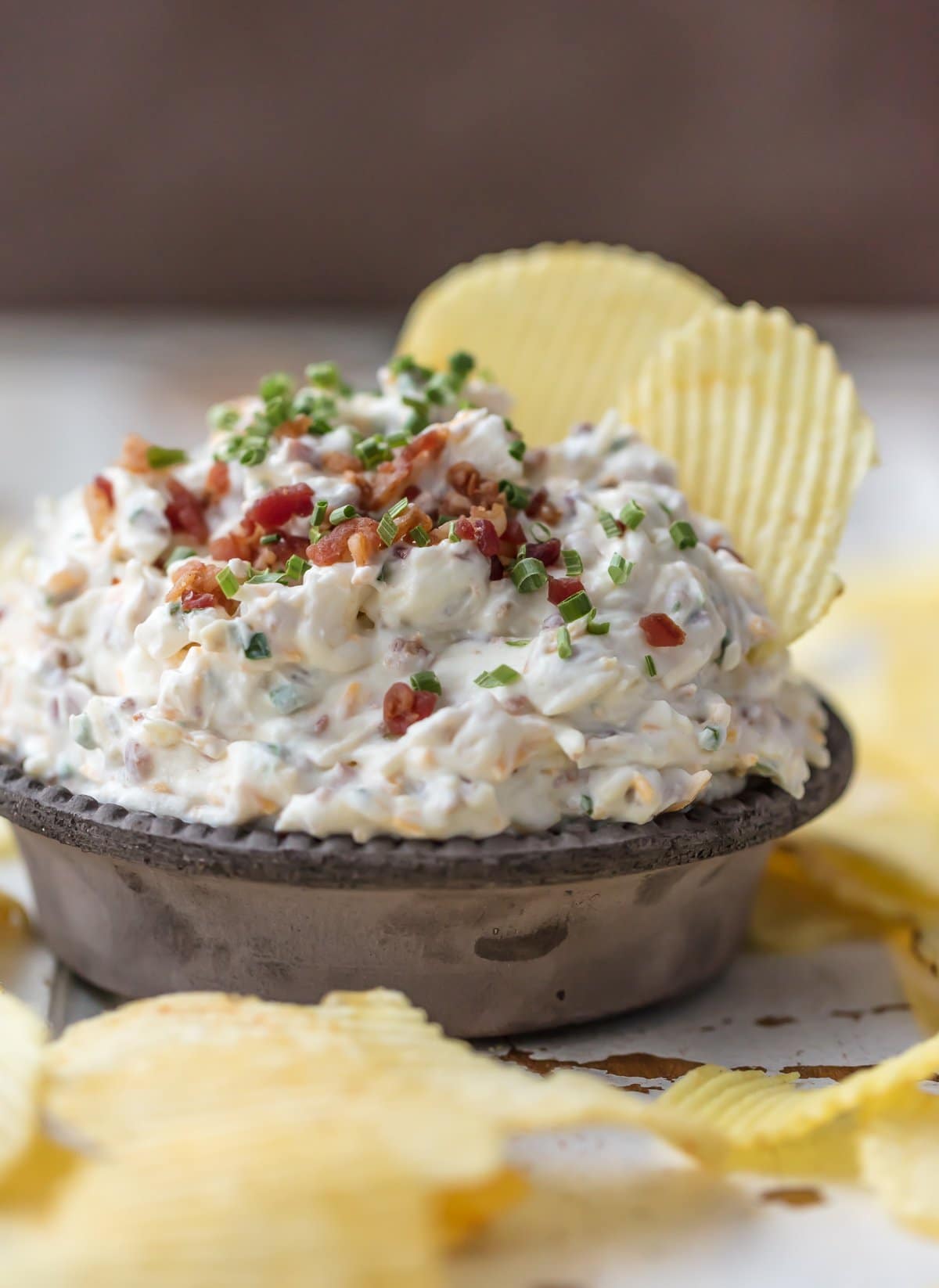 This Caramelized Onion Bacon Dip is a must have at every football party this Winter. It's just so super easy, crave-worthy, and loved by all.
Sure I have plenty of hot dips that I love, but this cold dip is something I just can't get enough of. ALL THE BACON PLEASE!
If you like this bacon dip recipe, you'll love our other favorite dip recipes too:
If you make this recipe be sure to upload a photo in the comment section below or leave a rating. Enjoy! You can also jump to recipe.