Inspired by my trip to Israel, this Ultimate Hummus and Vegetable Board is easier to throw together than you might think! This beautiful spread of Hummus, Summer Veggies, and more is sure to please even the pickiest crowd, and it's healthy as well! So much flavor on this Hummus Board!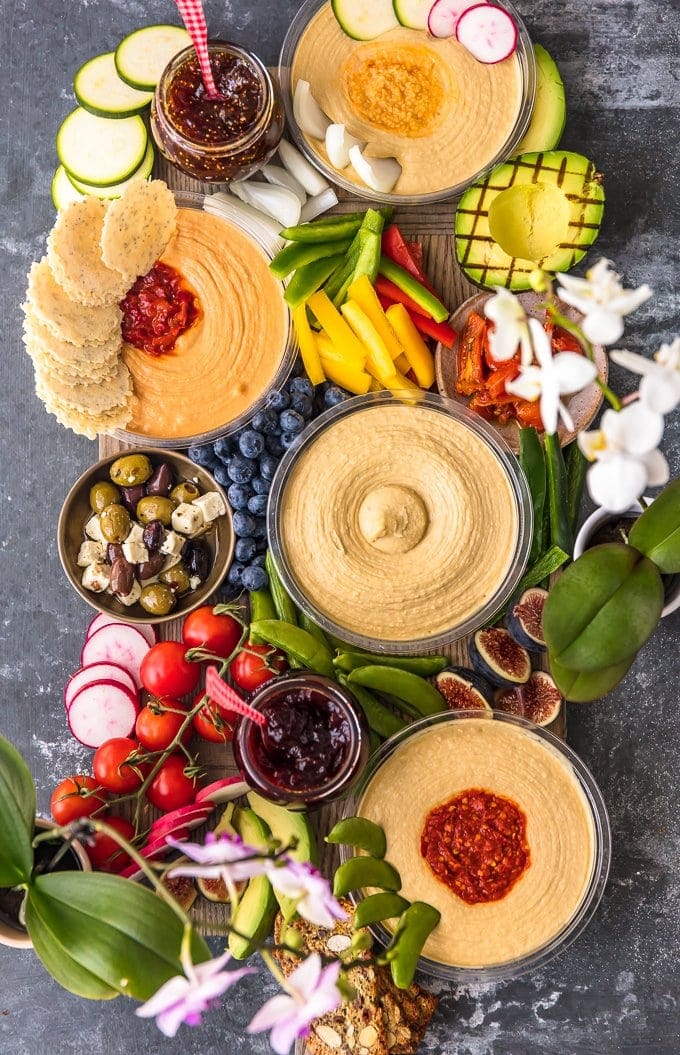 The Ultimate Hummus and Vegetable Board
Every time I go to a Summer party I'm envious of the host with the most that has put together the most beautiful veggie tray. This week I attempted my own Hummus and Vegetable Board and it was SO much easier than I anticipated. Beautiful Summer Veggies paired with delicious and creamy hummus is a match made in heaven!
I'm obsessed with this Hummus and Vegetable Board. I plan on making it for every Summer party we have left as well as every tailgating opportunity of the season. There's just something amazing about simple fresh vegetables paired with perfect Hummus. You can feel good about feeding this bounty to your family and snacking all day long on these crisp veggies and creamy Hummus! There's something on this platter for everyone at the party, so it's sure to be a hit.
Hummus Board Inspired by my Trip to Israel
I had the pleasure and honor of visiting Israel in September. To say I was blown away would be a huge understatement. You can read more about my trip with Vibe Israel to Jeruselum and Tel Aviv (<– Click to read all about my trip!) but one thing I came away feeling for sure was an intense love for Israeli food and culture.
The flavors of real food, warmth of loving people, and fun/diversity at every turn had me so in love with the country and people. I cannot wait to go back, and if you haven't been, YOU MUST!
I didn't really know I loved Hummus until visiting Israel. It's more of a way of life there than an appetizer like we treat it here. Here are some pictures of some of the amazing hummus and appetizer boards we had out our EPIC trip. (all food photos from Israel by the amazing Amir Menahem)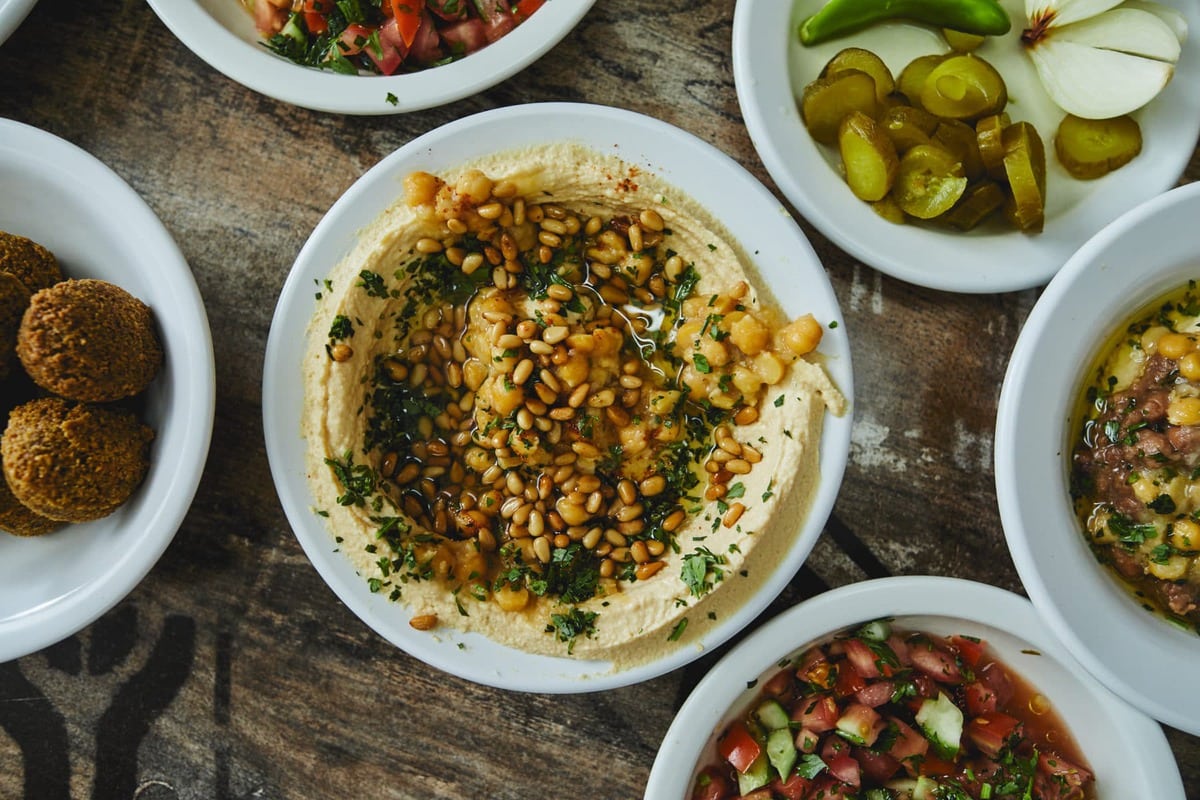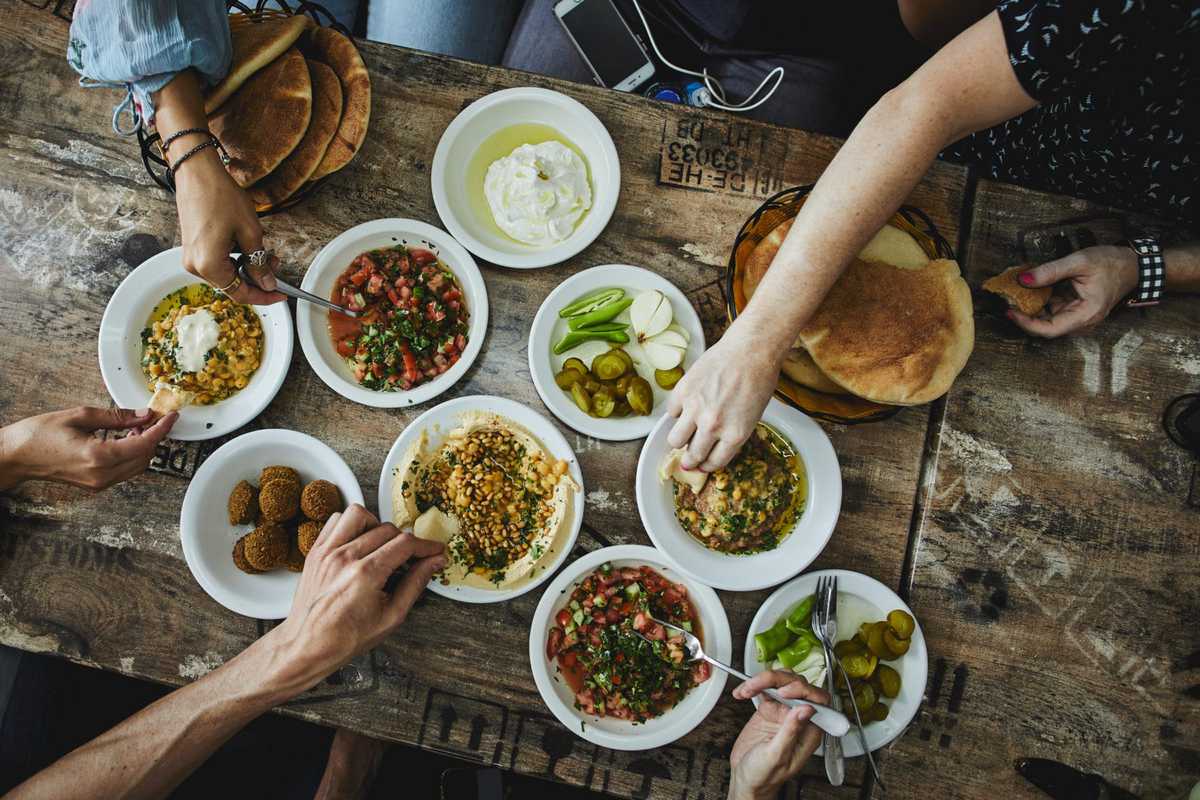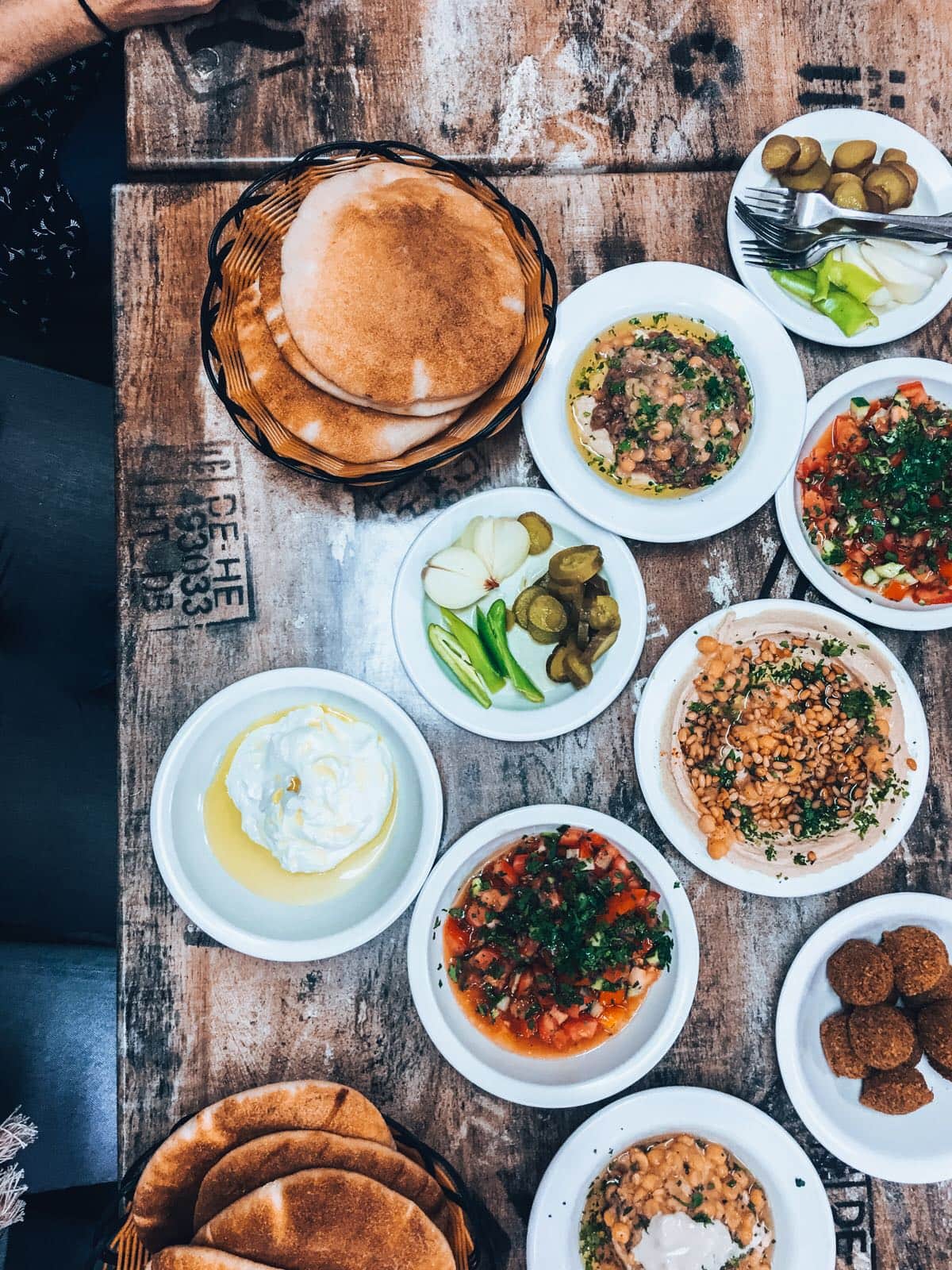 My Hummus board doesn't do the boards in Israel any justice whatsoever, so you're just going to have to visit there to experience the divine food yourselves :). I cannot wait to take my family one day, it's just beyond magical. You can find out more by visiting Vibe Israel.
What to add to a Hummus and Vegetable Board
The most important ingredient in this divine Vegetable and Hummus Board is THE HUMMUS! I love homemade hummus but also love store bought. You can use whatever you prefer! Sabra is a brand I love and since it actually originated from an Israeli food manufacturer, you know they're legit.
Classic Hummus
Roasted Garlic Hummus
Spicy Hummus
Roasted Red Pepper Hummus
What are your favorite Summer Vegetables
One of the best things about Summer is the bounty of amazing veggies! Whether you pick them up at a local farmer's market, or have your own garden, Summer is all about fresh flavors. You can dip almost any vegetable into hummus for the ultimate HEALTHY "chips and dip". When I was recently in Israel, I found out that dipping raw onion into hummus is actually very popular and traditional! Who knew?! Almost every restaurant we visited started out the meal with a bowl of hummus, raw onion, and pita bread. Mind blowing!
You can grill the veggies, leave them raw, slice into strips, whatever you'd like! The sky is the limit. Here are my fave Summer veggies to add to this Hummus and Vegetable Board…but get creative! You can use any dippers that you love the most!
Zucchini
Eggplant
Peppers (Red, Yellow, Green, Sweet)
Onion
Tomato
Jalapeno
Sugar Snap Peas
Avocado
Blueberries (okay we are throwing some fruit in as well because nothing beats sweet and savory!)
Figs
Radishes
Olives
MORE…the sky is the limit!
We have also added some jams/spreads/cheese and crackers to our Hummus and Vegetable Board. I love a good sauce! We have added some fig jam and tart cherry spread. YUMMO! Is this decadent or what?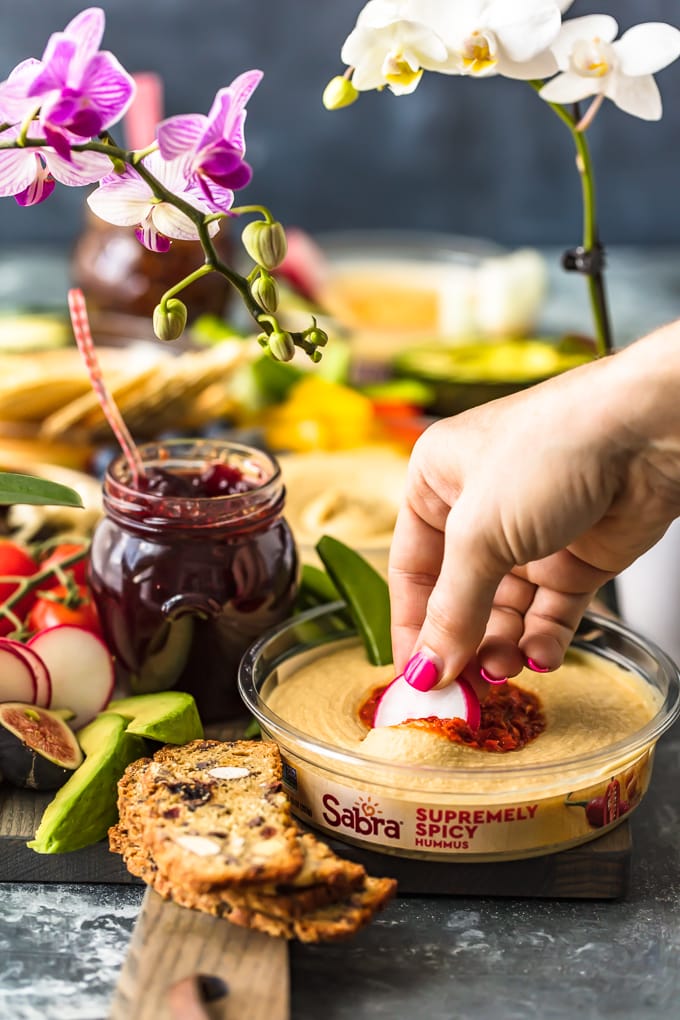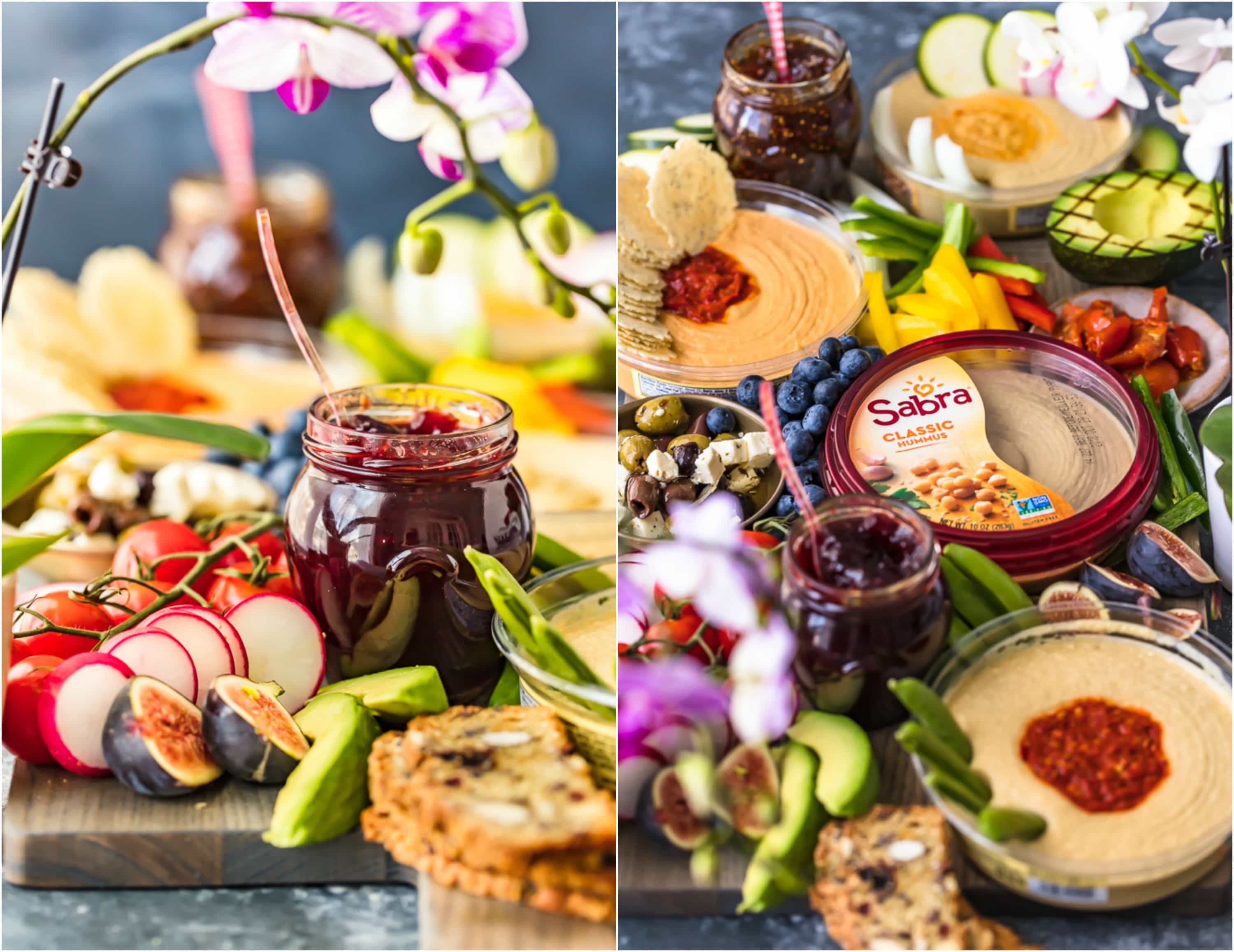 What are some good events to serve this Hummus and Veggie Tray
We love to make a huge Hummus and Vegetable Board for every Summer dinner or party! It's so fun to get together with friends and family and let them choose their favorite dippers. It's always a huge hit, conversation starter, and show stopper! You can make it throughout the year for game day, tailgating, holidays, and more. Just remember to use fresh produce of the season and get creative!
What are some good cocktail pairings for this Hummus Board
I love a good cocktail pairing! Here are some great cocktails for a crowd that would be fun to serve with this Hummus and Veggie Tray: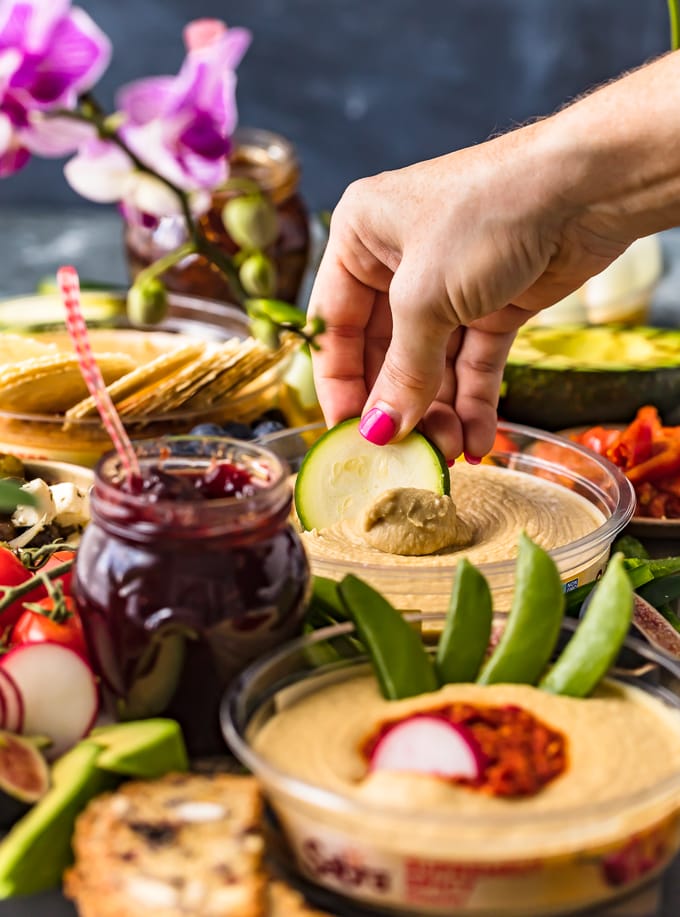 Make the Ultimate Hummus and Veggie Plate for parties, game day, and more!
It doesn't get easier (or more delicious) than this healthy Hummus and Vegetable Board for feeding a crowd. I'm so proud of how easy it is to throw together (everyone can chop veggies and open hummus!) and what a show stopper it can be at your next Summer party. You can feel good about going back for seconds, and thirds…and fourths!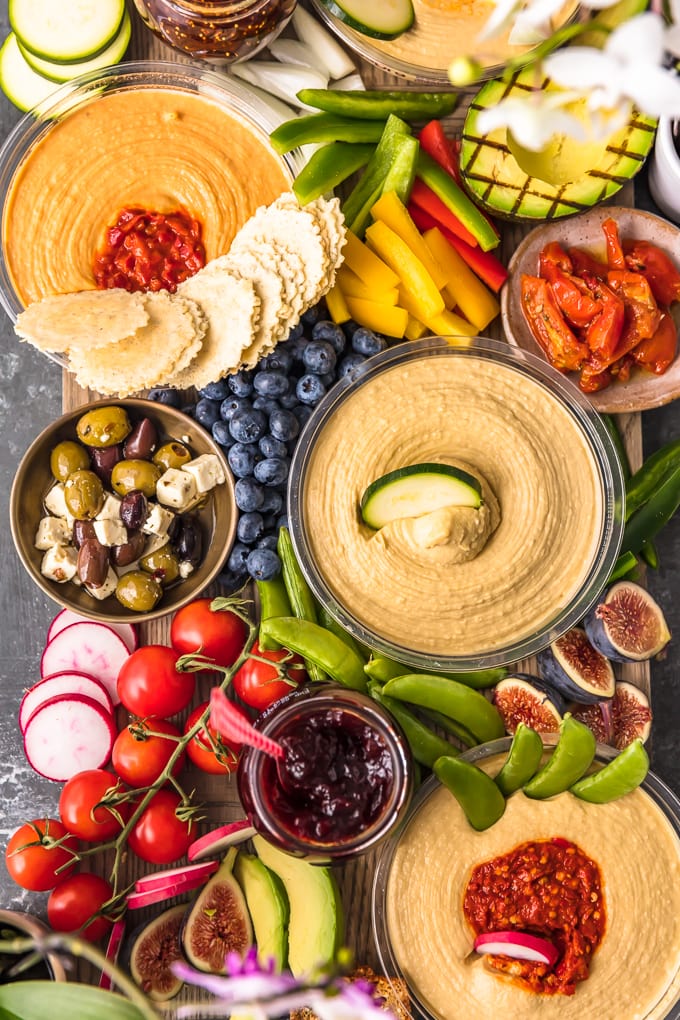 See the recipe card below for details on how to make this Hummus and Vegetable Tray. Enjoy!
If you want a sweeter version to serve alongside this, try this fruit board with cream cheese fruit dip, or learn how to make a charcuterie board with any ingredients you like!