Everyone loves a beautiful Charcuterie Board filled with meats, cheeses, crackers, dips, and a range of delicious little foods to snack on. I'm here to give you tons of ideas on how to make a charcuterie board that's simple, tasty, and photo-ready! Find out what to put on it, how to assemble it, and how to make it perfect for any holiday, party, or occasion.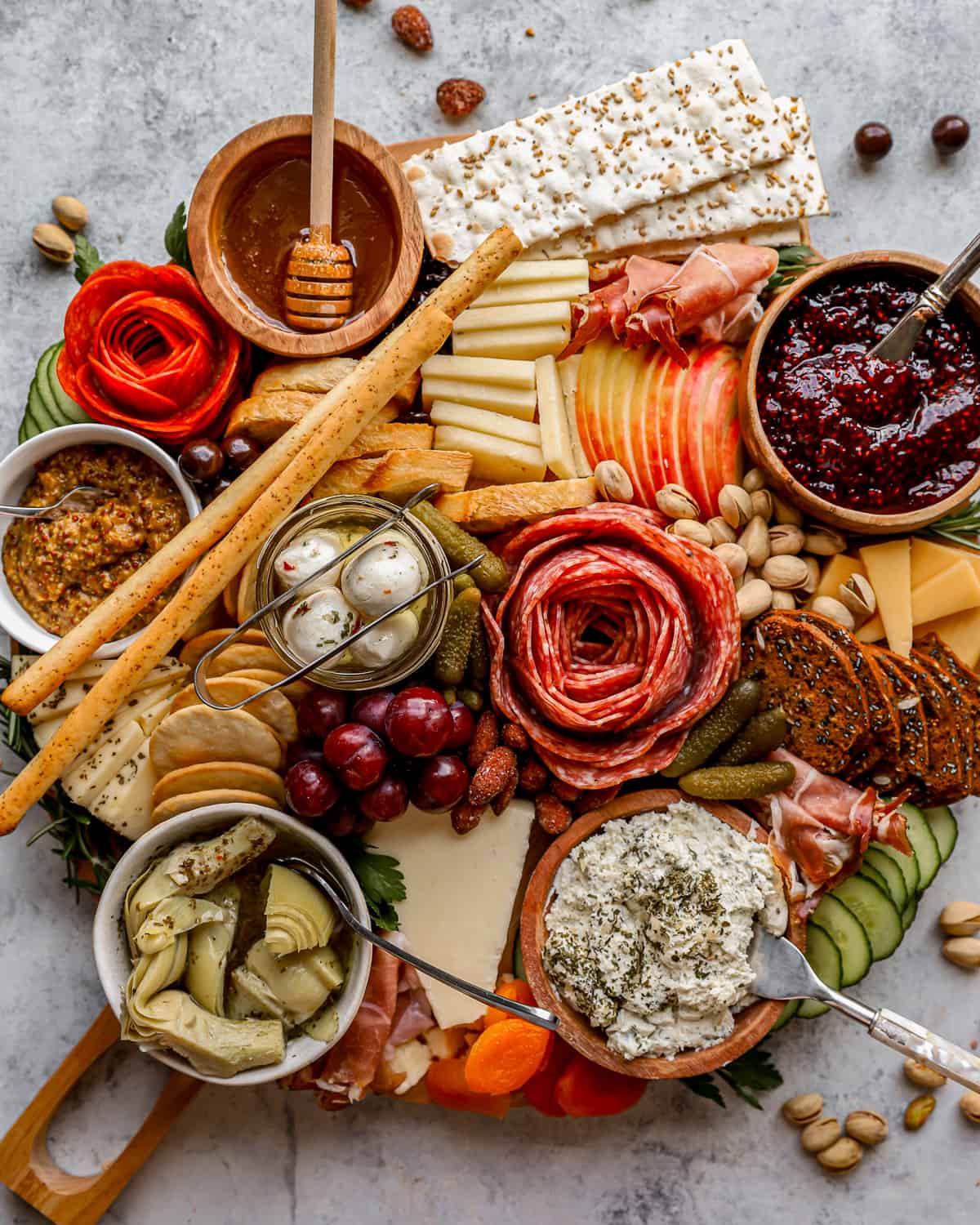 What to Put on a Charcuterie Board
There are 8 main categories I like to pull from for a balanced and beautiful charcuterie board. Choose 2-3 items from each category to create a unique and impressive appetizer board that's sure to wow your guests!
Meats: Choose your favorite deli meats or fancy cured meats. I like a nice salami, prosciutto, and summer sausage for a few different textures.
Cheeses: You'll want a good balance of hard and soft cheeses. Something aged, like cheddar or Parmesan, contrasts well with soft brie or ricotta.
Dips & Spreads: You can use just about any dips or spreads you love, like hummus or herb cream cheese. I recommend including something sweet, like honey or jam, to contrast all the salty/creamy elements.
Brined & Marinated Items: There are many options here, so choose your favorites. Pickles, artichokes, olives… just about anything with a bit of zing will work.
Crackers & Bread: Choose your favorite store-bought items for ease, or make some Mexican spice cheese crackers, skillet bread, tortilla chips, or soft pretzels.
Dried Fruit & Chocolate: I like to include something sweet that also pairs well with cheese. Apricots, figs, or even chocolate toffee works well.
Nuts: Use your favorites for a bit of crunch, or omit if you have an allergy.
Fresh Produce: A good mix of fruits and veggies helps round out the board and cuts through the creamy cheeses and salty meats. Think about good fruits and veggies for dipping (celery and carrot sticks, or apple slices, for example.)
Pro Tip: Garnish your DIY charcuterie board with some fresh herbs to really set off the flavors!
How to Build a Charcuterie Board
You've got the ingredients…now how do you put them together? Luckily, there's no wrong way to make a charcuterie board, and it just takes some practice to find interesting ways to assemble them.
I always recommend starting with one ingredient group at a time, and placing each element randomly around the board. Fill in with the next ingredient group, and so on, until you have a packed snack board. Fill in with smaller items, like dried fruits and nuts, for a lush look!
I like to use small bowls and dishes to help separate items (especially the liquid-y ones) and add visual interest. You can try making flowers with salami or another cured meat if you really want to impress.
If you're struggling with inspiration, look at pictures of boards you love and try to mimic them! I found this super helpful when I was just starting out to help me build beautiful boards. As you get more experience, you'll start to get the hang of it, and you won't need the pictures anymore!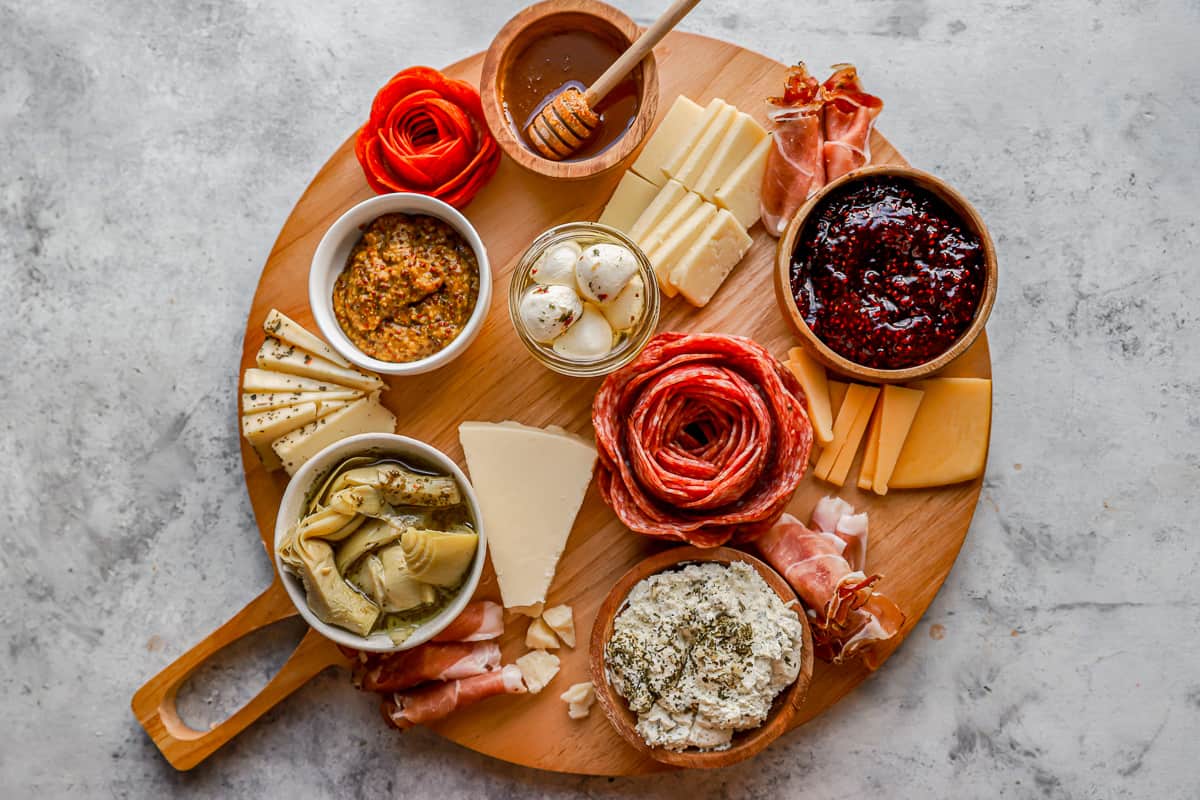 What is a charcuterie board?
This fun appetizer is a selection of meats, cheeses, and other ingredients laid out on a board or platter. It's a fun way to give your guests a lot of variety!
Are there rules for charcuterie boards?
There are no hard and fast rules for making charcuterie. Just keep in mind that everything should be easily accessible.
What is the 3-3-3-3 rule for charcuterie boards?
This is a 'rule' that states there should be 3 meats, 3 cheeses, 3 starches, and 3 accompaniments for a balanced board. It's a good starting point, but I don't think it's necessarily the end all be all of a good charcuterie.
How much food do you need for a charcuterie board?
Plan for 3 ounces of meat and cheese per person!
Can I use a cookie sheet for a charcuterie board?
You sure can! You can use just about any flat surface to create a board, including serving trays, cutting boards, and more.
Can you make a charcuterie board the night before?
Yes! I would recommend waiting to cut your fruit until the day of, but everything else can be sliced, prepped, and wrapped in plastic wrap, and stored for up to 24 hours.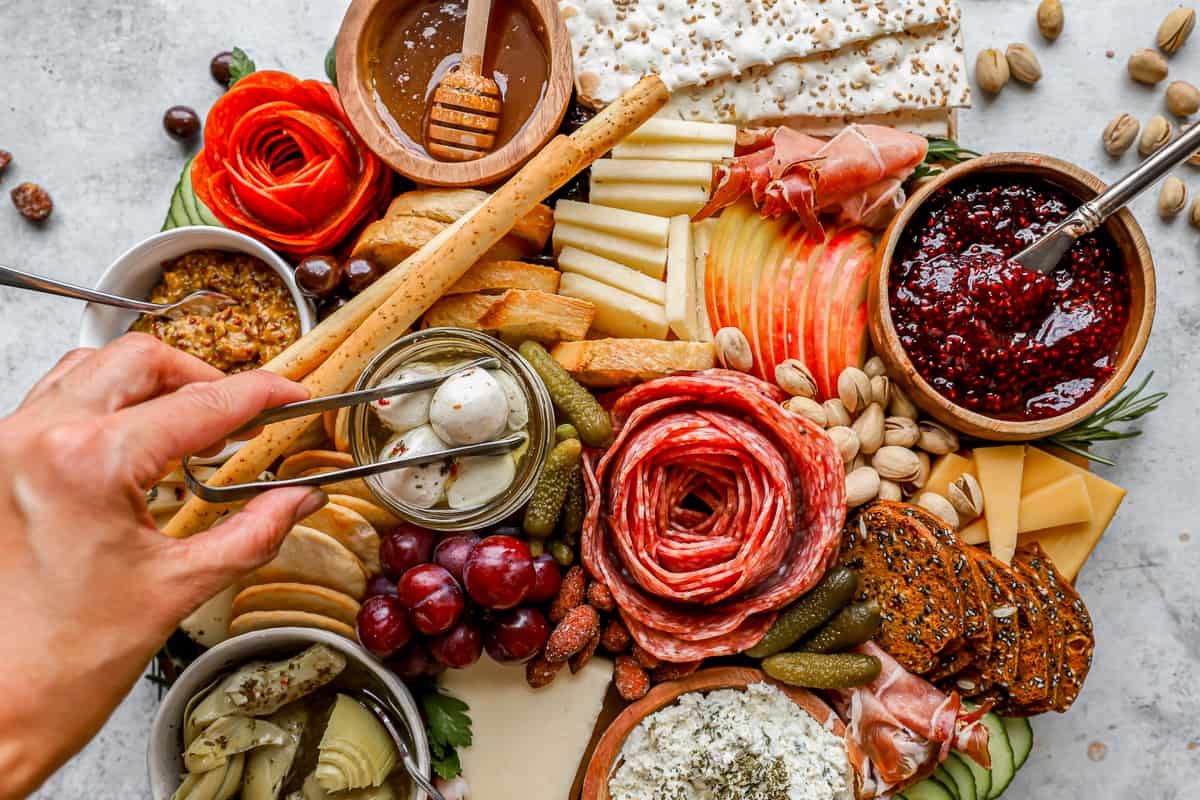 How to Store
Store charcuterie board leftovers tightly covered with plastic wrap in the refrigerator for up to 24 hours.
Serving Suggestions
A simple (or extravagant) charcuterie board is the perfect party or holiday appetizer if you're looking for variety without too much work. You can serve it by itself or with other appetizers, like fried Buffalo wings, grape jelly meatballs, ham and cheese mozzarella sticks, sausage rolls, loaded deviled eggs, Gardetto's snack mix, or crab cakes.
And don't forget the drinks! A pitcher of margaritas or mojitos is perfect for a crowd!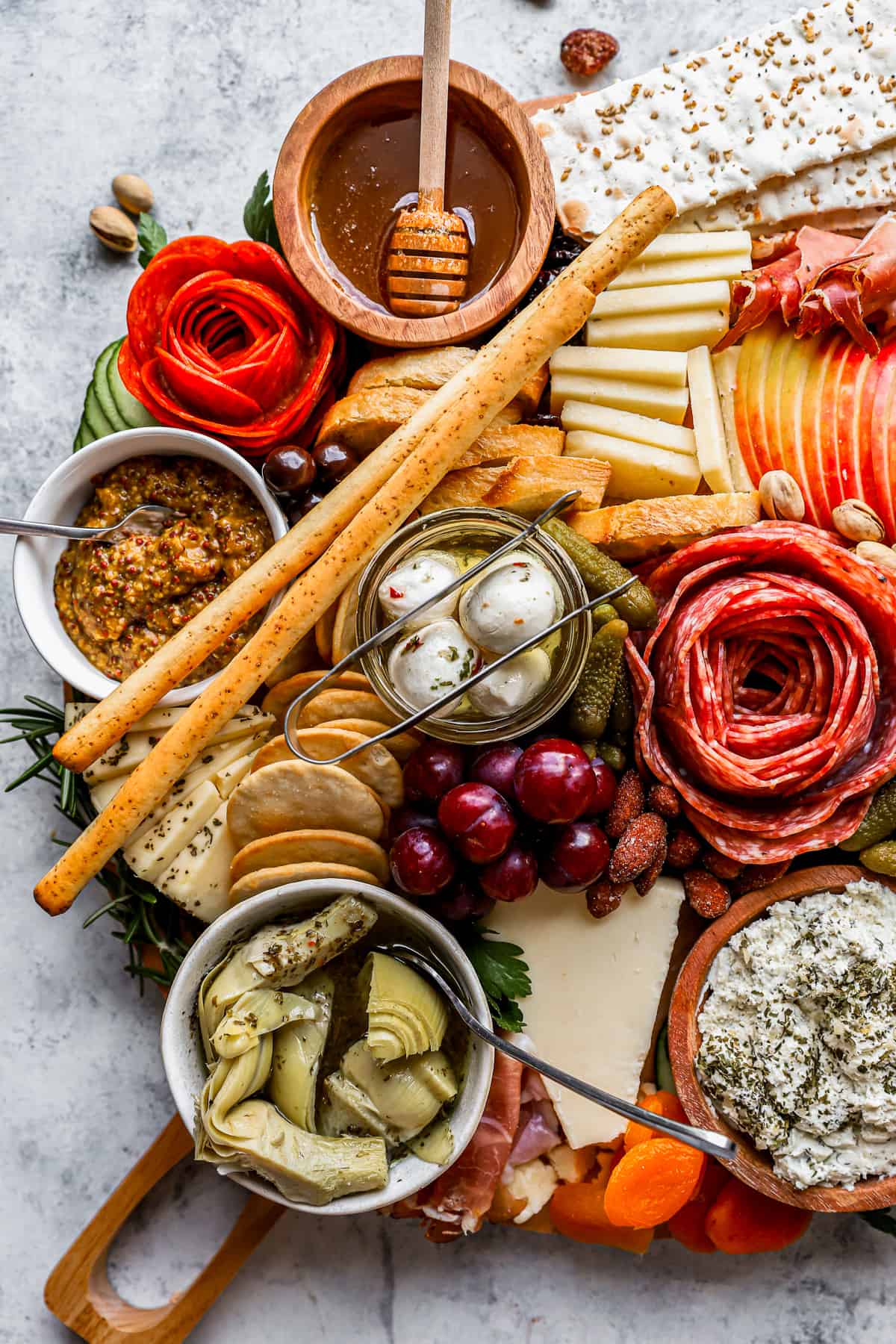 More Charcuterie Board Ideas We Love