Whipped goat cheese bruschetta is a beautiful and delicious appetizer. Make it sweet or savory with bruschetta caprese and triple berry versions. This is our favorite goat cheese appetizer recipe for any occasion!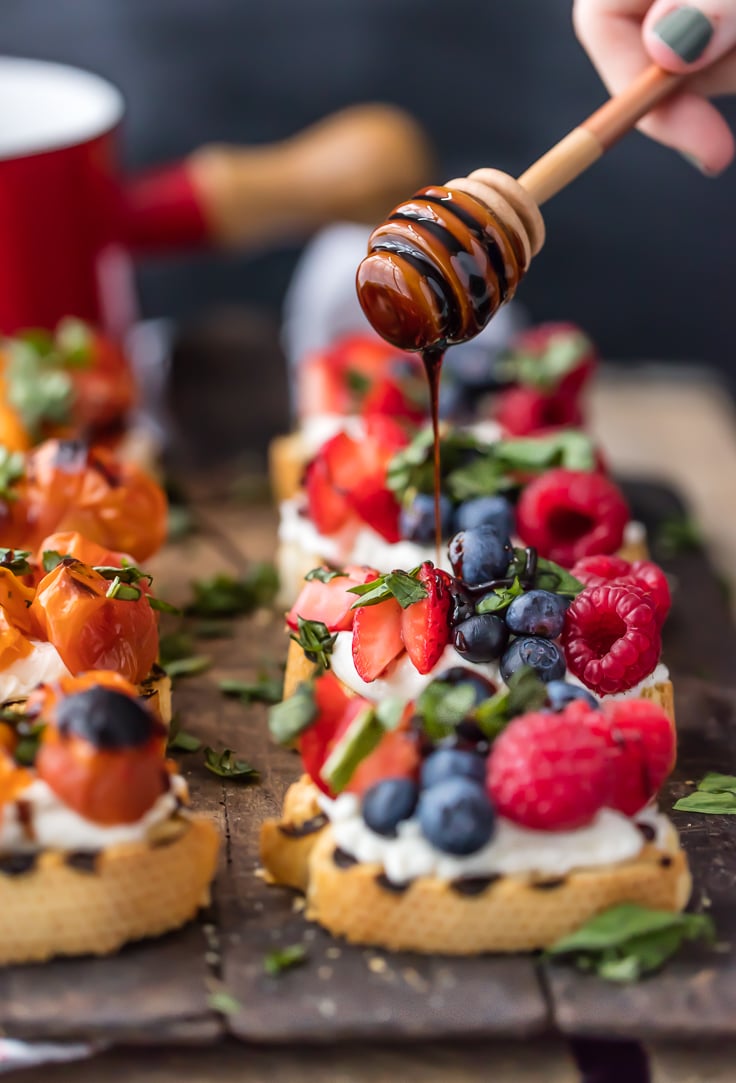 Goat Cheese Bruschetta Appetizers
A good bruschetta recipe is one of my very favorite things to make in a pinch. And this whipped goat cheese bruschetta is a favorite!
The goat cheese is creamy, simple, delicious, and versatile. It pairs perfectly with both sweet or savory ingredients to make amazing flavor combinations with little to no effort.
I've whipped up both Triple Berry and Caprese versions, and just LOVE them both. You're in for a treat!
Why You'll Love This Whipped Goat Cheese Bruschetta Recipe:
EASY TO MAKE: These are really easy to make and assemble when you need them.
FLAVOR VARIETY: I'm showing you two flavor options so you can have sweet or savory.
BEAUTIFUL APPETIZERS: This bruschetta is a colorful, beautiful appetizer to serve to guests.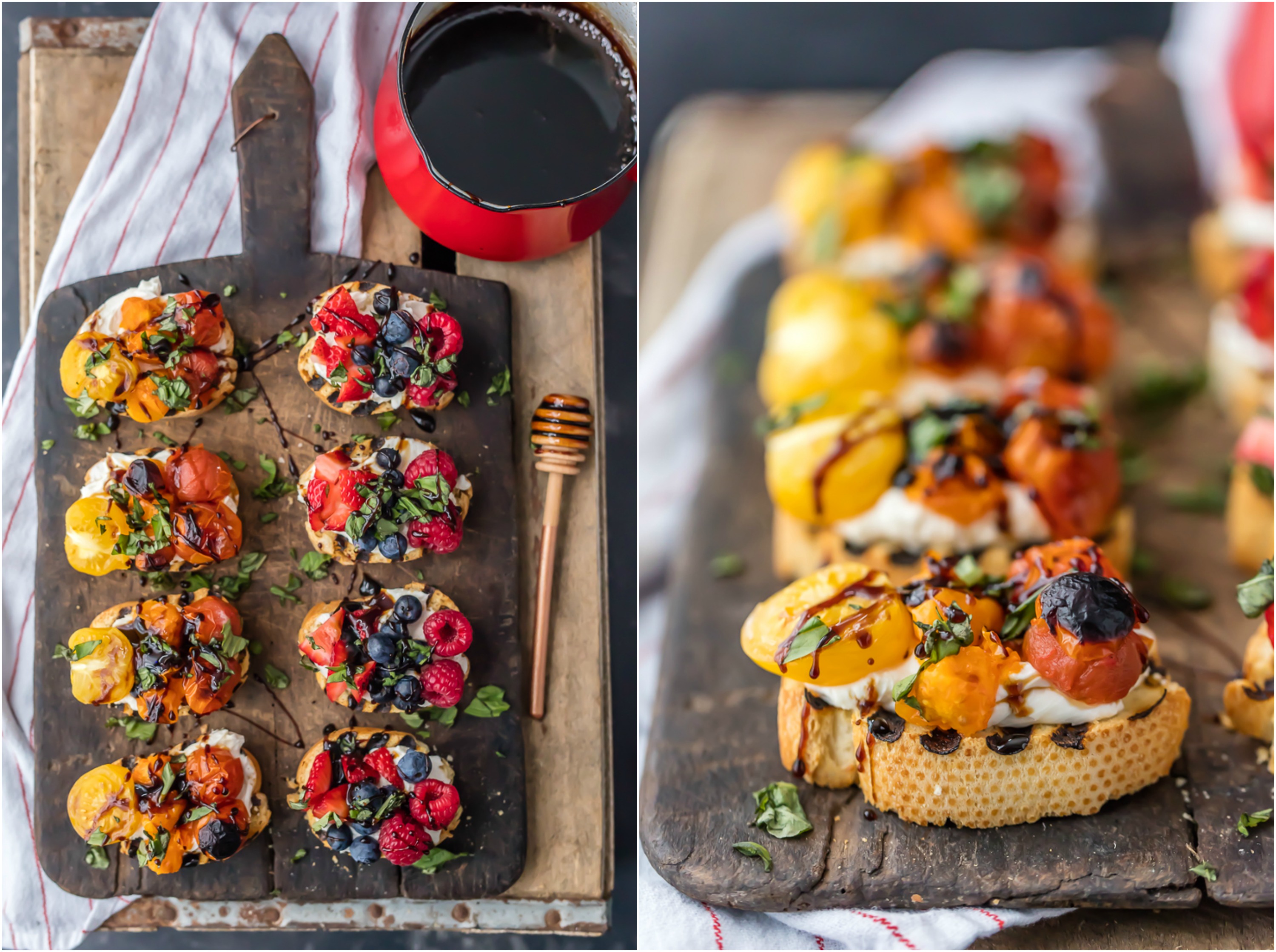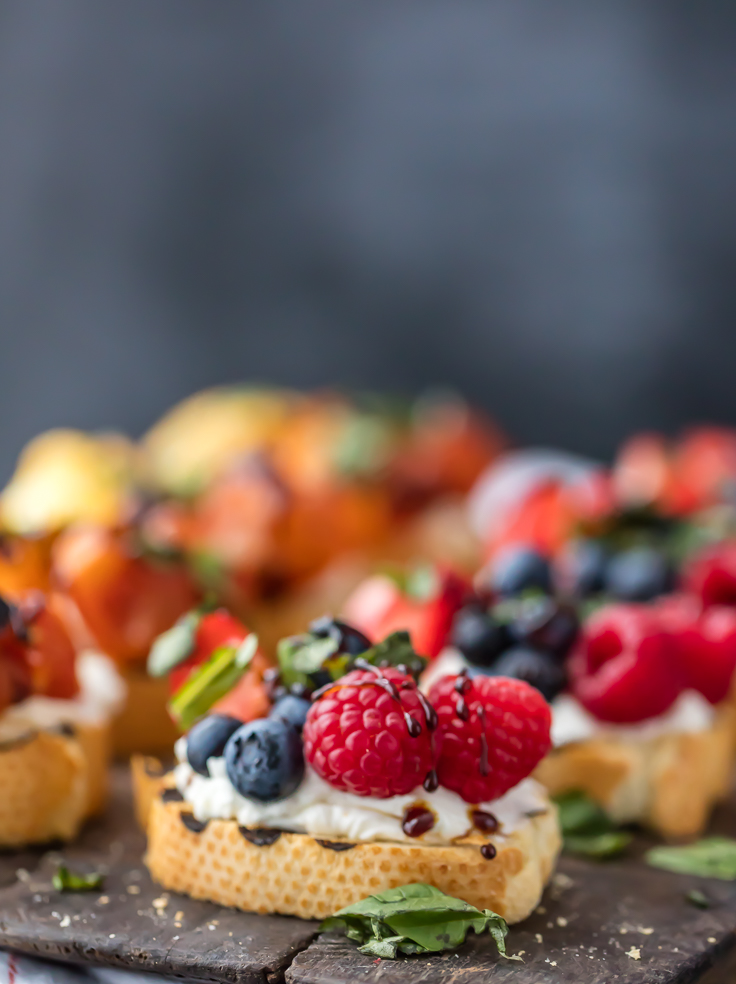 Bruschetta Caprese or Triple Berry
I made two versions of this whipped goat cheese bruschetta so that everyone could choose which one they wanted. We have both sweet and savory flavors, both are delicious.
Bruschetta Caprese: Start with the cheese mixture, then add colorful cherry tomatoes and fresh basil.
Triple Berry Bruschetta: For a sweet version, add blueberries, strawberries, and raspberries on top of the goat cheese.
How to Make Whipped Goat Cheese Bruschetta (Two Ways)
*Be sure to check the recipe card below for a printable version with the full instructions and ingredients list.
Toast the bread (bake in the oven about 10 minutes), then set aside.
Make the balsamic reduction on the stove.
Combine ingredients to make the whipped goat cheese in a blender or stand mixer.
Assemble bruschetta by topping each slice of bread with the goat cheese mixture, then add preferred toppings. Drizzle with the balsamic, then serve and enjoy!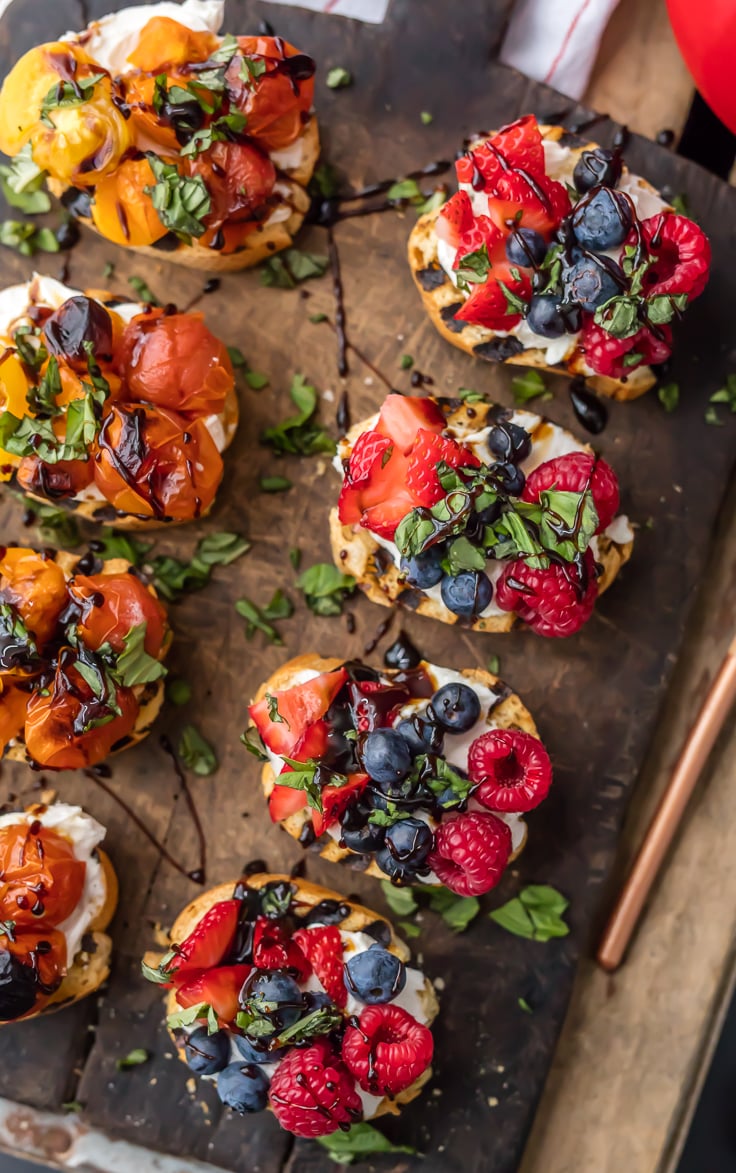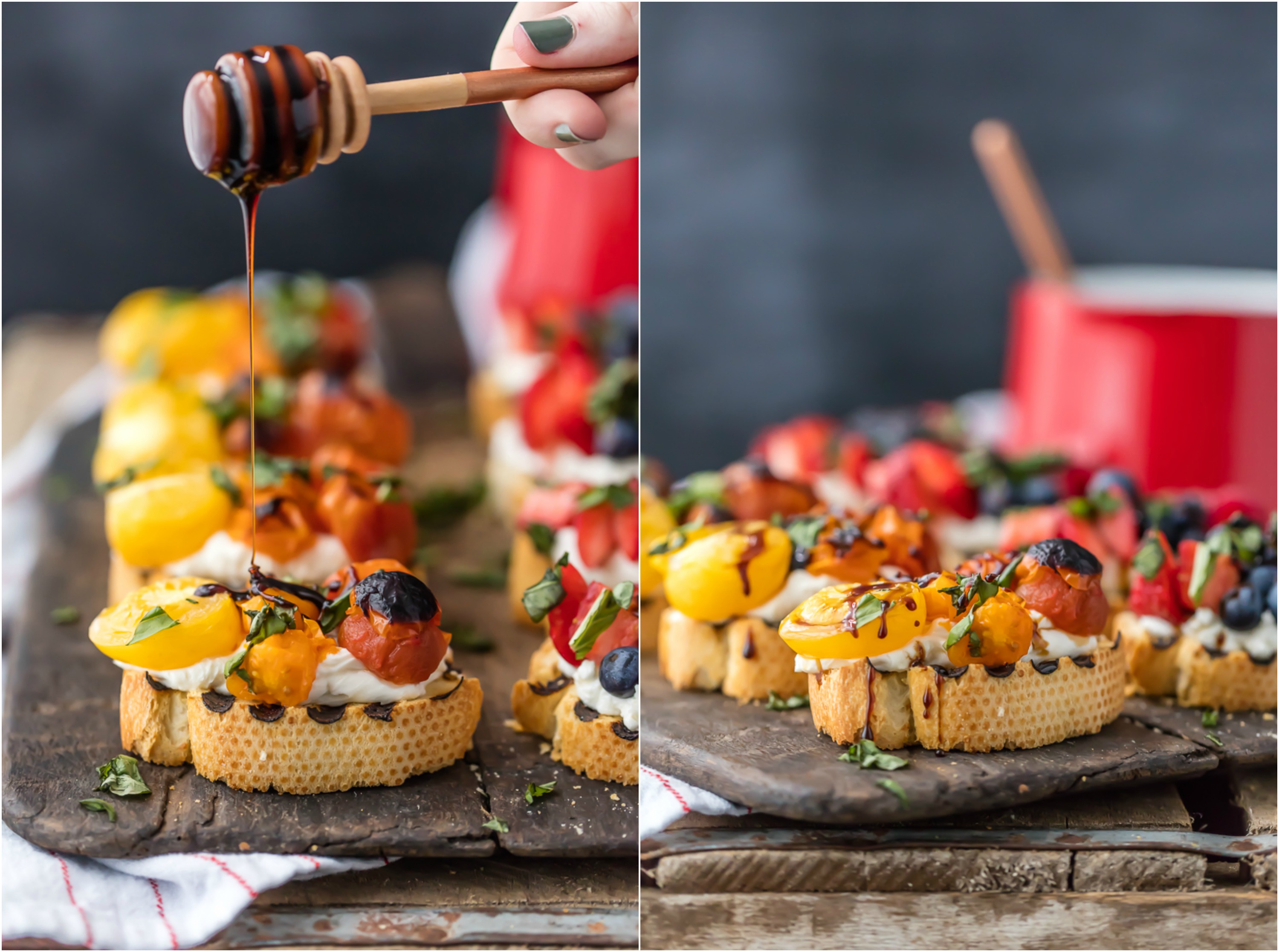 What is bruschetta?
Bruschetta is a toasted bread appetizer. It's traditionally served topped with olive oil and tomatoes, but you can really top it with anything you like.
What bread should I use for bruschetta?
You want to use a rustic bread that gets crispy when toasted and holds up when topped with ingredients. French Bread and baguettes work well.
What toppings can I add to goat cheese bruschetta?
I'm showing you how to make a caprese (tomato and basil) version and a triple berry version so you can choose from sweet or savory (or make both!).
Other topping ideas for goat cheese bruschetta include:
thinly sliced apples or pears.
drizzling honey or caramel sauce for a sweeter option.
cucumbers and tomatoes.
jalapenos and/or bell peppers.
Can I make these ahead of time?
These are best served right after making them, when the bread has been freshly toasted and is still warm. However, you can prepare the whipped goat cheese mixture and keep it in the fridge until ready to use it.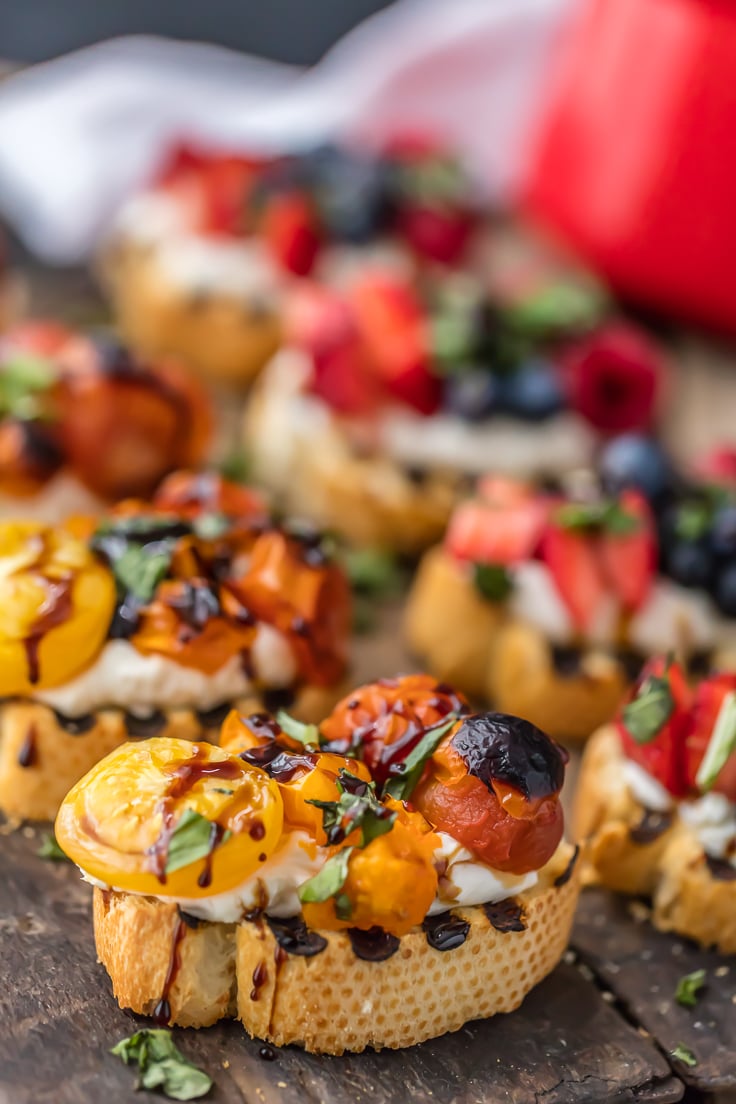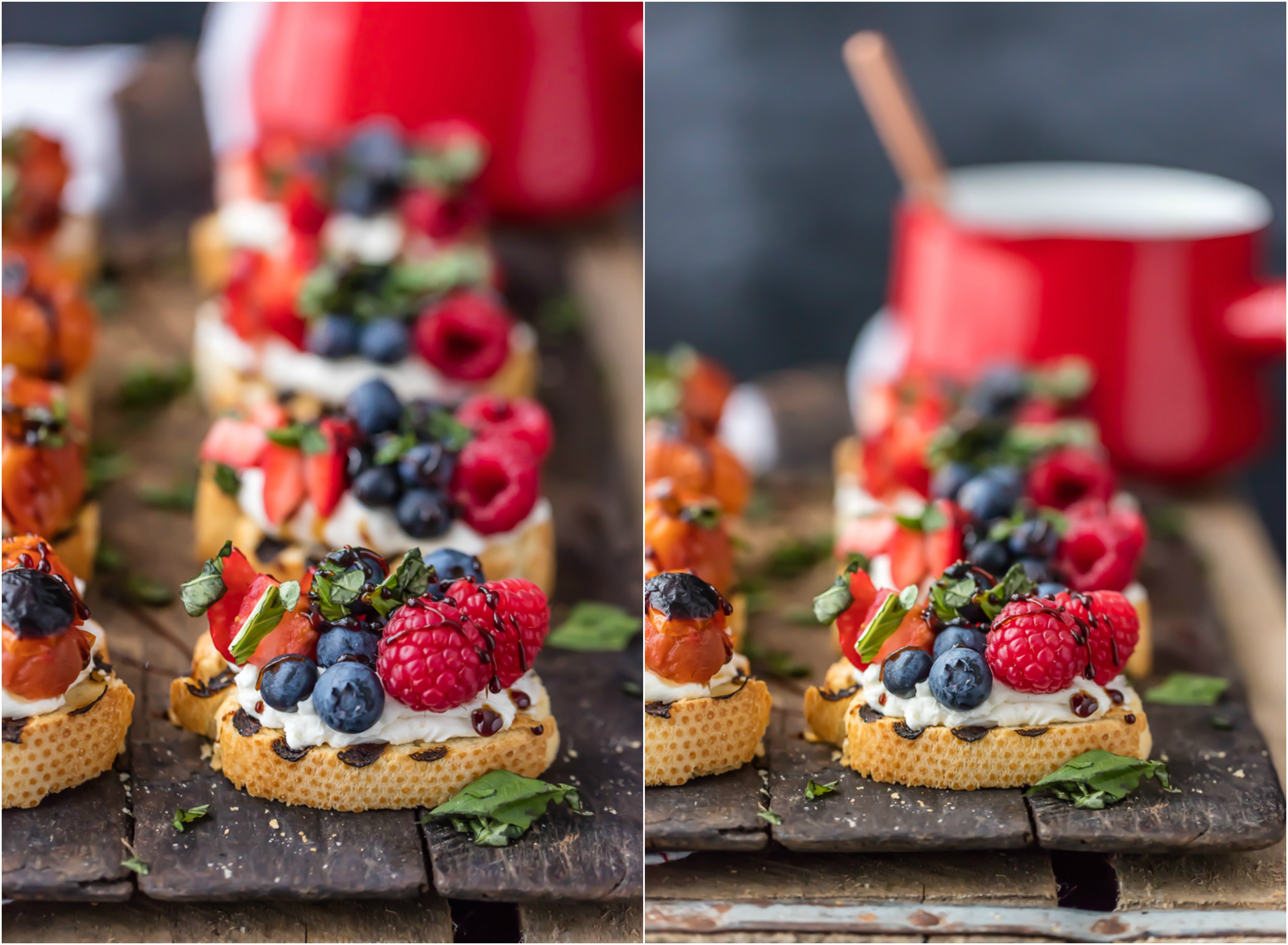 Recipe Tips and Notes
Cut bread into 1/2 inch slices, so it's not too thin or too thick.
You can toast the bread in the oven or on the grill.
The balsamic adds the perfect flavor to both versions. But you could use honey for the triple berry, or olive oil for the caprese, instead.
Skip the garlic powder if you're making the triple berry version.
You'll want these to be a little warm and toasty when serving so I recommend making them right when you're ready to serve them.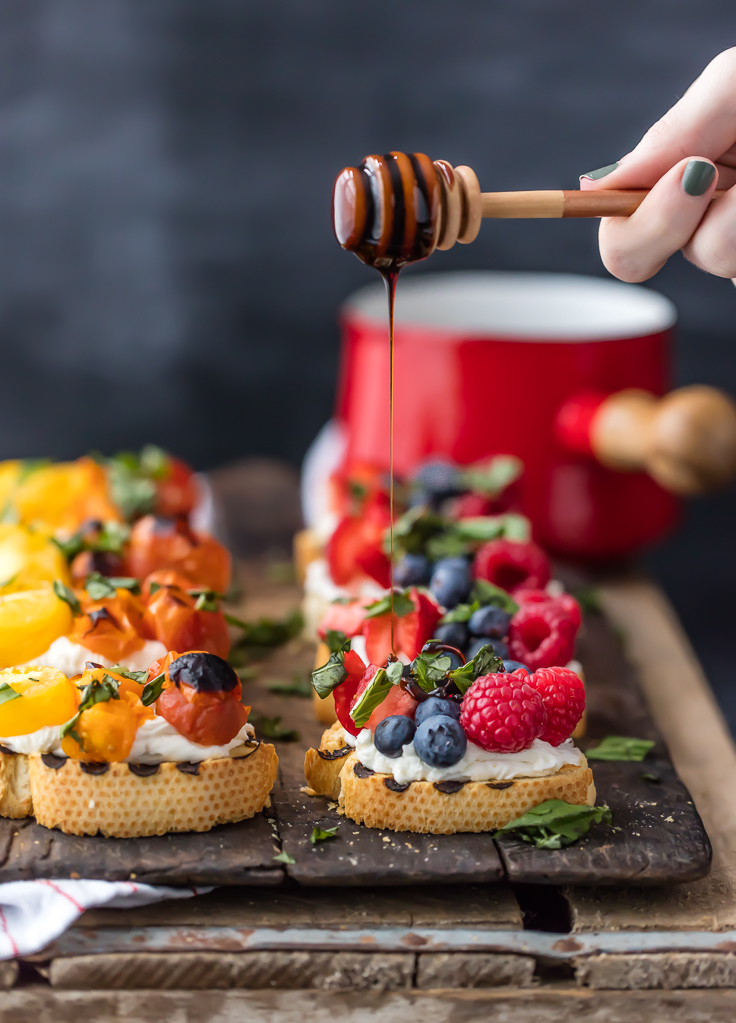 You and your guests will LOVE this whipped goat cheese bruschetta. Either flavor option you choose, it will be delicious! Serve at parties, before dinner, or with cocktails. It's also a great holiday appetizer. Enjoy!
More delicious appetizers to try