If the thought of making rice on the stove intimidates you, this Instant Pot basmati rice recipe is for you. Maybe you had a few bad experiences with burnt, uncooked, or mushy rice and gave up. Trust me, I can relate, and I've been there and done that – but not since I started making rice in the Instant Pot!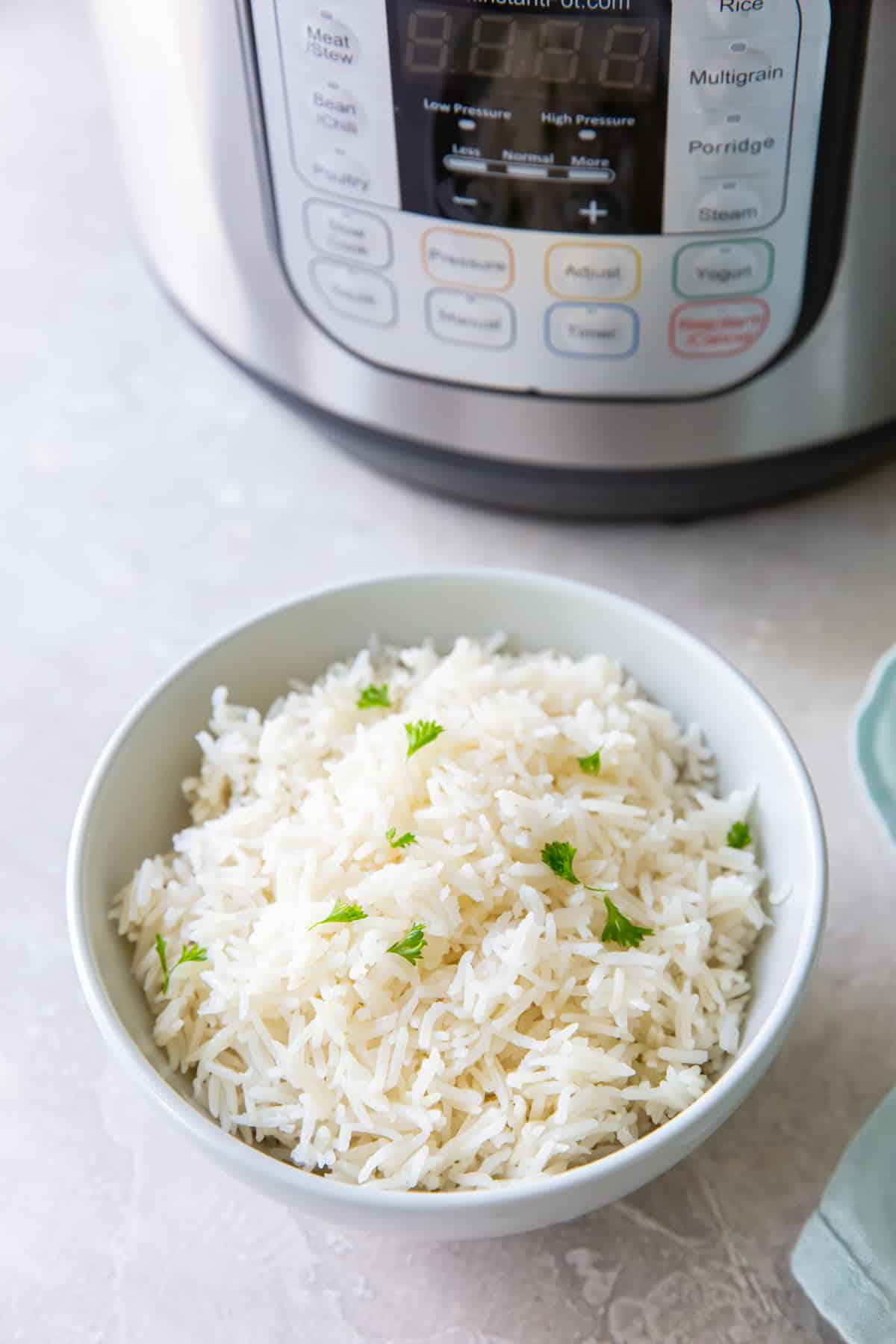 What's in Pressure Cooker Basmati Rice?
When I'm not sure about what to make for dinner, a big pot of comforting and tasty basmati rice is always a good starting point. Rice goes with almost anything, and it's always perfect when made in the Instant Pot.
Rice: Basmati rice is a long-grain rice that's the perfect complement to any meal!
Water: Helps to cook the rice. For softer rice, add ¼ of additional water.
Salt: Kosher salt helps to flavor the rice. If using a finer-grain salt, like sea salt or table salt, use half as much.
Oil: Helps to keep the rice from sticking to the instant pot. I like to use olive oil for the subtle flavor it imparts, but you could use vegetable oil, coconut oil, avocado oil, or ghee.
Pro Tip: For fluffier rice, rinse or soak the rice before cooking it.
Ratios for Basmati Rice in the Instant Pot
When making rice, I like to use a ratio of 1.25:1 — that is 1¼ cups of water for every 1 cup of rice.
If you soak your rice, you'll want to reduce that ratio to 1:1 because the rice will have already absorbed some water. As written, this recipe makes 6 cups of cooked rice from 2½ cups of water and 2 cups of dry rice. For a smaller portion of rice, reduce the water to 1¼ cups and the rice to 1 cup. For a larger portion of rice, double the recipe, using 5 cups of water and 4 cups of rice.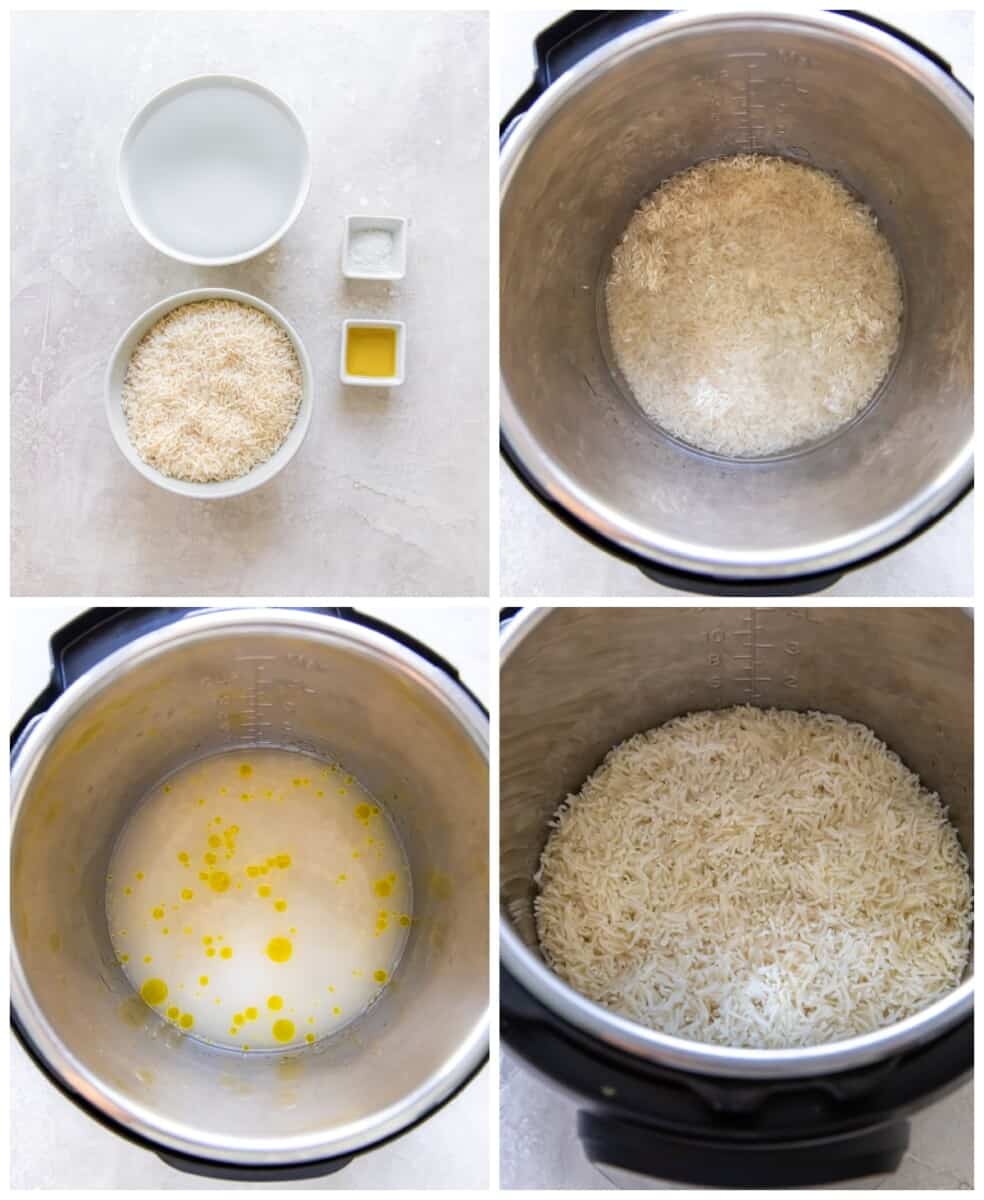 What is basmati rice?
Basmati rice is a type of long-grain rice grown in India, Pakistan, and Nepal.
Do I have to soak basmati rice before I cook it?
Nope! This is a no-soak method. However, if you'd prefer to soak your rice beforehand, you can! Simply reduce the amount of water to 2 cups.
Should I rinse basmati rice before I cook it?
It's totally optional! Rinsing the rice helps to remove excess starch, allowing the rice to separate more easily. To rinse your rice, place it in a fine-mesh strainer and rinse for about 2 minutes to remove excess starch.
What is the correct ratio of water to basmati rice?
For this recipe, the ratio is 1.25:1– that is 1¼ cups of water for every 1 cup of rice. If you soak your rice, you'll want to reduce that ratio to 1:1.
How much cooked rice does this recipe make?
This recipe will yield 6 cups of cooked rice. As a general rule, every 1 cup of dry rice will yield 3 cups of cooked rice.
Can I cook basmati rice using the "rice" setting on my instant pot?
Sure! Add the rice, water, salt, and oil to your instant pot and press the "rice" button on your instant pot. This will cook your rice at a default time of 12 minutes at low pressure.
Why is my instant pot basmati rice mushy?
If you add too much water to the rice, it can end up mushy. Make sure to carefully measure your water, and always reduce the amount if you soak the rice beforehand.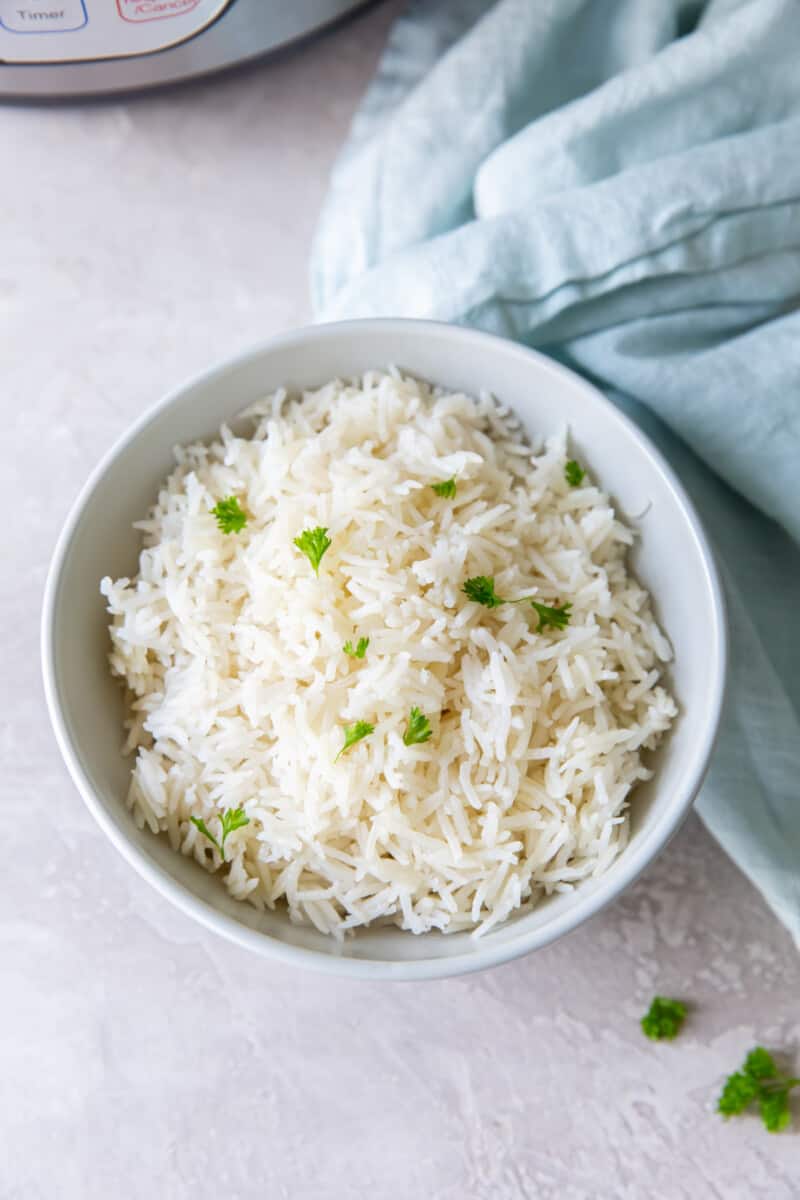 How to Make Ahead and Store Instant Pot Basmati White Rice
Cooked basmati rice is a great meal-prep food! It will keep for up to 5 days in an airtight container in the refrigerator, so prep a big batch and use it all week!
How to Freeze and Reheat White Basmati Rice
Freeze instant pot basmati rice in an airtight container for up to 4 months. Let thaw overnight in the refrigerator before reheating.
Sprinkle the rice with a few tablespoons of water and reheat in the microwave in 30-second increments, stirring between, until warmed through.
What to Serve with this Instant Pot Rice Recipe
I'm a big proponent of rice as the ideal side dish. It really and truly goes with everything! Try this basmati rice with vegetarian dishes, like Thai vegetable curry, teriyaki tofu, enchilada stuffed pepper casserole, or black eyed peas; meat dishes, like beef stew, sweet and sour chicken, chili con carne, crockpot chicken marsala, smothered pork chops, beef and broccoli, butter chicken, stuffed pork loin, or chicken cacciatore; or fish, like orange glazed salmon, creamy Parmesan shrimp, tuna poke bowl, creamy garlic scallops, or surf and turf.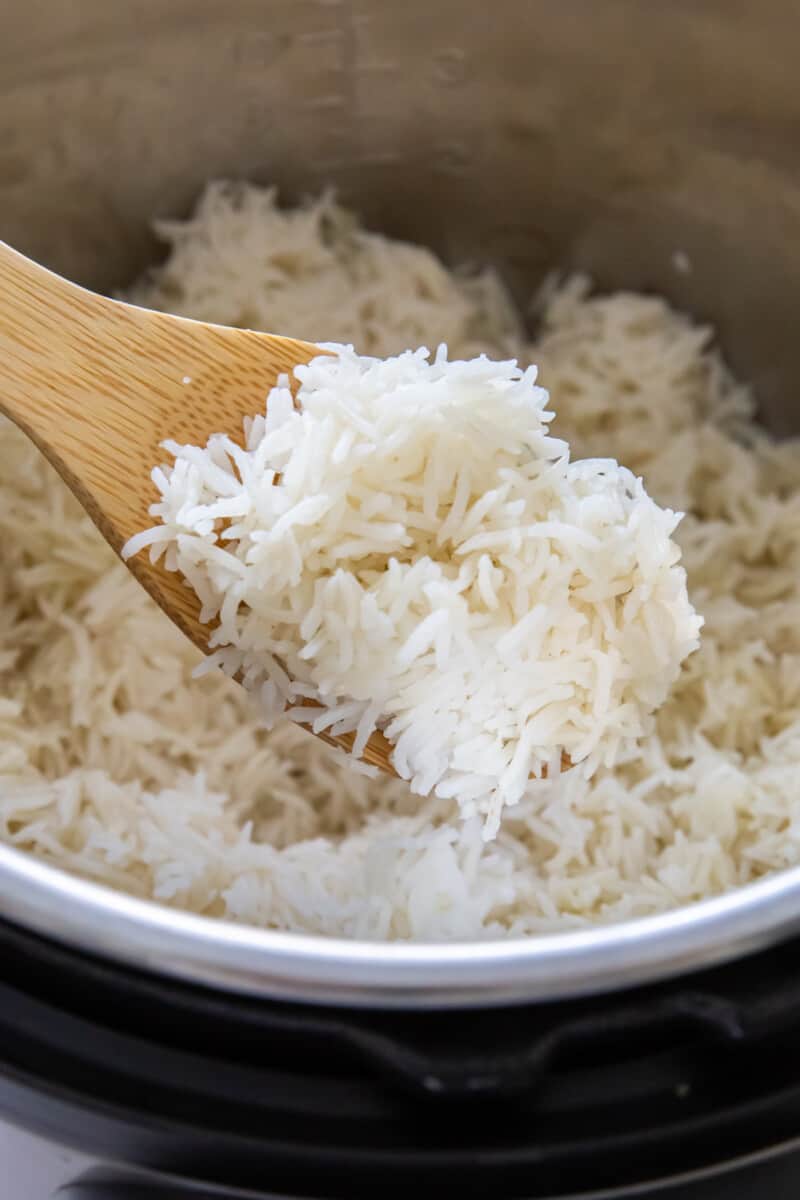 More Instant Pot Side Dish Recipes We Love