This Enchilada Casserole recipe is a family favorite! Layered with red and green bell peppers, rice, black beans, corn, cheese, and so much more, this stuffed pepper casserole is super easy and super tasty!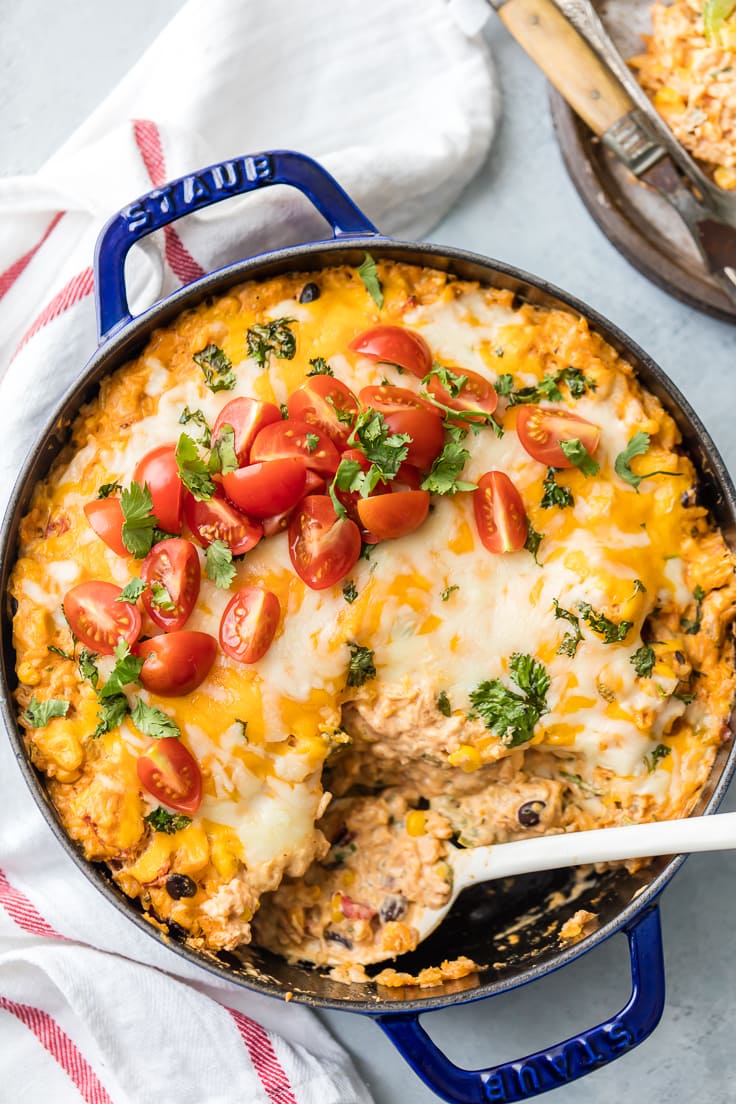 Enchilada Casserole
This enchilada casserole recipe is stuffed with peppers, cheese, and all the ingredients you love about enchiladas…but in an easy to eat and serve casserole form!
I can't tell you how excited I am for this recipe! I have been wanting to make this Enchilada Stuffed Pepper Casserole recipe forever, and today is the day!
My hairdresser is one of the best cooks ever, and she always gives me recipe ideas. We chat back and forth about what we love to make, and she told me about this amazing stuffed pepper casserole. I could tell right away it was a winner, but of course I put my own spin on it too. Meaning, I made it less healthy. I can't help myself! But I did add some notes below on how to slim it back down (if you're into that kind of thing).
This enchilada casserole is vegetarian, but you can also add in chicken or beef if you prefer. No matter what, it's delicious, easy, flavorful, and quick dinner. A real family favorite!
Enchilada Casserole is the perfect weeknight meal for any time of the year!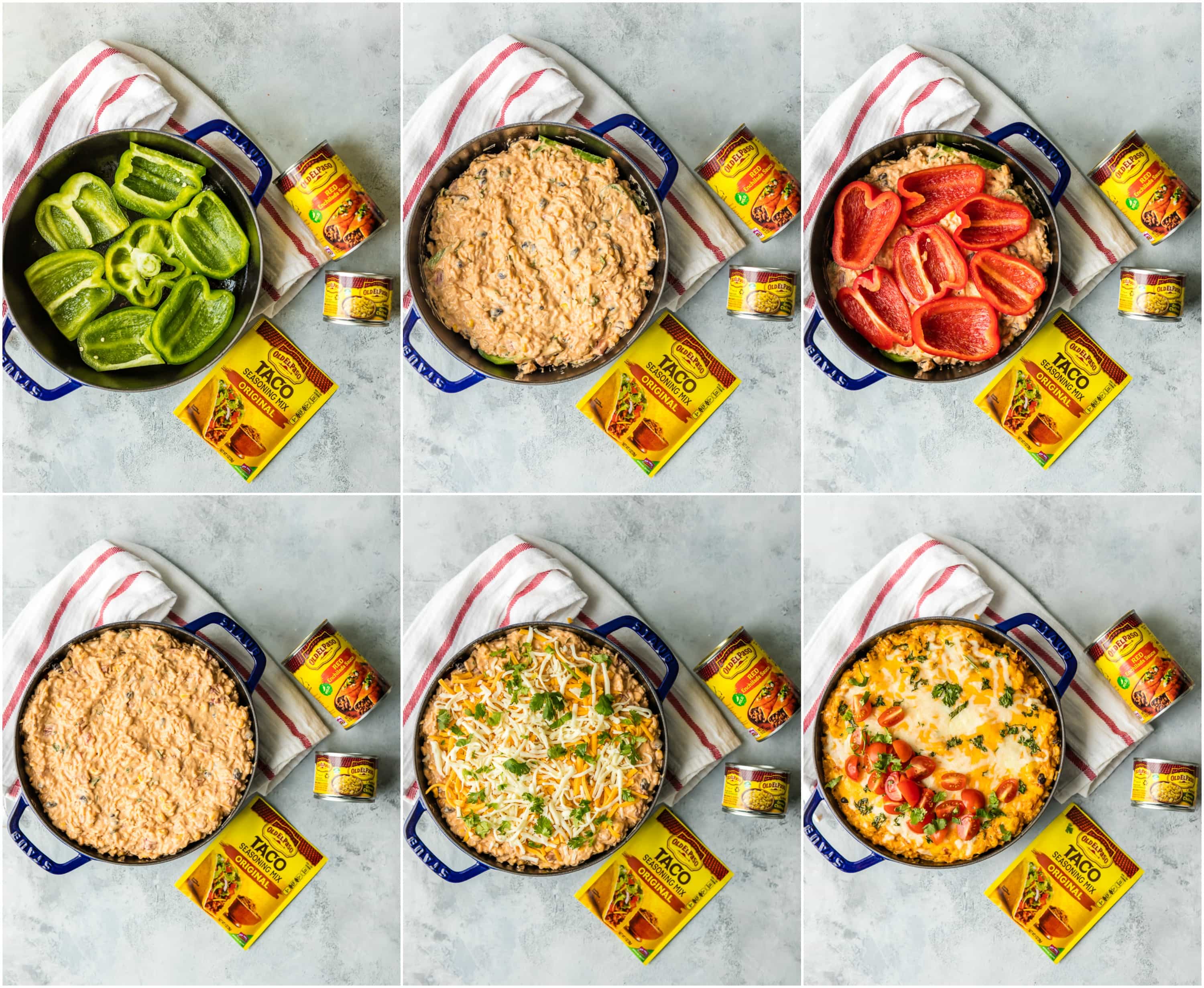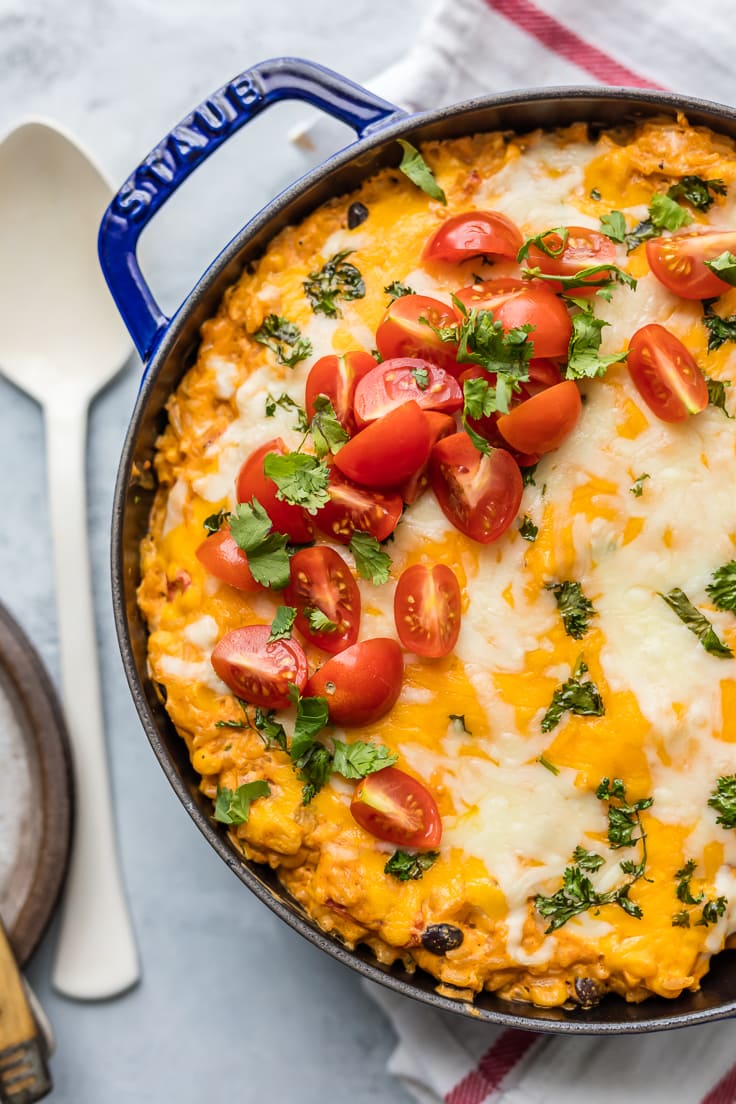 Stuffed Pepper Casserole
What I love most about this cheesy stuffed pepper casserole is how easy it is to customize and make it your own.
Want to make it healthier? Skip the cheese.
Want to add some protein? Throw in some rotisserie chicken or browned hamburger.
Want to make it spicy? Dice up some jalapeños and go wild!
The sky is the limit and I couldn't be more obsessed. This baby is right up my alley. SO YUMMY!
How to Make Enchilada Casserole with Peppers
This enchilada casserole recipe is SO easy. It's basically just mixing and layering all of the amazing ingredients together, and then baking. Casseroles really are the simplest meals ever!
Preheat oven to 350°F.

In a large bowl, heat the cream cheese in the microwave for 30-40 seconds or until softened. Mix in the taco seasoning, corn, beans, tomatoes, chiles, enchilada sauce, and cilantro. Stir to combine. Stir in the rice and ½ cup of each of the cheeses until fully combined. Set aside.

Spray a large baking dish with nonstick spray. I used a 10" round dish, but you can also use a 9×13.

Start by making a layer of the green peppers along the bottom of the dish. Top with half of the rice mixture, and use a spoon to smooth out as much as possible.

Layer in the red peppers and top with last half of the rice mixture. Top with the remaining ½ cup of each of the cheeses and sprinkle with more cilantro.

Bake for 30 minutes or until the cheese is bubbly and melted and the casserole is fully heated through.

Remove from the oven and top with more cilantro and diced tomatoes. Serve immediately.
Be sure to watch the video to see the step by step process.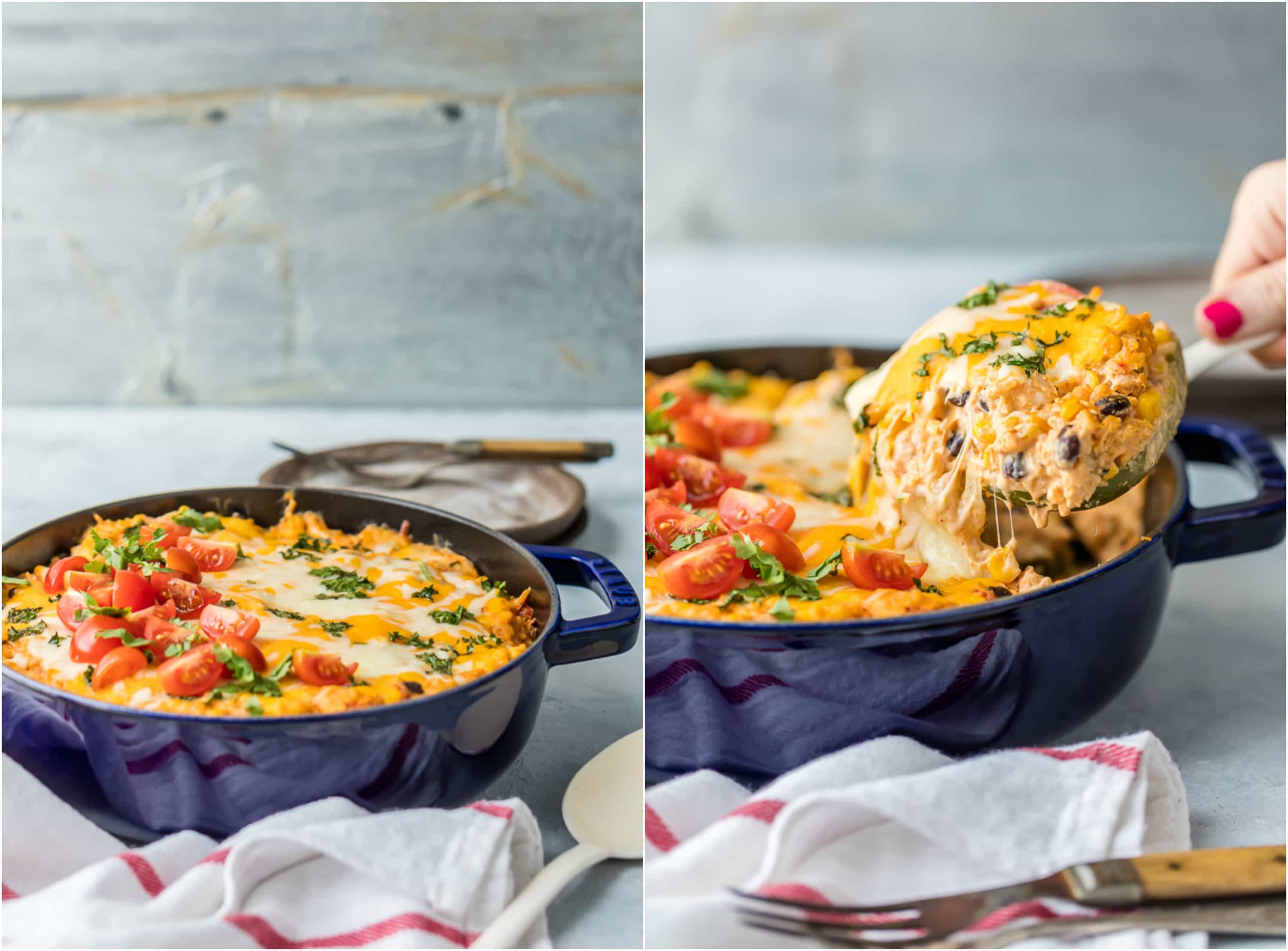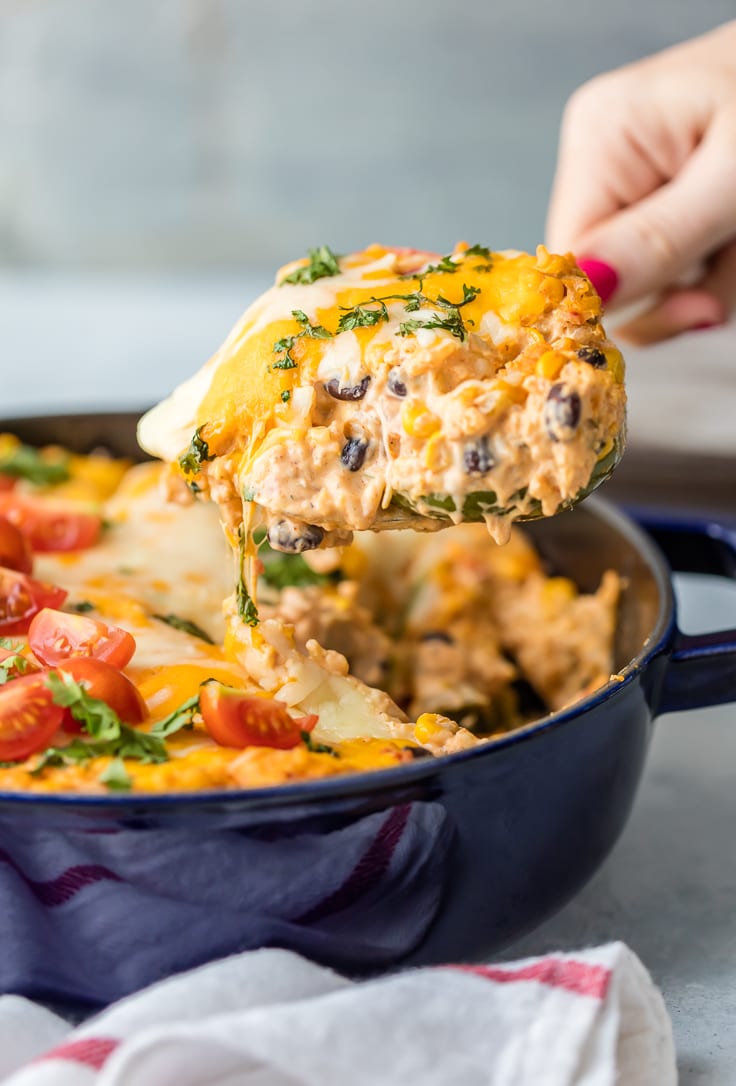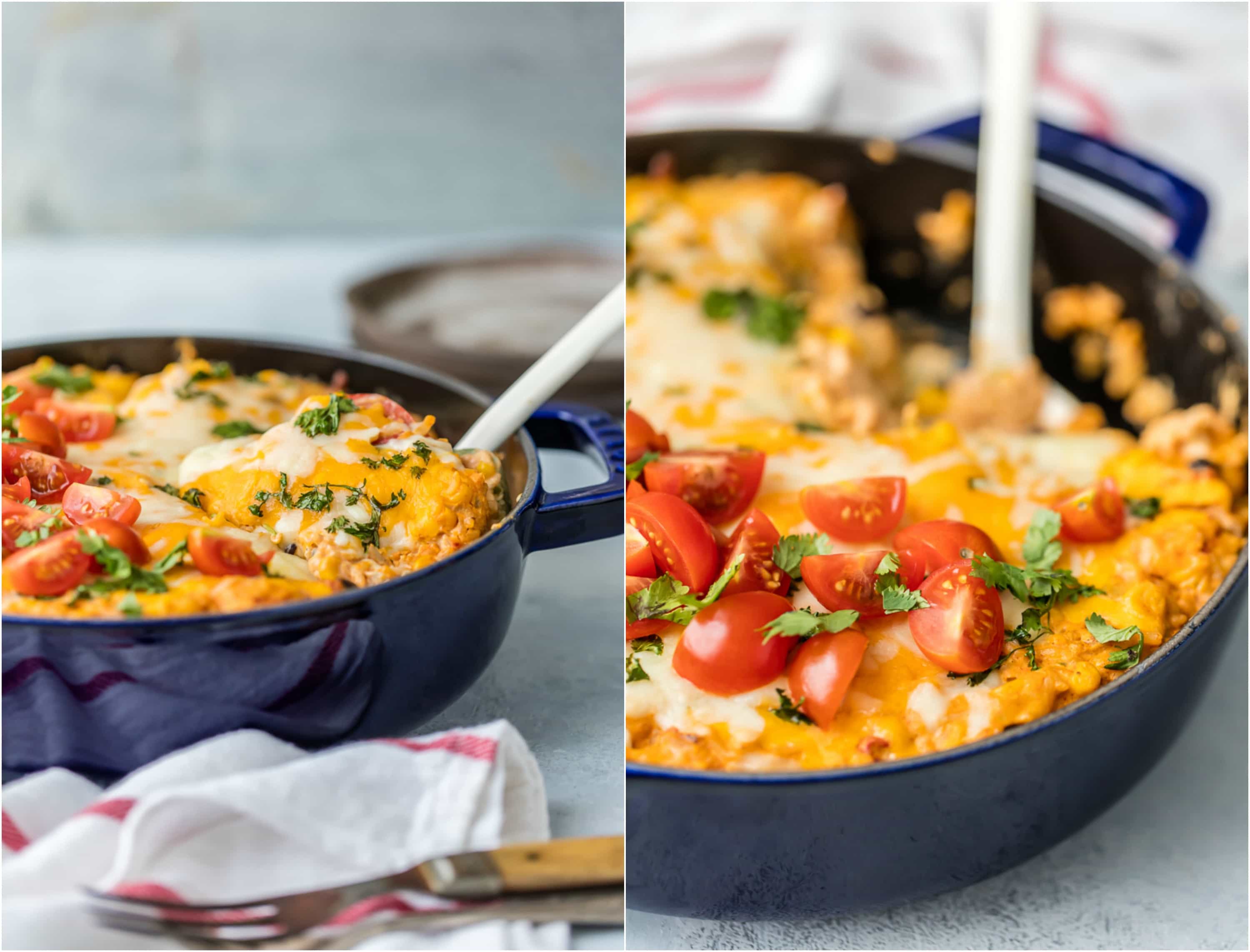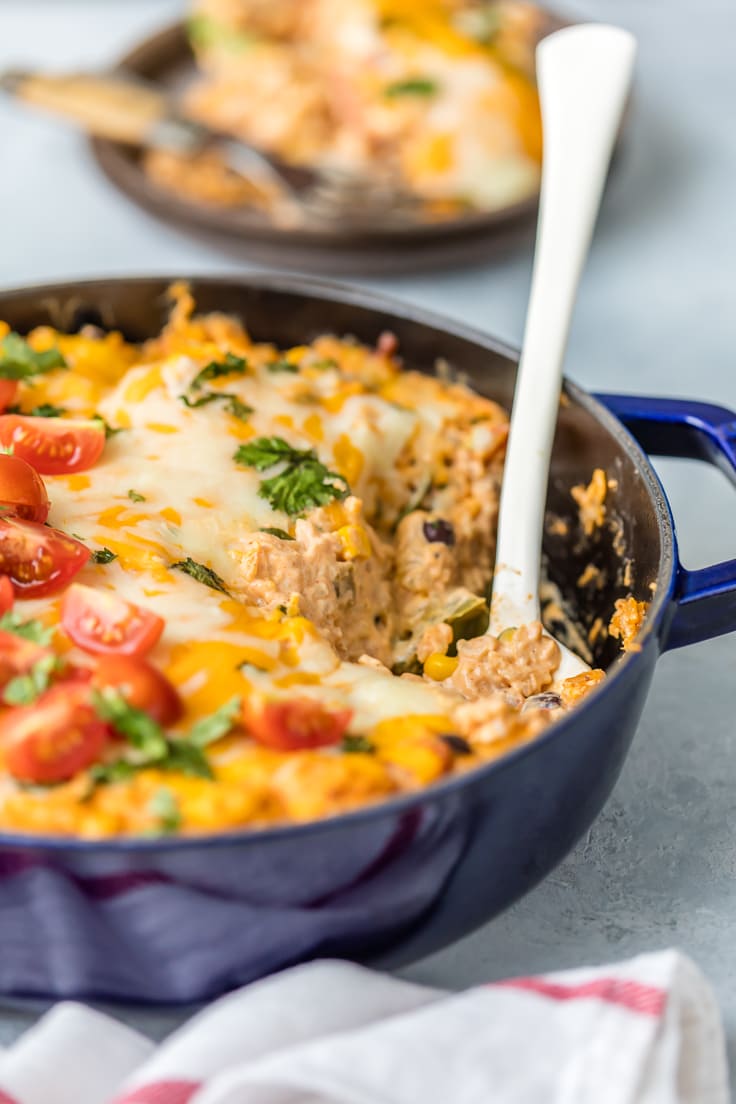 Vegetarian Enchilada Casserole
This enchilada casserole recipe is vegetarian, so no worries if you don't eat meat. There is so much flavor (and cheese), and all of the ingredients create a really delicious, filling meal. Especially with the bell peppers in there to add a "meaty" feeling.
Whether you're a typical vegetarian, or just trying to work in a "Meat Free Monday", this recipe is perfect for you!
Chicken Enchilada Casserole
If you prefer to add some meat into this stuffed pepper casserole, you can! It's really easy to mix in beef or chicken to this dish. Use a rotisserie or pre-cooked chicken, or brown some ground beef and add that in. I definitely recommend cooking the meat before adding it in to make sure it's fully cooked.
I think this recipe makes an amazing chicken enchilada casserole! I just love chicken in everything, but it's delicious whether you use chicken, beef, or keep it meat-free.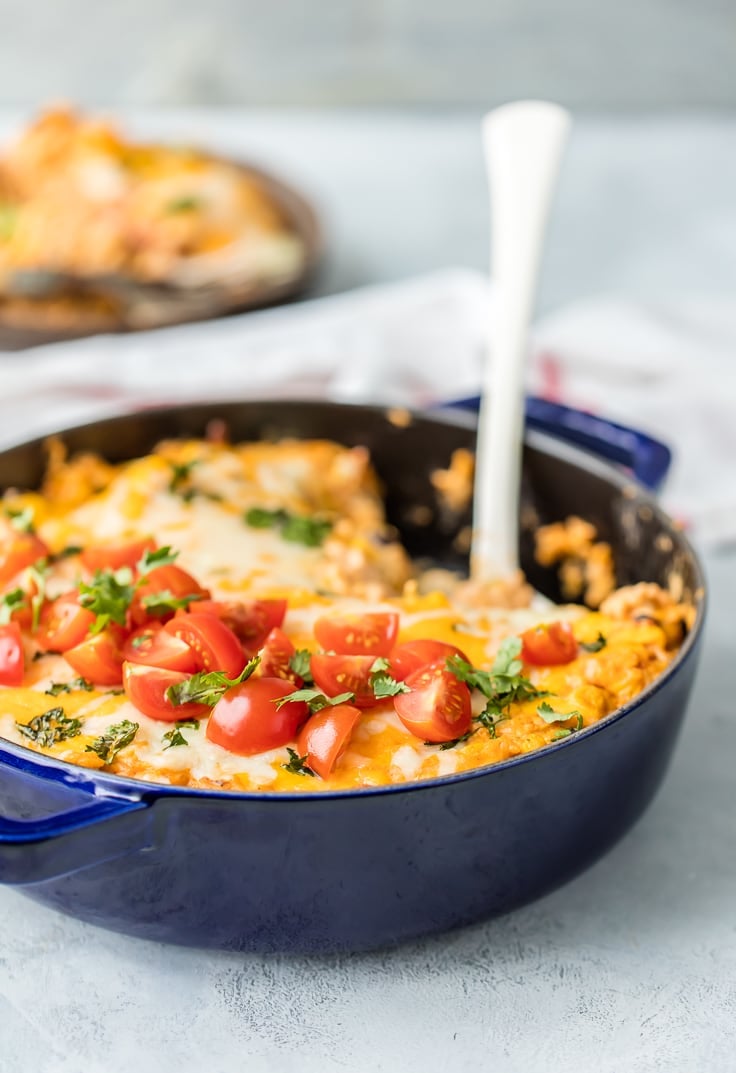 Family Favorite Recipe
This stuffed pepper casserole recipe will be in our family menu plan from now on! It's become a favorite, and I love that I can make it with chicken, or meat-free, depending on how we feel. It tastes great no matter what, but I'll personally always be adding ALL the cheese. No shame!
Watch the video and check the recipe card for details on how to make this enchilada casserole recipe. Enjoy!
You know we love enchiladas around here, so be sure to try these other recipes too: