This Stuffed Pepper Casserole recipe is a family favorite! Layered with red and green bell peppers, rice, black beans, corn, cheese, and so much more, this enchilada-inspired casserole is super easy and super tasty!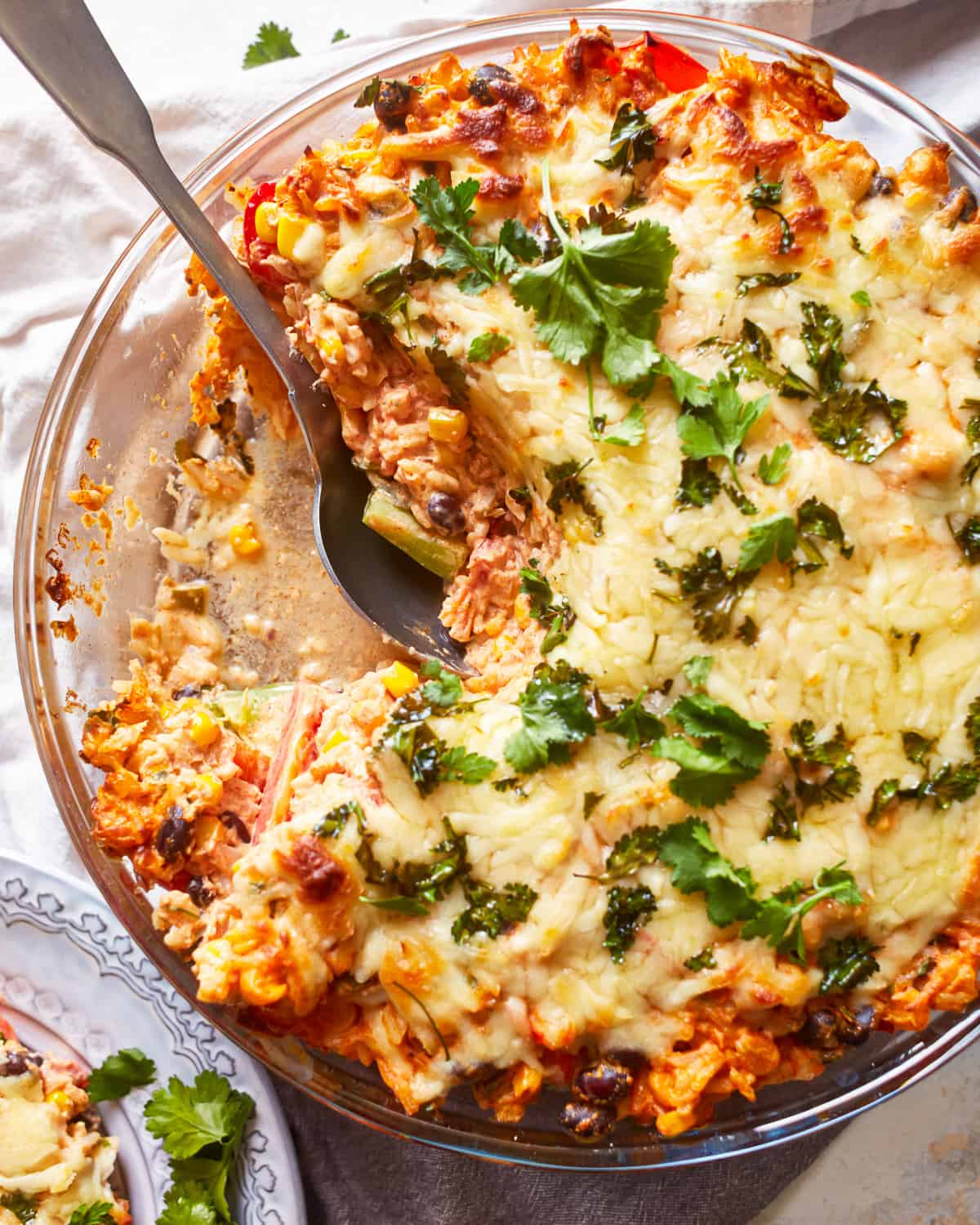 What's in this Stuffed Pepper Casserole Recipe?
This enchilada casserole recipe is stuffed with peppers, cheese, and all the ingredients you love about enchiladas and stuffed peppers, but in an easy-to-eat and serve casserole form!
Cream Cheese: Makes this casserole creamy and rich!
Taco Seasoning: Adds that classic Mexican flavor.
Canned Corn: Adds a pop of sweetness.
Black Beans: Add creaminess, substance, and protein.
Diced Tomatoes: Add freshness and acidity.
Green Chiles: Add a bit of spice.
Red Enchilada Sauce: Adds that classic enchilada flavor.
Cilantro: Adds a pop of freshness and color. Feel free to swap for parsley if you're not a fan.
Cooked White Rice: Adds texture, richness, and bulk.
Cheese: I used a mixture of mozzarella and mild cheddar, but feel free to get creative!
Bell Peppers: Add a delicious sweet and earthy flavor.
Pro Tip: Bring the cream cheese to room temperature an hour or so before starting this recipe!
Variations on Stuffed Bell Pepper Casserole
What I love most about this cheesy stuffed pepper casserole is how easy it is to customize and make your own. This enchilada casserole is vegetarian, but you can also add in chicken or beef if you prefer (cook fully before adding). Want to make it healthier? Skip the cheese. Spicer? Add some diced jalapeños. The sky is the limit, and I couldn't be more obsessed. This baby is right up my alley. So yummy!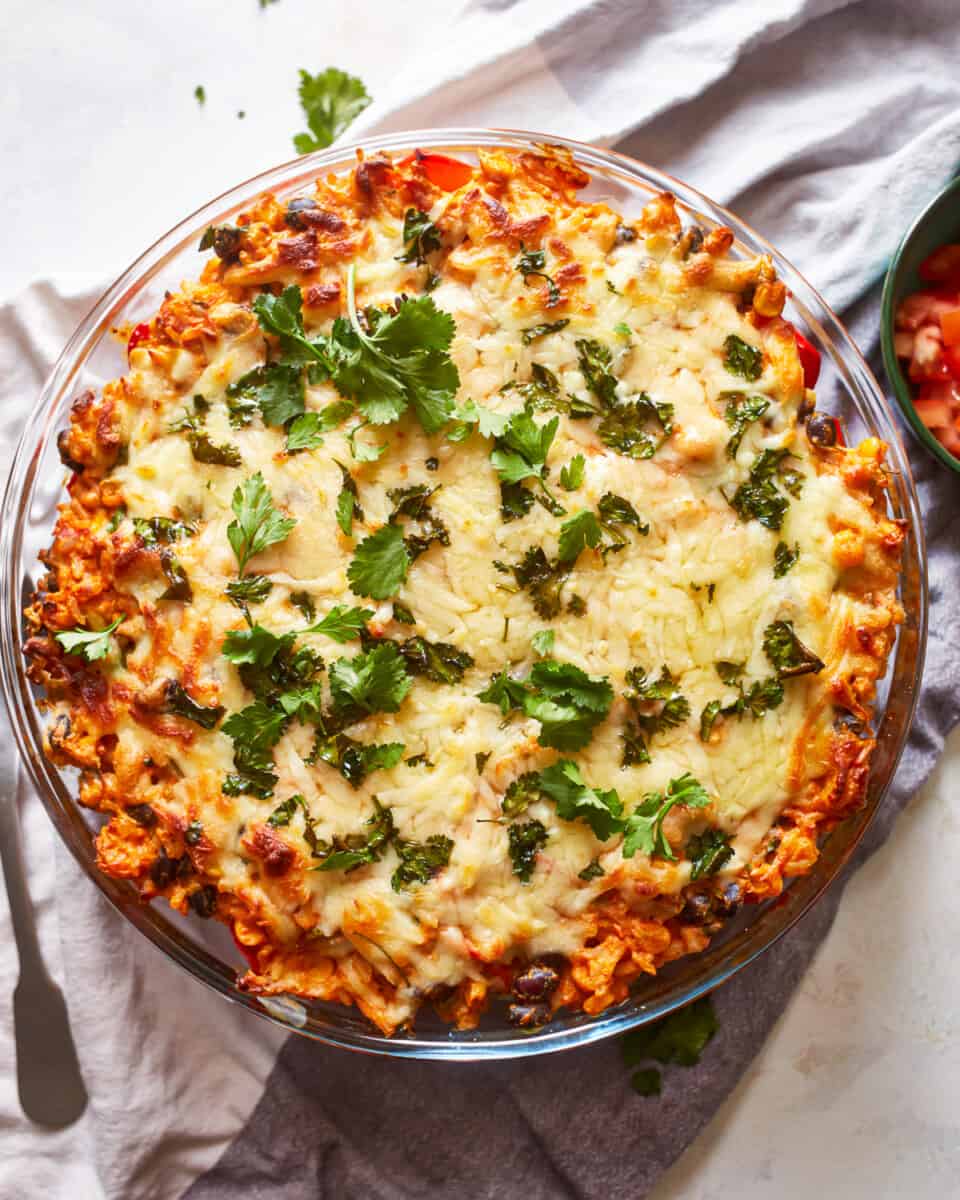 How do you cut bell peppers for stuffed peppers?
Normally, you would cut off the tops of the peppers and scoop out the seeds to create a pocket for stuffing. However, here, we are chopping the peppers into chunks to give that great flavor without all the fuss.
Should I boil the peppers before adding them to the casserole?
There's no need! They will cook up nicely in this casserole, turning out tender.
What is a substitute for red enchilada sauce?
If you can't find red enchilada sauce, you can simply add some taco seasoning to canned tomato sauce.
Is it best to bake stuffed pepper casserole covered or uncovered?
I recommend baking this casserole uncovered to allow the cheese to brown up nicely!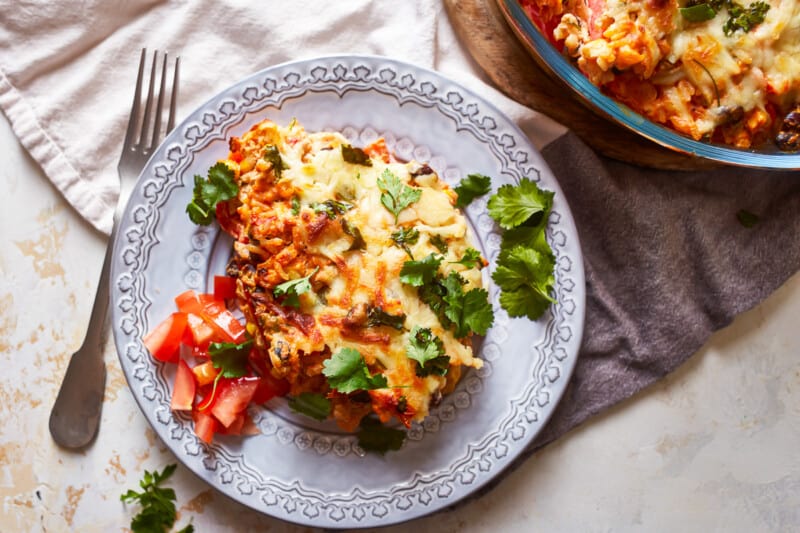 How to Store and Reheat
Store stuffed pepper casserole in an airtight container in the refrigerator for up to 4 days. Reheat in a 350°F oven for 20-30 minutes or in the microwave in 30-second increments until warmed through.
How to Freeze
Freeze stuffed pepper casserole whole or portioned into airtight containers for up to 3 months. Let thaw overnight in the refrigerator before reheating.
Serving Suggestions
This tasty casserole is the epitome of a one-pan meal. However, you could serve it with some crockpot Mexican shredded chicken, pan seared ribeye, carnitas, or grilled chicken breast to add some protein.
Try one of my favorite margarita recipes to go with it!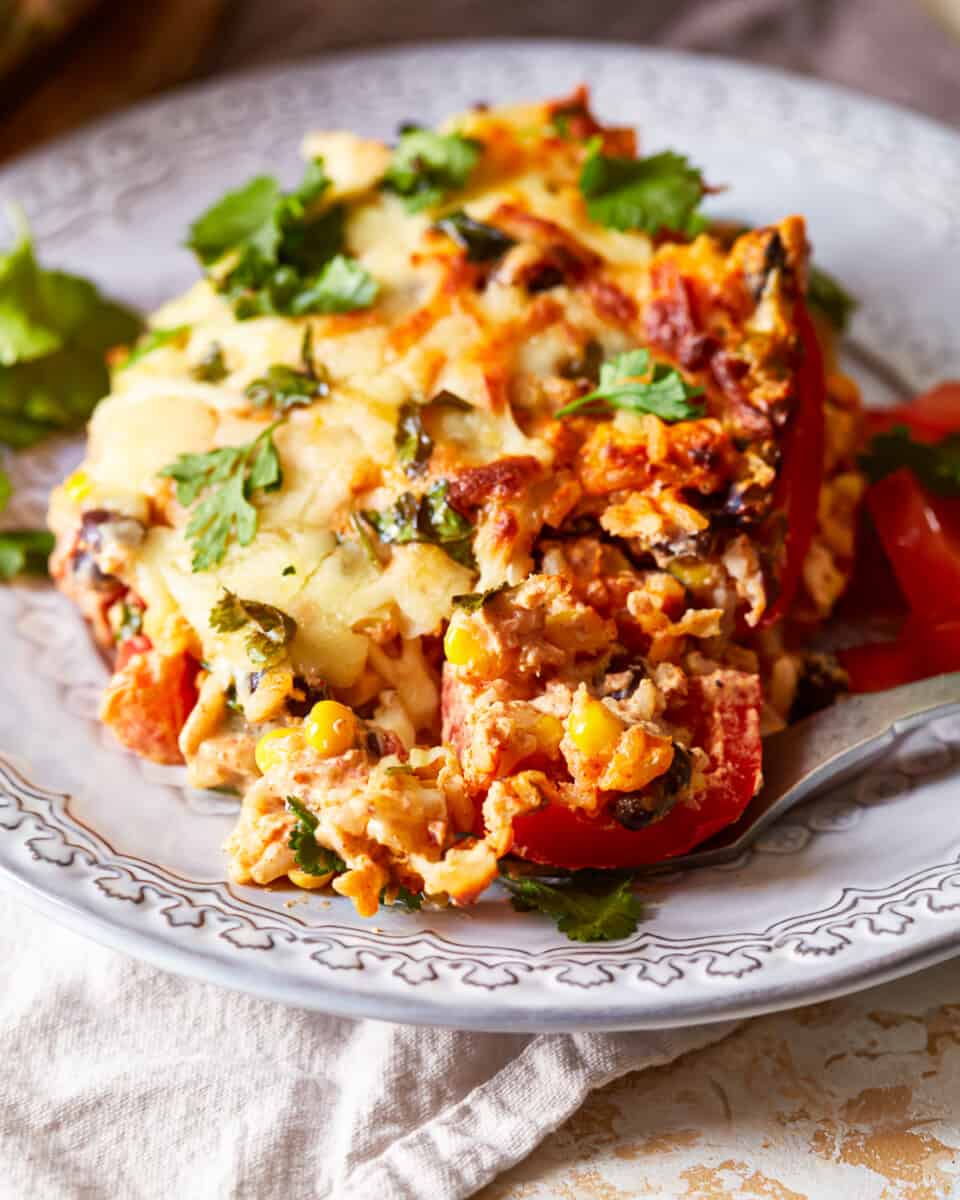 5-Star Review
"This dish is sooo heavenly delicious! Made it last night at a dinner party at home and everyone was amazed! Thank you so much for this recipe, made me the queen of the night haha :)" – Rocki
More Stuffed Pepper Recipes We Love