If you are looking for a new addition to your meat-free Mondays, this air fryer teriyaki tofu hits all the right notes! Tofu is air fried til crispy and then tossed in a homemade teriyaki sauce for one delicious bite.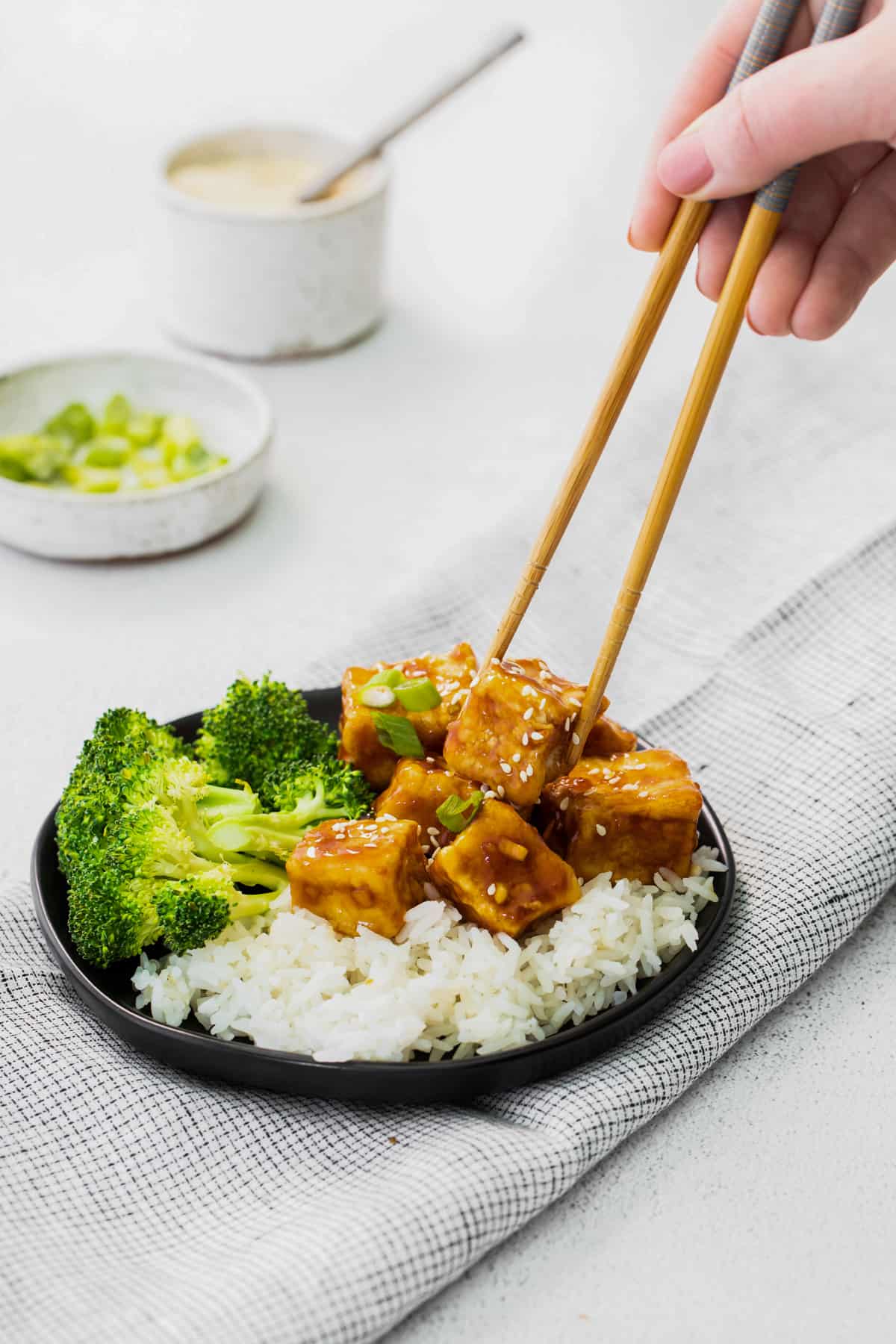 Air Fryer Tofu Recipe (Teriyaki Tofu)
If you don't think you like tofu, think again with this delicious and easy air fryer recipe!
Fried to perfection, this vegetarian recipe is so simple to make, and I guarantee even the tofu haters will love it!
The homemade teriyaki sauce is so perfectly rich, just serve over rice for one tasty family dinner.
Be sure to try my Crockpot Teriyaki Meatballs and Teriyaki Chicken Sub Sandwich too!
Why You'll Love this Healthy Dinner Recipe:
EASY: Made with just a few simple ingredients, this air fried tofu is simple to make.
HEALTHIER: Because this recipe is made in the air fryer, it's a much healthier option compared to deep frying but just as tasty! Plus, the homemade teriyaki sauce contains less salt and sugar than store bought.
DELICIOUS: If you don't like the texture of tofu normally, then you have to give this air fried method a go! It's been such a popular recipe in my house!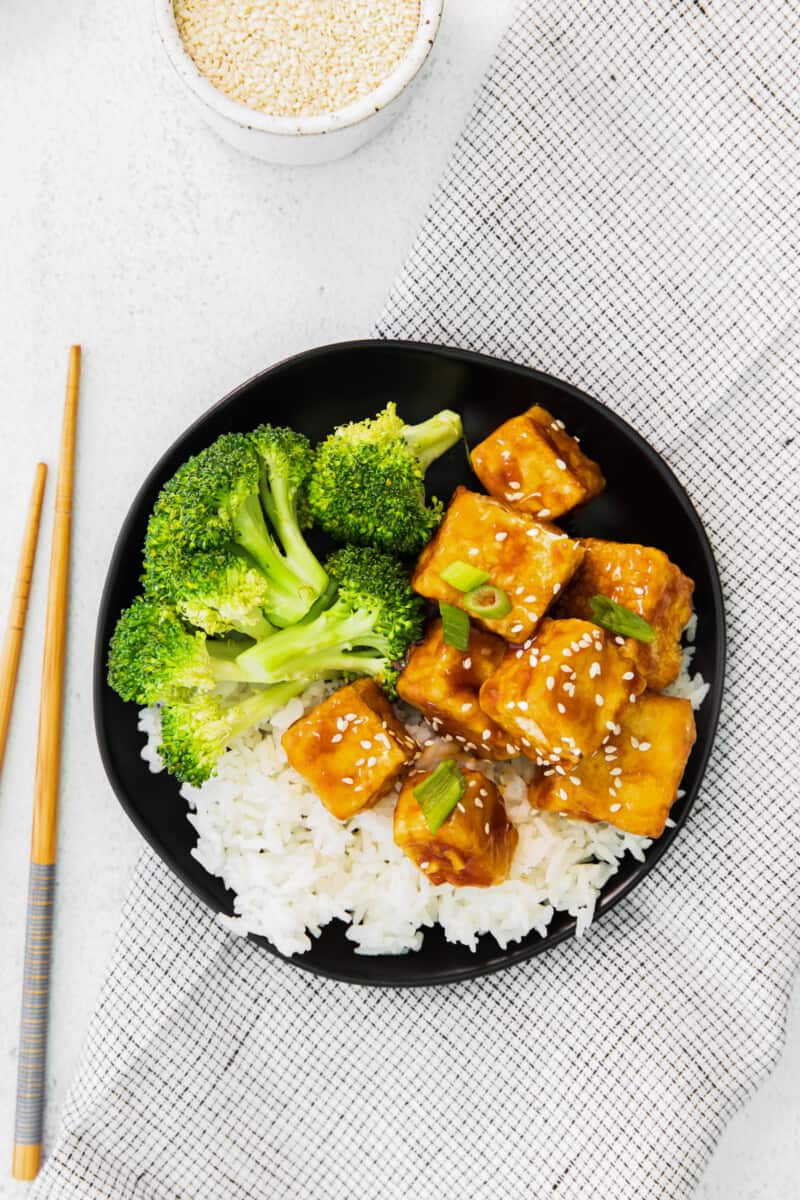 How to Make Teriyaki Tofu in an Air Fryer
You can jump to the recipe card for full ingredients & instructions!
Press the tofu and cut into cubes.
Coat the tofu in cornstarch and cook in the air fryer.
While the tofu is cooking, make the teriyaki sauce.
Add the ingredients for the sauce to a pan, bring to a boil and simmer til it has thickened.
Pour the sauce over the tofu and toss to coat.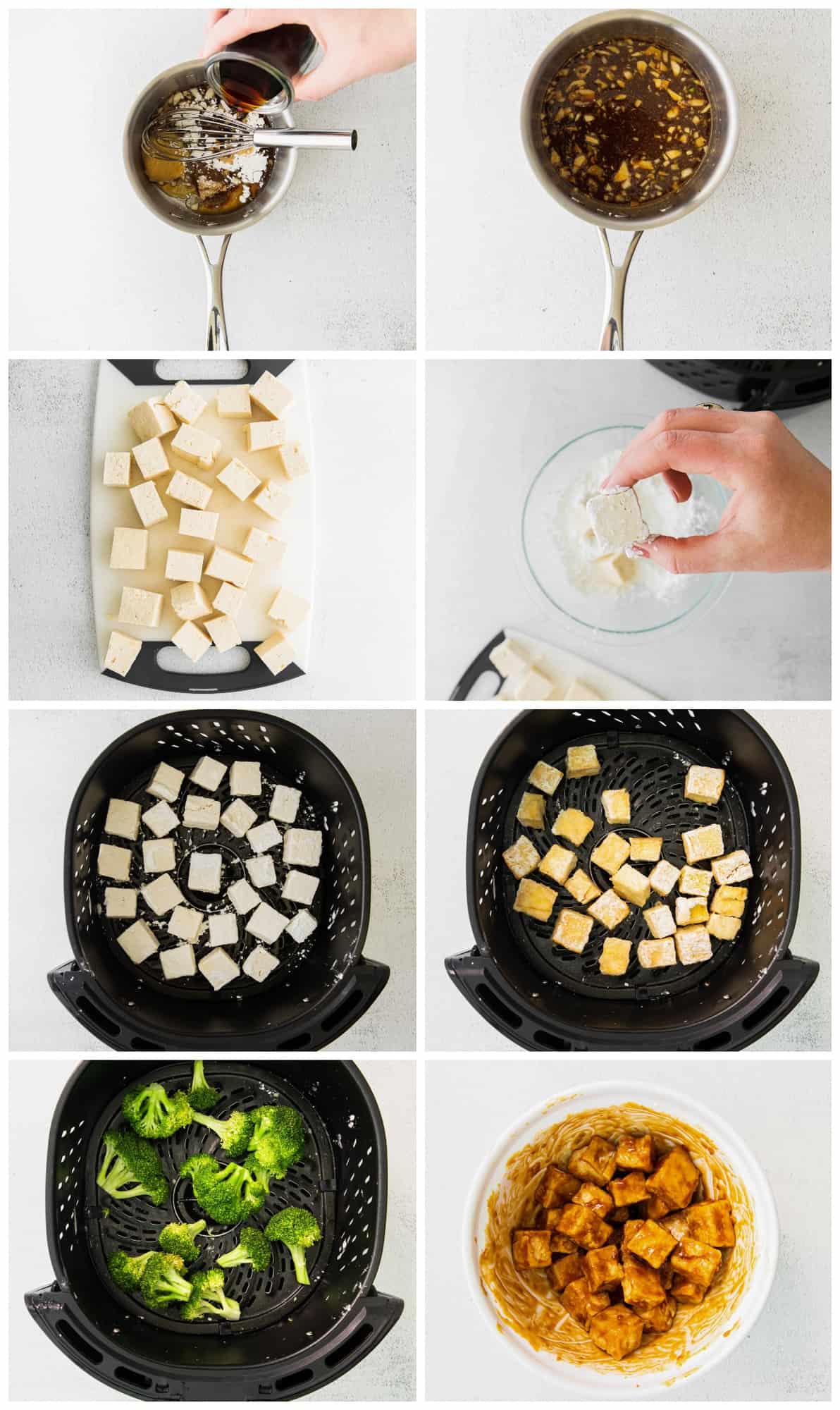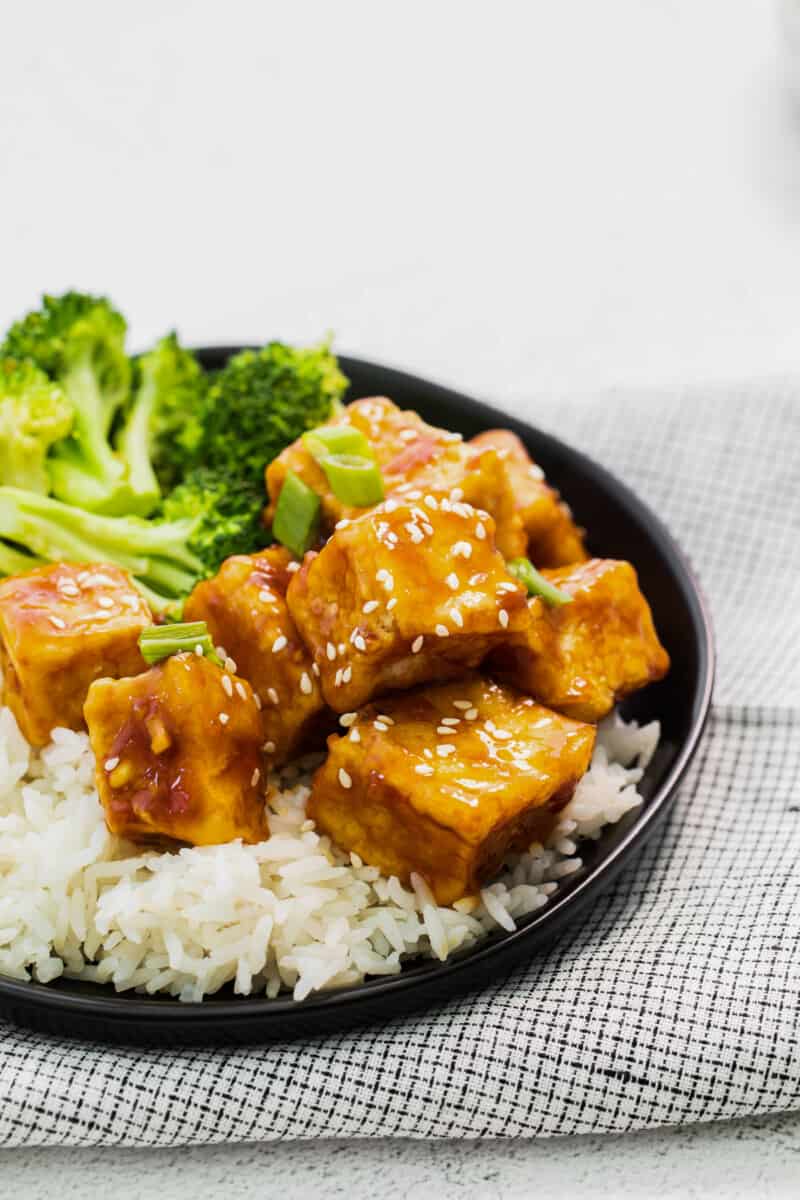 What kind of tofu should I buy to air fry?
For air frying, a firm or extra firm tofu is best because it will hold up well as it's dipped in cornstarch and later when it's sauced. I do not recommend using silken, soft, or medium tofu for this recipe, as these will fall apart and won't get crispy.
Do I have to press tofu before air frying?
Yes, to get nice crispy tofu with a firm texture, it's important to press it before dredging and cooking it. Use a tofu press if you have one. Otherwise, wrap the tofu block in paper towels and weight it down with a chopping board topped with some heavy books. Allow at least 30 minutes to press the tofu. This removes excess moisture resulting in the best flavor and texture.
Can I make teriyaki tofu ahead of time?
This is best served straight away once the the tofu has been tossed in the sauce so it's nice and crispy, but leftovers will keep in the fridge for up to 3 days. The tofu can be reheated at 375°F for 5 minutes in the air fryer to get it nice and crispy again.
What should I serve with teriyaki tofu?
To make this a meal, serve with air fried broccoli and rice. Garnish with sesame seeds, green onions, and/or a splash of sriracha!
Storage Instructions
Store leftover teriyaki tofu in an airtight container in the refrigerator for up to 3 days.
Freezing Instructions
Freeze leftover air fried tofu in an airtight container for up to 3 months. Allow the tofu to thaw in the refrigerator overnight before reheating.
Tip for Extra Firm Tofu
If you like your tofu extra firm and chewy, freeze the sealed package of tofu overnight before pressing it. This will change the texture, making it firmer, chewier, and more absorbent.
Make It A Meal
Serve air fried teriyaki tofu with a side of air fried broccoli and white rice. Top with sesame seeds, sliced green onions, and a splash of sriracha for a spicy kick!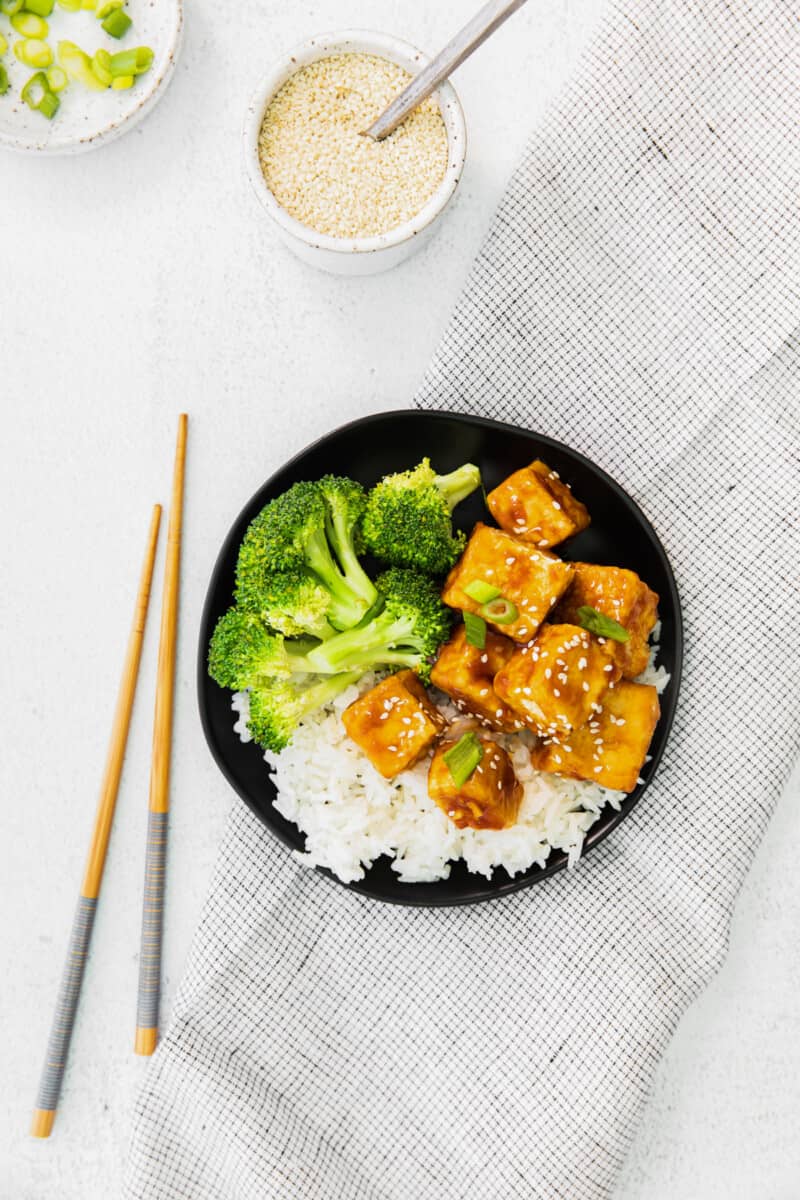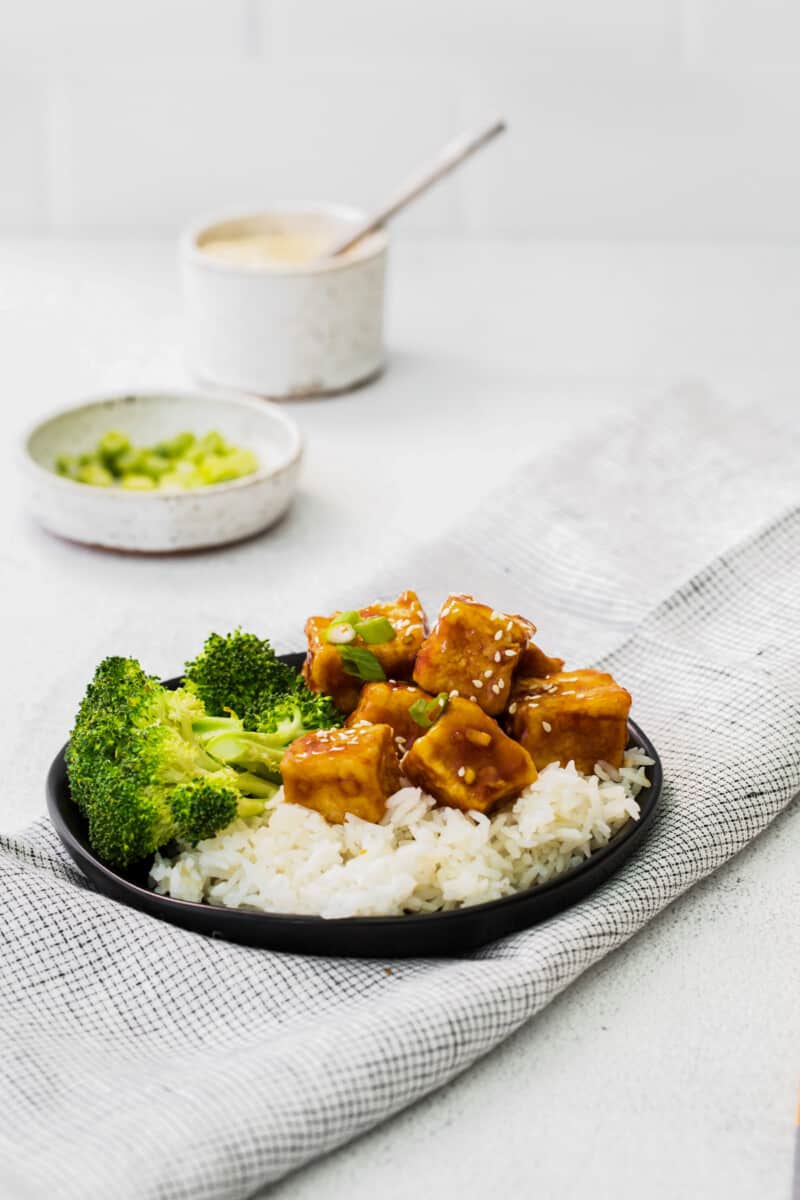 Tips!
To make this a full meal, remove the tofu from the air fryer and add 2 cups of broccoli florets. Cook for 4-5 minutes at 400°F and then serve with the sauced tofu.
Press the tofu for at least 30 minutes to remove the excess water.
Once cooked, allow the tofu to cool for a few minutes before tossing in the sauce. This will help it to get extra crispy.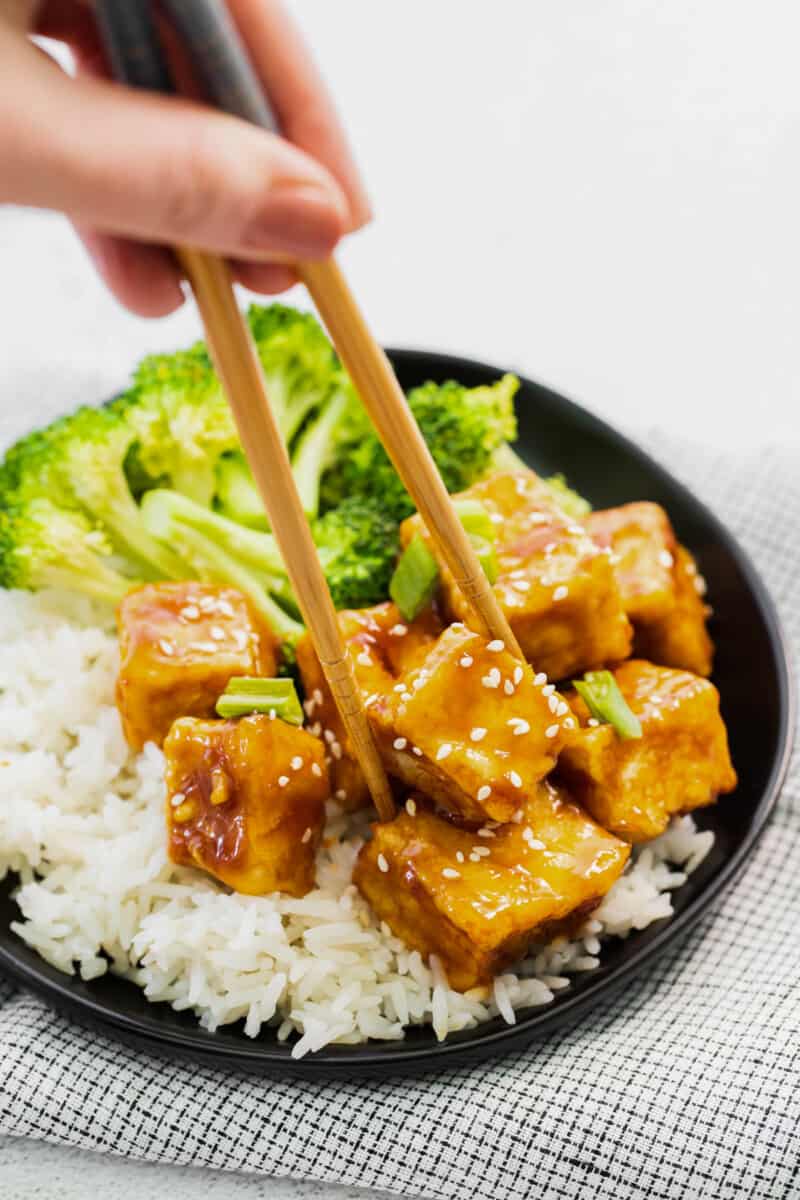 This air fryer teriyaki tofu is so delicious, and it's a great meatless option that the whole family will love. Simple and easy to make and loaded with tasty flavors, this recipe is a keeper!
If you make this recipe be sure to upload a photo in the comment section below or leave a rating. Enjoy! You can also jump to recipe.