These easy-to-make Jalapeno Poppers are stuffed with a savory bacon and cream cheese mixture, sprinkled with crunchy panko breadcrumbs, and baked to perfection in just a few minutes! Perfect for serving at parties and for game day, these bold appetizers are always a huge hit.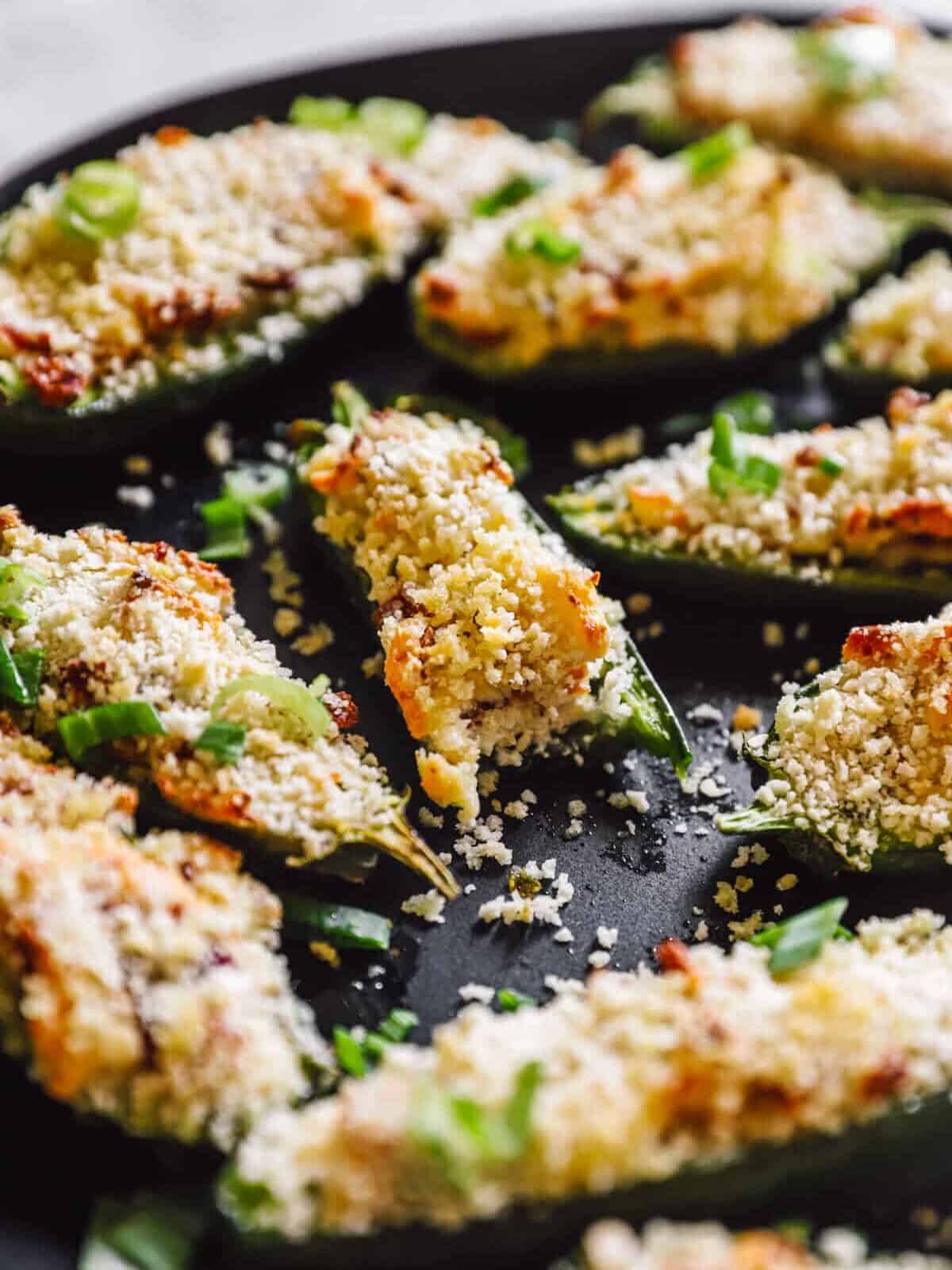 What's in this Jalapeno Poppers Recipe?
The stuffing in the middles of these halved Jalapeno Poppers is what really sends them straight over the top. Cream cheese is all dressed up with bacon, green onions, parmesan cheese, garlic, and just a pinch of salt and pepper. Once baked, the mixture becomes perfectly warm and creamy, the perfect contrast to the crisp pepper and crunchy breadcrumbs. Are you drooling yet?!
Jalapeño Peppers: Fresh, bright, and spicy peppers are the perfect vessel for the cream cheese stuffing.
Cream Cheese: Forms the creamy base of the stuffing.
Parmesan Cheese: Adds a salty and tangy flavor.
Green Onion: Adds freshness and a slight bite.
Garlic: Adds an earthy flavor.
Bacon: Adds a salty and umami element. You'll need cooked crumbled bacon for this recipe.
Salt + pepper: Enhances the flavors of the filling.
Breadcrumbs: Panko breadcrumbs are the perfect crispy, crunchy topping for these baked poppers.
Olive Oil: Helps the poppers crisp up in the oven.
Pro Tip: Make sure to wear gloves while cutting jalapeño peppers. The peppers can burn your hands, eyes, nose, and mouth!
Variations on Baked Jalapeno Poppers
There are tons of riffs on classic jalapeno poppers. Try the following substitutions:
Cheese: Try mozzarella, goat cheese, Colby Jack, or Monterey Jack instead of Parmesan.
Meat: Add shredded chicken, ground beef, crab meat, or crumbled sausage instead of bacon.
Veggies: Add chopped bell peppers, mushrooms, onions, or broccoli.
Breadcrumbs: Try regular or Italian breadcrumbs instead of Panko, or swap half of the Panko for Parmesan cheese.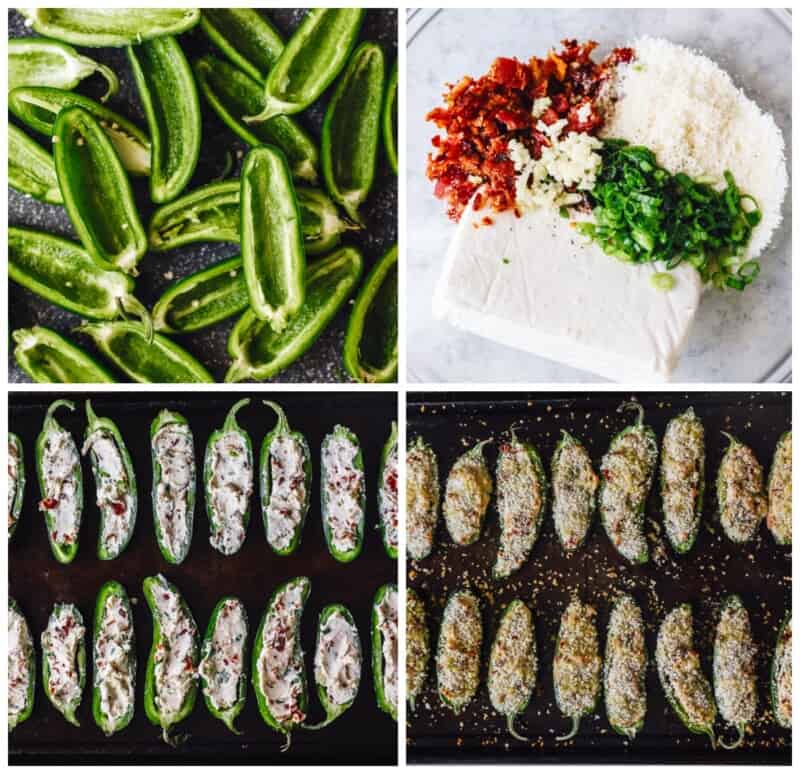 What are jalapeno poppers?
Jalapeno poppers are a classic appetizer! They consist of halved jalapeño peppers filled with a rich, creamy, cheesy filling; topped with breadcrumbs; and baked to golden perfection!
Are jalapeno poppers spicy?
Yes and no! It really depends on the peppers you get. For the most part, they are pretty mild. But occasionally you get a really hot one!
Do I need to boil the peppers before filling and baking them?
Nope! This recipe is as easy as halving the peppers, filling them, and baking them! No need to boil the peppers.
How long do they take to bake?
These jalapeno poppers only take 15-20 minutes to bake to golden perfection!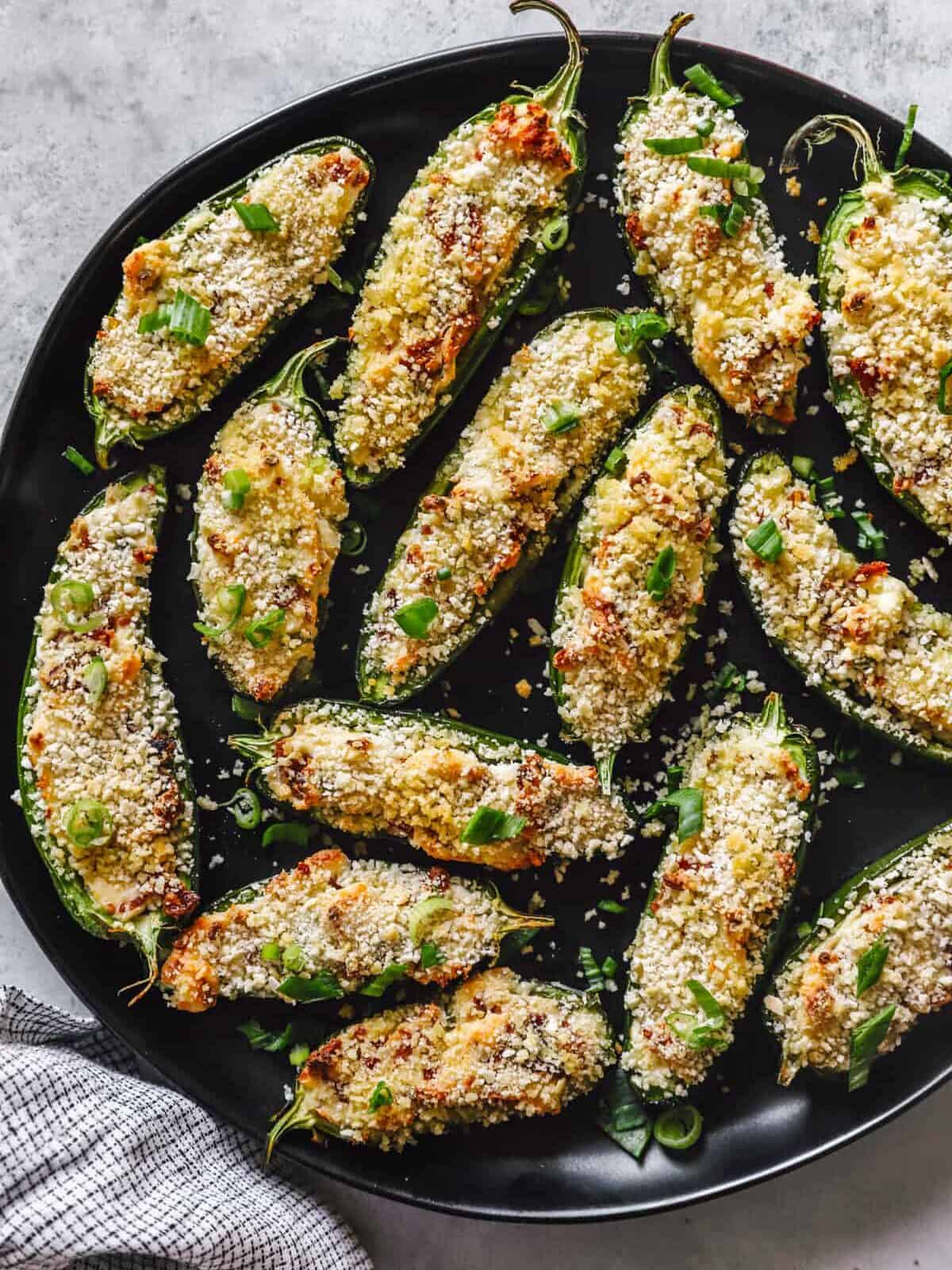 How to Make Ahead and Store
You can stuff the jalapenos with the cream cheese mix up to a day ahead of time, store them in the refrigerator, and then just pop them into the oven when you're ready to cook them.
Store leftover jalapeno poppers in an airtight container in the refrigerator for up to 4 days. Reheat in a 350°F oven for about 10 minutes, or until warmed through.
How to Freeze and Reheat
Freeze unbaked jalapeno poppers in a single layer on a parchment-lined baking sheet until solid, about 1-2 hours. Transfer to an airtight container or Ziplock bag (try not to stack them) for up to 1 month. Bake directly from frozen for 25-30 minutes.
Serving Suggestions
These spicy, creamy, two-bite appetizers are perfect served with a cooling sauce, like ranch or garlic aioli. A confetti corn salad, fresh guacamole, spinach artichoke dip, nachos supreme, refried beans, coleslaw, pico de gallo, or Mexican rice all make great accompaniments.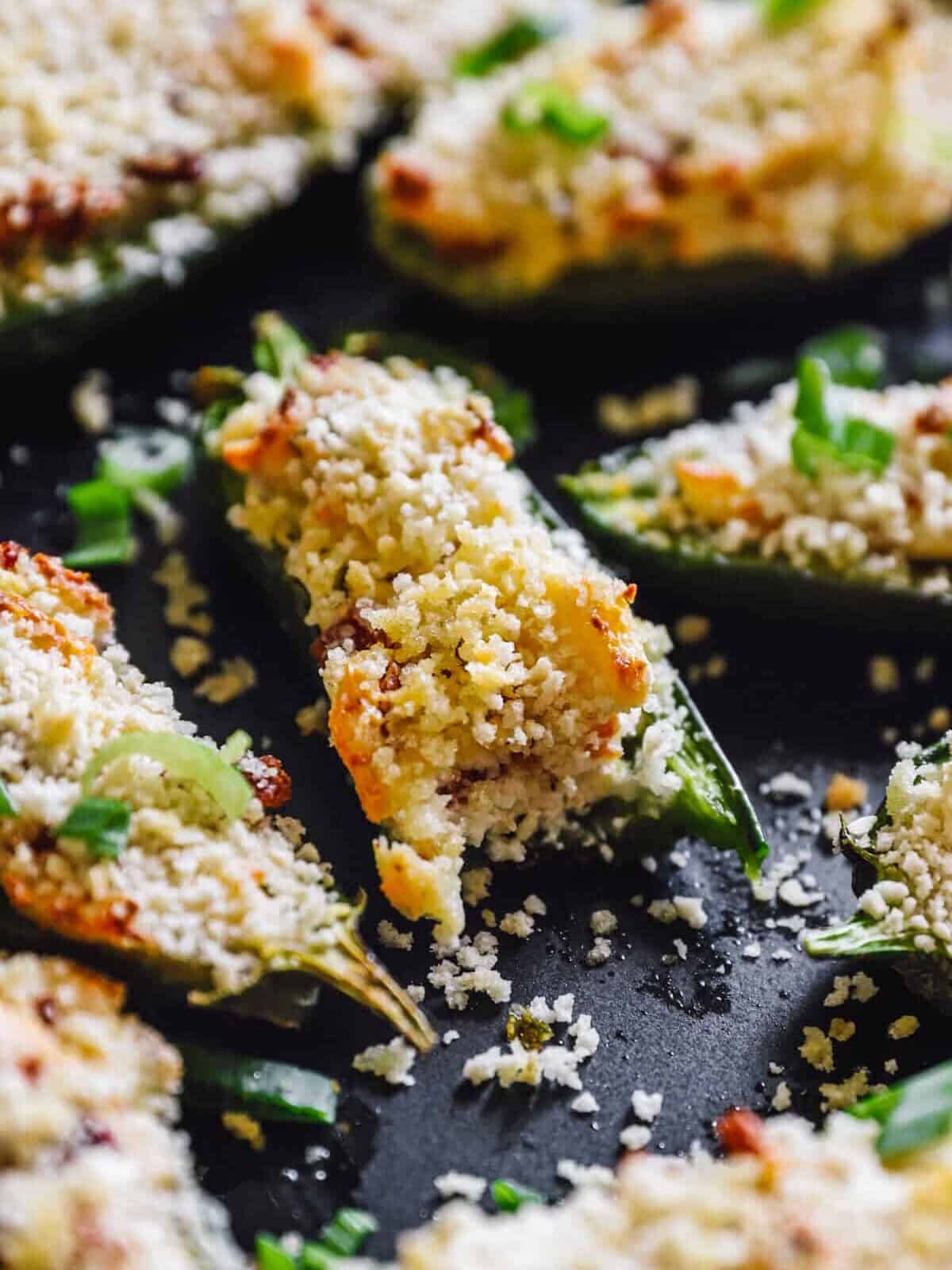 More Jalapeno Popper Recipes We Love