These Otis Spunkmeyer LAYERED LEMON STRAWBERRY SHORTCAKE CUPS are super simple and delicious! Layers of lemon cake, strawberries, and cool whip make the best sweet treat for after school or anytime!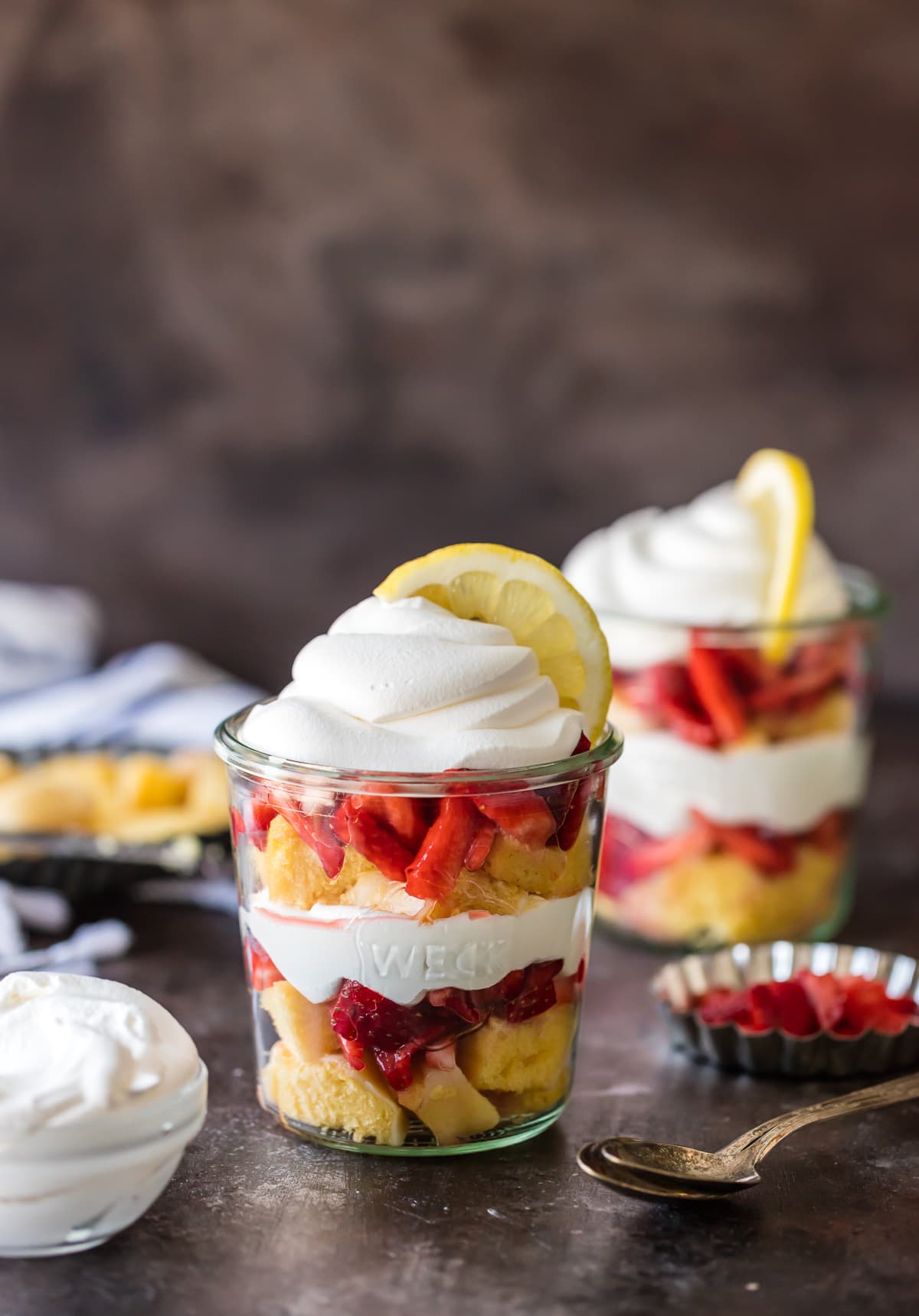 I don't know about you guys, but my Facebook feed is full of back to school cuteness. All the kiddos ready to meet their teachers, their new friends, and leave mom and dad bored to tears at home. :) I know when I was in school, one of the best parts was coming home to an after school snack. You guys know my mom is an INCREDIBLE cook, and our afternoons were always delicious. We don't have kids yet, but I already look forward to carrying on the tradition of delicious after school treats. Whether its a Salted Caramel Cookie, Peanut Butter No Bake Energy Bites, or these Lemon Strawberry Shortcake Cups, kids (and adults!) should have something yum to look forward to. These Otis Spunkmeyer Lemon Strawberry Shortcake Cups are the perfect SUPER EASY sweet treat!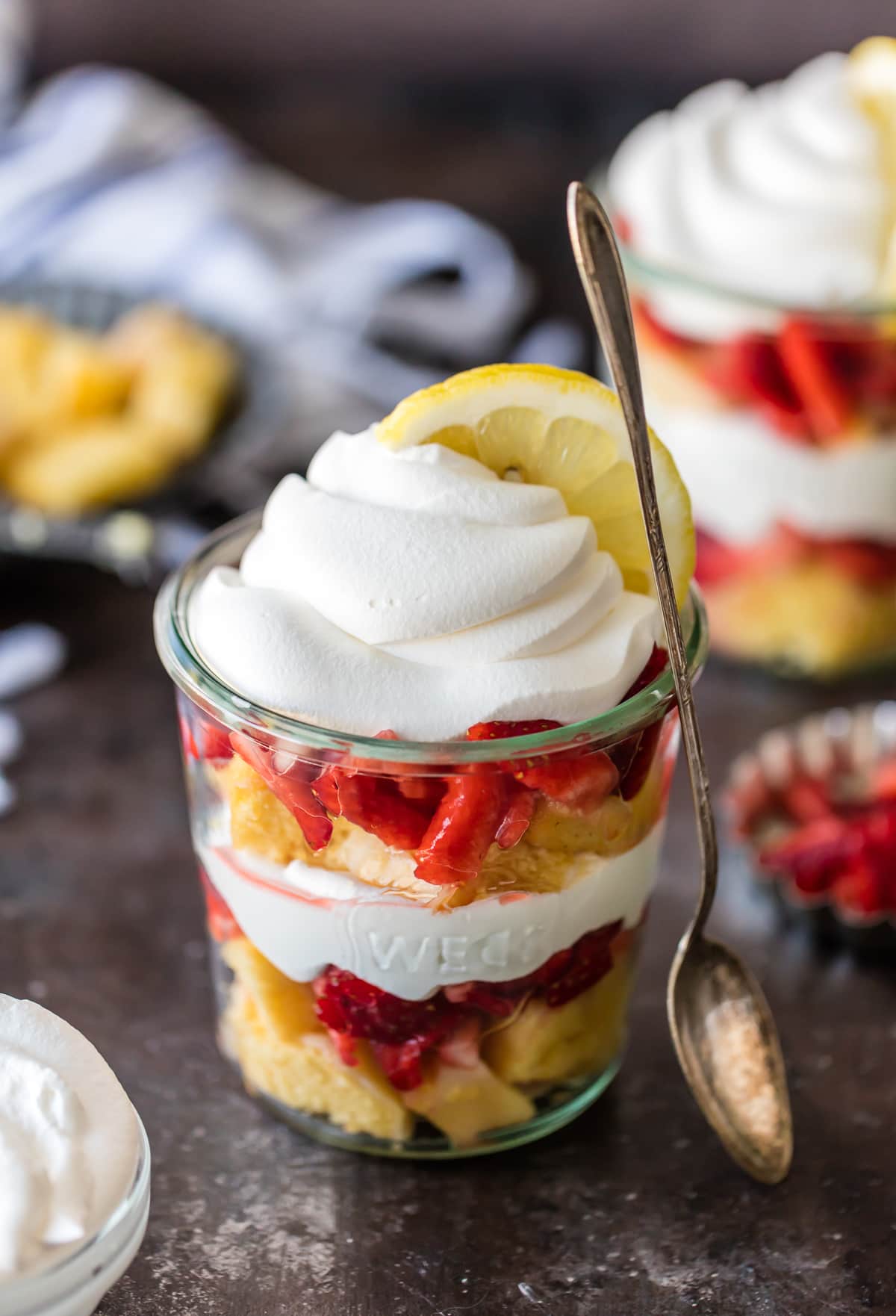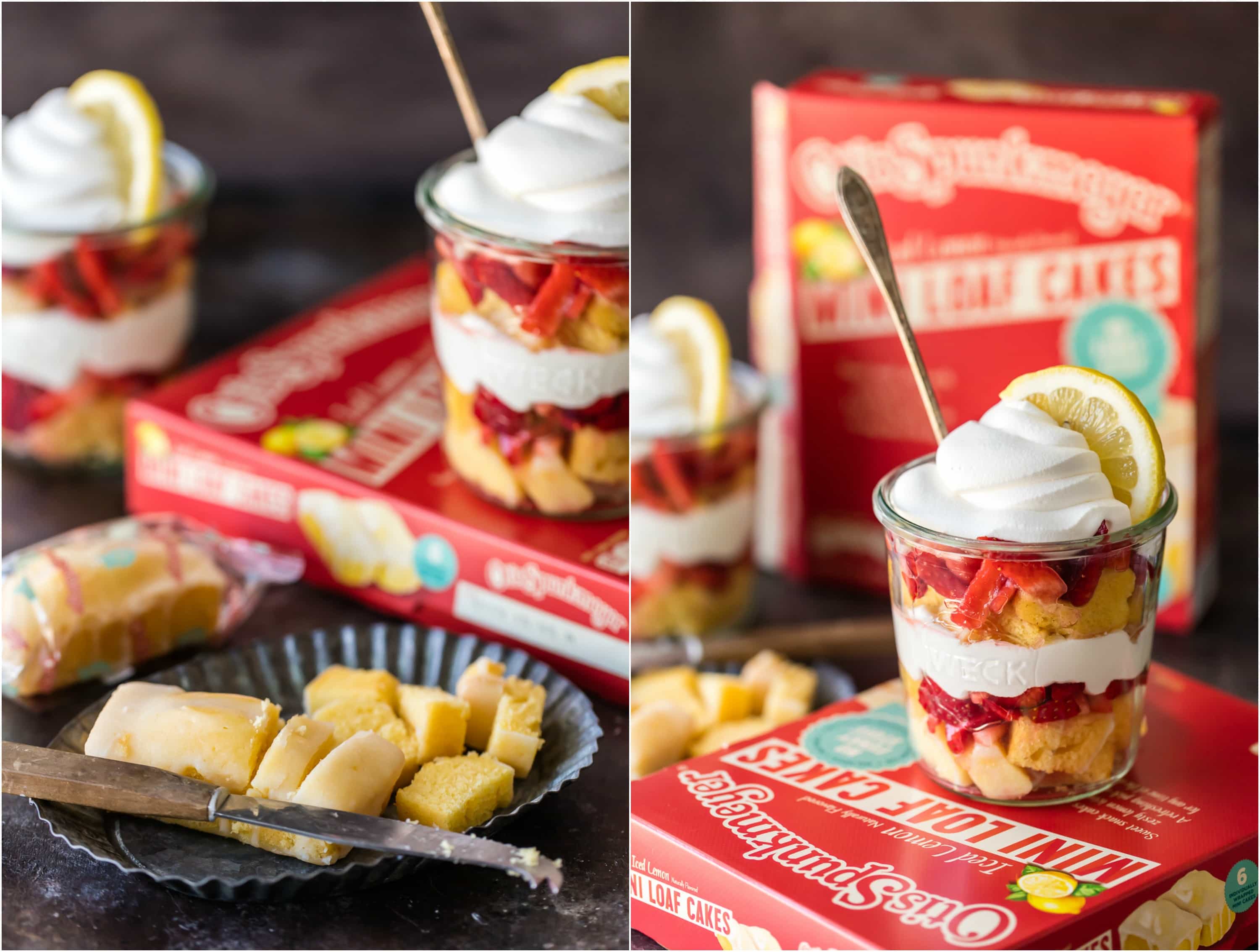 This easy dessert has a secret ingredient, Otis Spunkmeyer Iced Lemon Mini Loaf Cakes! School kids everywhere trust and love their cookies, but did you know they also make other bite sized goodies? Otis Spunkmeyer has been a trusted name in delicious desserts for years! I can still remember in elementary school when their cookies would be 4 for $1 and I would go NUTS! Something about those chewy and amazing cookies that would make school very worth it! I am so excited to be working with Otis Spunkmeyer on this recipe, as they have just come out with an AMAZING line of retail products, sold at a store near you! They have everything from muffins, to mini cupcakes, to frozen cookie dough, and even SUPER COOKIES!  They're guaranteed to be made with "no funky stuff", just like you would make your family treats at home. No artificial colors, flavoring, high fructose corn syrup, or over processed oils. Just the amazing quality you already know and love from Otis Spunkmeyer! Their Iced Lemon Mini Loaf Cakes are my newest addiction and the absolute perfect base for these Lemon Strawberry Shortcake Cups. Let Otis Spunkmeyer do the baking and you can just reap the rewards!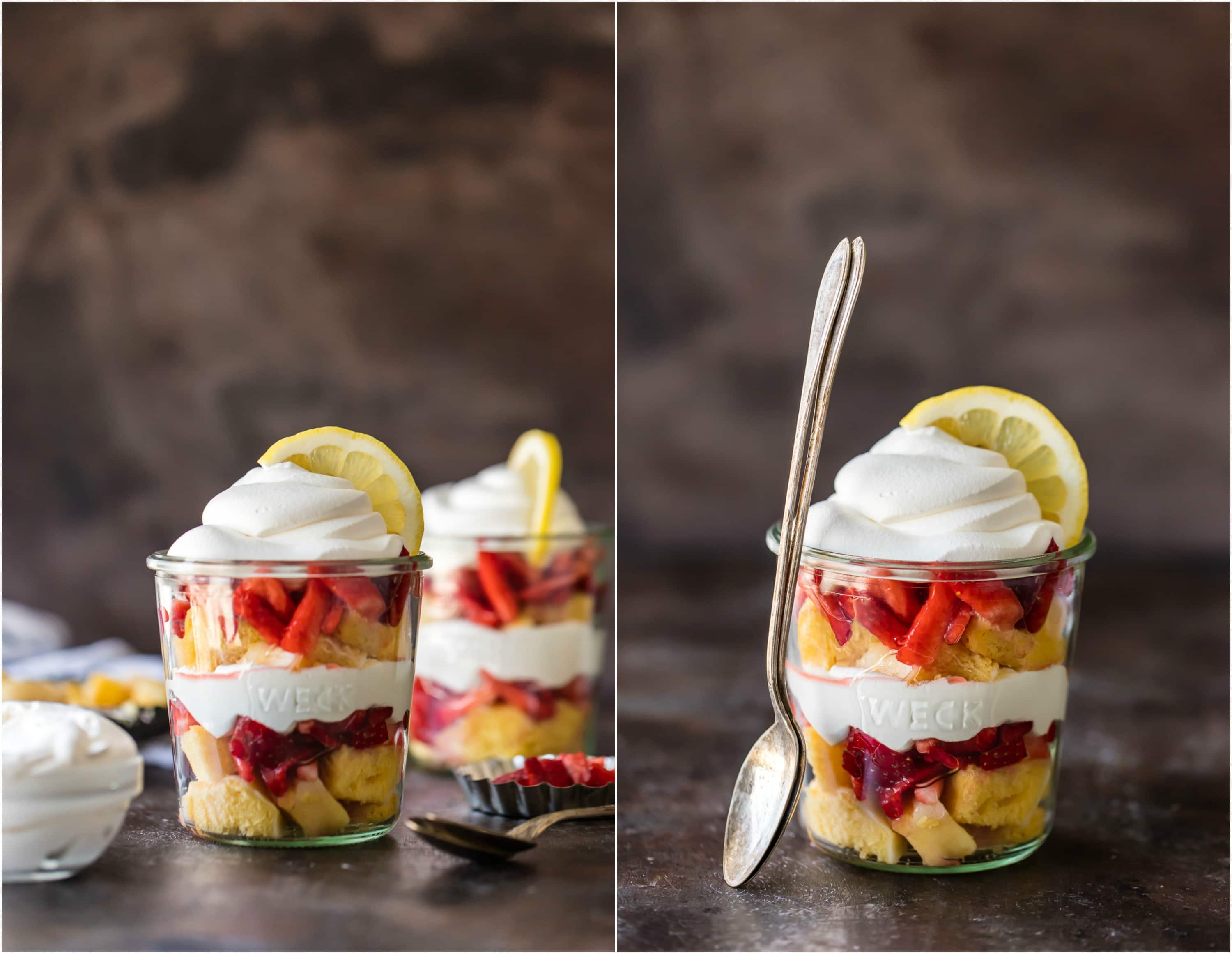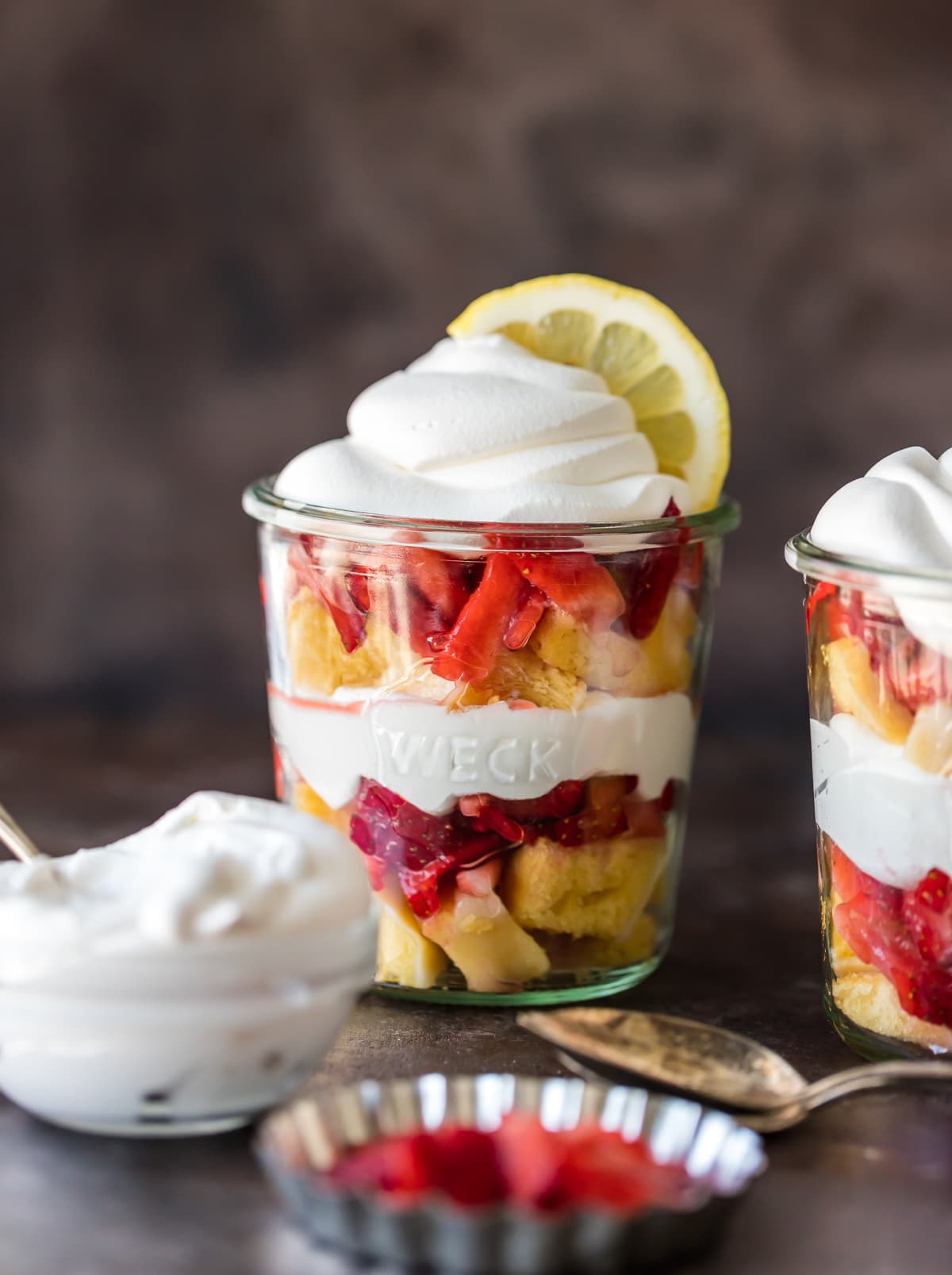 There's just something about simple flavors coming together to create perfection. Lemon, strawberry, and cream -a serious match made in heaven. I ate one of these right away and have the others stored in my fridge for tomorrow. Or later today. That's actually more likely. SO YUM!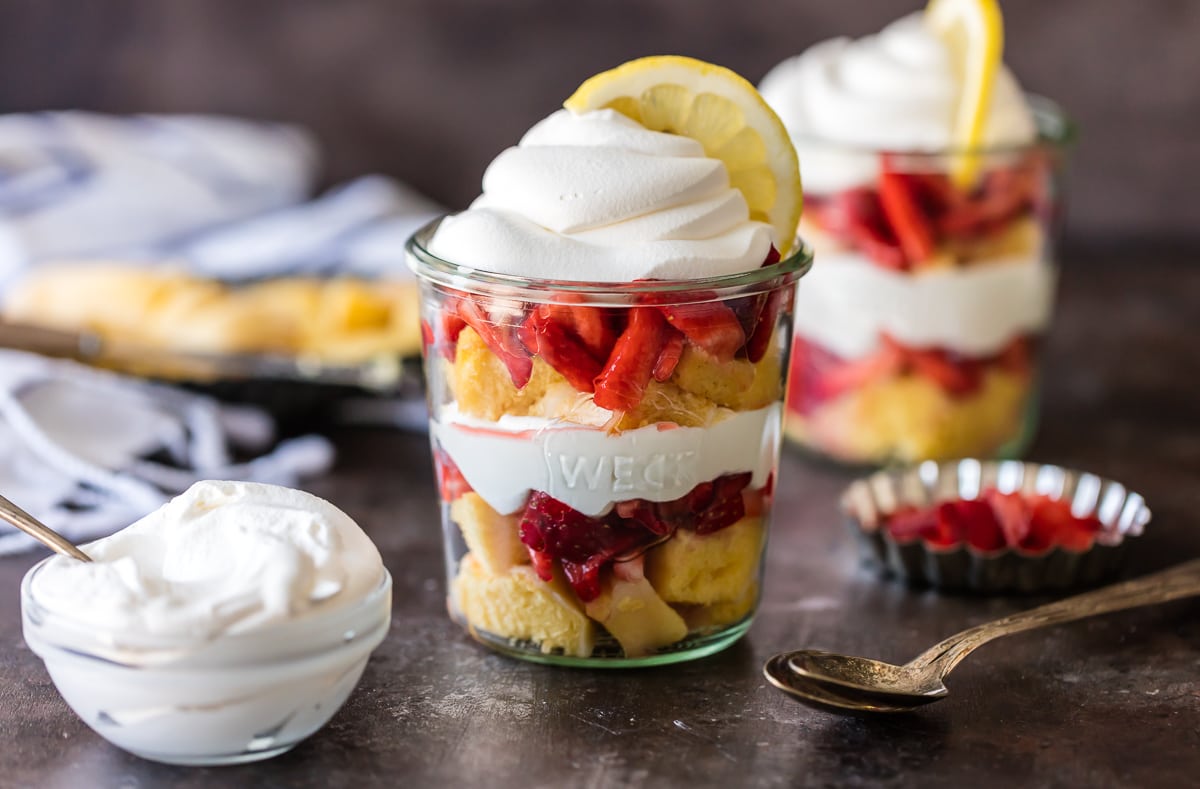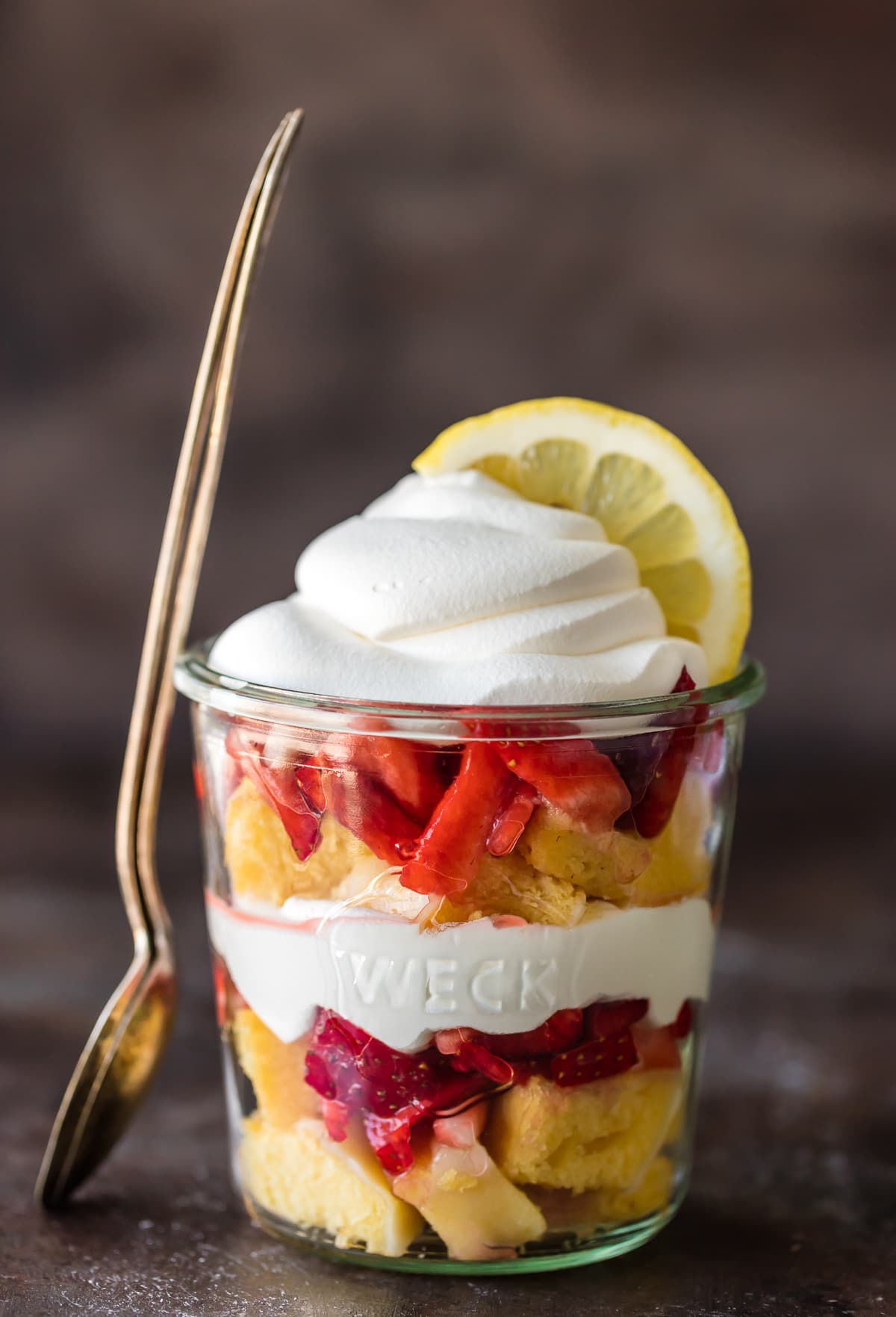 Happy back to school everyone!
To sweeten the week even more, you can win a $250 Visa Giftcard from Otis Spunkmeyer! Just create your own snack hack using one (or more!) of their products, upload a photo on Instagram or Twitter, and tag me (@thecookierookie), Otis Spunkmeyer (@OtisSpunkmeyer for IG and @Otis_Spunkmeyer for Twitter), and use hashtag #OtisSnackHack. One reader from my readers will be chosen and sent a $250 Visa Giftcard. Cool, right?! Good luck!
Lemon Strawberry Shortcake Cups
5 minPrep Time
5 minTotal Time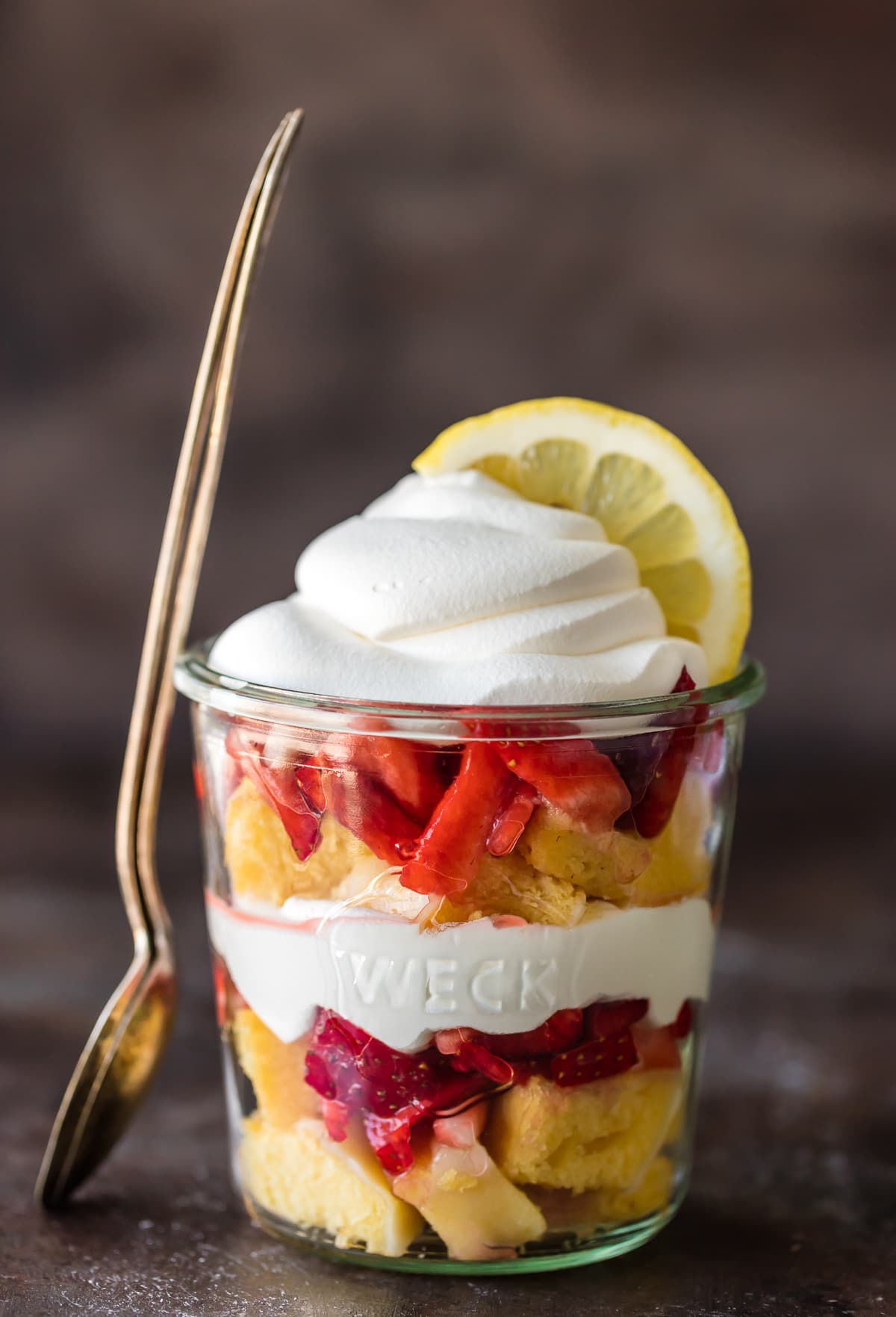 5 based on 1 review(s)
Ingredients
4 Otis Spunkmeyer Iced Lemon Mini Loaf Cakes
10 strawberries, hulled and chopped
1/4 cup sugar
2 cups fresh whipped cream (or Cool Whip)
4 ounces white chocolate, melted
1/2 teaspoon vanilla extract
1/2 cup powdered sugar
Instructions
Chop the loaf cakes into bite sized pieces and set aside.
Place the strawberries in a medium bowl and pour in the sugar. Stir to combine. Let sit and macerate for about 5 minutes.
Whip together the cool whip (or whipped cream), melted chocolate, powdered sugar, and vanilla. Once smooth and fully combined, set aside.
Start by adding a layer of the Iced Lemon Loaf Cakes to the bottom of your cup or bowl. Use about 1/4 of the cake.
Top with 1/4 of the strawberry mixture, making sure some of the juices come along with the strawberries. YUM!
Top with fresh whipped cream mixture, again about 1/4.
Repeat the steps, stopping with the next layer of whipped cream. Two layers of each ingredient is enough for the trifle.
Repeat with the next cup or bowl. Recipe makes two large trifle cups.
Enjoy!
7.6.7
2299
https://www.thecookierookie.com/lemon-strawberry-shortcake-cups/
This recipe was written in partnership with Otis Spunkmeyer. As always, all opinions are 100% my own. Thanks SO much for supporting the brands that help support The Cookie Rookie!