This Easy Cheesecake recipe is perfect for any newbies who want to learn how to make cheesecake! The ingredients list is pretty short, and the process couldn't be simpler, but it still leads to the creamiest, fluffiest, most flavorful classic cheesecake filling on a graham cracker crust. Impress your guests (and yourself) with this beautiful and simple dessert!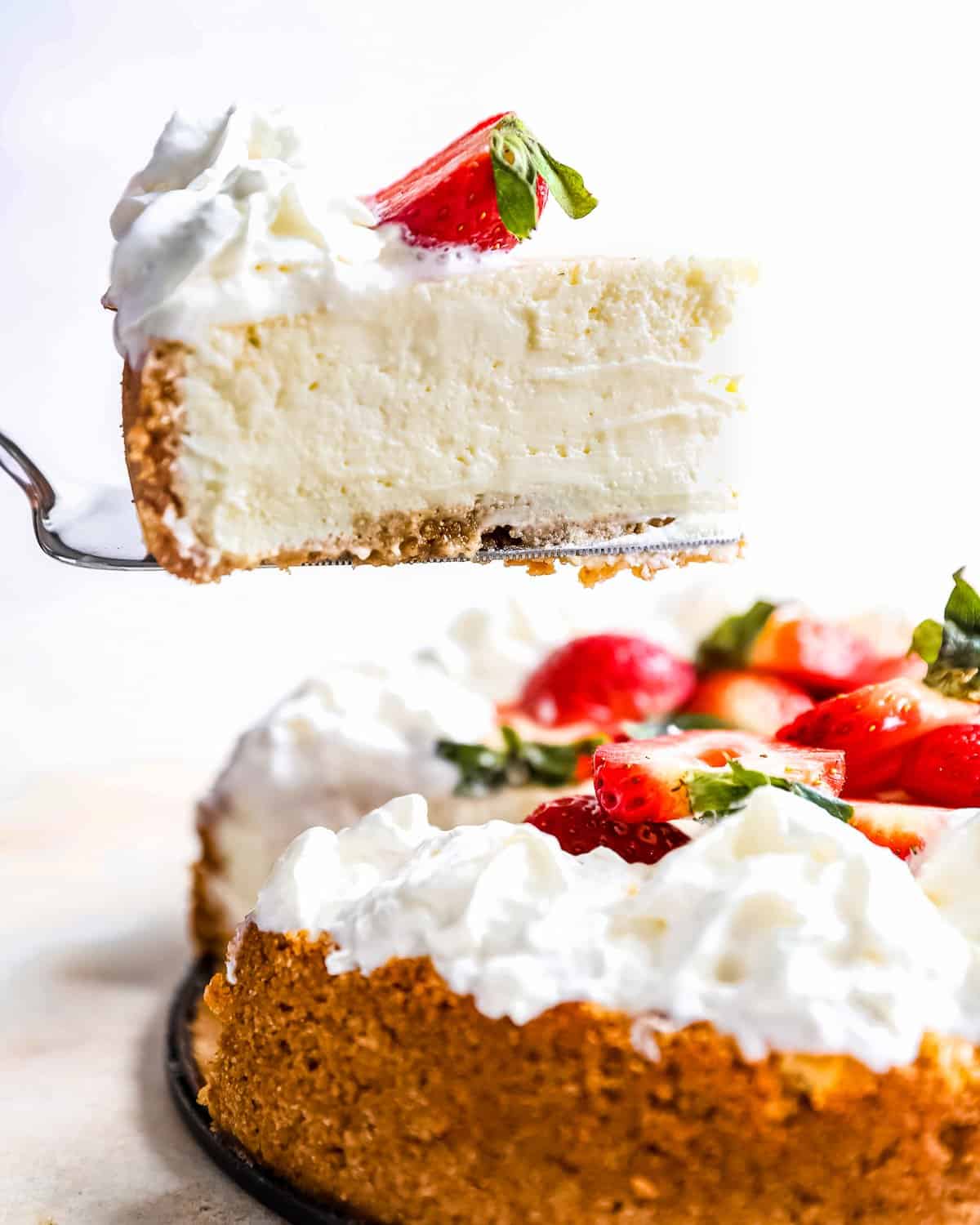 What's in Homemade Cheesecake?
Crunchy graham cracker crust is layered with a creamy, sweet filling and baked until it's all set and delicious.
Graham Crackers: Used as the crust of this easy cheesecake, they provide a sweet and crunchy base.
Granulated Sugar: Adds sweetness to the crust, and also helps to stabilize and set the filling.
Unsalted Butter: Used in the crust to bind everything together.
Cream Cheese: The main ingredient in the filling; it provides the creamy and tangy flavor and texture of the cheesecake.
Heavy Cream: Adds richness and creaminess to the cheesecake filling.
Sour Cream: Also adds creaminess and tanginess to the filling, and helps to balance the sweetness.
Vanilla Extract: Provides flavor and aroma to the cheesecake.
Eggs: Help to bind and set the filling, and also provide structure and richness to the cheesecake.
Kosher Salt: Enhances the flavors and balances the sweetness of the cheesecake filling.
Pro Tip: Make sure your ingredients are at room temperature so that they combine smoothly. To quickly bring cream cheese to room temperature, you can leave it out on the counter for 1-2 hours or microwave it for 10-15 seconds at a low power setting.
Variations on Easy Cheesecake
Once you known how to make cheesecake, you can start changing things up for more variation. Here are a few ideas:
Crust: Swap out the graham crackers for your favorite cookie, like Oreos, Golden Oreos, Biscoff cookies, ginger cookies, snickerdoodles, chocolate chip cookies, peanut butter cookies, chocolate butter cookies, or shortbread cookies. Simply crush them up into crumbs before using!
Chocolate Filling: Add ½ cup (42 grams) of unsweetened cocoa powder to the cream cheese and mix well until combined. Reduce the heavy cream to ¾ cup (170 grams) and add ¼ cup (43 grams) of melted semisweet chocolate.
Caramel Filling: Add ½ cup (60 grams) of caramel sauce to the cream cheese mixture and mix until well combined. Reduce the heavy cream to ¾ cup (170 grams) to account for the additional liquid from the caramel sauce.
Peanut Butter Filling: Add ½ cup of creamy peanut butter (135 grams) to the cream cheese mixture.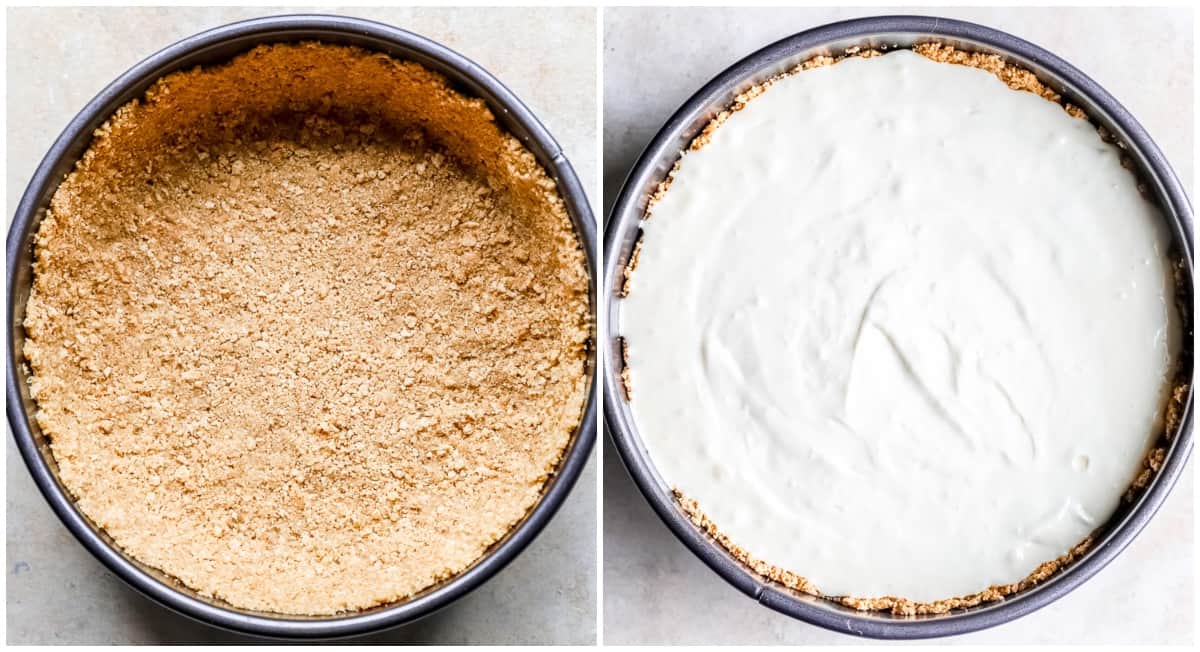 What type of pan do I need to make a cheesecake?
Cheesecakes require the use of a springform pan. This type of pan allows for even baking, easy release, and less mess. If you don't have one, you should be able to pick one up at most stores in the aisle with other baking pans.
Can I make cheesecake with fat-free cream cheese?
I do not recommend using fat-free ingredients to make this cheesecake, as it just won't taste as rich and delicious. However, you can use light cream cheese or Neufchatel for a lower-fat alternative. This will change the flavor slightly.
Do I need to use a water bath?
Nope! I've designed this recipe to skip the complicated water bath and still achieve a great result.
How do I keep my cheesecake from cracking?
If you want to keep the cheesecake from cracking, turn the oven off, and let it cool with the door closed for a minimum of 1 hour and a maximum of 3 hours.
Why is my cheesecake gooey in the middle?
Cheesecake should come out of the oven with a slightly jiggly center. It will take a few hours to cool and set properly, so don't worry! If after baking, you press gently in the center of the cheesecake and runny batter comes off on your finger, it needs a bit longer to bake.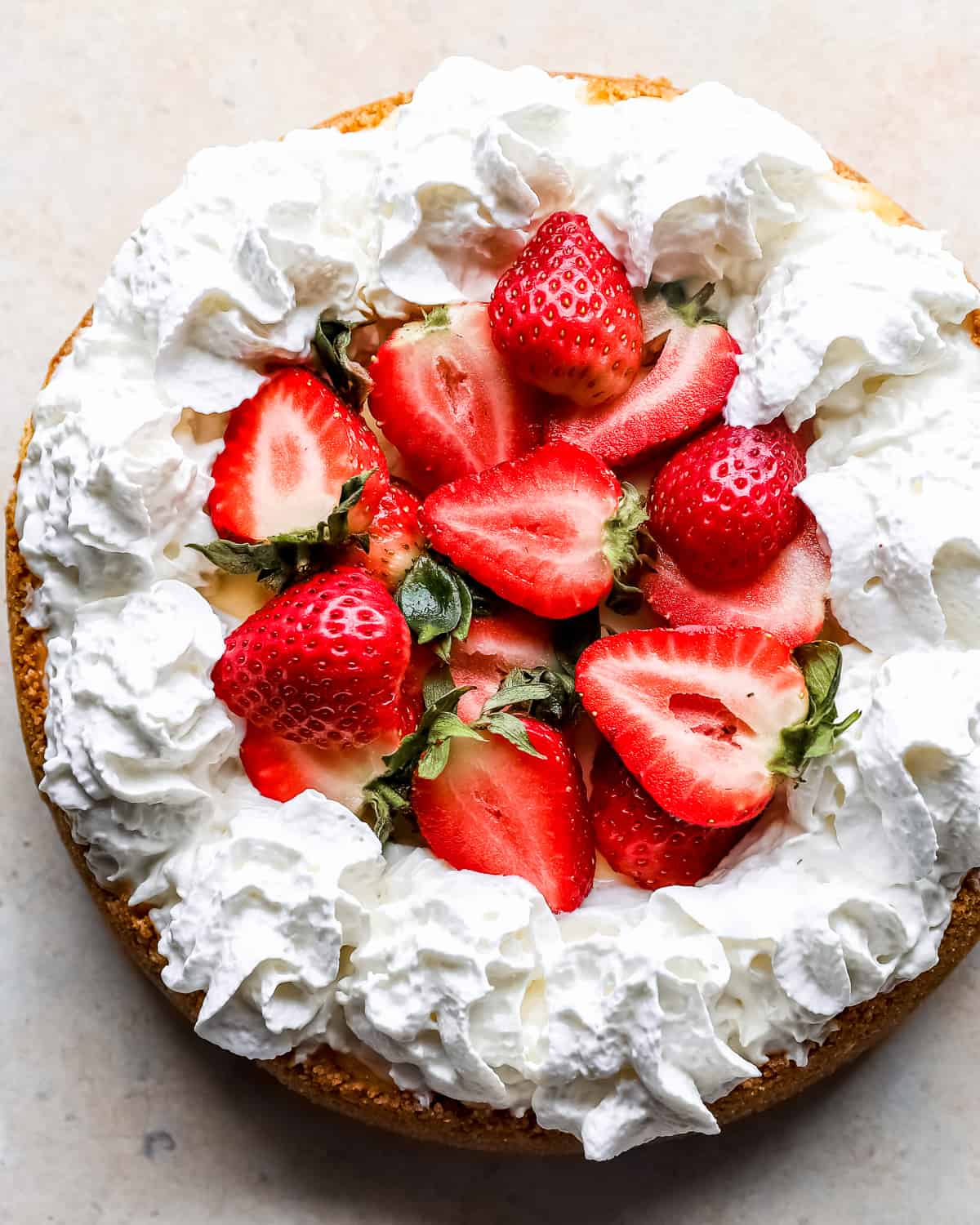 How to Store
Store leftover homemade cheesecake in an airtight container in the refrigerator for up to 5 days. Enjoy chilled or at room temperature.
How to Freeze
Freeze this easy cheesecake whole or cut into individual slices tightly wrapped in 2 layers of plastic wrap and 1 layer of aluminum foil for up to 1 month. Let thaw overnight in the refrigerator before enjoying.
Serving Suggestions
This easy cheesecake recipe is a great base for any flavor! Top yours off with some caramel sauce, chocolate sauce, lemon curd, or apple butter. It'd also be great with homemade magic shell, Symphony bar magic shell, or funfetti magic shell! Add a dollop of whipped cream, vanilla frosting, or chocolate fudge frosting for an even sweeter treat, or serve it up with a scoop of red velvet ice cream. Yum!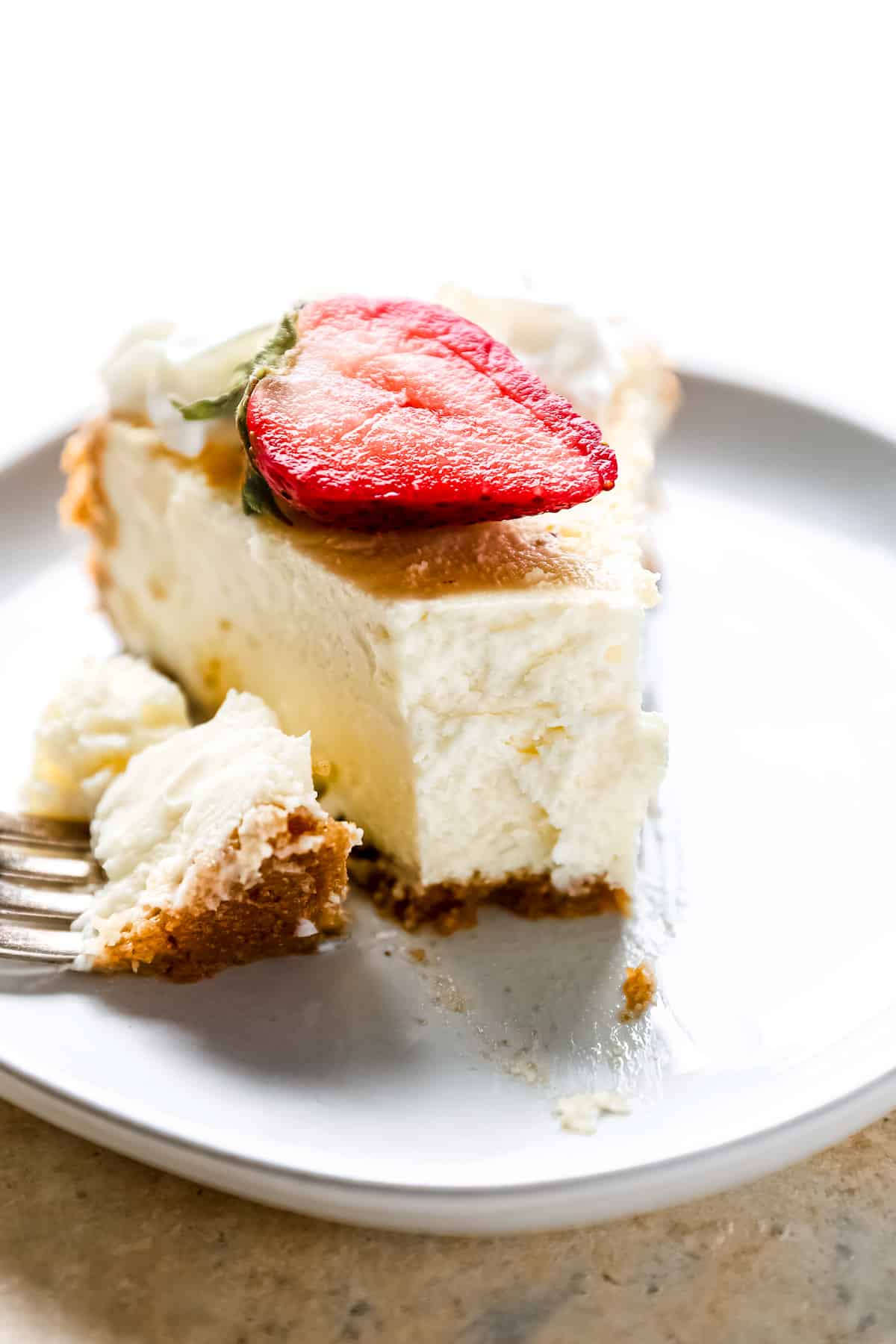 More Cheesecake Recipes We Love