If you are looking for a show-stopping cake, this Vanilla Cake with Strawberry Filling is perfect! With a delicious strawberry filling, the vanilla cake is topped with whipped cream frosting for a wonderful dessert centerpiece.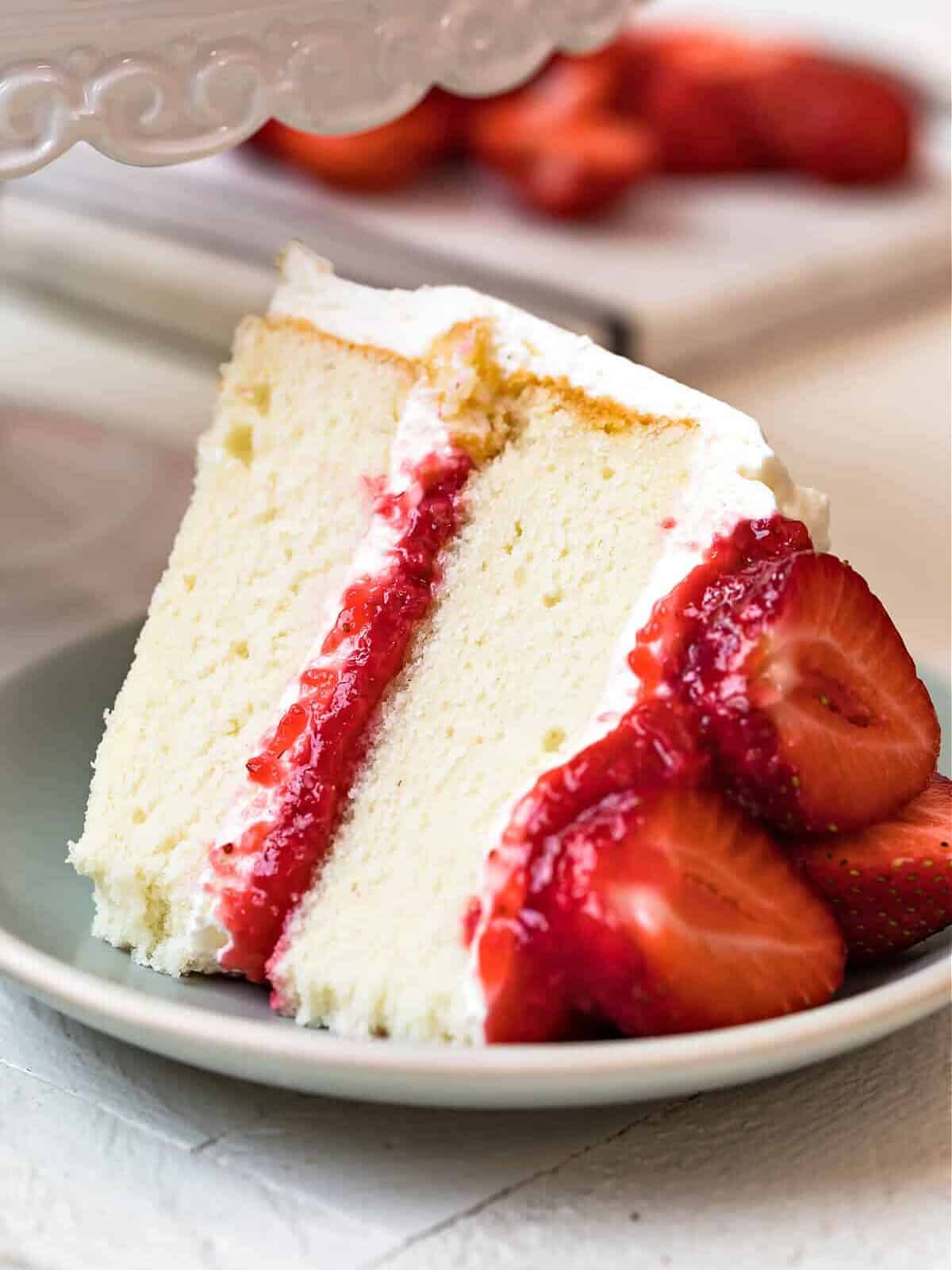 What's in White Cake with Strawberries?
Let's be honest, cake is never a bad idea, and this white layer cake is such a treat! Pretty straightforward to make, this vanilla cake is so light and fluffy and the fresh strawberry filling is, for want of a better phrase, the icing on the cake!
Fresh Strawberries: Provide a rich, fresh strawberry flavor to the filling and make for a fresh and beautiful cake topping.
Water: Hydrates the cornstarch to help thicken the filling.
Cornstarch: Thickens the filling.
Sugar: Granulated sugar sweetens the strawberry filling and the white cake, while powdered sugar sweetens the whipped cream frosting without making it grainy.
Kosher Salt: Enhances the natural flavor of the strawberries and the cake.
Lemon Juice: Cuts the sweetness of the strawberries. Use fresh lemon juice for the best results.
Food Coloring: Red food coloring can help enhance the natural color of the strawberry filling, if desired.
Heavy Whipping Cream: Forms the base of the frosting.
Cream Cheese: Adds structure and tanginess to the frosting.
Vanilla Extract: Enhances the flavor of the frosting and the cake.
Almond Extract: Adds a hint of nuttiness to the frosting and cake.
Bleached Cake Flour: Lower in protein than all-purpose flour, cake flour makes this cake ultra-light and tender. Using bleached cake flour helps the cake stay super white in color. I like Swan's Down.
Unsalted Butter: Adds richness, moisture, and flavor to the cake.
Virgin Coconut Oil: Adds additional moisture to make the cake extra tender.
Leavening: Baking powder and baking soda combine to make this cake extra light and fluffy.
Egg Whites: Give the cake additional structure without changing the color.
Buttermilk: Cultured low-fat buttermilk adds moisture and tanginess to the cake without making it too rich.
For the base White Layer Cake we used Stella Parks' recipe for White Mountain Layer Cake, and in my humble opinion, it is the BEST white cake recipe – ever! I am not exaggerating or kidding. It is phenomenal. Thank you, Stella Parks! You can find her book HERE.
Variations on Strawberry Filled White Cake
You can easily change up the fruit in the filling of this cake. Simply swap in an equal amount (by weight) of the fruit of your choice. I like raspberries, blueberries, or blackberries!
You can also try using a different frosting. For a lighter version of this whipped cream frosting, try my stabilized whipped cream recipe. For a bit heartier of a frosting, try my vanilla frosting, cream cheese frosting, or strawberry cream cheese frosting!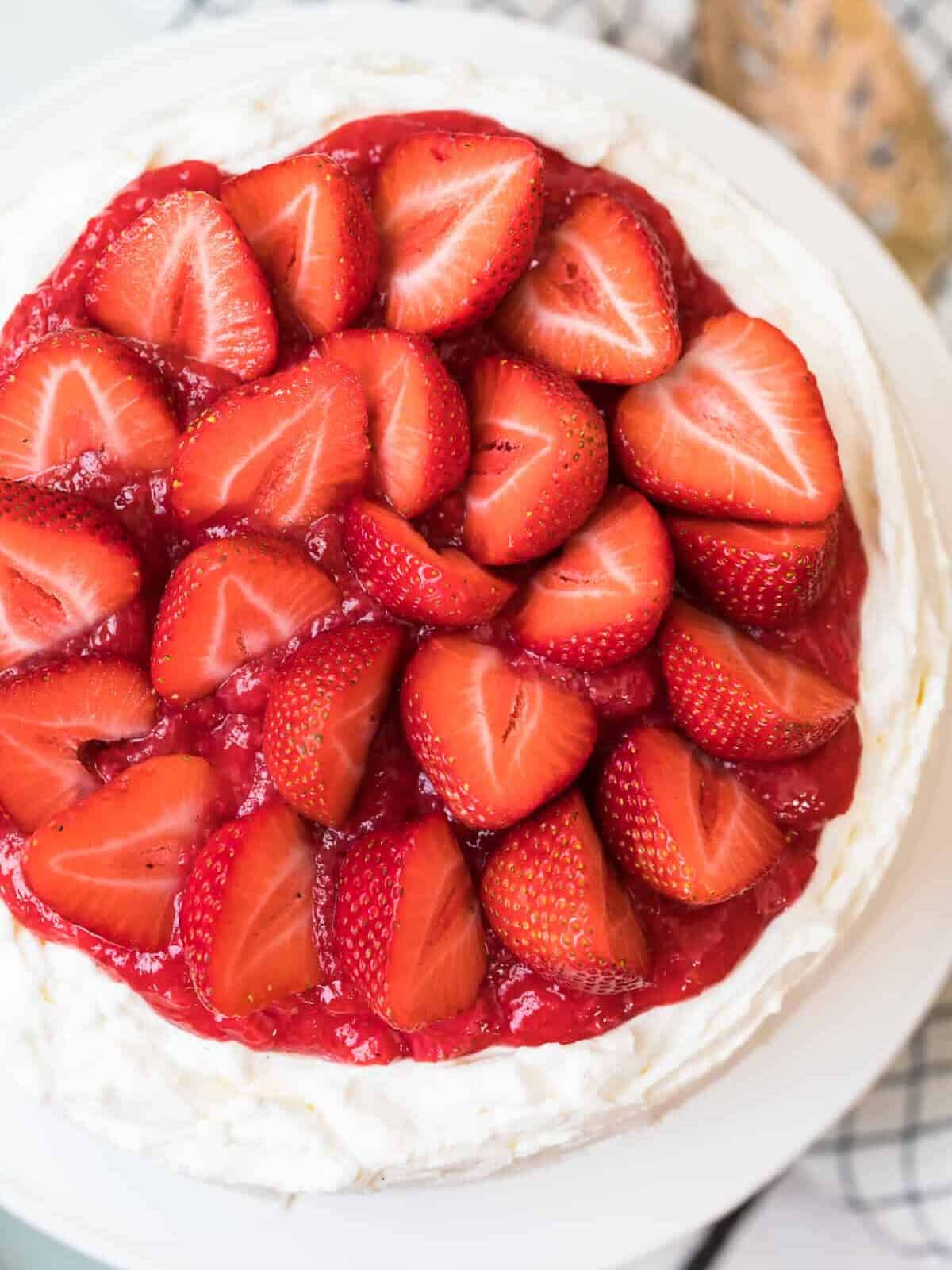 How do I keep this cake white?
We take a few steps to keep this cake super white. First, we use bleached cake flour. Yes, even the color of your regular flour can make this cake look dingy. Then, we use only egg whites (no egg yolks). Egg yolks are often responsible for the yellow color in yellow cake. Finally, if you can get a hold of clear vanilla extract, that will keep this cake the whitest!
Can I use all-purpose flour instead of cake flour?
Yes, you can use all-purpose flour instead of cake flour in white cake. Cake flour has a lower protein content than all-purpose flour, which results in a lighter and more tender cake. However, you may need to adjust the amount of flour in the recipe to achieve the desired texture.
How do I keep my white cake moist?
To make a white cake moist, you can add sour cream, yogurt, or buttermilk to the batter. These ingredients add moisture and tanginess to the cake, making it more flavorful and tender. In this recipe, we chose buttermilk, but you can sub for sour cream or yogurt if you don't have any on hand.
Can I make this a 3 layer cake?
I made this a 2 layered cake, but you can easily turn it into 3 or even 4 layers. Use three 8×3-inch aluminum pans for a 3-layer cake and four for a 4 layered. You can use the same amount of ingredients.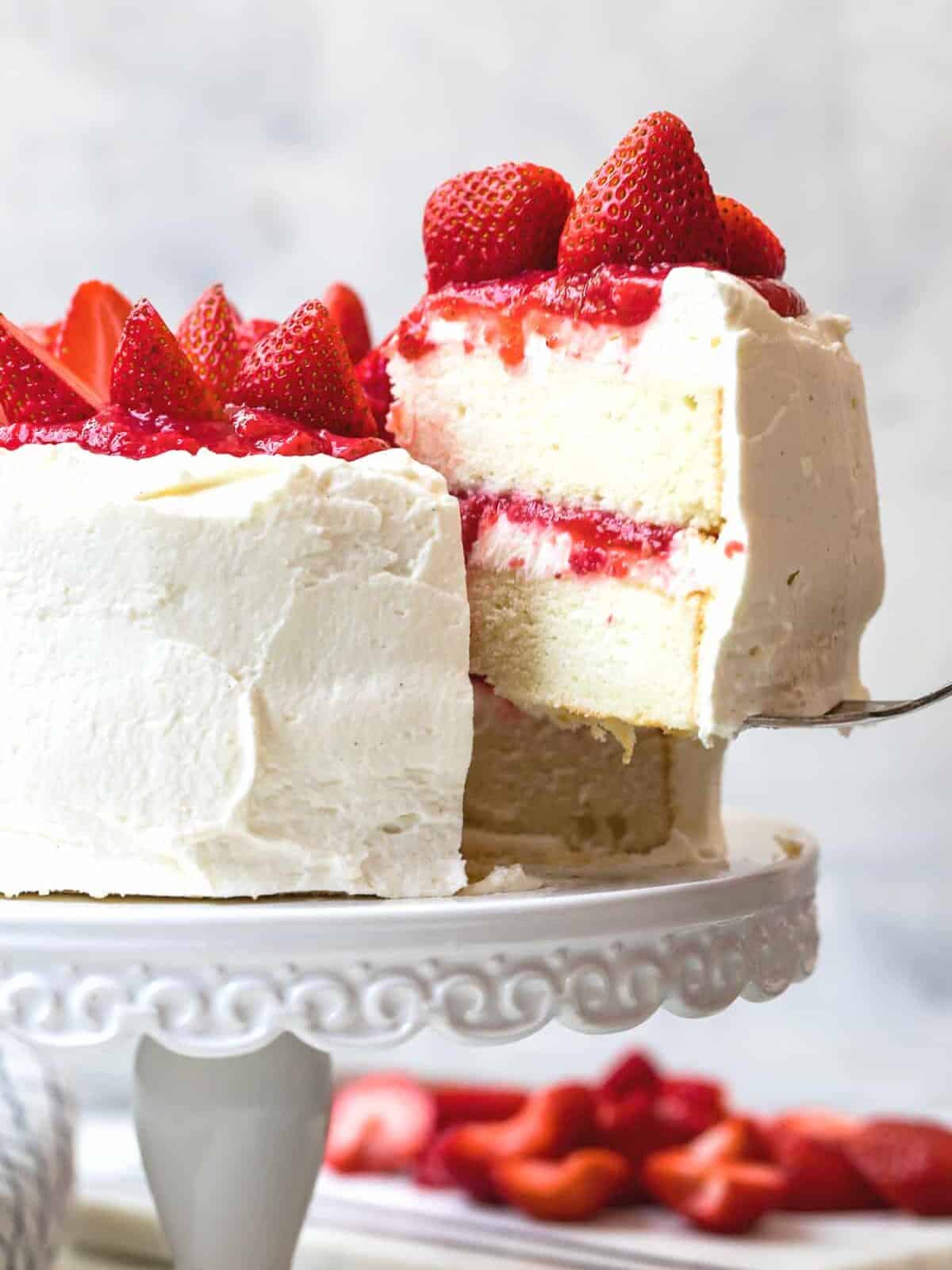 How to Make Ahead
Although it may seem like a lot to make it in one go, you can either make it and serve it on the same day or make the different elements ahead of time and build it the day you want to serve it.
Strawberry Filling: Can be made up to 5 days ahead.
Frosting: Can be made 6 hours ahead.
Cakes: Make these 24 hours ahead of time.
How to Store and Freeze
This white layer cake is best served within 6 hours of you constructing it. If you do have leftovers, keep them covered in the fridge for 3-4 days. It will dry out a little but it will still be pretty delicious!
To freeze this cake, wrap it whole (or individual slices) in 2 layers of plastic wrap and 1 layer of aluminum foil. You can freeze it for up to 3 months. Let thaw overnight in the refrigerator before enjoying.
Serving Suggestions
Serve this cake with dollops of lemon curd or a drizzle of lemon sauce to really set off the strawberry flavor.
I love to enjoy this cake with a glass of oat milk, a Starbuck's Pink Drink, or strawberry lemonade. For a boozier accompaniment, try strawberry margarita punch, strawberry frosé, or strawberry Palomas.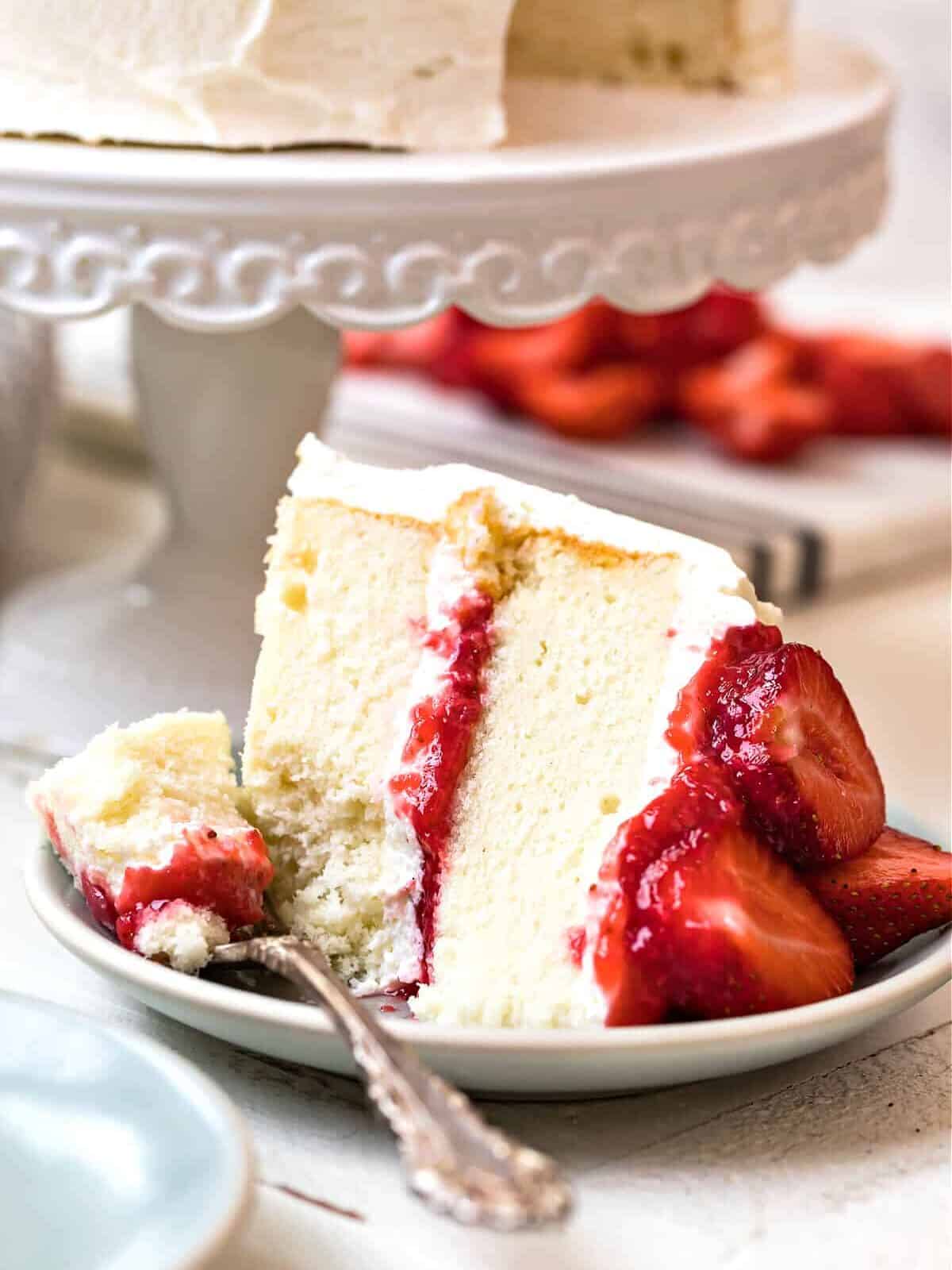 More Strawberry Cake Recipes We Love