If you are looking for a show stopping cake, this white layer cake is perfect! With a delicious strawberry filling, the vanilla cake is topped with whipped cream frosting for a wonderful dessert center piece.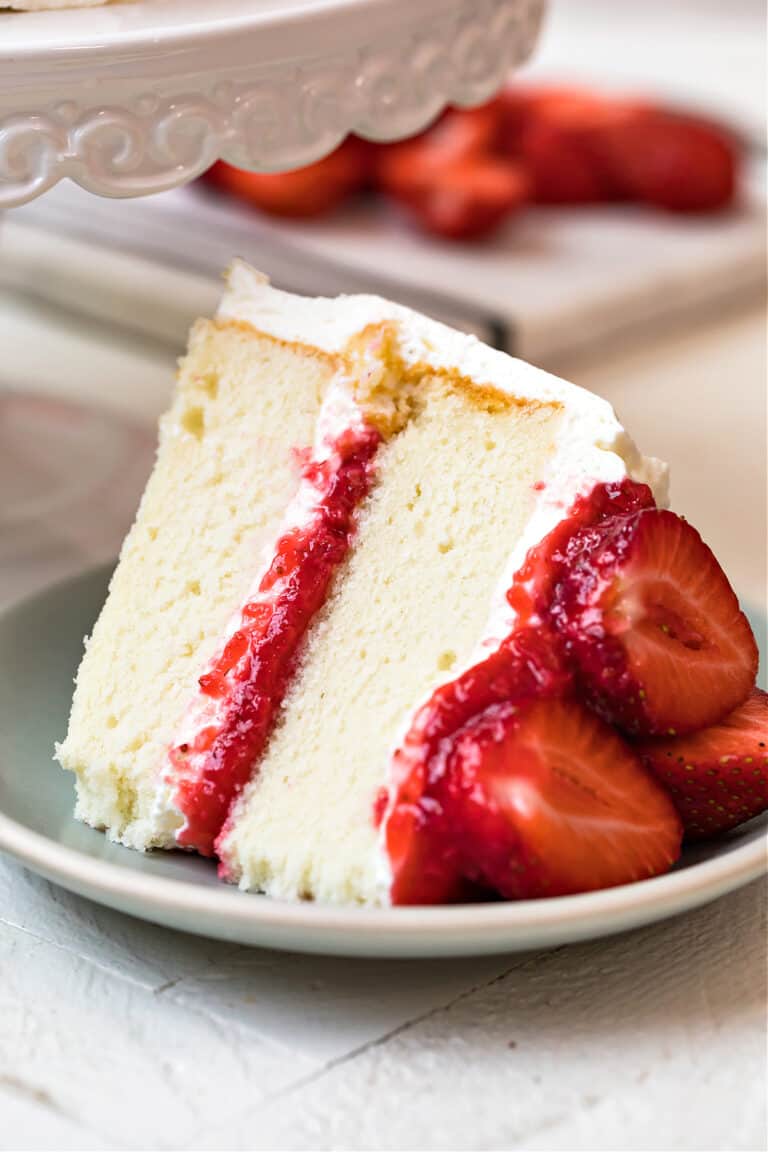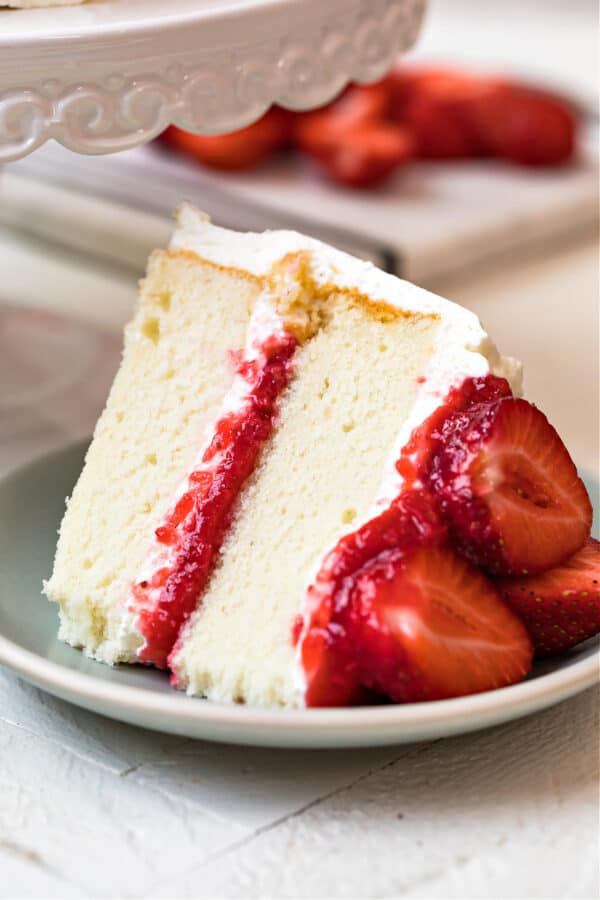 Strawberry Filled White Layer Cake
Let's be honest, cake is never a bad idea, and this white layer cake is such a treat! Pretty straight forward to make, this vanilla cake is so light and fluffy and the fresh strawberry filling is, for want of a better phrase, the icing on the cake!
This is a great occasion cake that's perfect to serve up for Christmas or Valentine's and is an elegant birthday cake too.
For more show stopping cakes, be sure to check out my Black Magic Chocolate Cake and Velvet Chocolate Cake Recipe with Chocolate Ganache Icing.
Why you'll love this White Layer Cake Recipe:
Simple: Although this cake looks super impressive, it only takes about 20 minutes to prep it.
Make ahead: The elements of this cake can easily be made ahead of time, perfect if you are planning to serve it as a dessert for a big feast.
Delicious! The vanilla sponge cake is wonderfully light, fluffy and moist and the strawberry filling is perfectly fresh and sweet. The whipped cream frosting is rich and creamy.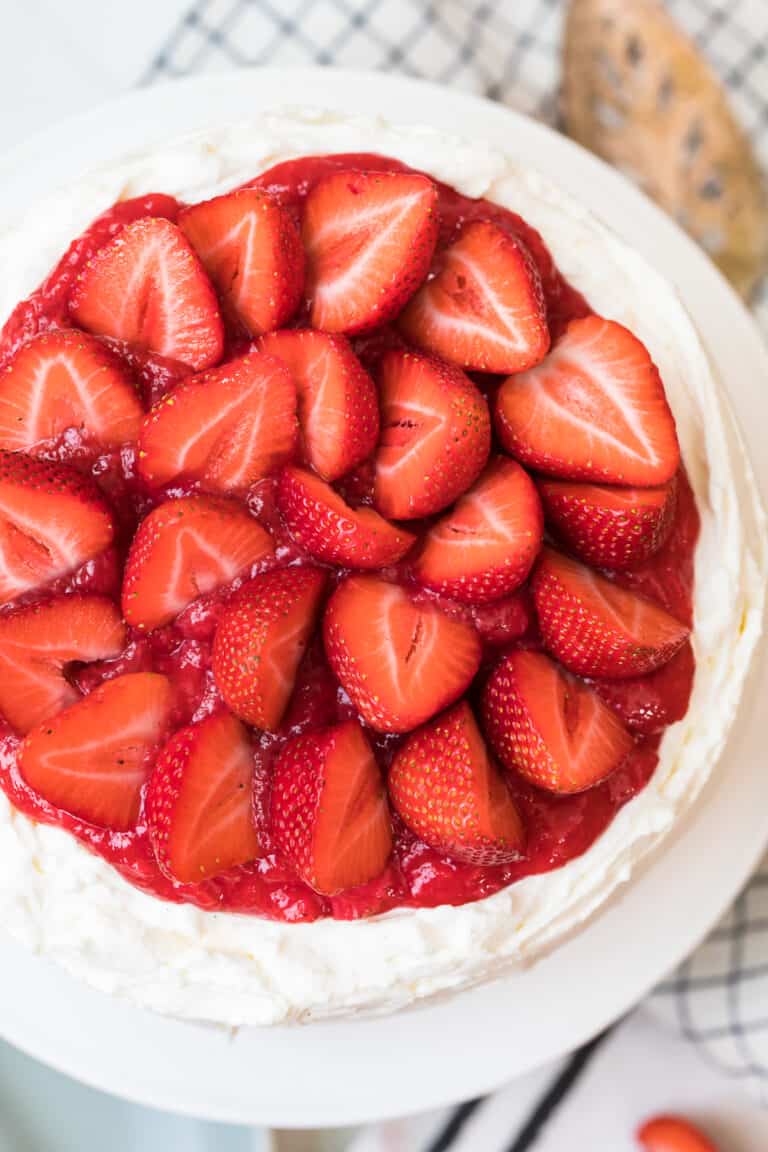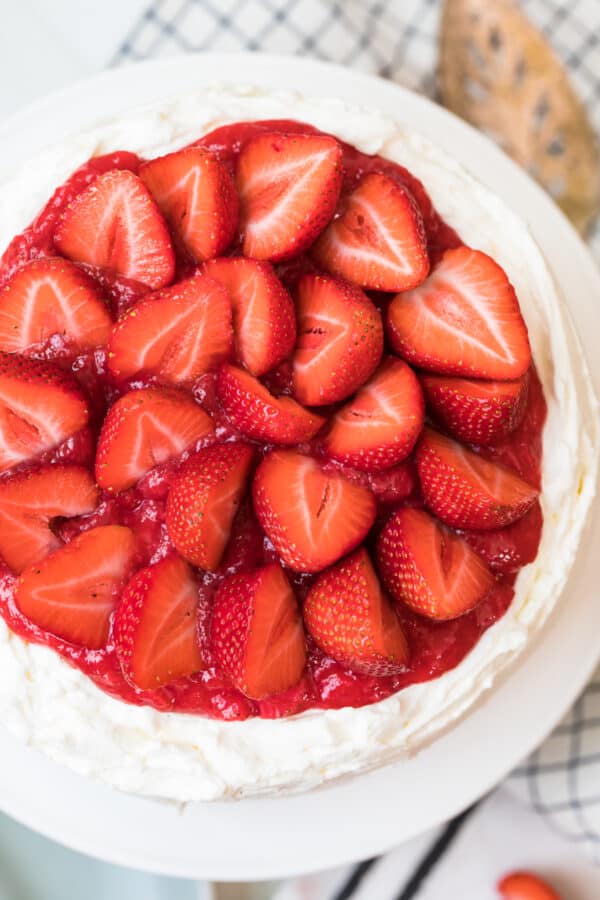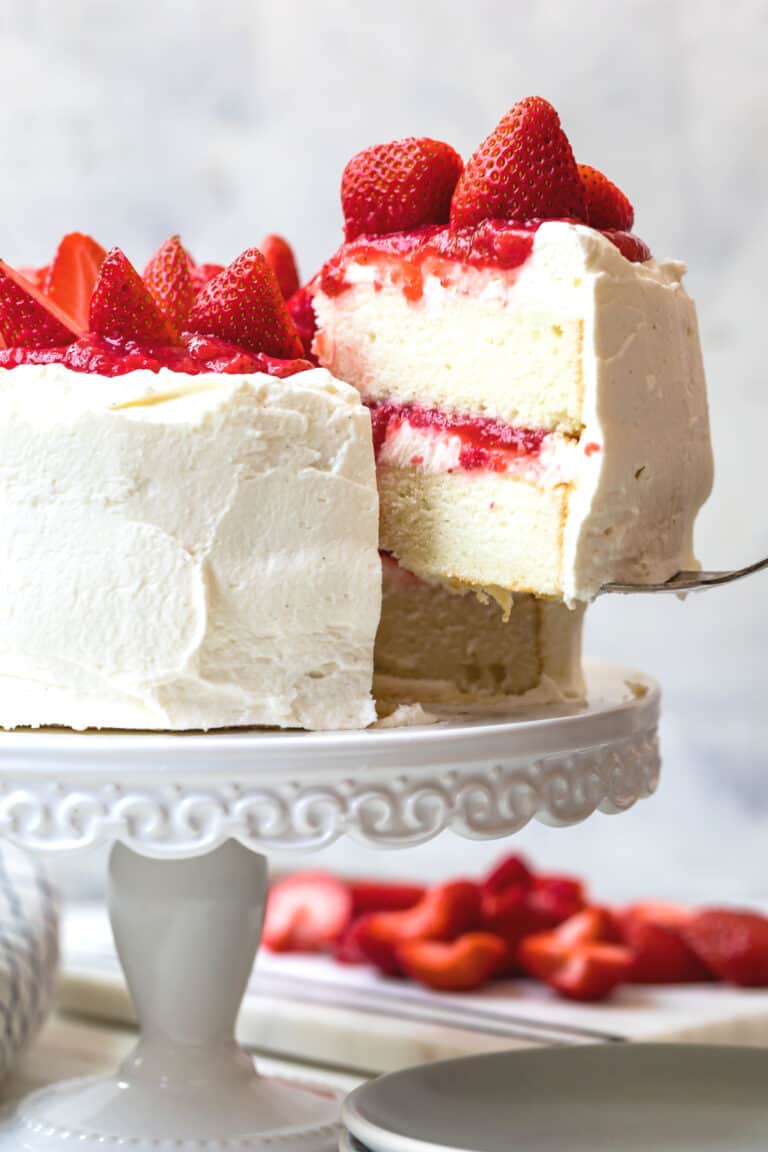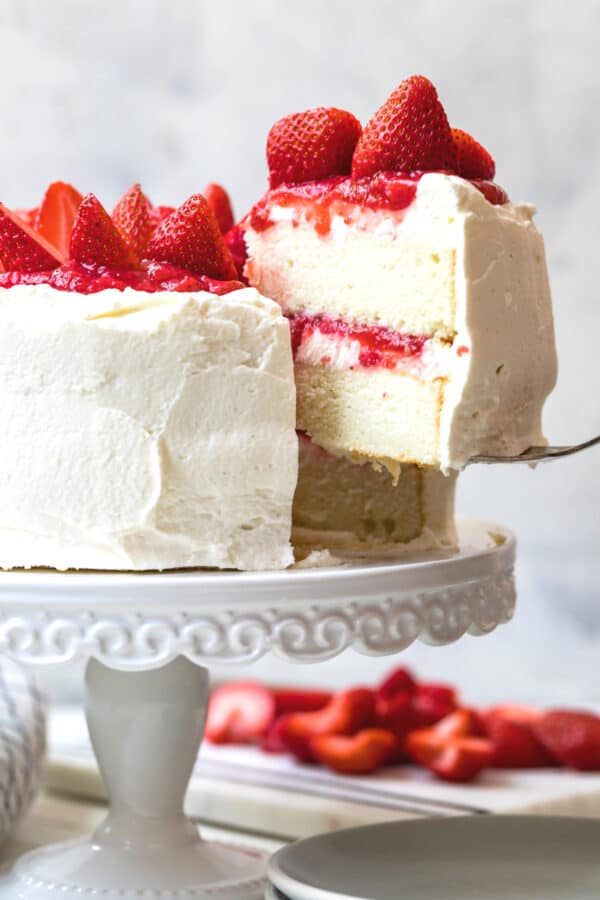 How to Make White Layer Cake with Strawberry Filling
You can jump to the recipe card for full ingredients & instructions!
For the strawberry filling
Cook the strawberries in the cornstarch mixture with sugar and lightly mash them.
Cook until the sauce thickens.
Add lemon juice.
Let cool and store.
For the whipped cream frosting
Beat the whipping cream until thickened.
Beat together the rest of the ingredients in another bowl.
Add the whipped cream to the other ingredients until firm peaks form.
For the cake
Sift the flour into a bowl, set aside.
Cream together the butter, coconut oil, sugar, baking powder, baking soda and salt.
Mix in the egg whites.
Slowly ad in the flour and buttermilk.
Divide the batter into cake pans and bake.
To fill and frost
Place a cake layer on a plate or cake stand and spread the frosting evenly on top.
Add the strawberry filling.
Add the next layer of cake and top again with the frosting and strawberries.
Frost the sides of the cake.
Arrange strawberry halves on top.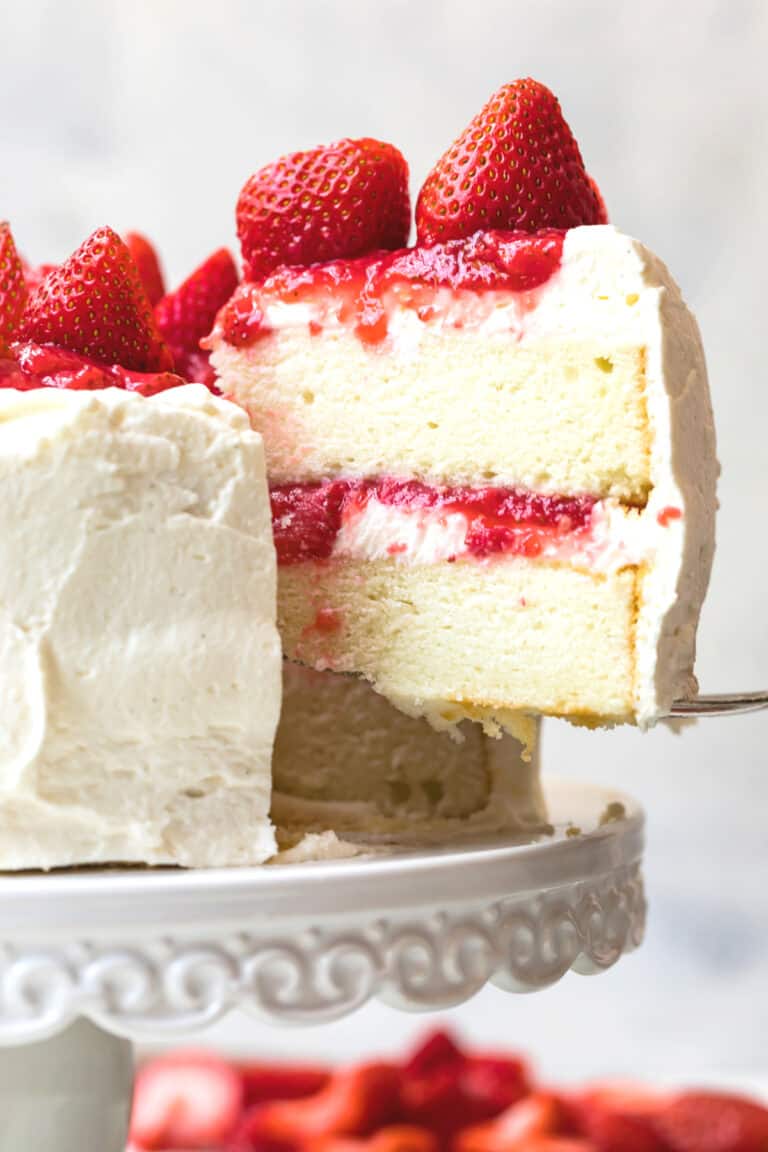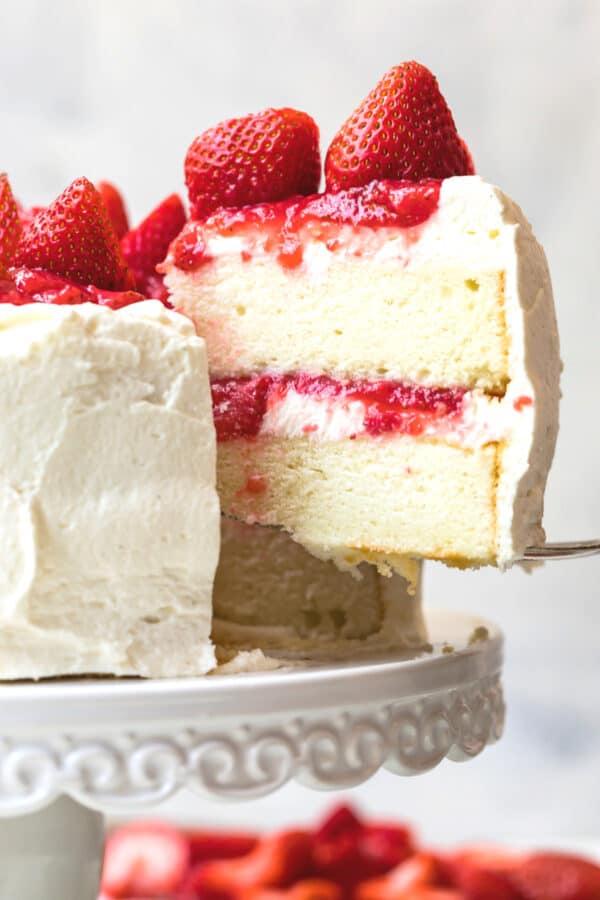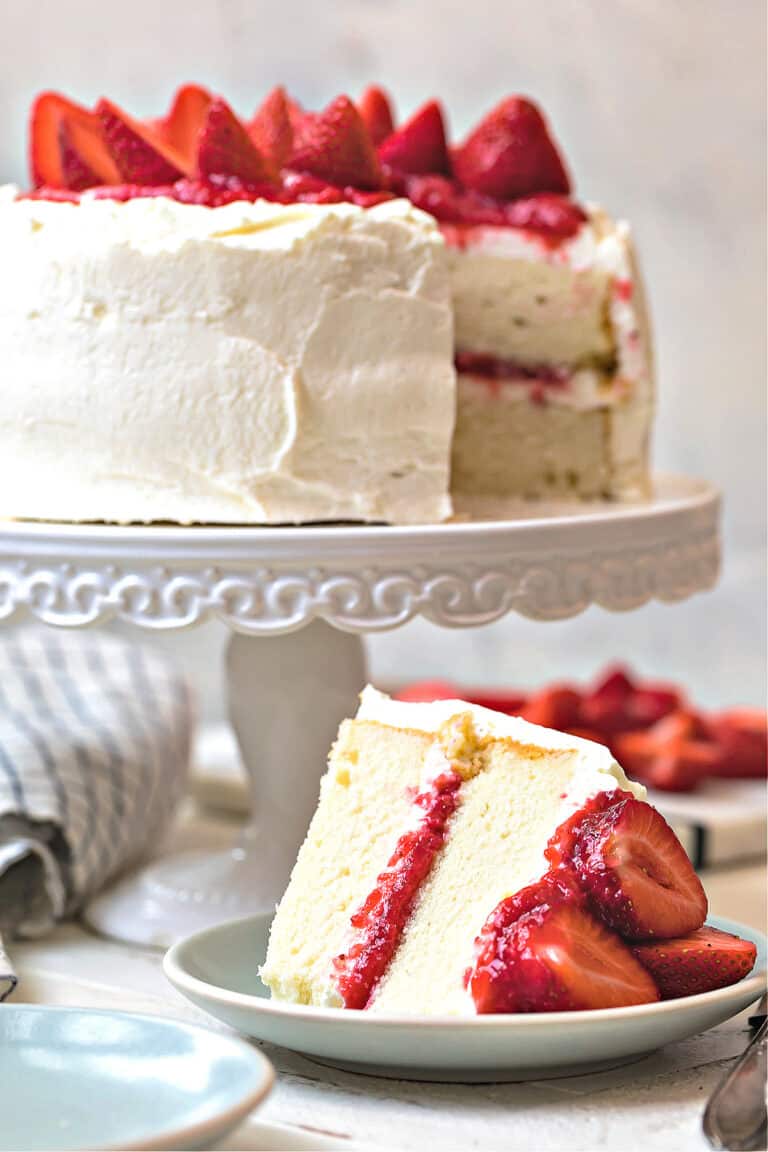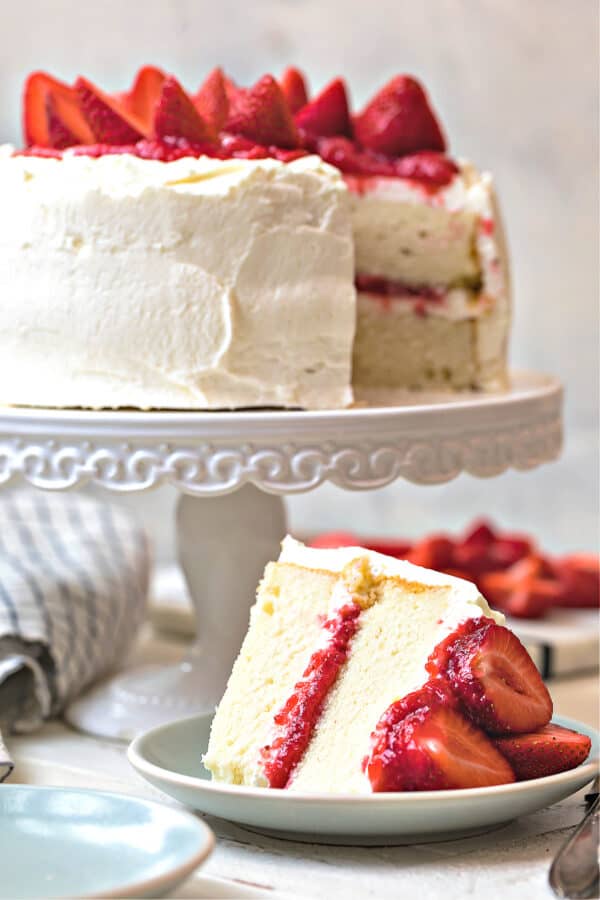 Make it ahead of time
Although it may seem like a lot to make it one go, you can either make it and serve it on the same day or make the different elements ahead of time and build it the day you want to serve it.
Strawberry filling: Can be made up to 5 days ahead.
Frosting: Can be made 6 hours ahead.
Cakes: Make these 24hours ahead of time.
How long does it keep?
This white layer cake is best served within six hours of you constructing it. If you do have leftovers, keep them covered in the fridge for 3 to 4 days. It will dry out a little but it will still be pretty delicious!
Can you make this a 3 layer cake?
I made this a 2 layered cake, but you can easily turn it into 3 or even 4 layers. Use 3 8×3-inch aluminum pans for a 3 layer cake and 4 for a 4 layered. You can use the same amount of ingredients.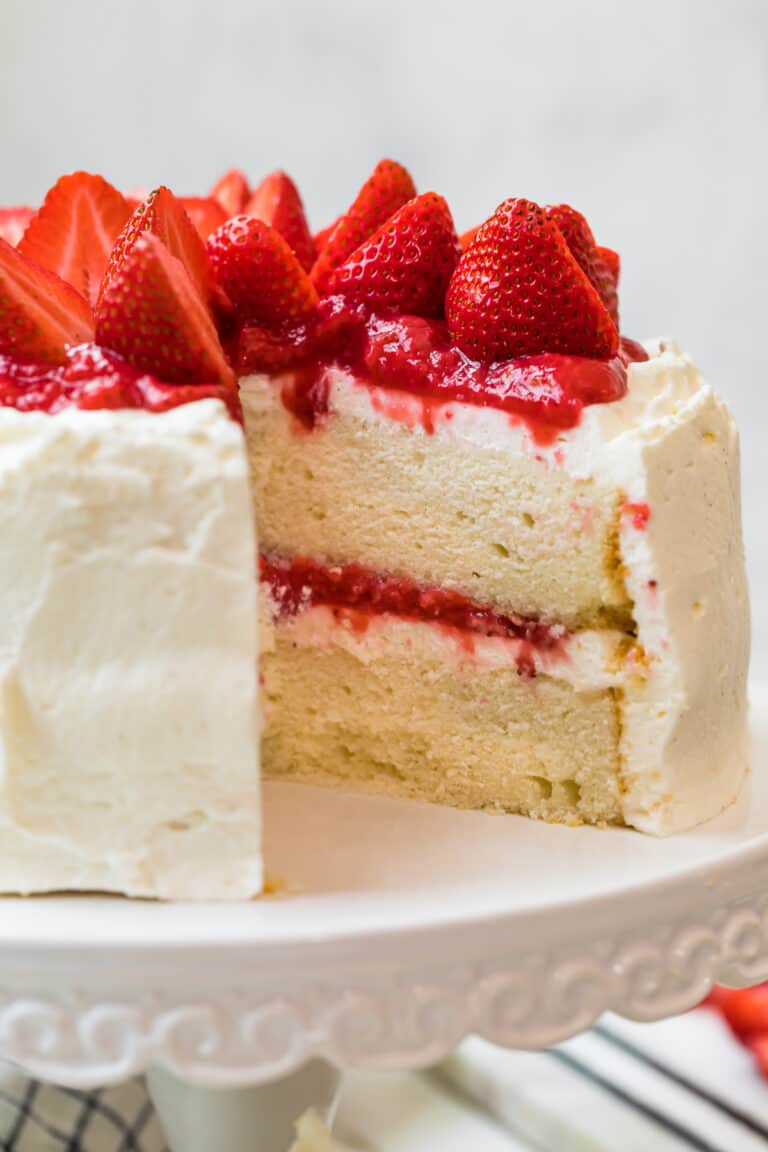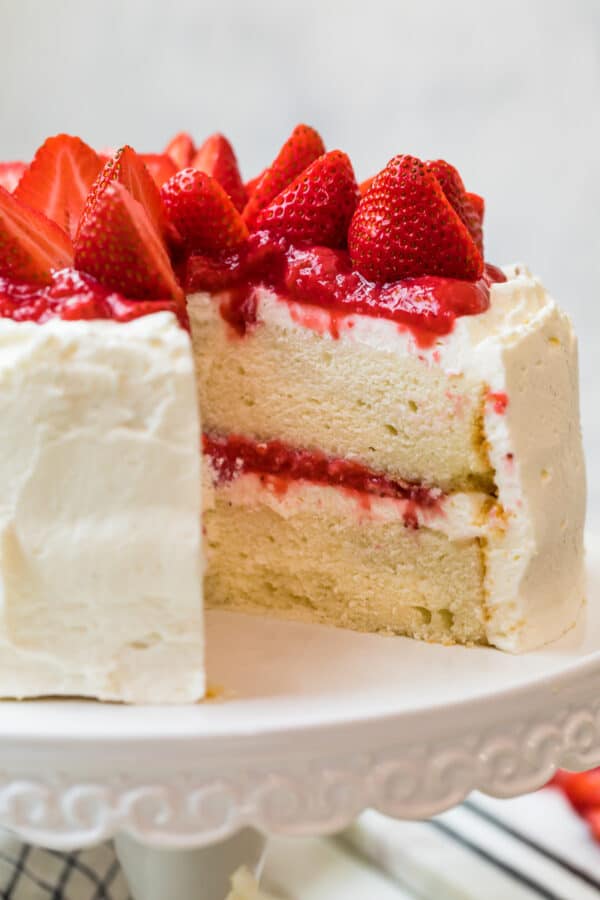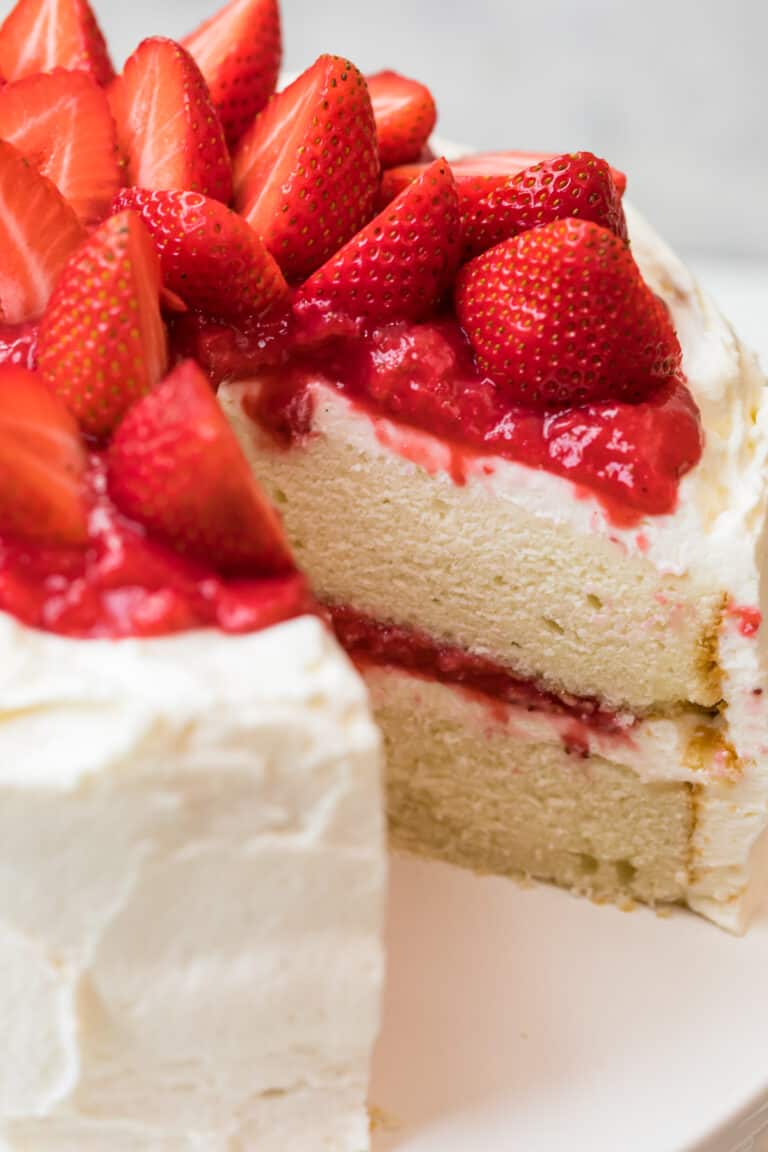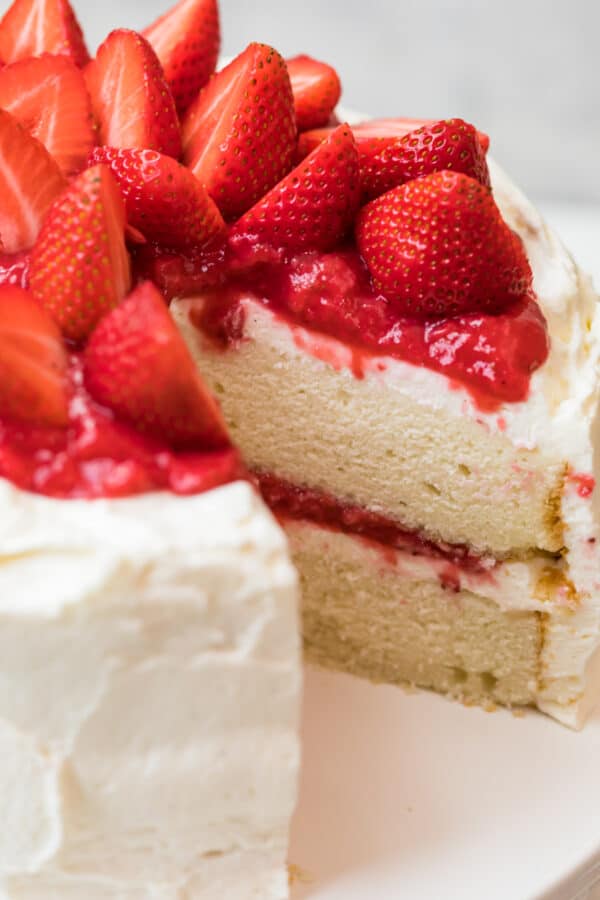 Tips!
Don't over mix the cake batter, the dry ingredients should be just combined.
Divide the cake batter evenly between the tins so that the layers cook all the way through at the same time.
For the base White Layer Cake we used Stella Parks' recipe for White Mountain Layer Cake, and in my humble opinion, it is the BEST white cake recipe – ever! I am not exaggerating or kidding. It is phenomenal. Thank you, Stella Parks! You can find her book HERE.
Serve the cake within 6 hours of making it.
This cake makes such a great dessert for Valentine's Day, Easter, anniversaries, and birthdays!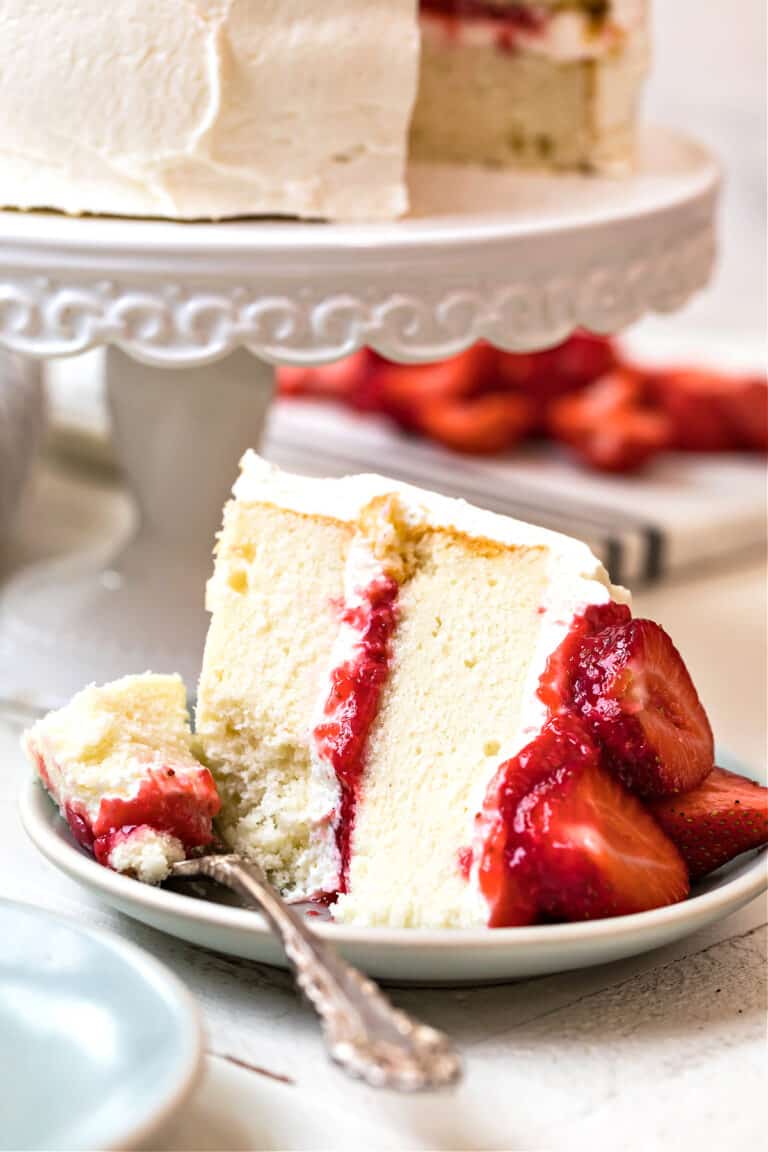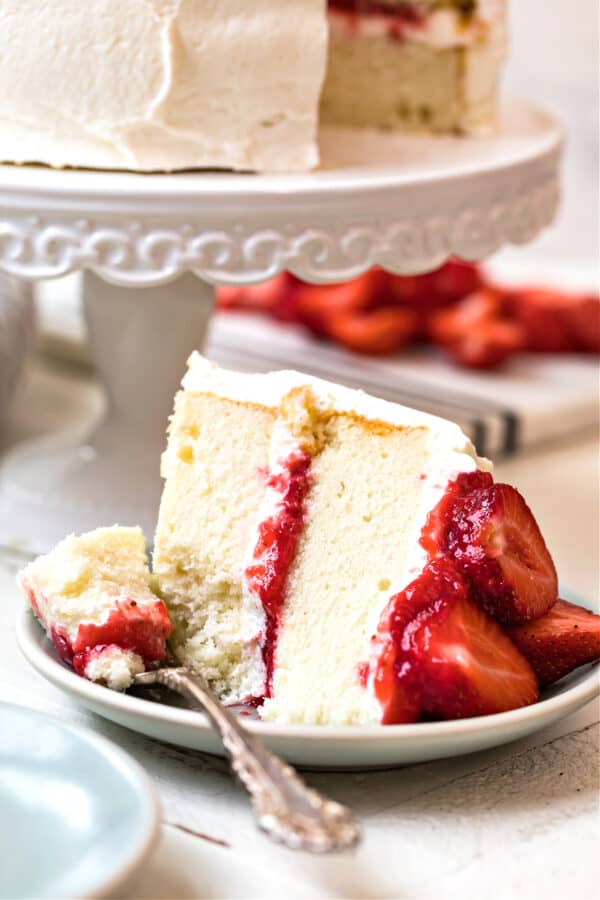 More Cake Recipes
If you like the recipe below, be sure to check out our other fave cake recipes!
See All Cakes
If you make this recipe be sure to upload a photo in the comment section below or leave a rating. Enjoy! You can also jump to recipe.